Are you cruising the Norwegian Pearl soon? In this Norwegian Pearl review, you'll see why this is one of our favorite ships thus far.
While I had read great Norwegian Pearl reviews, I wasn't sure how we would like it compared to our cruise last year on the mega-ship, the Norwegian Getaway.
The Norwegian Pearl is a smaller ship with fewer activities and half the number of passengers (a plus, actually), and this time, we didn't live the suite life as we did on the Norwegian Getaway.
Would we miss the Haven, or would we love cruising the Norwegian Pearl without it?
The Norwegian Pearl is an older ship, recently refurbished in February 2017. It usually cruises in Alaska during the Spring and Summer, but this time of year, it positions elsewhere and can offer a variety of itineraries.
When we cruise, we mainly cruise for the itinerary 1st and the ship 2nd, and this itinerary won us over. Total of 9 days, 6 ports, and only 2 sea days!
It's an exciting itinerary! It meant a do-over in Roatan (last time, the weather did not let us explore) and three new destinations we hadn't been to.
And, the transportation from city to city is part of the cruise fare we don't take for granted.
This post may contain affiliate links, which means we'll receive a commission if you purchase through our links at no extra cost to you. Please read full disclosure for more information. We appreciate your support!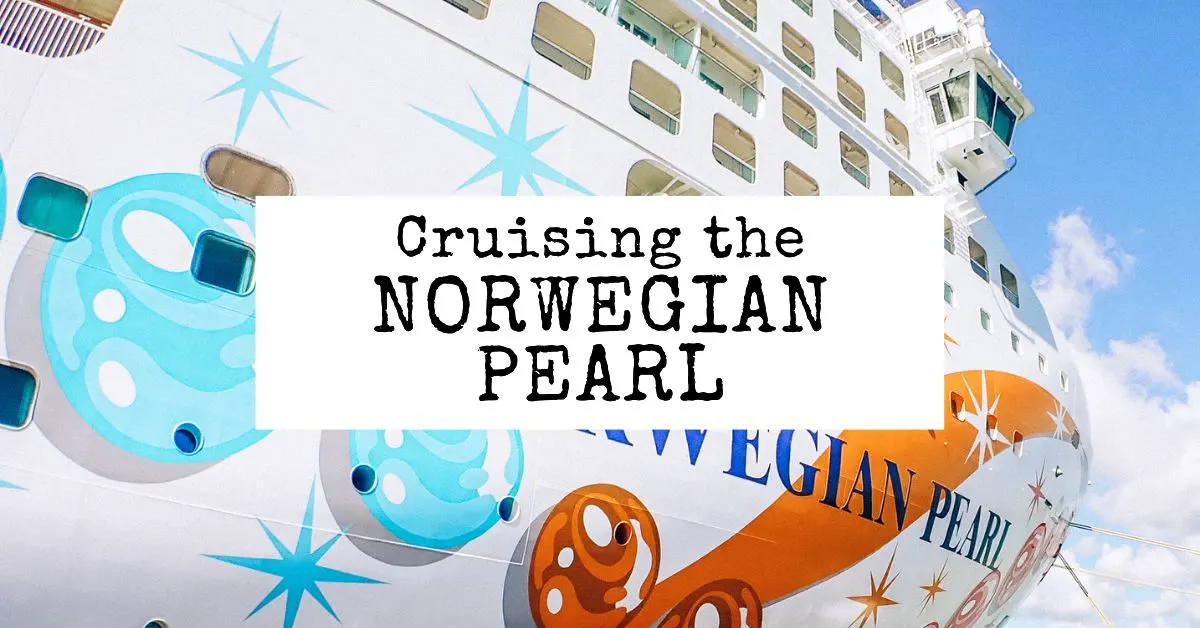 Norwegian Pearl Review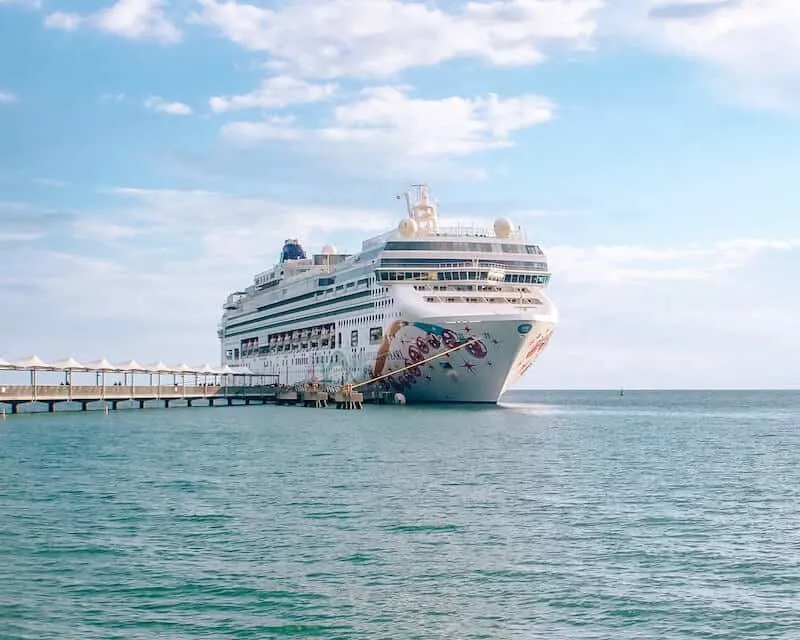 Before I break down my review, I will summarize that we had a fabulous time.
We learned that nine vs. seven days is the perfect number of cruise days for us.
Seven-day itineraries do feel too short, but nine days is just enough; anything over may be too much for us.
It rained on and off the first few days. It cleared up midway through the cruise -not the cruise ship's fault- and we were blessed with beautiful warm days.
We met a wonderful group through the Cruise Critic meet-up, on excursions, and the cruise ship.
We ate our hearts out. Danced. Laughed. Mingled. Explored on and off the ship.
It was an amazing 9 days. Before embarkation day, we spent a few days in New Orleans – our first time! It was great. However, 2 1/2 days is not enough time to do everything New Orleans offers.
Definitely enough time to explore the French Quarter and eat our weight in beignets. We wrote another post covering our time in New Orleans and the Western Caribbean ports.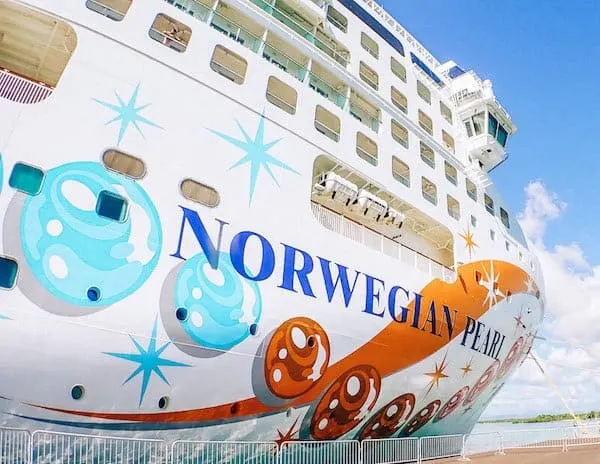 Embarkation at Port of New Orleans
Embarkation day was slightly disorganized. We arrived there at about 11:30 AM, and there was a long security line. After checking in, there was another long wait to get on the ship.
The ship had been chartered to the band KISS and their fans 5 days beforehand, and they took longer than expected to disembark the ship.
On top of that, I believe the port authority had also decided to do a full check of the ship that day.
It was around 1 PM when they started calling, and we didn't board until about 2 PM. According to experienced cruisers we spoke to, this was not the norm.
Patience is key on embarkation day; you must remember you're on vacation.
Once you're on the ship and grab your first cocktail, take advantage of that drink package if you have it! You'll soon forget about the long lines and wait to embark.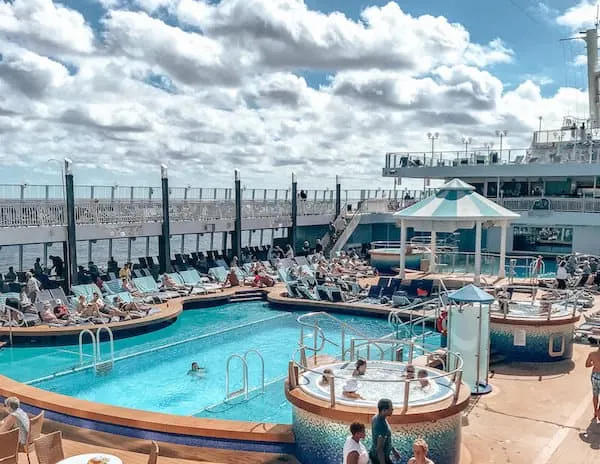 Sail Away from New Orleans Cruise Port
We were behind that day, so sail away didn't take place until long after the initially scheduled time. We had looked forward to sailing down the Mississippi River during daylight; however, we didn't leave port until sunset.
The spectacular sunset we experienced over the New Orleans skyline made up for it.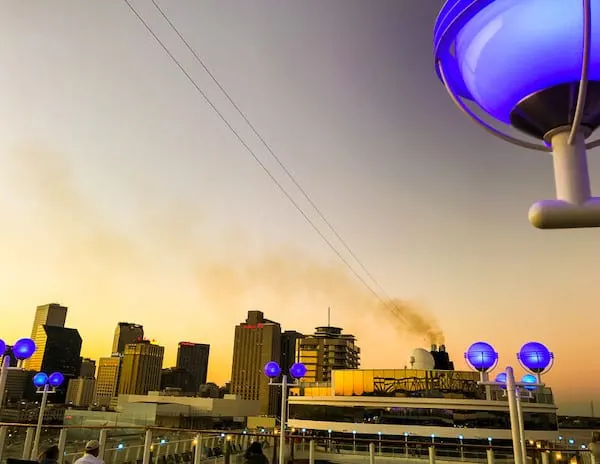 Enclosed Balcony Cabin on Norwegian Pearl
We booked a balcony guarantee and were assigned starboard forward cabin # 10008, an enclosed balcony. I had never stayed in a cabin with an enclosed balcony and didn't know what to expect.
I ended up loving the balcony. The enclosed part made it feel more private than a regular balcony. There are no obstructions; if you stick your head out, look towards your left to see the bridge from there.
The cabin was great. It had enough room for hubby and me. More than two people, and it would probably feel a little snug.
The bed was comfortable.

There are 3 USB ports – one under each light fixture on the sides of the bed and another under the TV area.

There is a new flat-screen TV.

There is more than enough storage space in the closet area for our things,

And there is a light switch in the closet that you will probably miss if you don't reach into the back.
I felt the bathroom was a little claustrophobic. The wood paneling makes it dark, and there is no lighting in the shower area.
I'm not tall. I can imagine someone 6ft+ hitting their head on the shower ceiling or sitting in the toilet area and hitting their knees against the wall – something to keep in mind if you are tall.
There are also sliding doors to separate both the shower and the toilet from the wash area.
Recently the Norwegian Pearl underwent a refurbishment, which included the rooms. It was my first time on this ship, so I can't make a comparison.
The TV area and USB ports seem new to me. The room was in fine shape.
Add these items to your cruise packing list. Don't forget to pack these cruise items that will help enhance your cruise vacation.
Service on the Norwegian Pearl
Service on the first day was slow. The waitstaff was working hard to get into the swing of things with a new set of passengers. We only experienced this on the first day. Throughout the rest of the cruise, the service picked up.
Our steward's name was Albert, and he did a great job. He was polite and always called us by our first names. He cleaned our room every morning, turned it down, and cleaned our room every night. Our ice bucket was always full of ice. We had a towel animal waiting for us every night after the first night.
I only wished he had provided us with more than two bath towels in the bathroom every night, as I have a ton of hair. He did the first couple of days, but then he'd forget.
No big deal, though, as long as my room was clean.
Tasty Itinerary: Food on the Norwegian Pearl
O'Sheehan's
Besides room service, this pub-style restaurant is open 24 hours a day, 7 days a week. This is the place for late-night snacks! Wings and beer, anyone?
We had lunch here upon embarkation, and it was the only day I can say we had slow service. Throughout the rest of the cruise, it was great.
Moderno
We enjoyed Norwegian's version of a churrascaria. We loved the antipasto choices at the buffet and probably overate of it before they came around with the meats.
The bacon-wrapped chicken, garlic filet mignon, and beef ribs stand out the most.
The roasted pineapple is delicious.
Loved: Coconut Flan.
Le Bistro
Our dining experience here was excellent and by far the BEST of our entire cruise.
I was adventurous, and with the waiter's encouragement, I tried escargot for the first time – they reminded me of garlic mushrooms. The roasted duck and the filet mignon were delicious.
We ended our meal with the most amazing desserts from our entire cruise. The crème brûlée was amazing and reminded me of our time in Paris. Hubby's chocolate dessert was mouthwatering.
To our surprise, the chef visited our table, and she was gracious and happy that we enjoyed everything.
Our entire meal was outstanding.
Cagney's Steakhouse
On the Norwegian Getaway last year, we had the pleasure of eating at this establishment and had a fabulous meal. This time, on the Norwegian Pearl, we were underwhelmed by the service and the food quality.
For starters, the layout and seating of the restaurant are cumbersome. Waiters from Cagney's and Moderno's (it's right next door) scurried back and forth from the shared kitchen across the narrow space between tables.
If you are sitting in this part of the restaurant, like we were, it makes for an uncomfortable seat as you pray that the waiters darting by don't knock you or your drink over.
The menu was not the same as on the Getaway, and we noticed some menu items missing. Not sure if the menu from ship to ship varies or if they are changing it ship-wide.
The food was subpar. The filet mignon at Le Bistro superseded the one served here.
Good: Apple crumb dessert.
Lotus Garden
We had dinner here one night. This is your standard fast-food Chinese fare. It was fair, but do not expect it to be authentic. It's more like Panda Express.
Indigo
This is one of the main dining rooms. We had dinner here a few nights. Standouts: Spaghetti carbonara, bbq ribs, prime rib, basil chicken, opera cake, and apple pie.
Garden Cafe
The buffet is always crowded for breakfast, and the omelet stations always had long lines. Finding a seat was difficult at times, but not impossible. If you walk past the buffet, outside to the aft of the ship, you will find a smaller buffet section with plenty of outdoor seating.
This is also where you'd find food between meal times and at the end of the night after the main buffet closed. Up to 11:30 PM, you could always find a snack to eat here.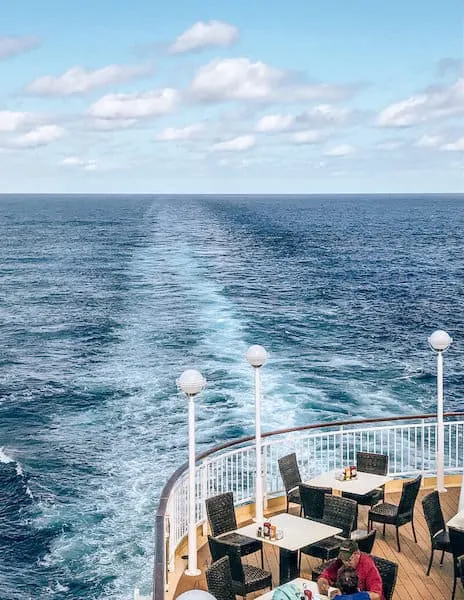 We had breakfast here every morning, and after returning from an excursion, we'd hit the buffet. We only had dinner here one night. The food was decent. The dessert section could be better, but we always find something. The crepe station was delicious. The hand-scooped ice cream is always a win.
Entertainment on the Norwegian Pearl Cruise Ship
While we enjoyed most of the shows, it seemed as though they scrounged up entertainers for the 9 days of this cruise. A few acts were on the ship for that week alone. I will not mention every act because you will find it completely different if you stepped foot on the ship today.
Legends in Concerts is the usual weekly entertainment on the Norwegian Pearl, and we, unfortunately, missed it because we were busy in the casino.
A cast member on the ship sang a Michael Bublé tribute, which was excellent. Alas, I do not know if this show is a weekly occurrence. If not, Norwegian Pearl should promote it to a regular performance.
We did expect to see a Broadway-type show, and from what I understand now, the Broadway shows are only on Norwegian Cruise Line's mega-ships.
Every night you can find karaoke at the Bliss lounge or dance the night away at the Spinnaker Lounge.
One thing Norwegian Cruise Line does right is their dance parties – every night, there is a theme, whether the 80s or 90s party or a music video party.
There is always something, but I did find this cruise quieter and the vibe slightly subdued from our Norwegian Getaway cruise last year – this could be a plus or a negative.
The casino was small. Better ventilation is needed because of all the smoke. I would love to see more Wheel-of-Fortune machines with smaller denominations than $1.
Good to know: Sea day mornings, coffee, and pastry items are placed out for early gamblers. Late-night snacks are available most nights.
Other Observations from Norwegian Pearl
The layout of the ship was confusing. After a while, you do get the hang of it.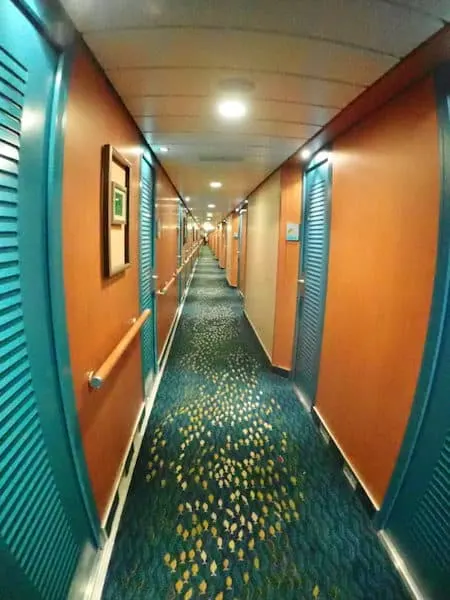 The staff was terrific. Always ready to help you with a smile. They work hard to make your time on the ship flawless and memorable.
The ship was constantly being worked on. We witnessed them cleaning the ship daily. They especially took care of the small details. And a couple of times while we were in port, they worked on our balcony, chipping away any old paint and repainting it with a fresh coat.
The $10 bazaar was insanely overcrowded. It took place on the last sea day in Le Bistro, and there wasn't enough room for everyone. Once you stepped in, it was survival of the fittest. Some people played the sale like a sport.



Everyone was pushing and shoving, grabbing and snatching items as if they'd never seen some items for $10 or less

. They were selling the same t-shirts that were 2 for $20 at the gift shop all week. I looked around, saw the ridiculous line to check out, and then left. They need to organize this bazaar better.
Makers Mark is premium alcohol and not part of the beverage package… seriously? It's a cheap bourbon.
The Hotel Director on this ship is outstanding. Thank you for caring, wishing, and being willing to hear the highs and lows of our experience during our time on the Pearl.
Disembarkation
We arrived a tad late in NOLA because a barge stopped in the Mississippi River did not allow them to continue at full speed ahead and on schedule. This meant that the port authority had to check the ship before anyone could start to disembark. Our flight wasn't till the early afternoon, so we weren't worried.
We grabbed breakfast at the buffet and sat around until they started to call groups. Norwegian allows you to do self-disembarkation or provide color luggage tags that coincide with different group times. We chose to disembark with the last group.
Getting off the ship wasn't a problem, nor was customs. They waved us through.
The line to exit the port to the taxi stand was a mess. Passengers arriving early to check in to embark confused and accidentally kept merging onto our line.
We eventually made it, but this port could use some organization.
There are a lot of factors to consider when choosing between a cruise and an all-inclusive resort. Which is right for you? Check out our breakdown of the pros and cons of each option to help make your decision easier. Plan your cruise or all-inclusive resort vacation with these travel tips and tricks.
Final Thoughts on the Norwegian Pearl
The Norwegian Pearl is a fantastic ship. It may be missing some of the bells and whistles from their sister mega-ships, but the crew on this ship impressed me. They care about the ship and its passengers.
There was a sense of family and pride amongst the crew, which was conveyed throughout the cruise.
We enjoy Norwegian Cruise Line's FREESTYLE cruising and love the Free at Sea Perks they offer upon booking. And because we had such a great time on the Pearl, we purchased Cruise Next vouchers and plan to book another Norwegian cruise.
We will choose to cruise with the Norwegian Pearl again in the future as long as the itinerary works for us.
Next, our first stop: Cozumel Cruise Port
We've gathered 122 of our top cruise tips and hacks to help make your planning process smoother and your cruising experience even more fabulous.
Have you booked a cruise vacation on the Pearl ship? Is this Norwegian Pearl review helpful? What are you looking forward to the most?
Book a Norwegian Pearl Cruise
Share the tips & love on Pinterest: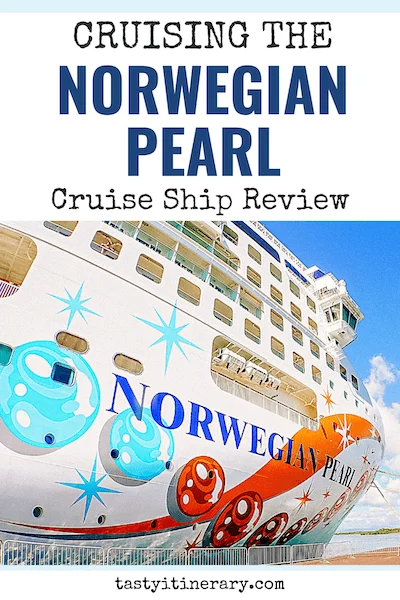 Quick Cruise Planning Guide
Where to book a cruise?
We like to shop around before booking by going directly to the cruise line and checking out the deals on GoToSea, CruiseDirect.com, Costco Travel, and Cruise Compete. Ultimately, the best advice is to find a travel agent you can trust to help you book a cruise.
Hotels for pre-cruise and post-cruise stays
We always use Booking.com or Hotels.com to book international accommodations and Expedia or Hotels.com for US accommodations. Airbnb or Vrbo for vacation rentals.
Can I book my own shore excursions?
Yes, you'll save money booking your own excursions and not with the cruise ship. We like to use Viator or WithLocals. Don't forget to read up on our tips for booking.
Car Rentals
We like to rent a car at cruise ports and for the freedom to explore on our own when the destination makes sense. We also sometimes rent cars during our pre-cruise stay or on embarkation day.
Should I book cruise insurance?
Yes! Cruise insurance is essential. We always book with a third party rather than the cruise line. Compare pricing on Insuremytrip.com.
Packing for a Cruise? Don't miss our essential cruise packing list.
Meet Kathy Ava, a food, travel, and cruise writer based in Los Angeles/Pasadena, and the owner and main writer of Tasty Itinerary. With over 20 years of experience planning trips and logistics at her full-time job and for herself, she's become a pro at crafting unforgettable tasty itineraries. She's always on the hunt for delicious, fun travel destinations and cruise itineraries. She firmly believes that life is short and we must make the most of it, so always say yes to dessert.