Is Grand Cayman Cruise Port on your cruise itinerary? Or are traveling to Grand Cayman on your own and looking to see what there is to do?
We were excited that Grand Cayman Cruise port was part of our Western Caribbean itinerary. We were finally going to visit this Caribbean Island that we've read and heard so much about.
I was instantly torn between the seven-mile beach and Stringray City. And more important, would I have time to try the famous Tortuga Rum cake? Spoiler alert, I did not have time to try it.
Swimming with stingrays has always been on my bucket list. So, we decided the Grand Cayman cruise port was the place to cross it off the list.
Disclosure: This post may contain affiliate links. If you decide to make a purchase from one of those links, we may get a commission at no extra cost to you. We appreciate your support.
For information regarding Covid-19 travel restrictions for Grand Cayman, click here.
Grand Cayman Cruise Port
Grand Cayman is a Tender Port
On the Norwegian Pearl, they handed out tickets for tendering. We did not have any priority status on this cruise. I had to wake up early to make sure I picked up one of the first group tender tickets.
At 9 AM sharp I was lining up on the pool deck and promptly received group ticket #4. I didn't know how long it would take them to call group 4 once we docked, but I wanted to be prepared.
What do you mean by tender?

The cruise ship will dock and anchor off-shore. Which means smaller boats will transfer cruise passengers ashore.

CRUISING TIP: IF IT'S A TENDER PORT, AND YOU DO NOT HAVE PRIORITY STATUS ON THE SHIP, GIVE YOURSELF ENOUGH TIME IN THE MORNING TO BE ONE OF THE FIRST ONES OFF THE SHIP. THAT IS IF YOU WANT TO MAKE THE MOST OF YOUR DAY AT THE PORT.
The best part is, I found out, that the cruise port of Georgetown, Grand Cayman has its own double-decker boats for tendering. It made for a speedy time off the ship and ashore. We were called not long after we docked at 10 AM.
Once your group is called, it just means you can head down to tender any time after that.
Returning, if your cruise itinerary indicates the cruise ship is departing Georgetown, GrandCayman at 4:00 PM that really means the last tender will be at 3:00 PM. Play it safe when booking your independent excursions. Give yourself enough time to be back on time to tender. You do not want to miss your ship.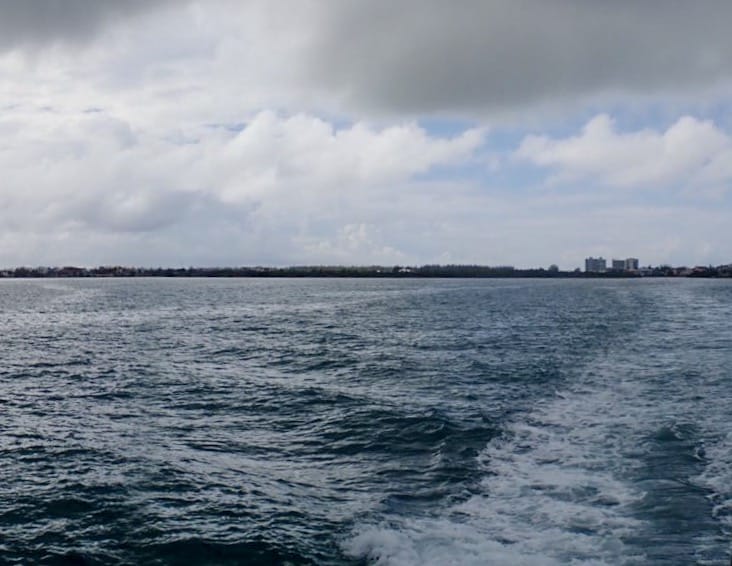 Stingray City & Snorkeling Tour with Native Way
TripAdvisor is my friend and it should be yours, too. I consulted it for advice as soon as I knew Georgetown Grand Cayman port was part of the cruise itinerary. This is one of the many tools I use when we travel, amongst others.
Native Way Watersports came up as one of the top vendors for excursions to Stingray City. I emailed them and booked us on the "Stingray Sandbar, Coral Gardens, and Starfish Point" tour.
Originally, their "Rays, Reef and Rum Point" tour piqued our interest, but we would have been cutting it really close to call time. I think if I had booked it, we would have missed our tender and ended up stranded in Grand Cayman.
Stuck on a beautiful island doesn't sound too bad, does it?
I played it safe and decided to stick with the former tour after learning that this is a tender port.
We tendered at the Georgetown terminal and found the Native Way meet-up point. It was a little tricky finding it because we docked at a different pier than what was explained in the directions given to us. I don't think that is the norm.
Thankfully our contact, Sharon, had provided us with her cell phone number and she answered promptly and was able to guide us over the phone. Once we met with her, she took our payment and we waited with the rest of the group going on this tour.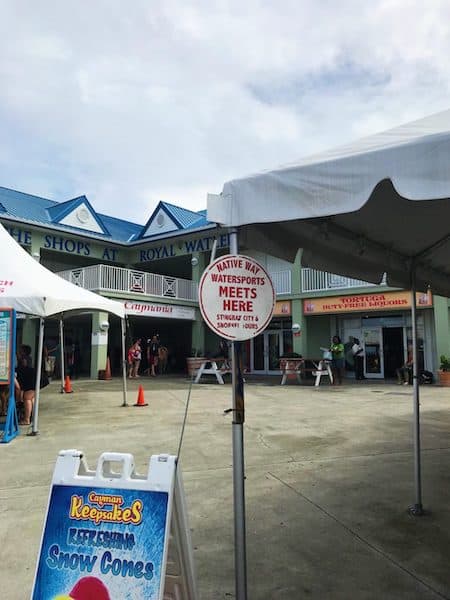 We were lucky. I had read the groups are usually between 12 and 18 people. On this excursion, we were only a total of 9 – two couples and a family of five. I prefer small groups. When we can, we do private tours, but it is nice to meet new people. It turned out that the other couple lives near us – a small world!
Plan Your Day at Costa Maya Cruise Port
Rent a golf car and be your own tour guide. Make as many stops as you want and explore this beautiful Mahahual village off the Caribbean coast.
I have two small complaints with Native Way:
Communication via email WAS ROUGH. They were quick to confirm the booking but replies after were slow. They do have a US Phone number you can call (203-681-8665), but with the time difference, all I ever reached was voicemail. Sharon did, however, leave me a voice message once. Since the company came highly recommended, I trusted our excursion would turn out great, and it did.

The driver assigned to drive our group to the marina was a bit questionable. His driving was a bit scary. At one point, he stopped at a gas station, left the van in park, and without a word left us there for a solid 5 mins to do who knows what. No explanation. Nothing when he returned. I guess we should just be happy he eventually got us to the marina in one piece.
On a better note:
Our captain and his partner for the day were both friendly, personable, and excellent throughout the entire excursion.
On many occasions, they went out of their way to make sure we were experiencing what was promised.
They looked out for our safety.
Juice and water were provided.
Snorkeling equipment was included (we had our own gear and only used their life vests).
They drove us back to the cruise ports safely and in a timely manner.
We tipped well at the end of the day.
Stingray City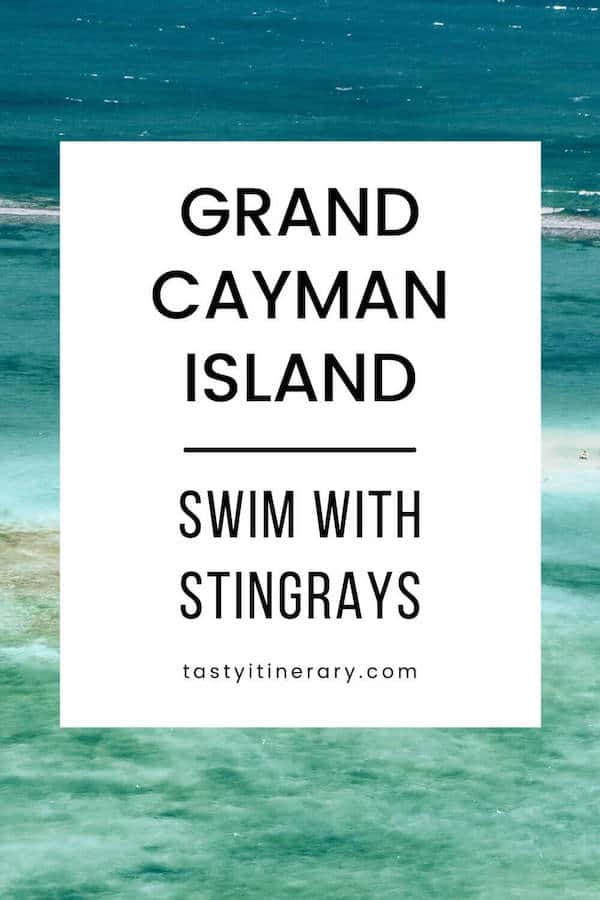 The entire journey to Stingray City we all wondered when it would start raining. The clouds were getting darker and at any moment we expected a downpour. I missed seeing the blue turquoise waters the Cayman Islands is known for.
It was still a nice leisurely boat ride there. Once we arrived at the sandbar, it was crowded with several other boats and dozens of other people there to see the stingrays. I knew it was a popular excursion and expected this.
Luckily, no rain to distract us from these moments of joy we were about to experience.
After some guidelines, I was one of the first to jump in. The water reached my waist and it was wonderfully warm, a great start to an amazing experience.
With the promise of squid, the guide caught the attention of several stingrays. The stingrays were docile and friendly. As they swam around you, they grazed your legs like cats do when they demand attention. Everyone got a chance to pet them, feed them, kiss them for good luck, and take pictures with them.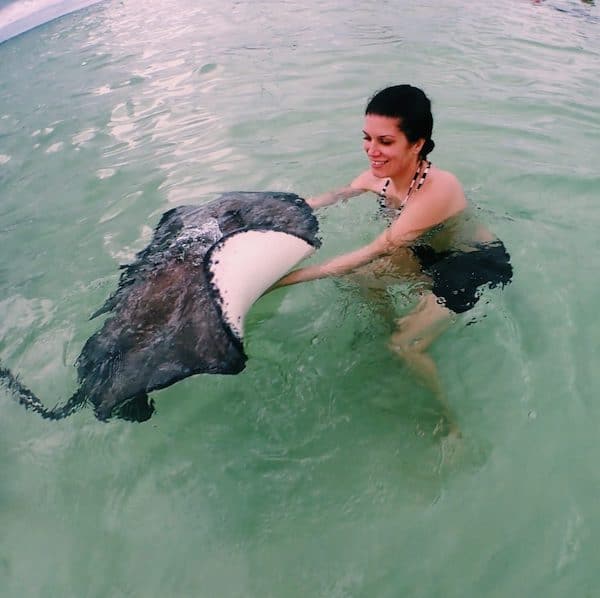 It was a fun adventure. One that the stingrays didn't mind partaking in. They are well-fed with a ton of treats. From what I witnessed, the guides are protective of their well-being. I also appreciated that the excursion is in the middle out in open water in the middle of the Caribbean, not in a tank. like the fact that it was an open water excursion, in the middle of the Caribbean.
Snorkeling at Coral Garden
On one hand, snorkeling is such a peaceful activity to do on your own while exploring under the sea. On the other hand, snorkeling is an exciting activity because you never know what is going to come out at you to greet you, literally.
Of course, depending on where you are, some spots are better than others. While this isn't the best snorkeling we've done, we definitely left there with some great memories. We will always be able to say, remember that time the eel attacked the GoPro?
Funny story.
A moment before this eel attack happens, hubby calls me over and tells me to swim to where he is that there is an eel. I swim over and as I put my head underwater, the eel pops out of its hole and shows off its teeth. At the moment, I swear it looked like a monster coming at me. I freaked out and screamed. Minutes later we were having a good laugh.
Starfish Point
Supposedly, on a beautiful day, the water is so clear you are able to see the starfish just hanging out underwater in the sand below. But, guess what? It started to rain.
In route there, a downpour greeted us and when we finally stopped, the water was stirred and we couldn't see anything. The captain graciously offered to safely bring a few on the boat (they had buckets they could fill with water and sand) for us to see but we declined.
Everyone figured, oh we're already wet from snorkeling. It's just rain. It'll be fine. Let's be brave and just get in there. You only live once! I was one of them.
We jumped in!
The rain was coming down so hard and cold, it felt like icicles bouncing off our skin. Submerged in the water, we were safe. It was lovely, kind of like a warm bath. But once we got on our feet, out of the water, we were attacked again by these pelts of rain.
Hubby and I were out there for not even 5 minutes before we were back on the boat. Most followed suit, but the kids. The kids were the adventurous ones that didn't allow a little rain to dictate their vacation. To be a kid again. I guess I could have gone back out and followed their example, but I was shivering and thus far, more than satisfied with my experience.
In all, it was a great day in Grand Cayman, we made it back to the ship just in time. I'd love to visit again and vacation there for a week minimum in the future.
Cruise Packing List
Add these items to your cruise packing list. Don't forget to pack these cruise items that will help enhance your cruise vacation. Printable included!
Other Things to Do in Grand Cayman Cruise Port
Unsure what else to do from the Georgetown, Grand Cayman Cruise Port? Here are a few things I've made notes of for future trips.
1. A Food Tour
If you're looking for a tasty itinerary, Grand Cayman is a great place to do a food tour. Did you know that Grand Cayman is the culinary capital of the Caribbean?
With this tour, you'll be picked up in downtown Georgetown and taken all over the island for 5 local tastings, rum samplings, and be guided around while they share knowledge of the local cuisine. Sign me up!
2. Seven Mile Beach
Have a taxi drop you off at Seven Mile Beach. You are free to explore the entire length of it as it is public access. Just bring some beach towels and you're good to go.
From Seven Mile Beach, you can also do water sport activities like a jet ski tour or go parasailing.
3. Cayman Crystal Caves
These beautiful Crystal Caves in Grand Cayman only recently open 1-2 years ago. You MUST book a guided tour and reserve a time for your group in advance. Crystal Caves does not include transportation. I recommend booking a car rental for the day as it is a 40 min ride away from the cruise port. The tour lasts 1.5 hrs. Tour the caves early and then head to the beach for the rest of your day.
4. Spend the Day at Rum Point
Rum point is a popular route if you want to head to the north of the island to snorkel. You'll need to either take a cab, book an excursion, or rent a car to get there. It is away from a seven-mile beach and Georgetown; a great option if you want to explore another part of the island. There is bar service, food, and water activities. Not as sandy as some would like either.
This is another perfect opportunity to rent a car, drive to Starfish Point, and then head over to Rum Point for lunch and some snorkeling.
Next Stop: Roatan, Honduras
What are you looking forward to the most in Grand Cayman cruise port? What do you love to do in Grand Cayman?
Don't forget to share the love on Pinterest: