Book an amazing vacation with these travel resources. Research and book your next great vacation using some of the favorites that we use to book logistics for work and for personal travel.
Do you ever feel overwhelmed by the number of sites available to book travel? Not only overwhelmed but who can you trust? Here are over 24 travel resources I rely on.
At my day job, I coordinate a ton of travel for projects taking place all around the world. I basically, coordinate logistics.
Researching travel for my work and my personal adventures brings me joy. I love booking flights, hotels, cruises, excursions, and arranging details like car service. It's exciting. With every destination, I learn something new. I've compiled this great list of travel resources.
There are many elements to coordinating logistics and it's rarely ever straightforward unless you decide to go with a package deal. Even vacation packages take some research.
This post may contain affiliate links, which means we'll receive a commission if you purchase through our links, at no extra cost to you. Please read full disclosure for more information. We appreciate your support!
These travel resources are my go-to. You probably already use them or have heard of them, but perhaps you'll find a one or two you never thought of using to book travel.
Travel Resources
1. Google Maps
All trips start and end with me looking at Google Maps. The moment I'm given an address for a project, the first thing I do is pull up Google Maps. It's my #1 travel resource.
Where exactly is this point of destination? What's the nearest airport? Closest hotels? Will they need a car rental? Will Uber suffice? Can they take the metro?
For vacations, hubby and I sometimes sit at a coffee shop and zoom in on our points of interest that we'd like to go to. What's the next nearest city? Should we take the train or fly? How long would a road trip be?
Having a map at your disposal not only shows you that the world is massive and full of unexplored places, but it also provides all sorts of answers.
You can plan routes.
Check distances and drive times.
Take advantage of Street View when available.
Figure out public transportation routes and timetables.
Travel Tip: Did you know you can mark locations on Google Maps by dropping pins and then saving the map for future use? See an example of my saved Kauai map here.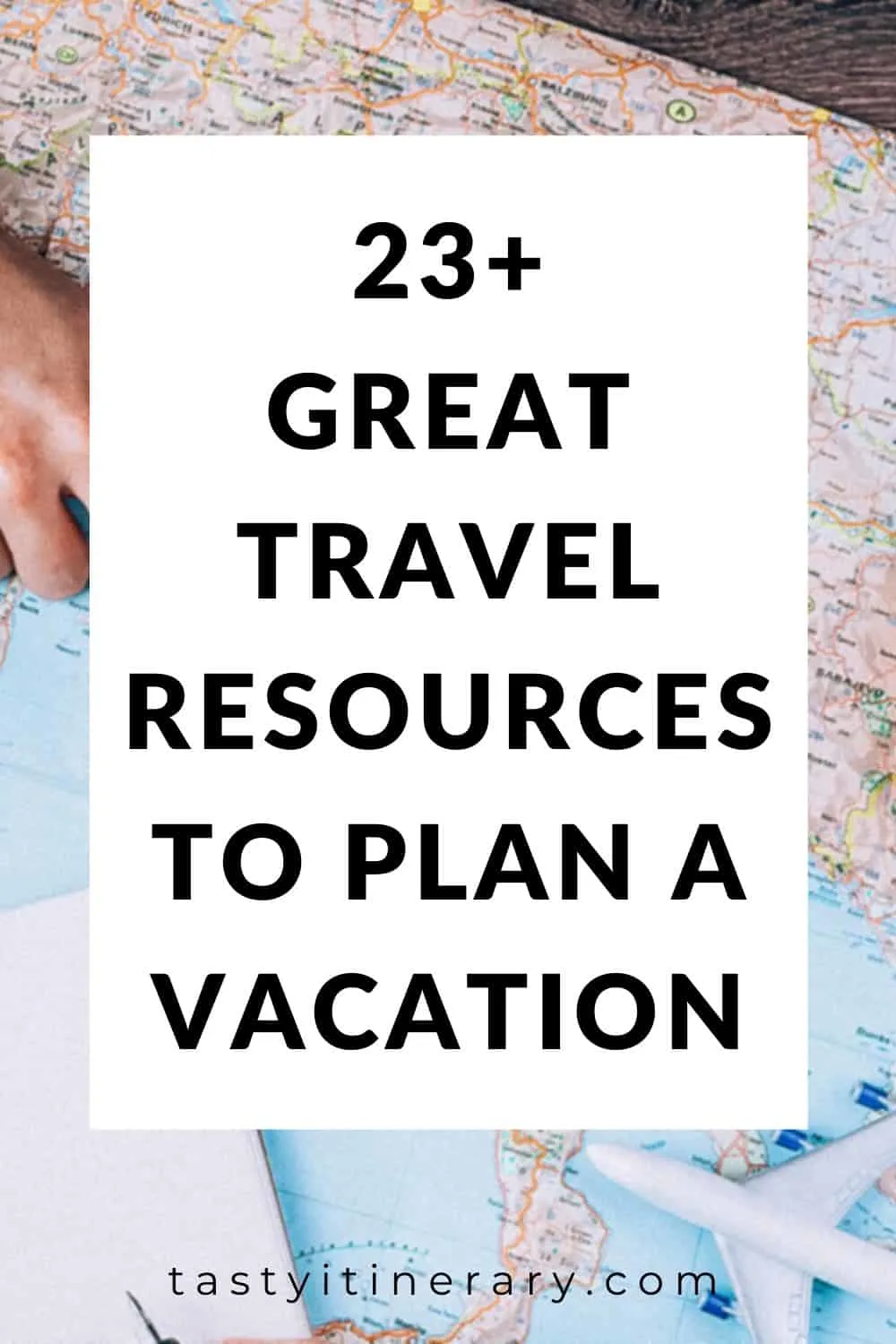 2. Trip Advisor
Bookmark TripAdvisor. Treat it like your best friend.
I'll visit Trip Advisor many times from start to the end of my trip to read more about certain cities, things to do, great places to eat, and perhaps look at the best accommodations in the area.
With Trip Advisor I get a sense of what's worth visiting and what is not by reading reviews.
The Trip Advisor forums are also a great place to find tips from locals and regular visitors. You can also ask your own questions.
3. Travel Guides & Books
I love to read through travel books as if they are the next best novels. I will buy 2-3 travel books per destination, drown in them and mark up everything that I may want to remember, visit or add to my list of must-do.
Monitor & Research Flights
4. Google Flights
Google Flights is a great tool to use to see what all the airlines are offering at one time and in one place.
I use this 98% of the time to look up flights just to see what is available and give me a sense of what airlines fly to a certain destination and if there are any non-stop flights.
The date grids and price graph are useful if you have the option of being flexible.
When you find a flight you want to book, it will take you directly to the airline's website to book. That is a plus for me as I prefer to book directly with the airline rather than a third-party site.
5. SkyScanner
Sometimes I may jump to Skyscanner, but I don't find it as linear and easy to use as Google Flights. It is a popular choice among travelers.
A neat option is being able to enter "EVERYWHERE" as a destination. It will give you all the flights available from your airport location on the dates you've chosen. From there you can select a cheap destination and plan a spontaneous trip.
6. Airfarewatchdog
I don't know about you, but I don't have the flexibility to travel outside of certain times of the year. So once settled on dates within our vacation time from work, we will choose our travel destination and I will sign up to monitor the dates and airport destination on Airfarewatchdog.
If you frequently visit a certain destination, Airfarewatchdog is great to monitor flight deals all year straight to your email. Sight up for their price alerts.
7. Bonus Tip: Scott Cheap Flights
Sign up for Scott's Cheap Flights to receive a daily email with the deal of the day. These are deeply discounted flights that aren't being promoted or have been posted erroneously by the airline.
Usually, you have to be flexible to take advantage of these flights. They are out there and available to book when these deals reach our email.
Hotel Deals & Vacation Rentals
8. Booking.com
I have been using Booking.com since our first trip to Europe many years ago. Mostly, I use it when I travel outside of the USA, but it is a great site to always check.
I love how easy it is to use and book a hotel. The free cancellation option (depending on the rate you book) is a plus in my book.
9. HotWire
Want to stay at a 4-star hotel for the cost of a 2 or 3-star hotel? The answer is Hotwire.com.
The downside to Hotwire is that you have no idea of the name of the hotel until after you have paid and booked. It is non-refundable. So if you're not happy with the hotel, you're stuck with it.
From experience, I have used Hotwire and stayed at some big-name hotels for a discounted price because of Hotwire deals. It's a great site to use for last-minute hotel stays.
10. Airbnb
Save money by staying in someone's home, a boutique hotel, and/or a vacation rental. I love to book an Airbnb when I'm looking to stay somewhere that will be a home away from home.
I have tips to book an Airbnb and offer $40 off your first booking.
Airbnb is a fantastic budget-friendly option for families that need the space and the amenities like a full kitchen to cook-at-home meals. Also great savings for prime locations that you may not find by staying at a hotel.
Cruise Travel
11. Cruise Critic
I love the Cruise Critic community boards. They are full of real cruise lovers with a wealth of information.
Cruise Critic also has one of the best cruiser meet-and-greets. You can join a roll call for your sailing date and meet other cruisers on your trip.
You can also book amazing cruise deals on Cruise Critic and browse cruise reviews from authentic cruisers.
12. Cruise Direct
If I do not book directly with a cruise line, it's because I found a better deal offered on Cruise Direct. Booking with a cruising agent has advantages and extra promotions that the cruise line will not offer.
Booking tip: Compare rates and any promo offers between the cruise line and a booking agent like Cruise Direct.
Happy Cruising!
Influential Travel and Cruise Quotes to Inspire Your Next Vacation
No matter where you're headed, these travel quotes and cruise quotes will help get you excited about your next vacation. Whether you're dreaming of a tropical cruise ship vacation in the Caribbean Islands or an adventure exploring European travel destinations, these words of wisdom will set the tone for your perfect getaway.
Vacation Packages
Sometimes it's just easy to book a vacation package that includes everything and all you need to do is show up. I understand! I've done this multiple times myself.
I visit these sites often to peruse their all-inclusive deals and more:
A Costco membership is needed to book via Costco travel. It is worth signing up for one! Not only do they have great deals at their warehouses, but their travel department also provides amazing travel packages for travel. [Sign up now]
Guided Tours
While I love to explore on my own, I also do love great guided tours. Private tours are my favorite, but sometimes not as cost-effective. You can gain great knowledge by having a local tour guide and you can also maximize your time at a location.
Usually how I book my tours depends on what tours I can find locally, like I found the Girona Food Tour in Spain, London Walks, and so on. If I can't find something I'll book through one of these sites. You'll see me mention them throughout my website and sometimes I specifically will name a tour company.
Trip Insurance
22. Insure My Trip
Insurance is so IMPORTANT. I like to use Insure My Trip because it allows me to shop and compare multiple quotes from different providers on one site.
If I'm booking a cruise, I will always purchase insurance that allows me to cancel for any reason and get my money back. It will cost a little extra, but worth it if something happens and you need to cancel.
Travel Credit Cards & Info
23. Chase Sapphire Reserved or Preferred
There are so many travel credit cards out there, but so far I've been impressed by the Chase Sapphire Reserve. Besides the amazing benefits Chase offers, their travel portal offers great deals.
Benefits of the Chase Sapphire Reserve:
earn 3x the points on travel and dining
$300 annual travel credit
Priority Pass Membership – Access to airport lounges (another great travel resource)
Global Entry or TSA PreCheck (we have Global Entry from way before having this credit card. We love it. It's a huge time saver.)
and more!
The annual fee is $550. With these benefits, it pays for itself.
You can also start off with the Chase Sapphire Preferred with a $95 annual fee. Earn 2x the points on travel and dining.
24. The Points Guy
If you need to know more about travel credit cards, points, and how to get the most of your credit card rewards for travel, I defer to the guru: The Points Guy.
Hope these travel resources help with your future tasty itinerary. Don't forget to bookmark this page. I'll be updating it with new travel resources I find helpful and worth exploring.
Share the tips & love on Pinterest: