Are you a first time traveler ready to plan or take your first trip? Or maybe you've traveled before but are looking to up your travel game. These travel tips for beginners will help you navigate the world of travel with ease and confidence.
What do I wish someone had told me when I started travel planning and taking my own adventures?
There are probably a hundred travel tips for beginners I wish I had known, but experience is sometimes the best teacher. To this day, I still learn something new with each trip I book and take. With technology advancing and the world of travel changing, there are always travel tips and tricks to help you make the most of your journey.
With that said, there is one travel tip that I wish I had educated myself early on: everything to do with travel points.
Earning travel points to book free travel seems like a no-brainer. However, many people fear the concept, and that's because they don't fully understand it. Or they think they don't spend enough to carry one.
We are not travel hackers, but we have learned a few things about leveraging credit card points to help pay for our travel. We believe it is one of the best travel tips for beginners that want to travel more.
We mention it again below, along with many other practical tips, like downloading the offline city maps on your Google Maps app and ensuring you bring a travel adapter for international travel.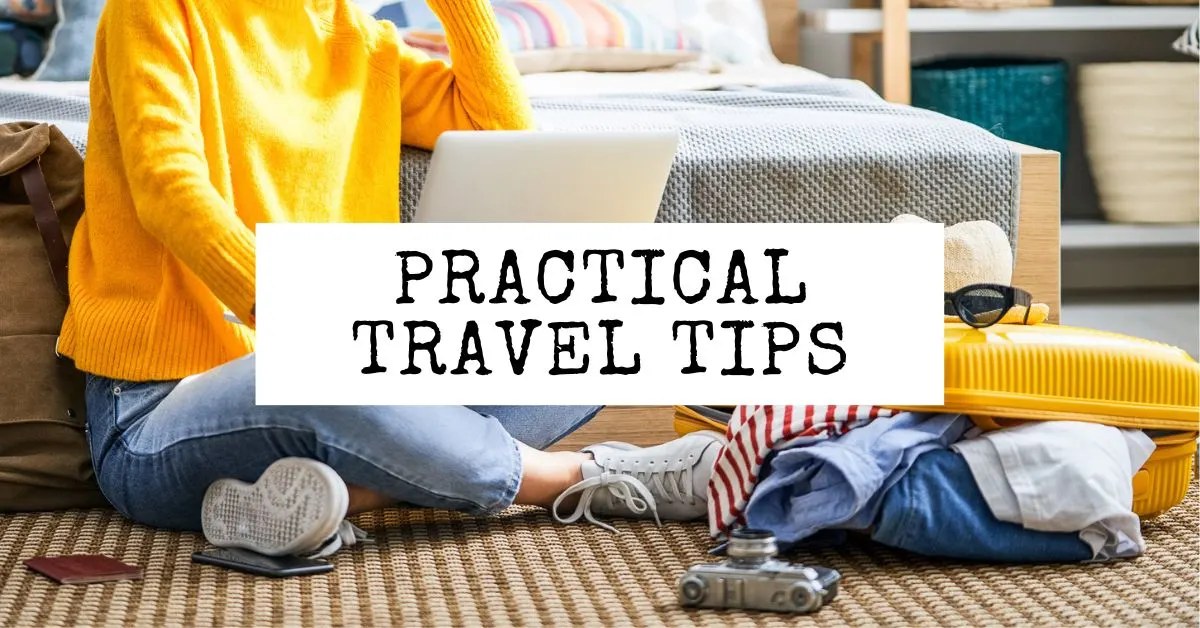 This post may contain affiliate links, which means we'll receive a commission if you purchase through our links at no extra cost to you. Please read full disclosure for more information. We appreciate your support!
Whether you're a seasoned traveler or a beginner, planning a trip can be overwhelming. From choosing your destination to packing your bags, countless decisions and details exist. Considering some of these simple travel tips, you can avoid travel problems.
In this article, we've compiled a list of some of the most essential and practical travel tips for beginners that will help you travel smarter, safer, and more efficiently, so you can travel like a pro.
Here are some other travel-related articles you may enjoy reading next:
Travel Tips for Beginners
1. Start with Google Flights to Begin Researching Flights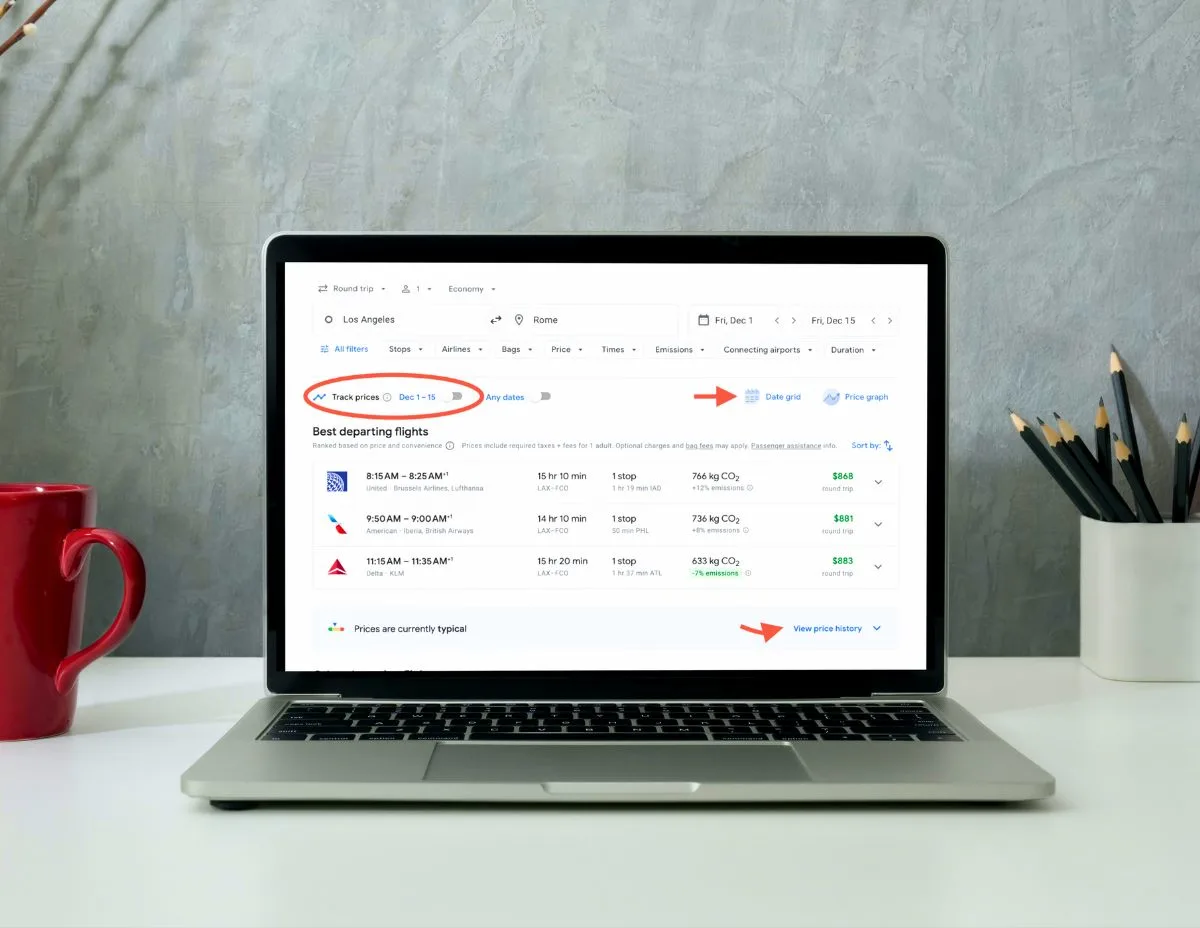 When researching flights, Google Flights is a fantastic tool to start with. It allows you to easily compare flights across multiple airlines, search by dates and flexibility, and even track prices for specific routes and dates. You can customize your search by selecting the number of passengers, cabin class, and more.
We love the tracking feature because we have multiple notifications for specific routes we love set, so Google Flights can track them and email us when those prices drop.
With Google Flights, you can find out whether the price you've found is low, high, or average for flights on a particular route, thanks to its historical price guide.
Overall, Google Flights is a great starting point for anyone researching and booking flights.
2. Book Trips During the Shoulder Season
One of the best times to travel is during the shoulder season. This is when we travel most because rates drop, kids are usually in school, and crowds are not as bad as in the summertime.
If it's your first trip and you dive right into experiencing the busiest season, when everything is more chaotic and expensive, you may or may not regret it.
Right after the holidays is another great time to book a trip to take advantage of cheap rates and the fact that everyone is returning to work and school.
Of course, if you have no choice but to travel during peak season, there are ways to beat and avoid the crowds, like exploring early in the morning or off-the-beaten paths. You can also save money by booking far in advance rather than waiting until the last minute or even booking during big holiday sales.
We mostly travel during the off-season, minus a few exceptions due to the location and the season to travel there.
3. Apply for TSA Pre-check or, Better Yet, Global Entry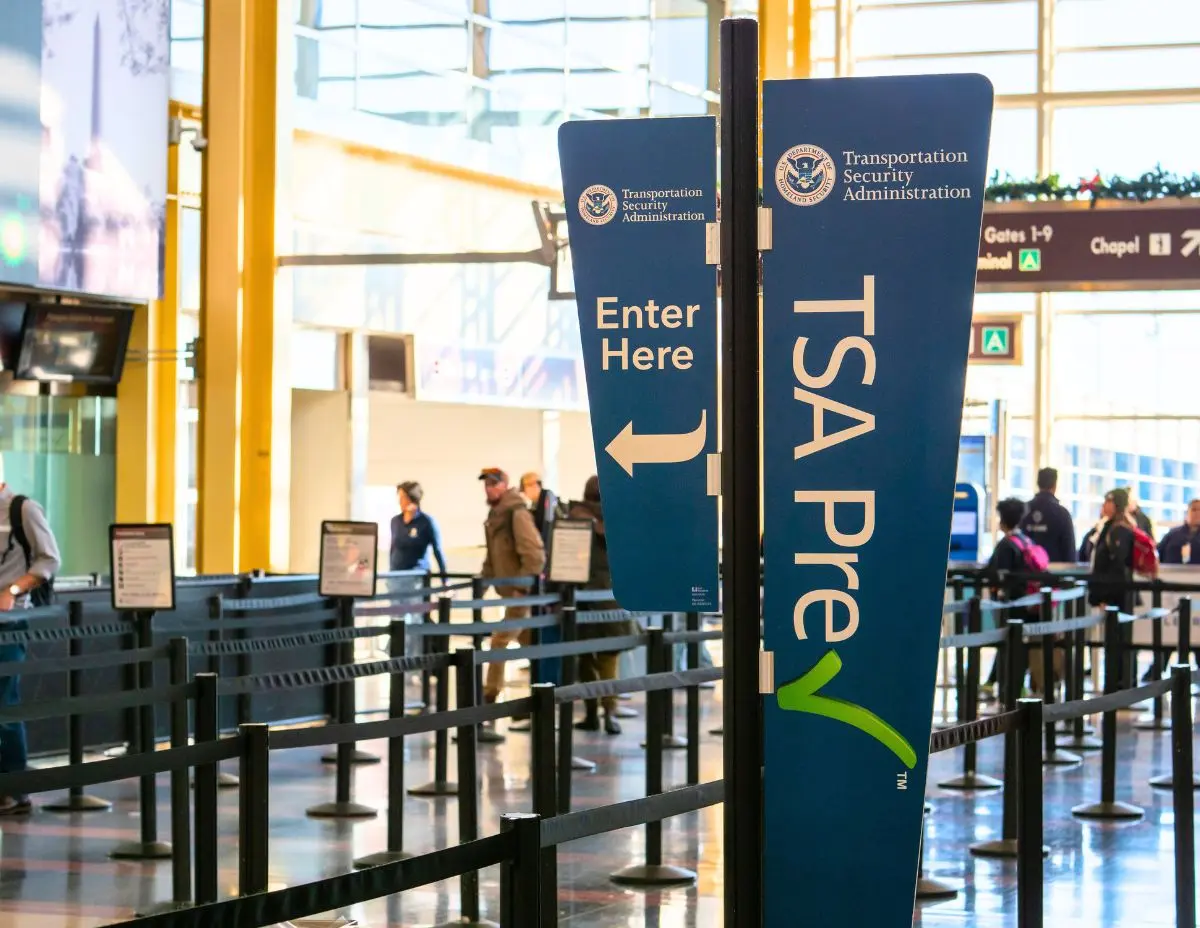 As a first-time traveler, you may think applying for TSA Pre-check or Global Entry may be a waste of money for the one or two times a year you plan to travel. I disagree. Let me briefly explain what TSA Pre-check is and what Global Entry is.
TSA Pre-Check Program
TSA PreCheck program lets US-approved travelers go through airport security more quickly than the regular security line, saving a lot of time at the airport.
If you're approved, you don't have to take off your shoes or belt, and you can keep your laptop and liquids in your carry-on bag – typically a huge hassle.
To apply, you fill out a form, get a background check, and pay $78 for five years of membership.
Global Entry
Global Entry is a program that lets approved travelers bypass the long lines when entering the US from an international travel abroad. Instead, they can use a special kiosk to complete their entry process more quickly, and you're on your way.
The downside is you have to set up an interview with border control to get approval. The huge plus is that it includes TSA Precheck.
To apply, travelers fill out a form to get a background check and pay $100 for five years of membership.
How do you decide if one of these programs is worth it as a new traveler?
Think about it this way, if the cost of TSA PreCheck is $78 for 5 years and you only use it once a year, that's $15.60 to save time at the airport.
Global Entry costs $100 for 5 years, and it includes TSA PreCheck, that's $20 a year. You'll get through security in domestic airports quicker than other travelers and through customs quickly upon returning from an international flight.
Global Entry is one of the best travel investments we've made. And it costs us nothing because we have a couple of credit cards that include the cost of the fee as a perk.
Check to see if you have a credit card that covers the Global Entry or TSA PreCheck application fee as one of your member perks.
Bonus Tip: If you plan to travel a lot, adding CLEAR to your travel tools can help you save even more time at the airport. With CLEAR, you can skip the ID check and head straight to the TSA screening area in the select airport. It's costly yearly and only worth it if you travel a lot or your credit card covers the fees as a membership perk.
4. Pack Light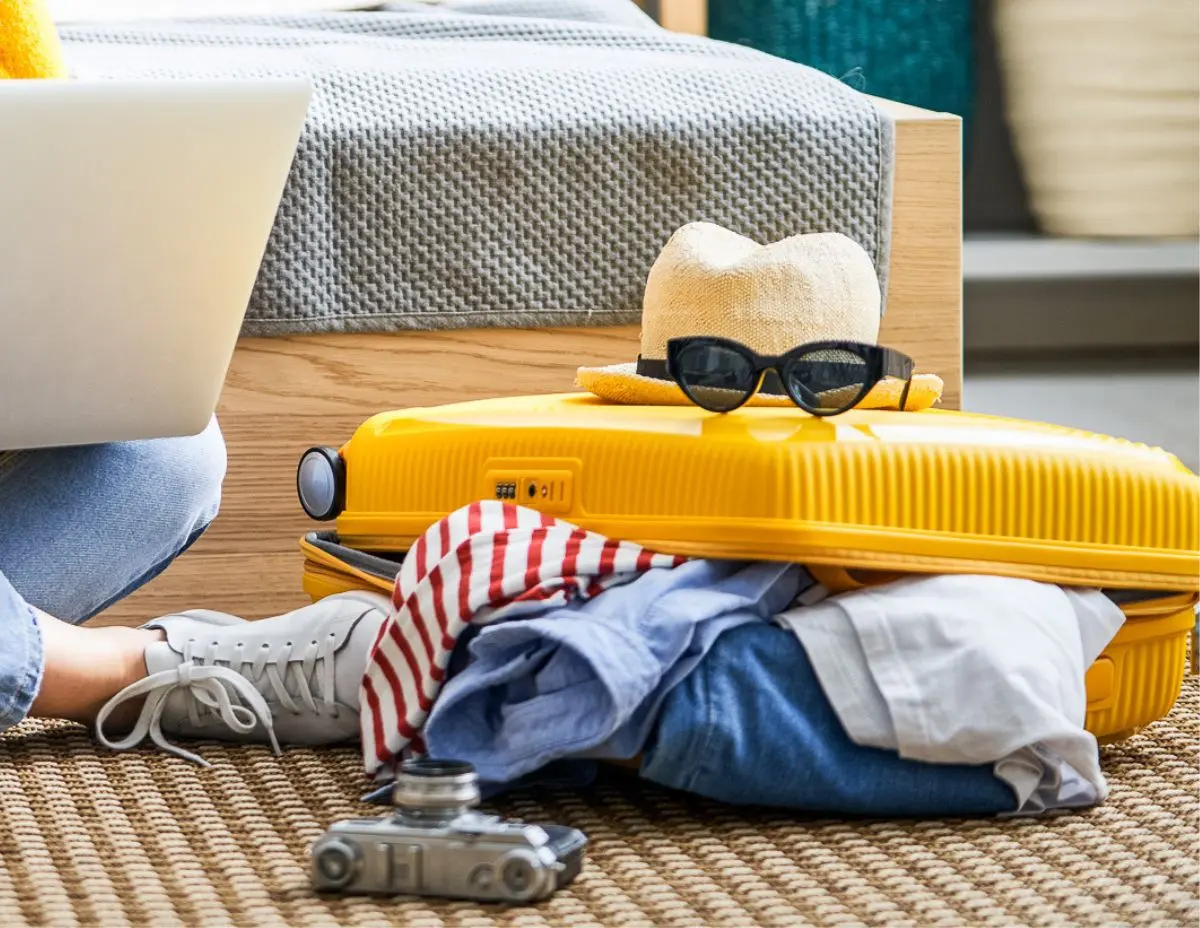 While this is always at the top of the travel tips for beginners, packing light is an art that takes some trips to get right. It's good to note that you don't need to bring your entire closet on a trip.
We should pack light for many reasons, but most importantly, it can make your travels much more convenient and enjoyable.
When you pack light, you don't have to worry about carrying heavy bags or paying extra fees for overweight luggage. You can also move around more easily and quickly, especially if you take public transportation or walk a lot.
I know, easier said than done.
We used to be over-packers but have improved by creating a capsule wardrobe, narrowing down our outfits, and learning to re-wear items. We can also handwash certain things as we go.
My biggest downfall is toiletries because I have sensitive skin and curly hair, which require many products. I try to limit it to the basics and transfer smaller amounts into reusable travel bottles, which take up less space.
The goal should be to carry on, but it's not a must that you do. Everyone's travel style is different, and you'll start learning what works for you and what doesn't the more you travel. Remember that the more you pack, the more you have to lug around and worry about.
5. Understanding Currency and Exchange Rates
Having an understanding of currency and exchange rates is necessary for all travelers taking a trip outside of the country.
Before you go on an international trip, get to know the exchange between your home currency and destination. You don't want to get ripped off. It's easy to get scammed when you don't know any better.
It's wise to know the exchange rate so you can budget effectively, understand the cost of what you buy, and avoid confusion when using foreign currency.
We do our due diligence to know the rates. You download an exchange rate app like Xe, which we like to use to verify the rates.
To avoid having to exchange money, when we travel, we always use our credit cards that don't charge a foreign transaction fee to make purchases. This means the credit card company won't be charged an additional fee for converting the currency when purchasing abroad. Instead, the credit card company will handle the currency exchange, typically at a competitive rate.
Tip: When charging to a credit card, you will sometimes be asked if you want the charge to be in US dollars or in the destination foreign currency. You always choose the foreign currency and let the credit card company make the exchange for you – you will get a better rate.
Sometimes credit cards aren't accepted, and you need to have cash.
We suggest withdrawing from a bank's ATM once you arrive at your destination. Find an ATM inside a bank, as they will have the best exchange rates, and it is safer.
Try to avoid currency exchange booths and lonely ATMS.
If you need cash before your trip, see if you can order from your local bank or check your local AAA, as some still do currency exchange.
6. Take Advantage of Credit Card Points
Credit card points for travel are rewards that can be earned by using a credit card for purchases and then redeemed for travel expenses like flights and hotels. The number of points earned per dollar spent varies by card; some offer bonus points for specific categories.
Earning credit card points and maximizing those points to book travel is one of the travel tips we wish we had learned more about earlier. Of course, these days, there is a credit card that you can earn points by paying your rent with it, which wasn't available many years ago.
While I no longer am a renter, I sometimes think back to the thousands and thousands we spent on renting and how we could have racked up so many points had that credit card existed. We could have turned those points into free hotel stays or even a few flights back home.
The key to getting started with credit card points is to find a credit card that works with your everyday spending, like bills and groceries.
And then the most crucial part is paying off your credit in full at the end of every month. If you don't, it falls apart, and the points become worthless because you'll be racking up debt and paying interest. You don't want that.
Using a credit card responsibly for purchases or paying bills you will pay anyways will help you rack up points so you can someday take a free flight or even have your accommodations paid for.
Last year, all our accommodations during our two-week trip to Italy were paid for by points. Allowing us to save money and have more experiences during our trip.
You can learn more about credit rewards from masters like Upgraded Points and GeoBreeze Travel. You can even join Facebook Groups about award travel to connect with other like-minded individuals.
7. Sometimes Spending More for a Hotel Room is Worth It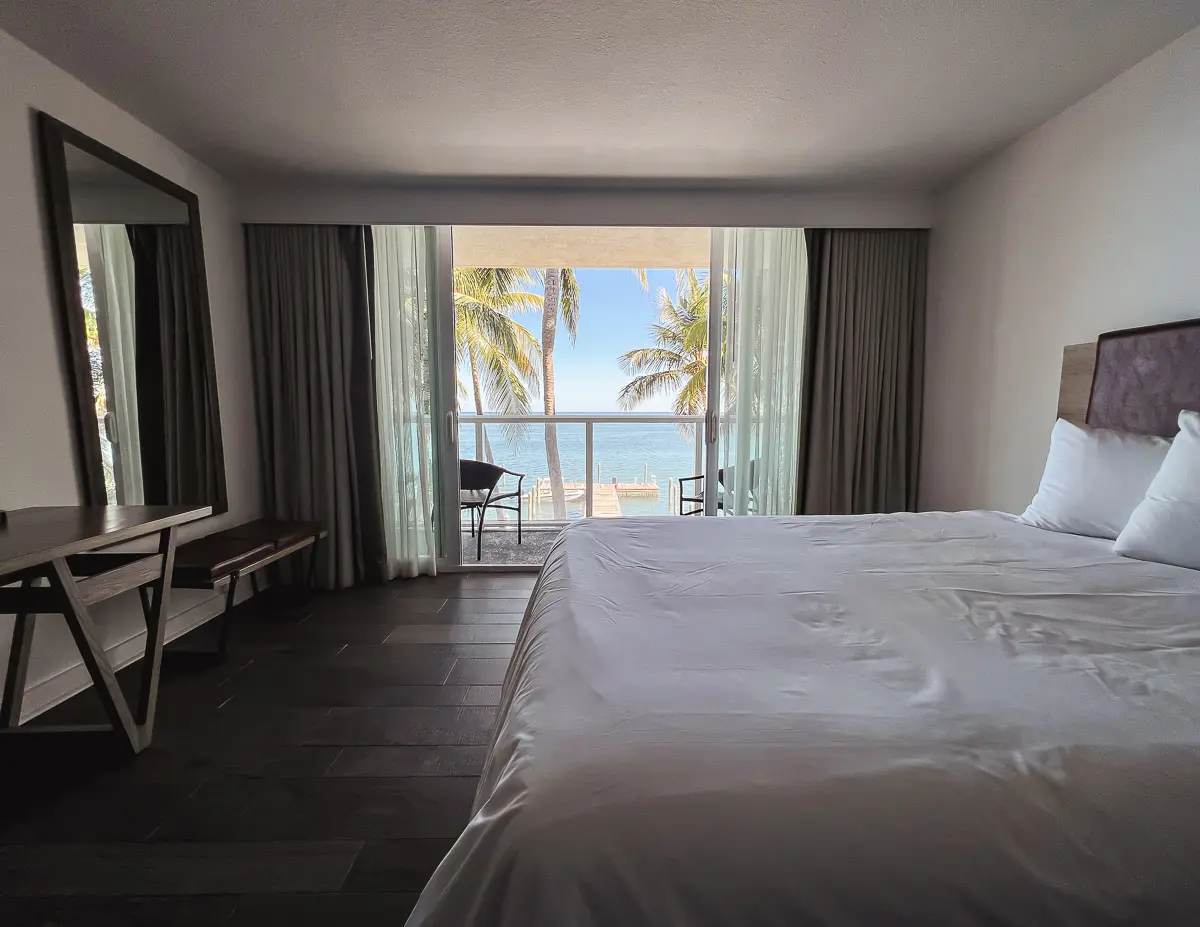 Not always the case, but sometimes it is.
As you're researching and booking hotel rooms, ask yourself if saving $20-$50 a night in a crappy location with poor reviews is worth it. Or are you better off paying that extra $20-$50 a night to stay in a better location with better reviews?
It may be age, but as we travel more and arrive at a hotel or vacation rental, we want to be comfortable and get a good night's sleep. That means booking in nicer hotels that are clean, comfy, with a great staff, and have the amenities we need for the time we'll be here.
Arriving at your hotel and loving where you're staying can start your vacation on the right foot. It is part of your experience, even if you do not spend the entire day there. Nobody wants to return to a dirty hotel room or a hotel in a sketchy area at night and have anxiety all night without a proper night's sleep.
Sometimes it is worth paying more to get a good night's sleep.
That said, just because a hotel costs more doesn't mean it will be better than the boutique hotel next door. Always do your research and read all the reviews. Try to find accommodations that fit your needs and are within your budget. Just remember that sometimes it's worth spending a tad more.
8. Have An Itinerary Ready to Look At
As you book your travel, type out all the information necessary for your trip into a document.
We like to put everything by date and in order.
Flight Information: reservation number, dates, times, flight numbers, airports
Hotel Infomation: confirmation # dates, check-ins, address, phone#
Activities & Tours: confirmation #, date, meet-location, start time, phone # and email address
Whether you type it out or put it into an Excel sheet, print it to carry with you and have a pdf in your phone that you can look at anytime. I prefer to easily see it on my phone when I'm on the go.
While I love my old-school way of doing it, you can look at apps that do similar for you.
TripIt (not affiliated) is a great tool that allows you to create an itinerary simply by forwarding your emails to it. You can view your itinerary on their app, and they also notify you when there are flight changes. Something you should look into.
9. Download an Offline City Map from Google
Every travel guide for beginners should have some directions for Google as it has many great features for travelers, especially on Google Maps. One is their offline maps of a city that you can download to your phone to help you navigate a city without Wi-Fi or a data plan.
Do this when you have Wi-Fi and before you travel.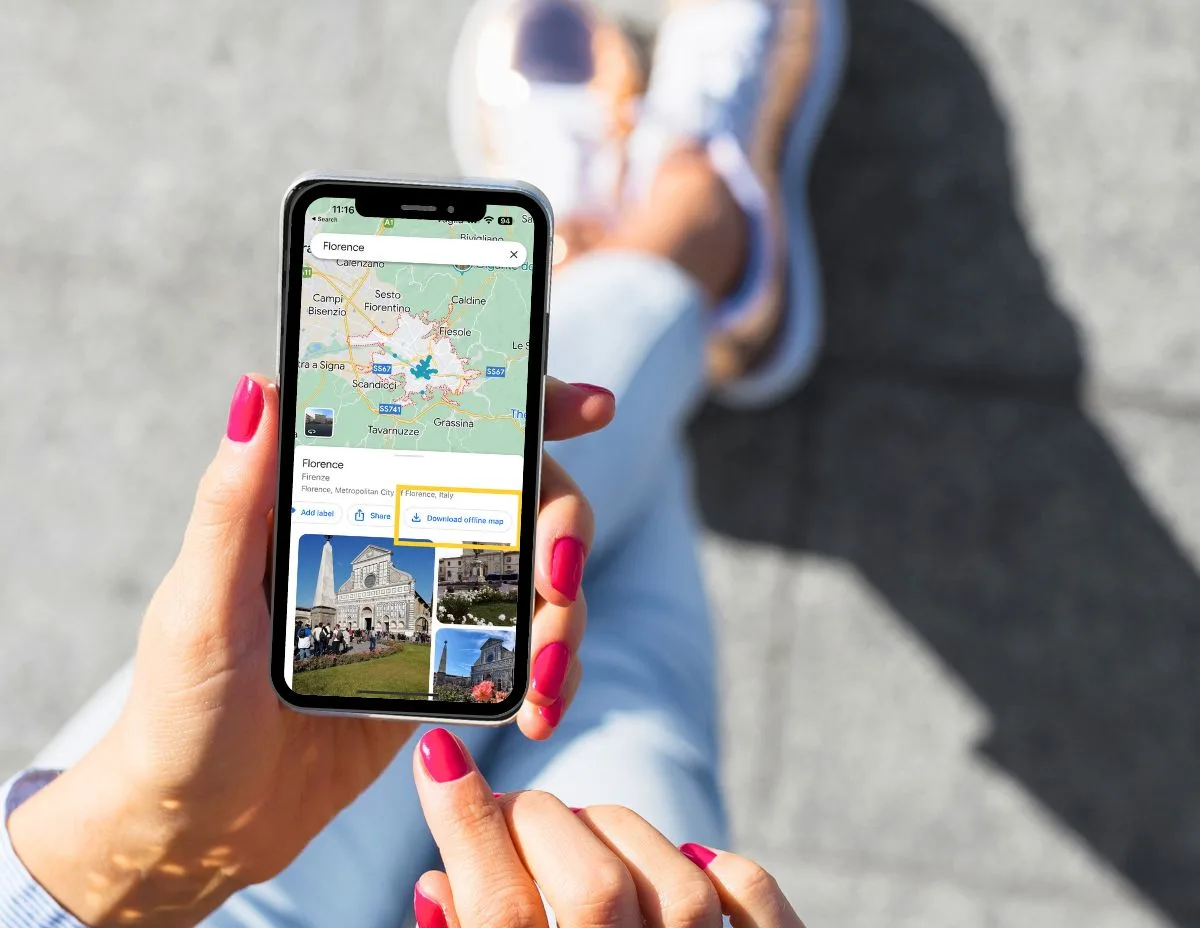 Here is how to download an offline map on Google Maps:
Download the Google Maps App.
Make sure you're signed in.
Search for the city.
Scrolls across from directions at the bottom to "Download offline map."
You can choose how far out on the map you'd like to download around that city.
Every time you download a city map, it takes up space on your phone.
10. Download Google Translate
Visiting a foreign country? Do not leave without downloading Google Translate. It's a free translation service app. It will help you communicate with others who do not speak your language. You can also use its camera feature to translate foreign signs and menus.
This app is quite handy, and no traveler should be without it.
Tip: Don't leave home without learning phrases like "hello" and "thank you" in the local language.
11. You'll Need a Travel Adapter
Don't forget to bring a travel adapter to plug your electronics into when traveling to a foreign country. You don't want to be the one plugging into the wrong socket and shutting down the electricity at the hotel.
This is one of those things we can easily forget as we are planning our trip as first-time travelers.
12. Prescription Meds Should Always Stay With You
As you pack your carry-on bag that will always stay with you, always keep prescription meds with you. You don't want to pack them into your luggage when you check-in.
On that note, pack a few over-the-counter meds you may need, like ibuprofen and allergy meds. Sometimes you won't find the same medications where you're traveling to. You never know when a headache will arise on the plane.
13. Practice Safety
Always prioritize your safety and stay alert of your surroundings no matter where your adventures take you.
Here are some practical safety tips to follow:
Share your itinerary with someone back home and stay in touch to let them know of your whereabouts.
Keep your wallet in your front pocket, or use a money belt.
A money belt is great to keep your passports separately in.
Walk around confidently and always act like you know where you're going.
Be aware of your surroundings.
Don't let your drinks out of your sight.
Wear a crossbody purse or look into anti-theft bags.
14. Take Advantage of Free Walking Tours
Not every destination has free walking tours, but they exist in many places worldwide. Research and see if any are offered because this is a budget-friendly way to be introduced to a new city.
The tours are usually led by locals passionate about where they live and ready to share with visitors. Usually, they work for tips. We recommend tipping $10-20 per person. Consider the tip of the cost of a walking tour, a fraction of what a tour usually costs.
Although in some international destinations like Japan, a small gift from home would be more appropriate than a cash tip. So do your research regarding the tipping culture before you travel.
We've taken quite a few of these tours and have been impressed. You don't need to spend much money to experience a guided tour.
Where to start looking for these tours? Here are a few tour companies that offer free tours:
15. Be Open to New Experiences
As you travel, you're stepping forward and opening yourself up to new experiences, cultures, perspectives, and ways of life. It's a chance to broaden your horizons and better understand the world around you.
Try new local cuisines. Meet new people. Engage and participate in new activities.
16. Eat Where the Locals Eat
One of the top travel tips for beginners, especially here at Tasty Itinerary, where food is a big part of our travel adventures, is not to get caught up in eating at spots that cater to the masses.
We connect with the local culture through food and discover new foods we have never eaten. One of the ways to do that is to find out what locals eat and where they eat it.
When exploring a new destination, we sometimes book food tours introducing us to local eats, where to find them, and some of the best places to eat. It's a smart hack to help with the research side of things when spending a short time in a destination.
Here are some tips when looking for places to eat:
Observe the locals, and check out the restaurants they are gathering in, and if there is some line in front of a place, is it filled with locals or tourists?
Stay away from restaurants with photos on them.
Restaurants near huge tourist sites are usually marketed toward tourists.
If they offer the menu in all languages, run the other way.
Look for handwritten menus. Sometimes these are the hidden gems serving the best food.
Don't be afraid of trying hole-in-the-wall spots away from everything.
17. Consider Renting a Car
Other guides will tell you you do not need to rent a car for specific destinations. That's true as big cities, especially abroad, have excellent metro systems that you can travel by train to connect from one big city to another without ever needing a rental car.
However, sometimes renting a car allows you to explore more and further than you'd like. You can explore off the beaten path without booking a guided tour, get away from the crowds, and allows you the freedom to create your itinerary and find hidden gems.
When we spent a few days in Tuscany, renting a car was essential to explore the rolling hills and small villages around Tuscany. We would have had to hire a private guide to drive us around if we didn't, and that would have been costly. It was one of the best decisions we made.
As you research, weigh the pros and cons of renting a vehicle and if you even need one for what you want to see and do.
18. Book Your Transporation in Advance
If you are not planning to rent a car, have a plan and know how you're getting around starting from when you land. It's practical to have a car service booked to pick you up upon arrival and take you to a hotel to avoid taxi lines and scams.
Or if the plan is to take public transportation, know how to take the train, what to expect, and the schedule. Many big airports have fast trains that go into big cities. Sometimes you can purchase these train tickets in advance.
Have Uber or a local taxi app downloaded and ready to go on your phone.
19. Always Carry Tissue Paper With You
Not all bathrooms have everything we need to go to the bathroom. When I travel, I always have tissues and wipes in my bag. Unfortunately, have needed to reach for them often. You'll thank me later.
Also, be aware that sometimes you'll be charged a small fee, like $1 or less, to use the bathroom. Pay it if you have it. These bathrooms are usually clean and well-kept.
20. Always Be Kind
We shouldn't have to say, but be kind and friendly. Doesn't matter if you're a first time traveler or a seasoned traveler. Always be kind. Whether you're interacting with locals or fellow travelers, a positive attitude and respectful behavior can go a long way.
What's the saying, "You can catch more flies with honey than with vinegar."
Key Steps on Planning a Trip for Beginners
Planning a trip can be overwhelming sometimes. Even after the hundreds of trips I've planned for work and myself, there is always a level of stress that goes with ensuring all the pieces come together. I find it a fun and exciting process.
The more you travel and organize your travel itineraries, the easier it becomes because you gain knowledge and become a savvier traveler. It's not always perfect, but that's part of the fun.
If you follow these key steps to planning a trip for beginners, you can plan your trip easily.
Step 1: Decide On Your Destination
Step 2: Create a Budget
Step 3: Set Travel Dates
Step 4: Book Transportation
Step 5: Reserve Accommodations
Step 6: Plan Activities
Step 7: Consider Travel Insurance
Step 8: Start Packing
Step 9: Confirm Itinerary and Print all Travel Documents
Step 10: Happy Travels
Beginner Traveler FAQs
What do you need to start traveling?
You need a passport to start traveling abroad or government identification to travel within your country. Some states now require a Real ID to travel within the US.
How do I start traveling with little money?
Traveling with little money is possible; you have to get creative.
• Start with choosing budget-friendly destinations.
• Look into all-inclusive deals that cover food and some activities.
• Plan a cruise with friends and share a cabin.
• Consider house-sitting or house-swapping to save on accommodations.
• Start a side hustle to save more money to travel.
• Learn to accumulate credit card points responsibly in order to travel.
What are 5 things you should do to prepare for the trip?
Prepping for a vacation is exciting, but once your flights and accommodations are booked, you should:
Do more research on your destination.
The more information you know, the better you can plan your activities and itinerary.
Plan your itinerary.
Once your flights and hotel accommodations are booked, plan your daily activities from what you want to do and see.
Book other transportation you may need.
Your flights are booked, but once you have an itinerary, it is easier to book train tickets or a car rental in advance for the days you need them to get from point a to point b.
Check your travel documents.
Re-check everything more than once, ensure the dates are correct, and correlate with planned activities.
Create a packing list.
It's good to have a checklist of things you plan to take to pack and mark them off as you go. This way, it decreases the chances of forgetting something.
There are many things to think about as you plan a vacation. With these practical travel tips for beginners, you will be well on your way to having a fabulous trip.
Share the tips & love on Pinterest: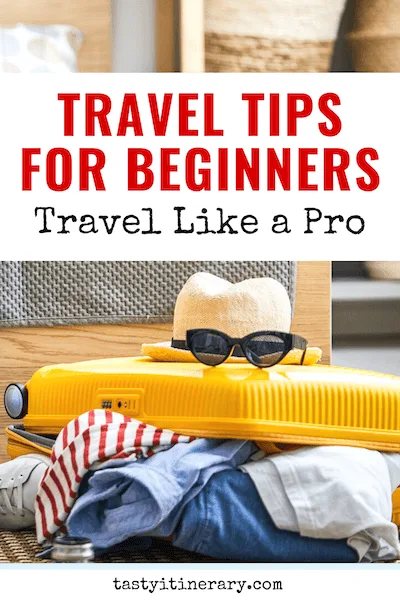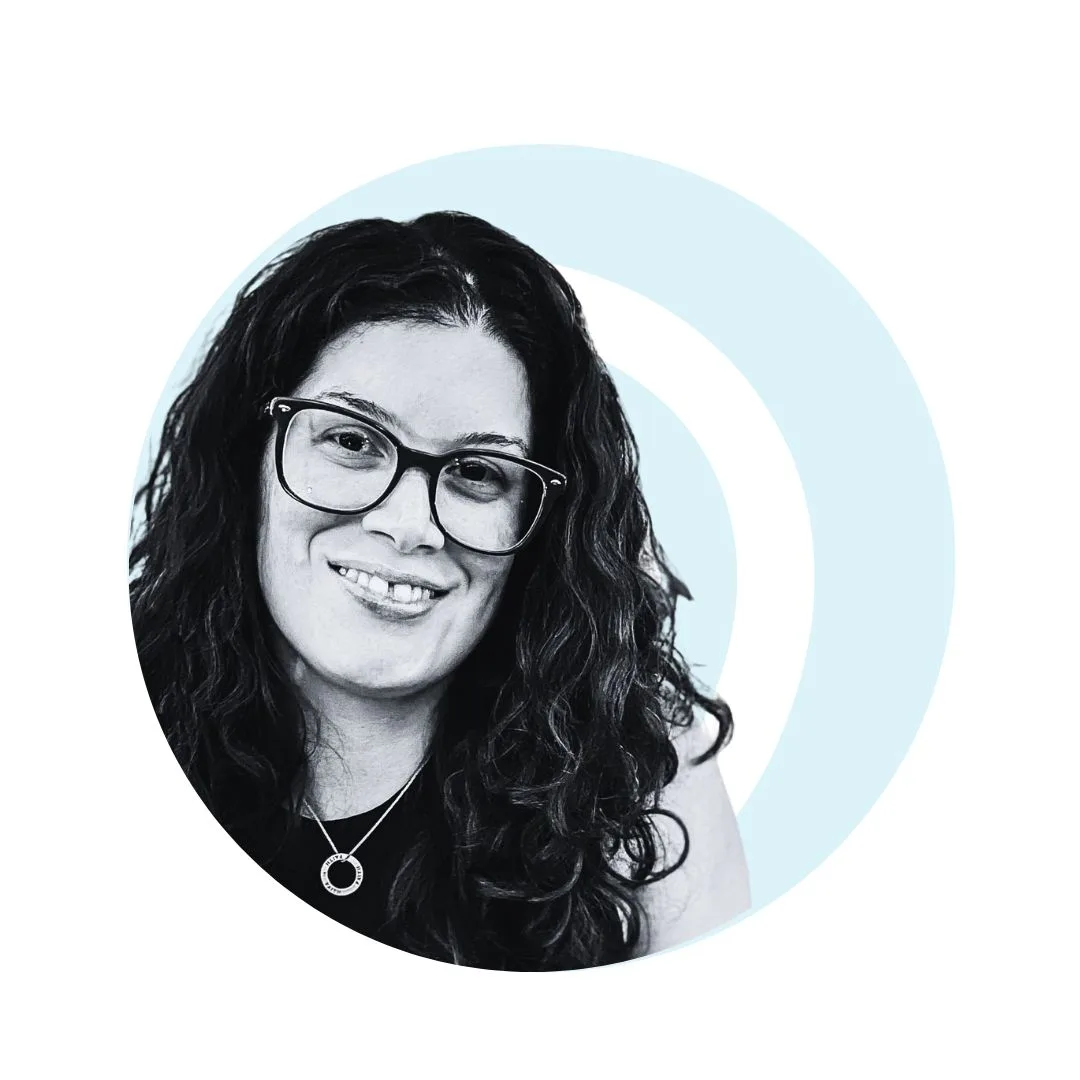 Meet Kathy Ava – a food, travel, and cruise writer based in Los Angeles/Pasadena. With over 20 years of experience planning trips and logistics at her full-time job and for herself, she's become a pro at crafting unforgettable travel itineraries. She's always looking for delicious, fun cruise itineraries and travel destinations and is slightly obsessed with Italy. Her passion and curiosity for travel started in childhood on her yearly and sometimes bi-yearly trips to PR. She firmly believes that life is short and we must make the most of it – so let's explore the world and make some incredible memories.