How exactly does Airbnb work? How to use Airbnb? What Airbnb tips for guests should you consider?
What is Airbnb? Airbnb is an online marketplace that connects travelers with hosts who offer short-term accommodations in their homes or investment properties worldwide. Airbnb gives users a more personalized and local experience than traditional hotels and a range of amenities and services.
When we don't book a hotel via booking.com, we'll book an Airbnb, depending on the destination, our needs, and our budget.
We've had many successful Airbnb stays. Although there was one from our recent trip to Florence that still has us scratching our heads about – the hundreds of good reviews did not match up with the accommodation. We then decided that if we weren't staying for a week in a destination, we'd stay at a hotel.
Live and learn.
Nonetheless, it doesn't change the fact that we have saved hundreds of dollars staying at an Airbnb rather than at a hotel resort, and for that alone, we've become fans.
But that doesn't always mean that an Airbnb is the best option. For example, if you only plan to stay for 1-2 nights, you probably will get your money's worth at a hotel. Those Airbnb fees are not conducive for short stays.
Sometimes though, hotel options are limited and so expensive. After scouring the internet for a decent cheap hotel room without finding anything in your budget, that's when Airbnb may be the answer.
When we spent a full week in Kauai, in Princeville, for half the cost of a resort hotel stay, everyone was surprised that we were staying in Princeville because it is a more expensive area to stay in.
The nice part of finding a reasonable vacation rental on Airbnb is that you don't have to cancel those vacation plans because of expensive hotel costs. It can help you stay within your budget. You have to be ready to compromise on some amenities.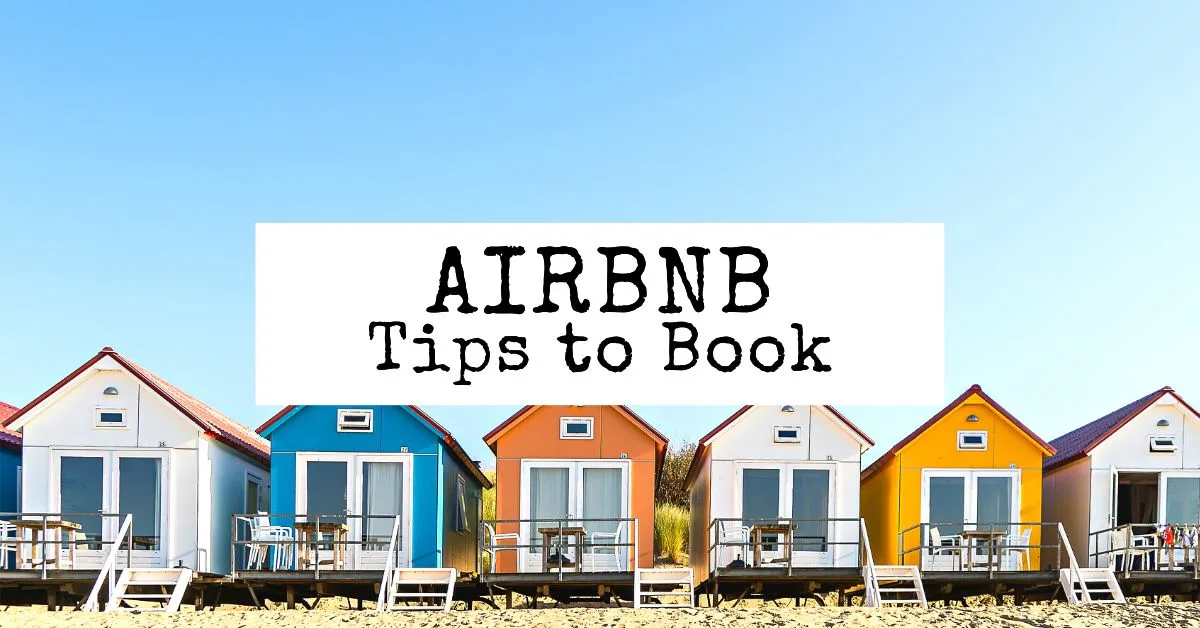 This post may contain affiliate links, which means we'll receive a commission if you purchase through our links at no extra cost to you. Please read full disclosure for more information. We appreciate your support!
In this article, we discuss when and why to book on Airbnb, how to use Airbnb to find and book a stay, and tips for Airbnb guests.
Having Airbnb as a travel resource is nice to help you plan that future vacation. It can be a great option in some cases.
When and Why to Book an Airbnb?
Everyone's travel situation is different. Airbnb can be a great option if you are traveling with a large group, need to stay for an extended period, or want the comfort of a home away from home.
On the other hand, if you are only staying for 1-2 nights, don't need the extra space, or don't want to take out the trash or pay cleaning fees, staying in a traditional hotel is usually more economical.
Let's dive into five stop reasons when and why to book an Airbnb.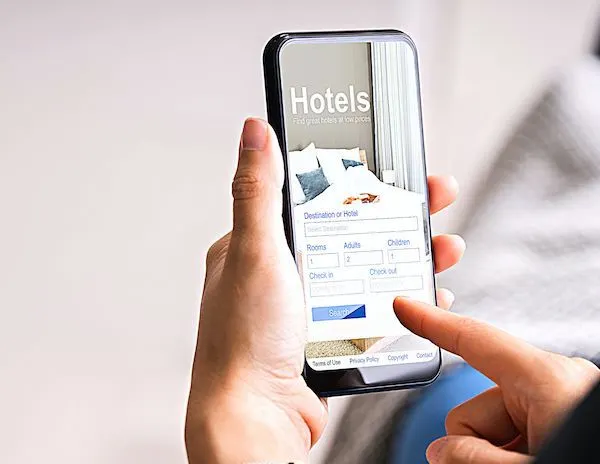 1. When Hotels Don't Have Availability or are Too Expensive
Airbnb is a great option when hotels are sold out or are too expensive. Especially in the prime summer months, Airbnb can be a great option for those looking to save money and still have a comfortable stay.
Not booking accommodations in advance is an avoidable travel mishap.
2. When You're Traveling in a Group
Airbnb is ideal for those traveling in large groups as it offers more space than a hotel room and often multiple bedrooms. Everyone can stay together in one unit rather than booking multiple hotel rooms or resort units.
It's a great option for families. You can spread out for a fraction of the price.
3. It Can Be a Home Away From Home
If you're looking for a more home-like experience, Airbnb offers just that. You can access a full kitchen, living area, and other amenities the Airbnb host has provided.
It's a great option for those who want to feel more at home while on vacation.
4. Location, Location, Location
Sometimes Airbnb offers properties in more centralized locations than hotels do. You can be closer to the action and have access to the local scene.
We booked our Airbnb in Girona because we couldn't find a decent hotel inside the walls of Old Girona. This worked out perfectly for our needs.
When we visited Modena, we had the most beautiful and comfortable apartment in the residential area of the historic center of Modena (see IG video above).
Sometimes it's the other way around. You'll find Airbnb in remote locations where hotels are limited or nonexistent.
Read more: Practical Travel Tips for Beginners
5. Unique Accommodations
On Airbnb, you can find some very unique accommodations. From treehouses to castles and planes, you can find some interesting properties you couldn't stay in at a hotel.
If you're looking to experience something new, Airbnb can provide that.
16 Airbnb Tips for Guests
Before browsing or booking anything, here are Airbnb tips for guests to remember. It's not as easy as straightforward as booking a hotel room at a Hilton.
More likely than not, you are booking a stay in someone's home or rental property. There is a multitude of things that could surprise you because it's not a traditional hotel.
So these tips for Airbnb guests should help you understand the process, make a well-informed decision, and get the most out of your Airbnb experience.
1. Read the Listing Carefully
We cannot stress this enough – read, read, and then read again. You don't want to get there and realize the house isn't what you expected.
2. Read Reviews from Other Guests
After reading the listing, take a moment to read reviews from other guests. This will give you an insight into what it was like to stay at this Airbnb.
Sometimes you'll find great tips or red flags to help you make the right decision.
Airbnb Tip: If the listing has no reviews, skip it.
3. When in Doubt, Ask the Host Questions
It's always a good idea to contact the host before booking. Ask them any questions you may have, and don't be afraid to ask for more pictures or information as needed.
4. Make Sure You Know What's Included in Your Stay
You'll want to know what's included in your stay – are there any amenities like WiFi, air conditioning, parking, and kitchen supplies? If you're unsure of something, contact the host and ask.
5. Filter Your Preferences
If you know exactly what you're looking for, airbnb.com has a great feature that allows you to filter your search by accommodation type.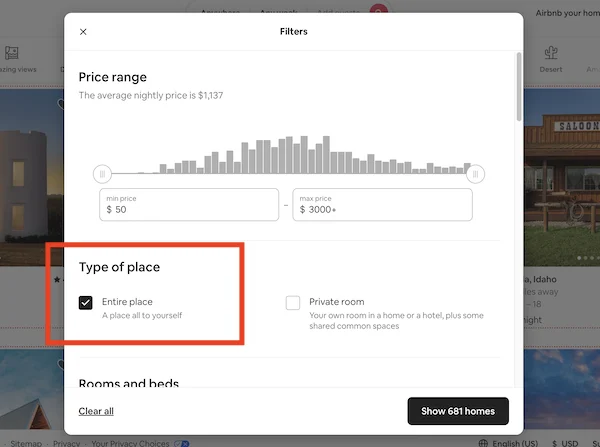 We like to ensure that "Entire Place" is checked off when searching. You don't want to end up in a situation where it's a room only with a shared bathroom and kitchen.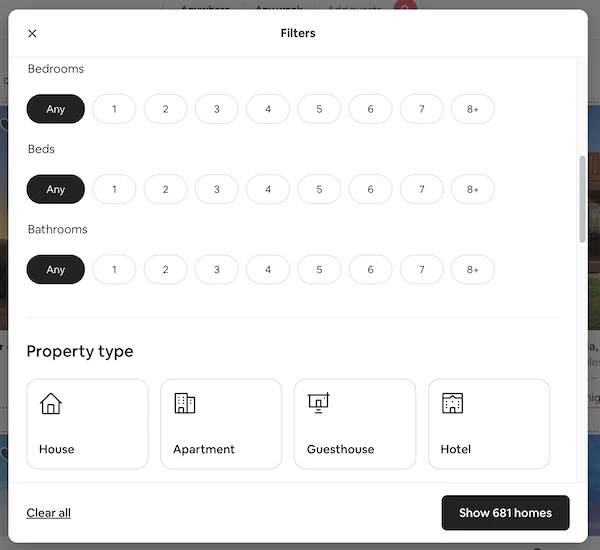 6. Look for Airbnb Plus Listings
Airbnb Plus is a collection of properties that meet Airbnb's highest standards. These include verified photos, advanced cleanings, and excellent amenities. Usually slightly more expensive than other listings that are not Airbnb Plus.
You can also look for listings with "super hosts." Superhosts are airbnb hosts who go above and beyond to ensure their guests have a great experience.
7. Book an "Instant" Book Listing With Caution
The Airbnb listings that are "Instant Book" may appear to be easy to book, but book with caution. We booked an "Instant Book" listing once, and that was the one that was by far the worst Airbnb we ever stayed in, and the reviews seemed great.
It says something when a host has to approve your reservation. It means they are also cautious and review who they allow staying on their property. They are not turning over their rental to just anyone.
Some of these Instant Book properties are just investments and cash cows investors are turning over without care.
8. Be Prepared for Extra Fees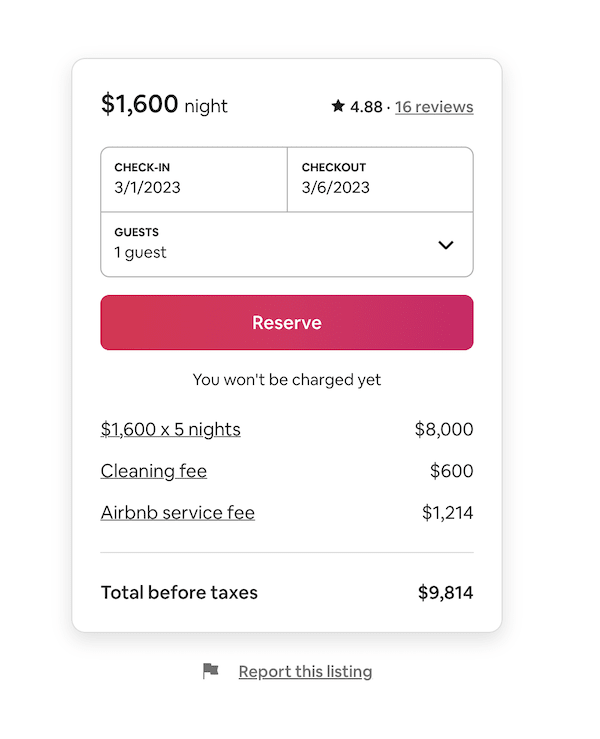 Some Airbnb hosts may charge extra fees for cleaning, admin fees, or additional guests. Make sure you are aware of these before booking.
These fees are usually listed on the listing page once you've entered the dates.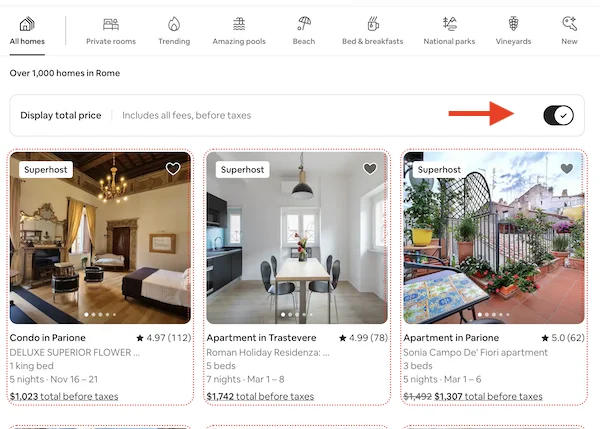 Airbnb.com Tip: At the start of your search, toggle the "Display Total Price" at the top of your search results to include all fees to the total before taxes  This way the fees are less surprising, but you should know what you're paying for.
9. Save Listings As You Research
If you're looking at a lot of Airbnb listings, it can be helpful to save the ones you're interested in as you go. This way, if you need to come back and review them later, you can easily find them.
10. Read Over the Rules and Policies
Hosts may have different rules and policies regarding check-in time, late-night arrivals, and pet-friendly stays. Read over these before booking to make sure you're comfortable with them.
11. Be Aware of the Cancellation Policy
Each Airbnb is different when it comes to cancellation policies. Ensure you know the policy before booking; some offer flexible cancellation with a full refund, while others have stricter policies.
12. Bring the Necessary Supplies
You'll want to ensure you bring the necessary supplies for your stay. Airbnbs will start you off with basic supplies to get you started, but if you're there for a while, you're responsible for bringing things like toiletries.
13. Be Respectful of Your Hosts and Their Property
Remember that Airbnb is someone's home and property. Respect your host and their space by cleaning up after yourself, not being too loud, and treating their home with care.
Treat the home as if it were your own.
14. Keep an Open Mind
After these tips, you may think you're better off with a hotel room. And that may be the case. However, airbnb can be a great option for those looking for a unique experience. An open mind will help you make the best decision and get the most out of Airbnb. By following these tips for airbnb guests, you can ensure your stay is great.
15. Compare With Hotel Rates in the Area
Before committing to an Airbnb stay, you should check hotel rates in the area. You may be able to get a better deal from a hotel. You never know. These fees can add up; before you know it, it's the cost of a hotel stay.
We like to use Booking.com for this.
16. Bonus tip: Take Advantage of the Airbnb Experiences
If you're looking for something to do during your stay, Airbnb also offers "Experiences" – activities in the area that locals host. This can be a great way to taste the local culture, and you may even make some new friends.
We booked an amazing Airbnb Experience in Florence and took a wonderful cooking class with a 360 view of Florence. Truly one of the most memorable experiences.
And you do not have to have an Airbnb booked to book an experience.
How to Use Airbnb
How do I use Airbnb for the first time?
Once you have your profile completed and verified, the process of booking an Airbnb is straightforward. The most difficult part is finding the right accommodation.
How exactly does Airbnb work?
You can search for a property on Airbnb by location and other criteria, such as the number of guests, amenities available, and price range. Once you find a place that fits your needs, you can contact the host to arrange details about your stay. At check-in time of check-in you will either receive instructions for remote access or the host will meet you at the location to provide access and give you a quick tour.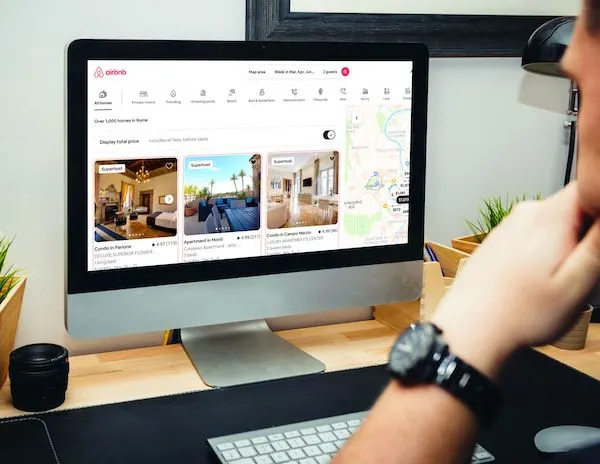 Step 1: Download the App or Visit Airbnb.com
Most start by browsing Airbnb's website, Airbnb.com, or downloading the phone app.
You can search by:
location
dates
use filters to narrow your search results
Toggle the "Display Total Price"
You can also use the map to look for vacation rentals in a given area.
Step 2: Sign Up and Complete Your Profile
If you plan to book, completing your profile is important, especially as a newbie with no prior reviews.
You will be reviewed as a guest after checking out. Don't worry; you will also have a chance to review your stay.
In the meantime…
Complete your profile and let the host know a little about yourself.
Connect your Facebook account.
Add your government id. This is Airbnb's way of verifying that you are a real person. We highly suggest doing this ahead of time if you're serious about booking on Airbnb.
You will only have to complete your profile once unless they ask for any additional info in the future.
Step 3: Read Reviews
Take the time to read reviews, both from guests and hosts. Airbnb also encourages guests to leave a review of their stay.
These reviews provide an overall rating of both the host and the accommodation. They are also a great way to get insight into what it was like to stay there.
Step 4: Message the Host
Once you have chosen an Airbnb and are ready to book, it's time to message your host. This is a great way to get more information about the property and ask any questions you have. It also helps
Airbnb Tip: If you are staying for an extended period of time (a week or more), it doesn't hurt to ask the host if they can offer a discount.
Step 5: Book it and Enjoy Your Stay
Once you've found the perfect Airbnb, book it. Don't wait. The longer you wait, the more likely someone else will book it first. The best Airbnb's are usually the first to go.
The Downside of Airbnb
There are many pros and cons to Airbnb, but the one downside that seems to be common among travelers these days is the extra fees.
Airbnb has fees for cleaning, service, and taxes. These fees can add up quickly and make airbnb a less-than-ideal choice than a hotel.
Be sure to carefully review the airbnb listing before booking so that you know all the fees that may be included. It may not be worth it, especially if you're a solo traveler or a couple not needing all the extra space.
Depending on your type of traveler, Airbnb may not be for you. If you are adamant about having amenities that hotels offer daily, like daily cleaning or room service, stick to your favorite accommodation type.
What are the risks of using Airbnb?
As with any service, there are some risks you should be aware of when using airbnb. Airbnb does not provide the same level of protection as a hotel (even if they say so), and there is no guarantee that the property will meet your expectations. Airbnb customer service lacks the same quality service as a hotel.
Travel Tip: Alternatively, you can also research and book vacation rentals on Vrbo.com and Booking.com Apartments.

We aren't loyal to Airbnb, but we have had success and wish to pass on our expriences and tips, so you don't miss out on the opportunity to have great vacation.
Share the tips & love on Pinterest: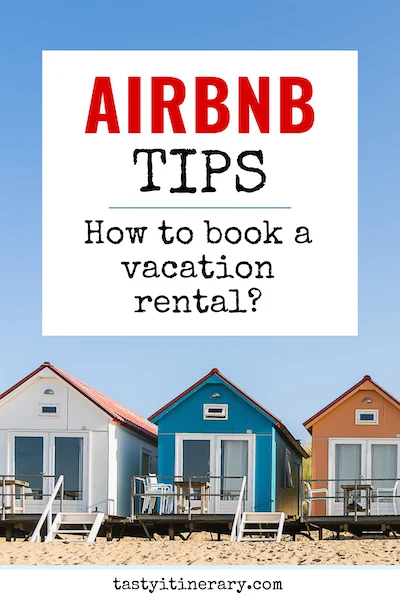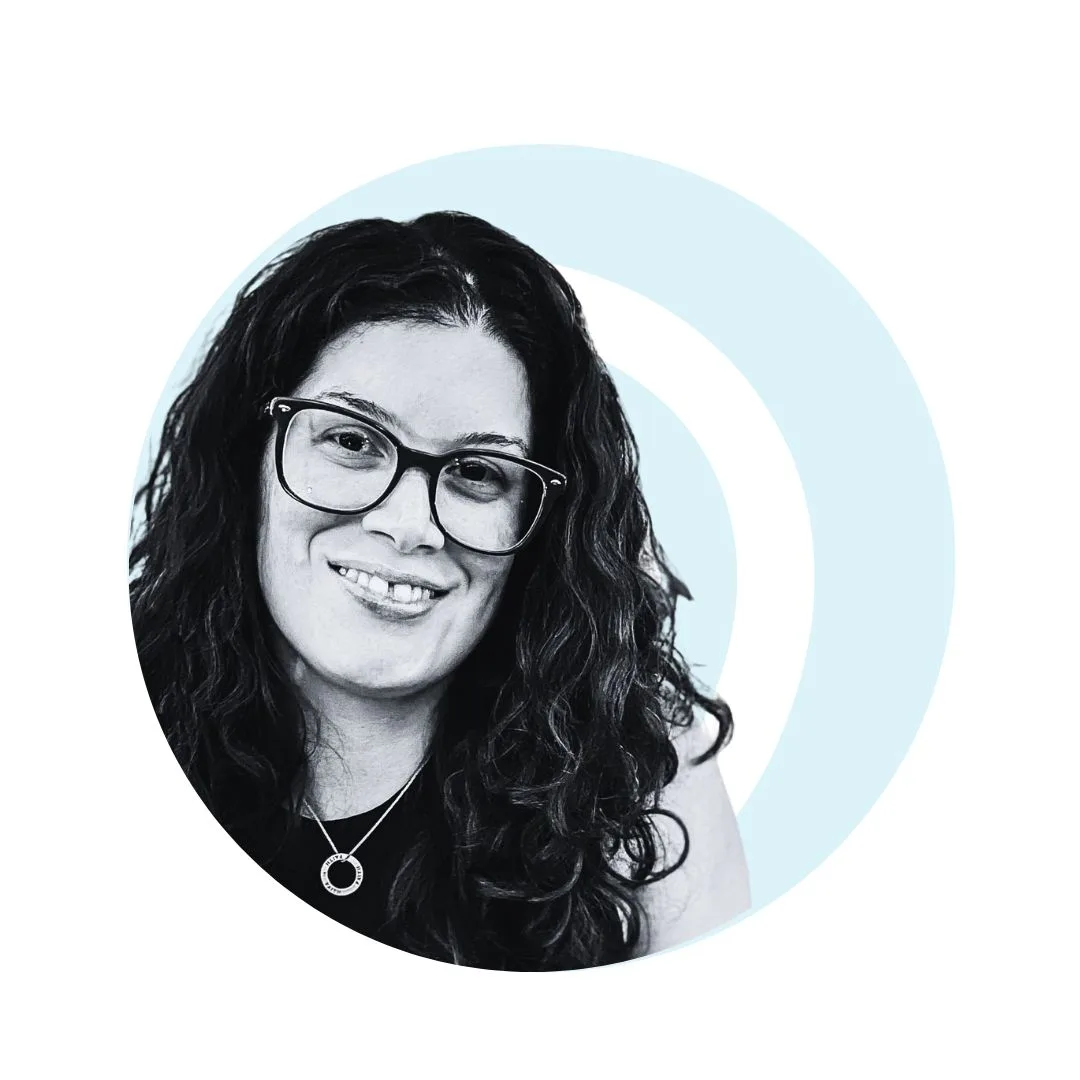 Meet Kathy Ava – a food, travel, and cruise writer based in Los Angeles/Pasadena. With over 20 years of experience planning trips and logistics at her full-time job and for herself, she's become a pro at crafting unforgettable travel itineraries. She's always looking for delicious, fun cruise itineraries and travel destinations and is slightly obsessed with Italy. Her passion and curiosity for travel started in childhood on her yearly and sometimes bi-yearly trips to PR. She firmly believes that life is short and we must make the most of it – so let's explore the world and make some incredible memories.