What to do after your Western Mediterranean cruise is over and you disembark in Barcelona? You plan an extended week! From Barcelona to Girona, we spent three days in Girona, Spain.
Why Girona, Spain?
Really, the question should be, why not Girona, Spain?
When we first started planning our trip, I didn't realize how massive Spain is. I had this crazy idea that I was going to explore Barcelona for a few days and then jump on a train to Madrid, Seville, or Granada. It all would have worked out if we had not booked a cruise.
You can't do the entire country of Spain in a week and you can't do all of Catalonia in a week either. There is so much to see and do in this beautiful country that you just have to point at a map and say, this is where we are going. That's sort of how we ended up in Girona.
We decided we'd see a few parts of Catalonia with the week we had. I wanted to leave Barcelona and get into the countryside. Upon my research, I came across Girona quite a number of times and I remember what caught my attention was someone describing it as the Florence of Spain.
If you have been reading my blog, you probably know how much I love Firenze, Italy. You can say, I was sold.
Girona is located in Northern Catalonia. Not too far from the border of France. It's only an hour and a half drive from Barcelona and from Girona, an hour drive to the coast of Costa Brava.
Disclosure: This post may contain affiliate links. If you decide to make a purchase from one of those links, we may get a commission at no extra cost to you. We appreciate your support.
The Catalan city is rich in history, dating back to over 2,00 years. It's a beautiful mix influence of Gothic, Renaissance, and Romanesque style architecture that will have you swooning throughout your stay.
Fun fact: Did you know that the Catalan language is a mix of Spanish and French?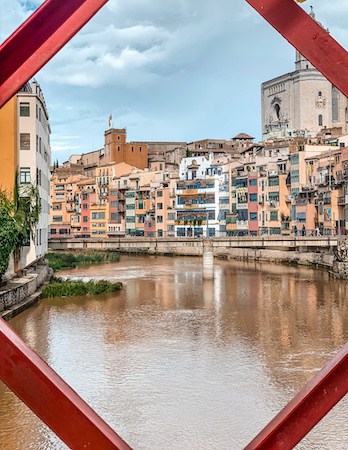 Barcelona to Girona
Is Girona a Great Day Trip from Barcelona?
Absolutely. Whether you are in Barcelona port for the day or passing through Barcelona on your vacation and you're figuring out where to go next, Girona is doable.
You can drive or take the train in the morning, explore this quaint European town for the day and then return back to Barcelona. The drive to the countryside and away from the city is a treat. It's definitely a great off-the-beaten-path adventure to take from Barcelona.
How to Get from Barcelona to Girona?
Train
The train is the cheapest and fastest way to get to Girona. I highly recommend it if you plan to do a quick day trip or plan a weekend getaway to simply stay within Girona.
Take the high-speed AVANT train from Barcelona-Sants station and get to Girona in less than 40 mins. Check Renfe for a schedule and to book tickets in advance.
Car
The drive from Barcelona to Girona is only an hour and 15 mins. We chose this route because our three days in Girona included other spots in Costa Brava that were best to be explored by vehicle.
Book a Tour of Girona
Private Girona and Costa Brava Tour from Barcelona [book here]
"Games of Thrones" Small-Group Tour in Girona from Barcelona [book here]
Three Days in Girona Itinerary
Here is a rundown of how we spent 3 days in Girona, Spain with a couple of day trips included. Perhaps it will help inspire your next Tasty Itinerary.
Day 1: Barcelona to Girona
After we disembarked our cruise, we picked up a rental car I reserved in advance and started a drive from Barcelona to Girona. During this entire trip, we used the GPS from our mobile phones connected to our Solis WiFi Hotspot and you can read more about this device: here.
Driving outside of Barcelona is nothing to be afraid of. Hubby drove the entire time, but I thought the traffic and navigation are pretty easy compared to what we experienced here in Los Angeles.
Pit-stop in Besalú, Spain
We made on pit-stop for coffee on the way. Since it was still so early in the day, we decided we'd take a detour and stop in Besalú.
Besalú is another great day trip from Barcelona. This small medieval town resides in the district of Girona. It honestly felt like we were on a movie set as we walked the Romanesque bridge which crosses the river to enter the town.
My least favorite part was the flies attacking us on our way in. Not sure if it is always like that, nevertheless, sans flies, it was quite a charming place.
Our stop was short as not long after we arrived it rained buckets and we had to jump into the closet cafe we found in the town center. If it weren't for the rain, we wouldn't have had a wonderful lunch at this little cafe called Can Cintet.
Can Cintet
Great spot for lunch in Besalu.
If flan is on the menu, have it. It will be one of the best flans.
Carrer Major, 7, 17850 Besalú, Girona, Spain (Google Map It) | Website | Tripadvisor
Eventually, by the time we ate, it sort of stopped raining. We tried to explore for a while longer, but it started to rain again. My hair was just not having it – ha! Since it was getting close to check-in time, we decided to continue our journey to the town of Girona.
Finally in Girona
We booked an Airbnb inside the old town of Girona. To my surprise, it was located down the street from the Girona Cathedral, another spectacular sight that is a must-see.
The moment we entered the old town we were rendered speechless at the sight of this massive Cathedral, "Wow, wow, wow," was all I said losing the rest of my vocabulary. With our luggage, we stopped with everyone else at the bottom of the stairs to gawk. Photos and not even the scene from Game of Thrones do not do this cathedral justice.
We did check in to our Airbnb as instructed and settled into a lovely apartment that was exactly as described on the site.
We ventured out to the Girona Cathedral for a little before it started to downpour again. At this point, it had been a long day for us, so we decided to get take out and stay in for the night. After being on the go for a week, we enjoyed some TV time with some awesome empanadas from Volver.
Volver
All the empanadas are delicious.
But the roasted eggplant really stood out to me. We ate there twice.
Carrer de la Cort Reial, 13, 17004 Girona, Spain (Google Map It) | Website | Tripadvisor
Day 2: Exploring Girona
Whenever I'm in a city for more than a few days, I try to find a food tour to book. I believe it is a great introductory and a great way to learn about the local culture.
When I came across Girona Food Tours, I knew I had to book a tour for our first full day there. That day ended up being a Monday. I mention this because normally they do not do tours on a Monday, but they never disclosed that, and yet, they still graciously accommodated our request.
Where to Eat in Barcelona, Spain
Spending time in Barcelona? Don't forget to check out these great eats and one of the best food tours in Barcelona.
This tour was the highlight of our time in Girona. It took up half of our day and we were fed very well.
Our guide, Patricia, was FANTASTIC. I say this with the same enthusiasm she had introducing us to her city and the traditional foods she grew up with. As a foodie and a local, she was the perfect guide for the job.
One of the things I loved about this tour was all the legends told and associated with many of the places we visited or some of the things we ate.

It was a great walking tour that took us around all the highlights like Eiffel Bridge, the Jewish Quarter, the Farmers Market, and all the while making stops along the way to learn about the local foods and treats. She also gave us the Games of Thrones scoop.
Yes, that's right, Games of Thrones Season 6 was filmed in Girona. However, we didn't find this out until after the fact. And at the time of this trip, we had yet to watch Games of Thrones. The locals were very proud to tell us all about it.
I will say, the most exciting part for me was the introduction of local Girona pastry, Xuixo, and it's to die for. Hubby had a lot of fun eating jamón, learning all about the culture, and was even given a lesson on how to slice jamón – it's not as easy as it looks!
At the end of the tour, they recommended some great places to eat.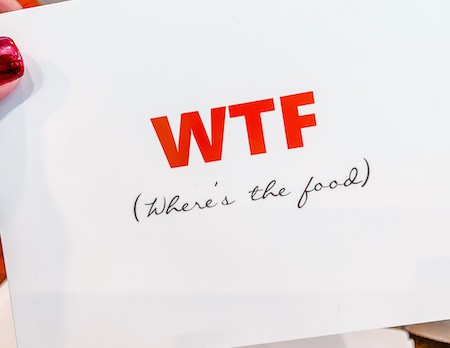 Girona Food Tour
I highly recommend booking the FLAVOURS OF GIRONA tour. We did a great walking tour of the city with local flavors included.

And I stand behind anyone with this motto on their business card: "WTF (Where's the food)"
Later that day we visited the Cathedral on our own and explored the interior of it, something we almost skipped. Sometimes when we are in Europe, we are overwhelmed by all the churches and after a while, they become a blur.
If you're like me and have a thing for gothic cathedrals, this one will impress you as soon as you walk in. It's not to be missed, especially after you're wowed by the 100 steps (not an exact number) that lead up this magnificent cathedral. Worth the hike.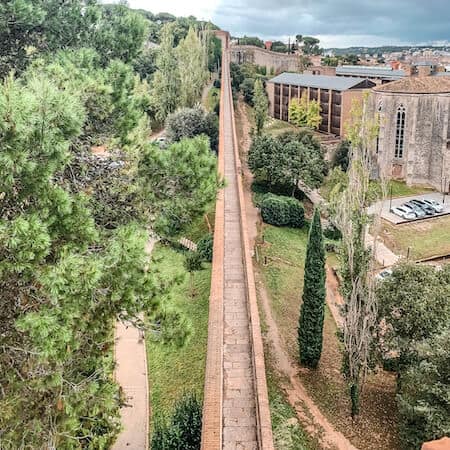 When we were done gawking inside, we then walked the city wall which offers stupendous views of Girona. You can find one of the entrances behind the Cathedral of Girona where we started.
Day 3: Day Trips from Girona
I woke up wanting… I mean, needing another Xuixo. We made our way back to the cafe introduced to us on the food tour for a cafe con leche and a Xuixo. Don't miss trying a Xuixo.
Casamoner
Casamoner is where I met el xuixo de Girona and fell in love.

This is a flaky pastry that is fried, stuffed with Catalan cream (which is like a custard),
and then rolled in cinnamon sugar. Yum, right?

This is a great cafe for a coffee, pastry or sandwich.
Carrer Migdia, 13, 17002 Girona, Spain (Google Map It) | Website
Day Trip to Tossa del Mar
Our plan for the day was a day trip to Tossa del Mar in Costa Brava. It was raining and I feared we would be heading to the coast only for it to be raining, but we got lucky.
As soon as we drove to Tossa del Mar, it stopped raining and the sun came out. Ahhh… I collapsed on my knees on the beach to thank the universe for this wonderful blessing.
Okay, in my mind, that's how it happened, but I was definitely grateful for the change of weather.
The beach and views there were more beautiful than I expected it to be. Stroll along the beach, old town and hike up Castle Hill. If you walk behind the castle, on the other side of the bay you will find exceptional vistas of La Mar Menuda.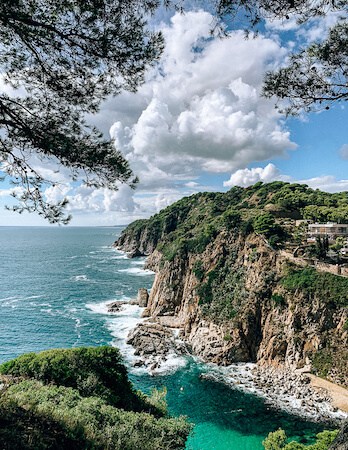 Rain fell from the sky when we were coming down from Castle Hill, so we decided to get in the car and try to drive away from the rain.
At some point, it stopped raining again. Are you seeing the pattern?
A Quick Stop in Pal
We checked our GPS to see what's the next closest town nearby and made a stop a quick stop in the town of Pal. If you're looking for another charming European town, this is it. Cobblestone streets, archways that will make you swoon, and plenty of pretty doors.
We stopped at a cafe in town here to have a couple of tapas and drinks before heading back to Girona.
Last Night in Girona
We were back in Girona before nightfall because we had to pack and get ready to leave the next morning. That was not the end for us. We wandered the streets of the old town at night, one of our favorite activities during our stay.
It became quiet. The tourists that came in earlier in the day only to see the church Game of Thrones was filmed were gone. Stores closed down. Restaurants and bars started to open for the late-night diners. After the sunset, the streets were dimly lit for a romantic stroll with the town.
Read the accompanying blog post: Best Highlights of Girona, Spain.
Have you been to Girona? Were you impressed by the Cathedral? What was your favorite discovery?
Don't forget to share the love on Pinterest: