Looking for the best things to do in Florence, Italy? We outline what to see in Florence and Florence attractions not to miss during your visit. A map is included below.
Florence is the capital of Tuscany in Italy. The city takes a piece of our hearts every time we return to it.
Over 16 million tourists visit Florence annually, and there are many reasons why, but you won't fully understand the magic until you're there.
We were recently there again in Florence in October, what used to be shoulder season, and it was busier than we remembered from some years ago. We were momentarily taken aback.
The city has transformed throughout the years. Tourism here has grown, and you can see it in the number of restaurants and large brand-name stores that have popped up throughout and the horse and buggy's that now ride around the historic center.
It can get crowded and overwhelming at peak times of the day, but in the end, it didn't take away from what makes Florence special. We still experienced and found the Florence we fell in love with repeatedly throughout the years.
This historic city has incredible architecture, art, food, and lovely people. Florence is one of those cities that continues to mesmerize us at every turn. It's also one of the most romantic cities in Italy.
If you plan your days accordingly, visiting the big Florence attractions at off-peak times, exploring hidden gems, and then soaking up the magic wandering the Florentine streets at night, you'll be able to enjoy this city to its fullest.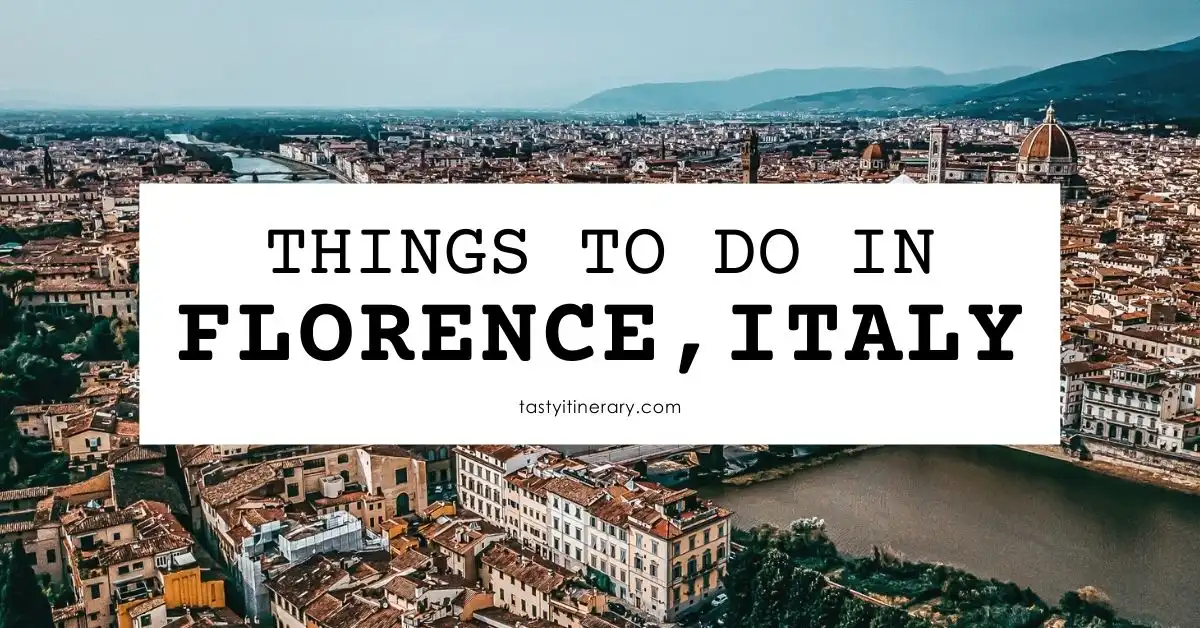 This post may contain affiliate links, which means we'll receive a commission if you purchase through our links at no extra cost to you. Please read full disclosure for more information. We appreciate your support!
While we will list all the best things to do in Florence, note you don't have to do everything on it to fall in love with Florence.
What makes Florence so loveable is not the museums or the long lines to get into the Cathedral; it is the fact that a splendor of art and history surrounds you.
The city is walkable. It's safe. All you need is comfortable shoes to get around those cobblestone streets.
In this article, we share what to do in Florence, including must-see Florence attractions, experiences, and tips so you can plan a tasty itinerary.
Things to Do in Florence
1. Visit il Duomo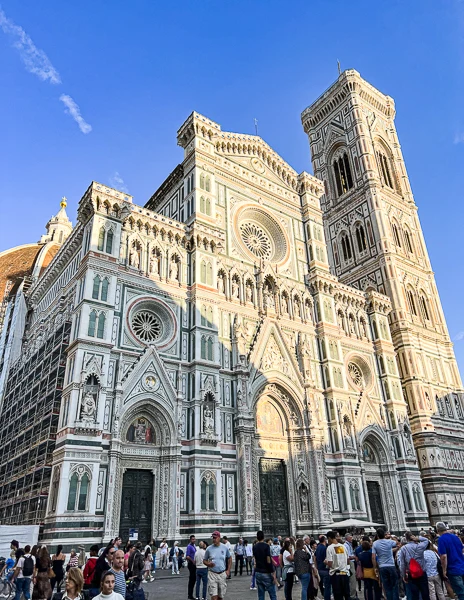 What to see in Florence? Without a doubt, Il Duomo.
Whether you try to or not, you'll eventually arrive at il Duomo from the North, East, South, or West; you'll see it from afar and know exactly where you are. The grandeur of it will take your breath away.
No words can describe the magnitude of the Florence Cathedral. Cattedrale di Santa Maria del Fiore, Brunelleschi's Dome, and Giotto's Bell Tower stand magnanimously in the heart of Florence, a UNESCO World Heritage site.
The Cathedral of Florence is the most crucial landmark in Florence and the center of the Florentine skyline. It was completed in 1436 with the Duomo.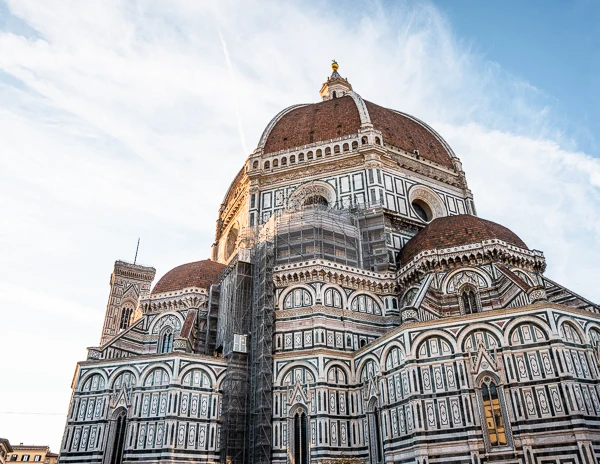 It was the world's biggest dome when Brunelleschi's Duomo was built. It's entirely made out of bricks. After you climb and see the beautiful structure up close, you'll fully appreciate this incredible site.
Fun fact: A statue of Filippo Brunelleschi sits outside Palazzo dei Canonici, admiring his masterpiece.
The entrance to the Cathedral is FREE, but be prepared to line up to enter. Closed on Sundays.
You can also climb to the top of the Duomo for a small beautiful view of the city. Reservations are needed. Please note that there are 463 steps; if you're claustrophobic, you may want to skip this. [Directly Book Tickets Here]
To climb Giotto's Bell Tower is a separate line. Reservations are needed. Please note there are 414 steps. [Directly Book Tickets Here]
Florence Cathedral | Piazza del Duomo, 50122 Firenze | Google Map It
Fun Fact: Did you know that the historic city center of Florence is one of 8 UNESCO World Heritage Sites in Tuscany?
2. Admire the Statue of David at Galleria dell'Accademia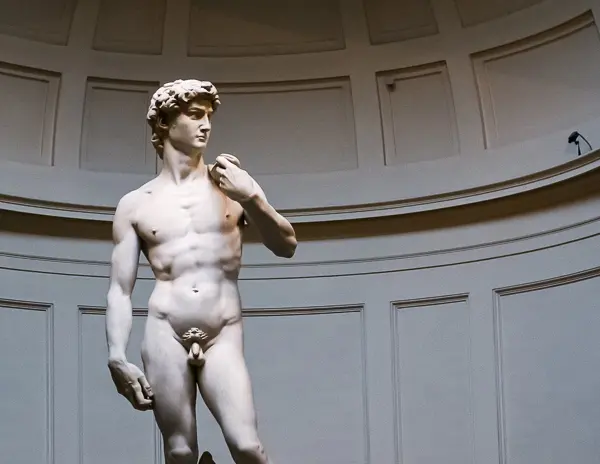 No first-time visit is complete without seeing Michelangelo's David at the Accademia Gallery in Florence. Seeing this marvelous work of art in person will help you see how extremely talented Michelangelo was.
Galleria dell'Accademia features many sculptures from Michelangelo and artwork from other artists. David is the center of it.
The is a smaller museum compared to the Uffizi. Here you will get a sense of how Michelangelo worked. He believed these figures lived inside the marble, and it was his job to sculpt them out.
Accademia Gallery | Via Ricasoli, 58/60, 50129 Firenze | Google Map It
Tour Idea:
Tour of Masterpieces & Insights at the Accademia Gallery [book here]
3. See the Copy of David at Piazza della Signoria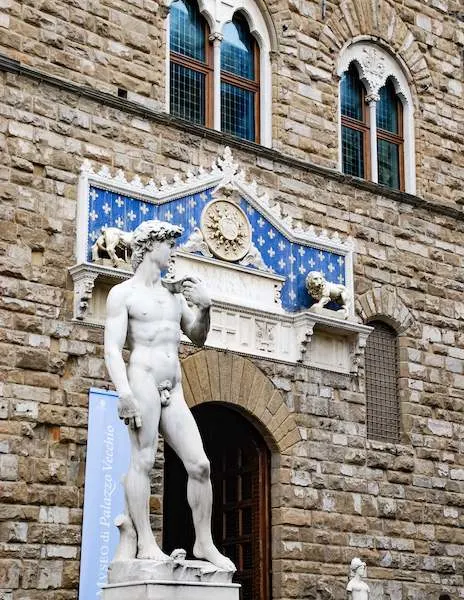 Piazza della Signoria is one of the main squares in Florence. The piazza is located in front of Palazzo Vecchio and overlooks part of the Uffizi. It is also known for having a copy of Michelangelo's David in the square.
Fun fact: The real David statue once resided in the same spot for over 400 years. 
In front of Palazzo Vecchio is where politics meet art as the Palazzo is still where the town hall is. Many festivals and rallies take place at the Piazza della Signoria
The Fountain of Neptune is also located in Signoria Square.
I recommend sitting at an outdoor table at Cafe Rivoire. Order one of their famous hot chocolates (it's thick and chocolatey) or espresso, admire the copy of David from a slight distance, and watch the world go by.
Piazza della Signoria | P.za della Signoria, 50122 Firenze | Google Map It
Italy is one of the must-visit European destinations. We share 10 attractive reasons to visit Italy, starting with the delicious Italian food and ending with the amazing locals of this beautiful European travel destination.
4. Take a Secret Passage Tour of Palazzo Vecchio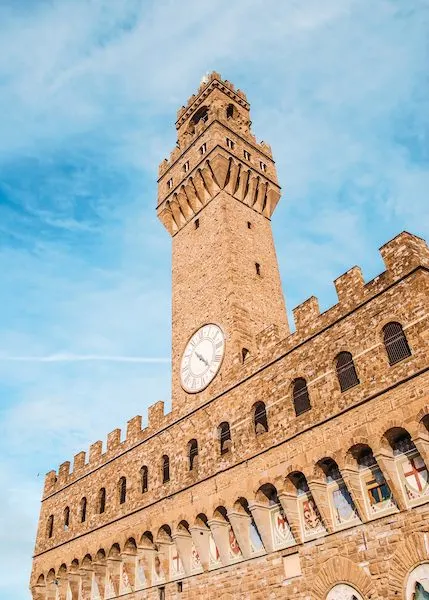 Palazzo Vecchio is located behind the copy of Michelangelo's David, once called the Palazzo Ducale. Today the literal translation is Old Palace, named after Duke Cosimo I de Medici permanently moved to Pitti Palace.
Palazzo Vecchio is the town hall of Florence, Italy. For over seven centuries, it has been the symbol of civic power.
One of the most fun and unique things to do in Florence is to take a secret passages tour in Palazzo Vecchio. This gives you an inside look at secret passages and rooms the Medici family used while living here. As well as their escape routes.
We did this tour during our recent trip to Florence, and it did not disappoint.
You can book a guided tour of Palazzo Vecchio or the Secret Passages on the official site. It's cheaper than booking a tour without an outside company.
If you're a fan of Dan Brown's books and movies, this museum was featured in Inferno, including the secret passages.
Palazzo Vecchio | P.za della Signoria, 50122 Firenze | Google Map It
5. Take a Tour of the Uffizi Palace and Gallery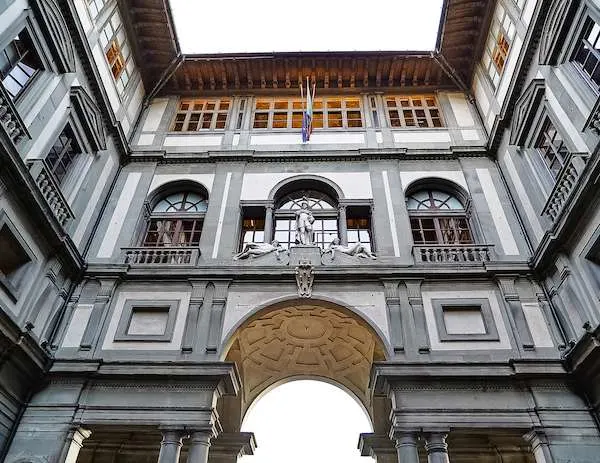 The Uffizi is the art museum in Florence that is not to be missed, especially if you are an art lover. This renowned gallery is located next to Piazza della Signoria. The museum architecture and grandeur of the Uffizi are worth the visit alone. It mostly exhibits collections from the Renaissance era.
We enjoyed everything the first time we visited the Uffizi but were slightly lost. While we appreciate art, we can easily get overwhelmed by it. There are many collections to cover, and you could spend the entire day here.
On our second visit, we hired a guide. A tour guide is highly recommended to understand the art and its history. The guides tell a story and explain the connection with the highlights inside of the Uffizi.
It was a wonderful experience, and we appreciated the history and connection behind the art. We spent about 4 hours here and didn't even get to do everything.
Highly recommend booking tickets with the Uffizi in advance with a timed reservation. If not, you will spend hours in line trying to get in. [Book Directly Tickets Here]
If hiring a guide sounds like a good idea, whoever you book with will likely include the entrance tickets.
Uffizi Gallery | Piazzale degli Uffizi, 6, 50122 Firenze | Google Map It
Tour Ideas:
Uffizi Gallery: Semi-Private Tour [book here]
Uffizi & David & Accademia Tour Exclusive [book here]
What to see in Rome? This list of 10 must-see sites to add to your Rome itinerary to will help make the most of your time in Italy's capital city.
6. Lookout for Corridoio Vasariano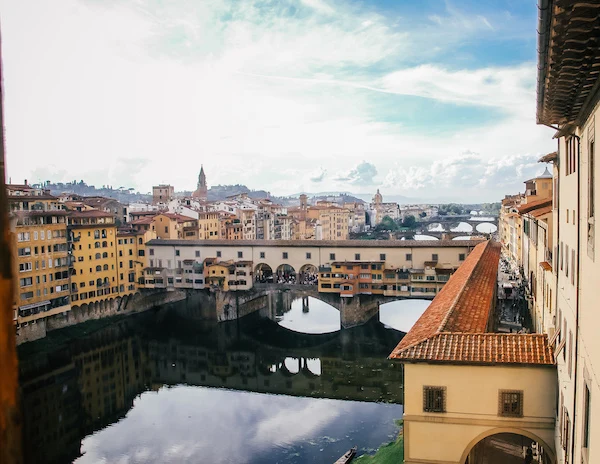 The Corridoio Vasariano is the infamous enclosed passageway that connects Ponte Vecchio and the Uffizi with Pitti Palace. It currently houses works of art.
We have yet to experience this. Before 2016, you had to get special permission. Then it was closed down to the public for safety reasons.
It is rumored to reopen to the public on May 27, 2022. Now it's being said that it will open in 2023. You want to keep this in mind and on your radar for future travels to Florence.
For now, you can pinpoint its location and know about this secret passageway where great works of art are hidden.
Corridoio Vasariano | Lungarno degli Archibusieri, 2, 50122 Firenze | Google Map It
Tour Ideas:
Medici's Mile Walking Tour [book here]
7. Food Tour of Florence
One of the best ways to become familiar with a city and its culture is via food. One of the best things to do in Florence is a food tour.
A food tour is a great introduction to any city. Book a food tour at the very beginning of your stay. It will set your vacation on the right foot.
These tours are walkable, with a local guide, so you'll get the lay of the land immediately. You'll also taste some of the city's greatest foods while learning their history. You'll also leave full from all the delicious eats.
Tour Ideas:
Walking Food Tour of Florence with Tastings [book here]
Streaty – Street Food Tour of Florence [book here]
– Don't Miss: 10 Tantalizing Florence Foods to Eat –
8. Stop by Mercato Centrale in Florence
One of the things to do in Florence is to see where the locals do their shopping. It's always great to stop in the small supermarkets when you see them on your explorations, but the Mercato Centrale is the central market of the city of Florence.
The first floor of the Mercato is the original and historic San Lorenzo Market. Here you'll find butcher shops, produce, local specialties, gifts, and even food stands that have been there for decades.
The second floor of the Mercato is an expansion of the market. It is filled with delicious food stalls, coffee bars, and specialty stores open until late at night. It's a great spot for a quick meal.
If you take a food tour, they will likely bring you to the Mercato Centrale for some tasty eats.
Piazza del Mercato Centrale , Via dell'Ariento, 50123 Firenze FI, Italy | Google Map It
Our Favorite Places to Florence, Italy
Where to eat in Florence? These are some of our favorite places to eat in Florence. We cover everything from pizza, sandwiches, Florentine steak, pasta, and yummy gelato.
9. Ponte Vecchio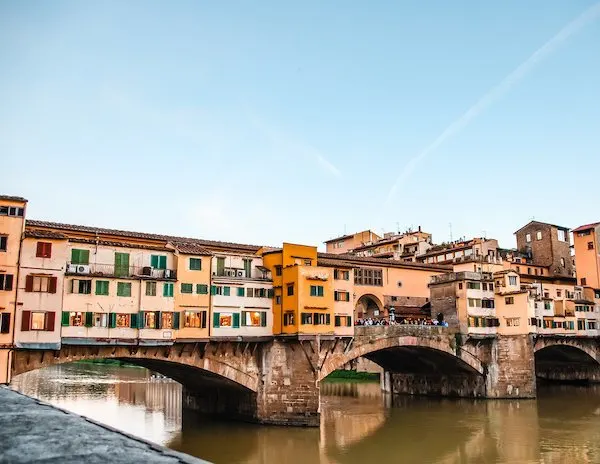 Did you know Ponte Vecchio means "old bridge" in Italian? It is the oldest bridge in Florence. It is also the most photographed bridge in Florence.
It's the only bridge in Florence that survived the destruction of German forces during World World II. At one time, it used to be where butchers would prepare and sell meat. They'd discard leftovers and carcasses right into the River Arno. Thankfully that's changed.
Presently, the bridge is filled with jewelry stores. Perfect spot to purchase a token of Italian jewelry to remember your trip. Make sure to budget for it.
Tip: For a fantastic view of Ponte Vecchio and the Arno, head to Signorvino's for aperitivos. They have a great outdoor space. Even if you don't get an outdoor table, a table by the window also works. 
Ponte Vecchio | Google Map It
Tour Ideas:
Florence Walk & Talk – On the Medici's Footsteps [book here]
10. Palazzo Pitti and Boboli Gardens
Just a short walk from Ponte Vecchio resides Pitti Palace. This grand residence was once a symbol of the Medici power.
Now it houses multiple museums and exhibits. The royal apartments are one of the most interesting. If you love architecture, you will admire all the details throughout the palace.
Directly behind the palace is Boboli Gardens. The fantastic and vast gardens are, in my opinion, the highlight. It's beautiful and peaceful; you could spend your whole afternoon exploring—so many passages and paths to be discovered.
Palazzo Pitti | Piazza de' Pitti, 1, 50125 Firenze | Google Map It
Tip: Not far from Palazzo Pitti is GustaPizza. Some of the best pizza around! Great spot for an early or late lunch.
11. Piazzale Michelangelo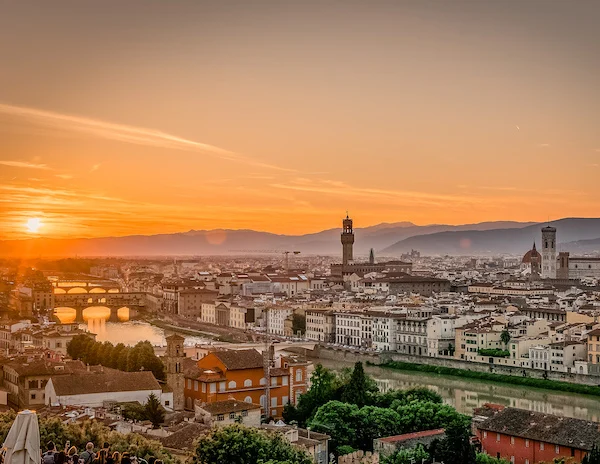 Add this to your top things to do in Florence: see the sunset from Piazzale Michelangelo.
Piazzale Michelangelo is the best spot to see the sunset and a panoramic view of Florence. The view is beautiful at any time, but at sunset, it is spectacular. You'll want to grab a bottle of wine on your way there. You'll also find a few food trucks there.
A bronze replica of Michelangelo's David is also located at Piazzale Michelangelo.
It's about a 20-minute walk, and it's uphill. If you're in a rush or the walk sounds tough, a taxi may be better suited to reach the top. The view is worth it.
Getting there early to find a spot to sit or stand in. Locals and tourists alike all have the same idea. They gather at the steps, drink wine and enjoy every second of that sunset. It's a view you will never forget.
We took many 10th-anniversary pictures in this spot, and to this day, they remain some of our favorites.
Piazzale Michelangelo, 50125 Firenze FI, Italy | Google Map It
12. Attend an Opera Performance at St. Mark's Anglican Church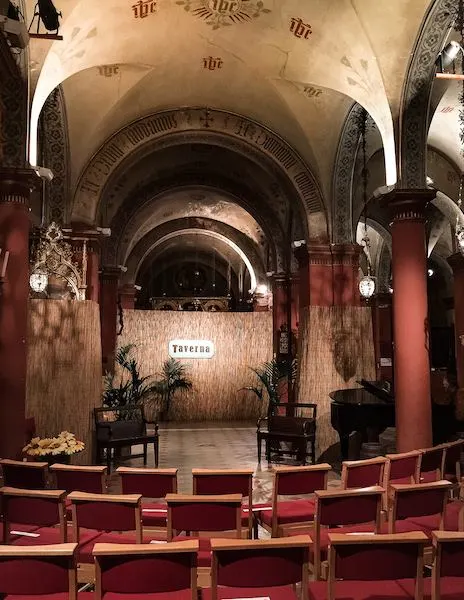 One of our favorite things in Florence is attending an opera performance at St. Mark's English Church. It's an intimate experience in a small church. Do not expect a big production. But do expect a quality performance by a talented Opera company that will blow you away. The acoustics in the church are excellent.
They sing in Italian. English narration is given between scenes, which does help. Even without it, you will not feel lost. The singers' performances carry so much emotion that you will follow along with them.
We discovered this gem during our first visit to Florence. We've returned every single time. It's one of those memorable Italy experiences that has stayed with us.
Opera at St. Mark's | Via Maggio, 18, 50125 Firenze | Google Map It
13. Eat a Bistecca alla Fiorentina
Bistecca alla Fiorentina (Florentine Style Steak or Tuscan Steak) is one of the most popular dishes in Tuscany. The traditional Florentine steak comes from the Tuscan breed of cattle called the Chianina.
At a traditional Tuscan steakhouse, after ordering, they will bring out the rare cut of meat to the table for approval. You can ask for a different cut if it is not to your liking. Once you see it and approve it, they will take it back to the kitchen to season and grill it properly.
Many places in Florence serve Bistecca alla Fiorentina. Ask around.
Our best experience of Bistecca alla Fiorentina is at El Fagiole. A rustic tavern that continues to serve authentic Florentine Steak and other delicious Tuscan dishes. Reservations recommended. Cash only.
Day Trip From Florence to Lucca, Italy
Take the train or rent a car from Florence to Lucca. Explore the old Medieval city walls and underground tunnels. Eat the best focaccia. Enjoy the relaxing atmosphere Lucca offers away from all the tourists in Florence. If you love Florence, you will love Lucca even more.
14. Piazza della Repubblica
Piazza della Repubblica is a square in the center of Florence. It's the only one with a merry-go-round in the city. This is a great spot to sit at a cafe or sometimes enjoy the live music from street performers. Some nights, the piazza is alive with people; on others, it's nice and quiet.
It is a lovely piazza to visit and one not to miss.
Tip: Have a drink at the rooftop terrace of the Rinascente store for a special view.
Piazza della Repubblica, 50123 Firenze FI, Italy | Google Map It
15. Basilica of Santa Croce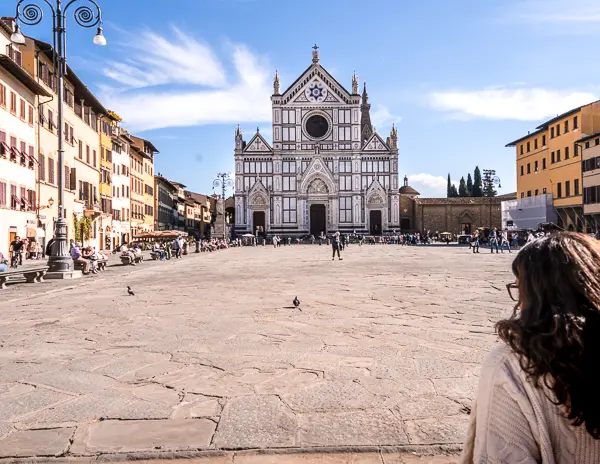 The Basilica di Santa Croce is the principal Franciscan church in Florence, Italy. Michelangelo, Galileo, Machiavelli, and other early Renaissance tombs are buried here.
This beautiful church has a great collection of Renaissance art and architecture. Including frescos by Giotto.
Santa Croce is also a great place to stay and be close to everything.
Basilica de Santa Croce | Piazza di Santa Croce, 16, 50122 Firenze| Google Map It
16. Scuola del Cuoio: Florence School of Leather
Did you know that Florence is known for its leather? Walking around the city, you'll find many shops selling leather purses, luggage, wallets, belts, and all other leather items. Leather craftsmanship is a tradition that dates back hundreds of years.
The World's Famous School of Leather of Florence is not far from the Basilica di Santa Croce. The school was founded in 1949. It is the place in Italy that brings in students from different parts of the world to learn the art of leather making.
There is a store at the School of Leather open to the public. You will find everything from small keychains to beautiful leather luggage. Some of it is pricey. However, the quality of the work and the product are exceptional. And guaranteed for life. You know it's not something mass-produced in another country.
We have purchased wallets, belts, and small items for gifts that we have had for over 10 years. Hubby's wallet came apart in the corner a little -after so much use- and when we returned, they fixed it, no questions asked. Their customer service is amazing.
Also, it is worth supporting the school.
Scuola del Cuoio | Via S. Giuseppe, 5/R, 50122 Firenze | Google Map It
17. Rub the Boar's Nose (Fontana del Porcellino)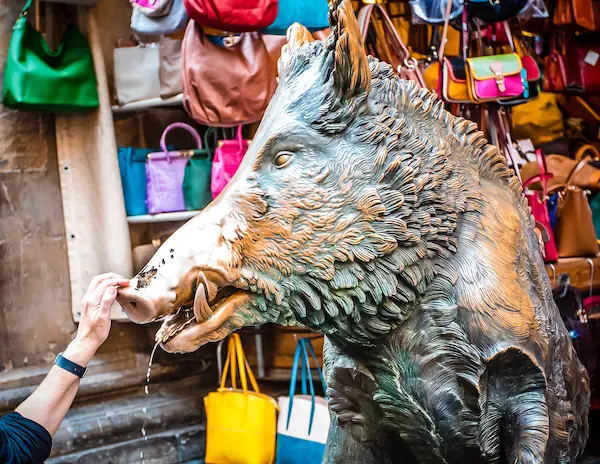 Ensure your return to Florence! Don't leave Florence without rubbing the boar's snout.
The bronze statue of a boar stands in front of Mercato del Porcellino. Legend has it, if you give its snout a rub, you'll return to the city of Firenze. Who doesn't want to go back to Florence?
Fontana del Porcellino | Piazza del Mercato Nuovo, 50123 Firenze | Google Map It
18. Mercato del Porcellino
Besides the school of leather, Mercato del Porcellino is the next best place to purchase great leather bags and goods in Florence.
The Mercato is located right behind the bronze boar. You can't miss it if you go during the day.
I recommend waiting till closer to the end of your stay in Florence to buy it. By then, you'd have walked around markets and shops enough to know what is a local great quality bag and what is not.
Walk around the Mercato, and check out all the stands and products before you decide. Don't hesitate to negotiate if you're purchasing more than one item from the vendor.
We have luggage and purses from here that are now 15 years old.
Mercato del Porcellino | Piazza del Mercato Nuovo, 50123 Firenze | Google Map It
19. Eat Plenty of Gelato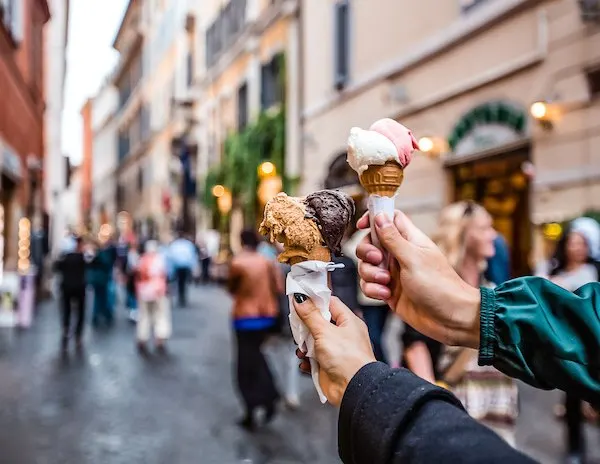 Just like you'd plan to have all the limoncello in Capri, you must eat all the gelato in Florence. It is said Bernardo Buontalenti created gelato during the Renaissance era.
Here is a tip. Something I learned from our foodie tours in Florence. If the gelato is piled high into a great mountain and the pistachio is neon green, then the gelato is factory-made. Look for spots that make their gelato in-house.
We recommend checking out Perche No! and Vivoli. Of course, there are other great gelato shops to be discovered.
20. Leonardo Da Vinci Museum
The Leonardo Da Vinci Museum is a great addition to your Florence itinerary if you enjoy Da Vinci and his work.
This interactive museum is small but informative. It displays models of his inventions and some hands-on so that you can see the genius behind Leonardo.
You can purchase tickets to the Museo Leonardo Da Vinci at the entrance.
Leonardo Da Vinci Musuem | Via del Castellaccio, 1/r, 50121 Firenze | Google Map It
21. Take a Day Trip from Florence
One of the things I love about the city of Florence is that it's a central location for many day trips within Tuscany. You can rent a car for a day (I wouldn't keep one long term as it can be expensive to park) or take advantage of the amazing train system.
It is difficult to get to smaller Tuscan villages as sometimes the trains do not go there. But you can take the train to a few amazing cities and landmarks.
Here are a few day trips you can take via train from Florence with some planning:
Looking for more day trips from Florence? Read our 10 Tasty and Best Day Trips from Florence, Italy.
Where to Stay in Florence
Boutique Hotels and B&B
Highly recommend small boutique hotels and B&Bs in central locations: boutique hotels and B&Bs offer top-notch and individualized service for half the price. A lot of the time, the smaller accommodations are owned by locals.
We use booking.com to plan and book our international stays.
Rent an apartment
On a budget? Looking to experience Florence like a local? Rent an apartment or studio in central Florence.
On our last visit, we rented an apartment on Airbnb from a local in Santa Croce. Not only did it fit our small budget, but it felt like home. We were central to everything, and it was walkable.
Alternatively, you can also research and book vacation rentals on Vrbo.com and Booking.com Apartme
– Don't Miss: Inspiring Quotes About Italy –
Share the tips & love on Pinterest: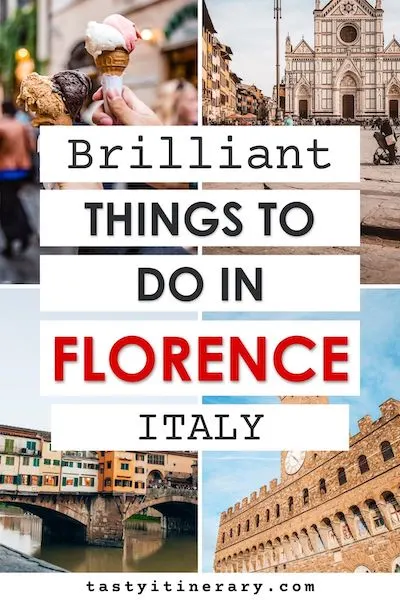 Meet Kathy Ava, a food, travel, and cruise writer based in Los Angeles/Pasadena, and the owner and main writer of Tasty Itinerary. With over 20 years of experience planning trips and logistics at her full-time job and for herself, she's become a pro at crafting unforgettable tasty itineraries. She's always on the hunt for delicious, fun travel destinations and cruise itineraries. She firmly believes that life is short and we must make the most of it, so always say yes to dessert.