While the Fall season in Los Angeles isn't as prominent as in other parts of the country, we Angelino's do find ways to celebrate with these Los Angeles fall activities.
Fall in Los Angeles
What is Los Angeles like in the fall? Subtle. Sometimes you don't realize it's fall until you see people wearing sweaters and boots on a 70-degree day, holding an iced pumpkin spiced latte. It does get cooler, mostly morning and night.
Full disclosure, I'm a Spring and Summer kinda girl, but I do appreciate certain things about the Fall season. Like, Thanksgiving dinner, apple pie, and hot chocolate. Also, Halloween in Los Angeles is pretty fun.
In my years living here, I never thought much about fall in Los Angeles until my sister-in-law moved here. As an east coaster that loves the fall season, she sought out all the fall activities Los Angeles has to offer. I had no idea we could go apple picking in Los Angeles… I mean, apple picking a short drive away from Los Angeles.
This list is inspired by her love for fall and everyone that seeks things to do in the fall in Los Angeles.
Fall Things to do in Los Angeles
Take a Day Trip or Weekend Trip to Experience Autumn
If you live in Los Angeles or know someone that does, you have probably heard, "let's drive to the snow." That's what we do here in the winter when we feel like seeing the snow. We visit it. It's basically the same during autumn.
To get the full effect of fall, you may want to leave the city and experience autumn. I'm referring to fall foliage, the crisp cool air, the crunching of leaves under your feet, and the real need for a scarf.
A trip an hour or two outside the city, you will find places that scream fall and satisfy your love for fall.
OAK GLEN
The cute town of Oak Glen turns into the epitome of fall. You will find the beautiful colors of the changing season, apple picking, fall festivals, homemade pies, jams, and more.
You can read more about the things to do in Oak Glen, California here.
BIG BEAR
Before everything is covered with snow in Big Bear, the two-hour drive from Los Angeles is worth seeing all the colors of fall. The fall peak is in the month of October.
There are a number of activities that take place here and you will want to plan in advance.
Big Bear Lake celebrates fall with Oktober Fest starting Sept 12th to Nov 7th.
The Village of Big Bear Lake, CA.
Hike a trail. Start with the Town Trail.
Book a cabin or a vacation rental via Airbnb where you can snuggle up with your loved one in front of a fireplace.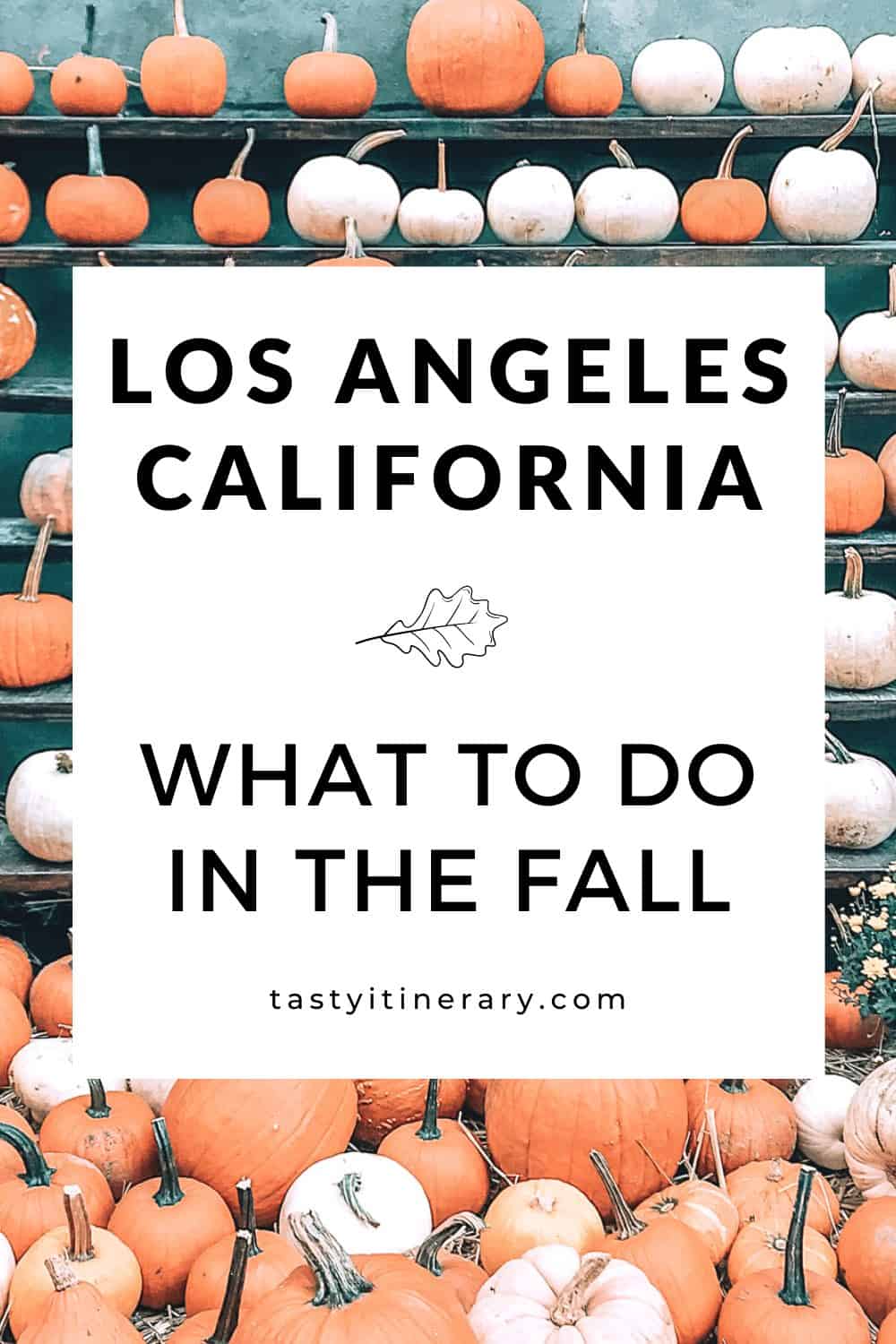 LAKE ARROWHEAD
About an hour and a half away from Los Angeles, you will find every orange color of autumn on display. It's a beautiful scenic destination.
Take a boat tour of Lake Arrowhead and enjoy the view of fall foliage surrounding the lake.
Hike a trail. Perhaps the Will Abell Memorial Trail in the San Bernardino National Forest.
Visit Lake Arrowhead Village. Its European-style architecture will make you feel like you're in the Swiss Alps.
Book a cabin or a vacation rental via Airbnb. This would be a great weekend getaway.
Normally Lake Arrowhead has an Oktober Fest, but it has been canceled this year due to COVID. Start planning for 2021.
Please note: The lake is private property.
Day Trips from Los Angeles
Looking for the best day trips from Los Angeles for you and here. Here are some of the best spots to visit outside of Los Angeles.
Apple Picking in Los Angeles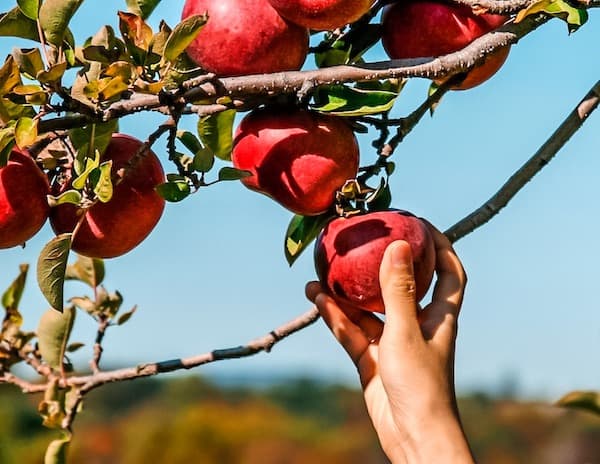 As mentioned above, you can go apple picking! The ultimate fall in Los Angeles activity? Bring delicious apples home. Get ready to prepare an amazing apple pie or apple crisp. I love the aroma of apple, cinnamon, and sugar caramelized together, wafting in the air.
You can't exactly find apple picking in Los Angeles, but you can go apple picking near Los Angeles. Here are some of the top apple orchards:
Pick your own apples from August to October.
And then press your own delicious cider.
Farm activities
Location: 12201 Oak Glen Rd, Yucaipa, CA 92399 (Google Map it)
You can't pick your own apples here, but you can buy them in their store. What they do have is… MINI CIDER DONUTS.
You're not going to find cider donuts at every apple orchard you visit, but you will at Snow-Line. That's worth a visit!
Eat your donuts with some fresh-pressed apple cider. They have three kinds: traditional, cherry, or raspberry apple ciders.
Take home a bottle of their apple brandy.
Location: 39400 Oak Glen Rd, Yucaipa, CA 92399 (Google Map It)
There are 40 acres of organic apple trees you can pick from.
Taste test their hard cider appropriately named Liquid Gold.
Apple Brandy available during apple season.
Explore the Pumpkin Patches & Corn Mazes
MR. BONES PUMPKIN PATCH
More than just a pumpkin patch in Culver City, this family favorite is great way to spend an afternoon.
Choose a pumpkin & decorate it.
Explore the straw maze
Ride a pony
Visiting their petting zoo
And so much more…
Location: 10100 Jefferson Blvd, Culver City, CA 90232 (Google Map It)
FORNERIS FARMS
Every October, Forneris Farms opens its Farm-tastic Maze of Oz. This corn maze is a fun and popular fall activity in Los Angeles. This is not a haunted corn maze, so it's a great activity to do with the kiddos.
Can you get through this a 4 acre corn maze?
You will also find a pumpkin patch and other fun activities at Forneris Farms.

Location: 15200 Rinaldi St, Mission Hills, CA 91345 (Google Map It)
TAPIA BROTHERS FARM
A scavenger hunt and a corn maze in one at Tapia Brothers Farm. Sign me up!
Location: 5251 Hayvenhurst Ave Encino, CA 91436 (Google Map it)
Cozy and Warm Gifts
Stay cozy and warm this fall and winter season with these cozy gifts. Here are some of the best cozy gift ideas for you and your family.
More Los Angeles Fall Activities
Don't miss Halloween in Los Angeles
Halloween is a huge part of the fall season and Los Angeles uses its Hollywood magic to celebrate.
Unfortunately, many of the events that take place in the city will either be canceled or reinvented due to the pandemic. That doesn't mean we shouldn't make the best of what is available, just remember to follow the guidelines.
Some of our favorite spooky highlights:
HAUNTED HAY RIDE
The Los Angeles Haunted Hayride is one of the most popular attractions. Usually, it takes place in Griffith Park. This year due to restrictions from the pandemic, they have moved this Los Angeles fall activity to San Dimas. It's been reimagined from a hayride to a haunted live drive-up attraction.
Sept 25 to Nov 1 | Starting at $49.99
PARAMOUNT STUDIOS AFTER DARK TOUR
Take a 2.5-hour walking tour of the Paramount studio backlot after dark. Get spooked by tales of the other side as you head on over to exclusive access to the Hollywood Forever Cemetery.
Sept 8 to Nov 3 | $99 pp
HALLOWEEN ROAD
This new drive-thru Halloween attraction in Heritage Square Museum brings the Nightmare Before Christmas and Hocus Pocus to life.
Cost is FREE | Reserve your tickets starting Sept 12th.
NIGHTS OF THE JACKS
The Nights of the Jacks is a fun Halloween and fall experience for the entire family. Scenes are created from thousands of hand-carved and lit-up Jack-o-Lanterns.
In the past, we were able to walk through this experience. This year, due to Covid, it will be a drive-thru experience.
Oct 1 to Nov 1 | Cost $69 per vehicle (up to 7 passengers)
CELEBRATE FALL AT DISNEYLAND
Disneyland celebrating season is one of them. If you have never visited the theme park during the fall, I highly recommend it. The autumn decorations and details throughout the park really bring the magic of fall to life.
For an extra cost, you can attend one of their famous Halloween parties. Dress up and meet up with Mickey and Minnie and go trick-o-treatin' at your favorite park.
UNIVERSAL STUDIOS HALLOWEEN HORROR NIGHTS
Officially canceled for 2020. But if you like to be frightened, this is the one event you should plan for. It's an immersive experience that takes place in parts of Universal Hollywood's backlot. You will feel like you're in the middle of some of your favorite horror movies and shows.
This event takes place on select nights and at an extra cost.
Check Your Local Neighborhood Events
Sometimes your local neighborhood will have fall and Halloween activities planned within the community that you won't find blasted online. Join your local community Facebook group or check with your local library.
While this is not a complete list of Los Angeles fall activities, I hope these highlights get you excited for autumn in Los Angeles.
---
Even though I can't go apple picking in Los Angeles, I can't wait to go apple picking in Oak Glen. I'll definitely be stopping by Snow-line Orchards for apple cider donuts and fresh-pressed apple cider.
Are you looking forward to fall in Los Angeles? What fall activity is your favorite?
Bookmark this post and check back throughout the fall season. I will be updating this post with more fun fall activities.
---
Don't forget to share the love on Pinterest: