What Universal Studios Hollywood food should be on your must-eats list?
After a bit of a break, we recently returned to Universal Studios Hollywood in Southern California and upgraded our tickets to annual passes. It's a great way to spend a day in Los Angeles. And since we'll be going more often now, we wanted to share what we think are some of the best food at universal studios Hollywood.
If there is one thing we love to do at theme parks, it is to eat. Rides are fun, but we always leave room for all the delicious snacks and meals.
Usually, our time at Universal Studios Hollywood is spent walking around, riding a ride or two, and eating a few things around the park. Of course, having passes makes it easier to come and go as we please, but we still like to make the most of our time there.
We have tried popular and favorite Universal Studios Hollywood food items like the Waffle Chicken Sandwich from Cletus' Chicken Shack and Tacos from Bumblebee Man's Taco Truck. We need another sticky toffee pudding from Three Broomsticks, which I remember being quite amazing. A revisit is to make it still as delicious as we remember it.
Not fans of Krusty Burger, but we are willing to give it another try. What's your favorite Krusty Burger item?
We also have our eye on some of the Costa Rican-inspired meals at Jurassic Park cafe for next time, like the Slow Roasted Mojo Pork with rice and beans and the citrus glazed chicken. As well as a frozen alcoholic drink from Isla Nu-Bar is next.
So, when you plan to visit Universal Studios Hollywood, you'll want to not only head out to the best rides first but also check out the delicious food options available! There are a variety of restaurants and snack stands to choose from inside the park, and we've put together a list of must eats you don't want to miss.
If you're looking for a quick snack, plenty is available throughout the park. Also, hearty meals will leave you satisfied. No matter what you're looking for, there's something for everyone at Universal Studios Hollywood! Most of these food items are also available at Universal Orlando.
Read on for our top Universal Studios Hollywood food picks. Use this list to guide your stomach during your visit.
What kind of food do they have at Universal Studios Hollywood?
There are a variety of restaurants and food stands throughout the park, so you'll be sure to find something that suits your taste. Expect theme park-type foods as well as some restaurants serving hearty meals.
Can you bring in food to Universal Studios Hollywood?
Sealed water bottles and small snacks are allowed in the theme park. Read Universal Studios Hollywood's Food policy here.
What are the food prices at Universal Studios Hollywood?
Food prices vary throughout the park. Expect to spend around $15-25 for a meal for one person and $5 to 10 for snacks and drinks.
Can you order food ahead at Universal Studios Hollywood?
No. Advance food orders and mobile orders are not available at Universal Studios Hollywood at this time. Dining establishments are first-come, first-served.
Universal Studios Hollywood Food
1. Mario's Strawberry Soda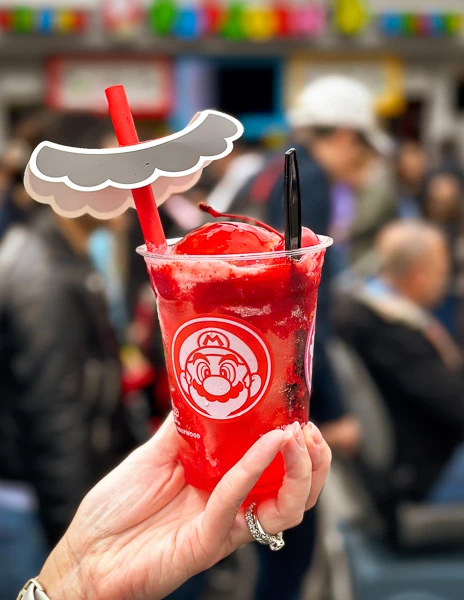 With the new Super Nintendo World opening, you bet that we had to make use of our annual passes. Unfortunately, while we did make it inside the land (super crowded), we still haven't been able to try all the goodies at Toadstool Cafe. As of now, you have to get into the land early to make reservations to eat at Toadstool Cafe.
However, if you can't get into Super Nintendo World, you can still try one of Mario's treats. Right outside of Jurassic Park Cafe and next to Isla Nu-Bar is the Character Shop, where you'll now find cream sodas by Mario, Luigi, and Princess Peach.
These fruity cream sodas come in three flavors:
Mario's Strawberry Soda
Princess Peach's Cream
Luigi's Green Apple Soda
Being a fan of strawberries, we went ahead and tried Mario's Strawberry Soda. And we must say it's one of the best foods at Universal Studios Hollywood and one of the best drinks outside of butterbeer.
The creamy vanilla ice cream with the strawberry soda combo is delicious! Once you slurp the popping boba and its sweetness bursts in your mouth, you'll agree that this is not just any cream soda. And the ice cream they use at Universal is top quality.
The fruity cream sodas are $12.
You can also grab the Super Nintendo World souvenir popcorn buckets at the Character Shop for $39.99 and the collectible drink sippers for $20.
2. Giant Bavarian Pretzel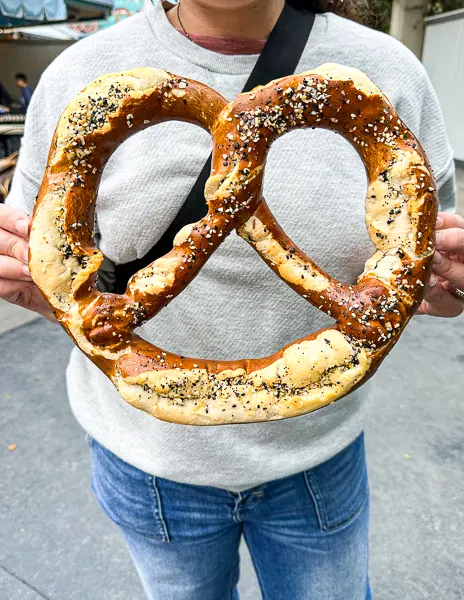 The Giant Bavarian Pretzel is a Universal Studios Hollywood food you shouldn't miss, especially if you're into pretzels and carbs.
In search of must-eats, we eyed the giant pretzel being eaten by a group at a table. They pointed us to the snack bar, where we got a delicious Giant Everything Seasoning Pretzel that had just come out of the oven. It is the Giant Bavarian Pretzel with everything seasoning, but you can choose just to get it with salt.
The pretzel was freshly baked, hot with a nice toasted outside and soft, chewy inside. It was well seasoned, sprinkled with an everything seasoning blend. It did not need anything else, but you could get a side of nacho cheese to go with it.
This is a perfect snack to share with others. It is served in a box to go.
The Giant Bavarian Pretzel costs $12.99 or $13.99 for Giant Everything Seasoning Pretzel.
3. A Giant Pink Lard Lad Donut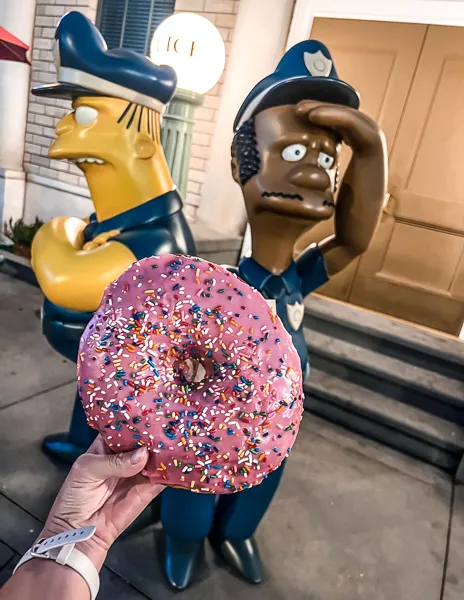 One of the best foods at Universal Studios Hollywood is the famous giant pink donut from Lard Lad Donut. You can't go to Universal and not have a donut. This donut is as big as your head and pink with sprinkles!
The donut is the classic Homer Simpson's doughnut, one of the most popular Universal Studios Hollywood Food. And it's really good! After the first bite, you'll understand why Homer drools for them.
The donut is soft and fluffy inside, with the perfect amount of sweetness from the icing. If you have a sweet tooth, this is a must.
Other fun donut flavors are available at Lard Lad Donut. However, if you only want the classic pink donut, you can find it at the Kwik-E-Mart.
A Lard Lad Donut costs $9.99.
4. Jumbo Smoked Turkey Leg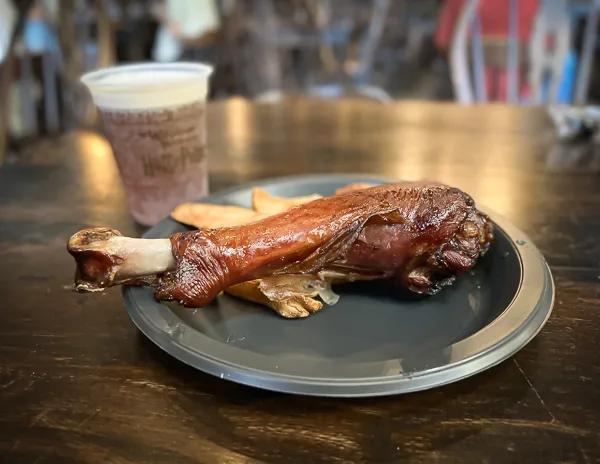 The jumbo smoked turkey leg is a classic theme park food, and Universal Studios Hollywood is no exception. The turkey leg is big and juicy, making it the perfect snack to share.
Smoked Turkey Legs can be found all over the park, but we recently had it at The Three Broomsticks in Hogsmeade as a meal, and it came with fries.
"It tastes like bacon," is how my 10 yr old nephew described the smoked turkey leg. Its smokiness gives the meat a unique savory flavor, just like bacon.
This may be controversial, but we think it's better than Disneylands. Have you tried both? What do you think?
Smoked Turkey Leg Platter at Three Broomsticks costs $16.99. You can get the Jumbo Turkey Leg at Universal Tower Snack Bar for $12.99.
This food item is gluten-free.
Top Los Angeles Attractions To Experience As A Tourist
Los Angeles is a city of dreams. There are so many things to do in LA, from taking tours around town or seeing all that Hollywood has to offer. One can explore the stars on Hollywood Blvd, see spectacular views from Griffith Observatory, and so much more.
5. El Macho Nachos from Minions Cafe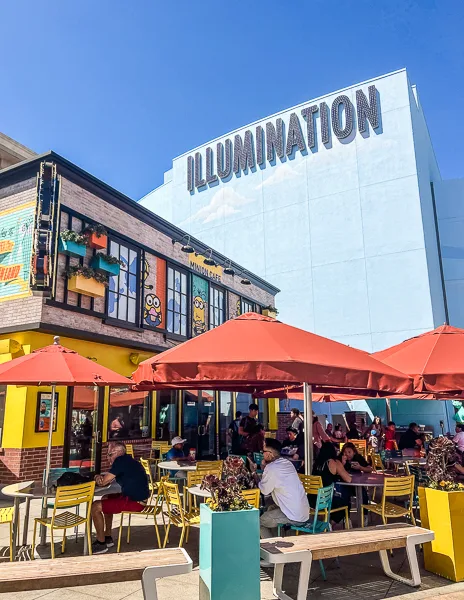 Eat like a minion!
Minions Cafe specializes in grilled cheeses, but we saw their El Macho Nachos on the menu and decided to try it. We were pleasantly surprised!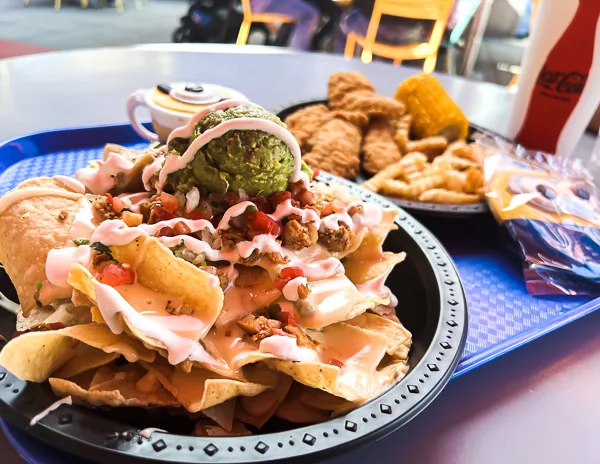 The nachos are made with tortilla chips and topped with queso, loaded with savory chicken tinga, pico de Gallo, sour cream, and guacamole.
It's a huge portion! And shareable. We were stuffed after eating it.
El Macho Nachos from Minions Cafe costs $13.99.
This food item is gluten-free.
6. Nutella Banana Pudding at Minion's Cafe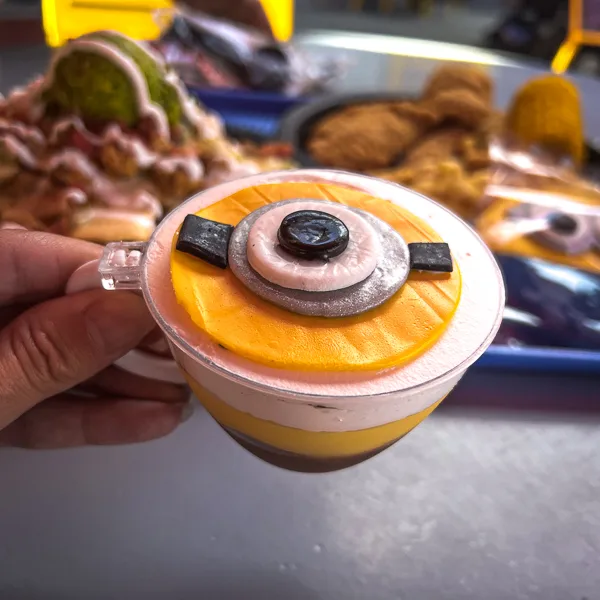 You can try the Nutella Banana for dessert at the Minion's Cafe. If you love bananas and love hazelnut, it's a must-try.
The pudding contains a layer of banana pudding (tastes just like bananas), vanilla wafer crumbles, and some delicious hazelnut cream. Make sure to dip your spoon all the way to get all the layers together.
The pudding is creamy, smooth, and not overly sweet as long as you remove the fondant. It's just the right amount of banana to hazelnut ratio.
Also, the little cup and the minion fondant as decor on top is just too cute!
Minions Cafe is located right by the Despicable Me Minion Mayhem ride.
Nutella® Banana Pudding costs $5.99.
7. Butter Beer in Hogsmeade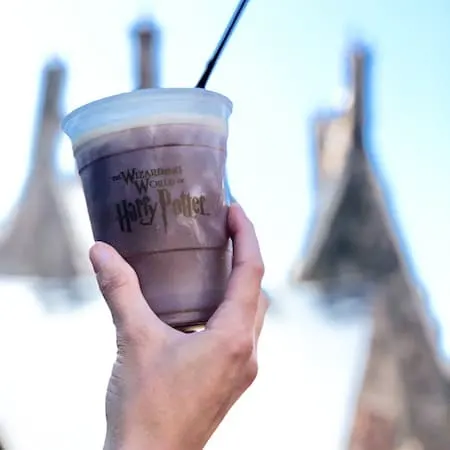 You cannot come to Universal Studios Hollywood and not have Butter Beer when you're in Harry Potter World! There are two ways to enjoy Butterbeer: frozen or regular.
We recommend getting the classic if you have never had it before and don't use a straw. It's meant to be sipped with the cream at the same time. Using the straw, you're just drinking from the bottom of the cup.
The frozen is like a slushie with a little bit of cream on top. It's so good, especially on hot days.
Hot butterbeer is served during the wintertime.
Is Butterbeer real beer at Universal? No. It's not alcoholic. You can get alcoholic craft beers at Hog's Head adjacent to Three Broomsticks.
Butterbeer is sweet. It's like a cream soda. If you like cream sodas, you'll like butterbeer.
You can find Butterbeer at the Three Broomsticks, Hog's Head, and the outdoor Butterbeer cart in Hogsmeade.
The cost of Butterbeer is $8.00.
Best Things to Do in Downtown LA
Visiting Los Angeles, California? Planning to spend time in Downtown Los Angeles? Discover the top things to do in downtown LA. Don't miss these architectural gems, food markets, museums, Los Angeles city views, and more.
8. Classic Cinnamon Churro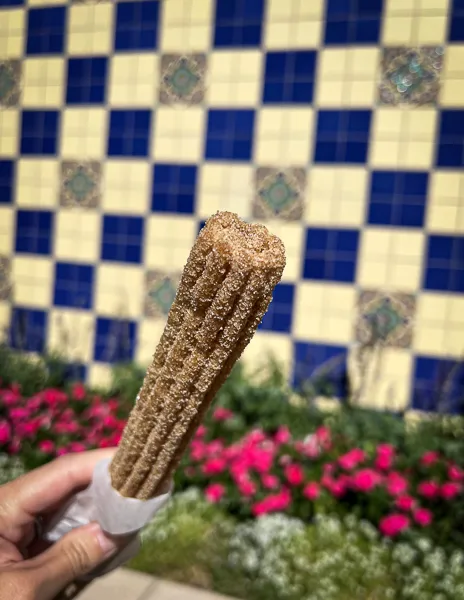 A classic churro is always a must at any theme park and amusement park. And Universal Studios Hollywood is no exception.
You can find churros at stands and carts throughout the park.
The churro is delicious, and we enjoyed it more than Disney's. The churro is covered in cinnamon sugar. It's crispy on the outside and chewy in the middle without tasting stale. We swear every time we eat one at Disney, it's stale (probably a controversial opinion). Universal's churro tastes fresh and delicious.
We spied Oreo Churro Bites at Universal Tower Snack Bar, next on our list to try.
The classic cinnamon churro costs $5.49.
9. Tropical Sunset Cone from Studio Scoop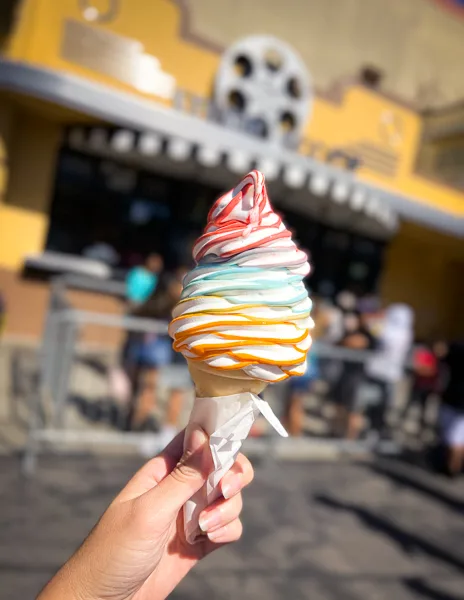 If you're looking for a refreshing treat, look no further than the Tropical Sunset Cone from Studio Scoop in the lower lot of Universal Studios Hollywood. This soft-serve ice cream cone is not only pretty but also hits the spot.
The Tropical Twist contains a soft-serve mix of blue raspberry, orange (tasted like a creamsicle), and watermelon ice cream. The flavors blend well together, and it's not too sweet. The three flavors balance each other out nicely. It pleasantly surprised our tastebuds.
The Tropical Sunset Cone costs $7.29.
10. Spare Ribs Platter at Three Broomsticks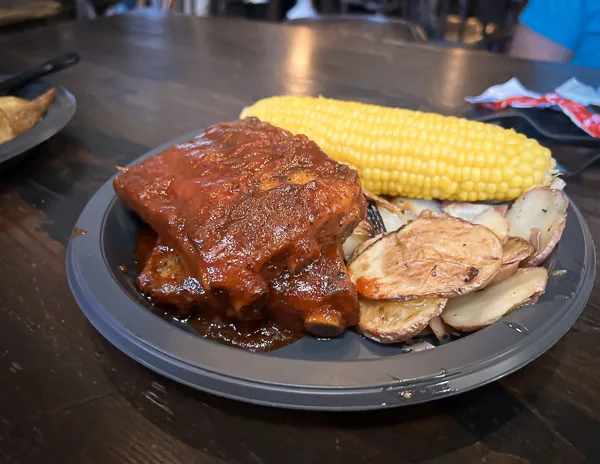 The Three Broomsticks is one of the restaurants in Hogsmeade, and you cannot come here and not try their food. While they have British pub favorites like fish & chips and shepherd's pie, we spontaneously decided to try their spare ribs. And wow, they are good!
The spare ribs come with roasted potatoes and corn on the cob. The ribs were fall-off-the-bone tender, and the sauce was slightly sweet-tangy with a hint of smokiness. The corn on the cob was delicious as well.
The only thing negative for us was that they smothered the ribs in bbq sauce, which some people may enjoy. However, it didn't stop us from devouring our spare ribs platter.
The value of the plate is good too. For $20, you get a heaping plate of food that can easily be shared between two people. It was a total of 8 meaty ribs. These days, at least here in LA, buying a rack of ribs at the market to cook at home costs way more, which doesn't include potatoes and corn.
The Spare Ribs Platter cost $19.99.
Fun Theme Parks and Amusement Parks in Los Angeles, CA
What are the amusement parks and theme parks in Los Angeles, CA? Here are our top picks of theme parks, amusement parks, and water parks in Southern California not to miss. Including Universal Studios Hollywood, Disneyland, and Legoland.
There are a lot of great eats to be found at Universal Studios Hollywood, and the list above is just a taste (pun intended) of what's available. As we try more food, we will add to this list the things we did enjoy, so be sure to check back for updates.
In the meantime, happy eating!
What are your favorite Universal Studios Hollywood foods?
Don't Miss: Best Rides at Universal Studios Hollywood
Share the tips & love on Pinterest: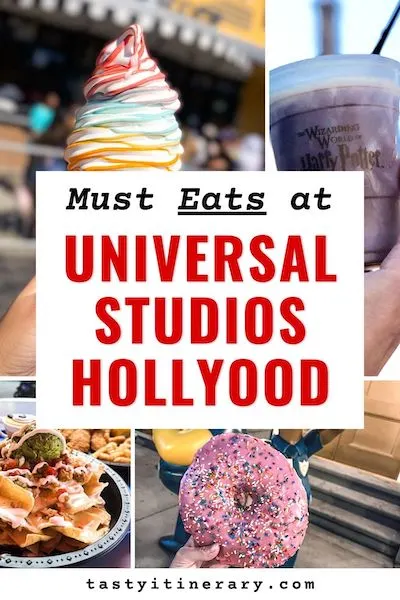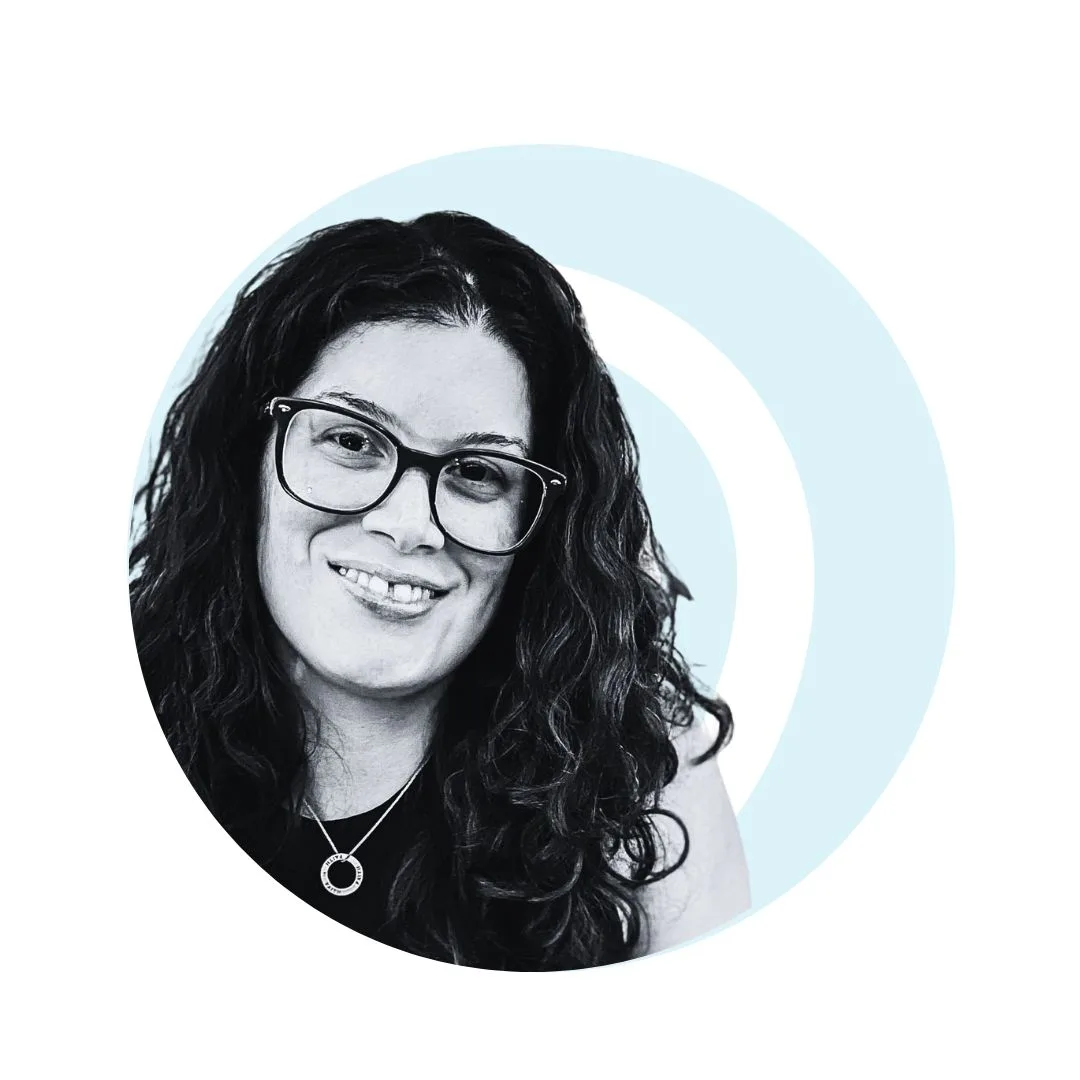 Meet Kathy Ava – a food, travel, and cruise writer based in Los Angeles/Pasadena. With over 20 years of experience planning trips and logistics at her full-time job and for herself, she's become a pro at crafting unforgettable travel itineraries. She's always looking for delicious, fun cruise itineraries and travel destinations and is slightly obsessed with Italy. Her passion and curiosity for travel started in childhood on her yearly and sometimes bi-yearly trips to PR. She firmly believes that life is short and we must make the most of it – so let's explore the world and make some incredible memories.