Planning one day in Los Angeles, CA? This itinerary will cover a full one day in LA, taking you to some of the must-see and awesome spots in Los Angeles. Plan a day trip or spend your stopover in LA visiting these spots.
With only one day in LA, how do you spend it? There is so much to cover in Los Angeles that with only 24 hours or less, it's not enough time to see it all. However, if you're looking to do some of the most frequented and loved attractions in Los Angeles, you can plan a great visit to Los Angeles in one day.
After living in Los Angeles for over 15 years, "how can I spend a day in Los Angeles?" seems like a loaded question. As a local, my day in Los Angeles would look different than someone who's never visited.
I remember when I first visited Los Angeles, naively thinking we could cover it all in a span of a week. Oh boy, we were wrong. But we had a great time and got a good sense of Los Angeles.
What should I do on my first trip to Los Angeles?
In this article, you'll find what we normally fit in a 24-hour tour when a family or friend visits. A whirlwind tour! Cause in reality, at a slower pace, you can pick one or two of these spots and make a day of it. But it doesn't mean you can't tour all these spots in a day.
On short family visits, we fit in as much as possible and hop around a lot. We take them to some of the most popular spots that make Los Angeles, like seeing Santa Monica Pier for the first time. Or seeing the Hollywood Sign.
As well as experiencing some of the realities… like Hollywood isn't all movie stars and glamour. It's quite dirty but fun in a grungy and touristy way.
Also, local favorites they don't have on the East Coast like In-n-Out burgers and authentic Mexican food, like El Compadre for sit-down or LA street tacos. Grand Central Market in Downtown Los Angeles is always a hit, too. Sometimes a day in Los Angeles looks like a trip to Universal Studios Hollywood and food-hopping throughout the park.
Sometimes we even get to spot a celebrity or two.
So whether you're passing through on a west coast trip, taking a day trip to LA for the first time, or just looking to spend a fun one day tour of Los Angeles, this post covers some of the must-sees and things to do in Los Angeles.
How do I spend a day in Downtown LA?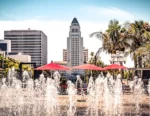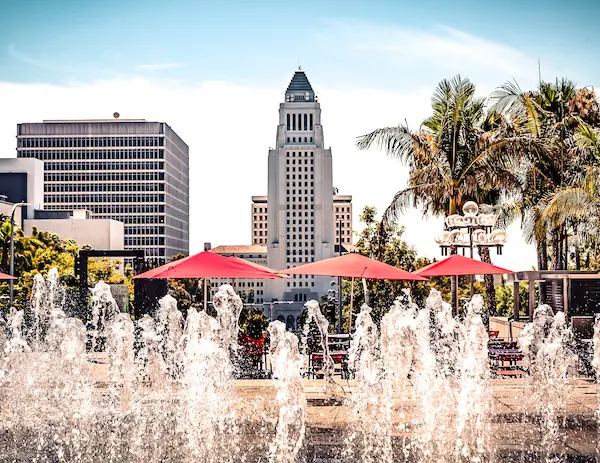 You can opt to spend a day in Downtown LA, which is walkable and doable in a day. Start by taking the train into Union Station and walking to nearby attractions like Olvera Street, Chinatown, Grand Central Market, Angel's Flight, and more. Read our article on things to do in Downtown Los Angeles, to start planning your day in DTLA.
This post may contain affiliate links, which means we'll receive a commission if you purchase through our links at no extra cost to you. Please read full disclosure for more information. We appreciate your support!
A Few Tips for Your One Day in LA
1. Be prepared to start your day in Los Angeles bright and early. Start early if you want to make the most of your day and do everything on this itinerary. The best day of the week to visit Los Angeles is the middle of the week. The weekends can get crowded.
2. Check what time the sunset will be as you'll want to make it to the Griffith Observatory for sunset. During the summer, days are longer, so you should be able to fit everything on this Los Angeles one-day itinerary from 1-6 on this list without an issue. During the winter, daylight time is shorter.
3. What can you do in LA in 24 hours? If you are doing this in 24 hours or less. I'd spend one day exploring 1-5 (Hermosa Beach, Venice Beach, Santa Monica, and maybe Beverly Hills.
Then spend the other half of the time trying to get in 6-10 (Hollywood Blvd, Hollywood Sign, Griffith Observatory, The Original Farmer's Market, and then the Grove). You can go to In-n-Out at any point you're hungry.
4. I suggest exploring Venice Beach and Santa Monica Beach on the West Side for a half-day in Los Angeles.
5. Depending on what time of year you come, dress in layers. The mornings can start quite chilly, the afternoons can be hot, and by nighttime, it's chilly again. During the summer, a light sweater or jacket helps to have handy for those cool mornings and nights.
6. How to spend one day in Los Angeles with no car? With this itinerary, you have to drive to get around. We have public transportation, but it doesn't go everywhere in Los Angeles. As locals, we drive everywhere.
If you can't drive, a) you can use an Uber or Lyft service to get around b) perhaps you'll want to explore a more walkable area like Downtown Los Angeles instead. From DTLA, you can also take a train from Union Station to Hollywood Blvd and other areas in LA.
7. Consider traffic! Traffic in Los Angeles is no joke. If you think it should only take you 10 minutes to get somewhere, think again. It will probably be more like 30 minutes… maybe more. Download the Waze app to get around.
8. Wear sunscreen or wear a hat. The sun can get quite hot.
9. Obviously, bring your camera. The photo opportunities are endless. Plus, you never know when you'll spot a celebrity.
10. If you do spot a celebrity, stay calm. Remember, they are just humans, just like us.
One Day in Los Angeles Itinerary
This Google Maps link includes a one day in LA itinerary and directions from the list below.
1. Start Your Day at Hermosa Beach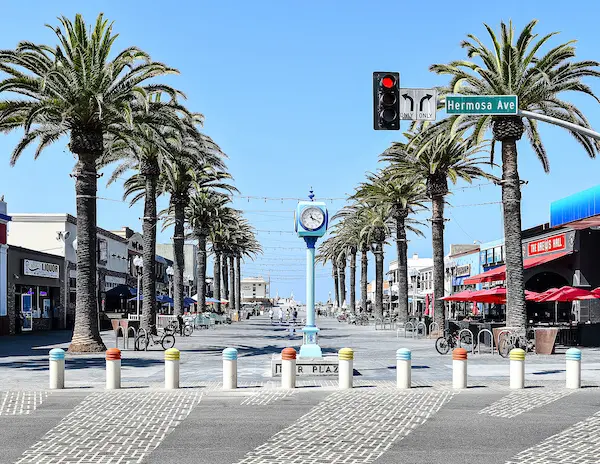 This laid-back beach town is located in the South Bay region of Los Angeles County, one of my favorite areas in Los Angeles. Honestly, I'd skip Venice Beach to come here any day of the week.
Park near Hermosa Beach Pier Plaza. If you're starting here early morning, it shouldn't be too difficult to find a parking spot.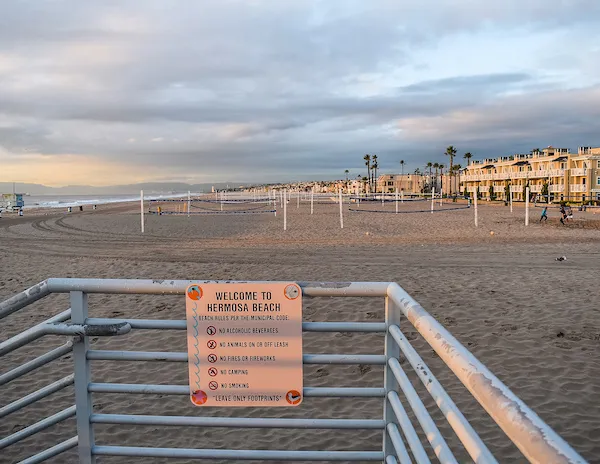 Take a stroll along the Hermosa Beach Pier, walk down to the beach, and sink your toes in the sand. Enjoy the quiet from these early morning hours and listen to those waves crash against the shores.
You can spend the time here exploring or have breakfast at one of the ocean view restaurants or get take out for a picnic on the beach. The Good Stuff on the Strand works for dine-in or take-out.
Hermosa Beach | Google Map It
Planning to visit multiple sights and attractions? Consider a Go City Los Angeles Pass and save money.
2. Venice Beach
After Hermosa, make your way to Venice Beach on the PCH.
First things first, Venice Beach is a vibe, and it's not for everyone. You won't know that until you visit it.
We recommend parking at the North Venice parking lot, right in the heart of the Venice Beach Boardwalk. Here you'll want to take a quick walk along Ocean Front Walk. You'll want to check out some highlights like the famous Muscle Beach and Venice Skatepark.
Be prepared for the eclectic mix of tourists and locals, street performers and artists, as well as an abundance of quirky souvenir shops and eateries. You'll also see a mix of locals and tourists enjoying their time biking or rollerskating.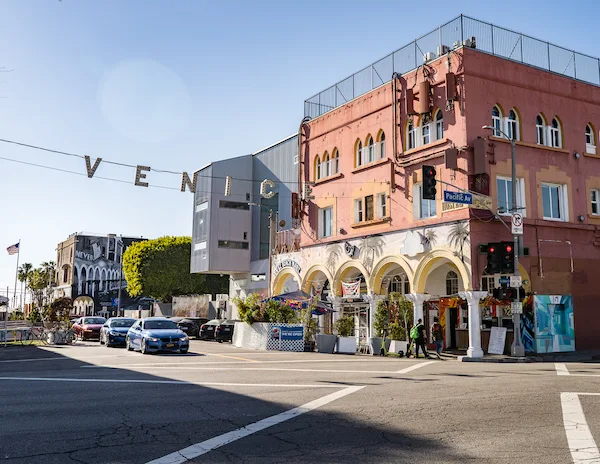 The infamous Venice Beach sign is hanging on Windward Ave and Pacific Ave if you want to see it as you drive or walk to it once you park.
Take a quick car ride over the Venice Canals on Dell Avenue to make good on time – it's a one-way street! The Venice Canals is a picturesque historic area of Venice Beach with its beautiful homes and idyllic canals. Personally, I'd skip the boardwalk and go to the Canals.
You can drive through Abbot Kinney Blvd, one of the trendiest streets in Venice with high-end boutiques and great eateries.
Venice Beach | Google Map It
– Don't Miss: Exciting Things to Do in Venice Beach –
3. Santa Monica Pier
Jump in your car, get back onto the PCH, and take a short drive to Santa Monica Pier.
Santa Monica is an awesome neighborhood to explore in Los Angeles and even stay in. It's one of the most iconic areas in all of LA, with its Santa Monica Pier and the famous Pacific Coast Highway (PCH). It also has a great downtown area, perfect for exploring on foot.
But with only one day in LA, I suggest checking Santa Monica Pier off your Los Angeles bucket list. I call it the Coney Island of the West Coast.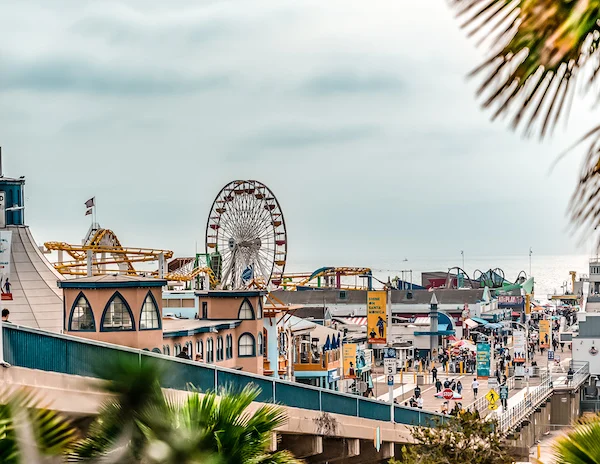 Santa Monica Pier is a historic landmark, first built-in 1909, and it's the end of Route 66. It has been renovated and expanded over the years. It's home to the Pacific Park amusement park, restaurants, street performers, and other shops.
You've probably seen it many times in TV Shows and films. One of the best things about Santa Monica Pier is that it's free to visit! There's no cost to walk around and enjoy the views.
Now, if you want to ride the infamous solar-powered Ferris wheel as a one-time experience, that is extra. It offers great views of Santa Monica and the surrounding area.
If you're hungry by now, Santa Monica is the perfect spot for lunch. There are many great eats in the area. True Food Kitchen and North Italia are within walking distance from the pier.
Santa Monica Pier | 200 Santa Monica Pier, Santa Monica | Google Map It
Day trips are the best way to escape Los Angeles' hustle and bustle. There is something for everyone at these stunning beaches, awe-inspiring mountain ranges, or hidden gem's in between!
4. Drive Through Beverly Hills & Rodeo Drive
Driving through Beverly Hills is a must-do, especially if you're curious about what this famous neighborhood looks like. You may want to get a photo of the famous Beverly Hills sign.
It IS a beautiful neighborhood to see. You could drive up and down the streets of Beverly Hills, get lost, and gawk at all the gorgeous mansions. Streets are lined with Palm Trees. Luxury stores. And famous hotels like the Beverly Hills hotel and Beverly Wilshire.
One fun thing to do is buy one of those Celebrity Maps they sell on the side of the road or on Hollywood Blvd. Take your own tour. You never know when you may spot a celebrity.
Another reason to visit Beverly Hills is Rodeo Drive. While the luxury shopping may be a bit too steep for us regular folk, it is still fun to see and walk around once.
Beverly Hills | Google Map It
5. See Hollywood Blvd Walk of Fame and the Hands & Footprints at Grauman's Theater
If Hollywood interests you, you'll want to hop over to Hollywood Blvd to get a taste of it. You don't even need to leave your car to see Hollywood Blvd. You can drive right through and see the most popular things from your car seat: Walk of Fame, Grauman's Theater, Dolby Theater (formerly the Kodak Theater), and more. You can drive down Hollywood Blvd to Highland Ave and then turn around.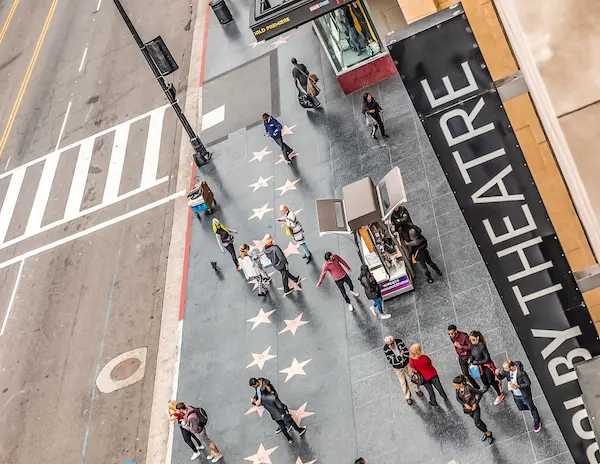 However, if you want to get out and experience Hollywood on foot, The Hollywood & Highland shopping center is a great place to start as it has a great parking garage near everything. Parking garage: click here for more info.
It's home to the world-famous Walk of Fame and is within walking distance of other popular tourist destinations like Grauman's and Dolby Theater.
Hollywood Blvd is world-famous for its Walk of Fame, home to more than 2,600 stars commemorating celebrities from all industries. If you're a movie lover, you'll want to walk the Hollywood Blvd Walk of Fame.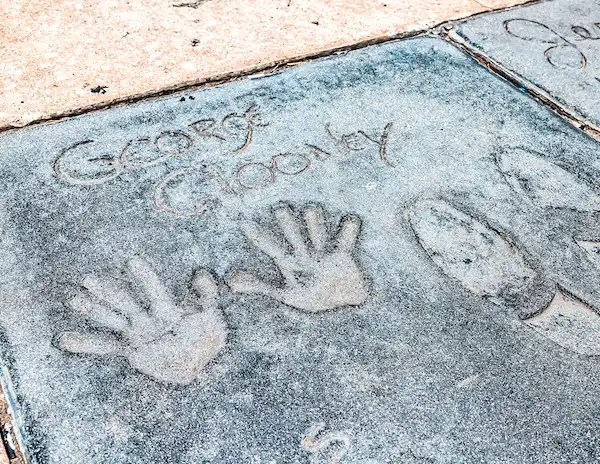 You can also check out Grauman's Chinese Theater, a historic theater home to the hand and footprints of popular celebrities. It's fun to see what size hands or feet of celebrities may match yours.
Hollywood & Highland | Google Map It
6. See the Hollywood Sign
Next on the agenda is seeing the Hollywood Sign. You'll probably see it a few times as you're driving Hollywood.
And, there is a good view of it from the Hollywood and Highland shopping complex on the 2nd and 3rd floor.
And you will also have a beautiful view of it from the Griffith Observatory, where you'll be next.
We can get you a tad closer, though. To see the Hollywood Sign closer, you have to spend some time hiking up to it. We don't have time for that today.
You can, however, drive to a spot where you can take a photo legally without having to walk too much. If you don't need to get any closer, you can skip this and go to the Griffith Observatory.
Into your GPS, enter 3000 Canyon Lake Drive. From here, you'll be able to get some photos with it.
Los Angeles is a city of dreams. There are so many things to do in LA. From taking tours around town or seeing all that Hollywood has to offer. One can explore the stars on Hollywood Blvd, see spectacular views from Griffith Observatory, and so much more.
7. Sunset at Griffith Observatory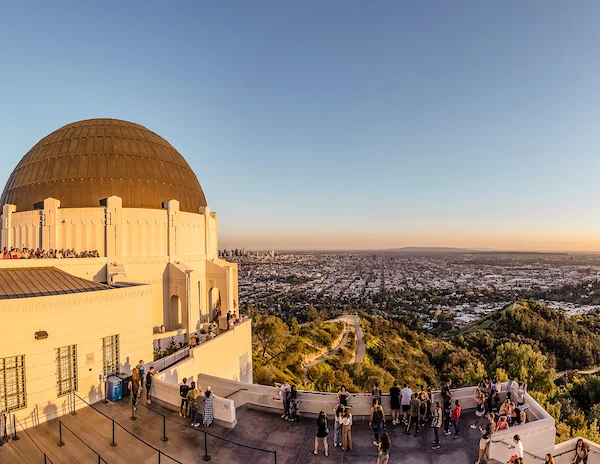 Sunset is one of the most beautiful and memorable moments in Los Angeles. The city's skyline comes alive as sunset approaches, transforming it from a day into an amazing night experience you won't want to miss!
The Griffith Observatory is a public observatory located in Los Angeles, California, and it has some of the most amazing views of Los Angeles. This is one of the best spots to experience a sunset in LA.
The best time to visit Griffith Observatory for sunset views is around an hour before sunset. You will also have a fantastic view of the Hollywood Sign.
You may recognize the Griffith Observatory from some popular films like La La Land, Rebel Without a Cause, and more.
Griffith Observatory is open from noon to midnight every day of the week. Admission is free, but parking here can be a challenge.
You can park at the Greek Theater for free (if there are no events at the theater and walk a mile uphill to the observatory.
Pay a parking fee to park near the Griffith Observatory. Note: pay stations only accept credit cards. For more info on parking: click here.
Take Public Transportation: click here.
Or you can Uber.
Griffith Observatory | 2800 E Observatory Rd, Los Angeles | Google Map It
8. LACMA Urban Lights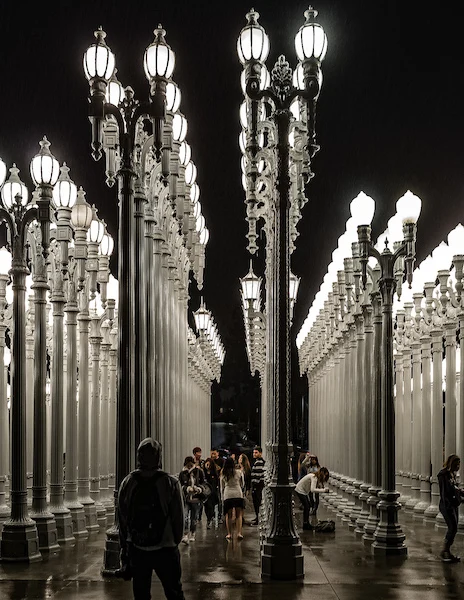 We love Urban Lights, and it's a fun experience in Los Angeles. This outdoor art exhibit is located in front of the Los Angeles County Museum of Art (LACMA) and is a must-see.
The exhibit features 202 cast-iron streetlights from the 1920s-30s that were once in different spots in Southern California. You can also visit it during the daytime, but I think it's the most awesome at night when it's lit up.
Park on Wilshire Blvd and get out for 10-20 minutes to walk around it and take some pictures. This is one spot that is visited and loved by tourists and locals.
LACMA Urban Lights | 5905 Wilshire Blvd, Los Angeles | Google Map It
9. The Original Farmers Market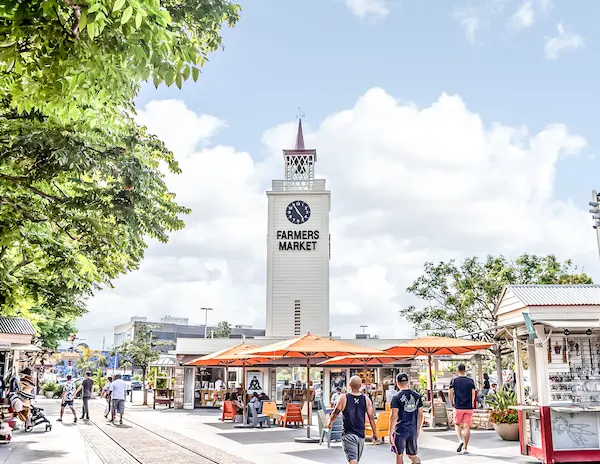 Just a short drive from Urban Lights is the Original Farmers Market of Los Angeles. Here you'll get a taste of where locals like to hang out, shop, and eat.
It's located on the corner of 3rd and Fairfax and is open 7 days a week from 8 am to 9 pm. You can park at the Farmer's Market parking lot or the Grove's parking structure. Both the Farmers Market and The Grove are connected.
The Original Farmers Market of Los Angeles is a historic landmark established in 1934. Locals come here to shop for fresh produce, meats, and cheeses and dine in one of the many foods stands inside the market.
The market is usually bustling at night as people congregate to eat there. If you haven't had dinner and do not plan to wait out for an In-n-Out burger, this is a great spot to get something good to eat. One of my favorite spots is Monsieur Marcel, a french bistro that serves divine cheese boards and other delicious savory dishes.
If you're looking for a few souvenirs to take back home with you, you'll be able to find something to take home with you at the Farmer's Market.
On a good day, you may spot a celebrity or two. We have many times.
The Original Farmers Market | 6333 W 3rd St, Los Angeles | Google Map It
10. The Grove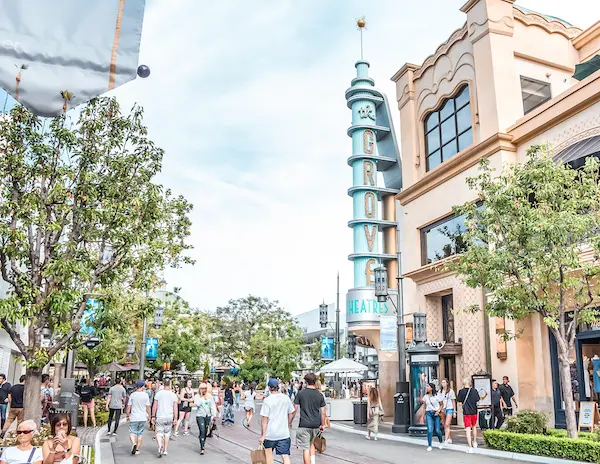 Head next door to The Grove when you're done exploring the French Market. One of Los Angeles' most popular outdoor mall experiences.
What's so great about The Grove? You get to experience a taste of local life, from the farmers' market to the locals who hang out here. There is plenty of great little shops and foodie spots.
Pick up a Sprinkles Cupcake (a Los Angeles favorite) and watch the dancing water fountain. Some nights there is nightly entertainment. It's the perfect place for people-watching.
My favorite time of year to visit the Grove is at Christmas. It's pretty magical.
Tip: If you need to go to the restroom, use the one at the Concierge.
The Grove | 189 The Grove Dr, Los Angeles | Google Map It
11. Experience an In-n-Out Burger (Optional)
With only one day in LA, the one thing you should try to fit into your schedule is an In-n-Out burger. It is quite possibly one of the best fast-food burgers that have come out of Los Angeles.
The famous fast-food burger joint In-N-Out has locations all over the West Coast. One can easily find a line at any given time, and if there are two drive-thrus, then they will be busy, too.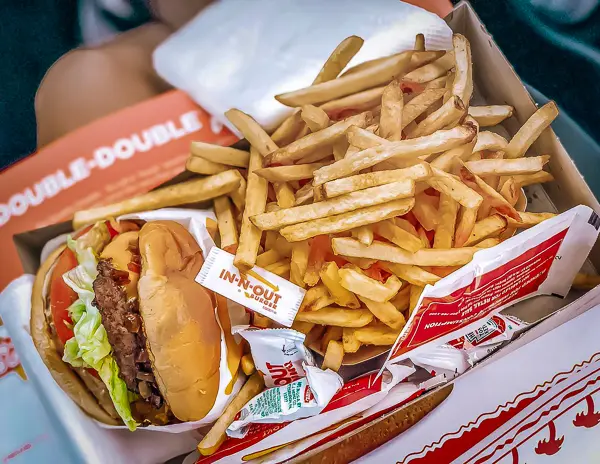 In-n-Out doesn't just serve up some average burgers and fries. They serve fresh burgers grilled upon ordering with quality ingredients and a special yummy spread.
Their fries are peeled and cut before they enter the fryer. You will get hot and fresh fries with your order, and you can order them to your liking.
Well done, fries, anyone?
We have In-n-Out at least once a month. It's easy. Delicious. Budget-friendly. Always hits the spot. They are open super late. And my dogs love their puppy patties.
Check out their secret menu.
One day in Los Angeles is not enough, but this itinerary will cover some of the most awesome spots that tourists and locals love, including me. Hopefully, you can get a feel of what makes Los Angeles so fun and appealing.
If you are looking for other fun ideas, check out our Top Attractions in Los Angeles post for more, or feel free to ask me in the comments.
What must you do list for your one day in Los Angeles itinerary? What are you looking forward to seeing in Los Angeles?
Share the tips & love on Pinterest: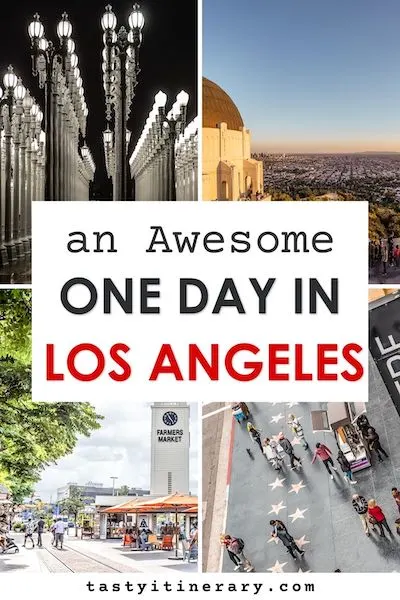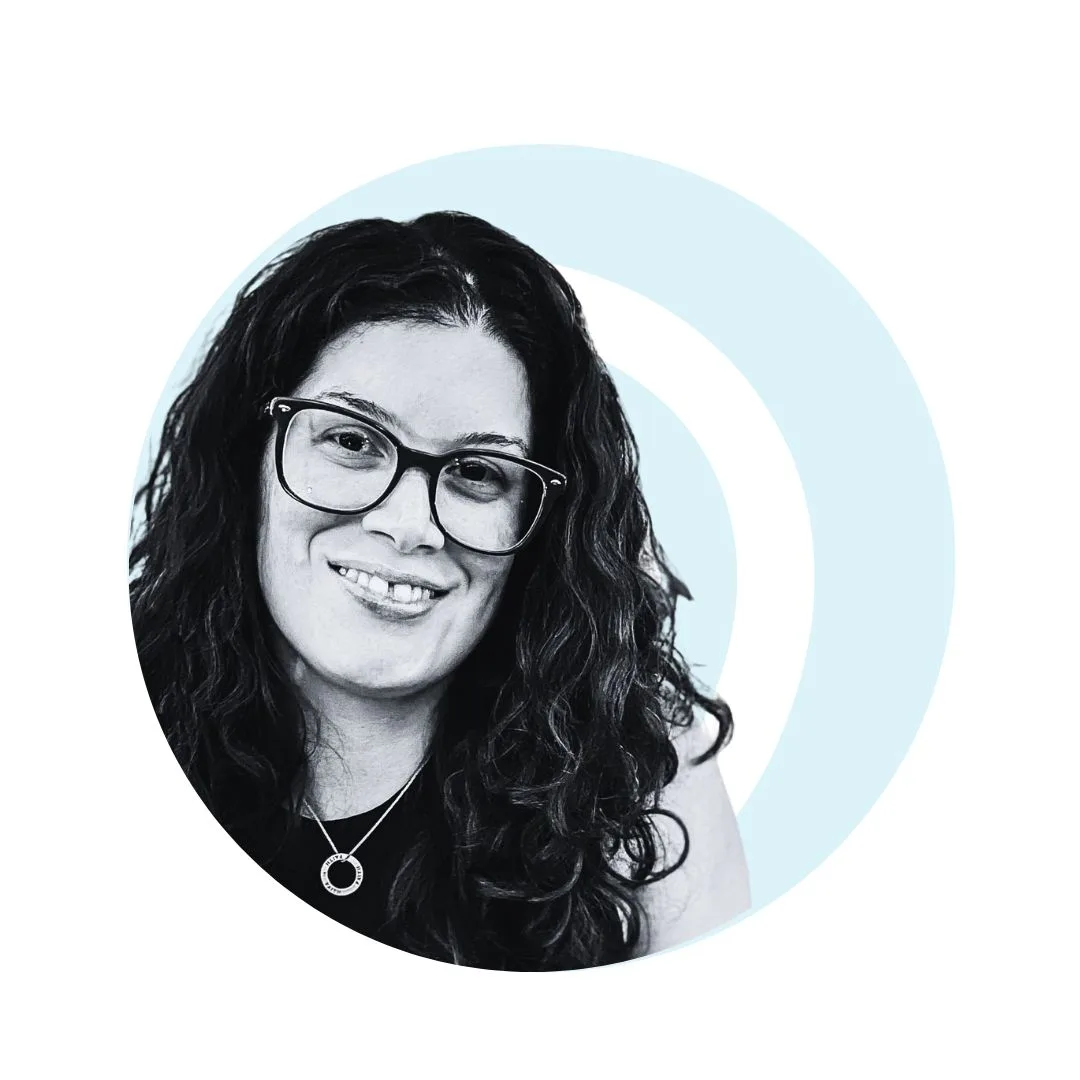 Meet Kathy Ava – a food, travel, and cruise writer based in Los Angeles/Pasadena. With over 20 years of experience planning trips and logistics at her full-time job and for herself, she's become a pro at crafting unforgettable travel itineraries. She's always looking for delicious, fun cruise itineraries and travel destinations and is slightly obsessed with Italy. Her passion and curiosity for travel started in childhood on her yearly and sometimes bi-yearly trips to PR. She firmly believes that life is short and we must make the most of it – so let's explore the world and make some incredible memories.