Looking for fun holiday activities in Los Angeles? Where to celebrate and find the magic of Christmas in Los Angeles? What is Christmas like in Los Angeles?
Unlike other parts of the country, where it snows or there are festive holiday decorations at every corner, in Los Angeles, it's different. We enjoy the magic of Christmas in Los Angeles by going to the Grove, attending special events that are taking place, or enjoying a hot peppermint drink from our favorite cafe.
This may be controversial, but I see other articles touting Los Angeles as very festive during the holidays. As a 15-16 year local originally from New York City (which in my opinion IS festive at Christmas), I have to burst a few bubbles… Los Angeles is not really festive. You don't feel the festivities unless you go find them.
If you live in Los Angeles, depending on where you live, it may be festive like it is here in Pasadena with the anticipation of the Rose Parade. Or it's probably a little lackluster of the holiday spirit.
Visiting for Christmas in Los Angeles? Or are you a local looking for Christmas activities in Los Angeles? Where to see Christmas lights in Los Angeles?
There are many holiday things to do near Los Angeles and spots to visit to experience the magic of Christmas in Los Angeles. It exists. We just have to venture out to enjoy it, just like we go out to chase fall leaves during autumn.
Want to visit Santa or take the kiddos to his workshop? Find him and his elves at the Grove.
Go ice skating at LA Live.
Plan a magical journey at the LA Zoo or at one of the Christmas events at one of our botanical gardens.
Have some warm butterbeer in festive Hogwarts at Universal Hollywood. Or spend the holidays with Mickey and Minnie at Disneyland.
Enjoy our 100-year Los Angeles tradition of driving through Candy Cane Lane in Altadena.
If you have sprinkled your home with Christmas magic… Santa will be leaving presents under your tree.
Christmas in Los Angeles
1. The Grove
Santa lives at the Grove during Christmas in Los Angeles. I swear.
Located adjacent to the Original Farmer's Markets, the Grove turns into a magical Christmas wonderland. It's decorated with lights and ornaments. Reindeers and Santa can be found flying over the famous dancing fountain. And, kids can visit Santa's Workshop and meet the big guy in red.
A tree lighting ceremony takes place every year at the Grove for their 100-foot tree. Along with performers, carolers, and other entertainment.
Every night, it snows at the Grove. For one hour.
2. HOLLYWOOD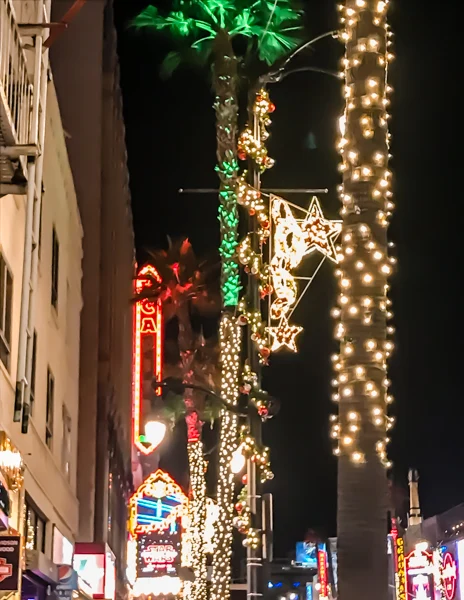 If there is any time of year that Hollywood is sparkling with magic -outside of Academy Award night- it's Christmas time. Hollywood Blvd is filled with Christmas lights and decorations.
On a cold evening standing in the middle of Hollywood Blvd, you will feel the spirit of Christmas in Los Angeles.
The day after Thanksgiving, you can attend the Hollywood Christmas Parade. It's the start of the holiday season in Hollywood. It's part of our big LA festivities. Expect floats, celebrities, and more to ride across Hollywood.
Event Date: November 28th, 2021 at 6PM
Click here for more parade information.
3. LA LIve at Staples Center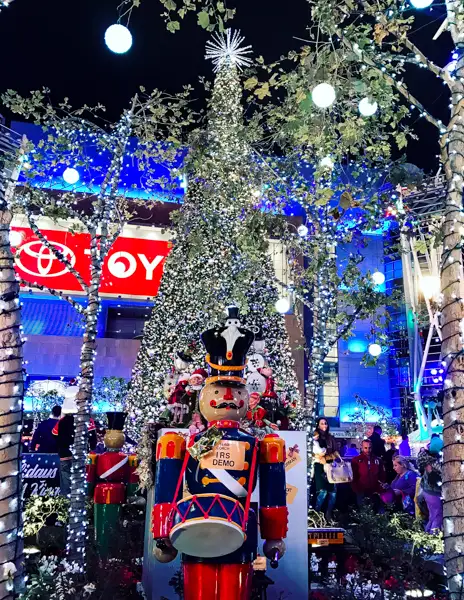 Ice Skating at LA Live opens up during the holidays in Los Angeles. You can skate around a huge Christmas tree and sparkling lights. Get in the festive spirit of Christmas.
This is a great spot for family night. Grab dinner or lunch at one of their many restaurants. Then head out to the ice skating rink for some fun.
There are also many events that take place at LA Live and Staples Center during this time of year. You'll want to plan accordingly.
TOP THINGS TO DO IN LOS ANGELES, CA
Visiting Los Angeles, California? Planning to explore and be a tourist in LA. Walk amongst the stars on Hollywood Blvd. See the spectacular views of Los Angeles from the Griffith Observatory. Take a short ride on Angel's flight. Here are the top attractions in the city of Angels.
4. LA Zoo: A Wild Wonderland of Light
Due to the pandemic, this event has temporarily been put on hold. We have high hopes it will return this year.
At night, the Zoo is dazzling with Christmas lights and decorations. Families can take a leisurely stroll and safely enjoy this nighttime holiday experience. Lighted animal displays, exhibits, plenty of photo opportunities, and fun snacks.
Only a portion of the zoo is used for this Christmas event. Animals are away and sleeping during this time.
Free Parking
Purchase your tickets in advance online.
6. Descano Gardens: Enchanted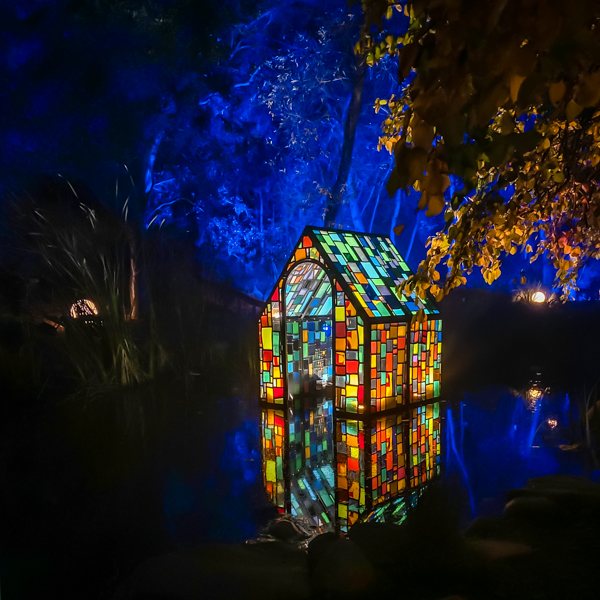 The Enchanted event at Descanso Gardens will put you in the Christmas spirit. This is a fantastic night out with family and friends. The transformation of the gardens with different lights and themes is wonderfully executed.
This is one of our favorite events of the season. It feels like you've entered a magical forest filled with lights and creative displays. Sometimes music accompanies the luminous art and it adds another level of joy to the experience.
Vendors are inside selling snacks and drinks. If it's a cold night, I recommend picking up a hot chocolate before starting your stroll.
Event dates: November 21, 2021 to January 9, 2022
Tickets are on sale now.
Parking is free.
7. LA Arboretum: LIGHTSCAPE
Lightscape, this internationally popular holiday display will be at LA Arboretum this year. This wonderful and illuminated journey takes you through bright and sparkling tunnels, colorful fountains, and creative light displays. This is an immersive experience.
This actually sounds perfect for a date night. We will be there this year. What about you?
Event dates: November 12, 2021 to January 16, 2022
Tickets are on sale now.
Parking is free.
8. South Coast Botanic Garden: Glow
The South Coast Botanic Garden in Palos Verdes celebrates the holidays with their holiday event, GLOW. This nighttime light exhibit is a fun Christmas activity in the South Bay area.
It's a lovely half-mile stroll at night through the colorful glowing gardens.
Event dates: November 20, 2021 to January 17, 2022
Tickets on sale now.
Parking is free.
9. MARINA DEL REY HOliday BOAT PARADE
The Marina del Rey Holiday Boat Parade celebrates Christmas in Los Angeles on one night during the season. Start the night with a fireworks show. Then enjoy boats and yachts parade through the main channel of Marina decked out in garlands, colorful lights, and Christmas displays.
This is a lot of fun for everyone involved.
It's FREE. Check out viewing spots here.
Event date: December 11, 2021
Fireworks: 5:55pm to 6:00 pm
Parade: 6:00pm to 8:00pm
Paid Parking: See more info here.
Marina del Rey Holiday Boat Parade | Website
10. CHristmas Tree Lane – Altadena
One of our favorite things to do around the holidays is drive up and down Christmas Tree Lane in Altadena. Beautiful deodars stand majestically tall and full, lined up on each side of Santa Rosa Avenue decorated with colorful lights. An annual tradition that started in 1920. And it was one of the best Christmas traditions in Los Angeles.
The lighting ceremony will take place this year on December 11, 2021.
Sadly, the winter festival that accompanies this event is on hold due to the pandemic. But at least we don't get to miss out on the magical street during Christmas in Los Angeles.
Free.
The lights are on between 6:00 pm to 10:00 pm from December 11, 2021.
Please be respectful as this is a residential street.
11. Upper Hastings Ranch Holiday Light Up – Pasadena
The neighborhood of Upper Hastings Ranch in Pasadena goes all out for the holiday season. It's another favorite if you're in the San Gabriel Valley of Los Angeles. Dozens of residential streets are decorated for Christmas with lights, fun displays, themes and you may even find a few homes with dancing lights.
This is a tradition that started in Pasadena in 1951. The neighborhood comes together and participates in this magical tradition.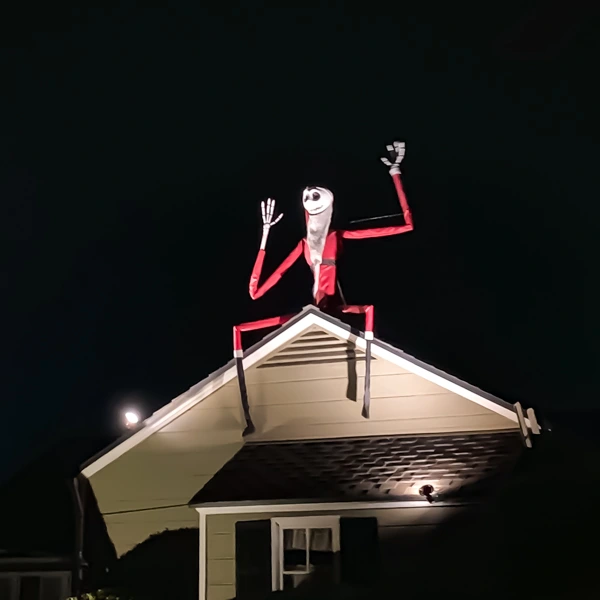 One of our favorite homes has Jack Skellington sitting on the roof of the house waving at visitors. Simple, but fun.
Sometimes on the weekends, you'll find carolers singing and vendors selling hot chocolate. It's can be a very festive atmosphere.
Also, there are plenty of things to do in Pasadena that you can spend your day there and then head to Hastings Ranch at nightfall. Drive the family up and down the streets of Hastings Ranch. Take photos. Pick your favorites.
Free.
The lights are on between 6:00 pm to 10:00 pm.
Please be respectful as this is a residential neighorhood. Stay off lawns and decorations, unless there are instructions to partake in some sledding.
Upper Hastings Ranch Holiday Light Up | Hastings Ranch Drive and Sierra Madre Blvd, Pasadena, CA 91107 (Google Map It)
12. Fair Oaks Pharmacy in South Pasadena
Fair Oaks Pharmacy in South Pasadena is usually known for its classic soda fountain shop. However, it's one of my favorite places to visit during the holidays because the entire store is filled with Christmas decorations, old-school toys, trains, and all sorts of holiday fun.
The pharmacy decorates the store with various Christmas trees, sparkly garland hanging from the ceilings, beautiful ornaments, and Christmas music. It's the kind of place that brings a smile and fills you with holiday joy.
If you're in the area during the holidays, this is a great spot to pop in and see how the holidays are celebrated at Fair Oaks Pharmacy. Maybe pick up a special gift or two for a special someone.
And if the soda fountain ice cream shop is open, that's just a plus.
13. Holidays at Universal Studios Hollywood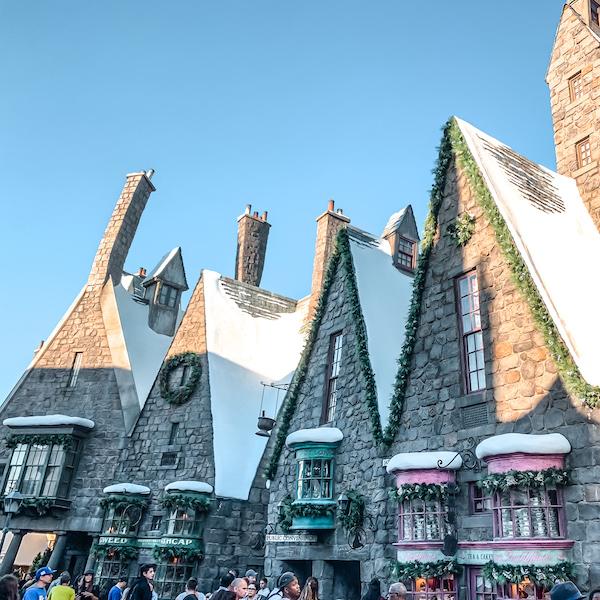 Celebrate Grinchmas at Universal Studios Hollywood! The holidays are a great time to visit Universal Studios. The theme park is decorated for Christmas. Including a huge Grinchmas tree where they have a nightly lighting ceremony.
Hogsmeade is transformed and warm butterbeer is acceptable to drink even on a sunny California day. The moment you enter Hogwarts, you will feel the magic of the holidays. Especially when it snows at night.
Don't forget to stay for the magical light show at Hogwarts Castle.
What I always love about Universal Studios is that you don't need more than a day to enjoy it. It's a great time to plan a fun day at the park.
Universal Studios Hollywood | 100 Universal City Plaza, Universal City, CA 91608 (Google Map It) | Website
Day Trips from Los Angeles
Looking for the best day trips from Los Angeles for you and here. Here are some of the best spots to visit outside of Los Angeles.
Holiday things to do Near Los Angeles
14. DISNEYLAND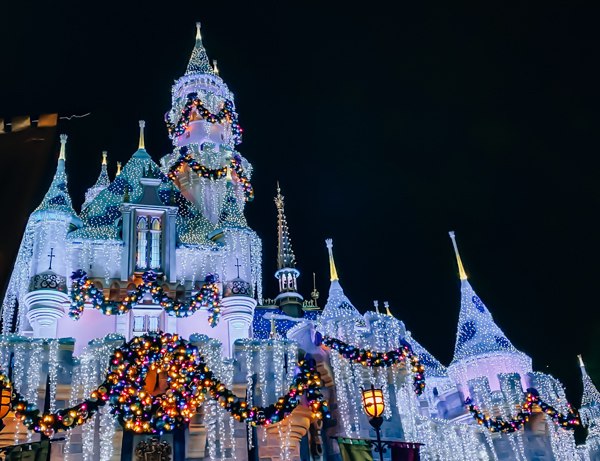 Angelino's flock to Disneyland during the Holidays. It is the mecca of Christmas in Los Angeles… Southern California. It's a magical time of year and Disney knows how to do it right. Seeing Sleeping Beauty's Castle all dressed up in garland and lights is pretty special.
The holiday decor is in full swing starting November 12th. I suggest starting to book tickets and making reservations for the holiday season.
Even hubby that complains about the crowds, enjoys Disneyland at Christmas. We were last there in 2019 and enjoyed the Festival of Holidays.
If Disneyland isn't in your budget. A trip to Downtown Disney is worth it, too. Don't miss entering the Grand Californian Hotel and see the large Gingerbread House on display.
15. Mission iNn Hotel & spa: Festival of Lights
The Misson Inn Hotel and Spa has brought joy to many with its Festival of Lights for 29 years. This spectacular extravaganza is worth the trip to Riverside and it's a fantastic night out for the family.
The hotel sparkles all around with thousands of lights and delightful displays. It's a not-miss holiday event in Southern California.
The switch-on ceremony will take place on November 26th.
Nov 26, 2021 to Jan 6, 2022
Mission Inn Festival of Lights | 3700-3662 Mission Inn Avenue, Riverside, CA 92501 (Google Map It) | Website
We are looking forward to enjoying some of these Los Angeles holiday activities this season. My favorite part is always the holiday treats.
How do you plan to enjoy Christmas in Los Angeles? What Los Angeles Holiday activities are you looking forward to?