Planning a travel to Los Angeles, California? What are the top Los Angeles attractions to visit? Get ready to explore LA as a tourist with this Los Angeles travel guide and check things off your Los Angeles Bucket List!
Twenty years ago, we went from New York to Los Angeles for a 2-week vacation. This was way before we ever considered moving here. It wasn't even a thought during or shortly after.
We do remember we were so excited to visit Los Angeles. We hit the most common tourist attractions: Hollywood Walk of Fame, The Hollywood Sign, the Chinese Theatre, Rodeo Drive, Venice Beach… Disneyland.
We even took one of those Hollywood tours in an open-air bus and stalked celebrity homes. It was thrilling even though we never saw one celebrity at the time. Nowadays, as locals, you would never catch us on one of those tours unless someone was visiting from out of town. But at the time, as tourists, we remember it being fun. We highly recommend you add it to your Los Angeles Bucket List.
We also recall thinking that Hollywood was nothing like the movies. And it isn't. It's gritty and touristy. For first-time visitors in Los Angeles, it's a fun attraction; they get to see what Hollywood is like.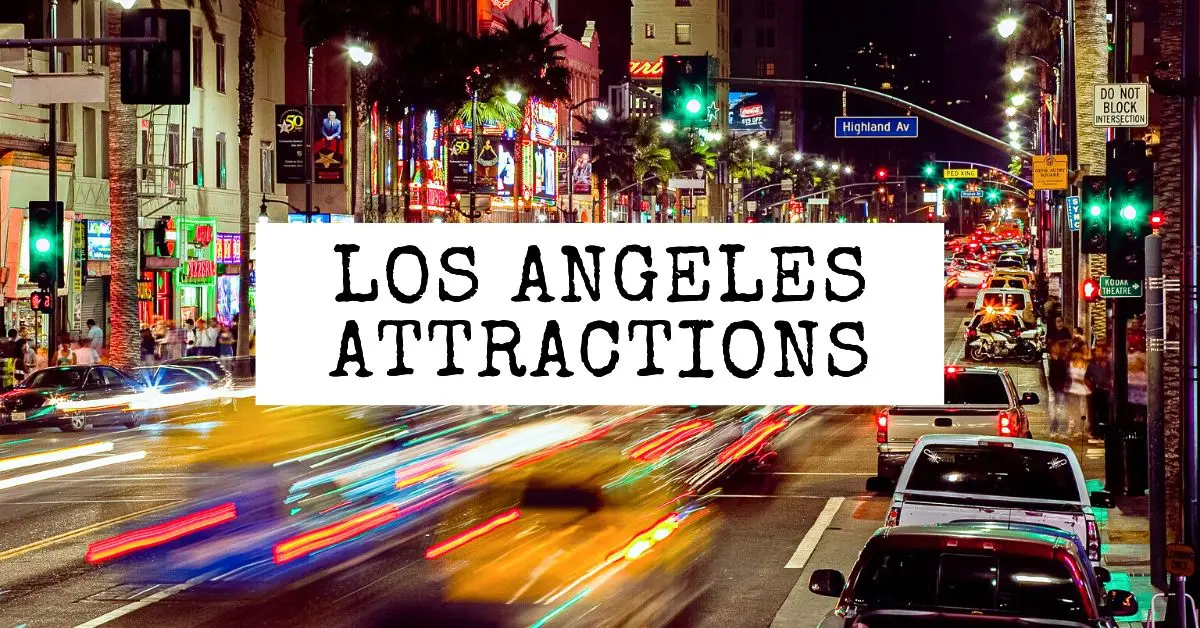 This post may contain affiliate links, which means we'll receive a commission if you purchase through our links at no extra cost to you. Please read full disclosure for more information. We appreciate your support!
To our surprise, we moved to Los Angeles a few years later. As new residents, we were essentially tourists. We explored and enjoyed seeing the LA landmarks and experiencing the attractions more than ever in New York City. We have experienced every attraction on this list, besides all the day trips we take from LA.
Now when people come into town, and it's their first visit, we know exactly what places to visit in LA to take them to. These are the best things to do in Los Angeles, California as a tourist off your Los Angeles Bucket List.
In this article, we share the top Los Angeles attractions to experience, whether you're visiting or living here and want to cross things off the bucket list. It's nice to know what's around us, including the touristy stuff and not just the local hidden gems.
Top Los Angeles Attractions
Top Things to Do in Los Angeles Map List – Don't forget to add them to your Los Angeles Bucket List!
1. Santa Monica Pier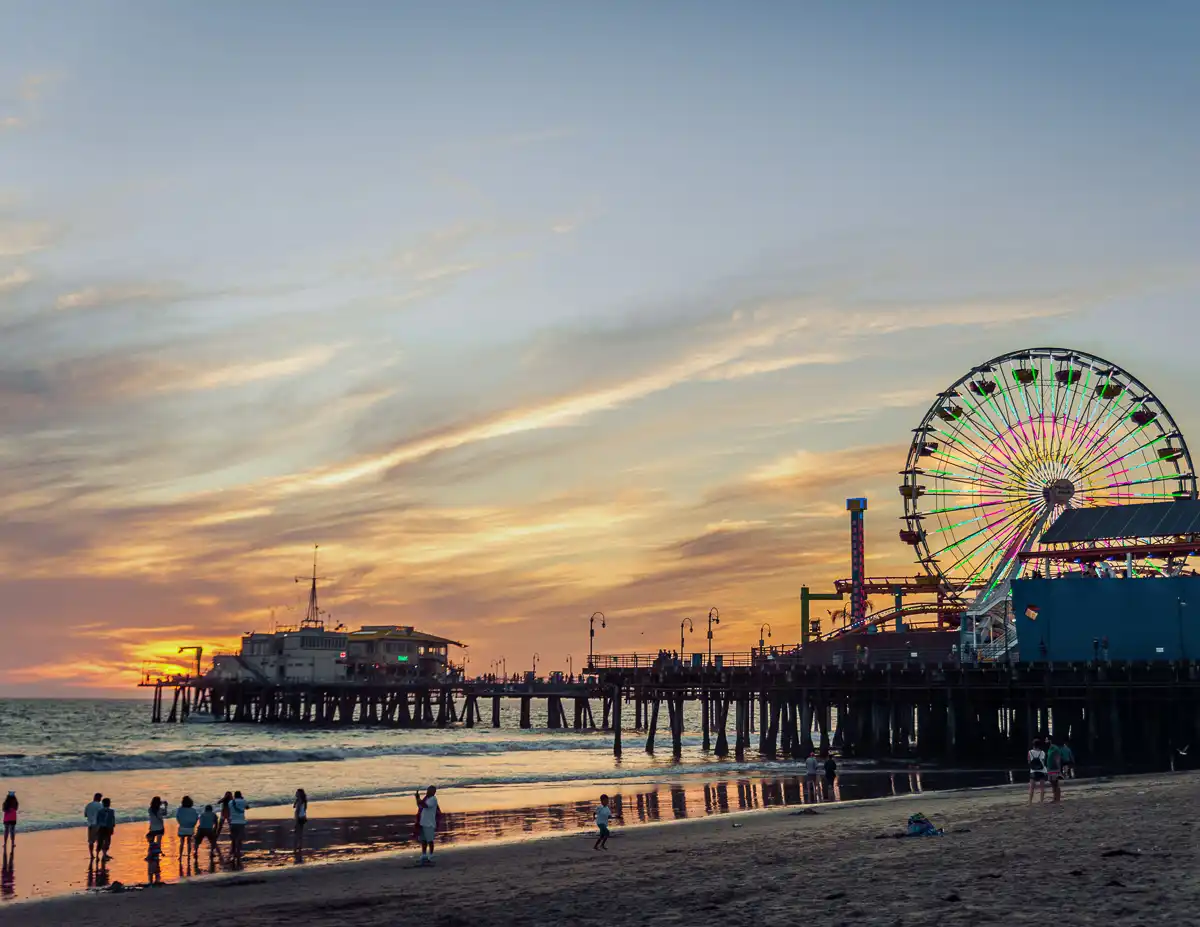 The Santa Monica Pier is a historic Los Angeles landmark but also a top Los Angeles attraction for first-time visitors. You will want to visit the coastal town of Santa Monica and its iconic pier that appears on our screens when watching tv shows or films based in LA.
The pier features Pacific Park, an amusement park with a Ferris wheel, a roller coaster, and other fun rides and games. It's a fun day or night out to experience.
Did you know the Ferris wheel is solar-powered?
The best time to visit Pacific Park is at sunset, so you can experience the sun setting across Santa Monica Beach and then experience the Ferris Wheel lit up.
At the pier, you can also ride the historic Santa Monica Carousel.
Fun Fact: The pier is also home to the iconic Route 66 sign, which marks the end of the famous cross-country highway.
If you want more to do in Santa Monica, check out 3rd Street Promenade.
Top Foodie Pick: Stop by local favorite Bay Cities Italian Deli for Godmother sandwiches and have them on a beach picnic.
Santa Monica Pier | 200 Santa Monica Pier, Santa Monica | Google Map It
Planning to visit multiple sights and attractions? Consider a Go City Los Angeles Pass and save money.
2. Venice Beach and Canals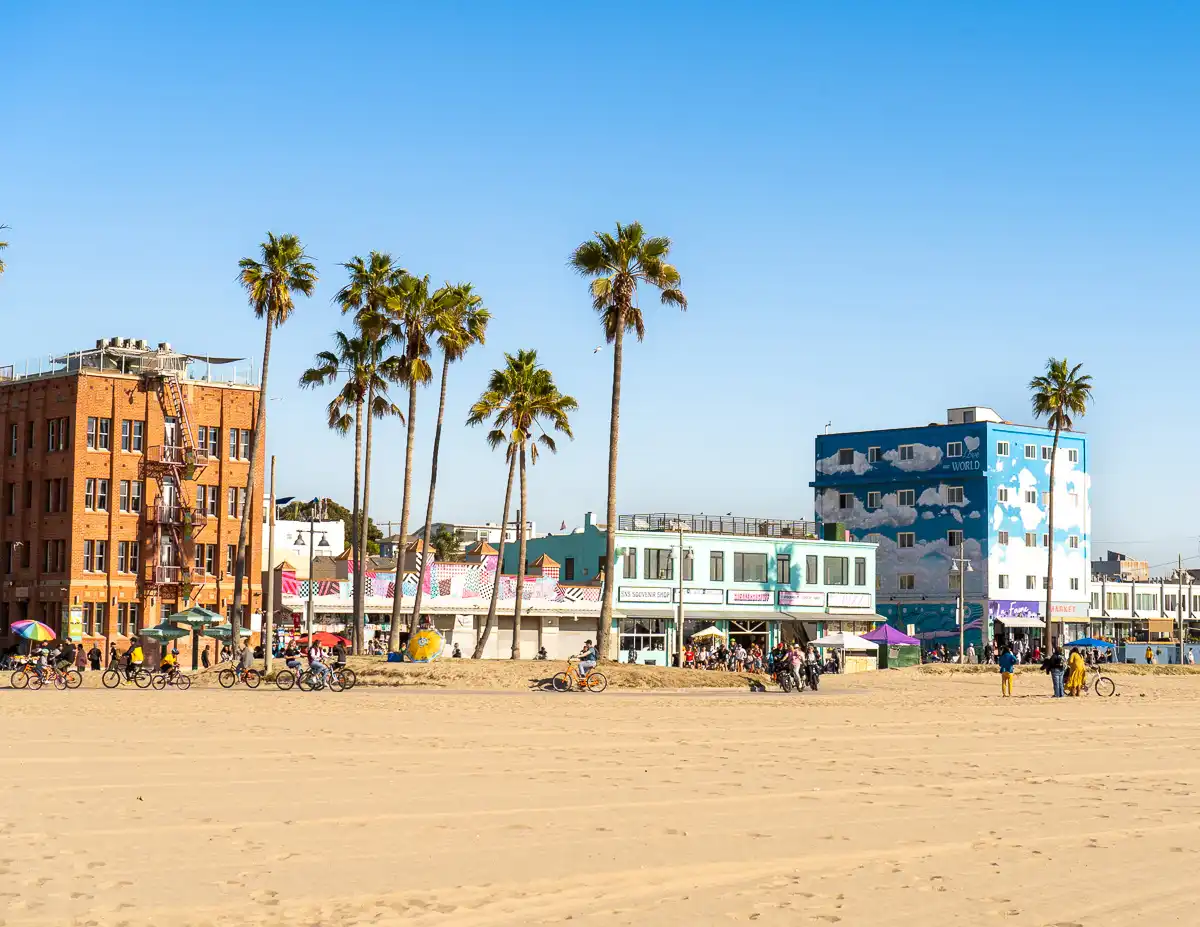 Venice Beach is one of the most popular places to visit in Los Angeles. Tourists flock to the Venice Beach boardwalk to see what it's all about, as it is a destination that embodies Southern California's laid-back, free-spirited vibe.
The boardwalk is a hub of activity that captures the unique spirit of Venice. The best thing to do is walk up and down to take in the sights and sounds of this iconic location. The boardwalk is also a great place to people-watch, with a diverse mix of locals and tourists from all walks of life.
You'll want to check out the original muscle beach, the skateboard park, and all the quirky shops along the boardwalk. You can even rent bikes and cruise the bike path. Don't forget to stop and take photos at the infamous Venice sign at Pacific Ave and Windward Ave.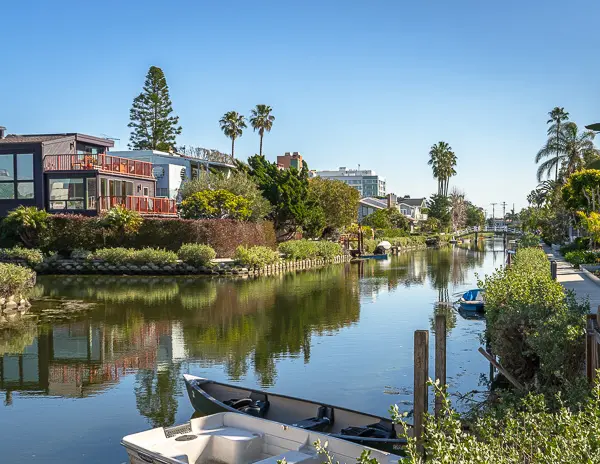 We are not huge fans of the boardwalk, but we love to escape and explore the Venice Canals, one of the unique places to visit in LA. A picturesque historic neighborhood in Venice Beach that is made up of man-made canals with charming pedestrian bridges, colorful houses, and lush landscaping.
Abbot Kinney Blvd is also part of the Venice Beach experience. This trendy street is located in the heart of Venice, named after the founder of Venice Beach, Abbot Kinney. Locals and tourists love to come here to shop at the boutiques and eat at many wonderful farm-to-table restaurants.
Top Foodie Pick: Grab a coffee and a bite at Bluestone Lane Cafe or stop by Gjusta Bakery.
Read more: Exciting Things to Do in Venice Beach, CA
Tour Ideas:
The Ultimate Venice Beach Experience [book here]
3. Pacific Coast Highway | Route 1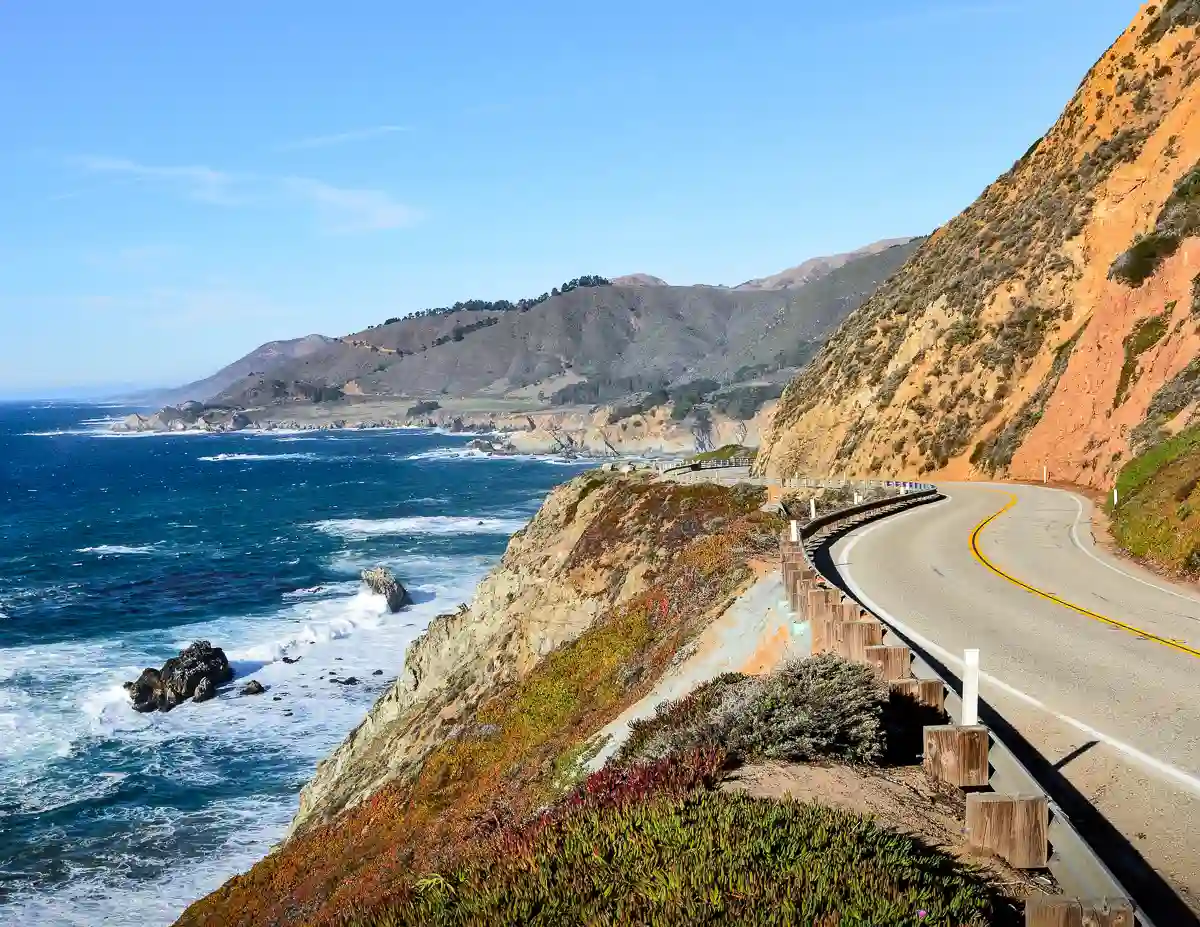 If you're in Los Angeles for over a few days, we highly recommend driving the Pacific Coast Highway. Of all the things to do in Los Angeles, this is one of our favorites. It is a beautiful and memorable drive by the coast. We used to drive our old Jeep Wrangler with the top down on a sunny day and cruise PCH.
You can start the drive from Santa Monica and go north towards Malibu or Santa Barbara. You can also go south, towards the Southern Coast of California. Either way, you'll have fun and see some of the most amazing coastlines in the United States.
The Pacific Coast Highway is one adventure you can plan a vacation around, making many stops along the coast. But if you only have a day in LA, you can fit it in, taking up a good portion of it. It is worth it, though.
Pacific Coast Highway from Santa Monica | Google Map It
Read more: Los Angeles Day Trips To Take
4. Hollywood Walk of Fame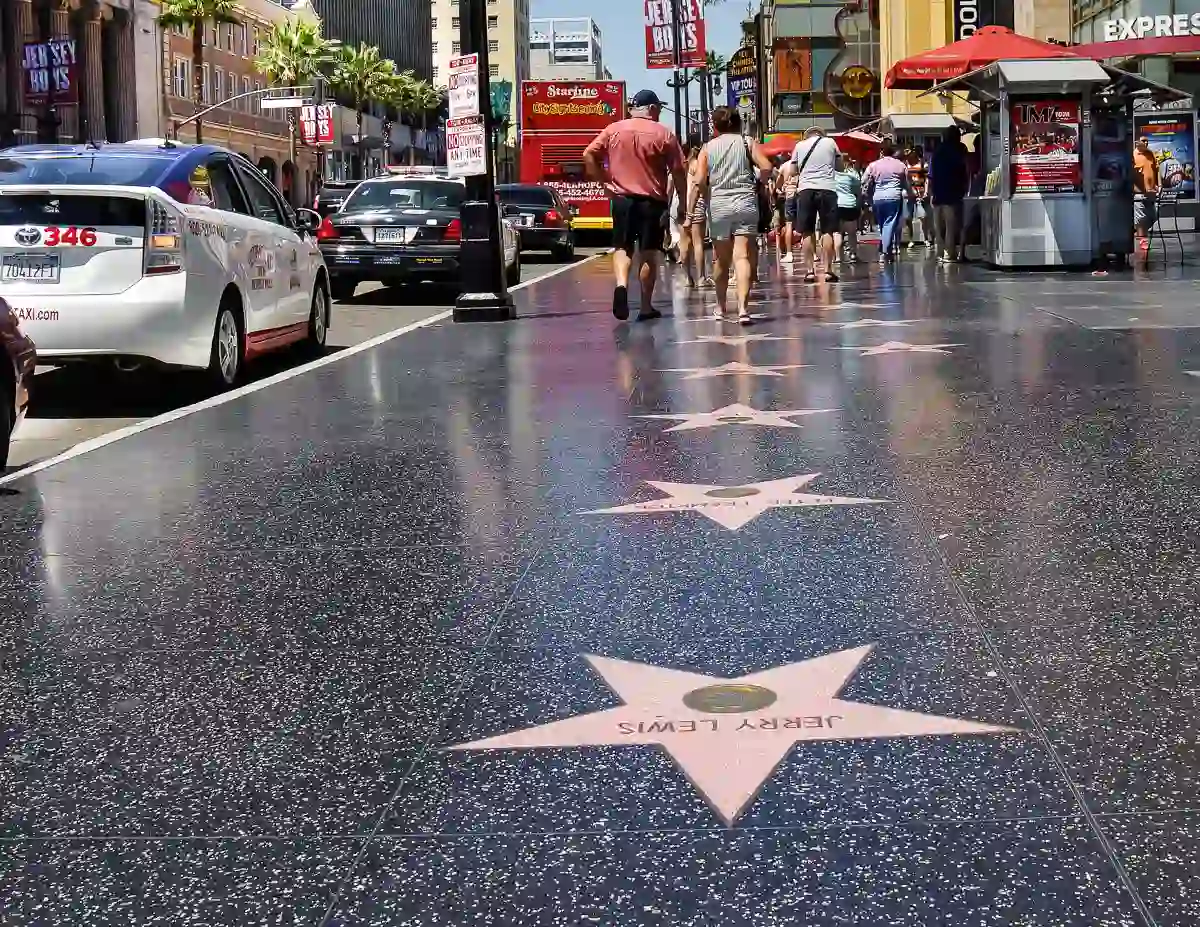 The Hollywood Walk of Fame is a world-famous top Los Angeles attraction. It features more than 2,600 stars embedded in the sidewalk, each bearing the name of a celebrity from the entertainment industry. It's a must-see for first-timers and anyone looking to check this off their Los Angeles bucket list.
These famous stars stretch over 3 blocks of Vine Street and 15 blocks of Hollywood Blvd. You're going to want to wear your walking shoes.
This is a FREE attraction.
While in Hollywood, you may want to visit Madame Tussauds Hollywood for a fun and interactive experience where you can take pictures with lifelike wax figures of your favorite celebrities.
Hollywood Walk of Fame | Hollywood Boulevard, Vine St, Los Angeles
5. TCL Chinese Theatre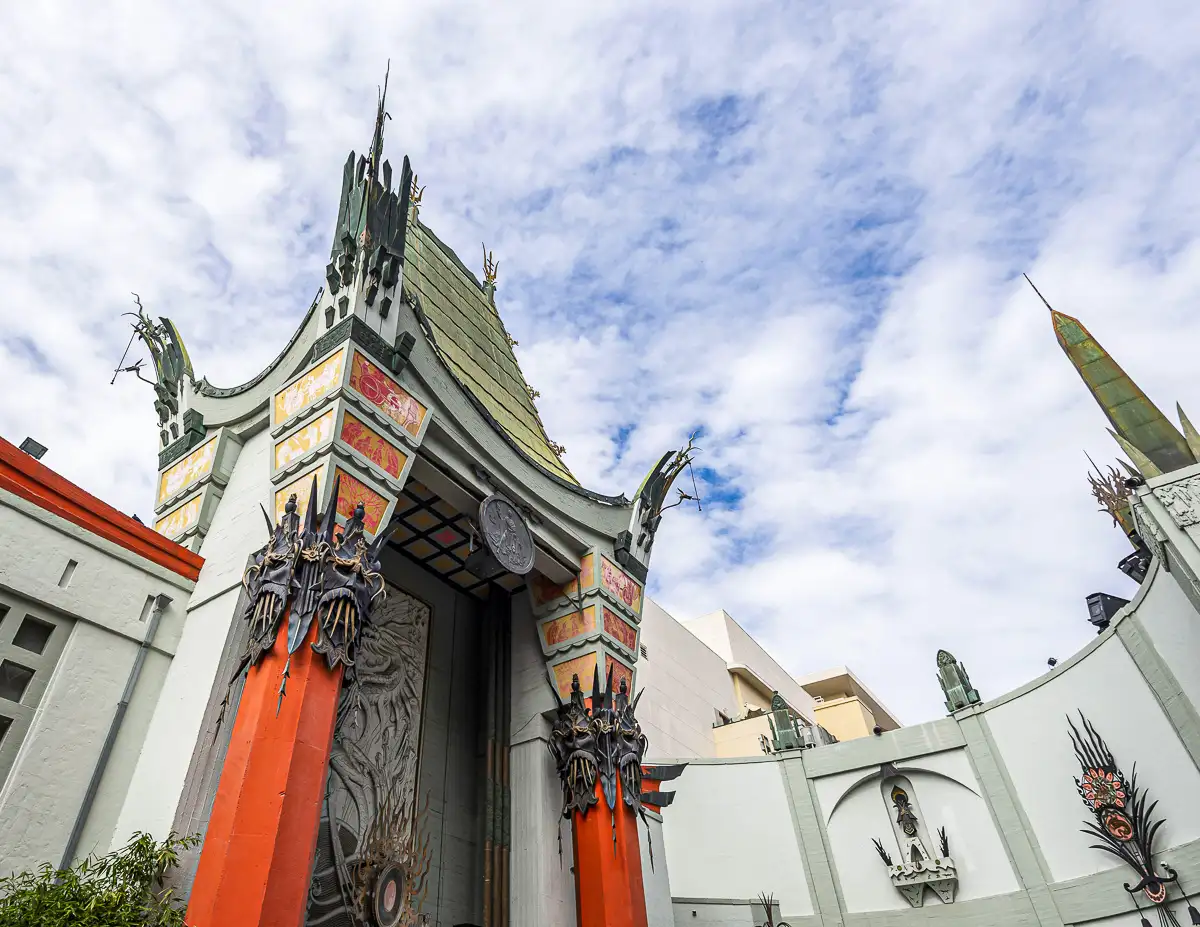 Once named Grauman's Chinese Theatre, this iconic spot is a historic-cultural landmark of Hollywood and Los Angeles. It was opened in 1927 and has since become an iconic symbol of Hollywood's Golden Age. You probably are familiar with its famous red-carpet movie premieres and ceremonies here.
In front of the theatre, you'll find the signature forecourt, which features handprints, footprints, and signatures of famous actors and actresses. It's fun to see which of your hands and feet match with some of these celebrities.
For an even cooler experience, you can plan to see a movie at the TLC Chinese Theatre. The tickets allow you to enter the theater and take a self-guided tour of the establishment. We suggest buying your tickets in advance, especially if it's the weekend, as locals also love to see movies here.
You may want to book a VIP tour if you're a movie buff.
Top Foodie Pick: Joe's Pizza
TCL Chinese Theatre | 6925 Hollywood Blvd, Hollywood | Google Map It
6. See a Broadway Show at the Hollywood Pantages Theatre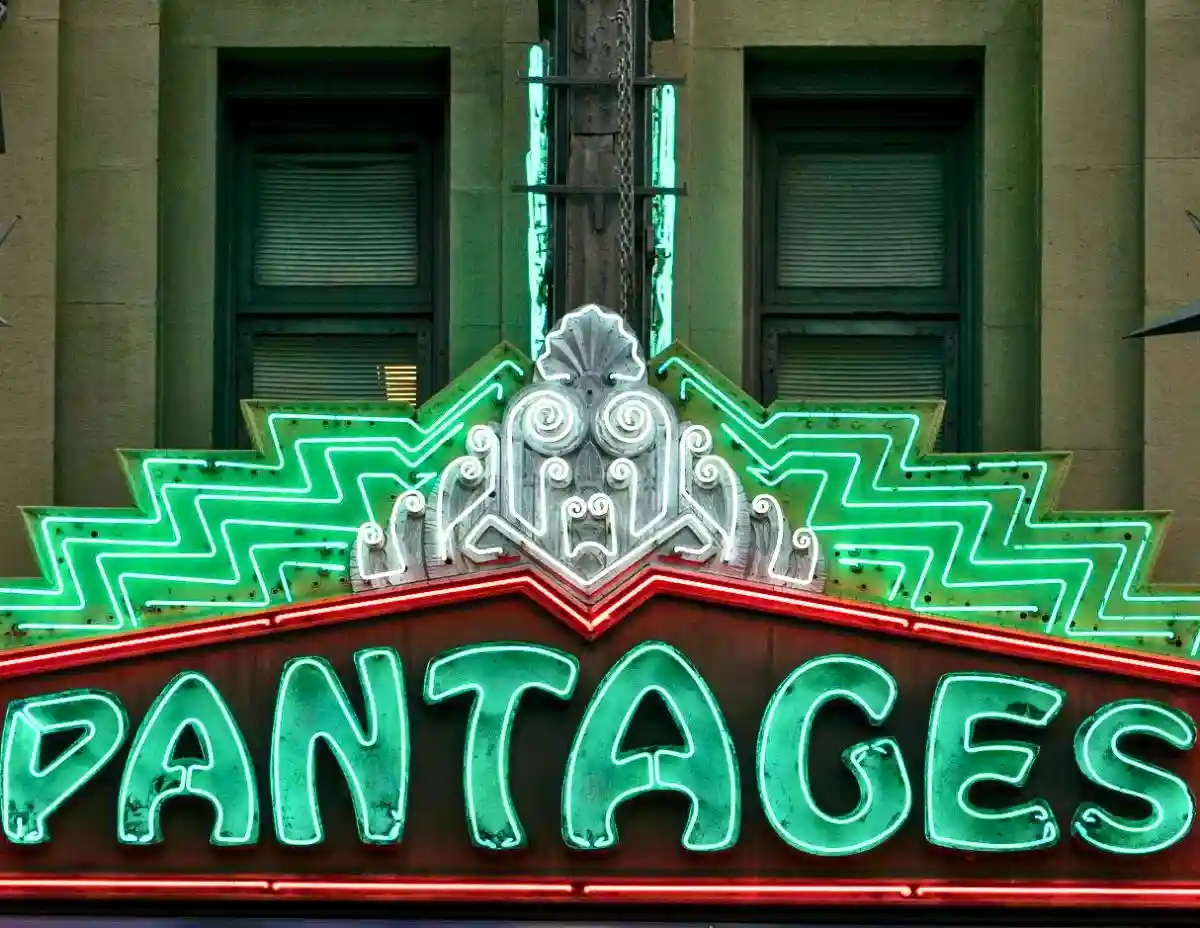 In the heart of Hollywood is the Pantages Theatre. It opened in 1930 as a movie palace. It is a popular venue for live theater productions, concerts, and other events today. We have seen many productions here, including Mama Mia.
If you're staying in Los Angeles for over a few days, see what production is playing at the Pantages. It is a fantastic night out in LA and a perfect opportunity to see a Broadway show. Combine it with dinner and drinks.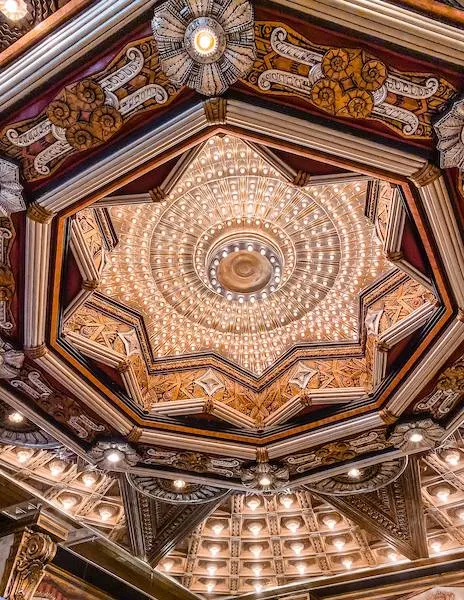 What we love the most is the preserved beauty of this theater. Take in all the architectural details of this historical landmark when visiting. The theater was designed by architect B. Marcus Priteca and is known for its opulent Art Deco-style interior, which features intricate murals, chandeliers, and ornate detailing.
Top Foodie Pick: Make reservations at Katsuya, Wood & Vine for a pre-dinner meal at the legendary Muso and Frank Grill.
Pantages | 6233 Hollywood Blvd, Los Angeles | Google Map It
7. El Capitan Theatre
Currently owned by Disney, El Capitan Theatre is another Hollywood landmark. This theatre was owned and built by the same developer of Grauman's Chinese Theatre and the Egyptian Theatre in the 1920s. In 1989, Disney took ownership and restored it.
El Capitan Theatre only plays Disney movies and events.
The unique part of El Capitan is its in-house organ, "Mighty Wurlitzer." From time to time, Disney will hold special events where you can listen to this organ play along with a film or have sing-alongs. It's a fun experience for the whole family.
Once, we got tickets to see one of the Star Wars movies, and they did a whole lightsaber show before the movie started. And then we went downstairs to see all the costumes displayed from the movie. It was pretty cool!
Check to see what their latest movies and events are here.
Top Foodie Pick: Ghirardelli's right next door for dessert.
El Capitan Theatre | 6838 Hollywood Blvd, Los Angeles | Google Map It
8. Hollywood Bowl
The Hollywood Bowl is a favorite Los Angeles attraction amongst the locals. It is a great experience LA experience. Once warmer days start setting in Los Angeles, we locals plan to attend musicals, concerts, sing-alongs, and firework shows… all at the Hollywood Bowl.
This concert hall is an open amphitheater with the most beautiful backdrop of Hollywood Hills. You can even see the Hollywood sign on a clear day and from the right spot.
Bring a picnic, find a spot outside the theater, and eat with your family and friends before the show. Bring a bottle of wine and some snacks for during the show. This is what we love about this theater. It's festive and casual, and you're doing it all under the amazing, gorgeous sky of Los Angeles.
You don't need the best seats in the house to enjoy. You will have a fabulous experience even sitting in the back.
Foodie Pick: Head to the famous Pink Hot Dogs for a late-night snack.
Hollywood Bowl | 2301 N Highland Ave, Los Angeles | Google Map It
9. Hollywood Sign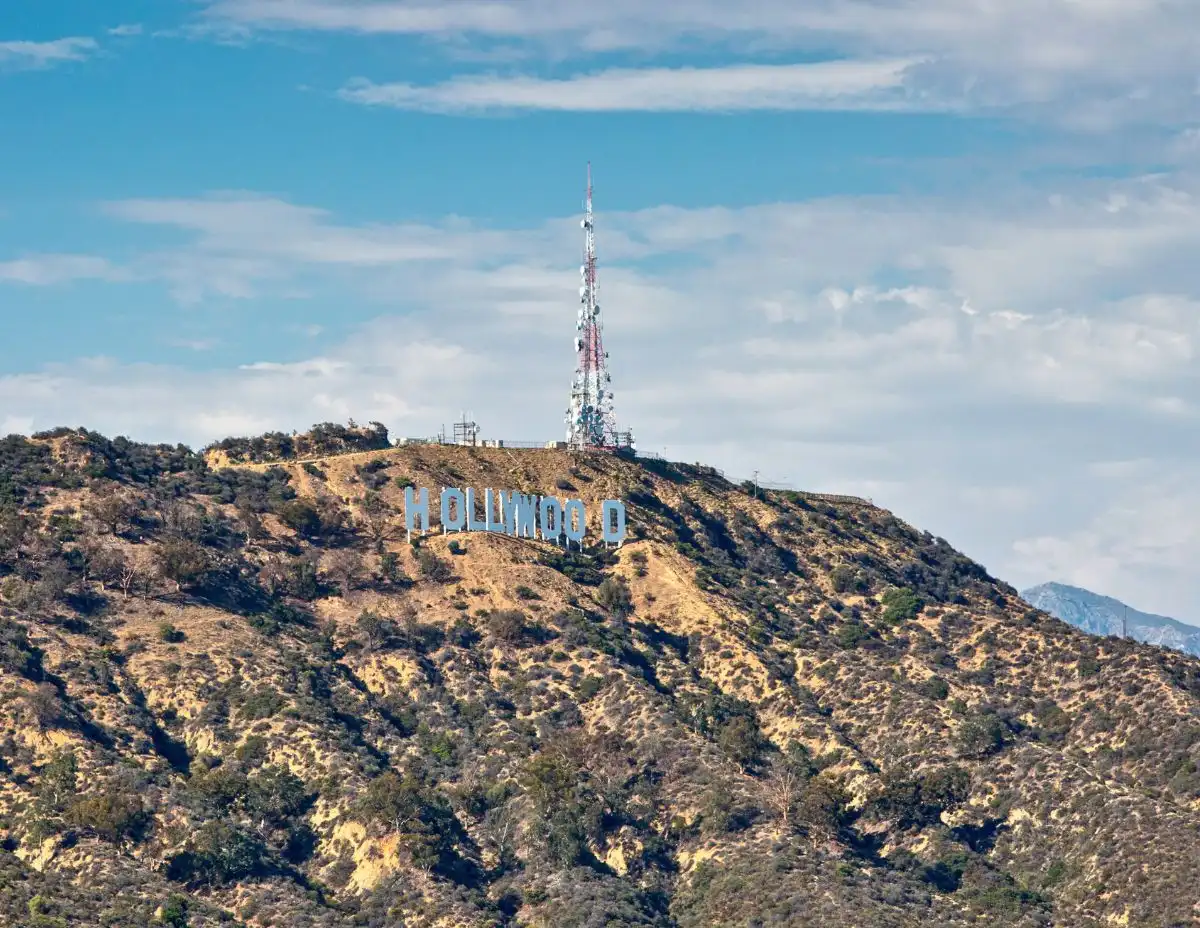 Seeing the Hollywood sign is one of the top Los Angeles attractions.
The Hollywood Sign is an iconic landmark in the Hollywood Hills of Los Angeles. It was originally constructed in 1923 as a promotional advertisement for a real estate development. Still, it has become one of the most recognizable symbols of the entertainment industry and Los Angeles.
Driving around Hollywood and surrounding areas, you will see the Hollywood Sign.
How can you get closer to the Hollywood sign?
One of the best ways to get close to the Hollywood Sign is by hiking the Brush Canyon Trail, a 6-mile hike. Once you get up there, you'll have a back view of the sign with a beautiful view of Los Angeles.
10. Griffith Observatory
The Griffith Observatory is a must-visit for some of the best views of Los Angeles. It also has a fun planetarium to explore inside with its gorgeous 180-degree views of Los Angeles, including the Hollywood Sign and Downtown LA.
It is FREE to enter the grounds and the building. Parking and the planetarium are an extra charge.
The best time of day to visit is sunset. However, it is also the busiest time of day to visit. You may have to park off-site and take a shuttle to the observatory. You can also take an Uber and have it drop you off closest to the entrance.
Fun fact: You might recognize scenes from Lala Land, Gangster Squad, Rebel Without a Cause, and more.
Griffith Observatory | 2800 E Observatory Rd, Los Angeles
11. Universal Studios Hollywood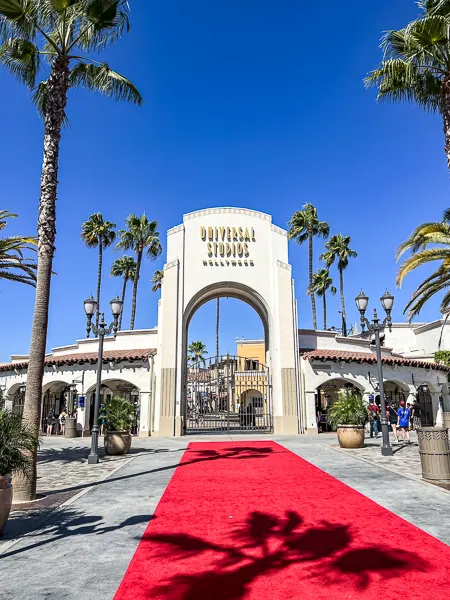 Do you love theme parks?
Universal Studios Hollywood theme park is one of my favorites because it's just the right size for a fun day in Los Angeles. You get to experience a theme park with rides and get a peek at one of the oldest movie studios around.
We have an annual pass, so we make it there almost every month. So here are the top things to do at Universal Studios:
Top Foodie Pick: There are many great snacks inside the park, but at any time, you can head out to City Walk and eat at one of their many restaurants.
Universal Studios Hollywood | 100 Universal City Plaza, Universal City | Google Map It
Read More: Top Rides at Universal Studios Hollywood
12. Griffith Park
New York City has Central Park… Los Angeles has Griffith Park.
Griffith Park encompasses over 4,000 acres of land and has various attractions and recreational activities. It features hiking and biking trails, picnic areas, playgrounds, and sports fields, including top Los Angeles attractions like the Hollywood Sign, Observatory, Greek Theatre, LA Zoo, and more.
Overall, Griffith Park is a beloved destination for locals and visitors. You can spend a week exploring Griffith Park alone. And there are plenty of family-friendly things to do.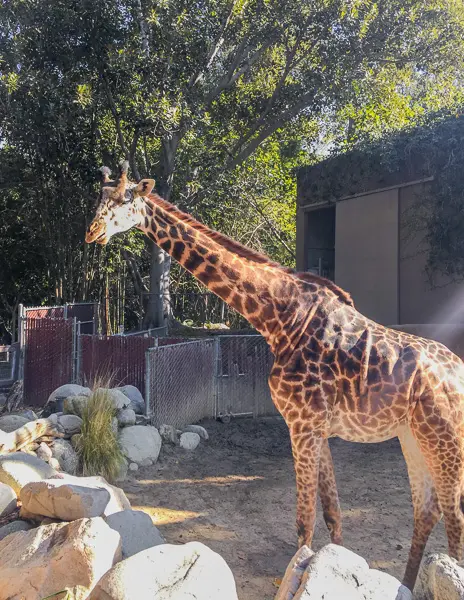 Here are some ideas:
Griffith Park | 4730 Crystal Springs Dr, Los Angeles
13. Beverly Hills and Rodeo Drive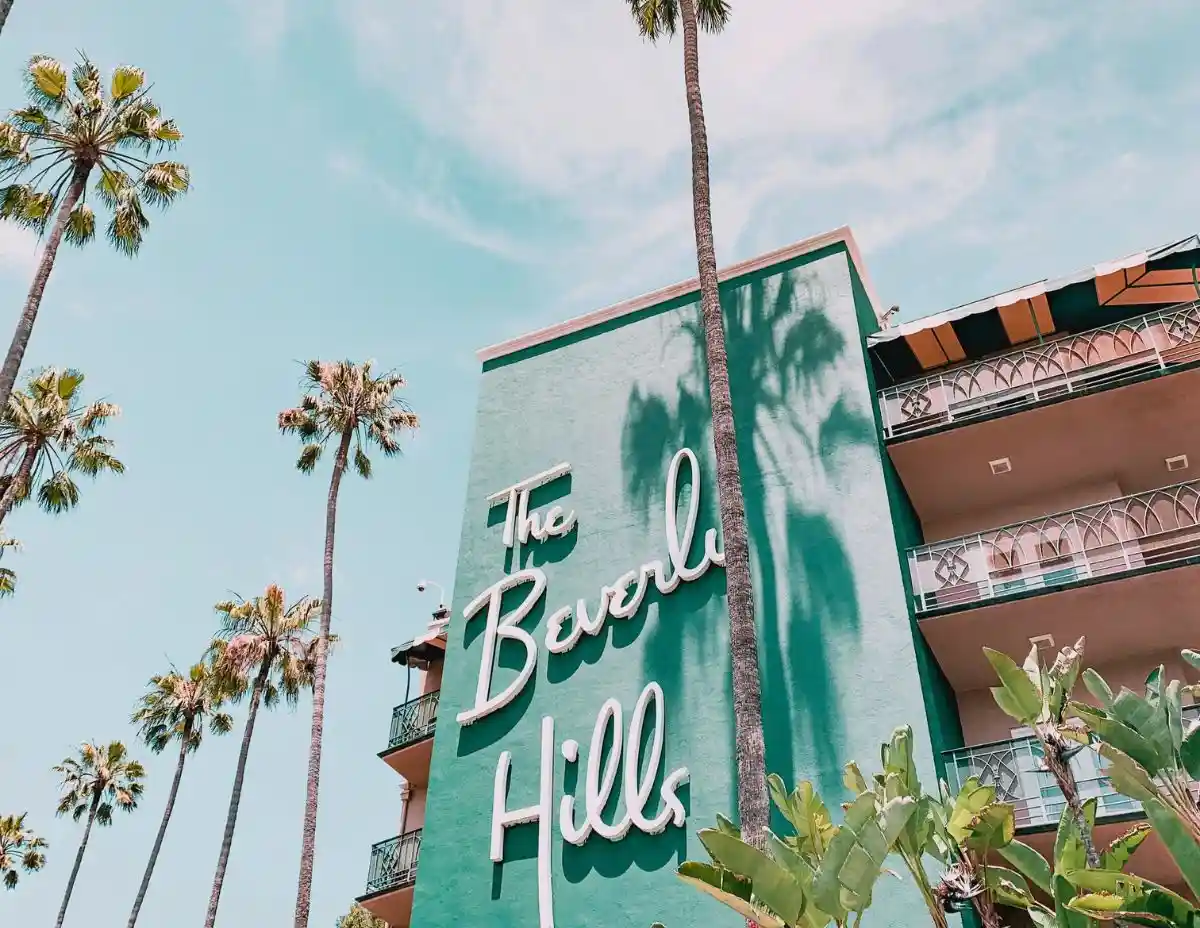 Beverly Hills is home to some of the most expensive real estate in the world, with sprawling mansions and estates dotting the hillsides. Most of us are probably familiar with the city due to the "90210" era.
Beverly Hills has several cultural landmarks and attractions, like the Beverly Hills Hotel. The hotel's iconic pink exterior and luxurious amenities have made it a symbol of Hollywood glamour.
Another popular attraction in Beverly Hills is the Greystone Mansion and Park. The park is open to the public daily for FREE.
The city is also known for its high-end shopping, with Rodeo Drive being one of the most famous shopping destinations in the world. It is probably most remembered by Julia Roberts's character in Pretty Woman and when she went on her shopping spree. Other movies filmed here are Clueless, Beverly Hills Cops, and many more.
Top Foodie Pick: The Original Sprinkles cupcake shop and check out their Cupcake ATM. Make dinner reservations at one of LA's classic restaurants, Lawry's Prime Rib.
14. Drive Down Sunset Blvd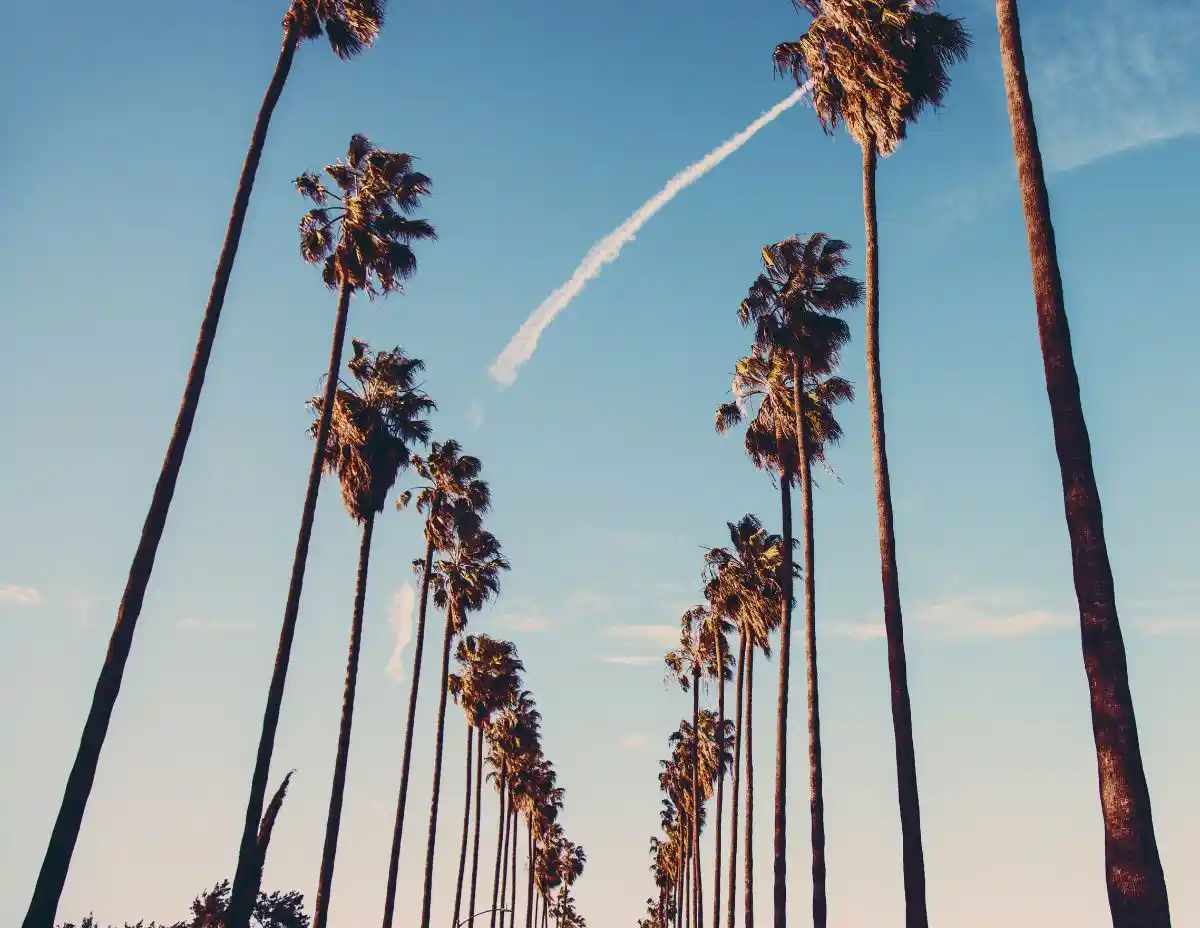 Driving down Sunset Boulevard is a quintessential Los Angeles experience that is a must-do for visitors to the city. The iconic street stretches 22 miles from Downtown Los Angeles to the Pacific Ocean, passing through several famous neighborhoods and landmarks.
The street passes through the heart of Hollywood, where visitors can see the famous Hollywood Walk of Fame and the TCL Chinese Theatre. The street is also known for its vibrant nightlife, with various bars, clubs, and restaurants lining its route, like Mels Drive-in, The Rainbow Room, and Carneys. And we can't forget the famous Chateau Marmont Hotel, a popular celebrity destination since its opening in 1929.
Sunset Boulevard has been featured in countless movies and TV shows, and its name has become synonymous with the glitz and glamour of Hollywood.
Los Angeles is home to palm trees, but on Sunset Boulevard, you can truly have that iconic experience of gazing up at majestic rows of these towering giants that seem to touch the sky, just like in the movies.
It's just one of those must-do drives on your Los Angeles bucket list.
15. The Original Farmer's Market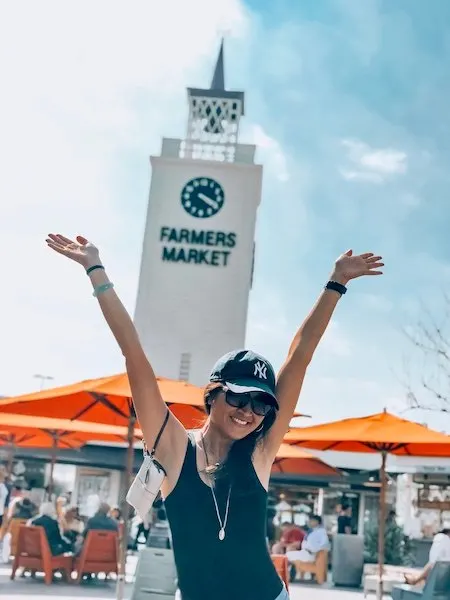 This historic farmer's market has been around since 1934. It started when landowners invited farmers to sell fresh produce out of the backs of their trucks, and it has since grown into a permanent fixture in the Fairfax District. It has grown immensely since and remains a historic landmark and a top LA attraction.
The market is a cluster of boutiques, grocers, repair shops, and food stalls open year-round, rain or shine. This is a local gathering spot for lunch and dinner with plenty of variety. We love to stop by Monsieur Marcel's for their delicious macarons.
If you're looking to spot a celeb, your chances are higher if you go during an early morning during the week. We always see one or two at the farmer's market during that time because there are fewer crowds in the morning.
Top Foodie Pick: Many great foods stand at the farmer's market. Our favorites are Pampas Grill Churrascaria and Monsieur Marcel Gourmet Market and Bistro.
The Original Farmer's Market | 6333 W 3rd St, Los Angeles | Google Map It
16. The Grove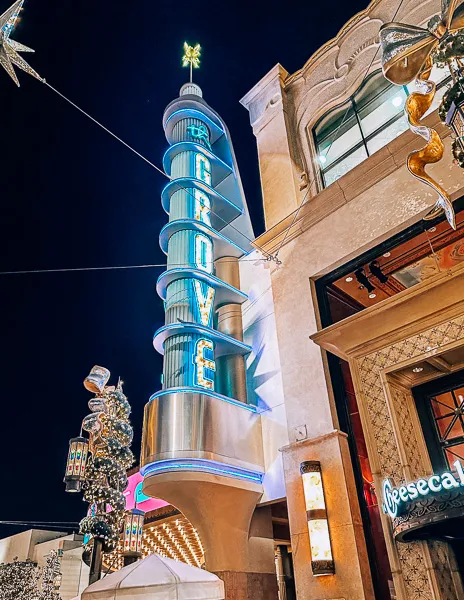 The Grove is a popular outdoor shopping and entertainment complex adjacent to the Original Farmers Market in Los Angeles. It opened in 2002 and is one of the top places to visit in Los Angeles amongst locals.
The Grove is not just an outdoor shopping mall but a favorite local spot to congregate in. It has a unique atmosphere and sense of community. It's beautifully designed with dancing fountains, garden space with seating, and areas to have a picnic while sometimes enjoying live music and events.
There is something very welcoming and relaxing about The Grove. Especially when it's not overly crowded. We are not big on shopping malls, but even we enjoy a stroll through The Grove occasionally.
Our absolute favorite time of year at The Grove is Christmas time. It is a magical time for all ages. One of the holiday highlights in Los Angeles.
What to do at the Grove?
Enjoy the dancing water fountains with music.
Sometimes there are live entertainment and activities in the courtyard.
Ride the Grove Trolley.
Take your little one to American Girl.
Watch a movie at the Pacific Theater.
People watch as you never know when you'll spot a celebrity.
Shop at one of their many stores, including Apple, as they have one of the most beautiful stores in the complex.
Tip: Use the bathrooms at the Grove Concierge. They are clean and well-attended. There is also a playroom for the kids. 
The Grove | 189 The Grove Dr, Los Angeles | Google Map It
17. LACMA Urban Lights installation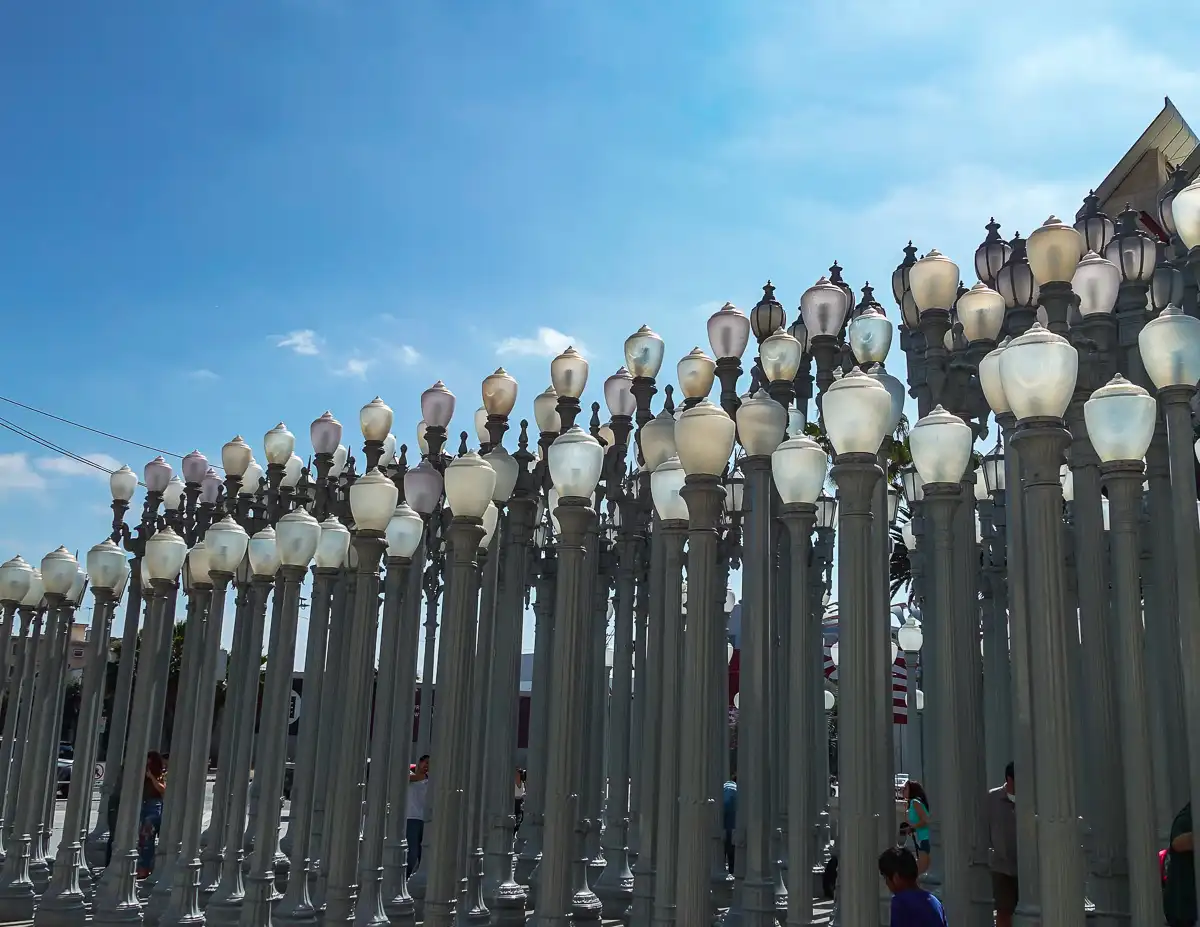 A popular Los Angeles attraction and landmark is the LACMA Urban Lights. It is a permanent art installation outside the museum's entrance on Wilshire Boulevard. The installation consists of 202 restored street lamps from the 1920s and 1930s, which were once used to light up the streets of Los Angeles.
The installation has become a symbol of LA. It has been featured in numerous movies, TV shows, and music videos, including "No Strings Attached" and "La La Land."
This is a fun stop in a Los Angeles Itinerary to take photos. We love to go at night when it is all lit up.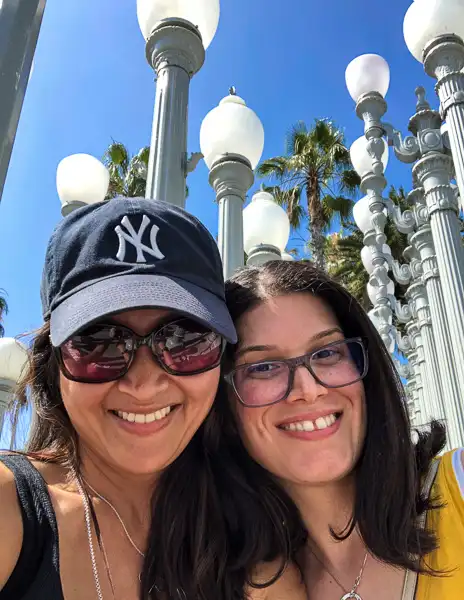 You can also plan to visit the Los Angeles County Museum of Art, the heart of museum row in Miracle Mile. The museum is FREE on the 2nd Tuesday of every month, or you can purchase tickets in advance.
From April to November, locals meet at Smidt Welcome Plaza behind the Urban Lights to listen to top Jazz musicians play for free. When we worked down the street, we'd walk over and enjoy a lovely night with coworkers and music.
Favorite Foodie Picks: Check out the food trucks across the street.
LACMA | 5905 Wilshire Blvd, Los Angeles | Google Map It
18. La Brea Tar Pits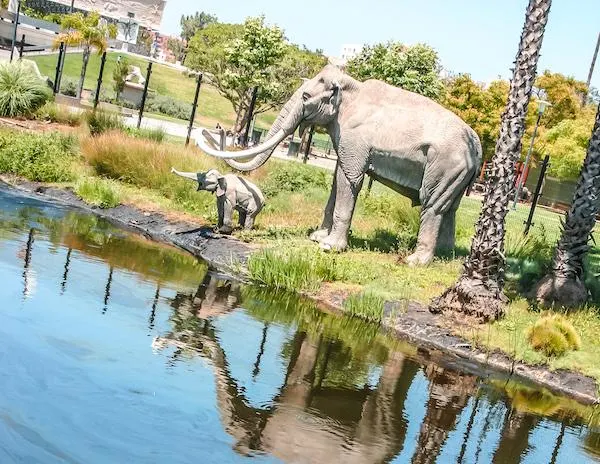 Also, part of Museum Row in Miracle Mile, the La Great Tar Pits, is a great place to learn about some science and history. For over 10,000 years, tar has seeped up from the grounds in this area. And prehistoric fossils have been excavated from the area.
In front of the museum, there is a lake of tar that bubbles and also smells. We will admit it is a little fascinating to watch. You'll sometimes find tar oozing through the cracked asphalt while walking the grounds.
You can visit the grounds and the tar pit for FREE.
You'll have to pay for admission to the museum. Advanced tickets must be pre-purchased on their website: here.
Los Angeles Country residents get FREE admittance from 3-5 pm.
La Brea Tar Pits | 5801 Wilshire Blvd, Los Angeles | Google Map It
19. Petersen Automotive Museum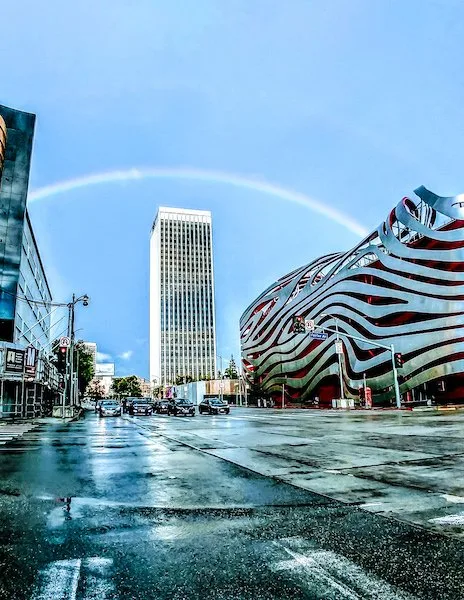 There are two reasons to visit the Petersen Museum:
You love cars.
You love modern architecture.
The Petersen Museum is one of the largest automotive museums in the world. It has 25 rotating exhibitions with over 150 vehicles on display.
If you love modern architecture, the Petersen Museum is a must-see. It received an amazing facelift in 2015 and is now one of the most beautiful facades on Miracle Mile.
Closed Monday and Tuesday.
Advanced tickets must be pre-purchased on their website: here.
Fun Fact: I worked close to the Petersen Museum and Museum Row for many years. It was fun to see the transformation of the Petersen Museum. Literary transformed that entire corner of Wilshire and Fairfax.
Petersen Museum | 5801 Wilshire Blvd, Los Angeles | Google Map It
Looking to explore a different city just a ride from Downtown Los Angeles. Visit Pasadena, home of the Rose Parade. Check out the top things to do and see. Go shopping in Old Town Pasadena, explore our Botanical gardens, visit a museum, and more.
20. Grand Central Market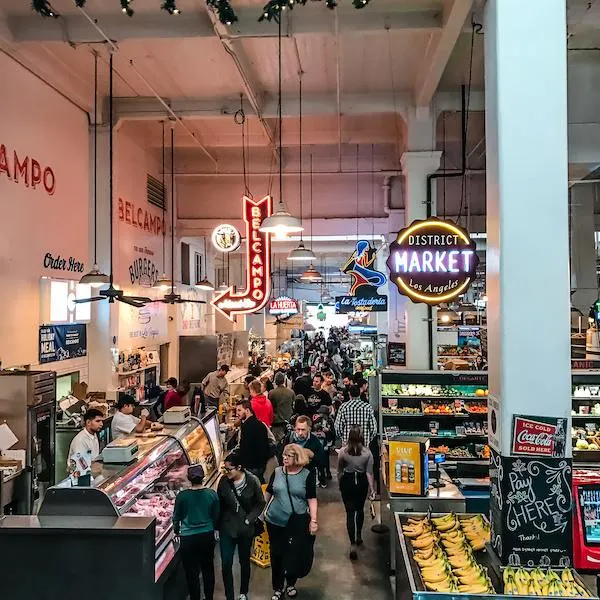 Fellow foodies, you'll want to visit Grand Central Market. This emporium is 30,000 square feet and has been a part of Los Angeles since 1901.
It is full of fantastic food stalls from all different cuisines and other retail shops. You'll want to walk around first and peruse what's available before you choose something to eat. If you see a long line at one of the stalls, that's because it is good and quite possibly worth it. That could be said for most lines you'll see in Los Angeles.
Experience this bustling market and see where Angelenos like to get a bite to eat.
We have a few favorites here, but I do not think you can go wrong with any stalls. We love Egg Slut, Sarita's Pupuseria, and Villa Moreliana.
The market is open Monday thru Sunday from 8 am to 9 pm
Parking is available at 308 South Hill Street.
Grand Central Market | 317 S Broadway, Los Angeles | Google Map It
21. Bradbury Building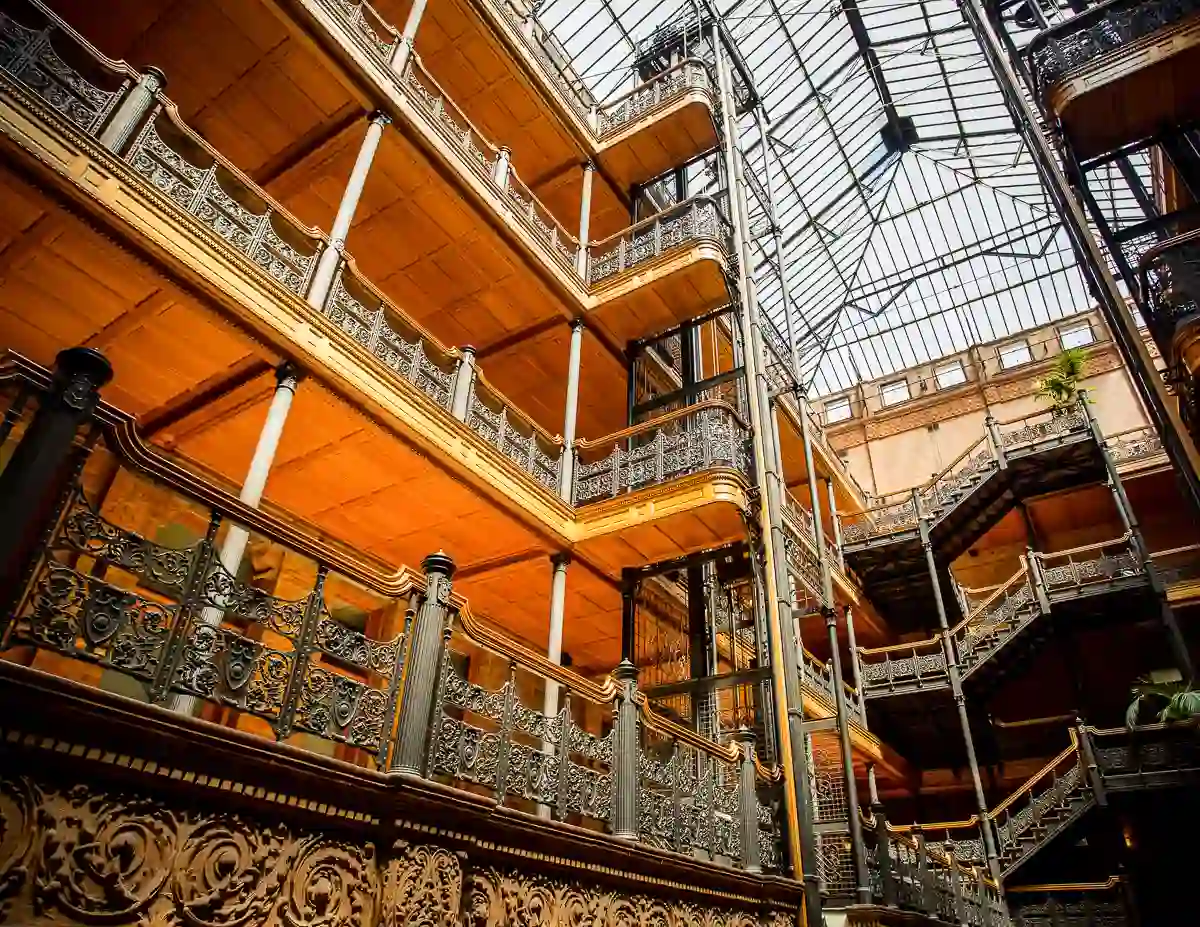 Right across from the Grand Central Market, you will find another of Los Angeles's most beautiful architectural structures. The Bradbury Building is a National Historic Landmark. It is the oldest commercial building remaining and is still as magical as it was when built-in 1893.
The Bradbury Building is one of our favorite architectural structures in Los Angeles. You should check out this cool spot in Downtown Los Angeles.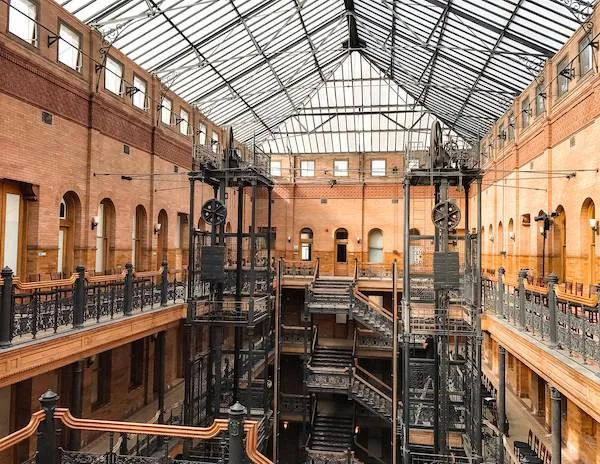 The building is unassuming from the outside. It's the interior that will dazzle you. This historic building was built in 1893 and is known for its stunning interior design. The ornate ironwork, intricate marble staircases, brick walls, caged elevators, and beautiful skylights blow you away. You'll be amazed and impressed by the details.
The building has been featured in several movies and TV shows, including Blade Runner and 500 Days of Summer.
Note: More than likely, you'll only be able to see it from the first floor. Sometimes they'll let you venture up to the 2nd floor.
This is FREE to see on your own.
The LA Conservancy gives walking tours of Historic Los Angeles and its landmarks every Saturday. The cost is $15 pp. Register and book a tour here.
Bradbury Building | 304 S Broadway, Los Angeles | Google Map It
22. Angel's Flight Railway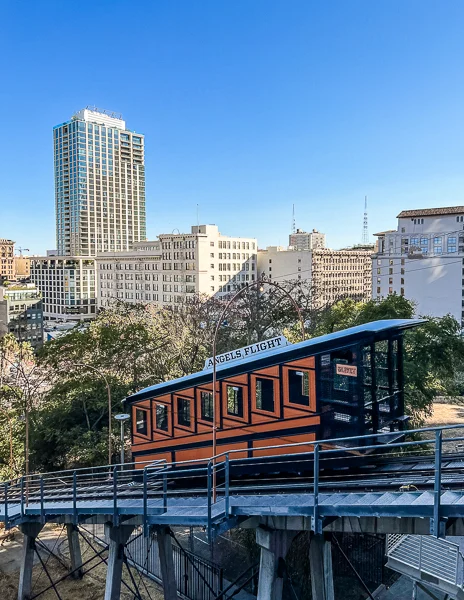 Angel's Flight is a landmark piece of Los Angeles history that still exists today.
Before the pandemic, we were in Downtown LA at the Grand Central Market. While in the area, we walked over to see Angel's Flight for the very first time. Unfortunately, it wasn't operating that day.
Angel's Flight is a short ride up and down one of the steepest hills in Downtown Los Angeles, Bunker Hill. It goes between Hill Street and Grand Avenue. It is also known as the world's shortest railway. Back in 1901, when it was built, it used to go for two whole blocks.
Recently, Angel's Flight was featured heavily in the very first episode of the HBO MAX series Perry Mason. It was also featured in LaLaLand.
Cost: $1 each, and souvenir round-trip tickets are sold for $2.
Top Foodie Pick: Grand Central Market
Angel's Flight | 350 S Grand Ave, Los Angeles | Google Map It
23. Don't Miss the Walt Disney Concert Hall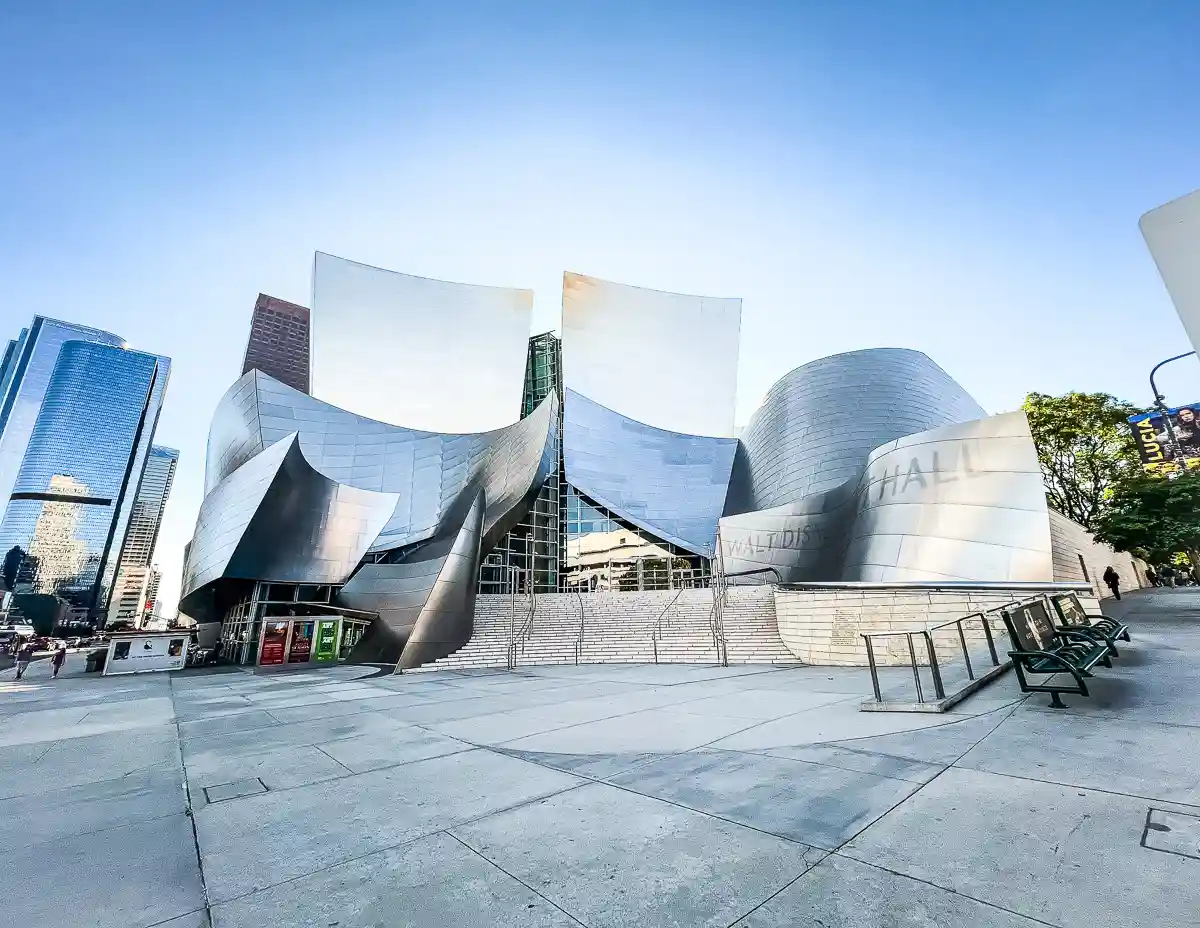 The Walt Disney Concert Hall is another architectural icon not to be missed in Downtown Los Angeles. It is known for its unique and stunning design, featuring curved stainless steel walls that shimmer in the sunlight.
It's one of those spots in Los Angeles where you must get out and walk around to enjoy its beauty. It is quite like no other structure in LA.
The concert hall is home to the Los Angeles Philharmonic and hosts a variety of concerts and events throughout the year.
Self-guided tours are usually available for FREE (unless you're a group of 14 or more) from Mon-Sat, 10 am to 2 pm.
Concert and Event Ticket Info
Walt Disney Concert Hall | 111 S Grand Ave, Los Angeles | Google Map It
24. Visit Malibu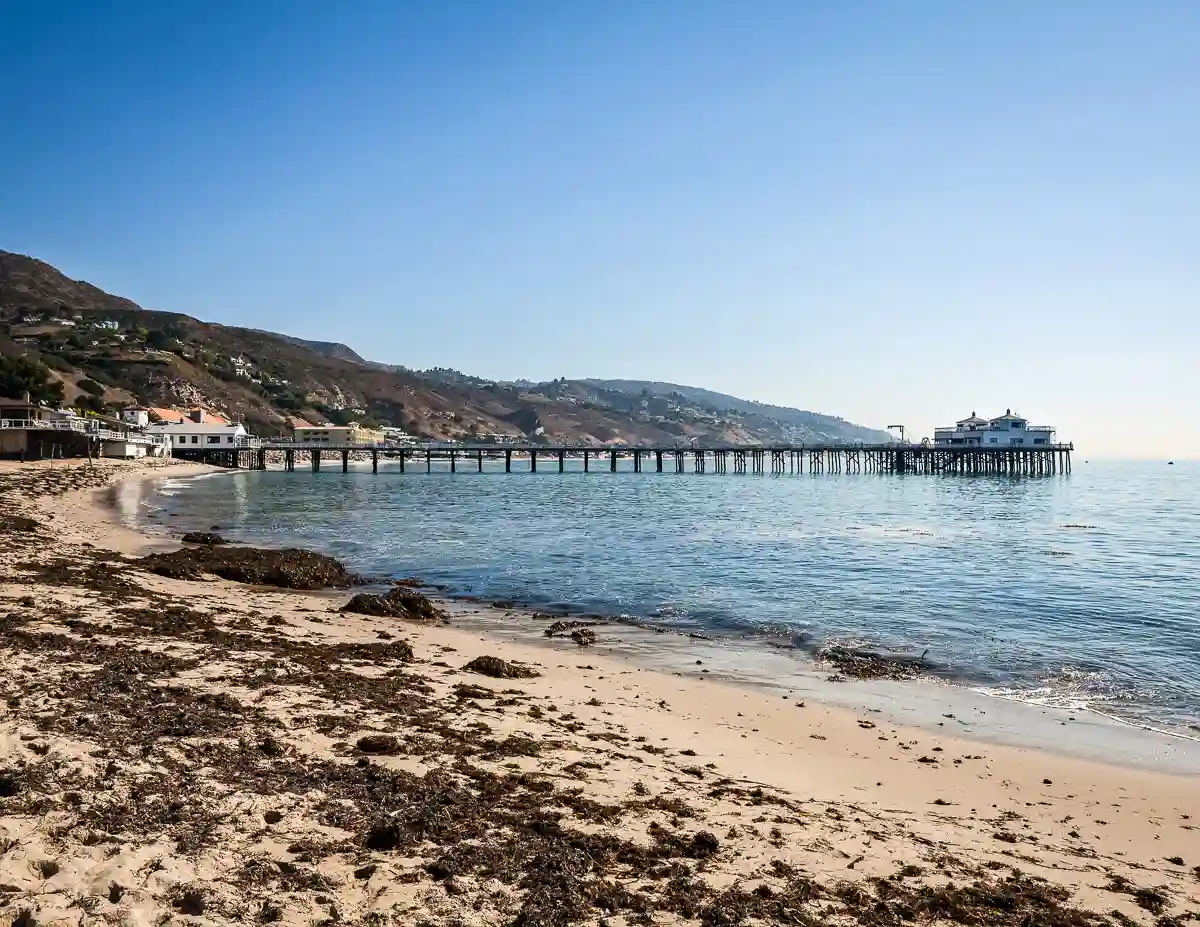 Malibu is a coastal city in Los Angeles County, California, and one of the top places to visit in LA. It's one of the most beautiful areas in LA, with its sparkling blue waters, rolling hills, and beautiful sunsets. The city has a relaxed, laid-back vibe; however, the weekends in Malibu can be busy, so we recommend exploring it on a weekday.
Some of the popular things to do in Malibu:
25. The Getty Center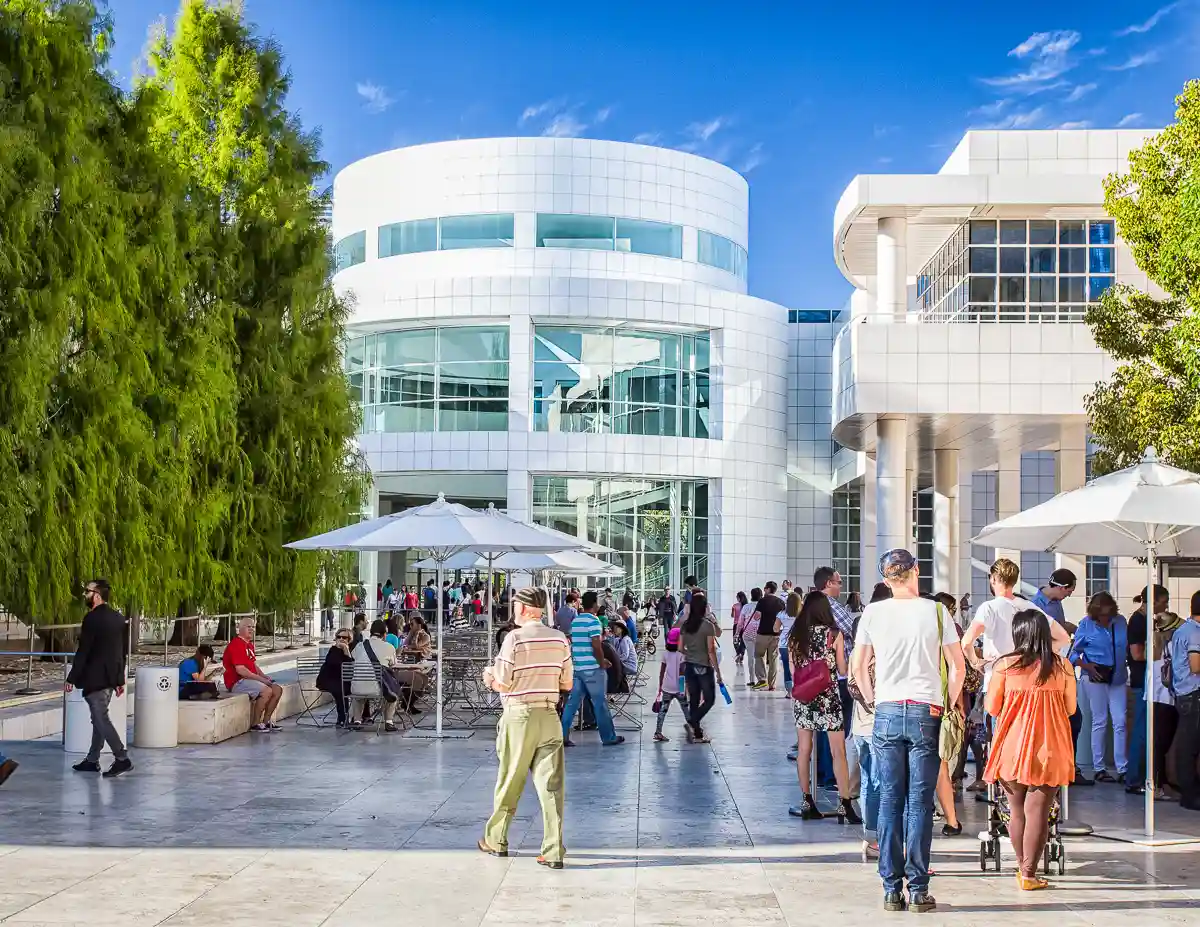 Another fun and educational Los Angeles attraction is the Getty Center. This place is not only a museum with an impressive collection of art by famous artists like Van Gogh and Monet but also a research institution and conservation program.
You can spend the day enjoying the art and then strolling through beautifully manicured gardens and grounds. Plus, admission is always free!
Closed on Mondays.
Admission is FREE, but you must reserve your time in advance: here.
The Getty Center | 1200 Getty Center Dr, Los Angeles | Google Map It
26. Experience a Dodger Game at Dodger Stadium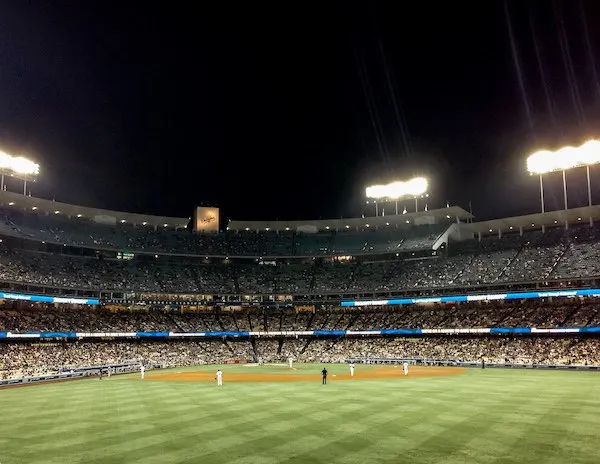 Whether you're a baseball fan or not, a Dodger game is a great way to mingle with the locals and experience a stadium in another city. See if your home team is playing against the Dodgers during your visit.
And if you're visiting Los Angeles outside of baseball season, check out what other events are being held at Dodger Stadium. In the off-season, there are concerts, festivals, and local events you can plan to attend.
Top Foodie Pick: A dodger dog! Tip, get the grilled one.
Dodger Stadium | 1000 Vin Scully Ave, Los Angeles | Google Map It
27. Warner Bros Studio Tour Hollywood
This is the #1 studio tour in Los Angeles by far. We've done them all, and the one at Warner Bros is the most fun, educational, worth the cost, and long-lasting. So if you are a movie buff, are interested in movie and tv show production, and wondering how ad where it all takes place, book a Warner Bros Studio Tour.
Fun Fact: Warner Bros has produced almost 7,000 movies and 5,000 TV shows. 
You will tour the studio for about 2-3 hours. What's fun about touring at Warner Bros is that not every group gets the same tour. Many aspects of the tour may be the same, but a lot of it varies depending on filming schedules and such on the lot.
We've toured Warner Bros a few times and enjoyed and experienced different things each time. I'll never forget seeing the FRIENDS set or the Two and a Half Men sets during its final seasons. A personal favorite was getting to walk around Stars Hallow from Gilmore Girls. Pose at Cafe Perks from FRIENDS – we have a photo of us sitting on the Friends couch with Cafe Perk mugs.
The guides driving you around are phenomenal, friendly, and knowledgeable. Just be sure to follow their guidelines.
Warner Bros Studios Tour | 3400 Warner Blvd, Burbank | Google Map It
28. Paramount Pictures Studio Tour
Paramount Studio is another iconic and classic production studio in Hollywood that gives a great tour. It is the longest operating and the only active backlot in Hollywood.
Fun Fact: The lot that Paramount Studio occupies used to be Desilu Studios, owned by Lucille Ball and Desi Arnaz. 
The Studio Tour is a full 2 hours. Like other studios, they guide you through some of their famous backlots and soundstages. Learn about the history of Paramount and why they are still standing in Hollywood today.
You can also pay extra for the VIP Studio Tour, which is 4 1/2 hours. On this tour, you'll get all the above but receive an insider experience and a gourmet lunch.
This is a fun Hollywood tour and experience. We did this a couple of times a long time ago. Once, I even attended a Christmas party at a soundstage, and it was cool to walk through the lot.
Paramount Studio | 5515 Melrose Ave, Los Angeles | Google Map It
29. Sony Pictures Studio Tours
Sony Pictures is a great little studio to visit in Culver City.
What's to love about this Sony Pictures Studio Tour? It is a 2-hour walking tour. This means you're on your feet and not in a golf cart for half the time. You'll experience what it's like to explore a backlot on foot. In my opinion, a more intimate experience.
You can also book a VIP tour, a 3-hour guided golf cart tour that includes lunch.
Fun Fact: Did you know Wizard of Oz was filmed at Sony Pictures?
Tours operate Monday thru Friday. Reservations required.
The studio tour is 2 hours.
Sony Pictures Studio Tours | 10202 Washington Blvd, Culver City | Google Map It
30. Disneyland Park and California Adventure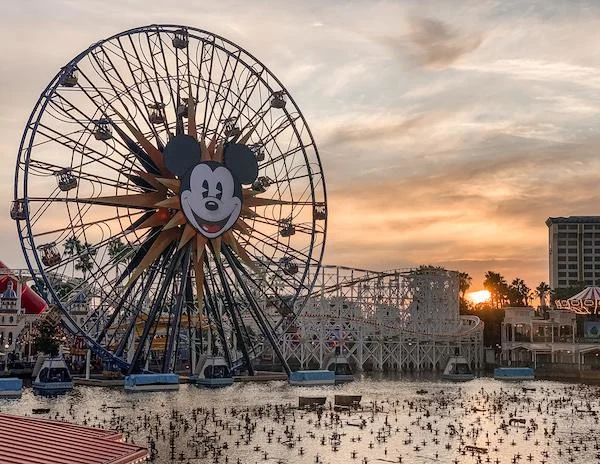 The one-day trip from Los Angeles that is a must is Disneyland – the Happiest Place on Earth. It is in Los Angeles's backyard, and we locals love to visit Sleeping Beauty's Castle every chance we get.
Disneyland in Anaheim is different from the one in Florida. It's smaller, with fewer rides and attractions than Disney World. So it is ideal for 1-2 days of fun. Who doesn't love to visit Mickey and Minnie? Plus, it's a great surprise for Disney lovers and children.
Want to stay overnight at Disneyland? I recommend the Grand Floridian Hotel as it is connected to California Adventure. Easy to get through security in the morning and into the theme park.
When is the best time to visit Disneyland? Our favorite time of year at Disney is in the fall for Halloween and during the holidays – it's magical!
Here are a few Disneyland tips:
Download the Disneyland app.
Book your tickets and reserve your dates in advance. Opt to pay extra for Genie+.
Make restaurant reservations in advance: Blue Bayou, Carthay Circle, and Steakhouse 55 are a few of our favorites.
You can check out my Disneyland Instagram highlights here.
Disneyland | 1313 Disneyland Dr, Anaheim | Google Map It
Read more: Fun Amusement Parks and Theme Parks in Los Angeles, CA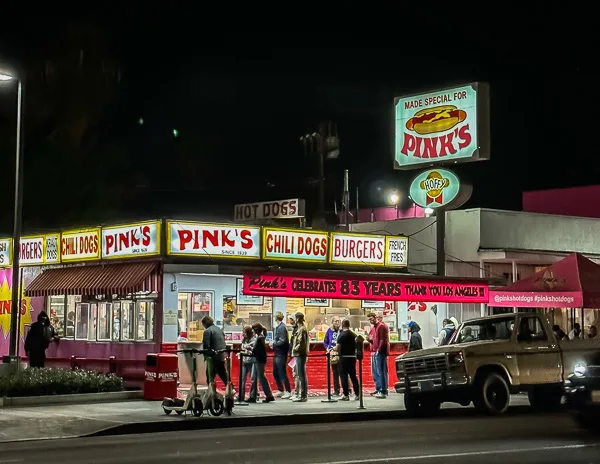 This list could run on forever if we let it. Here are some other attractions and places to visit in Los Angeles that you can also add to your list:
Yield: The Best of Los Angeles Attractions
Print: Los Angeles Bucket List
Ride the Ferris Wheel at Santa Monica Pier
Check out 3rd Street Promenade
Take a Pacific Coast Highway road trip
Explore Venice Beach and the Venice Beach Canals
Find the star of your favorite celebrity on the Hollywood Walk of Fame
Take photos with wax-figured celebrities at Madame Tussauds Hollywood
See which celebrity hands match yours at the TCL Chinese theater
Enjoy a movie at the TCL Chinese Theater
See a Broadway Show at the Pantages
See a Disney movie at El Capitan
Eat at Ghiradelli's next door to El Capitan before the movie
Attend an event at the Hollywood Bowl
Eat the famous Pink's Hot Dogs
Hike the Hollywood Sign Trail or Brush Canyon Trail
Hike in Runyon Canyon Park to see the Santa Monica Mountains.
See the sunset over Los Angeles at the Griffith Observatory
Attend an event at the Greek Theater
Visit the LA Zoo
Drive Sunset Blvd
Explore Griffith Park
Check out the infamous Beverly Hills Hotel
Eat dinner at Lawry's Prime Rib
See what Rodeo Drive is all about
Visit the Original Farmer's Market
Go to the Grove and ride the trolley
Take photos at the Urban Lights display at LACMA
See the La Brea Tar Pits
Experience the Petersen Museum
Drive to Malibu
Visit the Getty Center
Hit some foodie spots at the Grand Central Market
See the Bradbury Building
Take a ride on Angel's Flight
Book an event at Disney Concert Hall or just see it in person
Experience a Dodger game
Eat a Dodger dog
Go on a Warner Brothers Studio Tour
Go on a Paramount Pictures Studio Tour
Go on a Sony Picture Studio Tour
Have fun at Universal Studios Hollywood
Have fun at Disneyland
Spend the day at Six Flags Magic Mountain
Visit the USS Iowa Museum
Spend the afternoon at the Natural History Museum
Check out the Broad Museum
Eat at Pink's Hot Dogs
Instructions
Print this LA Bucket List.
Visit and experience what Los Angeles has to offer.
Add a checkmark to each one upon completion.
Return to tastyitinerary.com and let me know what your favorite Los Angeles experience was.
Things to Do in Los Angeles FAQS
Where to stay in Los Angeles?
It all depends on what you're plans are. We recommend booking a hotel in the South Bay area, like Marina del Rey, Manhattan Beach, Hermosa Beach, or Redondo Beach. Santa Monica is another area great and centralized area to stay in. Pasadena is another great location, a city in San Gabriel Valley that is only a 20-minute drive from DTLA.
If the South Bay and West Side are too far from everything, and you plan on relying on public transportation, consider staying in West Hollywood or Miracle Mile.
Do you need a car if you're visiting Los Angeles?
Yes, a car rental would be ideal. You can also rely on Uber and Lyft. There is public transportation, but it all depends on where you plan to stay and what Los Angeles sights you plan to see. Ultimately, you can't rely on public transportation to take you everywhere. Check out Los Angeles Metro System Maps.
What are the two famous attractions in Los Angeles?
The Hollywood Sign and Santa Monica Pier are two of LA's famous attractions.
What are some highly-rated landmarks and historic buildings in Los Angeles, CA?
The highly-rated landmarks and historic buildings in Los Angeles, CA, include Griffith Observatory, Hollywood Sign, Walt Disney Concert Hall, Los Angeles City Hall, Bradbury Building, Getty Center, Union Station, Los Angeles County Museum of Art, TCL Chinese Theatre, and Capitol Records Building. These landmarks and buildings have a unique history and cultural significance, making them popular tourist destinations.
We've been checking things off our Los Angeles Bucket List for years. Even after living here for over 15 years, there is still much more to discover. However, these Los Angeles attractions are the top spots to see and experience when visiting LA.
If you enjoyed this list, check out some of these related articles:
Fun Theme Parks in Los Angeles, CA
What to See and Do in Downtown LA
Share the tips & love on Pinterest: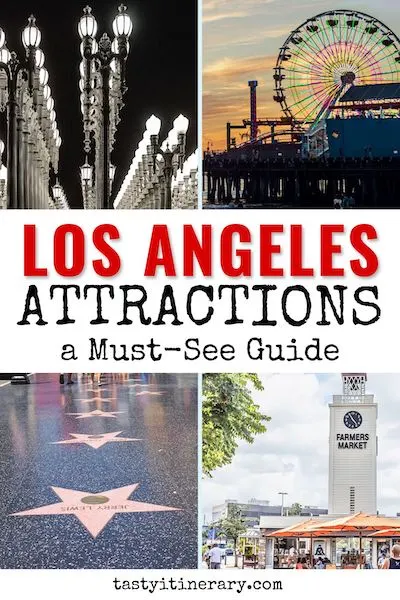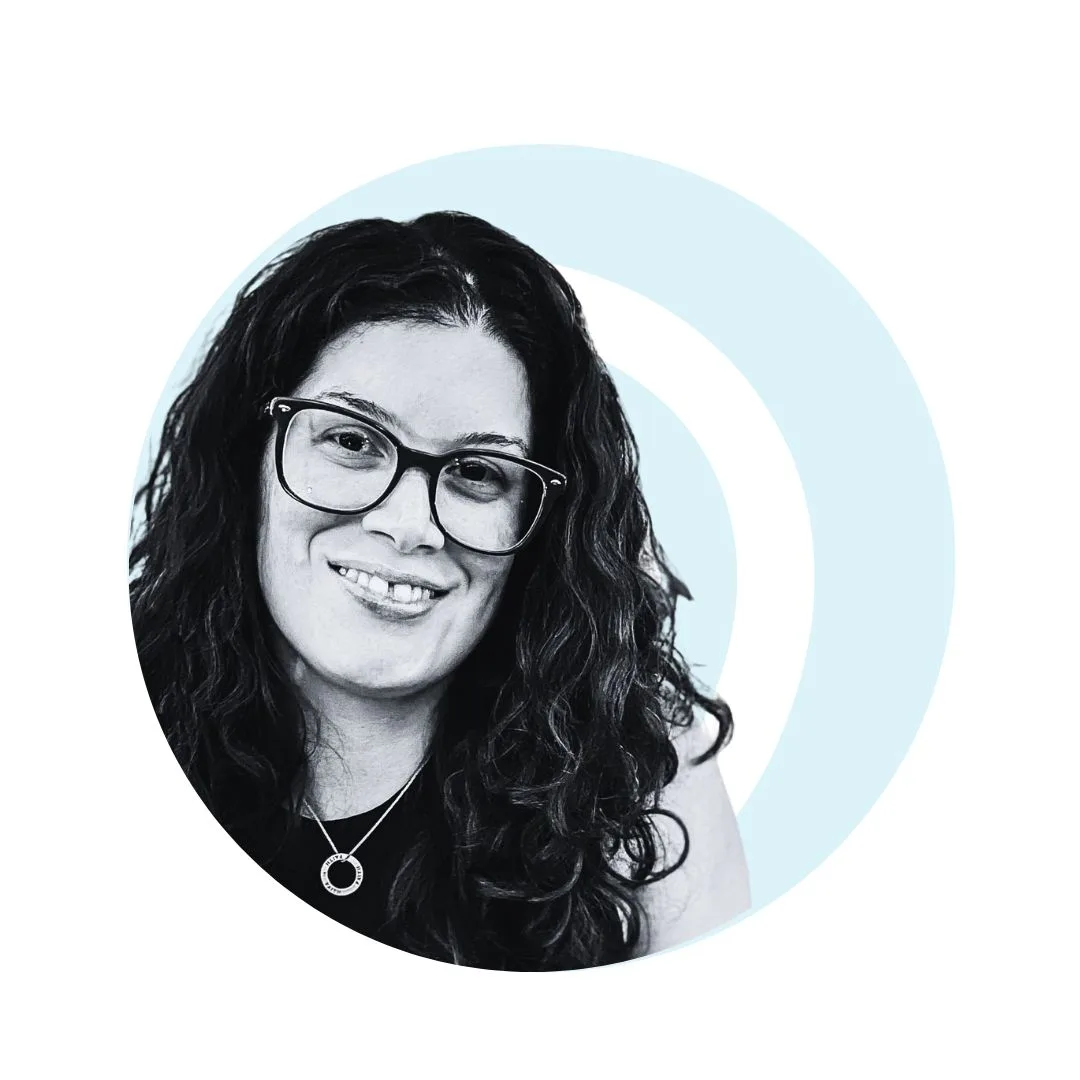 Meet Kathy Ava – a food, travel, and cruise writer based in Los Angeles/Pasadena. With over 20 years of experience planning trips and logistics at her full-time job and for herself, she's become a pro at crafting unforgettable travel itineraries. She's always looking for delicious, fun cruise itineraries and travel destinations and is slightly obsessed with Italy. Her passion and curiosity for travel started in childhood on her yearly and sometimes bi-yearly trips to PR. She firmly believes that life is short and we must make the most of it – so let's explore the world and make some incredible memories.