Planning a travel to Los Angeles, California? What are the top attractions to visit in Los Angeles?? Get ready to explore LA as a tourist with this Los Angeles travel guide and check things off your Los Angeles Bucket List!
Twenty years ago or so, we made our way from New York to Los Angeles for a 2-week vacation. This was way before we ever considered moving here. It wasn't even a thought during or shortly after.
We do remember we were so excited to visit Los Angeles. We hit the most common tourist spots: Hollywood Walk of Fame, the Chinese Theatre, Rodeo Drive, Venice Beach… Disneyland.
We even took one of those Hollywood tours in an open-air bus and stalked celebrity homes. At the time, it was thrilling even though we never got to see one celebrity. Nowadays, as locals, you probably wouldn't catch us on one of those tours unless someone was visiting from out of town. But I remember it being fun at the time. We highly recommend you add it to your Los Angeles Bucket List.
We also recall thinking that Hollywood was nothing like the movies. And, it isn't. It's gritty and touristy. For first-time visitors in Los Angeles, it's a fun attraction; they get to see what Hollywood is like.
To our surprise, we moved to Los Angeles a few years later. As new residents, we were tourists. We explored and enjoyed the top Los Angeles attractions more than we ever did in New York City. We have experienced every attraction on this list, on top of all the day trips we take from LA.
Now when people come into town, and it's their first visit, we know exactly what Los Angeles attractions to take them to. These are the best things to do in Los Angeles, California as a tourist off your Los Angeles Bucket List.
This post may contain affiliate links, which means we'll receive a commission if you purchase through our links, at no extra cost to you. Please read full disclosure for more information. We appreciate your support!
Best Los Angeles Attractions
Where to stay in Los Angeles?
For everyone that visits, my top recommendation is to book a hotel in the South Bay area, like in Marina del Rey, Manhattan Beach, Hermosa Beach, or Redondo Beach. Santa Monica is another area great and centralized area to stay in.
If the South Bay and West Side are too far from everything, and you plan on relying on public transportation, consider staying in West Hollywood or Miracle Mile.
There are also great vacation rentals.
Do you need a car if you're visiting Los Angeles?
Yes, a car rental would be ideal. You can also rely on Ubers and Lyfts. There is public transportation, but it all depends on where you plan to stay and what Los Angeles sights you plan to see. You can't rely on public transportation to take you everywhere. Click here for Los Angeles Metro System Maps.
What should you not miss in LA?
Don't miss driving up to Malibu on the Pacific Coast Highway when visiting Los Angeles.
What are the two famous attractions in Los Angeles?
The Hollywood Sign and Santa Monica Pier are LA's famous attractions.
What are some highly-rated landmarks and historic buildings in Los Angeles, CA?
The Bradbury, Union Station, Capitol Records, and the Gamble House are just a few of the historical buildings and landmarks in Los Angeles.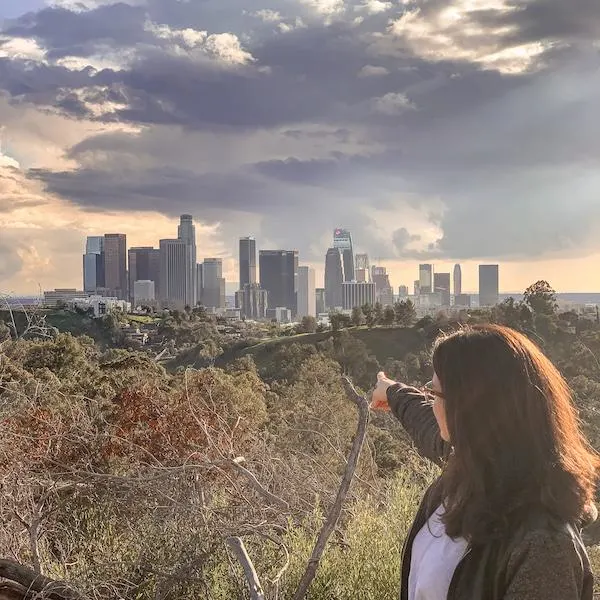 Top Los Angeles Attractions Map List – Don't forget to add them to your Los Angeles Bucket List!
1. Santa Monica Pier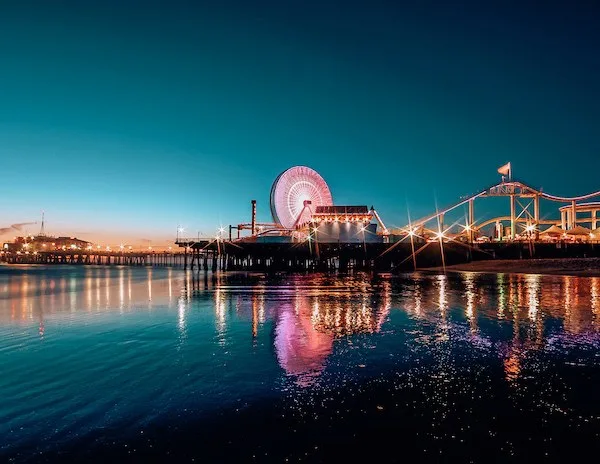 You don't want to miss this top Los Angeles attraction if it's your first time in Los Angeles. You will want to visit the coastal town of Santa Monica and its famous pier. Almost every movie in Los Angeles has a drone shot of the Santa Monica Pier from above.
The best time to visit Pacific Park is at night when the Ferris Wheel is lit up.
I suggest you arrive before sunset and pick a spot on the beach or pier with the amusement park in the distance. Watch the Los Angeles sunset and photograph some amazing memories of these moments. Then head to the amusement park.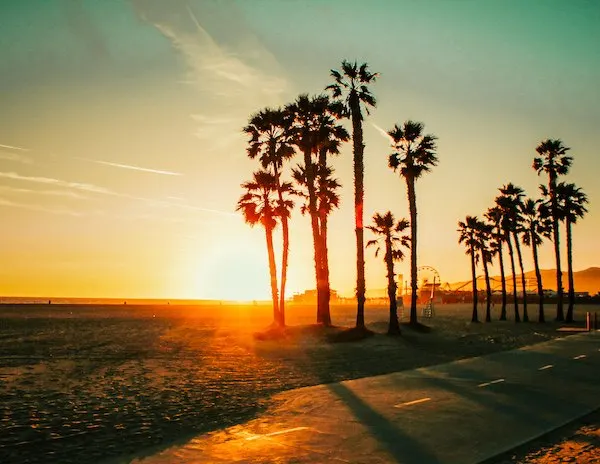 Did you know the Ferris wheel is solar-powered?
At the pier, you can also ride the historic Santa Monica Carousel.
Top Foodie Pick: North Italia or True Food Kitchen
Santa Monica Pier | 200 Santa Monica Pier, Santa Monica, CA 90401
2. 3rd Street Promenade
If you're in Santa Monica and not far from the Santa Monica Pier, you will want to take a stroll on 3rd Street Promenade. It's a fun experience in Santa Monica.
It is a 3 block-stretched that is closed off to vehicles and is for pedestrian-only. Not only will you get your steps in, but you will find tons of brand names, shopping, and great restaurants, and you'll enjoy some entertainment in the form of street performers.
It is a lovely walk. We used to go there all the time when we lived in the South Bay.
Top Foodie Pick: Check out SocialEats food hall.
3rd Street Promenade | Santa Monica (Google Map It)
3. Pacific Coast Highway | Route 1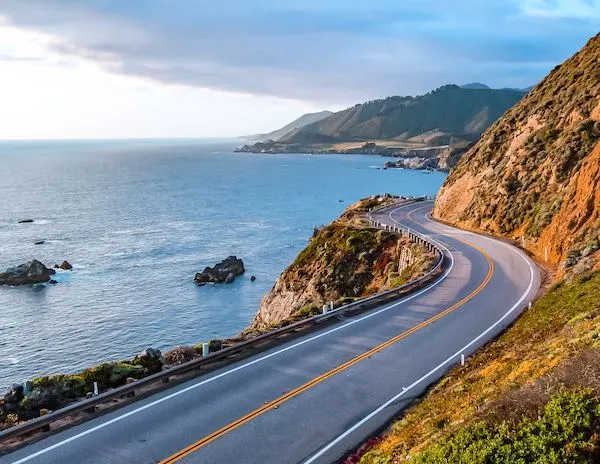 If you're in Los Angeles for more than a few days, I highly recommend a drive on the Pacific Coast Highway. Of all the Los Angeles attractions, this one is my favorite. It is a beautiful and memorable drive by the coast.
You can start the drive from Santa Monica and go north towards Malibu or Santa Barabra. You can also go south, towards the most Southern Coast of California. Either way, you'll have fun and see some of the most amazing coastlines in the United States.
The Pacific Coast Highway is one adventure that you can plan a whole vacation around. But if you only have a day and want to see a small portion of it, you can, and it is so worth it.
Pacific Coast Highway from Santa Monica | (Google Map It)
4. Venice Beach and Canals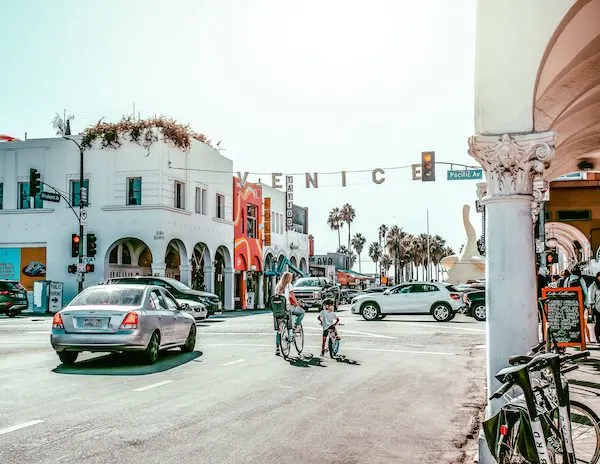 One of the most popular places tourists always want to visit is Venice Beach. It is a lively community full of free-spirited locals, visitors, and business owners.
Personally, I am not a fan of the Venice Beach boardwalk. If you visit, check out muscle beach, the skateboard park, and all the quirky shops along the boardwalk. On a beautiful day, you'll find many bikers, skaters, and beachgoers enjoying the day.
My top recommendation is to head over to Abbot Kinney Blvd after you check out Venice Beach and take a photo of the infamous Venice sign. You'll find some amazing cafes, restaurants, murals, and boutique shops on Abbot Kinney.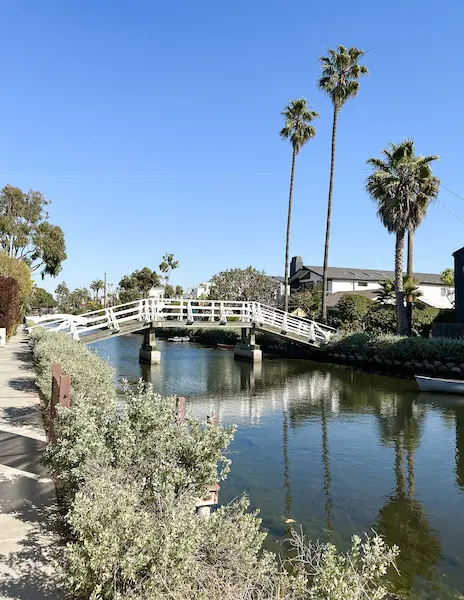 When you're done at Abbot Kinney Blvd, walk over and explore the Venice Canals. I'd say this is one of the unique things to do in Los Angeles.
Top Foodie Pick: Grab a coffee and a bite at Bluestone Lane Cafe.
Tour Option: The Ultimate Venice Beach Experience [book here]
– Don't Miss: Fun Things to do in Venice Beach –
5. Hollywood Walk of Fame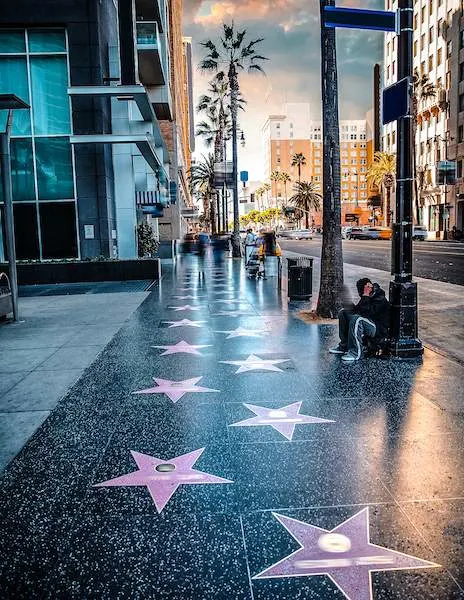 How can you visit Los Angeles and not go to Hollywood? This is a Los Angeles attraction you must add to your bucket list, especially if it is your first visit. See the famous and iconic Hollywood Walk of Fame. Find the stars of your favorite actors and celebrities.
These famous stars stretch over 3 blocks of Vine Street and 15 blocks of Hollywood Blvd. You're going to want to wear your walking shoes.
This is a FREE attraction.
Hollywood Walk of Fame | Hollywood Boulevard, Vine St, Los Angeles
Best Things to Do in Downtown Los Angeles
If you're looking for things to do in Downtown LA, look no further! This guide will show you some of the best architectural gems, food markets, museums, and city views.
6. TCL Chinese Theatre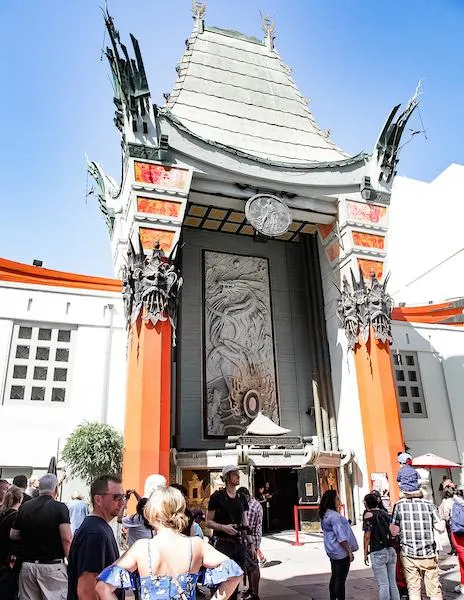 Once named Grauman's Chinese Theater, this iconic spot is a historic-cultural landmark of Hollywood and Los Angeles. You may know it from all the famous red carpet movie premieres and ceremonies here.
In the front of the theatre, you'll find the handprints and signatures of some of the most classic and memorable actors from the past and present.
If no events are taking place here, you can take the opportunity to watch a movie here. The theater also has VIP tours available. Call for more info.
Top Foodie Pick: Joe's Pizza
TCL Chinese Theatre | 6925 Hollywood Blvd, Hollywood, CA 90028
7. Hollywood Pantages Theatre
Currently temporarily closed. Pantages will reopen in August 2021 with Hamilton.
While it is closed due to the pandemic, I did not want to leave this gorgeous and historic theatre off the list. The top Broadway shows can be seen at this legendary theater.
If you're coming from a destination where there isn't an opportunity to see a Broadway show near you, perhaps you can plan to see what's playing at the Pantages Theatre. It is an experience.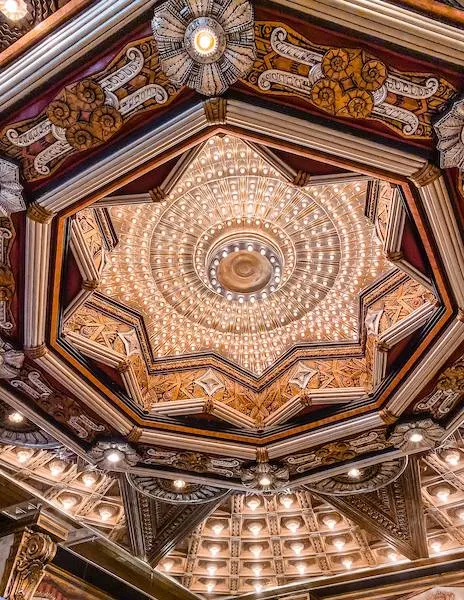 While at the Pantages, take in all the architectural details of this preserved beauty. It was once a movie theater that was built in 1920. In 1977 it became a stage for the production of "Disney's The Lion King."
Top Foodie Pick: Make reservations at Katsuya or Wood & Vine for a pre-dinner meal. Or for a quick delicious bite to eat before or after the show, Shake Shack.
Pantages | 6233 Hollywood Blvd, Los Angeles
8. El Capitan Theatre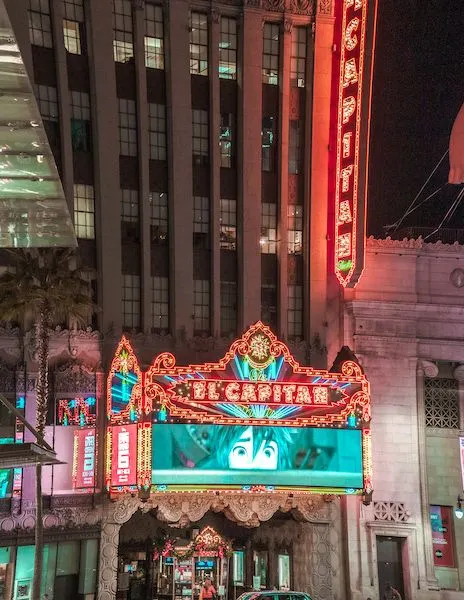 Currently owned by Disney, El Capitan Theatre is another Hollywood landmark. This theatre was owned and built by the same developer of Grauman's Chinese Theatre and the Egyptian Theatre in the 1920s. In 1989, Disney took ownership and restored it.
El Capitan Theatre only plays Disney movies and events.
The unique part of El Capitan is its in-house organ, "Mighty Wurlitzer." From time to time, Disney will hold special events where you can listen to this organ play along with a film or have sing-alongs. It's a fun experience for the whole family.
Once, we got tickets to see one of the Star Wars movies, and they did a whole lightsaber show before the movie started. And after you could go downstairs to see all the costumes from the movie.
Check to see what their latest movies and events are here.
Top Foodie Pick: Ghirardelli's right next door for dessert.
El Capitan Theatre | 6838 Hollywood Blvd, Los Angeles
9. Hollywood Bowl
The Hollywood Bowl is a favorite Los Angeles attraction amongst the locals. It is a great experience LA experience. Once warmer days start setting in Los Angeles, we start making plans to attend musicals, concerts, sing-alongs, firework shows… all at the Hollywood Bowl.
This concert hall is an open amphitheater with the most beautiful backdrop of Hollywood Hills. You can even see the Hollywood sign on a clear day and from the right spot.
Bring a picnic, find a spot outside the theater and eat with your family and friends before the show. Bring a bottle of wine and some snacks for during the show. This is what we love about this theater. It's festive and casual, and you're doing it all under the amazing, gorgeous sky of Los Angeles.
You don't need the best seats in the house to enjoy. You will have a fabulous experience even sitting in the back.
Foodie Pick: Head to the famous Pink Hot Dogs for a late-night snack.
El Capitan Theatre | 2301 N Highland Ave, Los Angeles
10. Hollywood Sign
What is the number one tourist attraction in Los Angeles? The Hollywood sign.
Seeing the Hollywood sign is probably on your list as one of the Los Angeles attractions to must-see. The iconic sign is located on Mount Lee, and it was originally erected in 1923 as an advertisement for the Hollywoodland housing development. The sign has been restored and maintained several times over the years.
You will see it as you drive around Hollywood and the surrounding areas.
How can you get closer to the Hollywood sign? One of the best ways is by hiking the Mount Hollywood Trail. Once you get up there, you'll have a front view of the sign and, if you hike a little further, the back view. You will also have a gorgeous view of Los Angeles.
11. Griffith Observatory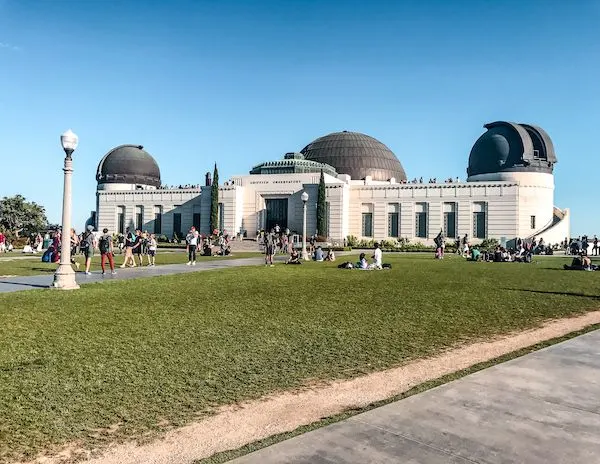 The Griffith Observatory is a must-visit for some of the best views of Los Angeles. It also has a fun planetarium to explore inside with its gorgeous 180-degree views of Los Angeles, including the Hollywood sign and Downtown LA.
It is FREE to enter the grounds and the building. You will have to pay for parking and the planetarium (if you choose to visit).
The best time of day to visit is sunset. However, it is also the busiest time of day to visit. You may have to park at an off-site location and take a shuttle up to the observatory. You can also take an Uber and have it drop you off closest to the entrance.
Fun fact: You might recognize scenes from Lala Land, Gangster Squad, Rebel Without a Cause, and more.
Griffith Observatory | 2800 E Observatory Rd, Los Angeles
12. Griffith Park
Griffith Park is the destination if you're looking for Los Angeles attractions to do with the kids. You can spend an entire day here.
Griffith Park encompasses over 4,000 acres of land, including the Hollywood sign, the Observatory, the Greek Theatre, the LA Zoo, and more.
You can plan a fantastic time at Griffith Park to enjoy all the other things it has to offer. Here are a few of the other things to do in Griffith Park:
Griffith Park | 4730 Crystal Springs Dr, Los Angeles, CA 90027
13. LA Zoo
LA Zoo is part of Griffith Park, but this is a Los Angeles attraction that will keep you occupied most of the day. There is plenty to explore between the animals and the botanical gardens.
The zoo has over 270 species. Our favorite is the giraffe exhibit as they come out and get super close.
At the zoo, there is a merry-go-round that the kids will love.
Currently, Advanced Reservations are required.
Los Angeles Zoo | 5333 Zoo Dr, Los Angeles
14. Beverly Hills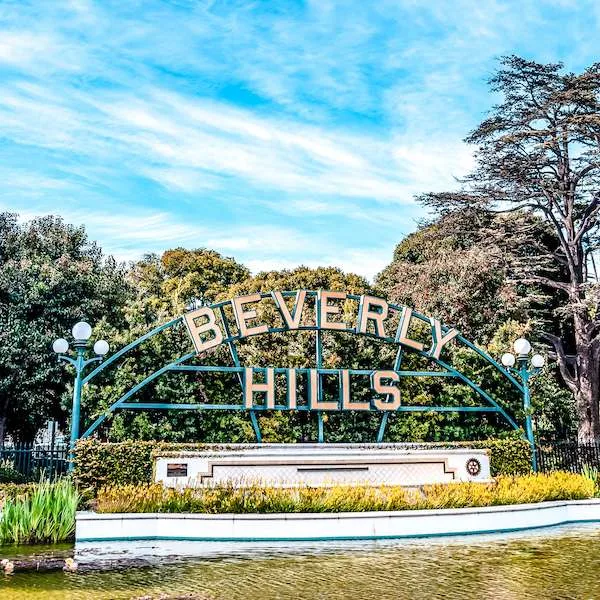 Known for high retail shopping and the rich and famous pop culture shows like "Beverly Hills 90210" (the original and the reboot). Let's not forget the movie Pretty Woman.
Visiting Beverly Hills, you'll want to…
drive around to see some of the biggest estates.
Don't miss the historic Greystone Mansion and Gardens (open to the public, but reservations are required)
Take a photo with the Beverly Hills sign located in Beverly Hills Gardens Park.
See and enter the lobbies of some of the most famous hotels in Beverly Hills: Beverly Hills Hotels and Beverly Wilshire.
Top Foodie Pick: The Original Sprinkles cupcake shop and check out their cupcake ATM. Make reservations at one of LA's classic restaurants, Lawry's Prime Rib, for dinner.
15. Rodeo Drive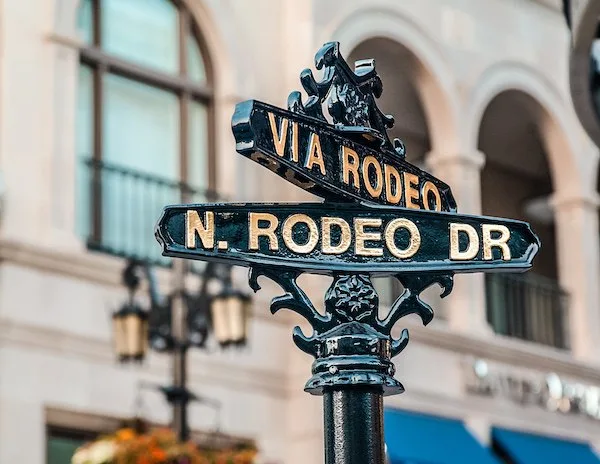 If you're in Beverly Hills – and this is your first time- you don't want to miss Rodeo Drive. This is a great spot to walk around, and people-watch.
This shopping district consists of three blocks of Rodeo Drive that is closed off for pedestrians. It is full of high-end stores and boutiques you can shop at – if your wallet stretches that deep. You'll find all high-end fashion here.
Rodeo Drive is probably most remembered by Julia Roberts character in Pretty Woman and when she went on her shopping spree. Other movies filmed here: Clueless, Beverly Hills Cops, and many more.
Christmas is a nice time to visit as all the decorations are up.
16. Drive Down Sunset Blvd
Sunset Blvd is considered one of the top Los Angeles attractions. It starts from Downtown LA and goes up to the Pacific Coast Highway.
As you drive down Sunset Blvd, you'll be driving through different neighborhoods of Los Angeles. You'll see the famous Hollywood Sign, Beverly Hills, West Hollywood, and more. You'll pass by some famous restaurants, nightclubs, and stores along the way.
17. The Original Farmer's Market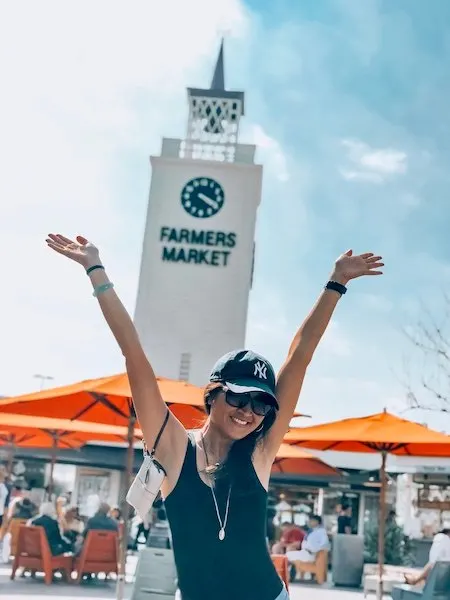 This historic farmer's market has been around since 1934. It has grown immensely but remains a huge part of Los Angeles.
You'll find local produce, butchers, bakeries, food stands, and small shops at the farmer's market. I highly recommend stopping here for some local souvenirs and something to eat.
If you're looking to spot a celeb, your chances are higher if you go during an early morning during the week. We always see one or two at the farmer's market during that time because there are fewer crowds in the morning.
Top Foodie Pick: Many great foods stand at the farmer's market. Our favorites are Pampas Grill Churrascaria and Monsieur Marcel Gourmet Market and Bistro.
The Original Farmer's Market | 6333 W 3rd St, Los Angeles
18. The Grove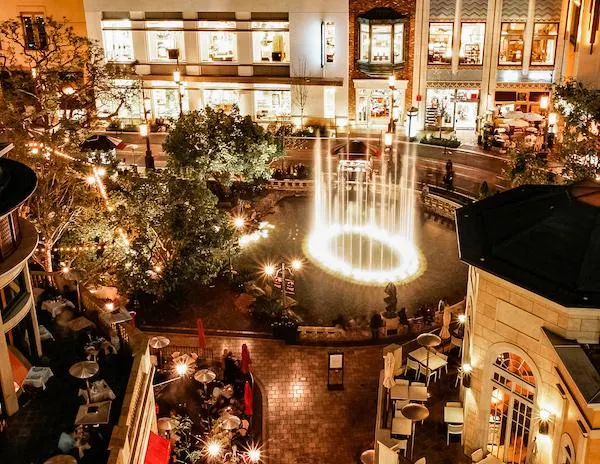 Located at the Farmer's Market is a famous outdoor shopping mall – The Grove.
The Grove is not just a shopping mall. This is a great family-friendly attraction in Los Angeles.
Enjoy the dancing water fountains with music.
Sometimes there are live entertainment and activities in the courtyard.
Ride the Grove Trolley.
Take your little one to American Girl.
Watch a movie at the Pacific Theater.
People watch as you never know when you'll spot a celebrity.
Tip: Use the bathrooms at the Grove Concierge. They are clean and well attended. There is also a playroom for the kids.
My absolute favorite time of year at The Grove is Christmas time. It is a magical time for all ages. One of the holiday highlights in Los Angeles.
The Grove | 189 The Grove Dr, Los Angeles
Plan an Awesome Day in Los Angeles
Only have one day in the City of Los Angeles? This itinerary will help you make the most out of just one day in LA. From tourist spots to local favorites, don't miss these awesome spots.
19. Los Angeles County Museum of Art (LACMA)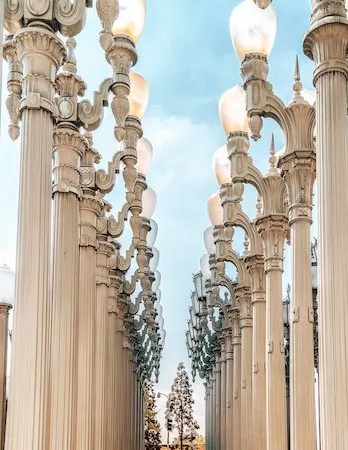 The LACMA is the heart of Museum Row in Miracle Mile. While you can spend your day visiting all the museums in Miracle Mile, I suggest visiting LACMA if you're here as a quick trip as a tourist. It has unique art installations and displays.
LACMA is currently under construction as new buildings are being constructed, but before the demolition, it was the largest museum on the West Coast.
The museum is FREE on the 2nd Tuesday of every month.
If you decide not to go inside the museum, stop by and check out the Urban Lights installation. This large-scale sculpture is FREE and one of the most popular things to see in Los Angeles. You can see me having a little fun at the Urban Light installation in this video.
Advance tickets must be pre-purchased: here
Favorite Foodie Picks: Check out the food trucks across the street.
LACMA | 5905 Wilshire Blvd, Los Angeles
20. La Brea Tar Pits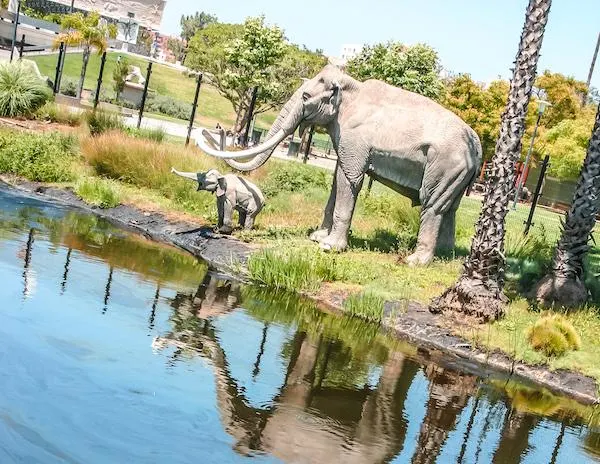 Also, part of Museum Row in Miracle Mile, the La Great Tar Pits, is a great place to learn about some science and history. For over 10,000 years, tar has seeped up from the grounds in this area. And prehistoric fossils have been excavated from the area.
In front of the museum, there is a lake of tar that bubbles and also smells. I will admit, it is a little fascinating to watch. Walking the grounds, you'll sometimes find tar oozing through the cracked asphalt.
You can visit the grounds and the tar pit for FREE.
You'll have to pay admission to the museum. Advanced tickets must be pre-purchased on their website: here.
Los Angeles Country residents get FREE admittance from 3-5 pm.
La Brea Tar Pits | 5801 Wilshire Blvd, Los Angeles
21. Petersen Automotive Museum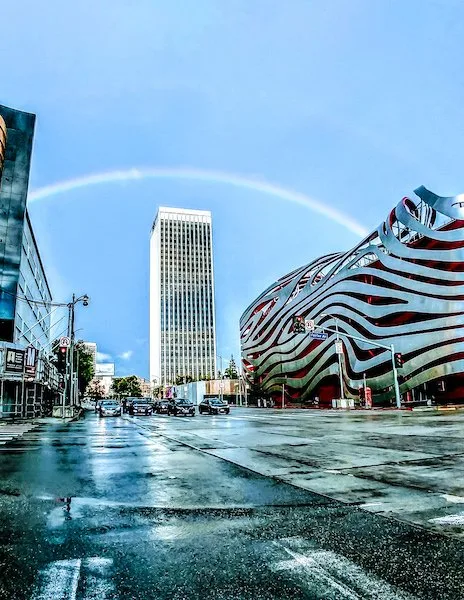 There are two reasons to visit the Petersen Museum:
You love cars.
You love modern architecture.
The Petersen Museum is one of the largest automotive museums in the world. It has 25 rotating exhibitions with over 150 vehicles on display.
If you love modern architecture, the Petersen Museum is a must-see. It received an amazing facelift in 2015 and is now one of the most beautiful facades on Miracle Mile.
Closed Monday and Tuesday.
Advanced tickets must be pre-purchased on their website: here.
Fun Fact: I worked close to the Petersen Museum and Museum Row for many years. It was fun to see the transformation of the Petersen Museum. Literary transformed that entire corner of Wilshire and Fairfax.
Petersen Museum | 5801 Wilshire Blvd, Los Angeles, CA 90036
22. The Getty Center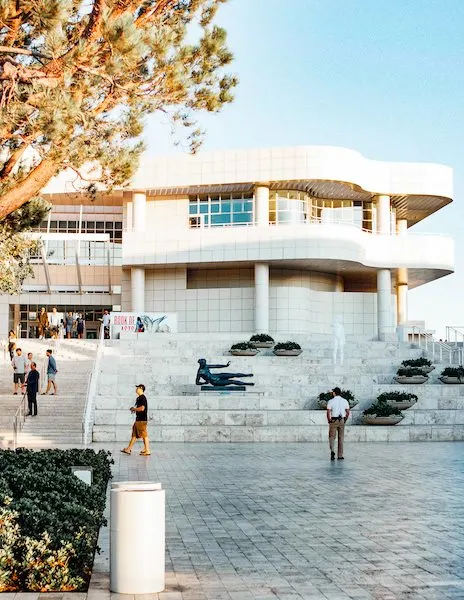 Another museum to add to your list if your love for art runs high. A day could be spent at the Getty Center, taking in all the exhibits, the beautiful grounds, the views of Los Angeles, and the amazing architectural structure it's all housed in.
Closed on Mondays.
The Getty Library is currently closed.
Admission is FREE, but you must reserve your time in advance: here.
The Getty Center | 1200 Getty Center Dr, Los Angeles
Looking to explore a different city just a ride from Downtown Los Angeles. Visit Pasadena, home of the Rose Parade. Check out the top things to do and see. Go shopping in Old Town Pasadena, explore our Botanical gardens, visit a museum, and more.
23. Grand Central Market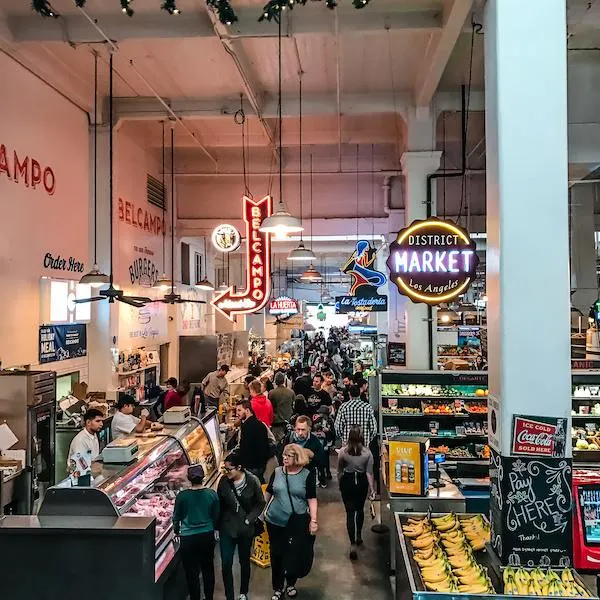 Fellow foodies, you'll want to make a trip to Grand Central Market. This emporium is 30,000 square feet and has been a part of Los Angeles since 1901.
It is full of fantastic food stalls from all different cuisines and other retail shops. You'll want to walk around first and peruse what's available before you choose something to eat. If you see a long line at one of the stalls, that's because it is good and quite possibly worth it. That could be said for most lines you'll see in Los Angeles.
Experience this bustling market and see where Angelenos like to get a bite to eat.
We have a few favorites here, but I do not think you can go wrong with any stalls. We love Egg Slut, Sarita's Pupuseria, and Villa Moreliana.
The market is open Monday thru Sunday from 8 am to 9 pm
Parking is available at 308 South Hill Street.
Grand Central Market | 317 S Broadway, Los Angeles, CA 90013
24. Bradbury Building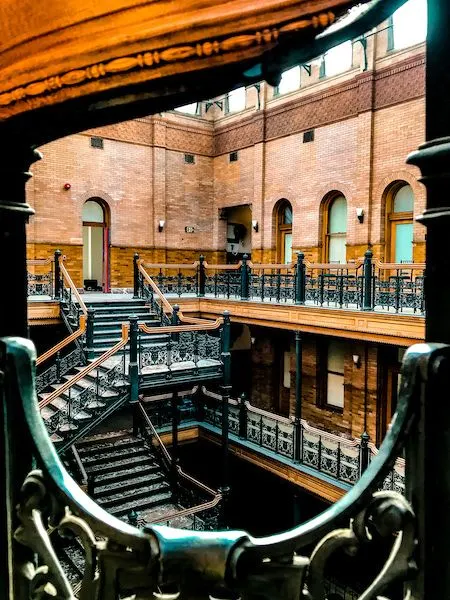 Right across from the Grand Central Market, you will find another one of Los Angeles's most beautiful architectural structures. The Bradbury Building is a National Historic Landmark. It is the oldest commercial building remaining, and it is still as magical as it was when built in 1893.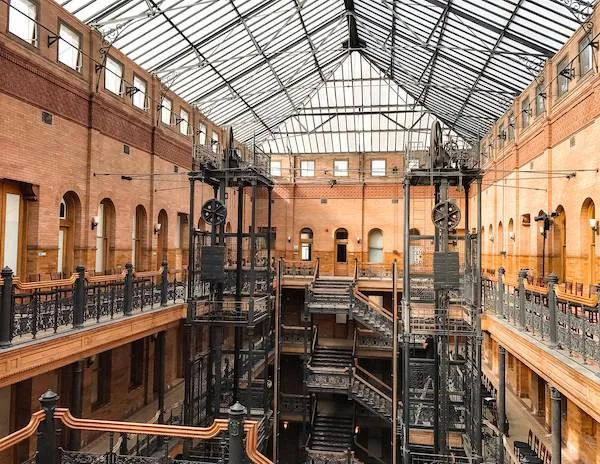 This is one of my absolute favorite structures in Los Angeles. As soon as you enter Bradbury Building, you forget you're in the city of Los Angeles or perhaps be transported to what it used to be like 100 years ago. The interior is magical, especially if you go when the light is pouring through the courtyard. You'll be amazed and impressed by the details. The fancy iron railings, brick walls, and caged elevator will leave a lasting impression.
Note: More than likely, you'll only be able to see it from the first floor. Sometimes they'll let you venture up to the 2nd floor.
This is FREE to see on your own.
The LA Conservancy gives walking tours of Historic Los Angeles and its landmarks every Saturday. The cost is $15 pp. Register and book a tour here.
Bradbury Building | 304 S Broadway, Los Angeles
25. Angel's Flight Railway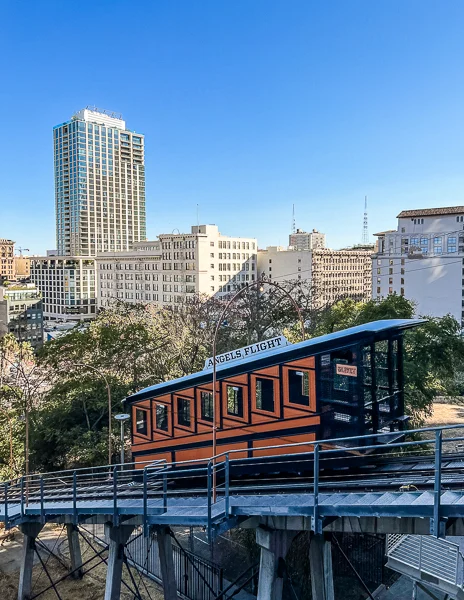 Angel's Flight is a landmark piece of Los Angeles history that still exists today.
Before the pandemic, we were in Downtown LA at the Grand Central Market. While in the area, we walked over to see Angel's Flight for the very first time. Unfortunately, it wasn't operating that day.
Angel's Flight is a short ride up and down one of the steepest hills in Downtown Los Angeles, Bunker Hill. It goes between Hill Street and Grand Avenue. It is also known as the world's shortest railway. Back in 1901, when it was built, it used to go for two whole blocks.
Recently, Angel's Flight was featured heavily in the very first episode of the HBO MAX series Perry Mason. It was also featured in LaLaLand.
Cost: $1 each, and souvenir round-trip tickets are sold for $2.
Top Foodie Pick: Grand Central Market
Angel's Flight | 350 S Grand Ave, Los Angeles
26. Don't Miss the Walt Disney Concert Hall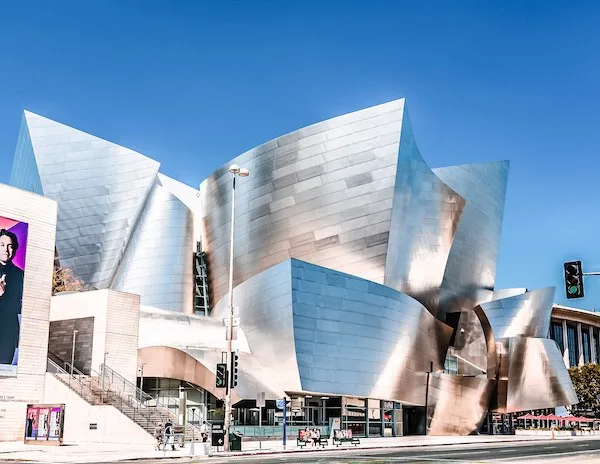 The Walt Disney Concert Hall is another architectural icon not to be missed in Downtown Los Angeles. It's one of those spots in Los Angeles where you must get out and walk around to enjoy its beauty. It is quite like no other structure in LA.
Home to the LA Philharmonic, you may want to consider attending a concert when you visit.
Self-guided tours are usually available for FREE (unless you're a group of 14 or more) from Mon-Sat 10 am to 2 pm
Concert and Event Ticket Info
Walt Disney Concert Hall | 111 S Grand Ave, Los Angeles
27. Drive to Malibu
About 45 minutes up the coast from Los Angeles, you'll find Malibu. It's a beautiful little beach town with spectacular coastal views and scenic drives. It's one of my favorite areas of Los Angeles Country.
Have brunch on the beach at Paradise Cove. Check out popular spots like Zuma Beach and Matador beach. Go wine tasting at Malibu Wines. These are just a few fun things to do in Malibu, California.
28. Experience a Dodger Game at Dodger Stadium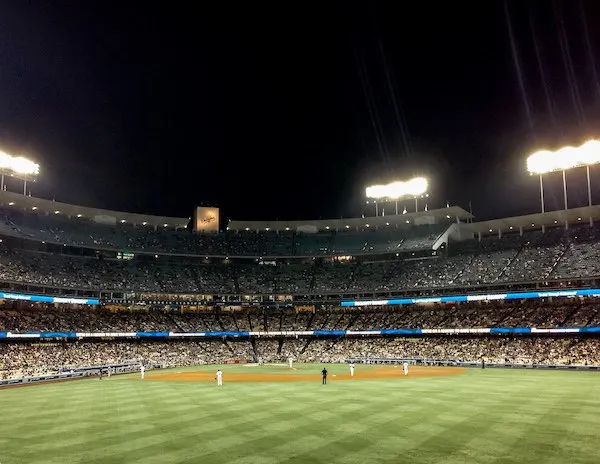 Whether you're a baseball fan or not, a Dodger game is a great way to mingle with the locals and experience a stadium in another city. See if your home team is playing against the Dodgers during your visit.
And if you're visiting Los Angeles outside of baseball season, check out what other events are being held at Dodger Stadium. In the off-season, there are concerts, festivals, and local events you can plan to attend.
Top Foodie Pick: A dodger dog! Tip, get the grilled one.
Dodger Stadium | 1000 Vin Scully Ave, Los Angeles
29. Warner Bros Studio Tour Hollywood
This is the #1 studio tour in Los Angeles by far. I've done them all, and the one at Warner Bros is the most fun, educational, worth the cost, and long-lasting. So if you are a movie buff, are interested in movie and tv show production, and wondering how ad where it all takes place, book a Warner Bros Studio Tour.
Fun Fact: Warner Bros has produced almost 7,000 movies and 5,000 TV shows.
You will tour the studio for about 2-3 hours. What's fun about touring at Warner Bros is that not every group gets the same tour. Many aspects of the tour may be the same, but a lot of it varies depending on filming schedules and such on the lot.
I've toured Warner Bros a few times, and each time I enjoyed and experience different things. I'll never forget seeing the FRIENDS set or the Two and a Half Men sets during its final seasons. My favorite walking around Stars Hallow from Gilmore Girls. Posing a Cafe Perks for FRIENDS. One of my favorite photos is of my hubby and I sitting on the Friends couch at Cafe Perk with mugs.
The guides driving you around are phenomenal, friendly, and knowledgeable. Just be sure to follow their guidelines.
Weekends Only (until July 11th) 9 am to 3:30 pm
Starting July 15, Thursday to Monday 9 am to 3:30 pm
Cost: $69 pp
Warner Bros Studios Tour | 1000 Vin Scully 3400 Warner Blvd, Burbank
30. Paramount Pictures Studio Tour
Paramount Studio is another iconic and classic production studio in Hollywood that gives a great tour. It is the longest operating and the only active backlot in Hollywood.
Fun Fact: The lot that Paramount Studio occupies used to be Desilu Studios, owned by Lucille Ball and Desi Arnaz.
The Studio Tour is a full 2 hours. Like other studios, they guide you through some of their famous backlots and soundstages. Learn about the history of Paramount and why they are still standing in Hollywood today.
You can also pay extra for the VIP Studio Tour, which is 4 1/2 hours. In this tour, you'll get all the above, but you'll receive an insider experience and a gourmet lunch.
This is a fun Hollywood tour and experience. We did this a couple of times a long time ago. Once, I even attended a Christmas party at a soundstage, and it was cool to walk through the lot.
Paramount Studio | 5515 Melrose Ave, Los Angeles
31. Sony Pictures Studio Tours
Sony Pictures is a great little studio to visit in Culver City.
What's to love about this Sony Pictures Studio Tour? It is a 2-hour walking tour. This means you're on your feet and not in a golf cart for half the time. You'll experience what it's like to explore a backlot on foot. In my opinion, a more intimate experience.
You can book a VIP tour ($175pp), a 3-hour guided golf cart tour that includes lunch.
Fun Fact: Did you know Wizard of Oz was filmed at Sony Pictures?
Tours operate Monday thru Friday. Reservations required.
The studio tour is 2 hours.
Cost: $50pp
Sony Pictures Studio Tours | 10202 Washington Blvd, Culver City
32. Universal Studios Hollywood
Do you love theme parks?
Universal Studios Hollywood theme park is one of my favorites because it's just the right size for a fun day in Los Angeles. You get to experience a theme park with rides and get a peek at one of the oldest movie studios around.
Top things to do at Universal Studios:
Visit the Wizarding World of Harry Potter.
Ride the Simpsons Ride and split a Lard Lad Donuts amongst other treats.
Take a Back Lot Studio tour with favorite rides like King Kong 3D, Jaws, Earthquake…
Don't miss the new and improved Jurassic World ride.
Top Foodie Pick: Many great snacks inside the park, but at any time, you can head out to City Walk and eat at one of their many restaurants.
Universal Studios Hollywood | 100 Universal City Plaza, Universal City
33. Disneyland Park and California Adventure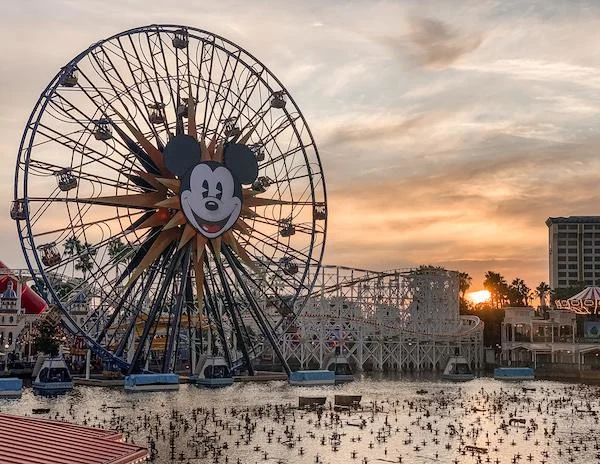 The one-day trip from Los Angeles that is a must is Disneyland – the Happiest Place on Earth. It is in Los Angeles's backyard, and we locals love to visit Sleeping Beauty's Castle every chance we get.
Disneyland in Anaheim is different from the one in Florida. It's smaller, with fewer rides and attractions than Disney World. So it is ideal for 1-2 days of fun. Who doesn't love to visit Mickey and Minnie? Plus, it's a great surprise for Disney lovers and children.
Want to stay overnight at Disneyland? I recommend the Grand Floridian Hotel as it is connected to California Adventure. Easy to get through security in the morning and into the theme park.
When is the best time to visit Disneyland? My favorite time of year at Disney is in the fall for Halloween, and the magic of the holidays is amazing there.
A few Disneyland tips:
Book your tickets and reserve your dates in advance.
Download the Disneyland app and have everyone's tickets stored under one or multiple accounts in your party.
Make your restaurant reservations in advance: Blue Bayou and Steakhouse 55 are two of my favorites.
You can check out my Disneyland Instagram highlights here.
Disneyland | 1313 Disneyland Dr, Anaheim
– Don't Miss: Fun Amusement Parks and Theme Parks in Los Angeles, CA –
Yield: The Best of Los Angeles Attractions
Los Angeles Bucket List
Ride the Ferris Wheel at Santa Monica Pier
Check out 3rd Street Promenade
Take a Pacific Coast Highway road trip
Explore Venice Beach and the Venice Beach Canals
Find the star of your favorite celebrity at the Hollywood Walk of Fame
See which celebrity hands match yours at the TCL Chinese theater
Enjoy a movie at the TCL Chinese Theater
See a Broadway Show at the Pantages
See a Disney movie at El Capitan
Eat at Ghiradelli's next door to El Capitan before the movie
Attend an event at the Hollywood Bowl
Eat the famous Pink's Hot Dogs
Hike the Hollywood Sign Trail
See the sunset over Los Angeles at the Griffith Observatory
Attend an event at the Greek Theater
Visit the LA Zoo
Drive Sunset Blvd
Explore Griffith Park
Check out the infamous Beverly Hills Hotel
Eat dinner at Lawry's Prime Rib
See what Rodeo Drive is all about
Visit the Original Farmer's Market
Go to the Grove and ride the trolley
Take photos at the Urban Lights display at LACMA
See the La Brea Tar Pits
Experience the Petersen Museum
Drive to Malibu
Visit the Getty Center
Hit some foodie spots at the Grand Central Market
See the Bradbury Building
Take a ride on Angel's Flight
Book an event at Disney Concert Hall or just see it in person
Experience a Dodger game
Eat a Dodger dog
Go on a Warner Brothers Studio Tour
Go on a Paramount Pictures Studio Tour
Go on a Sony Picture Studio Tour
Have fun at Universal Studios Hollywood
Have fun at Disneyland
Instructions
Print this LA Bucket List.
Visit and experience what Los Angeles has to offer.
Add a checkmark to each one upon completion.
Return to tastyitinerary.com and let me know what your favorite Los Angeles experience was.
Going through this list brought back many great memories of some of these top attractions in Los Angeles. I've checked most of them off my Los Angeles Bucket List. Also reminded me that there are a few Los Angeles spots I'd love to revisit.
I plan to continue updating this post with other attractions, so bookmark it for future reference. I can't wait to hear all about your trip to Los Angeles and what you're able to check off your Los Angeles Bucket List.
Are you looking forward to your visit to Los Angeles? What are you looking forward to the most?
Share the tips & love on Pinterest: