Looking for something unique to do in Los Angeles? Do you know of the Los Angeles Venice Canals?
Probably when you hear Venice Canals, the first destination that pops in your head is the one in Italy. I can't blame you for that as it is one of the most beautiful places in the world. While the Los Angeles Venice Canals was inspired by "the City of Canals" it's not exactly it, at least not what it is today.
What are the Venice Canals in Los Angeles? Venice Beach Canals is a small Venice, Los Angeles, California suburb now known as the Venice Canal Historic District. Originally laid out as a Venice-style (yes, that Venice in Italy) suburb of Los Angeles in 1905, Abbot Kinney developed the area as a commercial district and amusement park.
The Venice Canals is a charming hidden gem in the heart of Venice Beach, Los Angeles. Seeing and walking around this peaceful, picturesque part of LA is a sight.
The moment you step into it, you'll feel like you've been transported into a European town with its beautiful houses and manicured flowered gardens. Delightful arched bridges, small boats, and dinghies tied up along the waterways.
It's a fresh breath of air.
The canals of Venice Beach are one of the top places to visit in Los Angeles. This idyllic historic Venice Beach landmark is not only a tourist destination but also loved by locals and the community.
This post may contain affiliate links, which means we'll receive a commission if you purchase through our links at no extra cost to you. Please read full disclosure for more information. We appreciate your support!
When visiting Venice Beach, the Venice Canals are the perfect little escape from the crowds and bustle of the Venice Boardwalk. It's one of our top favorite spots in Los Angeles, and we tend to forget we are in the city for a short stroll around the canals.
You'll want to plan your visit here when visiting Los Angeles in Southern California. If you're nearby Santa Monica, Marina del Rey, or especially when exploring Venice beach, make a short stop to see the Venice Beach Canals and what makes them so special.
They are also only a 30-minute ride (on a good traffic day) from Downtown Los Angeles.
Venice Canal Historic District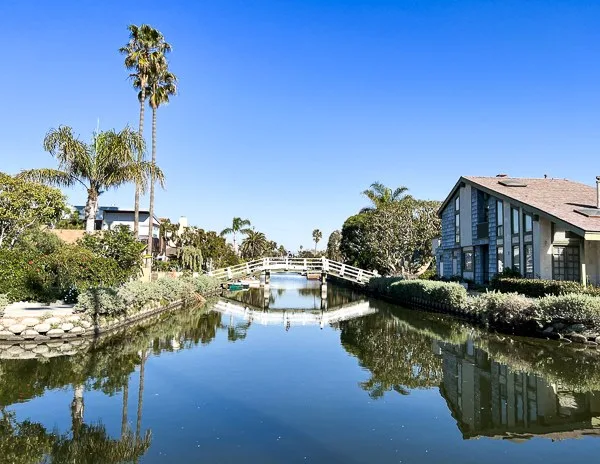 History of Venice Canals in Los Angeles
Abbot Kinney, the founder of Venice, California, was a world traveler and a dreamer. He was charmed and influenced by Venice, Italy, and had the idea of developing his own "Venice of America". The Venice Canals were first constructed in 1905 – they were manmade canals.
The Venice Canals were originally built as a means of transportation for the residents and businesses in the area. Imagine the area filled with gondoliers transporting you through canals.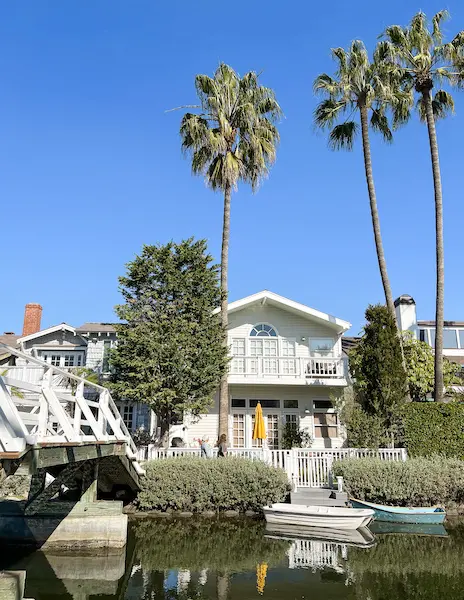 You have to dig into the history of Venice, California, to picture the whole thing. Venice was once an independent city until 1926, when it became part of Los Angeles.
Abbot Kinney sought to turn Venice into a sophisticated beachside resort town with art and culture, like Venice, Italy. The Venice Canals were part of his larger plans. He built a seaside hotel that looked like a ship, a dance hall, and a casino, amongst a few other things.
While the Venice Canals was a success for a short time, his plans for his "Venice of America" sort of failed. He gave in and turned it into an amusement park with rides and commercial businesses in 1909. It seems that's what people were attracted to more than the vision he originally had.
What happened to Amusement Pier and all the rides? It eventually closed in 1946 when the city didn't want to renew its lease.
What would Abbot Kinney say about the Venice Beach of today?
Looking for things to do in Venice Beach, California? There's no shortage of activities and attractions when visiting Venice Beach. From exploring the lively Venice Beach boardwalk to seeing the historic Venice canals, these are some of the top exciting things you won't want to miss.
How many canals are in Venice, California?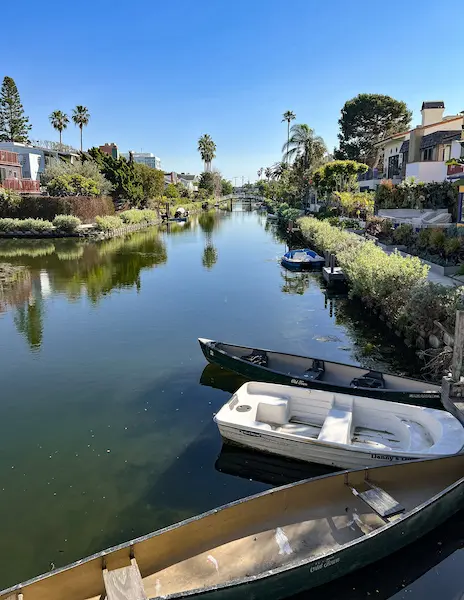 Back in the early 1900s, there were 13 canals, making the area 3 times larger than it is today. Only six canals remain today, while the other seven canals were covered and are now street names you'll find yourself walking through as you explore Venice.
Remaining Canals:
Four East-West Canals
Carroll Canal
Linnie Canal
Howland Canal
Sherman Canal
Two North-South Canal
Eastern Canal
Grand Canal
Current street names of the paved canals:
Main Street
Canal Street
Cabrillo Avenue
San Juan Avenue
Windward Avenue
Altair Street
Market Street
Grand Boulevard
With vehicles becoming a popular form of transportation, the canals were actually filled in 1929 and turned into paved roads. The remaining canals fell into disrepair throughout the years causing even closures to the area.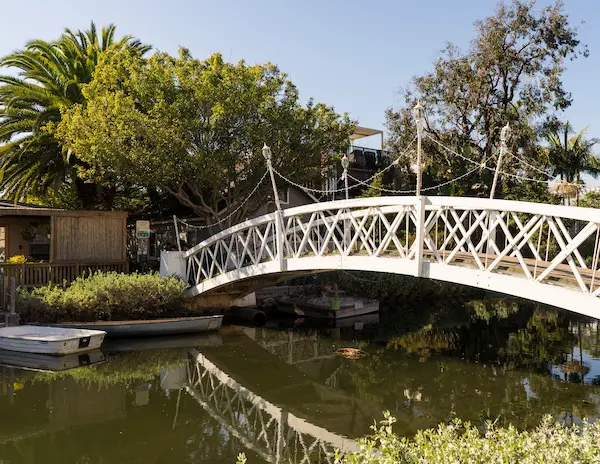 In 1993, the canals were finally renovated and re-opened. Making the Venice Beach Canals a popular spot for people to visit once again… minus the gondoliers.
The Venice Canals Historic District was added to the National Register of Historic Places on October 9, 2009.
How to get to the Venice Beach Canals?
The Canals of Venice Beach are located in a quadrant between the streets of S Venice Blvd, Pacific Avenue, Ocean Blvd, and W Washington Blvd.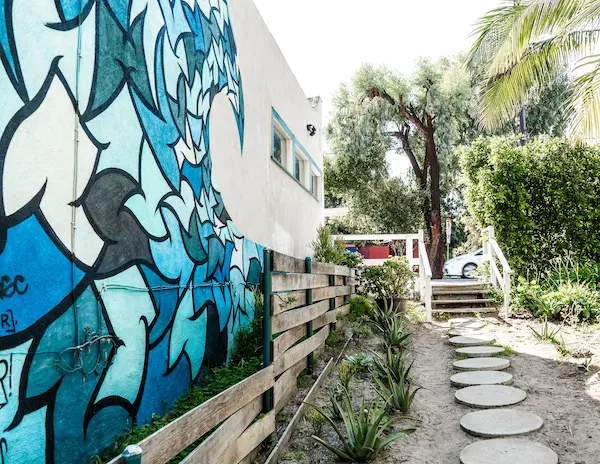 1. You can access the Venice Beach canals by foot just steps away from Oceanfront Walk and Pacific Avenue or Ocean Avenue and Eastern Ct.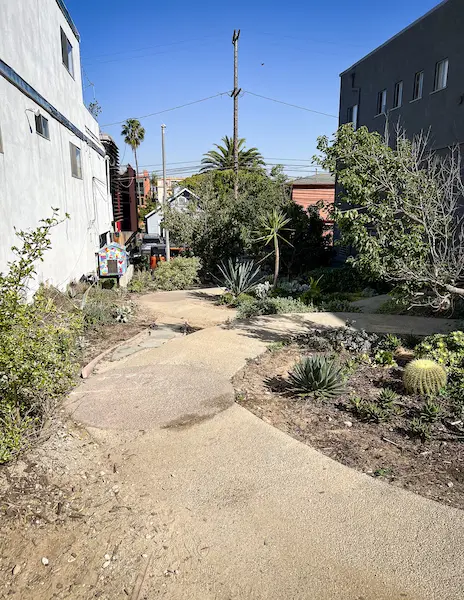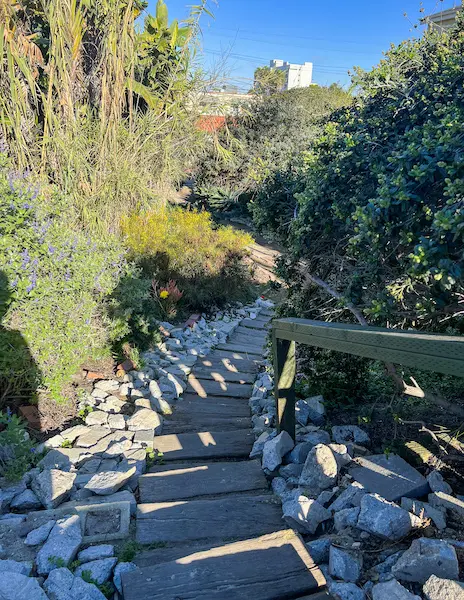 From Ocean Front Walk and Pacific Avenue, you'll find public access to the canals from 25th Ave, 27th Ave, and 29th Ave. Here are paths that lead down into the Canals of Venice Beach.

The 25th Ave and 27th Ave access is the most directly into the heart of the canals. If you take the access from 29th Ave, you'll be farther south on Grand Canal. Just head north on the Venice Canal Walkway towards the other canals.
From Ocean Ave and Eastern Court, you'll find public access from Howland Ave, Linnie Canal, and Court D.
2. You can quickly drive through the Venice Canals Historic District center via Dell Avenue. Dell Ave is a one-way street that you can start and go north on from W Washington Blvd. 3. Riding a bike along Dell Ave to see canals is another option.
Parking at the Canals
Only visiting the area to see the Venice Canals? Find a parking spot along Pacific Ave or Ocean Ave near the public access entrances for free parking. Note, on a busy day, this may be a difficult find.

Alternatively, you can pay for parking at one of the Venice Beach parking lots at the end of W Washington Boulevard (near Venice Pier) or S Venice Boulevard.
There are so many things to do in Los Angeles that it can be tough to know where to start. This one day in Los Angeles itinerary will help you make the most of your time in Southern California's biggest city. From tourist traps to local spots, these are the best places to go in Los Angeles in a day.
What's the best way to see Venice Canals walkway?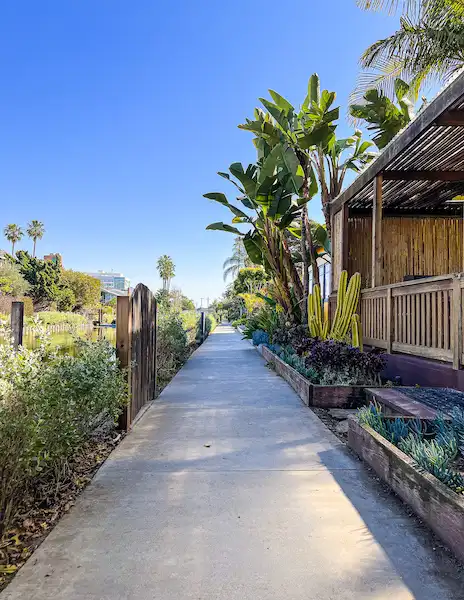 The best way to explore the Venice Canals is on foot via the Venice Canals walkway. You'll get the best experience if you take the time to walk around the canals. You can connect from one canal to another via 9 pedestrian bridges that lead you around the Venice Canal Walkway.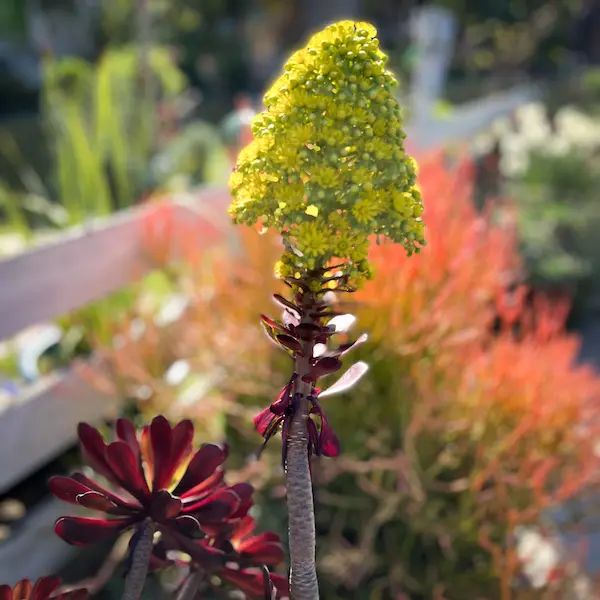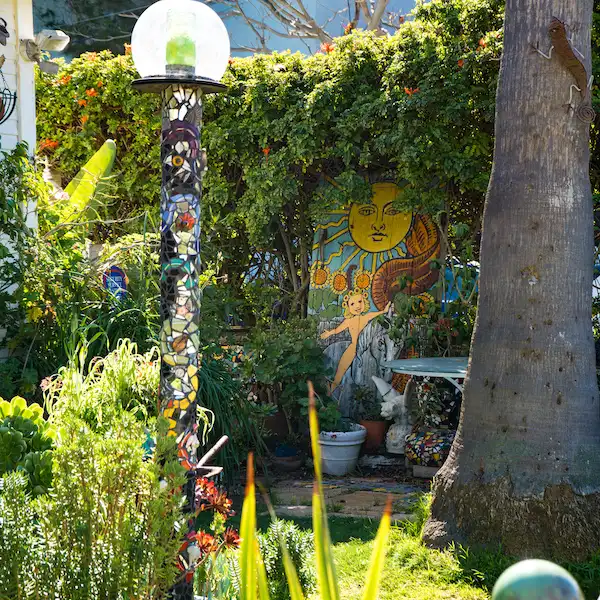 You can make it a short walk or a long one. That's up to you. You can also bring your furry friend, leashed and ready with poop bags to pick up after them.
What days are Venice Canals open?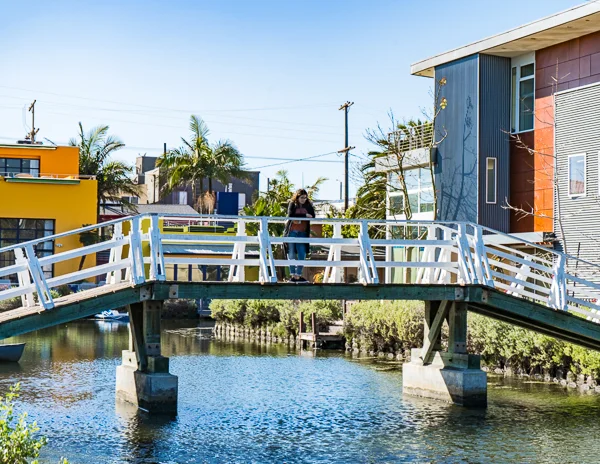 The Venice Canals are open 24 hours a day and 7 days a week. That said, please be mindful and respectful of the community. This is a residential area.
Do you need to book in advance to visit Venice Canals Walkway?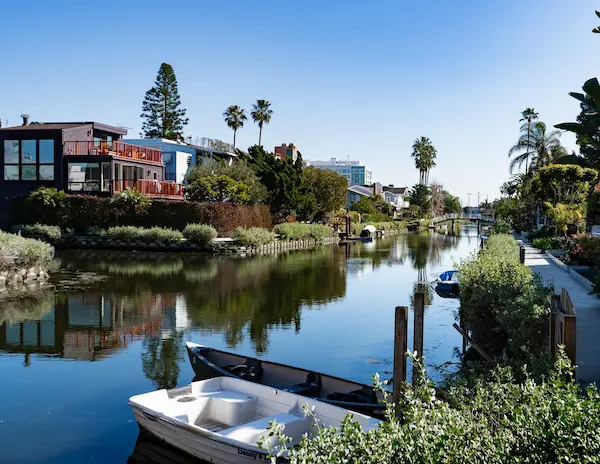 No. You do not need to book anything to visit and see the Venice Beach Canals as it is open to the public for FREE.
However, if you'd like to book a paid guided tour of the Venice Canals, here is an option:
Private Tour on Venice Canals (ride a boat) [book tour]
Are cars allowed in the Venice Canals?
The only street that allows a vehicle inside the Venice Beach Canals is Dell Ave, a one-way street. Otherwise, it is all foot traffic or by boat via the waterways, which residents mostly use.
Can you swim in the Venice Canals in LA?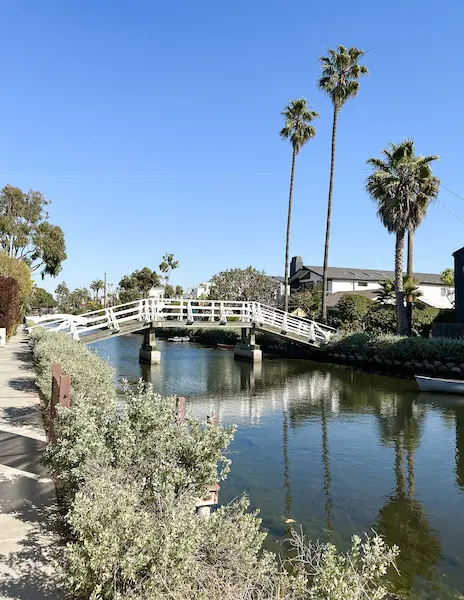 No, you can't swim in the Venice Canals. It is not allowed. Also, you have Venice beach a walk away. Better off saving your energy for the Pacific Ocean.
And while the area is pretty to look at, the muddy water in the canals does not look pretty to swim in.
There it is, all you need to know about the canals of Venice Beach. The Venice Beach Canals are one of the most charming hidden gems in Los Angeles. It's a unique part of LA that should be part of your LA itinerary.
Have you visited Venice Canals in Los Angeles? What did you think?
Share the tips & love on Pinterest: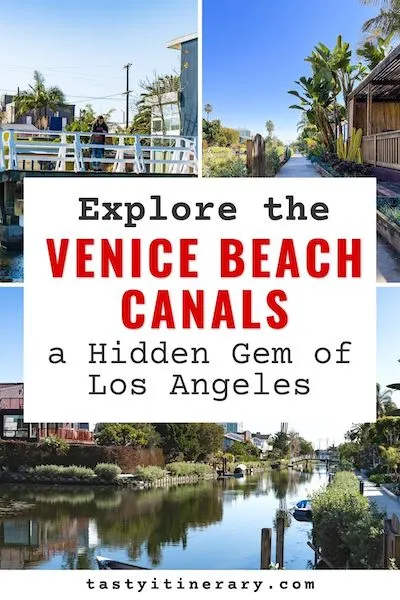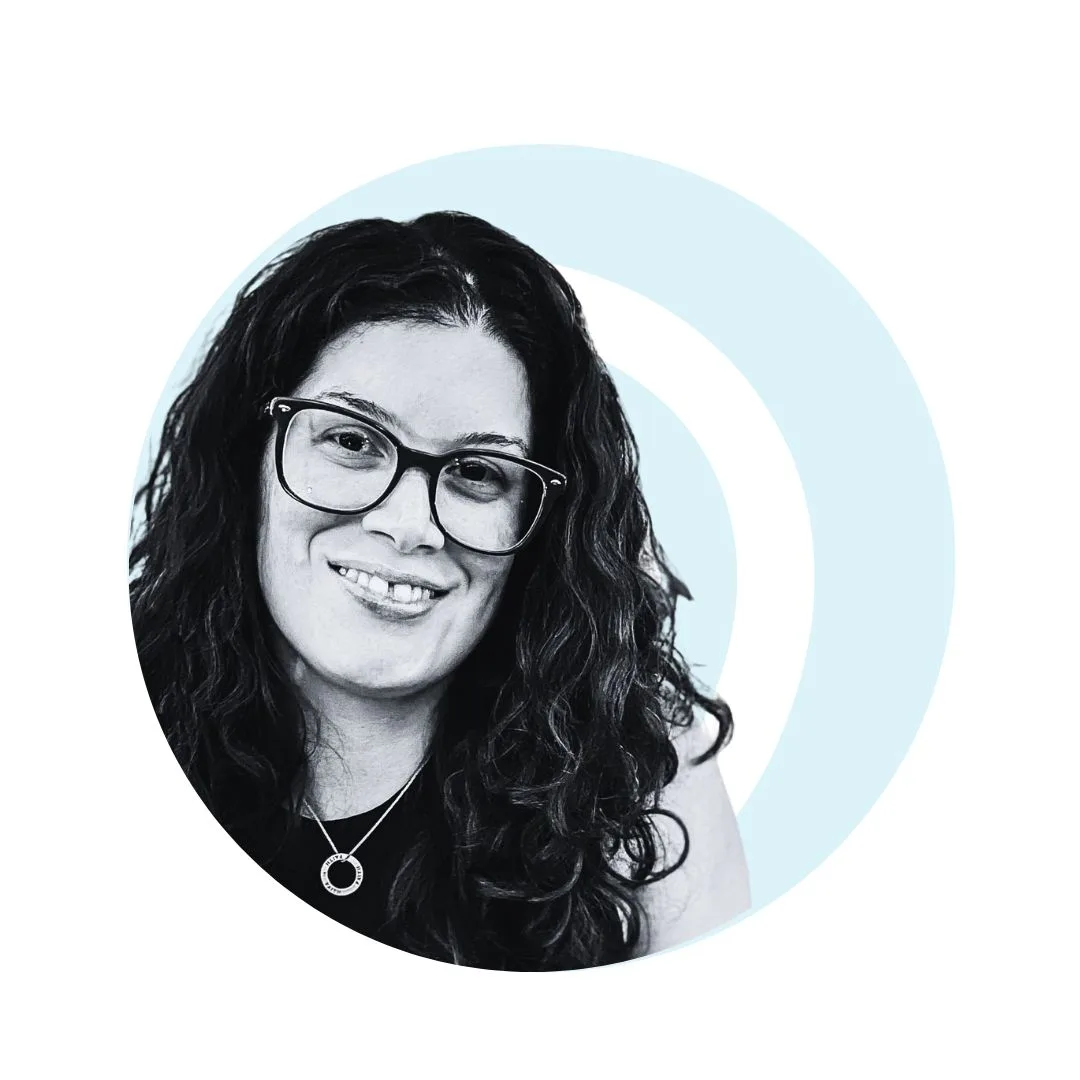 Meet Kathy Ava – a food, travel, and cruise writer based in Los Angeles/Pasadena. With over 20 years of experience planning trips and logistics at her full-time job and for herself, she's become a pro at crafting unforgettable travel itineraries. She's always looking for delicious, fun cruise itineraries and travel destinations and is slightly obsessed with Italy. Her passion and curiosity for travel started in childhood on her yearly and sometimes bi-yearly trips to PR. She firmly believes that life is short and we must make the most of it – so let's explore the world and make some incredible memories.