What are the best things to do in Downtown LA?
Downtown LA, or DTLA as it is more commonly known, has much to offer. If you're visiting Los Angeles or are a local looking for some fun attractions, take the time to visit Downtown Los Angeles.
The coastline of Los Angeles is a 30-minute drive away. Some of us may want to spend the day at Venice Beach, but DTLA immerses us in a different side of Los Angeles. Yes, some parts are rougher than others, but you'll see plenty of beauty if you look closely.
Downtown Los Angeles is what you make of it. It's not New York City or San Francisco but it has its own vibe.
From restaurants and bars with modern decor and some of the best food in town to cultural institutions like The Broad Museum and Walt Disney Concert Hall.
Since we're in Pasadena, living only 20 minutes from Downtown Los Angeles, we make a day or afternoon of it now and then. Sometimes we venture out for dinner at one of the many amazing restaurants in DTLA.
It's always exciting to explore this part of Los Angeles. I'm always in awe when we pass by the Walt Disney Hall. We love to visit the Grand Central Market because of its great selection of delicious local food stands. Hit up Little Tokyo for some authentic shabu shabu or delicious ramen. Spend the afternoon with a friend at the Broad Museum.
This post may contain affiliate links, which means we'll receive a commission if you purchase through our links at no extra cost to you. Please read full disclosure for more information. We appreciate your support!
One of the things to do in Downtown LA, if you love older architecture as we do, is to keep an eye out for the intricate details found in structures. You'll see glimpses of what Downtown LA used to be in the early 1900s. We always say, look up because you never know what you'll miss.
You'll find all the top things to do in Downtown LA in this list. Start planning some adventures into the city and heart of Los Angeles, California.
Things to Do in Downtown LA
Here is a link to the Top Things to Do in Downtown LA in Google Maps to help with your itinerary plans.
1. Visit the Walt Disney Concert Hall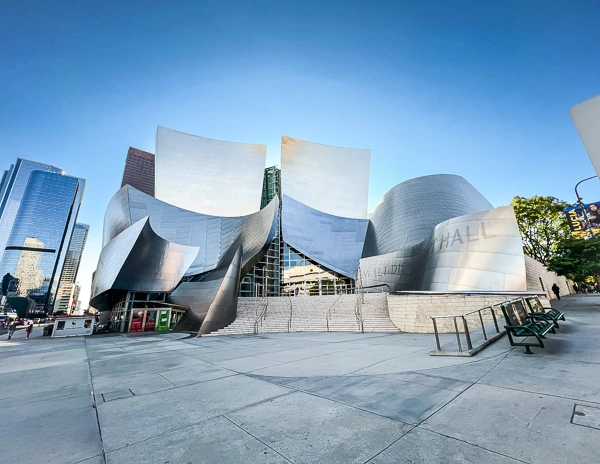 It's an architectural beauty that is both breathtaking and iconic, the Walt Disney Hall on Grand Avenue. Frank Gehry designed this concert hall, one of Downtown LA's most photographed structures.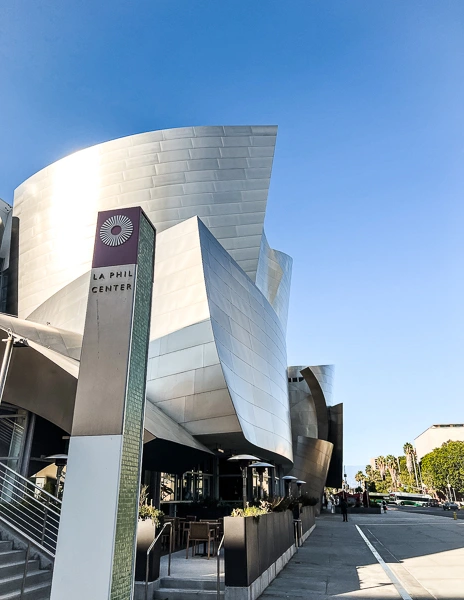 It's also the home of the LA Philharmonic. You can visit to see this exceptional concert hall in person or book tickets to one of their events.
Self-guided tours of the venue are available daily: click here for further information.
Walt Disney Concert Hall | 111 S Grand Ave, Los Angeles | Google Map It
Tour Ideas:
DTLA Architecture Walking Tour [Book Tour Here]
2. Explore Little Tokyo, Eat Shabu Shabu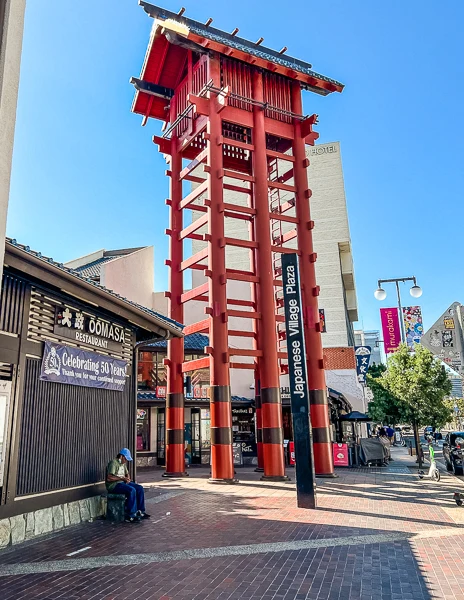 Founded in 1884, Little Tokyo is a historic district located in downtown Los Angeles. The neighborhood encompasses five blocks and is home to a vibrant Japanese-American community.
Visitors to Little Tokyo can enjoy a variety of Japanese experiences, from sampling traditional cuisine to browsing charming shops filled with Japanese treats and items, like the Little Tokyo Market.
The Japanese Village Plazas is one of the most popular spots to visit in Downtown LA, filled with shops, restaurants, and outdoor seating.
The neighborhood is also home to the Japanese American National Museum.
Whether you're interested in exploring Japanese culture or want to experience LA's history, Little Tokyo is well worth a visit.
Top Foodie Pick: Shabu Shabu House has been part of Little Tokyo for decades. Eating here was the first time we ever had an authentic shabu experience.
Explore Little Tokyo | Los Angeles, CA | Google Map It
3. Explore Chinatown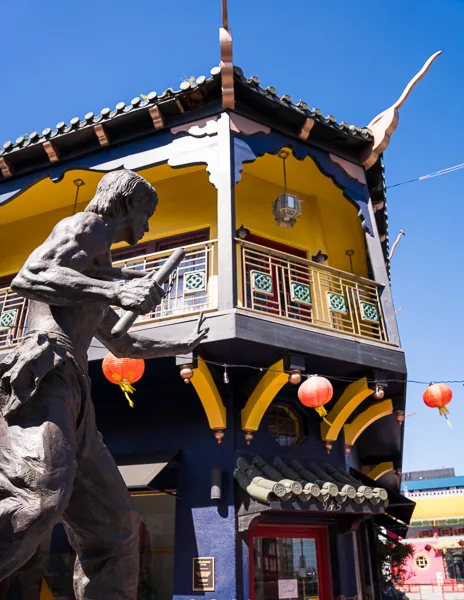 Chinatown is vibrant, with its red lanterns strung up across plazas and Xie Shan roofs. There are many shops and restaurants on Grand Avenue to explore. You'll find everything from Chinese medicine to Asian bakeries.
Chinatown's Central Plaza is the most photographable area and spot to visit, where you can find Bruce Lee's statue. There are many opportunities for photos with the Chinese gate and lanterns that adorn this plaza.
A great time to visit Chinatown is during one of their festivals, like the Chinese New Year. The city will come alive with festivities with dancing dragons, a parade, and more.
Top Foodie Pick: Golden Dragon is a long-standing Dim Sum restaurant in Chinatown. Also, Chinatown is home to the infamous Howling Ray's.
Chinatown | Los Angeles, CA | Google Map It
4. Eat at Philippe The Original
Philippe's is a Los Angeles institution serving French-dipped sandwiches since 1908.
As a matter of fact, not until you eat at Philippe's are you considered a Los Angeles local. People would mention Philippe's to me and gasp when I didn't know what it was. We have been there many times now.
Is it worth the hype? In our honest opinion, no. Is it worth the experience? YES.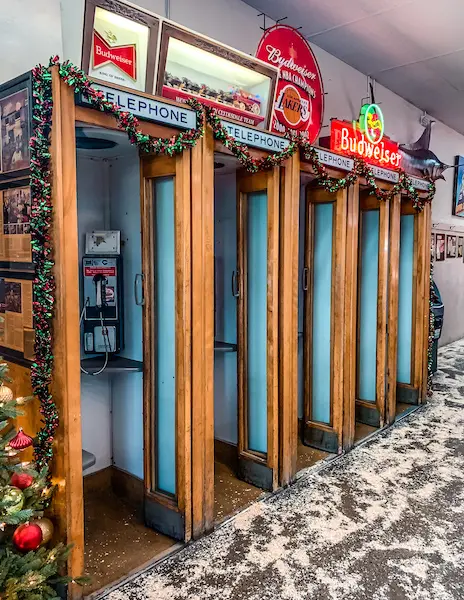 What I love the most about Philippe's is the vibe. It's old-school. There are even old telephone booth stalls. Sawdust on the ground. The staff is super friendly. It seems to be always busy, but you get that old-school LA feeling.
Foodie Tip: Get the sandwich double-dipped! The messier, the better. Don't forget to add their famous mustard to it when you sit down to eat it.
Philippe The Original | 1001 N Alameda St, Los Angeles | Google Map It
5. Eat Way Through the Grand Central Market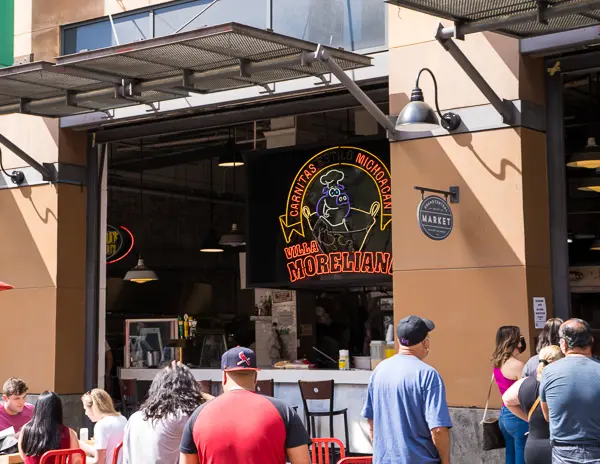 The Grand Central Market is one of the top Los Angeles attractions. This market wins every foodie's heart with various food options and cuisines. You can also find produce, unique ingredients, flowers, and a local butcher.
The Grand Central Market has been part of Downtown Los Angeles since 1917. It has changed so much since then, now a trendier popular food hall where locals dine daily.
If you're in the area, this is a great bathroom stop as they have multiple clean restrooms downstairs from the market.
Top Foodie Picks: Egg Slut for the most delicious breakfast egg sandwiches. Carnitas tacos from Villa Moreliana. Although everything we've tried at Grand Central Market was delicious.
Grand Central Market | 317 S Broadway, Los Angeles | Google Map It
Visiting Los Angeles, California? Planning to explore and be a tourist in LA. Walk amongst the stars on Hollywood Blvd. See the spectacular views of Los Angeles from the Griffith Observatory. Take a short ride on Angel's flight. Here are the top attractions in the city of Angels.
6. Take a Ride on Angel's Flight Railway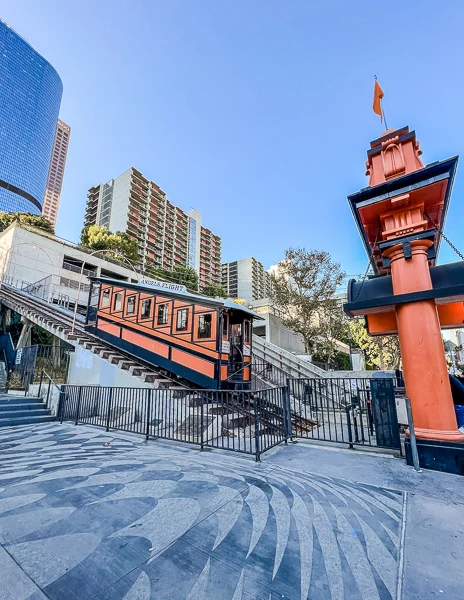 This funicular railway in Downtown LA goes up and down one of the steepest hills. It goes between Hill Street and Grand Avenue. It's the shortest railway in the world.
Angel's Flight has been closed down and restored a few times. The latest reopening was in 2017. We suggest experiencing this piece of Los Angeles history before it's down again.
It only costs $1 each way, or you can buy a round-trip ticket for $2.
Angel's Flight has been featured in movies, most notably in La La Land.
Angel's Flight | 350 S Grand Ave, Los Angeles | Google Map It
7. Bradbury Building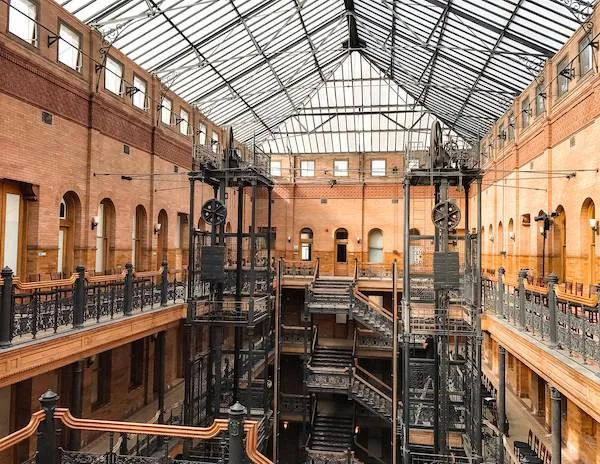 This is a beautiful building that was built in 1893. It's been used as a location for countless films and TV shows. One movie that comes to mind and features the inside of it is 500 Days of Summer.
The Bradbury Building is also a National Historic Landmark. It's one of those buildings you'll want to visit if you love architecture. The outside is unassuming, but the inside is amazing. The ornate ironwork, the glass atrium, and the open "birdcage" elevator are a few of my favorite things from this building.
You can see this for FREE as long as the building is open. They probably will only allow you to go into the main floor, but that's enough to see why it is so special.
Bradbury Building | 304 S Broadway, Los Angeles | Google Map It
Tour Idea:
Old and New Downtown Los Angeles Walking Tour [Book Tour Here]
8. Visit Union Station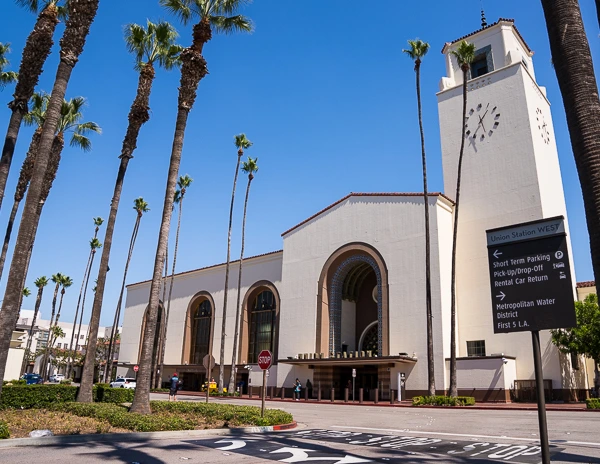 If you take the train downtown, Union Station is a great place to land to start your day in DTLA.

Union Station is the hub of Downtown LA for the Los Angeles MTA system. It's a beautiful building and one of Los Angeles's architectural gems to visit, even if you're not taking the train.
The main hall is stunning, with high ceilings, beautiful tilework, and art deco-style touches that make you feel like you stepped back in time.
Many movies, TV shows, and commercials have been filmed here. You can click here for more info.
Interactive Art Display at Union Station
A fun little tidbit that is not widely known… there is an interactive LED art display inside the station. It is called the "A-train" by Bill Bell, and it's been there since 1996.
The display is next to the escalators, in the escalators down to the B train (Red Line) and D train (Purple Line). On one side of the escalators, you'll see the display across from it. On the other side, you'll find a plaque on the wall that says "A Train" by Bill Bell. In that plaque, there is a hidden microphone.
Here are classic celebrity names that you can use to turn on the interactive art display. You'll start by speaking loudly into the plaque, "Hey, Billy, Old Pal, Play me some [insert name of celebrity here]."
Judy Garland – "Somewhere Over the Rainbow" song will play
Johh Weissmuller – the Tarzan call will play
Duke Ellington's "Take the A-Train" song will play
Sometimes, it does take a few tries.
Top Foodie Pick: Check out the Slice for a quick slice of square pizza, or Traxx Restaurant and Bar is a great spot to meet up for cocktails and a bite to eat.
Union Station | 800 N Alameda St, Los Angeles | Google Map It
9. Take a Stroll Through Olvera Street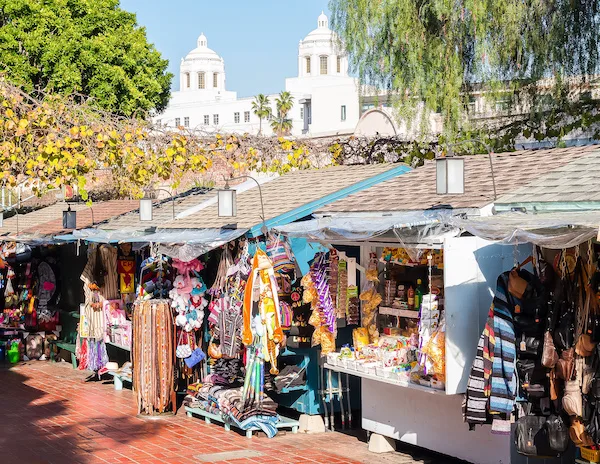 Across from Union Station, you'll find Olvera Street. It is said to be the oldest street in Los Angeles. The street is filled with shops, restaurants, and entertainment celebrating Mexican culture. It's a fun spot to bring kids or just wander around and explore.
You'll find plenty of souvenirs to take home with you here. The best thing to do is try as many food stands as possible. Perhaps you'll be there on a day when there are mariachi players outside entertaining the crowds.
The street is also home to the Avila Adobe, the oldest Los Angeles residence.
Dias de Los Muertos and Cinco de Mayo are great times to visit Olvera Street.
Top Foodie Pick: Try the tacos at Cielito Lindo, a food stand on Olvera Street since 1934.
Olvera Street | 800 N Alameda St, Los Angeles | Google Map It
10. Prepare to Eat at Smorgasburg LA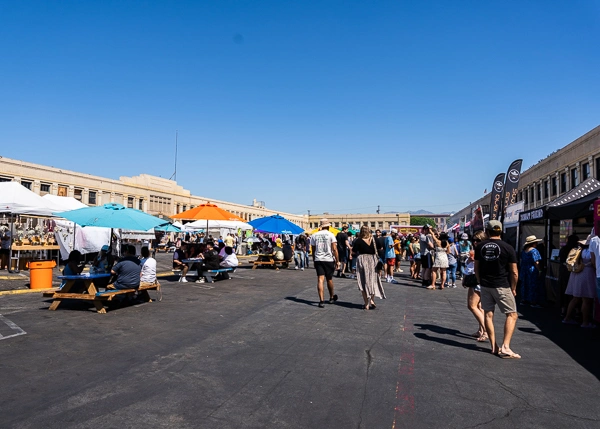 If you're looking for things to do in DTLA this weekend, Smorgasburg LA runs every Sunday. This is an outdoor food market that has everything from BBQ to tacos. There is even a bar area!
This food market is a foodie's dream. You will want to add Smorgasburg LA, to your Sunday to-do list. Have a lunch date or spend it a foodie afternoon with friends and family. Try a few different food stands and see which is your favorite.
Admission is FREE, but food and drinks are available for purchase.
Open every Sunday from 10 am to 4 pm.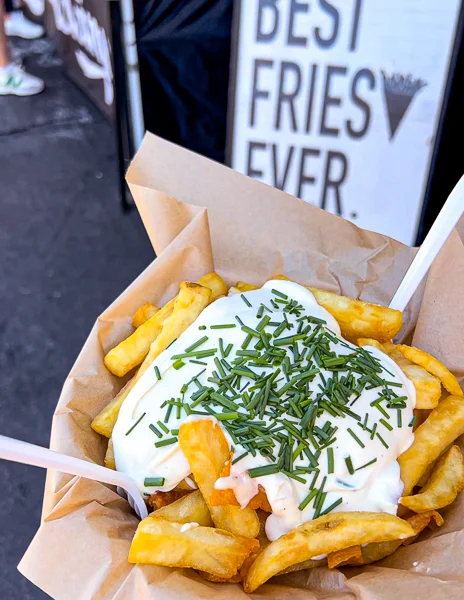 While we've only tried a handful of spots so far, we love the sugarcane juice from Sweet Grass, the arepas from Sus Arepas, and the triple-fried fries in beef tallow from Super Frites.
Tip: Order on Uber Eats for pickup and skip the line. Enter Smorgasburg in the locations box, and all the vendors available for pick-up will pop up to order. Use code eats-kathya3465ue for $10 off your first Uber Eats order.
Parking: Large parking garage is available, and the first two hours are free.
Smorgasburg | 777 S Alameda St, Los Angeles | Google Map It
11. Visit ROW DTLA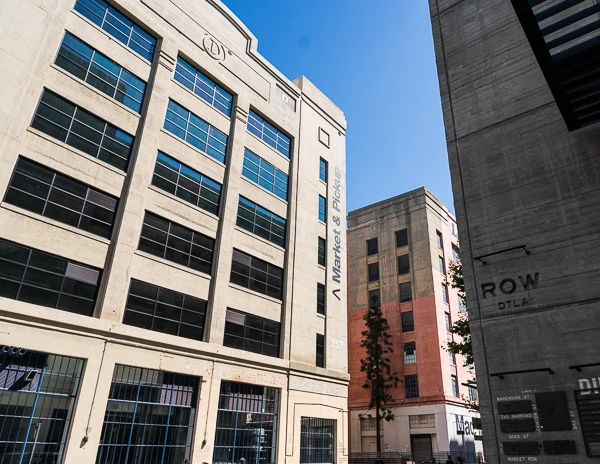 ROW DTLA is a shopping and dining destination in itself. When Smorgasborg LA isn't happening, you can visit this historical commercial area of Downtown Los Angeles, where it once used to be the Los Angeles Terminal Hub for the Southern Pacific Railroad. This is also where wholesale produce would take place.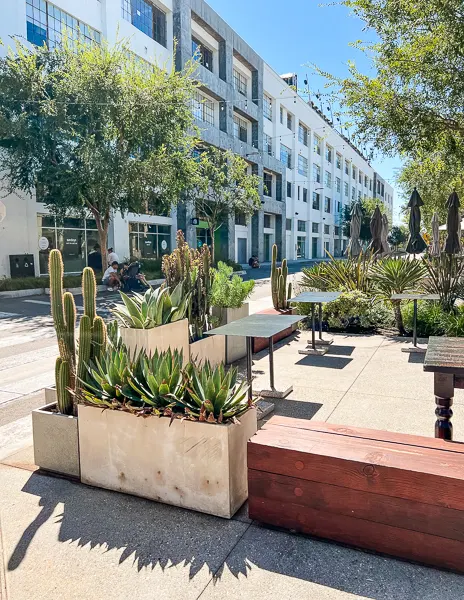 Now it has a chic industrial vibe to it. Old warehouses have been refurbished and converted into art galleries, coffee shops, boutiques, trendy restaurants, and cafes. It's a great place to explore and get a bite to eat.
Parking: Large parking garage is available, and the first two hours are free.
ROW DTLA | 777 S Alameda St, Los Angeles | Google Map It
12. Have Drinks at a Rooftop Bar in DTLA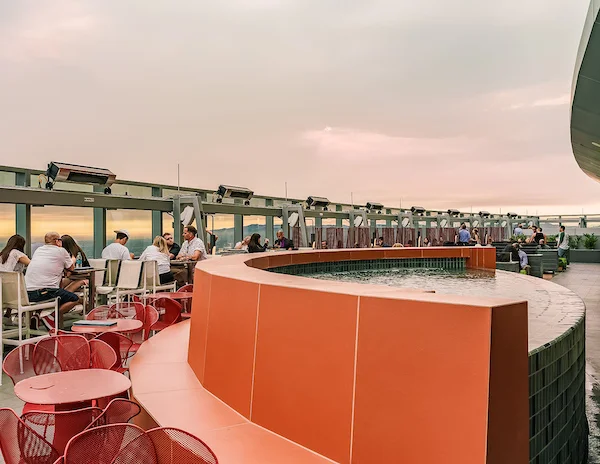 One of the fun things to do in Downtown LA is enjoying a drink and the view at a rooftop bar. There are plenty of rooftop bars to choose from.
Some favorites are…
13. Visit The Last Bookstore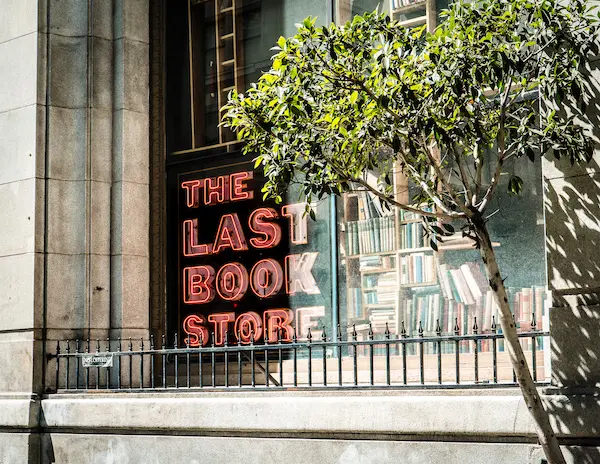 This bookstore is iconic in Los Angeles and a must-do in Downtown LA, especially if you're a bookworm. It's a magical labyrinth of new and used collections of books. It's also the most significant new and used bookstore in California.
They often have events and readings. It can be a fun place to spend an hour or two browsing through books.
Please be respectful of the books and support this business if you go here. Don't just go for the photos.
The Last Bookstore | 453 South Spring Street, Los Angeles | Google Map It
14. The Broad Museum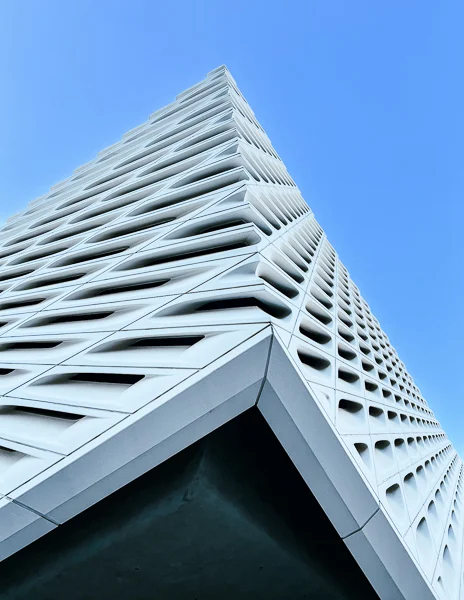 Just steps away from the Walt Disney Hall are the Broad Museum.
The Broad Museum is a contemporary art museum that opened in 2015. It's home to over 2000 works of art from artists like Jeff Koons, Andy Warhol, and Roy Lichtenstein.
This is a must-do in Los Angeles for anyone who appreciates modern art. The exterior design of this building alone is worth admiring.
Amazingly, the Broad has FREE general admission. You have to book your tickets in advance. For more info, click here.
If you do not book tickets in advance, sometimes there is a queue that you can wait online until space is available. Your best bet is to book a reservation and plan your day around it.
The Broad | 221 S Grand Ave, Los Angeles | Google Map It
15. Cathedral of Our Lady of the Angels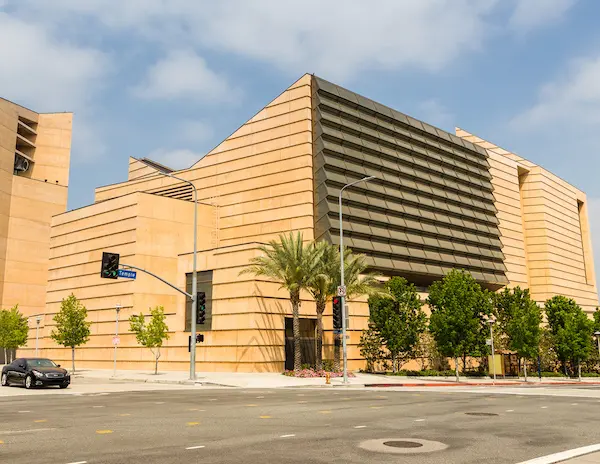 This is the mother church of the Archdiocese of Los Angeles. It's a beautiful building and not what you'd expect when you think of a Cathedral. It's one of the newest churches built in the Western US.
Spanish architect Professor José Rafael Moneo designed this modern cathedral. It's unique with its sharp contemporary lines and angles. Reminds me of a modern museum.
Cathedral of Our Lady of Angels | 555 W Temple St, Los Angeles | Google Map It
If you're looking for a way to escape the hustle and bustle of Los Angeles, then these day trips are perfect for you! From stunning beaches to awe-inspiring mountain ranges, there's something for everyone.
16. Los Angeles City Hall Observation Deck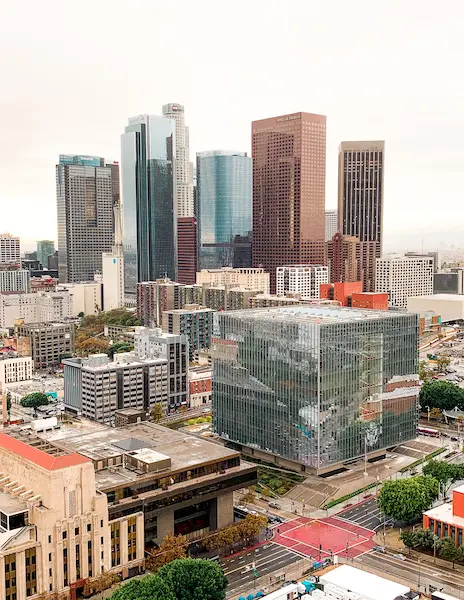 Not many know this, but you can visit the Los Angeles City Hall and take an elevator to the observation deck on the 27th floor of City Hall. From here, you'll have panoramic views of Downtown LA. It's one way to see a beautiful view of Los Angeles.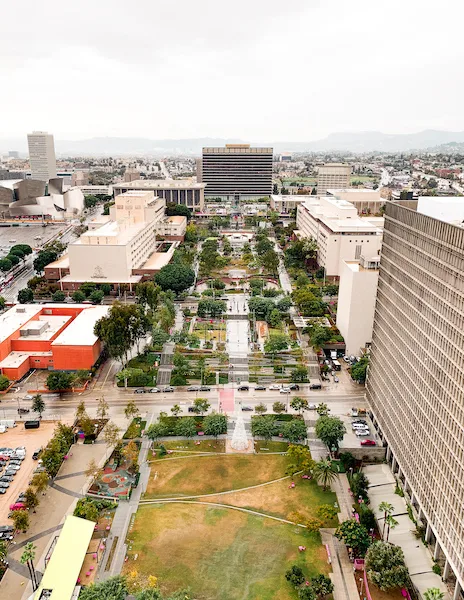 It's one of the FREE things to do in Downtown Los Angeles.
Los Angeles City Hall | 200 N Spring St, Los Angeles | Google Map It
17. Take a Helicopter Tour of DTLA
Feeling like taking a daring adventure? Book a helicopter tour of Downtown LA. You'll get amazing aerial views of Los Angeles and see things you cannot do by car or on foot.
It's one of the more expensive things to do in Los Angeles, but it can be worth it for those who like thrill-seeking activities.
Tour Ideas:
Private Helicopter Tour of Beaches & Downtown Los Angeles [Book Tour Here]
Los Angeles at Night 30-Minute Helicopter Flight [Book Tour Here]
18. The Los Angeles Flower Market | Flower District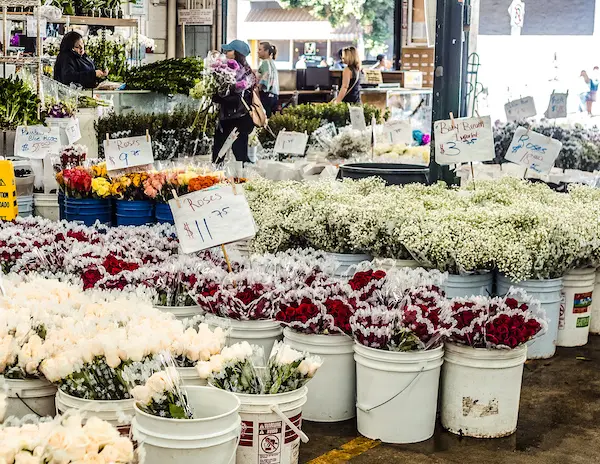 If you love flowers and plants, this is one of the things to do in Downtown LA that you should add to your list. You can find bulk bouquets and some of the most exotic plant life on display here at wholesale prices.
You'll want to plan to come here in the morning as most days they close at noon.
Entry: $2 on weekdays | $1 on Saturdays
LA Flower Market | 754 Wall St, Los Angeles | Google Map It
19. See a Game or a Concert at The Crypto.com Arena (formerly known as the Staples Center)
The Crypto.com Arena is home to the LA Lakers basketball team. You can also find other sporting events, concerts, and shows happening throughout the year. You can buy tickets to one of the games or events at Staple Center.
We haven't attended a game because we are not sports fans, but we enjoyed Disney on Ice at this multi-arena space.
For more info on events and tickets, click here.
Crypto.com Arena | 1111 S Figueroa St, Los Angeles | Google Map It
20. Check out LA Live
Adjacent to the Crypto.com Arena is LA Live. This entertainment complex has restaurants, a movie theater, a bowling alley, and even a Grammy Museum.
It's the most alive at night on weekends as locals and tourists flock here for a fun night in Los Angeles. Book tickets to see a movie at Regal LA Live. Grab a beer and a bite to eat at the Yard House.
This is also a great spot to go ice skating and enjoy some of the Christmas festivities in Los Angeles.
LA Live | 800 W Olympic Blvd, Los Angeles | Google Map It
21. Grand Park
For a day out with your family and friends, Grand Park is a great spot to enjoy and get some fresh air. There's a playground, a splash pad, a dog run, picnic tables, and plenty of green space to relax in.
City events, small concerts, and celebrations would take place here from time to time.
Grand Park | 200 N Grand Ave, Los Angeles | Google Map It) | Website
22. See an Opera at the Dorothy Chandler Pavilion
The Dorothy Chandler Pavilion is a performing arts center home to the LA Opera. It is one of the halls of the Los Angeles Music Center. It was built in 1964 and named after Dorothy Buffum Chandler, an American Patron of the Arts.
If you're into classical music or opera, this is one of the things to do in Downtown Los Angeles. Have you experienced an opera in person? It's absolutely amazing experience.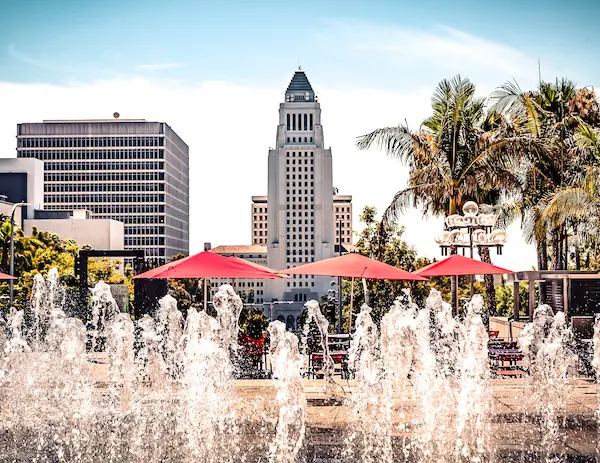 Outside the Dorothy Chandler Pavilion is a nice courtyard with a water fountain facing City Hall. If you're in the area, it's a nice place to come by and enjoy a beautiful day.
You can find tickets to the LA Opera here.
Dorothy Chandler Pavilion | 135 N Grand Ave, Los Angeles | Google Map It
23. Pershing Square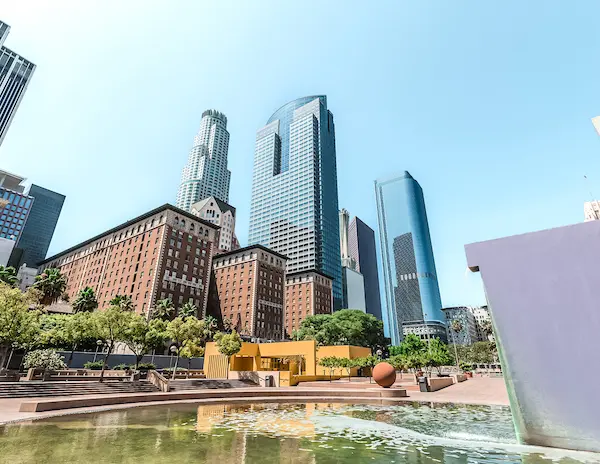 The historic park that's been around since 1866 was known then as La Plaza Abaja. Pershing Square was renamed in 1918. It is in the heart of Downtown Los Angeles.
It is a nice spot to walk through and enjoy the scenery. Maybe even grab a bite to eat at nearby outdoor cafes or food trucks.
Events and concerts do take place here from time to time.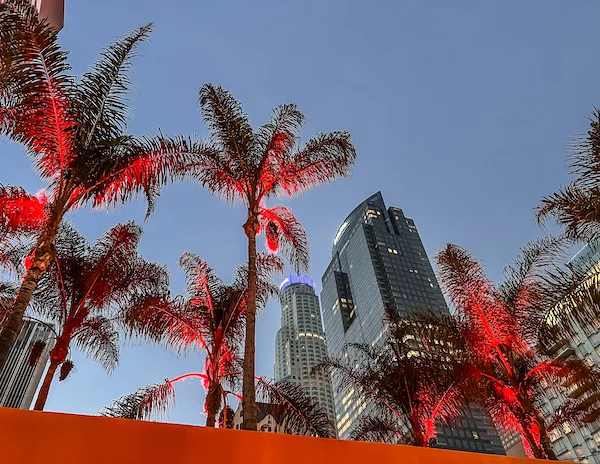 Pershing Square | 532 S Olive St, Los Angeles | Google Map It
24. The BLOC
The BLOC is not only an open-air shopping center in Downtown Los Angeles. It also has offices, restaurants, a hotel, and the Alamo Drafthouse Cinema. It stands for "Building, Living, Operating, and Culture."
There are plenty of Instagrammable opportunities at The BLOC.
Alamo Drafhouse at The BLOC is one of the nicest movie theaters downtown, great for a date night in LA.
Looking for a hotel in Downtown Los Angeles? The Sheraton Grand at the BLOC is a fantastic option. Click here to check for nightly rates.
The BLOC | 700 W 7th St, Los Angeles | Google Map It
25. Take a Downtown LA Food Tour
One of the fun things to do in any city is take a food tour. As a foodie, it's a great way to introduce yourself to local spots serving delicious eats that you may never have discovered without a local guide. Whether it's your first visit to Downtown Los Angeles or you're a local looking to do something fun and different, book a food tour.
You will eat a lot. Discover new delicious eats. Perhaps make a few new friends because food brings us together.
Tour Idea:
Los Angeles: Downtown Food Tour [Book Tour Here]
Read: 5 Practical Tips to Book a Food Tour
DTLA FAQs
What's the best way to get around DTLA?
Many of these places listed below are close to one another and walkable. But, we recommend using public transportation, ride-sharing services like Uber or Lyft, or, if you're adventurous, renting shareable bicycles and scooters, you'll find across Downtown Los Angeles.
How do I spend a day in Downtown LA?
There are so many options for spending a day in Downtown LA. You can start by taking the train to Union Station, walking over to Olvera Street, Grand Central Market, and the Bradbury Building, and then riding the iconic Angel's flight one way up to continue exploring. Keep reading for ideas on how to plan your day.
What is there to do in Downtown LA for free?
Exploring on foot is always free. But some activities in Downtown LA are free, like The Broad Museum (must book in advance), Walt Disney Music Hall, the Los Angeles City Hall observation deck, checking out the Bradbury building, hanging out in Olvera Street, relaxing at Grand Park or Pershing Square. Keep reading for more things to do in Downtown LA.
What is there to do in Downtown LA at night?
LA Live is a great place to visit at night in Downtown LA, as it has a movie theater and restaurants. You can also grab drinks at one of the rooftop bars or make dinner reservations at one of the many restaurants in Downtown LA.
Is Downtown LA safe during the day?
Parts of Downtown Los Angeles are vibrant, exciting, and full of tourists and locals alike. Then, some parts are gritty. Like with any big city, you should practice being safe and vigilant. We recommend exploring and staying in the city's more popular and crowded areas.
If you're looking for history, great architecture, good food, drinks, or just an exciting day out in the city. There's no shortage of things to do in Downtown LA.
What do you love to do in Downtown LA? What's one thing on this list you're planning to do?
Share the tips & love on Pinterest: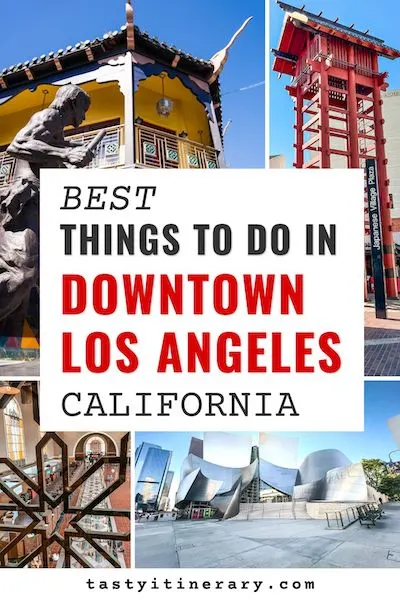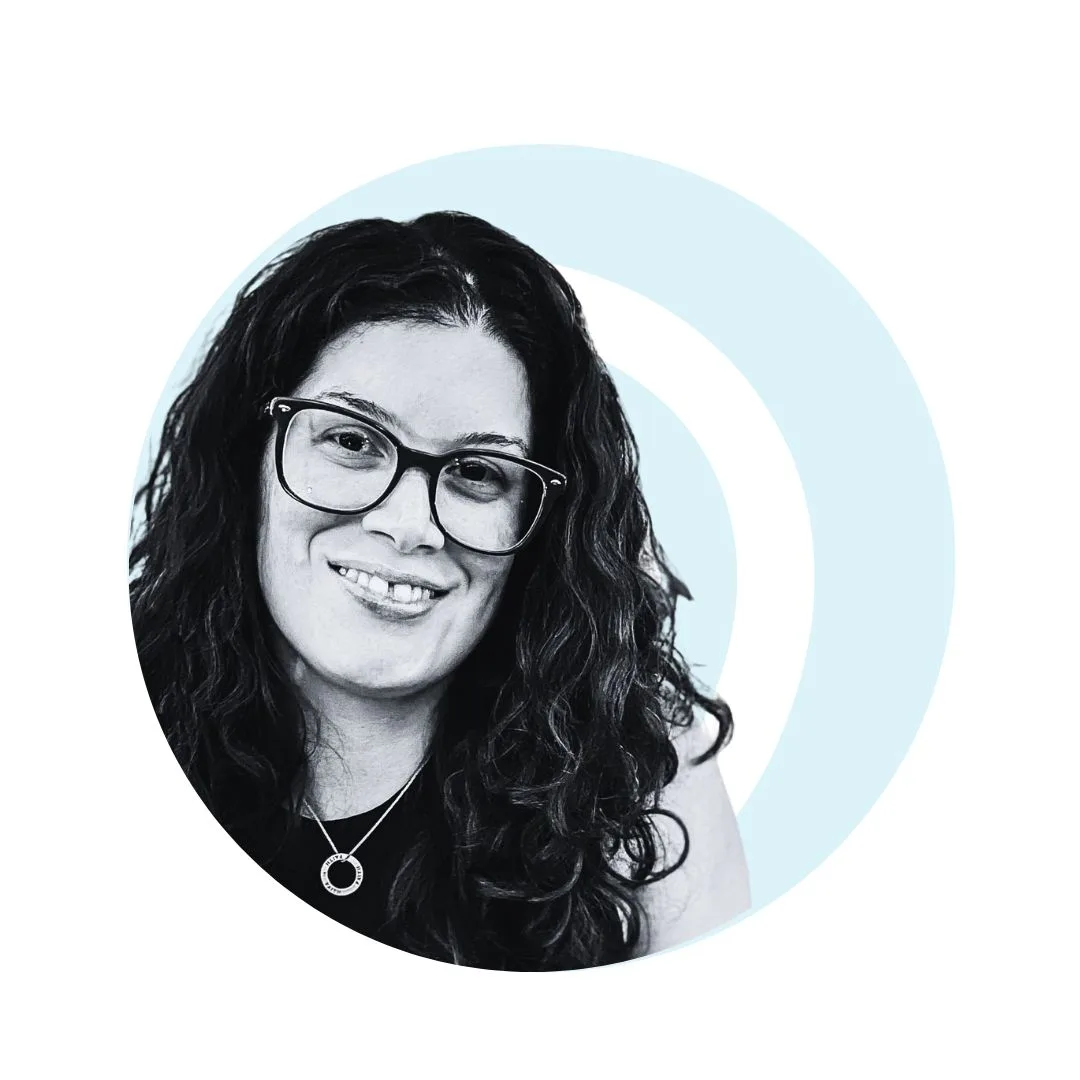 Meet Kathy Ava – a food, travel, and cruise writer based in Los Angeles/Pasadena. With over 20 years of experience planning trips and logistics at her full-time job and for herself, she's become a pro at crafting unforgettable travel itineraries. She's always looking for delicious, fun cruise itineraries and travel destinations and is slightly obsessed with Italy. Her passion and curiosity for travel started in childhood on her yearly and sometimes bi-yearly trips to PR. She firmly believes that life is short and we must make the most of it – so let's explore the world and make some incredible memories.