Visiting California? Wondering what foods are from California? These California foods will surprise you and even delight your tastebuds.
One of the things we love about California is the food.
When we started to think of the cuisine of California, we realized that quite a few delicious foods originated here in the state from various cities like Los Angeles and San Francisco as well as ingredients that California has honed via our rich soils and farmlands.
Part of what makes California cuisine so great is its fresh produce and local farms.
California is the largest agriculture producer in the United States, so it's no surprise that its food scene would reflect that. There are plenty of farm-to-table restaurants and markets where you can enjoy the delicious local cuisine.
California's food is diverse and reflects the many cultures that have migrated here. From its fresh produce to farm-to-market restaurants, delicious tacos everywhere, and the fact that you can add avocado to anything – California knows how to do food right!
And when I think of California foods, I picture avocados and tacos. What about you?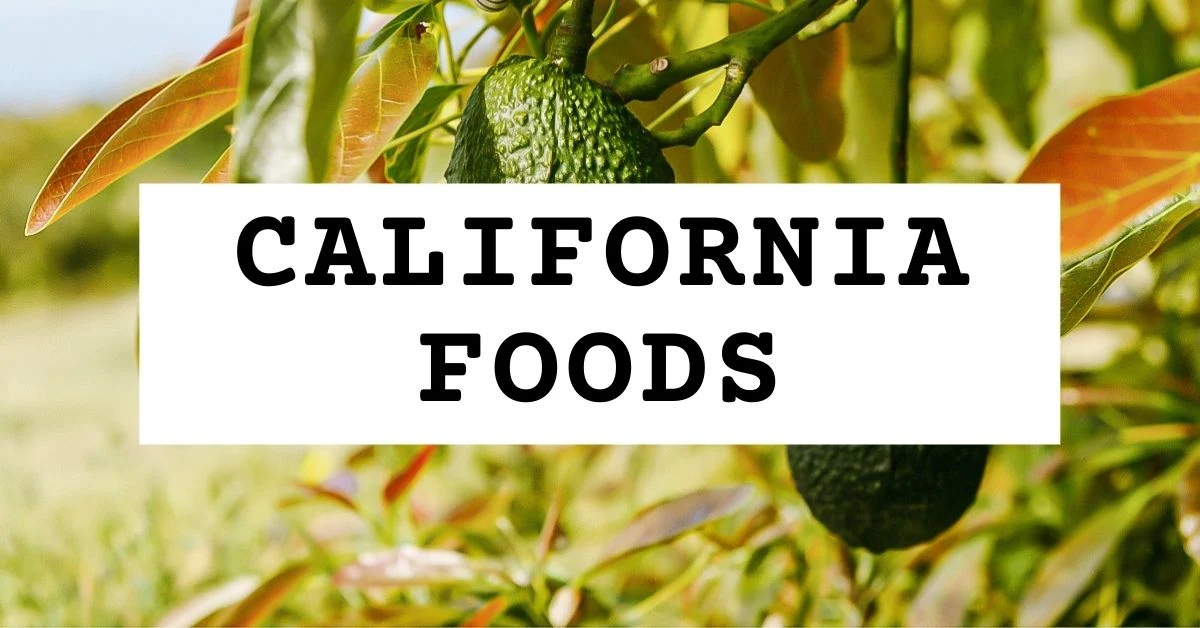 This post may contain affiliate links, which means we'll receive a commission if you purchase through our links at no extra cost to you. Please read full disclosure for more information. We appreciate your support!
Here are California foods you should put on your California bucket list. If you're looking for things to do in California, start by marking some of these cities on a map and trying these foods.
Although you can find these California foods at various restaurants and markets throughout the state, they are possibly already sold near you.
Food From California
What are California foods? In this list, we list foods that originated in California. Some are claimed to be foods produced and beloved in the Golden State.
Are there any foods that are unique to the State of California? Some of the foods on this list are unique to California cuisine, like the Cioppino and the frozen bananas.
1. Sourdough Bread
Sourdough Bread is said to have originated in San Francisco, California, by the iconic Boudin Bakery – they've been making sourdough bread for 175+ years. It also has been said that sourdough bread was invented by the Egyptians.
This bread is made from a sourdough starter culture – you probably attempted it at home sometime during 2020.
The bread has a delicious, slightly tangy flavor. It's often used for sandwiches or as a bread bowl for soup or clam chowder.
Seriously, you can hand me a warm piece of sourdough with some butter, and I'm a happy camper. What about you?
Boudin Bakery is a great stop to make while in San Francisco from a bread bowl of their clam chowder.
If you visit Disneyland California Adventure, Boudin Bakery has a shop where you can take a super quick tour of them making bread. A piece of sourdough bread is handed at the end of it.
However, sourdough bread can be found in most bakeries and supermarkets and is offered in most restaurants in California. It's one of the California foods you won't find everywhere across the United States.
Californian bakeries have gotten adventurist with sourdough using it in more than just bread. Recently we had the most amazing sourdough biscuit in San Juan Capistrano, and it was unlike any other biscuit I've ever had. So definitely give the sourdough goods a try.
Tour Option: San Francisco Food Tour with a Local [book here]

Read: 5 Practical Tips to Book a Food Tour
2. French Dip
Did you know that the French Dip sandwich was invented in Los Angeles? If you thought it was a French dish, I'm sorry to disappoint you. It is very much an invented cuisine of California.
There are a few legends and recounts of how the French Dip came to be. What seems to be the common denominator is that the sandwich originated from Philippe the Original in Downtown Los Angeles – a classic foodie spot since 1908.
The original owner, Philippe Mathieu, who is French, accidentally dipped or intentionally dipped (we don't know) the sandwich into leftover beef juice and handed it to a customer. It soon became a popular item on the menu and still is today.
We like to eat our French Dip sandwiches from Philippes double-dipped. Don't forget to add the hot mustard.
You can also find other amazing French Dip sandwiches at other establishments.
3. Cheeseburger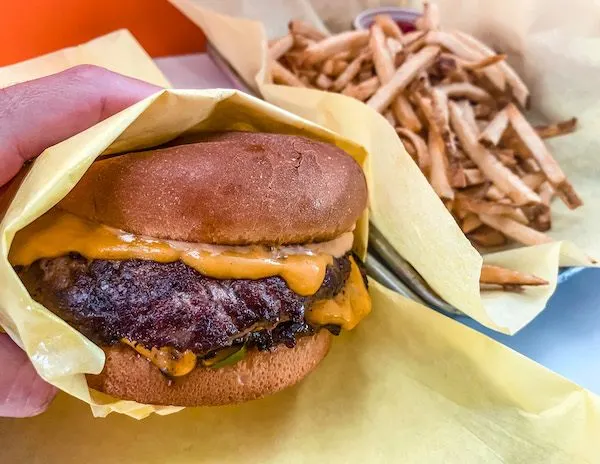 One of the most popular foods throughout the United States is hamburgers. Over 50 billion burgers are served every year.
Who invented the hamburger itself? That also seems blurry as other burger versions seem to have been adopted from German cuisine. It soon to a life of its own as a burger on a bun served throughout the US from food stands and such. Many claim to have invented the hamburger.
However, what is a hamburger without cheese?
The idea of adding cheese to a cheeseburger was invented right here in Pasadena, California by Lionel Clark Sternberger. He was 16 years old and working at a roadside hamburger stand on Rte 66.
The burger spot once called the Rite Spot no longer exists. But you can find a plaque outside of LA Financial Credit Union on Colorado Blvd commemorating this delicious piece of Pasadena history.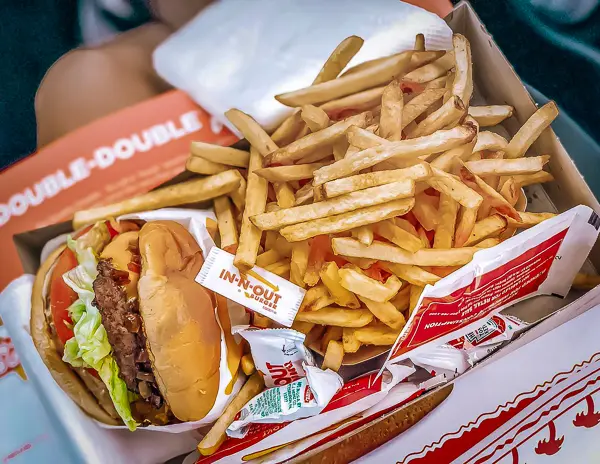 Big burger chains like McDonald's and In-n-Out originated here in California. While McDonald's is no longer what it used to be when it first started, In-n-Out is a California food you must try.
The California burger is one food from California that they do right. The smash burgers here are their specialty.
Interested in reading more about the history of the hamburger? Check out Hamburger: A Global History.
– Don't Miss: Where to Find Delicious Burgers in Pasadena –
4. Chocolate-Dipped Frozen Bananas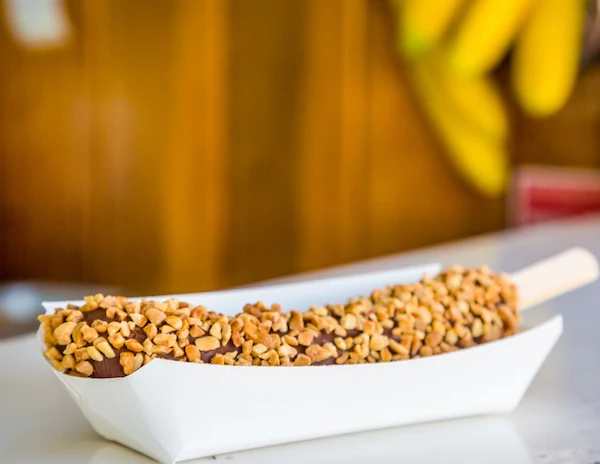 When I first visited Southern California many moons ago, we were at Disneyland one day, and I remember seeing everyone eating chocolate-covered frozen bananas.
It's not a popular foodie item where I grew up, but it is a California food that's been around as early as the 1940s by the Frozen Banana King, Don Phillips.
Don Phillips had a frozen banana stand on Balboa Peninsula by The Fun Zone selling the treats to people coming on and off the ferry.
Bluth's Original Banana Stand made the frozen treat popular in Balboa Island when it opened in the 1960s. You may also recognize this classic stand from the show Arrested Development.
While Bluth's or The Frozen Banana King's stands are no longer open, you can find chocolate-dipped frozen bananas throughout Newport Beach. Also, you'll see them at ice cream shops, fruit stands throughout California, as well as Disneyland and California Adventure.
5. Balboa Bars
Balboa Bars are named after where they originated from Newport Beach's Balboa Peninsula.
What is a Balboa Bar? A Balboa Bar is a bar of vanilla ice cream on a stick that is freshly dipped in chocolate and your choice of toppings like nuts, coconut, sprinkles… etc.
The two classic and competing spots to try the Balboa Bars when you visit are Sugar n' Spice and Dad's Donut & Bakery Shop. You can also try their frozen bananas too, while you're there. During the busy season on Balboa Island, don't be surprised to find long lines at these establishments.
Visiting Orange Country, California? It's known for its beautiful weather, beaches, and amusement parks. This list of the best things to do in the OC will help you explore more of what Southern California offers.
6. Garlic Ice Cream
Do you love garlic? What foodie doesn't love garlic?
Ninety percent of the Garlic sold commercially in the US is produced in California. Gilroy, California, is the garlic capital of the world. It's also the home of garlic ice cream.
I haven't had the pleasure of trying the garlic ice cream yet. Friends who love garlic say that the garlic flavor is pretty subtle, but the more you eat, the more you'll taste it.
Various garlic ice cream flavors are available: chocolate, pistachio, vanilla, and others.
Where to find Garlic Ice Cream in Gilroy?
Every year, Gilroy has a yearly Garlic Festival where you can celebrate this delicious vegetable that brings a lot of flavor to some of our favorite foods: click here for more info.
You can also stop by Garlic World and Pacheco Pass Farmers Market.
Garlic Ice cream can also be had at The Stinking Rose restaurant locations (San Francisco and Beverly Hills where the entire menu revolves around garlic.
Want to make garlic ice cream at home? Check out this garlic ice cream recipe by The Spruce Eats.
7. Cruffin
If you're in California and come across the Cruffin, you must try it.
What's a Cruffin? It's basically like a croissant-muffin hybrid pastry made with croissant dough and filled with your favorite type of filling.
Doesn't that sound like one of the most amazing things in the world?
The Cruffin was invented by San Francisco bakery Mr. Holmes Bakehouse. Unfortunately, the bakery franchise no longer exists, but the cruffin remains one California food invented here that is too delicious to forget.
Many bakeries throughout California have mastered the cruffin and it's worth the chase of finding one.
8. Cioppino
Cioppino is a type of fish stew that originates from San Francisco. It is usually made with a variety of seafood like Dungeness crab, clams, shrimp, scallops, squid, and mussels in a tomato-based broth.
The Cioppino was invented by an Italian fisherman in the late 1800s. He used the leftover fish from the day to create this dish. It used to be known more as "peasant" food, or the food served on the boats and at home.
Then in the 1930s, new restaurants at Fisherman's Wharf started to serve the dish, and its popularity grew. Today, you'll find Cioppino on menus throughout California seafood restaurants.
You can try Cioppino at one of the oldest restaurants still serving this long-loved California dish, Alioto's.
9. Cobb Salad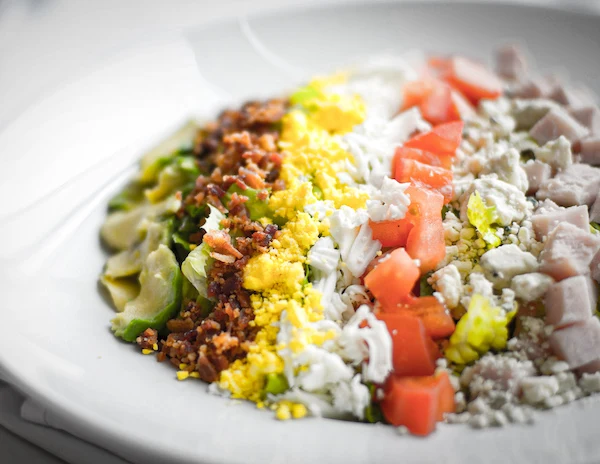 The Cobb salad is another California food invented in the 1930s at The Brown Derby in Hollywood. The salad was created by, and named after, the owner, Robert Cobb.
The salad came together one late night; he threw a bunch of leftovers from the restaurant's fridge into a bowl and poured a dressing over it. He shared this invention with the infamous Grauman's Chinese Theater owner. It quickly became a favorite among the Hollywood crowd.
A cobb salad typically is romaine or lettuce topped with hardboiled eggs, bacon, tomatoes, cucumber, blue cheese, avocado, chicken, or turkey. It varies slightly from restaurant to restaurant.
Now, we can find cobb salads on menus across the country, all thanks to late-night hunger pangs.
Los Angeles is a city of dreams. There are plenty of attractions and things to do in LA. You can take a tour around the city, eat your way through the best restaurants and food markets, or take in the city views from Downtown LA and Griffith Observatory. Start planning your visit today.
10. Ranch Dressing
Would you like a side of ranch with that? Don't be surprised when your server asks if you'd like ranch with your fries and onion rings. This is very typical in casual California dining establishments.
Ranch dressing is a popular food from California invented in the 1950s by Steve Henson. He and his wife Gayle opened up a dairy farm. Can you name the dairy farm? Hidden Valley Ranch! As you know, their ranch dressing became a huge hit.
The dressing is beloved in California. A great add-on on burgers, dip fries, onion rings, and veggies, amongst many other uses. Including it as a dressing for that cobb salad you love so much.
11. Fortune Cookie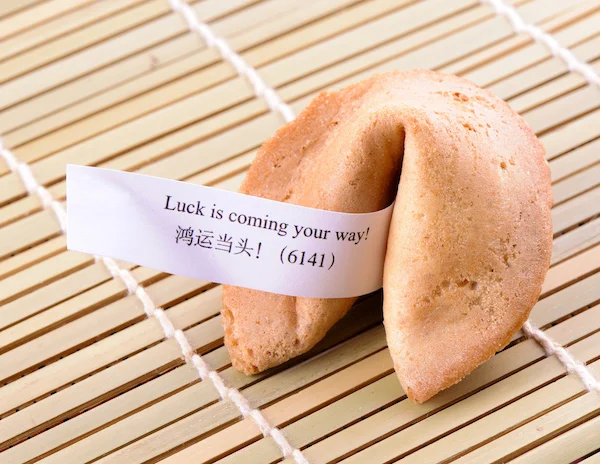 Makoto Hagiwara invented the modern fortune cookie in San Francisco at the Japanese Tea Garden in the 1890s. There have been other claims out of Los Angeles, but those were debunked in court in favor of Makoto Hagiwara.
These cookies with the fortune inside of them became popular and made their way over to California Chinese restaurants who started serving them as desserts.
Today, we can find fortune cookies at most Chinese restaurants across the United States. They are a fun way to end your meal. What's the best fortune you've gotten?
Visit the Golden Gate Fortune Cookie Factory during your visit to San Francisco. You can take a tour and see how the cookies are made.
12. California Roll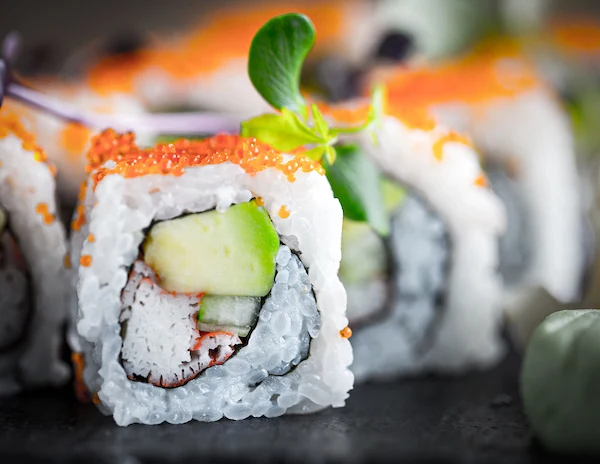 Sushi is Japanese cuisine. However, The California Roll is a type of sushi invented in the 1960s in Los Angeles. It is made with avocado, cucumber, crab meat rolled with seaweed paper and sticky rice.
Since then, the California Roll has become a menu staple at sushi restaurants across the state and at sushi restaurants nationwide.
The California roll is a great first sushi for people to try. One thing is for sure, we have some fantastic sushi spots here
13. California Avocado
Avocado is a popular California food. Avocado is, without a doubt, sacred in California. We love to eat it on almost everything.
The state produces ninety percent of the domestic avocados. The avocado is in season from Spring to Summer.
The variety you will mostly find here in California is the Hass avocado, which are small-sized avocados that provide a creamy, buttery, and slightly nutty inside.
Avocado is almost always a topping that you can add to a burger, toast, bagel, salad, eggs, or meat… you name it, you can probably have it. And let's not forget one of the most important reasons we need avocados… guacamole!
Say yes to the option of adding avocado. It just brings up the deliciousness another notch.
14. Olive Oil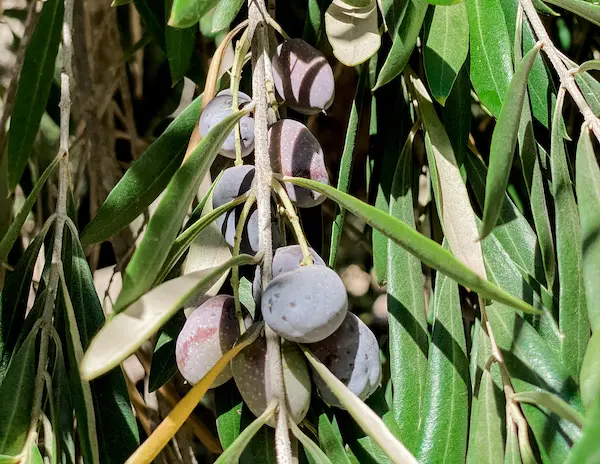 Did you know that you can find Olive farms right here in California? Most of the Olive in the US is imported from Spain, Italy, and Greece. While I do love the olive oil from these countries, it's amazing that California is the #1 producer of olive oil in the US.
We visited the olive farm in Ojai, California. It was a nice time enjoying their beautiful grounds and taste-testing their products. The taste testing is a fun experience for any foodie. We ended up taking home a bottle.
You'll find many California restaurants using local olive oil in their dishes.
When visiting California, you'll want to bring home a bottle or two of this delicious golden-green liquid gold. You can find tasting rooms at the following locations:
15. Wine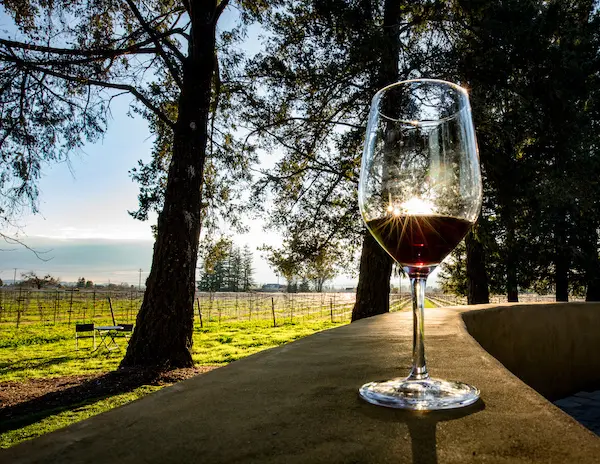 We couldn't finish off this list without mentioning one of the most popular California food it's known for… WINE.
You might be thinking that wine is technically a drink but not food. Sure, but the wine comes from grapes. Wine is also an important part of the foodie experience and California cuisine.
According to Discover California Wines, California makes 81% of the US wine, and there are over 4,200 bonded wineries in California. With those numbers alone, we can say California specializes in wine.
One of the best trips to make to California is to explore the beautiful wineries throughout the state. You could probably spend a month exploring our wineries and taste testing from San Diego to Napa Valley.
However, you can easily grab a bottle of local wine at dinner or a wine shop during your travels.
Tour Options:
All-Inclusive Wine Tasting Tour of Temecula Valley [book here]
Introductory Wine Tour of Paso Robles on Electric Bikes [book here]
Napa Valley & Sonoma Combo Wine Tour from San Francisco [book here]
Similar Foodie Travel Post: 15 Delicious Must Eats in New Orleans
While you're here, check out our many other international cuisines that have become a favorite in California.
The Mexican food here is some of the best found outside of Mexico itself. There isn't a day when I don't want to stop at a taco truck near me.
You can also enjoy Asian food in California that is authentic and delicious.
So next time you're in the Golden State, check out these foods from California.
What's your favorite California food?! What cuisine of California are you looking forward to trying?
Share the tips & love on Pinterest: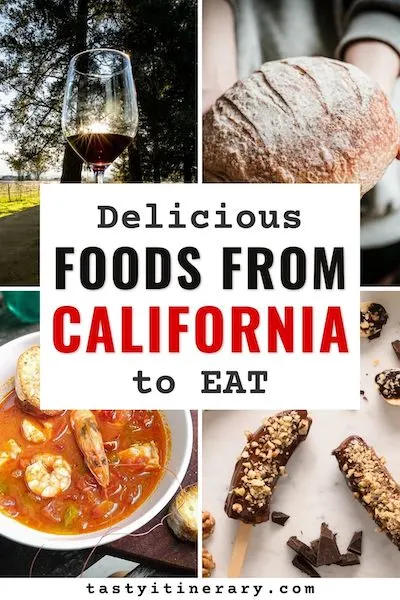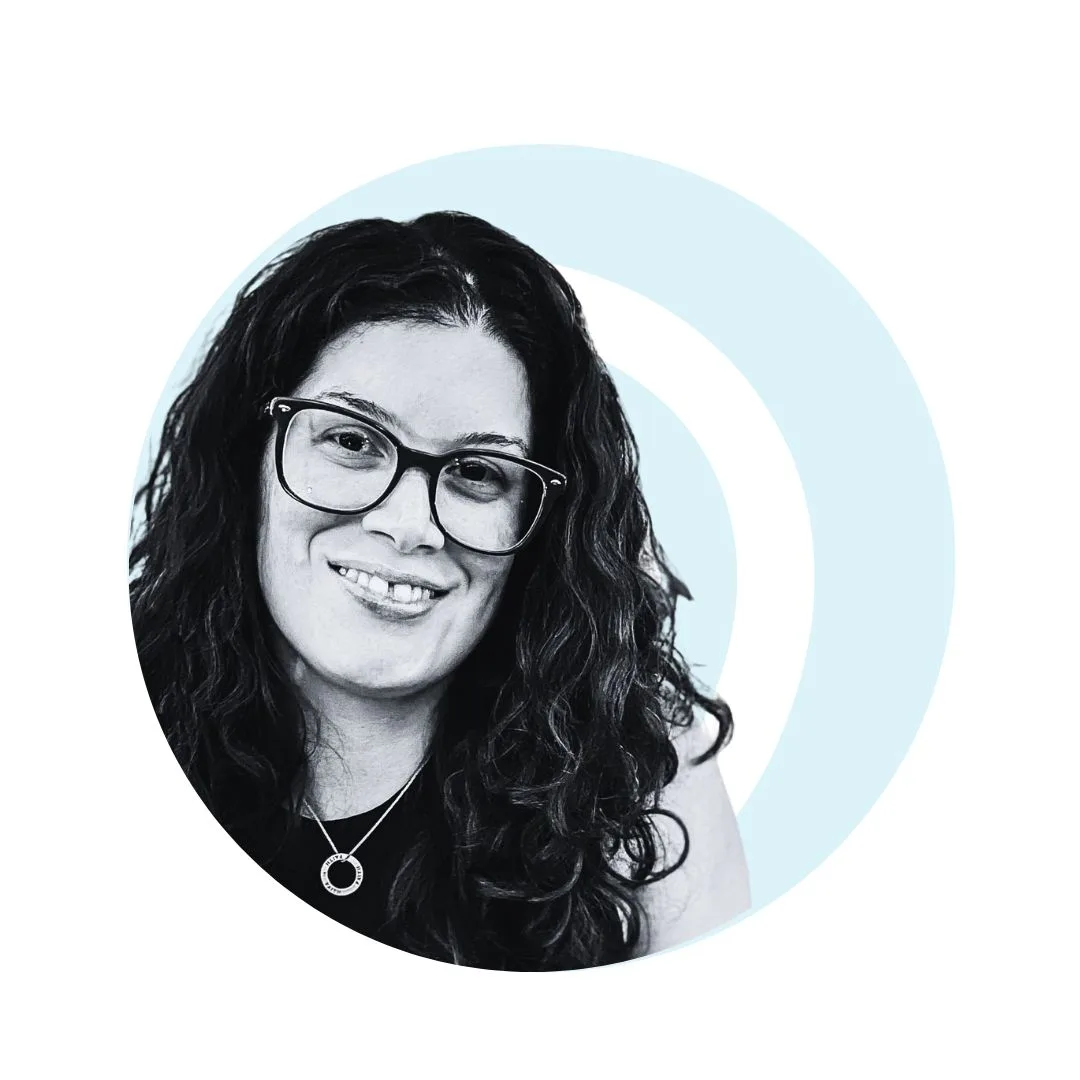 Meet Kathy Ava – a food, travel, and cruise writer based in Los Angeles/Pasadena. With over 20 years of experience planning trips and logistics at her full-time job and for herself, she's become a pro at crafting unforgettable travel itineraries. She's always looking for delicious, fun cruise itineraries and travel destinations and is slightly obsessed with Italy. Her passion and curiosity for travel started in childhood on her yearly and sometimes bi-yearly trips to PR. She firmly believes that life is short and we must make the most of it – so let's explore the world and make some incredible memories.