Planning city break with a day trip to Ojai? See the things to do in Ojai, California.
Usually, during this time of year, Hubby and I are on a plane heading somewhere to get our vacation on. Whether it's Europe, an island, or a cruise, the plan is to leave our environment and immerse ourselves in a place that is not like home. With the pandemic, not having a dog sitter (cause of Covid), and travel on pause our choices are slim.
We decided it was time we started to really explore what is right outside of Los Angeles. There are so many day trips from Los Angeles, CA. In the 16 years in LA, shockingly, we have yet to visit all of them.
I guess that is what happens when you live somewhere for so long – you forget to explore its surroundings. It was the same when we lived in New York.
We decided to drive to Ojai, California for the day. And, wow, it's an escape from city life. Ojai Valley is in Ventura County and is only 1 hour and 30 minutes from Los Angeles. You will find wineries, ranches, citrus farms, an olive farm, and picturesque scenes.
In Ojai, I felt like I could finally breathe again. That has nothing to do with the masks because they are still required in Ojai.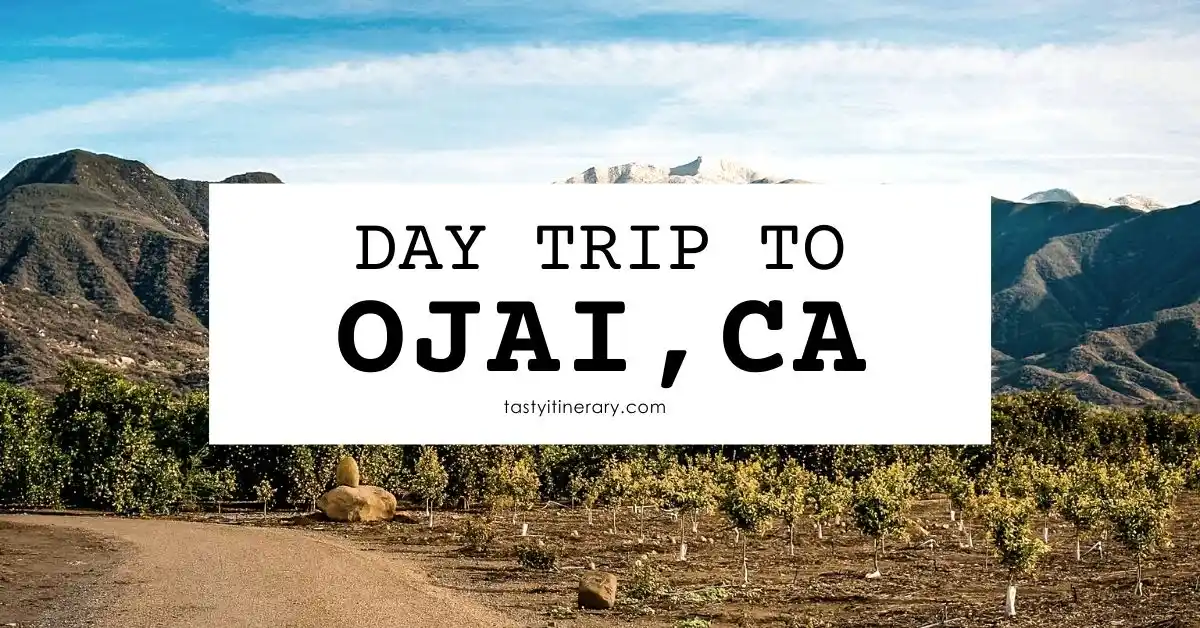 Disclosure: This post may contain affiliate links. If you decide to make a purchase from one of those links, we may get a commission at no extra cost to you. We appreciate your support.
You can do most of the top things to do in Ojai in a day. However, if you're looking for extended relaxation, I'd recommend Ojai for a weekend getaway.
Rent an Airbnb on a ranch or stay at one of their many boutique hotels. I have my heart set on the Ojai Valley Inn and Spa for a future stay. Spend the weekend by spending time at a day spa, visiting the wineries, farms, and eating at the various farm-to-table restaurants.
Covid: Masks and social distancing is enforced. Outdoor dining is available at some restaurants.
Things to Do in Ojai, California
If you're wondering what to do in Ojai, you can choose from having a relaxing day exploring Ojai at leisure like we did or you can plan to go bike riding or hitting the nearby trails.
The change of scenery alone from the moment you drive into Ojai will instantly have you feeling like you're on a mini-vacation. I just loved the smell of the citrus trees, the beautiful farms with horses, and the cows grazing in the fields.
Besides these things to do in Ojai, make sure to take some time to drive around.
Downtown Ojai (Ojai Village)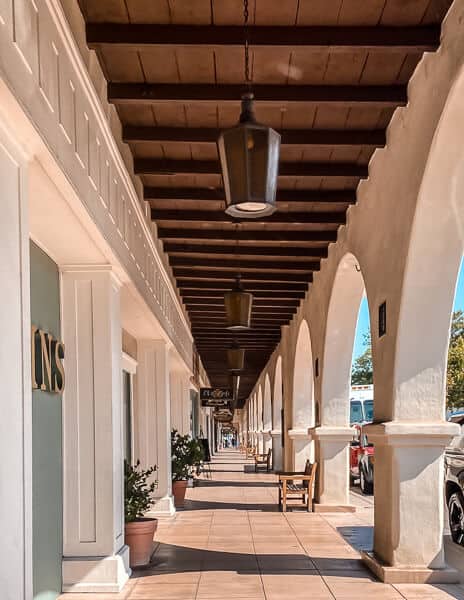 If it's your first time taking a day trip to Ojai, you'll want to explore charming Downtown Ojai. It's quaint and not overwhelming in the least. You can spend an hour or two before heading off to lunch or exploring other parts of Ojai.
Here you'll find:
unique local shops
restaurants
art galleries
wine tasting
Libby park
Ojai Valley Museum
Ojai Coffee Roasters (we visited the coffee multiple times)
Bart's Books
336 E Ojai Ave, Ojai, CA 93023 (Google Map It)
Ojai Coffee Roasting
We parked and made a beeline for Ojai Coffee Roasting. If you're a coffee drinker like we are or it's the start of your day, this is a great local spot.
Breakfast and lunch are available for take-out during the pandemic. There are a couple of tables outside, so be quick to snag one if open.
337 E Ojai Ave, Ojai, CA 93023 (Google Map It) | Tripadvisor | Take-out Only (temp)
Shopping
We walked around and checked out some of the local shops. What I loved is that are no big franchises and the shops are all small business-owned stores. You can find many local and handmade items.
One shop really impressed me and totally worth the visit. It was it pretty, it had a ton of cool items. If you're looking for something special to gift someone this Christmas, I highly recommend shopping at Fig Ojai.
327 E Ojai Ave, Ojai, CA 93023 (Google Map It)| Website
Bart's Books
Don't miss visiting Bart's Books. This is an independent outdoor bookstore that will leave an impression with its distinctive layout. It's one of the best bookstores I've ever entered.
It's been in Ojai since 1964. You will find everything from old used books to newer books as well as comics and other great bookish finds.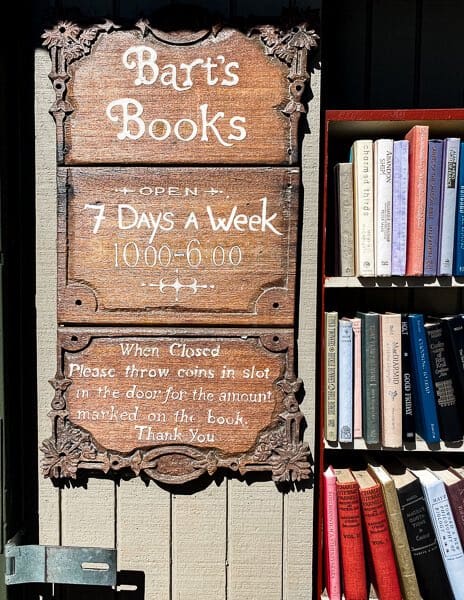 302 W Matilija St, Ojai, CA 93023 (Google Map It) | Website
Day trip to Oak Glen, California
Looking to another day outside of Los Angeles? Go apple picking, eat apple cider donuts and attend one of their many family-friendly events.
Ojai Wine Tasting
Majestic Oak Vineyard Tasting Room
Get a taste of their local wineries right in Downtown Ojai.
The Majestic Oak Vineyard Tasting Room has one of the prettiest patios where you can sit back and order some full-sized tastings from their menu. You can also bring food from local eateries nearby.
321 E Ojai Ave, Ojai, CA 93023 (Google Map It) | Website | Walk-ins welcome
Topa Mountain Winery
West of Downtown Ojai, you'll find Topa Mountain Winery. This is a great relaxing spot with beautiful views of the mountains.
Table reservations for wine tasting are required in advance at this time due to Covid.
821 W Ojai Ave, Ojai, CA 93023 (Google Map It) | Tripadvisor | Reservations Required
Ojai Olive Oil Company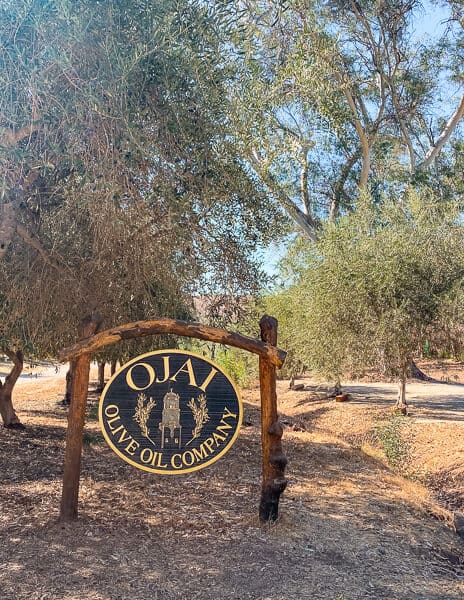 The Olive Oil farm in Ojai and it was one of my favorite spots from our day trip to Ojai. Upon seeing the olive trees, it was like being transported back to Italy.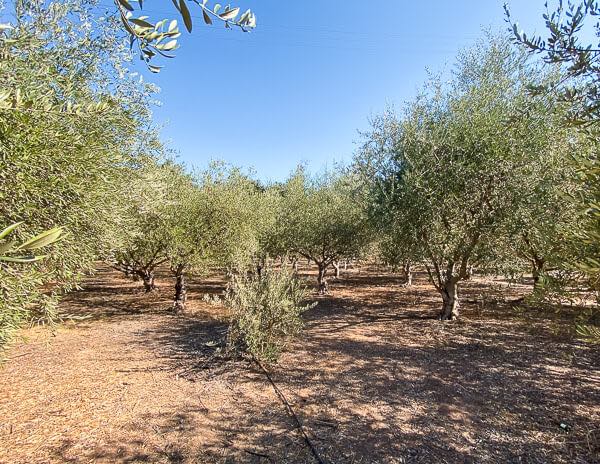 Olive oil tasting is available. They will hand you a total of 4 olive oil samples and 4 of the balsamic in a wooden box that's already been served in separate containers.
You can go outside to enjoy them in their patio area or at a picnic table, they have set outside under the shaded trees.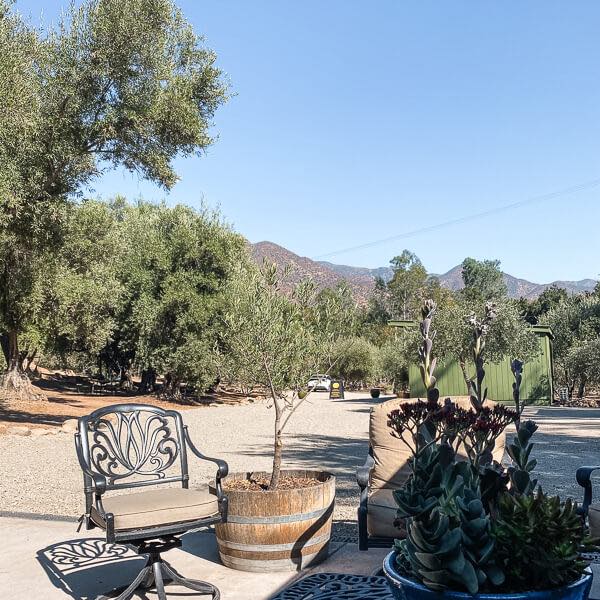 Their Tuscan extra virgin olive oil turned out to be our favorite. We took a bottle home to remember our day in Ojai.
It was super peaceful there and not at all busy for a weekday.
1811 Ladera Rd, Ojai, CA 93023 (Google Map It) | Tripadvisor | Walk-ins welcome
Ojai Meadow Preserves
Trails are open. You can walk or bike at Ojai Meadow Preserve. For an easy walk, you can do the loop trail that is not even a mile long. It's peaceful and beautiful as long as it is not crowded.
I can imagine during the Spring when flowers are blooming that this becomes an even more picturesque spot.
1601 Maricopa Hwy, Ojai, CA 93023 (Google Map It) | Tripadvisor
Day Trips From Los Angeles, California
Thinking of planning a couple of day trips from LA while you're here. Check out our list of some of the best day trips from the city of Los Angeles.
Ojai Restaurants
With only one day in Ojai, obviously, you can't try all the restaurants. I suggest doing a little research ahead or on the morning of your day trip to Ojai, just in case you need reservations.
Bocalli's Pizza & Pasta
If you're in the mood for a casual Italian dinner, Bocalli's is a fantastic spot for couples and families. Family-owned and loved by locals. There was already a line at the opening at 4 pm.
There are two locations, the one we ate at is at the Boccalli's ranch. They have picnic tables set up outside with enough social distancing between each table.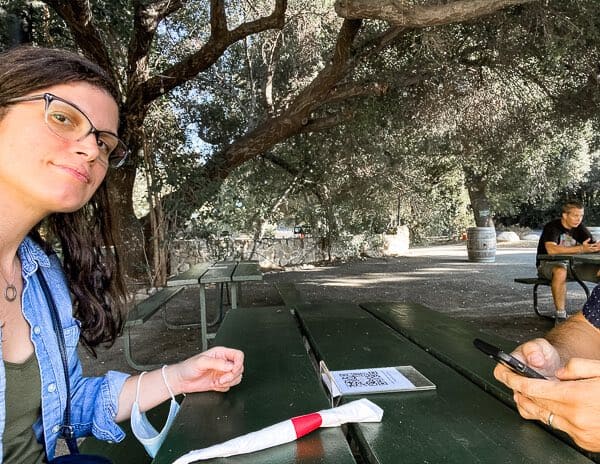 We ordered their garlic mushrooms and a cheese pizza cooked in a wood-burning pizza oven. We are picky with our pizza, but I have to say the crust on this pizza is excellent.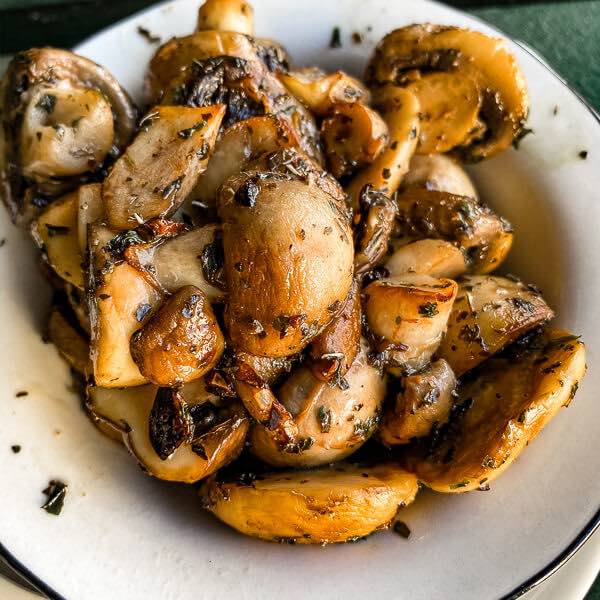 The best part about Boccali's is that their farm-to-table dishes come straight from their garden. Make sure to ask what those are on the menu.
For dessert, if it's in season, do not leave without trying their strawberry shortcake.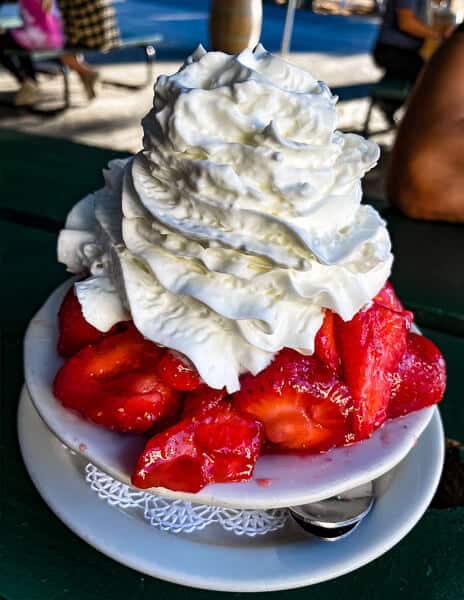 We enjoyed our meal outdoors under the shaded tree and it was the perfect end to our time in Ojai.
Fall Season Bonus: Their pumpkin patch is right behind the restaurant. On that particular day, they had an honor system set.
3277 E Ojai Ave, Ojai, CA 93023 (Google Map It) | Tripadvisor | Walk-ins only
Next time we are in Ojai, we'd like to try Nocciola's for dinner.
All in all, we had a fabulous day in Ojai and we will absolutely be returning. If I didn't have dogs, I probably would have spontaneously stayed over for the night. I would have loved to go hiking at Los Angeles Padres Forest. Perhaps on my 2nd trip there, we will.
Have you been to Ojai, California? What did you love about it? What is one of the things to do in Ojai you enjoyed?
If not, is it now on your list? Will you be planning a day trip to Ojai or a weekend getaway?
Don't forget to share the love on Pinterest: