Looking for things to do in San Juan Capistrano, California? This historic city in Southern California is perfect for a day trip and a family-friendly day out or part of a larger weekend getaway.
San Juan Capistrano is located just north of Dana Point in Orange County. It's actually the birthplace of Orange County, although technically it didn't become part of Orange County until April 1961.
This historical city is known for one of the most beautiful Missions in California that has been titled, "the Jewel of Missions".
San Juan Capistrano is home to the oldest neighborhood in California and the historic structures of Orange County that still stand throughout the city today. It is also known for the migration of swallows which is celebrated yearly in March.
We first visited San Juan Capistrano years ago, the historic town center captured our hearts and it's one of our favorite day trips from Los Angeles. This adorable town is rich in history as they highlight and celebrate Native American, European, Mexican, and European cultures.
There are many great restaurants, cafes, and wineries to stop by for lunch or dinner. We consider San Juan Capistrano a foodie destination that needs further exploration.
It is also is family-friendly, with plenty of things to do not only for adults but children too. This city was a favorite of my nieces. With its multiple playgrounds, parades, and festivities, what's not to love?
As you're exploring San Juan Capistrano, you'll notice that the city is surrounded by beautiful hills from the Santa Ana Mountains with biking and hiking trails that lead to great scenic views. You may want to consider exploring outside of the city center of San Juan Capistrano.
While it is only about an hour's drive from Downtown Los Angeles or an hour from San Diego, with its neighboring cities of Laguna Niguel, Dana Point, and San Clemente, you could visit San Juan Capistrano as part of a long weekend trip in Orange County.
In this post, we will cover all the things to do in San Juan Capistrano, so you can plan a fabulous and fun day here.
What do people do at San Juan Capistrano? What are the top attractions to visit in San Juan Capistrano?
The San Juan Capistrano attractions that are most visited are the Mission of San Juan Capistrano and the Los Rios Historic District.
Is San Juan Capistrano worth visiting?
Absolutely. It's a relaxing little getaway to a historical city in Orange County.
Does San Juan Capistrano have a beach?
Technically, there is no beach inside the city of San Juan Capistrano. However, Capistrano Beach Park in Dana Point is just a short drive south of the city.
How to get to San Juan Capistrano?
You can drive the PCH past Dana Point and then take the 5 north to San Juan Capistrano [Google Map It]. Alternatively, you can take the train to San Juan Capistrano as the Pacific Surf Liner stops in San Juan Capistrano: click here for more info.
Things to Do in San Juan Capistrano
1. FKN Bread: Start Your Day With a Scrumptious Pastry
What do you do when you see delicious loaves of crusty bread staring at you from behind the front store window? Besides drooling, you go inside the store.
FKN Bread is a small bakery in the city's heart, steps away from the Mission, specializing in sourdough bread. All of their bread is made with sourdough, including their pastries.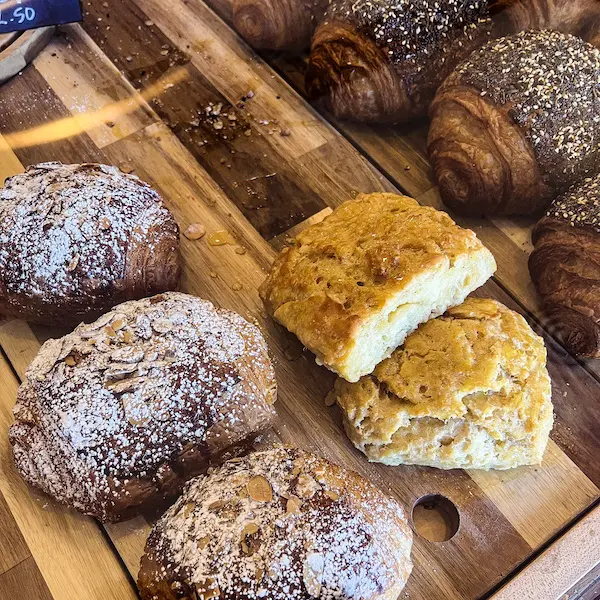 We looked at their pastries and we knew that breakfast was served. It was difficult to choose from, their sourdough biscuit with honey and the almond croissant called out to us. Then it was love at first bite.
The croissant was one of the best croissants I've had most recently, flaky, buttery, and crispy with sweet almond paste. The sourdough biscuit was unique with that sourdough flavor I was not expecting, but I welcomed with each bite.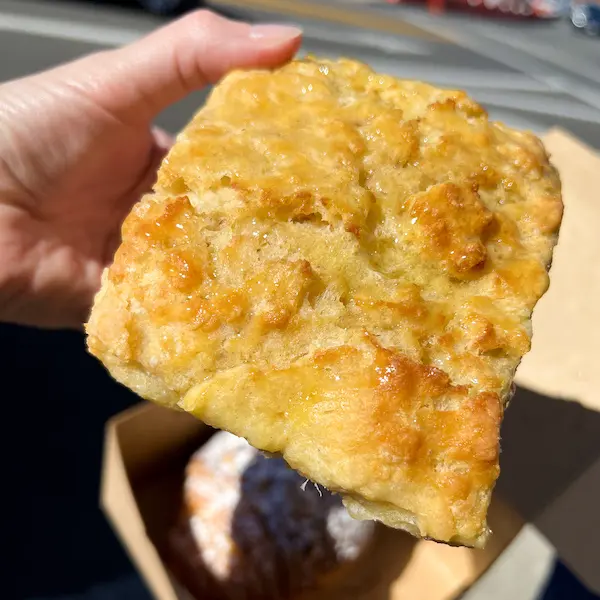 You can find their biscuit served at Heritage Barbecue right across the street.
I recommend taking one home if there are any loaves of bread left.
FKN Bread | 31760 Camino Capistrano Suite B, San Juan Capistrano
2. Mission San Juan Capistrano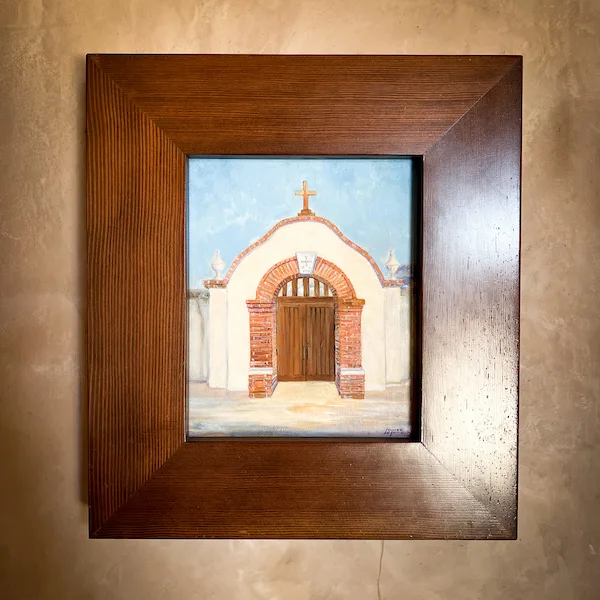 One of the best things to do in San Juan Capistrano is to visit the Mission San Juan Capistrano.
Mission San Juan Capistrano is a Historical Landmark in California full of history, filled with beautiful artwork, architecture, and ruins that you'll wish each stone could talk about everything it's seen. I recommend doing the audio tour that is included with your admission price.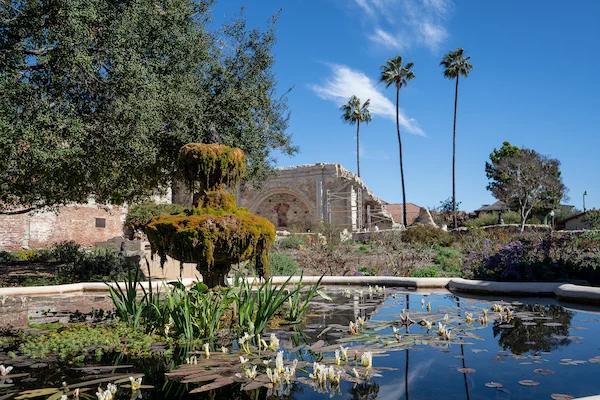 With over 240 years of history, Mission San Juan Capistrano has gone through great ordeals, builds, and restorations. You could spend an entire afternoon here walking the beautiful grounds, sitting by the fountains, and taking in all the history.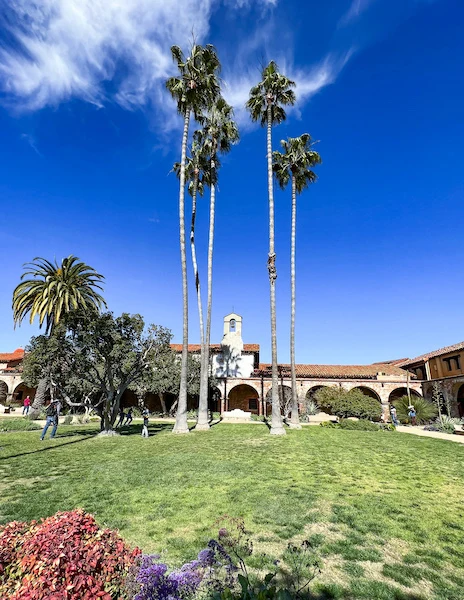 The Mission was founded in 1775 by Spanish Catholics, but they did not have their first religious service celebration until 1776.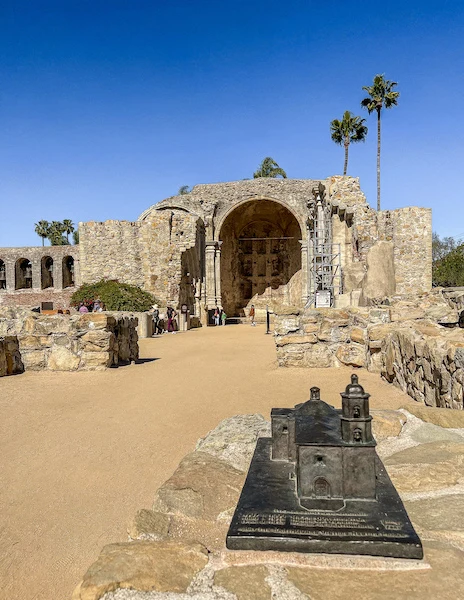 The Great Stone Church was built in 1796 and was only fully completed for 6 years before it collapsed after a terrible earthquake in 1812. What's left standing of the church is considered one of the oldest ruins in Southern California. You can visit the Mission Basilica San Juan Capistrano, modeled after the Great Stone Church.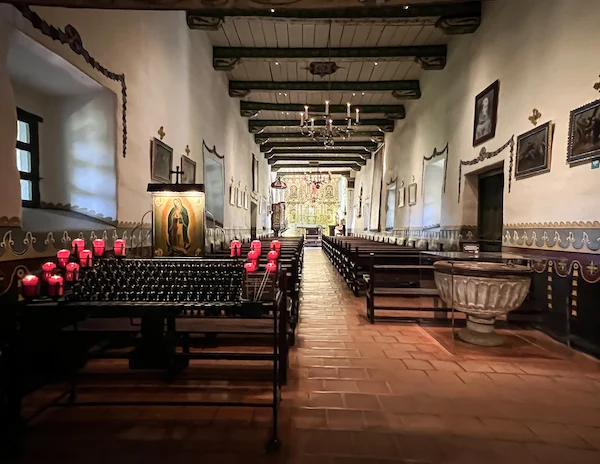 The Serra Chapel is the oldest standing building in California. It was built in 1782. Today it is called "Father Serra Church" and mass is still held here. You can light a candle at this chapel (we did for a family member that is no longer with us) which you can buy at the missions store.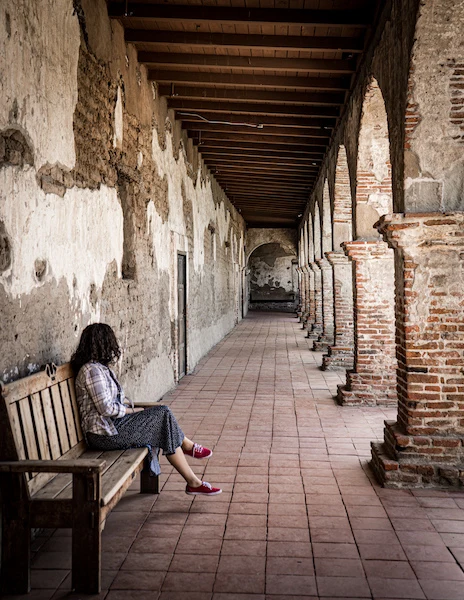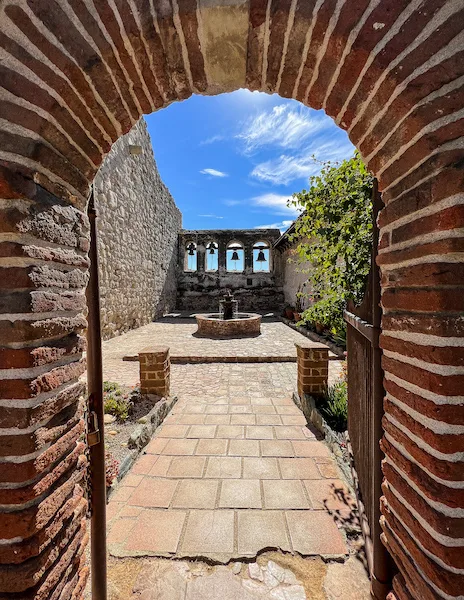 When the Great Stone Church collapsed, they resumed having services at the chapel. A year later, in 1813, the bell wall was built between the chapel and the ruins to support the four bells that were found after the collapse.
While the bells at the mission are not the original bells, the bells were part of everyday life since Mission San Juan Capistrano was founded.
Mission San Juan Capistrano is unlike any other historic place we've visited anywhere in California. It felt like we were walking the grounds of European ruins. On a lovely Spring day, we can imagine the flowers brightening the grounds, making the visit even more special.
Tip: Start your day early and beat the crowds.
Cost: $14 pp for adults – you can purchase tickets in advance online
Open Tuesday to Sunday from 9 am to 4 pm
Mission San Juan Capistrano | 26801 Ortega Hwy, San Juan Capistrano
Mission Basilica San Juan Capistrano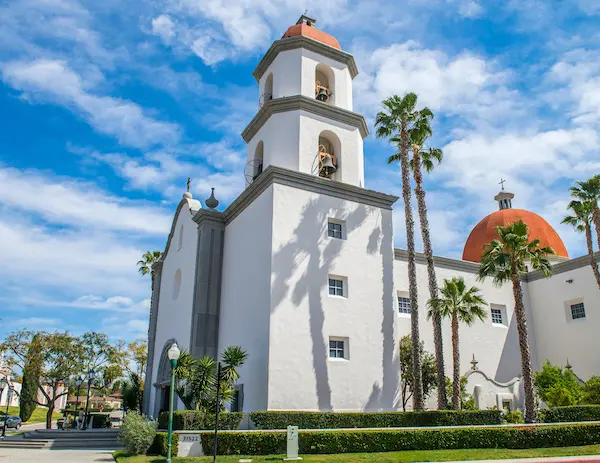 Don't forget that when you leave the Mission walk north on Camino Capistrano. Here you'll find the Mission Basilica San Juan Capistrano.
This is the current Basilica in San Juan Capistrano which was built in 1986, resembling the Great Stone Church, but it's not identical.
A visit to the Basicila itself is off-site from the mission, and anyone can visit. It's one of the free things to do in San Juan Capistrano.
3. Explore Los Rios Historic District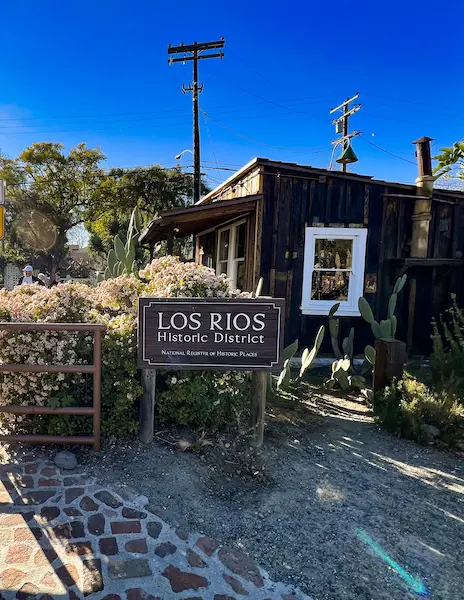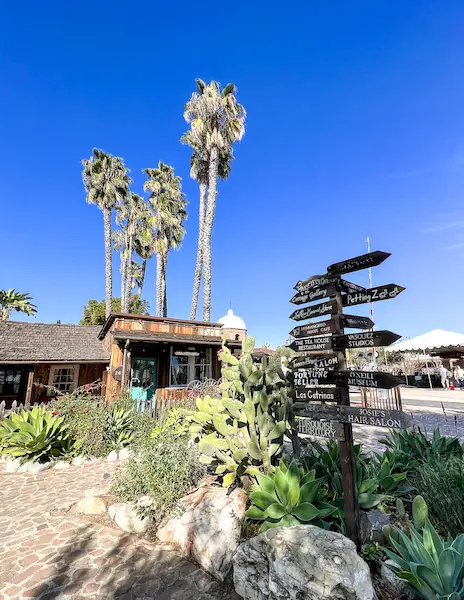 Once you have visited the mission, you'll want to explore the Los Rios District, across the train tracks, past Capistrano Depot.
Los Rios Street is one of the oldest streets in California, it dates back to the late 1700s. Back then, 40 adobe homes were constructed for workers working on the Mission. Now only 3 of those homes remain today. The street is only 600 feet long; however, it once went all the way to Dana Point.
Fun fact: Adobe structures are built from organic and earthly materials… like turning mud into brick.
Most of the old houses and converted businesses that you in Los Rios Street today were constructed by European immigrants in the 1800s.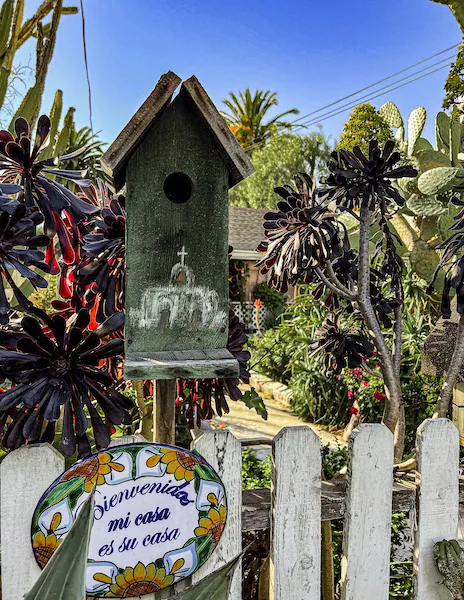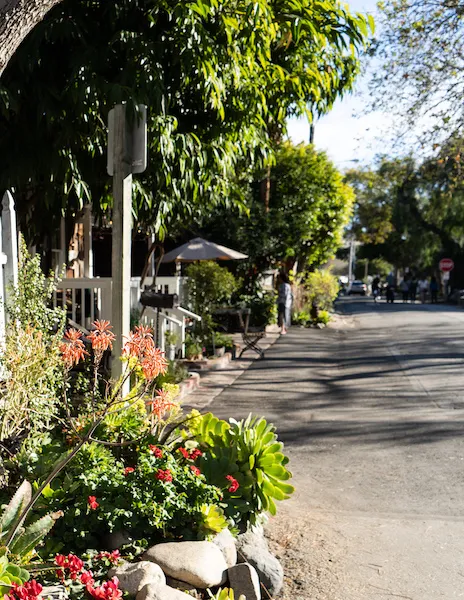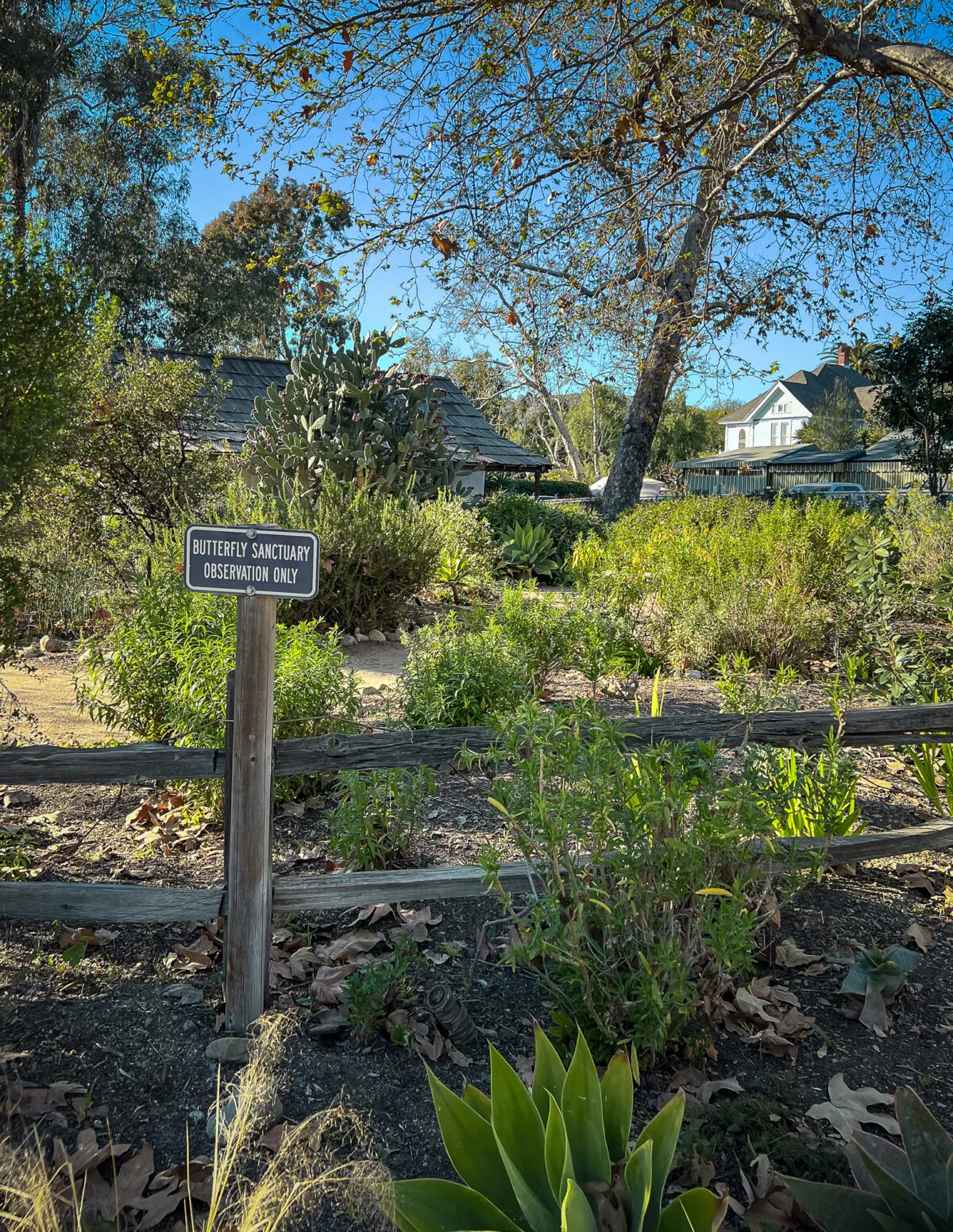 Presently, Los Rios is a charming district in San Juan Capistrano that is filled with historic homes turned into fun boutiques, great cafes, and eateries. It's a delightful little area to explore and walk around in. So many charming details can be found throughout the street.
At Los Rios park, you'll find a playground for children.
The SJC Historical Society, also known as the O'Neill Museum, can be found south of Los Rios Street. They provide walking tours of the Los Rios Historic District every Saturday at 1 pm, starting at the train depot. For more info, click here.
Orange County is known for its sunny weather, beaches, and amusement parks. This list of the best things to do in the OC will help you discover and explore more of what Southern California has to offer.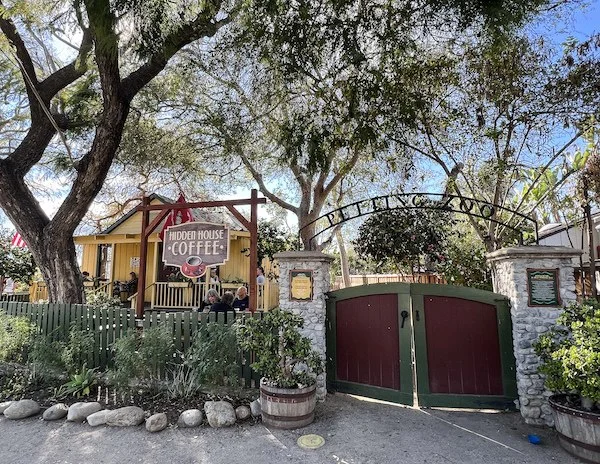 While you will find a few cafes in the Los Rios District, the Hidden Coffee House makes one mean mocha latte. They have a great selection of delicious coffee.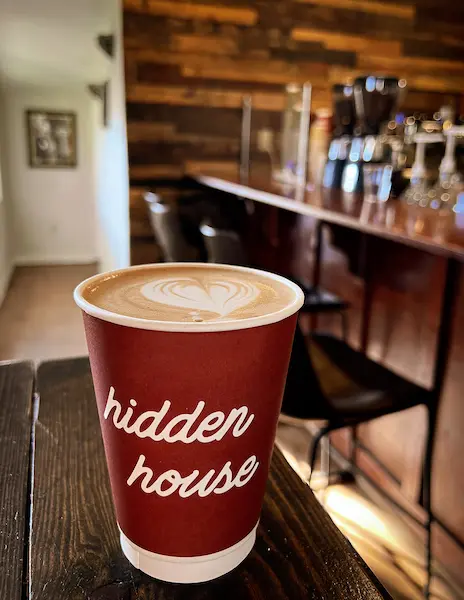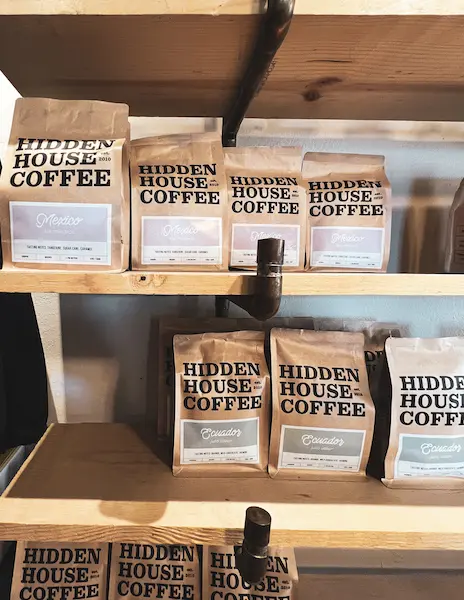 Residing in a 120+-year-old home, this cute coffee house has a lovely garden and patio area that is great to relax in for a chat and to people watch.
Hidden House Coffee | 31791 Los Rios St, San Juan Capistrano
5. Take the Kids to Zoomars Petting Zoo
Right behind Hidden Coffee House down River Street is Zoomar's at River Street Ranch. It is one of the fun family things to do in San Juan Capistrano that the kids will love.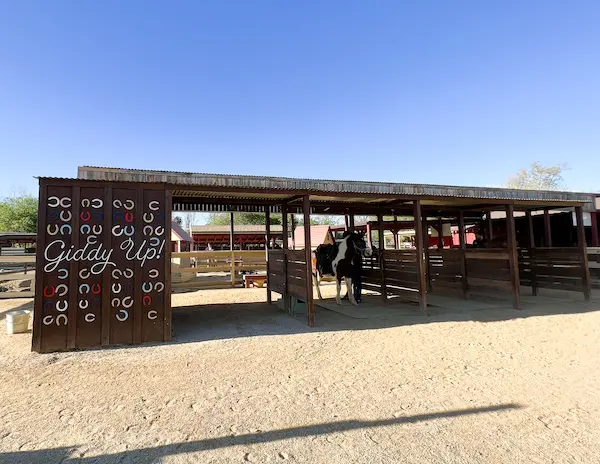 The inner child within me loved to see the emo and the horses just from River Street. You can see that they are well taken care of. The emo is friendly, but he will try to get any food you may have on hand, so be cautious.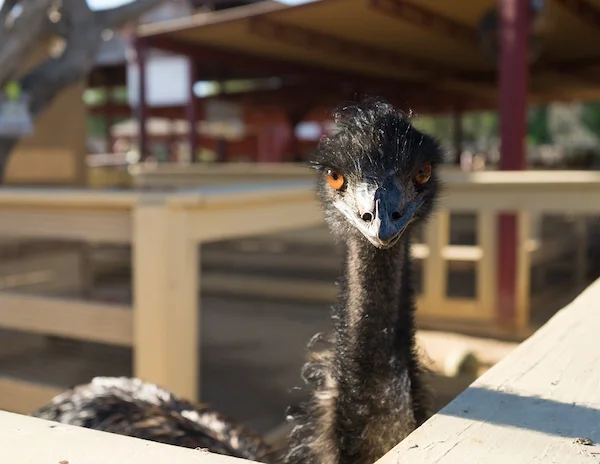 The petting zoo is small and they sell feeding baskets so you can feed the animals. If you buy a basket, it will definitely keep your child occupied for a bit and you'll make a few animals super happy with the veggie treats.
There is a hay maze and a playground with room for the kids to run around.
While it is an additional cost, there are also tractor and train rides here, too.
Cost: $15 pp – Adults | $12pp – Children
Additional costs: Rides & Feeding baskets (filled with veggies)
Zoomars at River Ranch | 31791 Los Rios St, San Juan Capistrano
6. Have High Tea with a Friend at The Tea House on Los Rios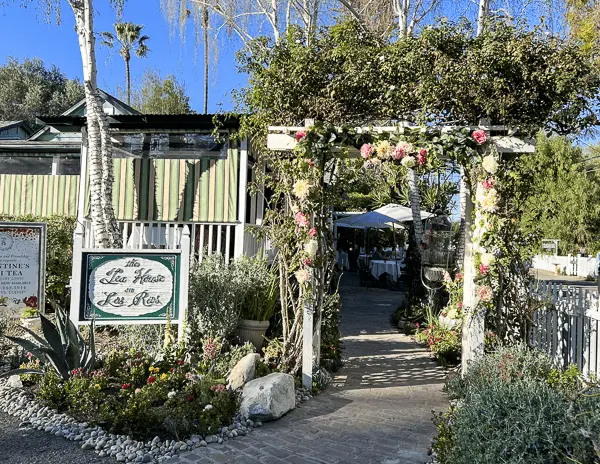 If you're looking for a high tea experience in Orange County, add this one to your list.
This charming Tea House serves high tea and it's one of those enjoyable things to do in San Juan Capistrano that celebrate a special occasion, like a birthday or just a fun girl's day out. I would absolutely love to do this with little ones or a few girlfriends.
The teas are served in floral vintage teapots and teacups. Little plates of petite pastries and sandwiches accompany the tea. All under a beautiful sweet setting and ambiance. On a beautiful day outside, the patio would be lovely, especially when all the flowers are blooming in the Springtime.
Make reservations way in advance to secure this charming experience.
A special brunch menu is available on the weekends.
Check their website for special holiday high teas and dinner.
The Tea House | 31731 Los Rios St, San Juan Capistrano
What to do in Los Angeles? Come and walk amongst the stars on Hollywood Blvd. See the spectacular views of Los Angeles from the Griffith Observatory. Eat your heart out at Grand Central Market. Visit the Original Farmer's Market. See the best attractions in LA to plan a memorable visit.
7. Go Wine Tasting
For those that love a little wine tasting, San Juan Capistrano has a handful of tasting rooms and wine bars to choose from. Which is one of the adult things to do in San Juan Capistrano.
Choose a tasting room or plan to go to all of them. Check their websites for more info as a couple of them have a full restaurant menu, like Rancho Capistrano, that you may want to dine at.
8. Eat at Trevor on the Tracks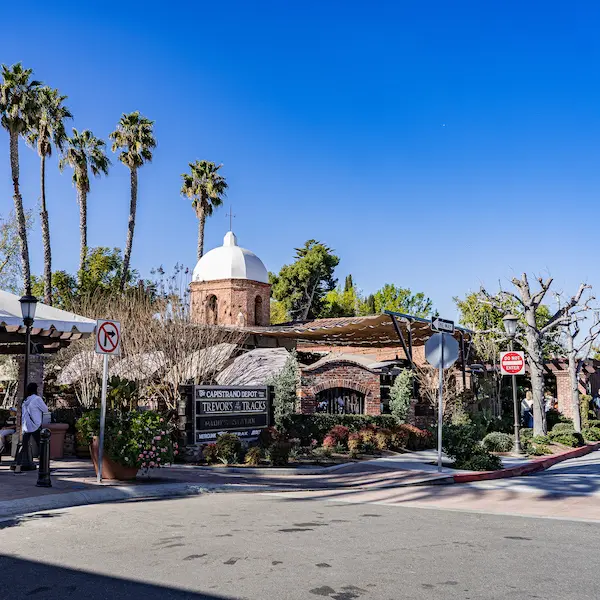 At Capistrano Depot, you'll find one of the popular places to eat in San Juan Capistrano, Trevor on the Tracks. This restaurant is located in a historic location, it used to be the train depot that was built-in 1894.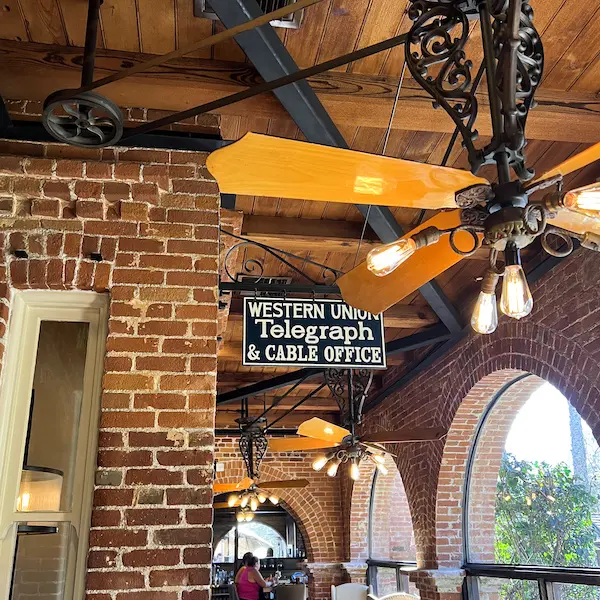 As you walk around the restaurant, you'll see cool artifacts, like the Western Union sign and rooms named after what used to be used at the depot.
There are so many different sitting areas in this restaurant. From the courtyard by the tracks, to inside with a view of the trains going by or the front patio. The ambiance is welcoming and unique.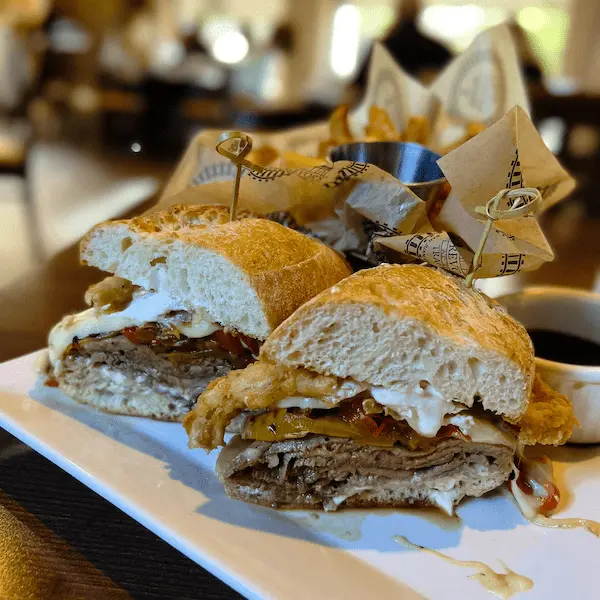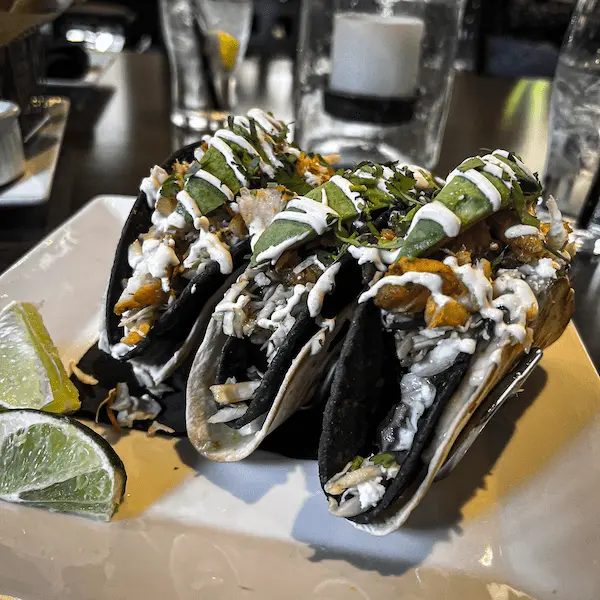 We had a fantastic meal here. My snappin' tacos were surprisingly better than I expected them to be. The crunch tacos had melted cheese between them and the snapper fish and toppings were a great combination. The plate filling. Hubby's Parisian Prime sandwich was delicious, maybe a little too much horseradish but the meat was tender and flavorful.
I chose not to drink, but I gawked at the as pretty cocktails were served to the tables around me. Delicious plates that I wish I could try them all.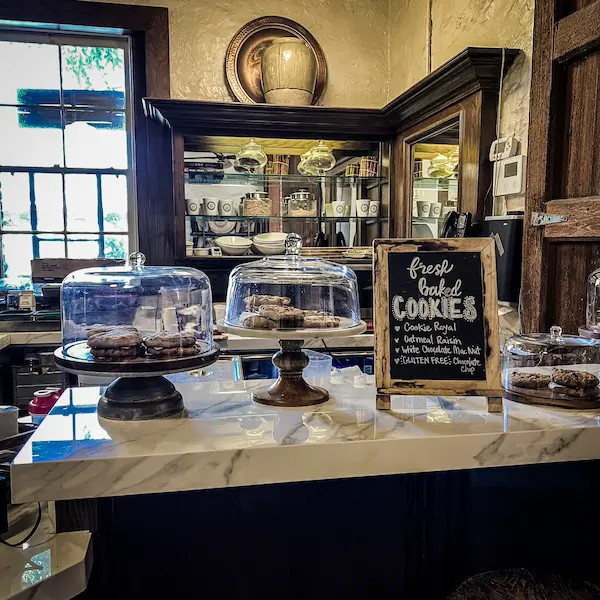 If you're dining as a group, I highly suggest sharing a few plates as the servings are large. They have a savory charcuterie board that looks absolutely fantastic. Take a peek inside their dessert bar, and you might catch a glimpse of them preparing a beautiful dessert charcuterie that I'll love to have in the future.
Trevor on the Tracks reminded me of our train depot restaurant in Pasadena, La Grande L'Orange. Although I can say, Trevor's is bigger.
Trevor on the Tracks | 26701 Verdugo St, San Juan Capistrano
Other places to eat in San Juan Capistrano: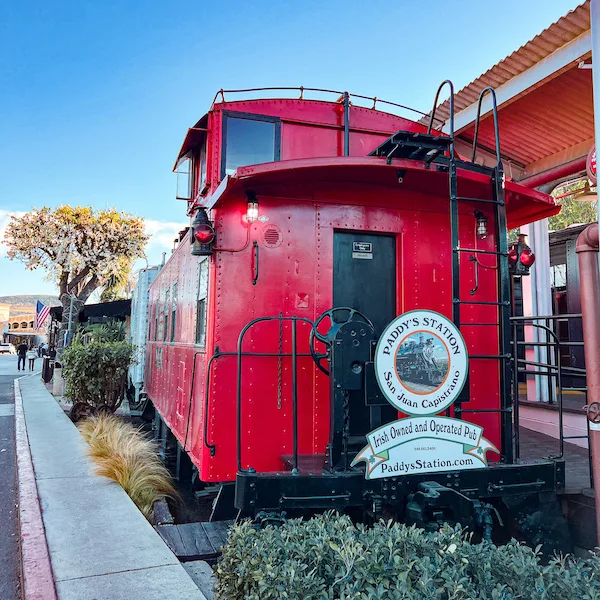 Right next to Trevor's is another cool dining experience in San Juan Capistrano. Paddy's Station is an Irish Bar and Restaurant with a lovely dining train where you can plan events. You can go inside and check out the dining train car.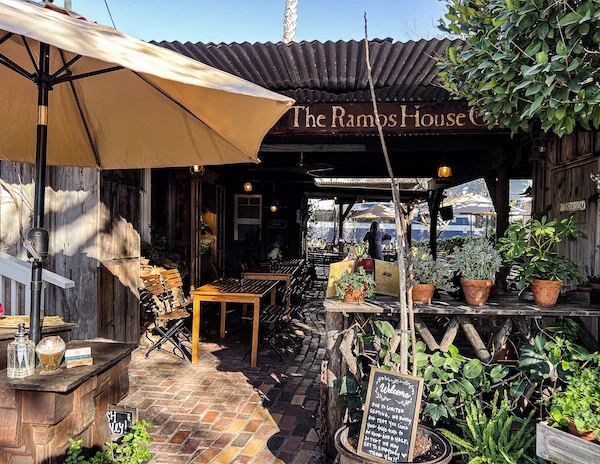 Loved the charming and cozy setting at Ramos House Cafe. They are located in Old San Juan on Rios Street. On the weekends, they are open for brunch with a lovely prefixed menu for $40 per person. During the week, they have an a la carte menu with small plates like Huckleberry Coffee Cake and Hush Puppies w Avocado Aioli; it looks too scrumptious.
Who doesn't love good BBQ? We almost ate here after getting another excellent recommendation from FKN Bread, but it was a long line. I'm sure the long line means that it's a pretty delicious BBQ. So, plan accordingly if you'd like some BBQ. And don't forget to order some biscuits if you never made it to FKN bread.
Margaritas anyone? El Adobe de Capistrano serves traditional Mexican cuisine from a State Historical Landmark. The location is two structures in one, the southern half of the building used to be the old court and jails from 1812. If you want to eat in a place surrounded by history and good food, El Adobe is another great choice.
Fun fact: This is one of President Richard Nixon's favorite restaurants. 
I had dinner here one night with my extended Italian family, who approved. The food was delicious, and the service was excellent with a great family atmosphere. The patio area with the brick fireplace was my favorite part.
Looking for another Southern California day trip? Take a city break to visit wineries and an olive farm in Ojai, California.
9. Swallows Day Parade
If you're still wondering, what are swallows? Like I did the first time I heard about it. Swallows are small birds, and there are 8 different types of swallows. The ones in San Juan Capistrano are Cliff swallows. They like to come to San Juan Capistrano in the Spring to make mud nests on the sides of buildings, Mission San Juan Capistrano being one of their favorite places to nest.
This is why the Swallows Day Parade is a huge celebration in San Juan Capistrano. And is one of the exciting things to do in San Juan Capistrano every year.
San Juan Capistrano has been celebrating the swallows' return every year since the 1930s. This popular event is loved and attended by locals and tourists.
The parade begins at 11 am in the Downtown District.
Tip: You may want to consider taking Amtrak's Pacific Surfliner into town on the day of the parade, as parking will be challenging to find.
You can find all info on the Swallows Day Parade: here.
10. Capistrano Beach Park
Capistrano Beach is a 9-minute drive from San Juan Capistrano.
This is a pebbled beach where you can find some pretty walks. It's quiet and not overly crowded. Great for a stroll and to get in some vitamin sea that is much needed. Parking is on the main street as the former parking lot is no longer functional.
Visiting San Diego in the Spring? Don't miss discovering the incredible Carlsbad Flower Fields, only a 35-minute ride from San Juan Capistrano.
Hope this list of things to do in San Juan Capistrano helps you plan your time in this charming city in Orange County. It's such a lovely way to spend a day exploring a small part of Orange County's history, choosing a great restaurant to eat at, and maybe planning to attend one of their festivities throughout the year.
Are you planning a trip to San Juan Capistrano? Have you been? What did you enjoy?
Share the tips & love on Pinterest: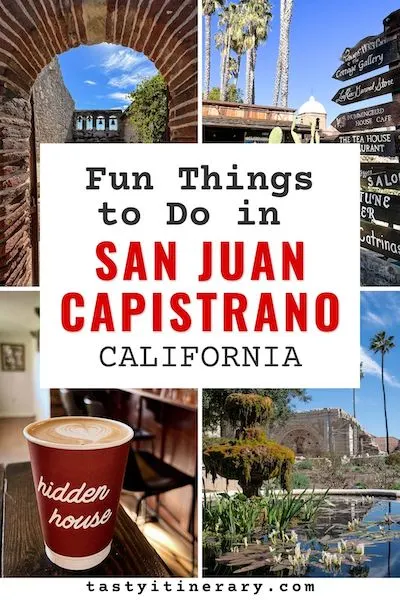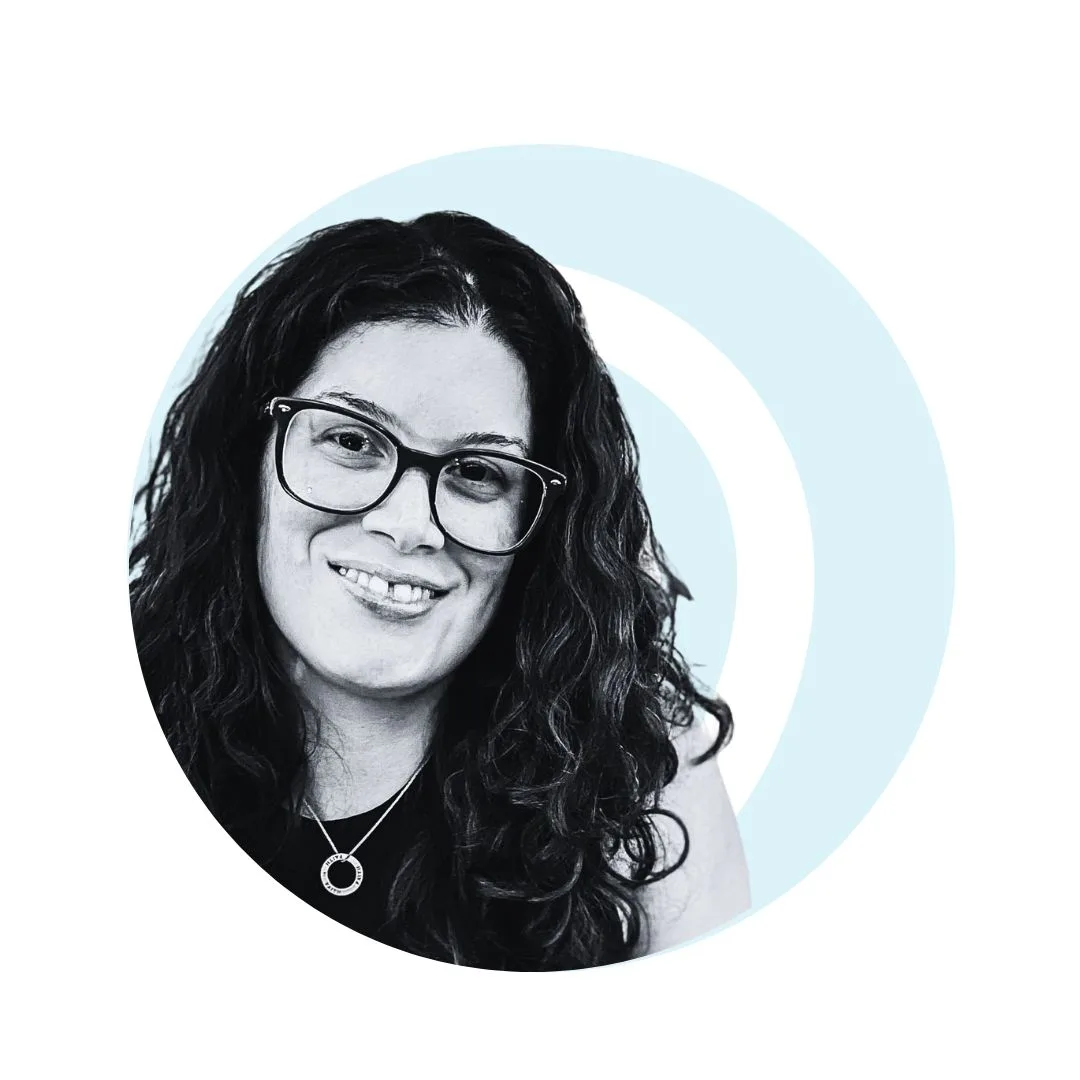 Meet Kathy Ava – a food, travel, and cruise writer based in Los Angeles/Pasadena. With over 20 years of experience planning trips and logistics at her full-time job and for herself, she's become a pro at crafting unforgettable travel itineraries. She's always looking for delicious, fun cruise itineraries and travel destinations and is slightly obsessed with Italy. Her passion and curiosity for travel started in childhood on her yearly and sometimes bi-yearly trips to PR. She firmly believes that life is short and we must make the most of it – so let's explore the world and make some incredible memories.