What are the Carlsbad Flower Fields? Are the Flower Fields in Carlsbad worth the visit?
One of the best things to do in the Spring in Southern California is visiting the Carlsbad Flower Fields in North San Diego. You will love visiting this beautiful flower field if you love color, flowers, and beautiful landscapes with fun activities.
Located near Legoland in San Diego, across from Windmill Food Hall, right off Palomar Airport Road, the Carlsbad Flower Fields is a 55-acre stretch of a gorgeous landscape filled with colorful Giant Tecolote Ranunculus flowers.
As soon as Spring arrived and the sun finally debuted after a very rainy March, we made a Los Angeles day trip to visit the infamous Carlsbad flowers. While stuck in major traffic (not unusual for SoCal), we wondered if Carlsbad Flower Fields would live up to the hype.
Once you peek at the vibrant flower fields from the 5 freeway, you start to get excited.
When you're walking through the designated paths, surrounded by rows and rows of colors, and feeling the gentle breeze from the Pacific Ocean that's in sight from the top of the fields, you'll know it was worth the trip.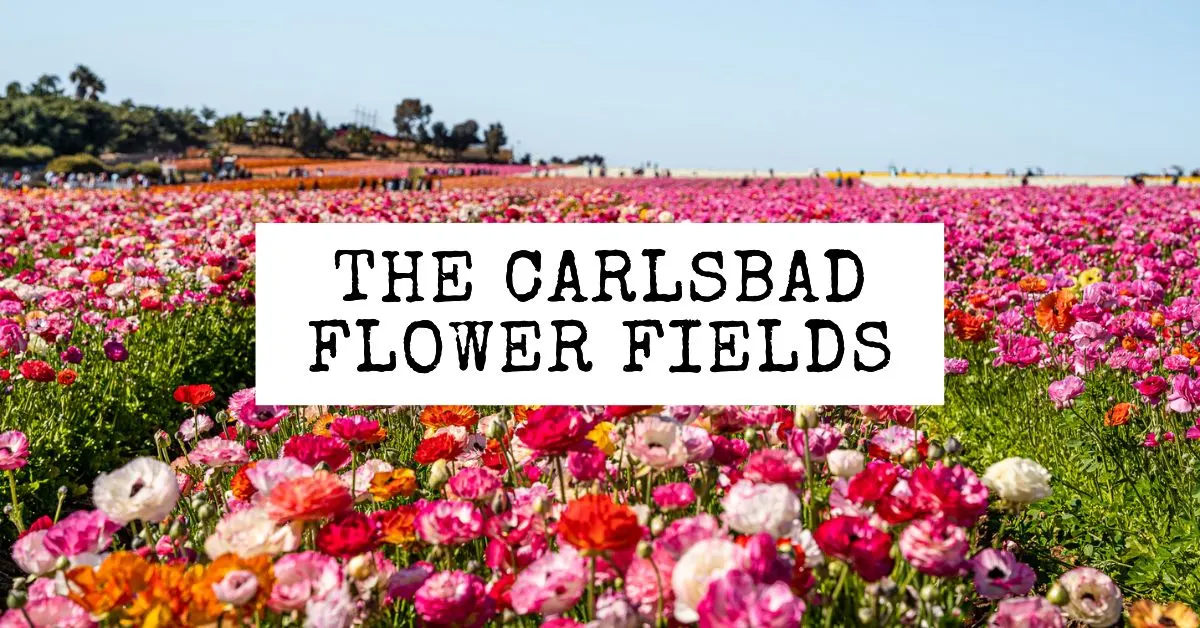 This post may contain affiliate links, which means we'll receive a commission if you purchase through our links at no extra cost to you. Please read full disclosure for more information. We appreciate your support!
In this article, we share our experience at the Carlsbad Flower Fields, their admission and hours, types of flowers grown in the field, activities for visitors, and tips for making your visit enjoyable in 2023.
What Are The Flower Fields in Carlsbad?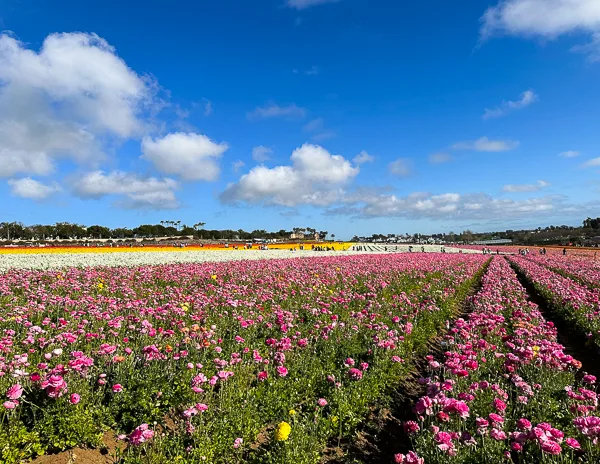 The Carlsbad Flower Fields is a 55-acre stretch of beautiful and colorful Giant Tecolote Ranunculus flowers. Visitors can wander through the field and take in the beauty of the landscape.
The flower fields date back to the early 1920s when an early settler, Luther Gage, introduced ranunculus seeds, started planting them in his fields in San Diego, and introduced them to his neighbor. That neighbor had a son, Edwin Frazee, who learned and fell in love cultivating Ranunculus flowers and eventually found a permanent home for them where the Carlsbad Flower Fields are today in Carlsbad Ranch.
In 1994, the intent to preserve the flower fields was written into the Carlsbad General Plan.
A common misconception is that Armstrong Center and Gardens own the Flower Fields. That is not the case. There is a partnership between the Flower Fields in Carlsbad and Armstrong Center. They handle the retail store so the staff at the Carlsbad Flowers can do what they do best.
Currently, The Ecke family owns the land where the flower fields in Carlsbad reside.
The Flower Fields is a beloved Southern California attraction in San Diego County. More than 150,000 people visit the Flower Fields every year.
Where is Carlsbad flower fields located?
The address for Carlsbad Flower Fields is 5704 Paseo Del Norte, Carlsbad, CA 92008.
Google Map It

Technically, the Carlsbad Flower Fields is located right behind the Armstrong Garden Center and the Carlsbad Premium Outlets.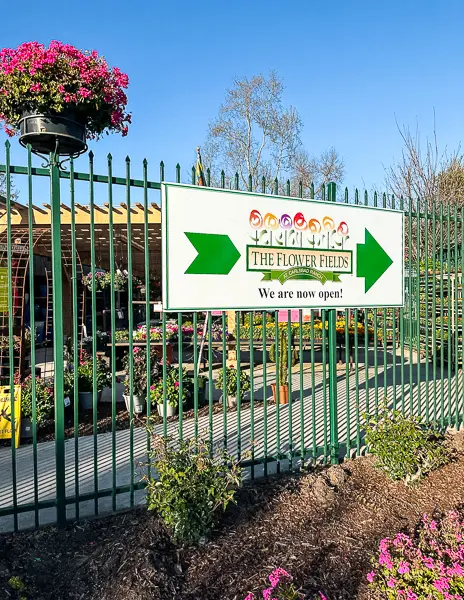 Once you have parked, there are two ticket entrances to the Carlsbad Flower Fields. One is right next to Armstrong, and the second is around the corner by their overflow parking.
Parking at Carlsbad Flower Fields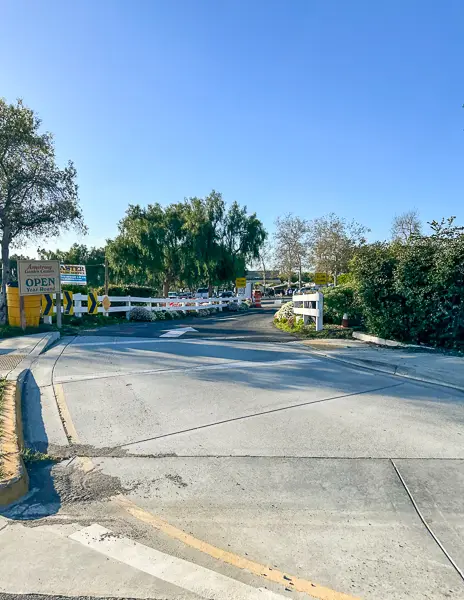 Parking at Carlsbad Flower Fields can be challenging, especially on weekends. They share a parking lot with the Armstrong Garden Center and the premium outlets because they are all connected.
There is designated parking at the Carlsbad Flower Fields around the corner from Armstrong Garden Center and overflow parking that takes you onto an unpaved dirt road.
Google Maps will take you around Palomar Airport Road and have you enter from Paseo del Norte, but you don't want to do that. Look for Armstrong's "Open Year Round" sign on Palomar Airport Road. You'll want to get off this road to find parking.
As you drive in, to your right, you'll find overflow parking to the Flower Fields. If you continue straight, that's the shared parking for Armstrong and the outlets.
There was nobody directing parking traffic when we visited.
Tip: Do not wash your car before heading to the Carlsbad Flower Fileds in case you end up parking it the overflow parking area.
When do the Carlsbad Flower Fields Open?
The Carlsbad Flower Fields typically opens in early march to mid-May.
How much does it cost to go to the Carlsbad Flower Fields?
The cost to enter the Flower Fields in Carlsbad in 2023 is $23 for adults and $12 for children. They do have senior and military discounts available online.
Admission and Hours of Operation
The Carlsbad Flower Fields are open daily from 9 a.m. to 6 p.m., with the last entry at 4:30 p.m.
Tickets must be purchased online before arrival. Check online on The Flower Fields site for specials.
Adults: $23.00 ticket + $3.08 service fee
Child: $12.00 ticket + $1.61 service fee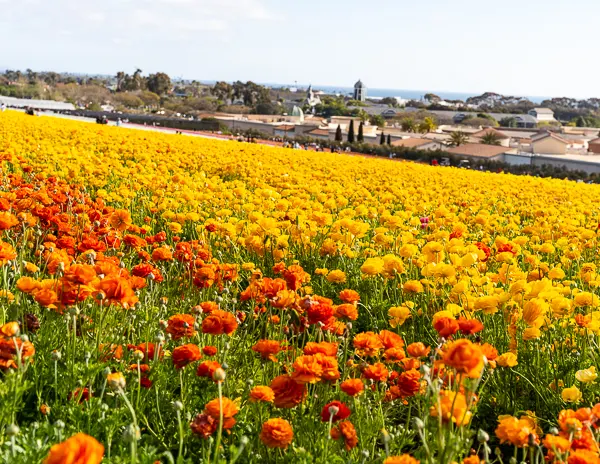 What is the best time to visit Carlsbad Flower Fields?
The Carlsbad Flower Fields' best time to visit is between late March and early May. During this time, the flowers are in full bloom making for the most beautiful sight.
The weekends are usually busier than the weekdays. If you can manage to go during the week, you can avoid the weekend crowds. We suggest mid-day after the flowers have woken up.

You can check the bloom status on their website. We also suggest following Carlsbad Flower Fields on Instagram for the most up-to-date information and to see the peak blooming times.
How long does it take to go through the Carlsbad Flower Fields?
Consider that there are 55 acres at the Carlsbad Flower Fields, depending on how much time you want to spend walking around and participating in the activities. It can take 2-3 hours to go through the entire field, take photos, and enjoy the experience.
What are the types of flowers at the Carlsbad Flower Fields?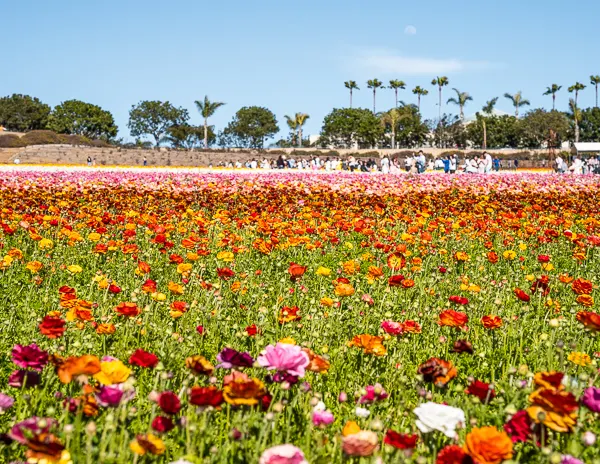 The Carlsbad Flower Fields are home to the Giant Tecolote Ranunculus, an annual flower that blooms for 6-8 weeks per year. The petals are delicate and fragrant, making for a lovely sight in full bloom. They are also known as Persian Buttercups.
There are five acres of sunflowers that bloom around mid-April. Unfortunately, we missed this as we went in early April, but there is always next year.
In addition, you'll also find orchids inside their greenhouse, a poinsettia display, poppies, California native wildflowers, and various other plants.
Fun Fact: Before the fields were covered in Ranunculus flowers, it used to be where the Ecke family grow poinsettas. 
Are Carlsbad Flower Fields in bloom?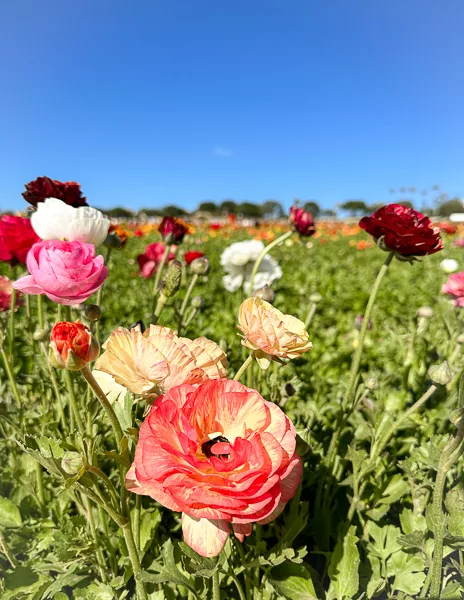 Yes! The Carlsbad Flower Fields are currently in bloom (as of early April 2023), and the flower fields will continue to stay that way until the beginning of May as long as the weather doesn't take a turn.
Are the Carlsbad Flower Fields worth it?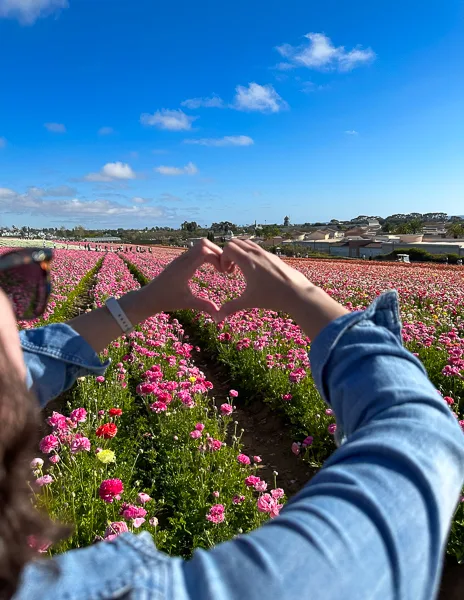 Yes. The Flower Fields in Carlsbad are worth the visit. Once in those fields, you'll be surrounded by colors, smells, and beauty that elicit a joy you didn't expect before stepping in. You'll get to walk around and bask in the beauty of the Carlsbad Flower Fields, but there are also activities and plenty of opportunities to take Instagram-worthy photos!
And the best part is that Carlsbad Flowers are family-friendly, and everyone of all ages can enjoy the experience.
While sitting in terrible traffic, we wondered if it would be worth it. It was our biggest question. After spending a few hours wandering through those incredible fields and having those frustrations melt away, we felt it was worth the trip. We are glad we made an effort to visit the Carlsbad Flowers.
Will it be worth it to you? You will have to visit and find out.
Where to Stay in Carlsbad, CA?

Planning an overnight stay or to explore further? Carlsbad is known as the Village by the Sea and it's a great destination with many things to do for a quick getaway.

Right across the freeway from The Flower Fields you'll find: Hilton Garden Inn Carlsbad Beach
Top Attractions in Los Angeles, CA
Are you visiting Los Angeles, California? Planning to explore and be a tourist in LA. Walk amongst the stars on Hollywood Blvd. See the spectacular views of Los Angeles from the Griffith Observatory. Take a short ride on Angel's flight. Here are the top attractions in the city of Angels.
Activities at the Carlsbad Flower Fields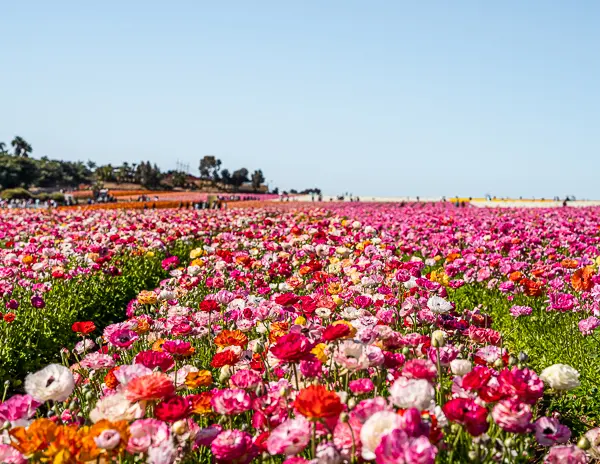 Here are some of the activities you can do at the Carlsbad Flower Fields:
Stroll through the flower fields and enjoy the colorful blooms. It was sort of a surreal experience and one that, in photos, seemed too good to be true.
Take a guided tractor wagon ride around the flower fields.
Don't miss the American Flag of flowers on the South side.
Visit the sweet pea maze and see if you can find your way out.
Let the kids run around and play at Santa's playground area.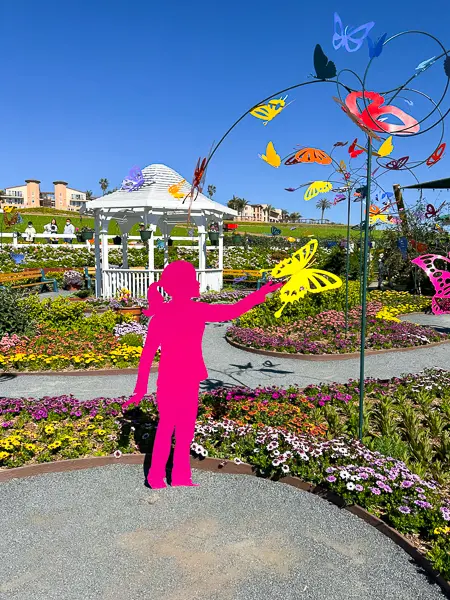 Visit the Artist Garden and Bird Aviaries, Don Miller's Garden, Ilusion Garden, and Butterfly Sculpture Garden.
Take your chance to mine for gemstones at the Carlsbad Mining Company stand.
Take a selfie or family photo at the various photo-op locations throughout the fields.
Try to attend one of their many special events, workshops, or activities, like Flower Crown Workshop, Flow Yoga, Bayou Festival, and more.
Book a luxury picnic overlooking the Carlsbad Flower Fields for a special lunch.
Check their activity calendar and book the sunset wine-tasting activity to experience the flower fields at sunset.
There are 2 acres of blueberries here at Carlsbad Flower Fields. U-pick blueberries are available for a limited time. Signs will be posted outside when this activity is available.
Take a break and enjoy some refreshments at the various food vendors on site.
Shop for your own Ranunculus flowers and bulbs or souvenirs and gifts at the Armstrong Garden Center Gift Shop on your way out.
Popular Things to Do in Orange County, CA
What are the best things to do in Orange County? Orange County is known for its sunny weather, beaches, and amusement parks. This list of the best things to do in the OC will help you discover and explore more of what Southern California offers.
Tips for Visiting the Flower Fields in Carlsbad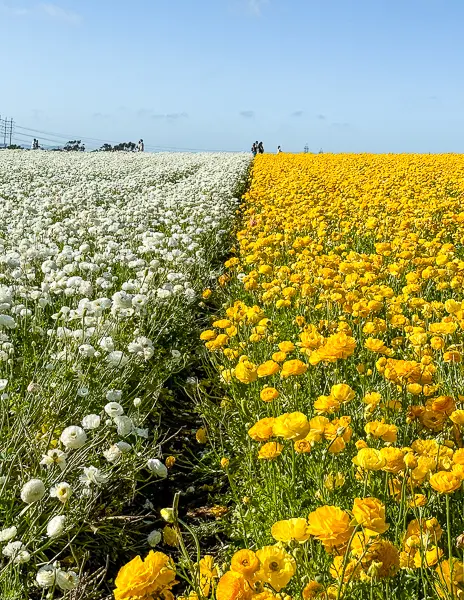 1. Plan to spend a few hours there.
We'd suggest giving yourself at least 2-3 hours to ensure you see everything. Of course, you can plan to spend the day there as there.
2. Check out the activity calendar.
Many activities are happening at the Flower Fields, from sunset wine tasting to yoga classes, picnics, and more. Stay up to date with their online activity calendar. You may want to attend and book one of these activities in advance.
3. Avoid the weekends.
It tends to be more crowded on the weekends, so if you want a less-crowded experience, try to go during the weekdays.
5. Wear comfortable shoes.
You will walk these fields for a while, so ensure you have comfortable shoes. We'd say that closed-toe shoes are even better because these are dirt paths. Your feet are going to get quite dirty if you wear sandals.
6. Wear sunscreen, bring a hat and don't forget your sunglasses.
The sun can be quite intense in California, and this is all outdoors. Bring all the necessary items – sunscreen, a hat, and sunglasses.
7. Bring your camera or phone to take photos and ensure they are charged.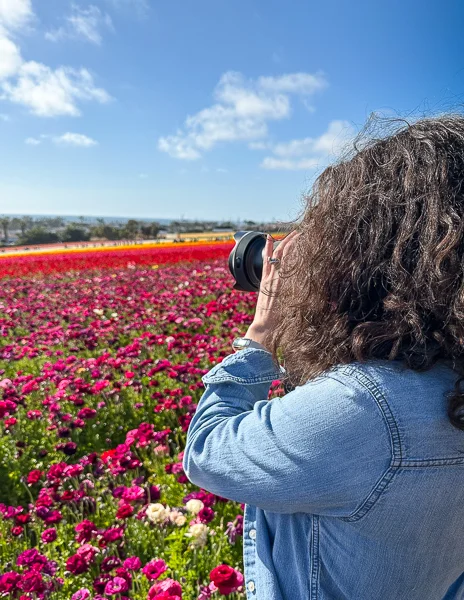 The views are incredible, and you'll want to capture every moment. Ensure your camera or phone is charged, and bring a battery backup if necessary.
8. Respect the barrier tape and guidelines.
Although the flowers are pretty, and you may be tempted to step behind the tape for a good photo, remember that the barrier tape is there for a reason. They are trying to protect the flowers. Respect the flowers and the rules set out by the staff at the flower fields.
We saw a few people take down the tape to take photos. Security came around and had to tell them to get out. Don't be that person.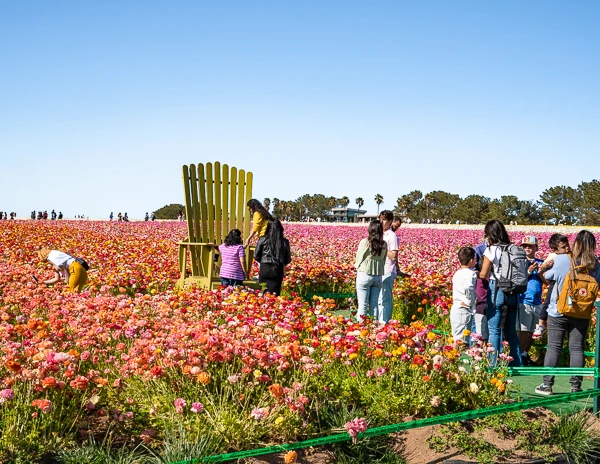 At the flower fields, you'll find benches, chairs and paths that have strategically been placed so you can take a closer look and also get better pictures.
9. Don't forget to take a wagon ride.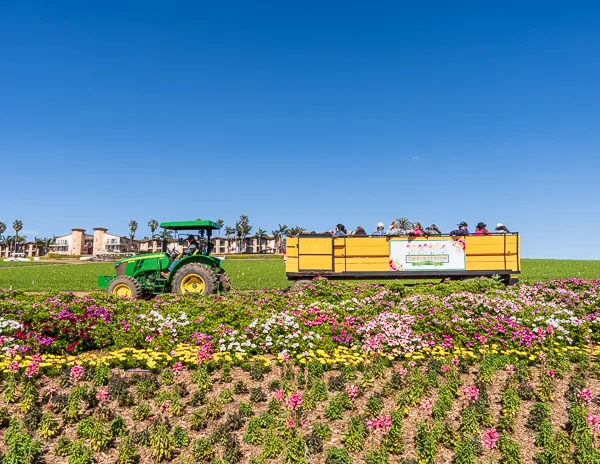 While the wagon ride is an additional cost, it is a fun way to tour the flower fields, enjoy the breeze, and get a different view of the area. However, for that perfect photo, you'll need to sit on the right side of the wagon as you ride.
10. Bring water and a snack or lunch.
The Carlsbad Flower Fields does have food trucks and vendors on-site, including a few vending machines. You may want to save money or time, or if you have dietary restrictions, consider bringing a lunch or snack. It's also smart to stay hydrated in the sun.
Share the tips & love on Pinterest: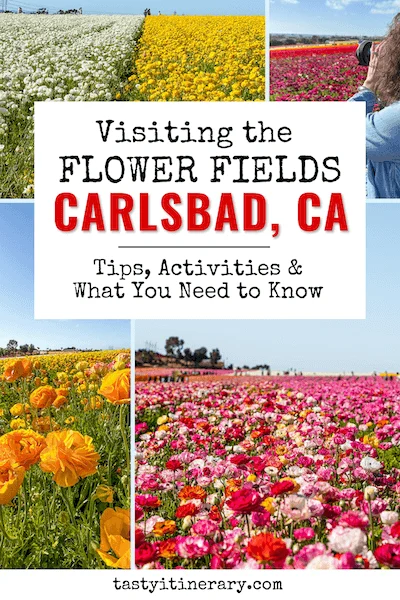 Meet Kathy Ava, a food, travel, and cruise writer based in Los Angeles/Pasadena, and the owner and main writer of Tasty Itinerary. With over 20 years of experience planning trips and logistics at her full-time job and for herself, she's become a pro at crafting unforgettable tasty itineraries. She's always on the hunt for delicious, fun travel destinations and cruise itineraries. She firmly believes that life is short and we must make the most of it, so always say yes to dessert.