Are you cruising to Cabo San Lucas? What are the things to do in Cabo San Lucas Cruise Port?
Cabo San Lucas cruise port is a popular port of call part of the Mexican Riviera itineraries.
Located on the southern tip of the Baja California Peninsula, the port is known for its beautiful beaches, crystal-clear waters, and stunning natural scenery, making it a popular destination.
During our last Celebrity Solstice cruise that sailed out of our home port of Los Angeles, we visited Cabo San Lucas and enjoyed a day whale watching, touring El Arco, and exploring the lively downtown.
After a gloomy and rainy winter, we were ready to escape Los Angeles for the warm sun that greeted us once we reached the Mexican Riviera. Cabo San Lucas is a top destination to travel to and from California.
The best part is when the cruise ship anchors and you have that incredible panoramic view of the massive rock formations known as Land's End, where the famous El Arco is located.
Now, there are many things to do in Cabo San Lucas Cruise Port, and it can be overwhelming when you're starting to plan your cruise day there. And if it's your first time, you may want to see the beautiful Arch in person and hit a beach afterward.
But whether you want to relax at the beach, explore the local culture, or sample some delicious Mexican cuisine, you'll have a fantastic day in Cabo.
This post may contain affiliate links, which means we'll receive a commission if you purchase through our links at no extra cost to you. Please read full disclosure for more information. We appreciate your support!
This article shares the top things to do in Cabo San Lucas Cruise Port and what to expect when you step off at Marina Cabo San Lucas Port.
We are cruisers and travelers that encourage everyone to explore and experience different cultures or at least do something that will bring you joy to add to your memory bank. We hope these ideas and experiences will help you plan a tasty itinerary in Cabo San Lucas.
Cabo San Lucas Cruise Port
Is Cabo San Lucas a tender port for cruise ships?
Cabo San Lucas Cruise Port is a tender port. This means the cruise ship will anchor offshore in Cabo San Lucas Bay and transport passengers ashore.
Usually, we are not a fan of tender ports as it sometimes takes way too long to get off the ship.
Sometimes tendering is super fast, and other times it can take a couple of hours by the time you make it on land. It all depends on how it's handled by the cruise ship and port of call.
Cruise tip: Schedule your tender time as soon as you embark, if this technology has been implemented on the cruise ship.

On the newer ships, you can sometimes book this from your cruise ship mobile app, from the TV screen in your room or even the touch screens around the ship.

If you have priority status on the ship that gives you priority tender, then you don't have to worry as much.
Celebrity handed out tender tickets in the morning at the Martini Bar. And if you get there later, the higher the number, the later your tender number will be called, which can delay your time in port.
The fastest tender we ever took was in Grand Cayman because the port has its transportation vessels that are double-decker, and they can take a lot of passengers at once.
In Cabo San Lucas cruise port, they do have their transportation -not double-decker- but they do fit a lot of people. However, if the port is busy with many cruise ships on the day you dock there, the cruise will use their smaller boats for tender as the port has limited vessels.
Sometimes booking a tour sponsored by the cruise line is easier because those tours will receive priority tender.
However, once you reach the Marina, you can decide whether to book a tour, head out to the nearest beach, or walk downtown.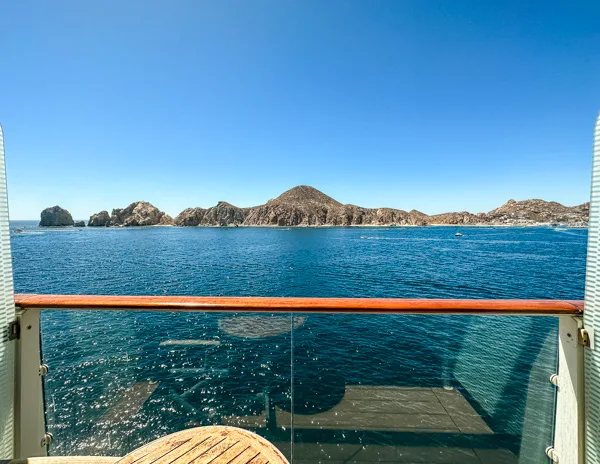 Do cruise ships dock in Cabo San Lucas?
Yes, cruises anchor offshore, not far from the famous Arch of Cabo and Marina Cabo San Lucas. A tender boat will take you from the ship to the port – a short jaunt of about 10 minutes.
What to do in Cabo San Lucas from a cruise ship?
There is no shortage of things to do in Cabo San Lucas from a cruise ship. You can book an excursion with the cruise ship or plan to explore on your own. There are many activities and tours you can book upon reaching the port.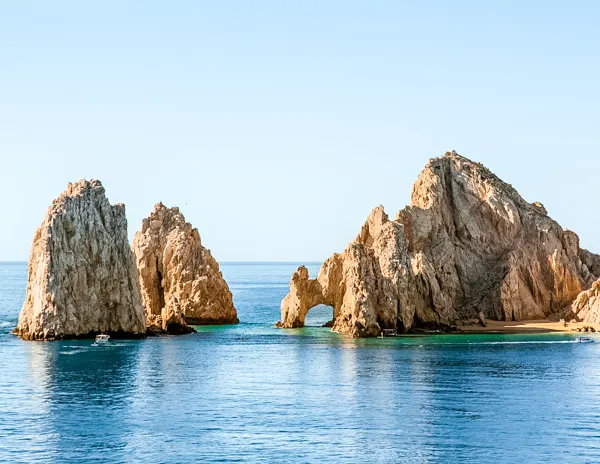 What is Cabo San Lucas famous for?
Cabo San Lucas is the famous Arch of Cabo San Lucas, also known as El Arco. This iconic rock formation is located at the peninsula's southern tip and is a must-see for anyone visiting the area. Visitors can take a boat tour to get a closer look at the arch and the surrounding area, home to various marine life, including sea lions, dolphins, and whales.
What to do in Cabo San Lucas for a day?
The most popular thing to do in Cabo San Lucas cruise port for a day is a boat tour of Land's End to see the Arch, with some time included at Lover's Beach, where you can swim and explore the rock formations.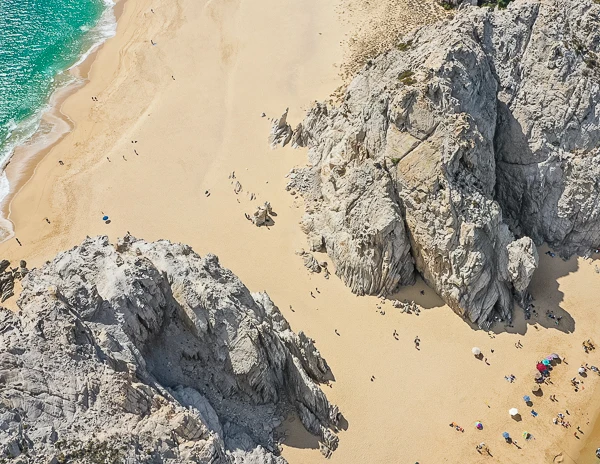 Cabo San Lucas Cruise Port Tips: What You Should Know
There is little to do at the Cabo San Lucas Port by the tender and marina area. The area has tons of pharmacies and shopping, which is typical when you arrive at a port.
If you want to do anything fun, book a shore excursion, negotiate with a tour operator waiting outside the tender area, or be ready to explore independently.
Tours and Shore Excursions
We were ready to book a shore excursion with the cruise line since it was a tender port; however, everything was completely booked. And then, we tried to find an independent tour to book, and anything worthwhile, was sold out.
We usually explore independently or have a tour booked before getting off the ship. For what we wanted to do, it was very easy to negotiate with a tour operator outside the tender area to take a tour of Lands End and go whale watching for a fair price.
If you don't get to book anything in advance, you can easily find a tour operator waiting outside the tender area to book a day of fun.
We exited the ship and approached a reputable vendor outside the tender area. And as you walk along the marina's boardwalk, you'll find many tour vendor shops arranging tours for tourists.
Read more: 11 Helpful Tips for Booking Shore Excursions Independently
Transportation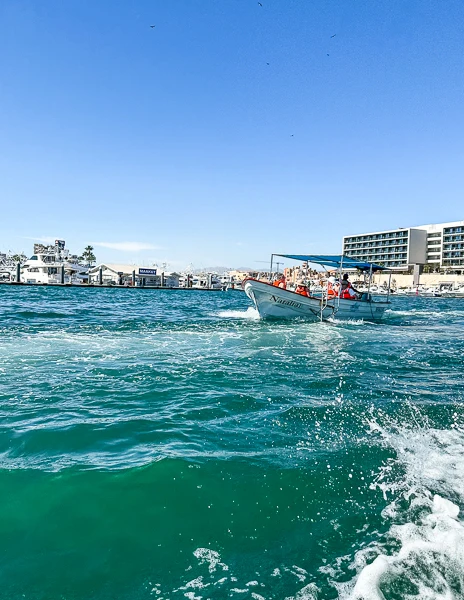 Water taxis are the most popular transportation option for cruisers just getting off the ship at Cabo San Lucas Cruise Port. You can book and negotiate the port tours and drop-offs at nearby attractions.
There are taxi cabs outside the marina that you can take to other nearby locations or into town. Note, the prices are quite high. Make sure to negotiate your rate before getting into the cab.
Money
You can use US dollars at the port, which is preferred. You can also pay by credit card where it is accepted.
Wear Sunscreen and a Hat
Do not forget sunscreen and a hat! The sun is brutal, and if you're out taking a tour by boat, even if it has shade, the sun reflects off the water. Protect your skin.
Read more: What to Pack for a Beach Vacation
If you forget a hat, don't worry. Vendors are selling them in the area, and you can negotiate the price. I ended up buying a new hat to add to my collection.
Things to Do in Cabo San Lucas Cruise Port
1. Take a Boat Tour of Land's End, See El Arco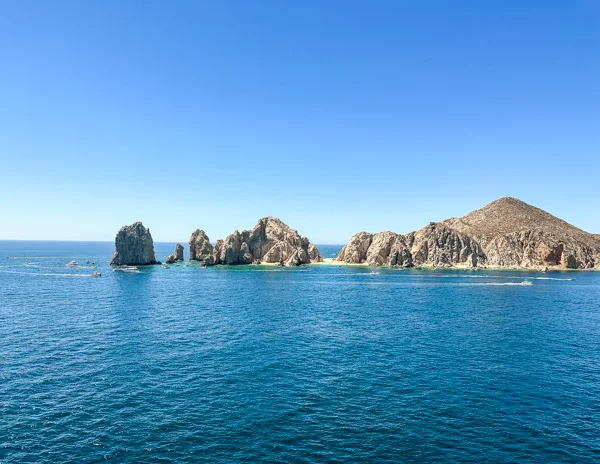 One of the most popular things to do in Cabo San Lucas Cruise Port is take a boat tour of Land's End.
Land's End in Cabo is the rock formation located at the southern end of Cabo San Lucas. El Arco is the most recognizable feature, a distinctive granitic arch formation that partially fills with the tide.
Even though we had a good view from the cruise ship, we wanted to take a water taxi tour and take a closer look from a different perspective.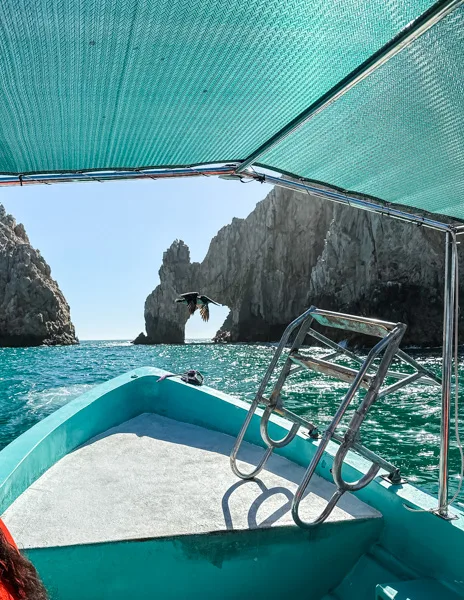 We saw El Arco, Pelican Rock, Sea Lion Colony, Lover's Beach, and Divorce Beach. The tour is pretty quick, and you'll see a lot of other boats in and around the area.
If the tides are low, you can ask the water taxi to drop you off at Lover's Beach or Divorce Beach to explore the area for an hour or two or go swimming or snorkeling.
Tour Ideas:
The Arch Tour with Amazing Captain in Cabo San Lucas [book here]
Tours in Cabo, Paseo al Arco, and Fin de la Tierra in Clear Boat [book here]
2. Relax at a Nearby Beach
When you visit Mexico, we probably all think of the same thing: beaches and tacos. While in Cabo for a short period, you may want to relax at a nearby beach rather than book a tour.
Can you walk to a beach from the cruise port in Cabo San Lucas?
The closest beach within walking distance from Cabo San Lucas Cruise Port is Canary Beach, also known as Playa Pública. It is a 5-minute walk from the port.
If you're looking for the closest beach with facilities, restaurants, and bars, you can take a 30-40 minute walk to Medano Beach.
Playa del Amor (Lover's Beach)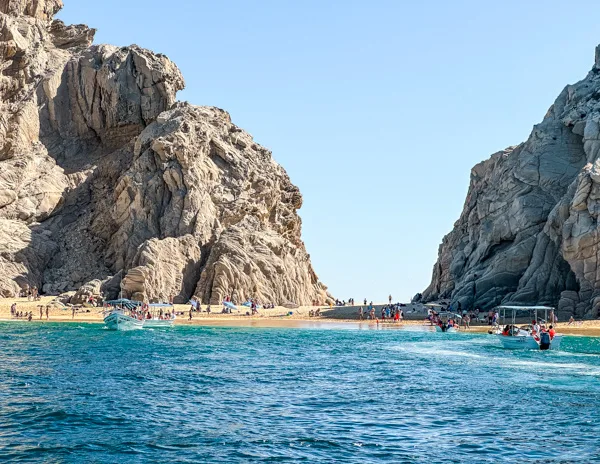 Lover's Beach is one of the top beaches to visit. It is named Lover's Beach because of its secluded and romantic setting. The beach is characterized by its golden sand, clear turquoise waters, and stunning rock formations.
The beach is accessible only by boat and if the tide is favorable. If the tide is high, the beach is nonexistent, and it's unsafe for anyone to go there.
Spending time on these rock formations on this isolated beach is an adventurous opportunity.
You can get off the ship and negotiate with a water taxi to drop you off and pick you up later.
Now, there are no facilities or lifeguards here, but it can get busy, especially if there are a lot of cruise ships in for the day. While there are no shops, there are vendors that will be selling items along the beach.
El Medano Beach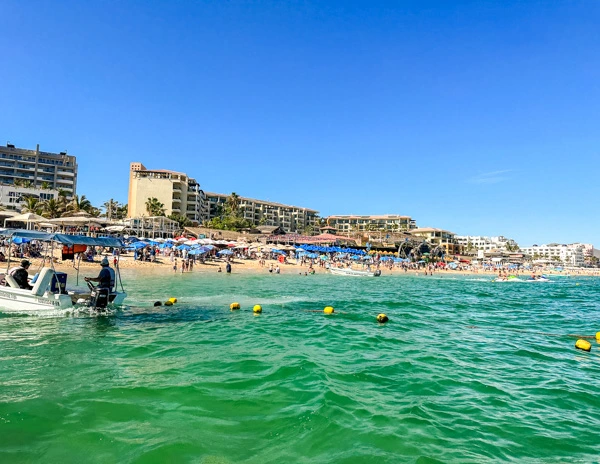 Playa Medano is the most popular beach in Cabo San Lucas, just a 15-minute water taxi ride or about a 30-40 minute walk. Most cruisers will jump on a water taxi (remember there are no docks at the beach, and you'll have to jump in the water to get off).
The beach is also famous for its lively atmosphere, with many restaurants, bars, and shops nearby. This is where most tourist flock to eat, drink and soak up the sun. You can also find and book water sports such as parasailing, jet skiing, and banana boat rides with tour operators in the area.
Note: This isn't it if you're looking for quiet and relaxation.
Cannery Beach | Playa Pública
While Playa Pública is technically the closest beach to the cruise port, it's not considered the most interesting. You won't find many restaurants or tour operators here, but you can enjoy a peaceful swim and sunbathing. Just don't forge to bring your beach towels from the cruise ship.
Alternatively, you can take a taxi cab to these other beaches:
Chileno Bay Beach (great for snorkeling) (20-minute ride)
Santa Maria Beach (21-minute ride)
Palmilla Beach (30-minute ride)
Tour Ideas:
Beach Day at Chileno Bay [book here]
3. Experience a Whale Watching a Tour
One of the best things to do in Cabo San Lucas is whale-watching.
The area is located on the migration path of several whale species, including humpback whales, gray whales, and blue whales. From December to the end of March, it is possible to see whales swimming and jumping in the waters around Cabo.
If you watch the ocean waters closely as the cruise ship approaches Cabo San Lucas, you will likely spot whales if it's the right season. Spend time on your balcony cabin or cruise ship deck to spot whales.
Whale-watching tours can be booked in Cabo San Lucas, and you can also combine this tour with a tour of Land's End. The tours depart from the marinas in Cabo San Lucas and provide an excellent opportunity to see these majestic creatures up close.
We did a whale-watching tour, and next to the food tour in Mazatlán we did on this trip, it was one of our top experiences on this cruise. We were shocked at how many whales were in the water and how close we could get to them.
These majestic creatures are incredible. The moment you see one, you experience true joy. We were lucky to see multiple whales.
A couple touring with us said it was their third-time whale watching in Cabo San Lucas, and this was the most they've seen on tour. So there is no guarantee you'll see any. You'll have a higher chance of seeing one if it's during whale season.
Tour Ideas:
Whale Watching with Photos Included [book here]
Whale Watching in Cabo San Lucas: Sightseeing Cruise [book here]
Luxury Catamaran Whale Watching Cabo San Lucas [book here]
Cruises vs. All-Inclusive Resorts
Cruise vs. all-inclusive resort? There are a lot of factors to consider when choosing between a cruise and an all-inclusive resort. Which is right for you? | tastyitinerary.com
4. Go Snorkeling or Diving
Cabo San Lucas is a paradise for snorkeling and diving enthusiasts. The crystal-clear waters of the Sea of Cortez and the Pacific Ocean are home to diverse marine life, including tropical fish, sea turtles, manta rays, and even whale sharks.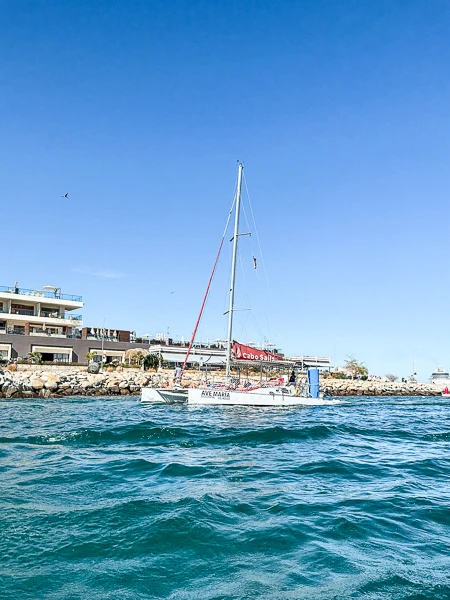 Where to go snorkeling in Cabo San Lucas Cruise Port?
Cabo San Lucas has several popular snorkeling and diving spots, such as Pelican Rock, Santa Maria Beach, Chilean Bay, and Cabo Pulmo National Marine Park. The marine park is a protected area home to the only living coral reef system on the west coast of North America, making it a must-visit destination for diving enthusiasts.
You can easily take a taxi to Santa Maria Beach or Chilean Bay to snorkel if you have your snorkel gear.
You can book a boat or catamaran tour to top snorkel spots.
You can book a diving excursion.
Tour Ideas:
Visit The Arch & Snorkel in Chileno Beach [book here]
Snorkeling tour in Cabo San Lucas [book here]
Los Cabos Snorkeling Tour: Chileno Bay & Santa Maria Cove [book here]
6. Explore Downtown Cabo San Lucas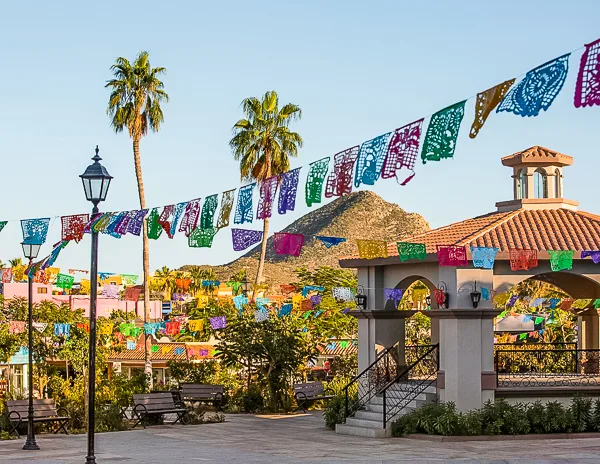 If none of the options above appeal to you, consider exploring Downtown Juarez, Cabo San Lucas. The area mainly has shops, cafes, restaurants, bars, and clubs. You'll be sure to find delicious food and souvenirs.
How to get to Downtown Cabo San Lucas from the cruise port?
Getting to Downtown Cabo San Lucas from the cruise port is relatively easy. Here are a few options:
Walking from the marina from where your ship tenders to Downtown Cabo San Lucas is about a 30-minute walk.

When leaving the tender area, go right onto the marina's boardwalk. Continue on the boardwalk by the marina until you pass the Oyster Bar on your right and then veer left onto Blvd de la Marina. Follow the Boulevard past Starbucks, and head north into the Downtown area.
Taxis or pedicabs are readily available near the cruise port, and it is a quick and easy way to get to downtown Cabo San Lucas. The ride takes about 5-10 minutes, depending on traffic.
Downtown is also close to Medano Beach. You make a pit stop along the way if you like.
7. Try the Local Cuisine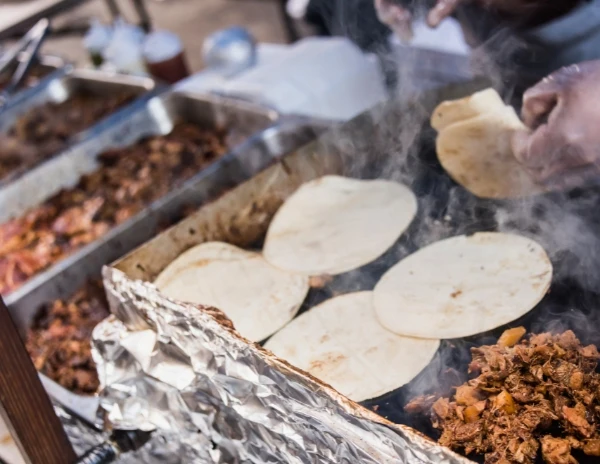 Many veteran cruisers tend not to get off in Cabo because they feel they've done it all. Even if we've done all the attractions in Cabo, we don't think we'd ever not get off and at least get some great Mexican food.
One of the top things you can do in Cabo San Lucas or any cruise port in Mexico is to sample traditional Mexican cuisine. There are restaurants near the marina, downtown or you take part in a food tour introducing you to authentic local flavors and dishes.
Here are a few foodie spots that get rave reviews from other cruisers:
Taqueria El Gran Pastor
Guss Tacos
Flora Farms
La Rana Vegana (vegan)
Mariscos El Torito (seafood)
Tour Ideas:
Eat Like A Local Cabo Food Tour [book here]
Taco Safari in Cabo San Lucas [book here]
Cabo San Lucas Downtown Food & Tacos Tasting Experience [book here]
8. Enjoy a Sunset Cruise
Sometimes the cruise ships are in port overnight or depart super late in the day, allowing the opportunity to enjoy a sunset cruise. So check your itinerary first and see if you have time for a sunset cruise. Take into account the last tender time.
A sunset cruise in Cabo San Lucas is a romantic and magical experience. As the sun sets over the Pacific Ocean, visitors can enjoy breathtaking views of the coastline, the famous El Arco rock formation, and the surrounding natural beauty of the area.
Sunset cruises typically include drinks, snacks, and live music, creating a festive and relaxed atmosphere.
Tour Ideas:
Sunset Dinner Cruise in Cabo San Lucas [book here]
Snorkel & Sunset Sail in Cabo San Lucas [book here
9. Enjoy the Nightlife
Cabo San Lucas is known for its nightlife. You may want to dance the night away in one of Cabo's lively bars and clubs for the cruise itineraries that stay overnight.
If you are getting off the ship in Cabo San Lucas, the main areas are downtown, Medano Beach, and the Marina district. Tenders are usually operating all night long, but you should verify with the crew on the ship regarding the frequency of the tender.
Read more: 10 Best Beach Drinks That Never Fail
10. Take a Day Trip
With a full day in Cabo San Lucas port, a day trip to a nearby destination is a great way to explore another part of the Mexican Riviera.
You can rent a car near the cruise port with Enterprise if you'd like to explore independently.
Or, you can book a tour that provides a guide and transportation.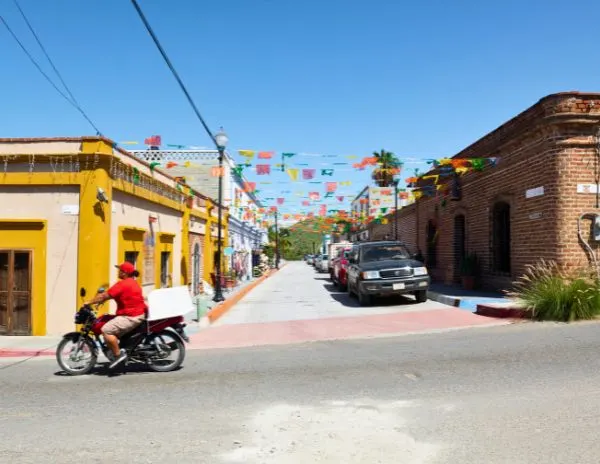 Popular day trips from Cabo San Lucas include:
Todo Santos (1-hour drive) is a picturesque coastal town known for its vibrant art scene.
San Jose del Cabo (a 45-minute drive) is the other side of Los Cabos, the quieter side, and where vacationers spend time when they land on a plane.
La Paz (2-hour drive) is a charming coastal city known for its marine life.
Tour Ideas:
Balandra, La Paz and Todos Santos [book here]
Todos Santos Day Trip from Cabo San Lucas [book here]
Cabo San Lucas and San Jose del Cabo Sightseeing Tour [book here]
Share the tips & love on Pinterest: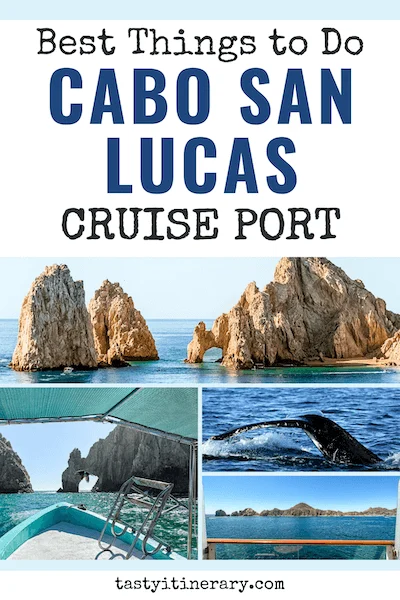 Meet Kathy Ava, a food, travel, and cruise writer based in Los Angeles/Pasadena, and the owner and main writer of Tasty Itinerary. With over 20 years of experience planning trips and logistics at her full-time job and for herself, she's become a pro at crafting unforgettable tasty itineraries. She's always on the hunt for delicious, fun travel destinations and cruise itineraries. She firmly believes that life is short and we must make the most of it, so always say yes to dessert.