Spend a Fun Day at Paradise Beach in Cozumel, Mexico
Is Cozumel a port-of-call on your cruise itinerary? Spend a day at Paradise Beach in Cozumel, Mexico.
The island of Cozumel is a paradise with plenty of beautiful beaches and things to do. If you're looking for a day of fun in the sun, a beach club is a great way to spend it. Paradise Beach in Cozumel is one of them.
We fell in love with the island of Cozumel when we first visited cruising on the Norwegian Getaway cruise ship.
During our first time in Cozumel, we booked a private Jeep excursion with Cozumel Cruise Excursions (.NET), which provided us with a Jeep Wrangler and a guide for the day. It allowed us to drive around freely with someone with local knowledge and left us with a great first impression.
We visited a few main attractions and a couple of different beaches, had the privilege to release a sea turtle (completely unplanned), and had an amazing lunch with a snorkeling adventure soon after.
This post may contain affiliate links, which means we'll receive a commission if you purchase through our links at no extra cost to you. Please read full disclosure for more information. We appreciate your support!
We were 100% certain we'd return someday. We didn't think it would be this soon. Luckily enough, we found ourselves back in Cozumel a year later.
Cozumel, Mexico, was our first port of call on our 9-day Western Caribbean itinerary with the Norwegian Pearl. It turned out to be a Sunday. I learned from my research that many resorts, stores, restaurants, and bars shut down on Sundays.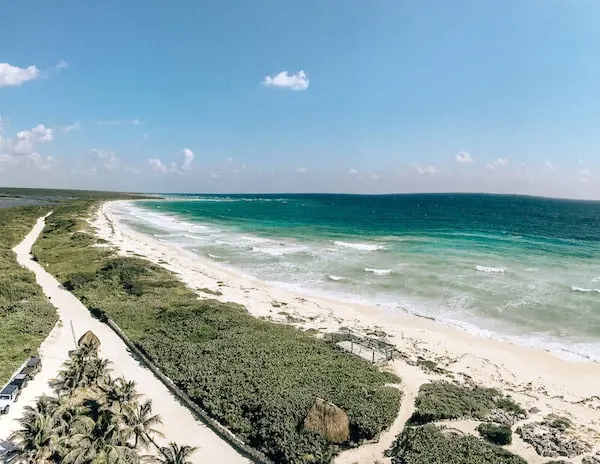 Now, plenty of shore excursions are available to book through the cruise ship, but we normally like to do independent excursions. That is our personal choice.
So we decided a relaxing beach day would be the perfect start since we had another 5 ports ahead of us.
What to Do in Cozumel, Mexico
Best Beaches in Cozumel Mexico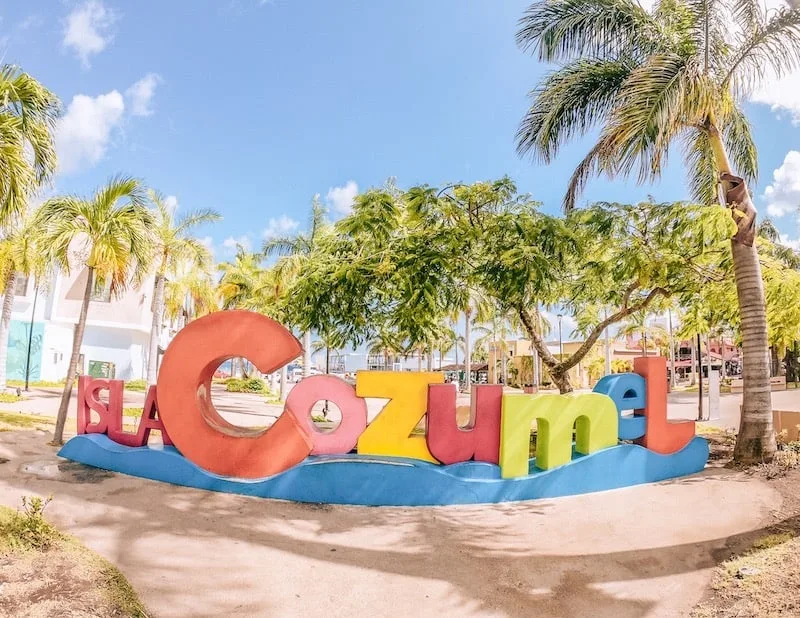 As a planner, I like to have a general idea of what we will be doing when we arrive at a destination because I do not like wasting the precious time we may have there.
I understand that sometimes plans fall apart, and you must go with the flow. This happened to us when we hopped in a cab at the port in Cozumel.
That said, here are some of the best beaches and beach clubs in Cozumel, Mexico:
Nachi Cocom (Beach Club): Book in advance as they limit the number of guests. It's all-inclusive.
Mr. Sanchos (Beach Club): Great for families.
Paradise Beach (Beach Club): Small entry fee.
Remember when you're planning that Cozumel has some of the best snorkeling. It has the 2nd largest reef in the world.
The beach I had in mind, Playa Palancar, is closed on Sundays. I was confused because I read online it would be open. I really should have emailed them during my research for confirmation, but I failed at doing so.
In the taxi, the driver drove in the direction of Playa Palancar and inquired over the phone to see if it was open. He shortly received confirmation that it was closed. I was disappointed. Hubby wanted to return to the cruise port, but that was not an option for me.
We are on an island. Just because one beach is closed doesn't mean the rest are. We were a ship of over 2k passengers some establishments were expecting us.
The driver rattled off options, most of which weren't foreign to me, but Paradise Beach in Cozumel, Mexico, is popular among cruisers. After agreeing, off we went.
Cruise Tip: Have some idea of the top things to do at the ports, especially if you're taking a taxi. Some drivers will take advantage and drop you off at a subpar location with a high entry fee where they will get a kickback. This happened to someone close to me; the beach and Cozumel left them completely disappointed.
122 Quick and Helpful Cruise Tips
Are you in the process of planning your cruise vacation? From cruise packing tips and hacks to what to do on the cruise ship and at the cruise ports, we have everything you need to know to ensure your cruise is unforgettable.
Paradise Beach in Cozumel, Mexico
How far is Paradise Beach from Port?
Paradise beach is only 5 miles from the cruise port in Cozumel.
How do I get to Paradise Beach from the cruise port?
You can get a taxi at the cruise terminal in Cozumel, and they'll have you at Paradise Beach in 10 minutes.
We arrived and were greeted immediately by a staff member that wrapped a wristband around our wrists.
Basic Cost: $3 per person for entry.
Requirement: Spend $10 per person on food/beverage minimum
Please note these were the cost at the time. Prices are subject to change. Make sure to contact Paradise Beach directly for pricing in advance.
What's included?
• Clean bathrooms & use of facilities
• Use of pool
• Beach chairs at the pool or beach
• Outdoor showers
Fun Pass to use the water park, kayaks & snorkeling is an extra $18 pp.
We were given the option to sit anywhere we'd like. There is plenty of seating by the pool or the beach. They only required that we spend $10 pp on food and drinks. Not a problem.
After spending part of our day there drinking Piña Coladas and munching on quesadillas, it truly is worth the value.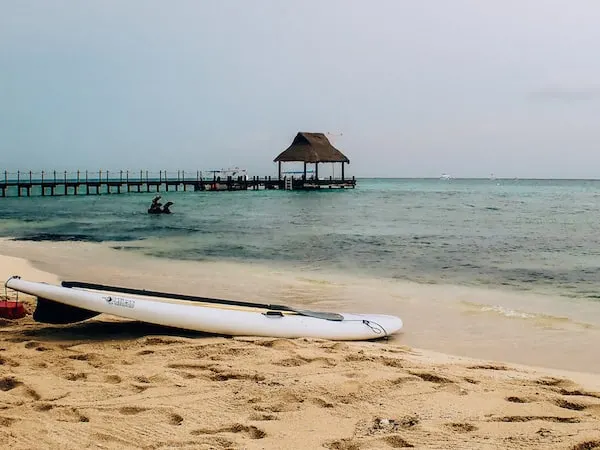 The beach club is beautifully maintained and has everything you need for fun in the sun.
At the pool, you'll find restrooms that are clean and well-attended. There is a beach bar near the pool—tables and chairs to have lunch at. Waiters can take your orders and keep your beach drinks flowing as long as you order them.
If you're looking for a massage, you can book one at the beach.
The beach bar has two beautiful parrots you can hang out with.
There is also a lifeguard posted on the beach.
The staff is friendly.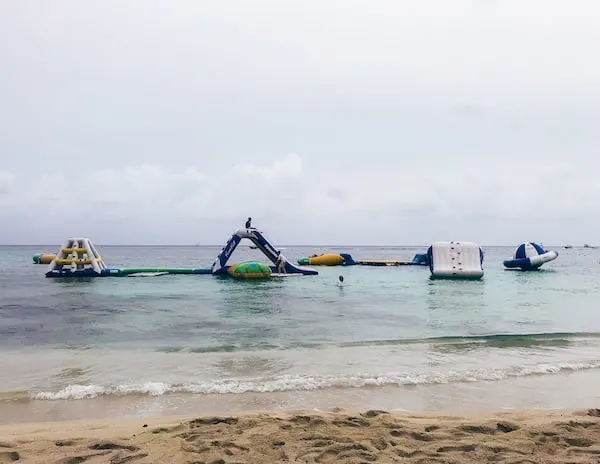 How much is a fun pass at Paradise Beach?
You can purchase a fun pass at Paradise Beach for $18. The fun pass includes kayaks, a floating water park, stand-up paddles, and water hammocks.
The blow-up water toys are fun, especially for your kids. I learned only after the fact that they are extra to use… $18 pp for unlimited use.
Let's discuss this $18 pp fee for the waterpark.
We were never given this option upon entry by our greeter, waiter, or anyone else when we chose our seats at the beach. We lounged at the beach, swam, and snorkeled (with our snorkel and mask). We even played at the water park at the very end. Never once did anyone ask us for $18.
However, hubby did get charged $18 to rent a pair of snorkeling fins. These days we bring our snorkel and mask.
Is snorkeling gear included in the fun pass? According to another Cruise Critic reader, the rental of the snorkeling gear was included with their fun pass, which was their experience visiting Paradise beach.
There are conflicting reports.
I share this because you can do your due diligence and research before you leave on your cruise. It's good to have this knowledge to avoid miscommunication and scams.
Since Paradise Beach Club was a spur-of-the-moment decision for us, and since I couldn't recall these details before getting there, we rolled with it. It was a Sunday and a slow day for the beach club; perhaps they decided on a different set of rules, or maybe they didn't notice.
Either way, $18 pp for a fun pass to use the water park, kayaks, paddleboards, and water hammock is a great deal. Here is more information on the fun pass on their site.
Get beach-ready with this packing list! Whether you're heading on a day trip to the beach or taking a beach vacation, this beach packing list comes in handy every time. Don't miss packing any of these items. Printable included!
Great Time at Paradise Beach
We had a great time at Paradise Beach in Cozumel, Mexico, even with an overcast day. Drinks and delicious quesadillas were consumed. The clouds did not stop us from relaxing or swimming.
At around 2 PM, we decided to head back to the ship. Taxis are lined up outside the beach club, waiting to take people back to their cruise ports. If there are none, you can ask someone at the front to call one for you. By the time we returned to the ship, it was raining.
I do recommend Paradise Beach in Cozumel. Pay them a visit if you are looking for a great beach day..
At some point in the future, I may return. It was a nice beach club with great food and drinks. I do appreciate a beach club that is clean and well-maintained. It is a great value and, without a doubt, family-friendly.
However, when everything is open on a regular day during the week, there are many options to explore in Cozumel, Mexico. Only having part of a day there with a cruise on a regular business day, I can't say Paradise Beach will be my first choice.
Next time I'm in Cozumel, hopefully, on a business day, I rather spend my time discovering a new beach, taking a snorkeling excursion, or renting a vehicle to do my exploration. That's just me.
How to Book Shore Excursions Independently
Planning and booking shore excursions for your cruise vacation? Here are helpful tips for booking shore excursions so you can save money, make the most of your time in your port destination and make amazing memories.
Other Fun Things to do in Cozumel, Mexico Cruise Port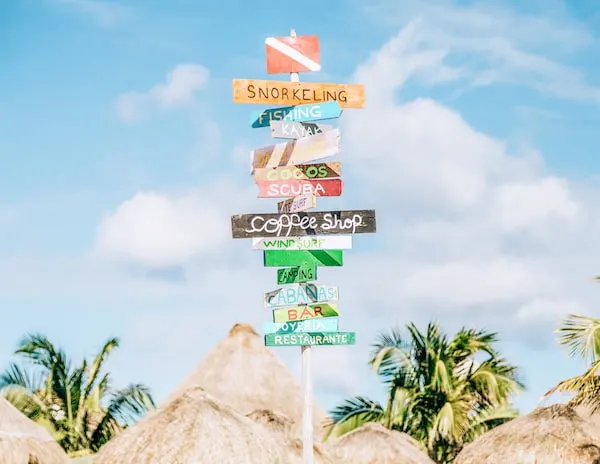 1. Private Jeep Excursion
As I mentioned at the beginning, we absolutely loved our tour with Cozumel Cruise Excursions (.NET). It's a private tour in a 4×4 Jeep Wrangler that you will drive with a guide accompanying you that will give you a comprehensive tour of the island. Lunch is included.
2. Submarine Dive
Take a 100ft dive in an Atlantis Submarine expedition. If there is one place you'd like to see the world under the sea, Cozumel is one of them.
3. E-Bike Tour and Snorel
Take a tour of the West Side of Cozumel on an electric bike and snorkel at Tormento's Reef. Spend some time relaxing on the beach.
4. ATV Mud Kicking and Snorkeling by Boat in Cozumel
Feeling adventurous? Go off-roading in the jungle of Cozumel and then take a dip in one of the famous cenotes.
5. Sail & Snorkel
I don't like saying no to a Catamaran Snorkel tour. Take this 6-hour snorkeling Cozumel tour by Catamaran to El Cielo Bay And Beach. You'll enjoy sailing off Cozumel's coast even if you don't snorkel. The water there is breathtaking.
Share the tips & love on Pinterest: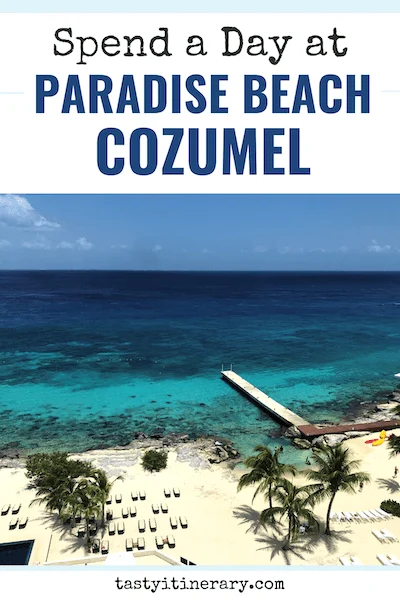 Meet Kathy Ava, a food, travel, and cruise writer based in Los Angeles/Pasadena, and the owner and main writer of Tasty Itinerary. With over 20 years of experience planning trips and logistics at her full-time job and for herself, she's become a pro at crafting unforgettable tasty itineraries. She's always on the hunt for delicious, fun travel destinations and cruise itineraries. She firmly believes that life is short and we must make the most of it, so always say yes to dessert.