We're cruising again! This time we are cruising Norwegian Getaway.
Last summer, after many discussions of where to head in the fall last summer, surprisingly, we booked a cruise. After a terrible cruise 8 years ago, we vowed never to cruise again, so it did come as a shock when we finally agreed to give it another try.
Many of our friends were cruising and having a blast, so we figured another chance could not hurt. This time I decided to try a completely different cruise line and came across a fantastic itinerary to the Western Caribbean on the Norwegian Getaway out of Miami, Florida.
I will admit, at first, I loved the idea of a planned itinerary. Let's not forget the endless variety of delicious food offered when you're on the ship. I figured once I booked, everything would be laid out for us.
I didn't have to worry about room and board or finding the best places to eat. Everything would be at our disposal. I could go on and on; we have an article listing the 25 best reasons to cruise.
I envisioned myself with a fruity vacation cocktail with my husband, next to the pool, basking in the sun, getting off at the ports, and just winging it. So there wouldn't be much for me to arrange. Right?
Wrong!
I couldn't help myself. Like a dog on a bone, I dove right in and read as many reviews and as much online information about the Norwegian Cruise Line and their ship: Getaway.
This post may contain affiliate links, which means we'll receive a commission if you purchase through our links at no extra cost to you. Please read full disclosure for more information. We appreciate your support!
Please note: This post was originally posted in 2017.
Cruising Norwegian Getaway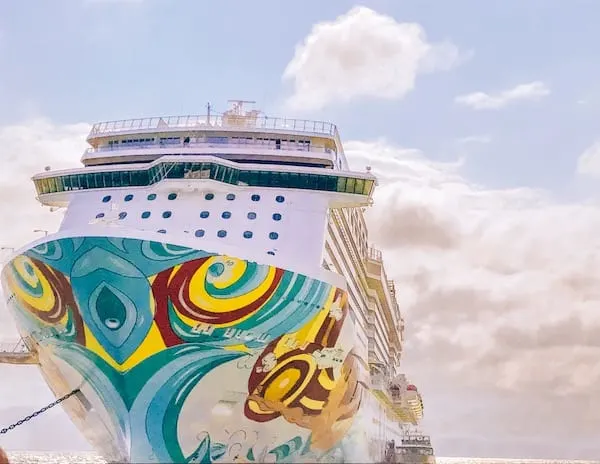 Knowledge is power. There is nothing wrong with being well-prepared.
For example, if I hadn't dedicated my time to learning every piece of intel I could gather about this ship, I would have never learned about the secluded, adults-only area called The Vibe. And your chances of getting your hands on a pass depending on how fast you can run to Headliners Comedy Club (deck 6) to grab one of the 70 passes at an extra cost (at the time we took this cruise).
Every review I read with Vibe passes made it sound like it was a slice of heaven, and it probably is. I almost convinced hubby we needed to be at the terminal super early to score these passes, but then the Advance Upgrade Bid Program happened.
We also joined a cruise roll call which helped us make the most of our experience back cruising.
Don't Miss: How to Plan a Cruise Vacation
Cruise Cabin Upgrades
Upsells seem to be popular on the Norwegian Cruise Line.
There used to be an 800-number to call to get a great deal on a suite – so I've read. Customers searching for a sweet deal would call this number and be quoted a fantastic discount for a higher category room than they originally booked.
After our final payment, Norwegian decided to try a new method by inviting customers to bid on these upsells. I took the knowledge I had gained, did some math, and submitted a bid I thought was fair. And guess what?
We won!
With our bid, we originally booked a mid-ship mini-suite and were upgraded to a Haven Penthouse suite. We saved around $2,000 by taking a chance with a bid instead of booking the Haven directly. We were able to keep our Free at Sea Perks: Unlimited Beverage Package (UBP) and (3) specialty dining Program (SDP).
We would have been just as happy with the mini-suite if we hadn't won. However, given the opportunity, the Haven is a treat we wouldn't mind repeating.
122 Quick & Helpful Cruise Tips
We've gathered 122 of our top cruise tips and hacks to help make your planning process smoother and your cruising experience even more fabulous.
The Haven on the Norwegian Getaway
Let's talk about The Haven. It did not disappoint. The priority access every time we embarked or disembarked was 100% worth what we bid alone.
Our room was spacious, with modern decor, a comfortable King bed, and ample storage space. The Lavazza coffee machine in our suite was a dream come true for Hubby.
[Update: I heard the LAVAZZA machines were replaced by NESPRESSO machines.]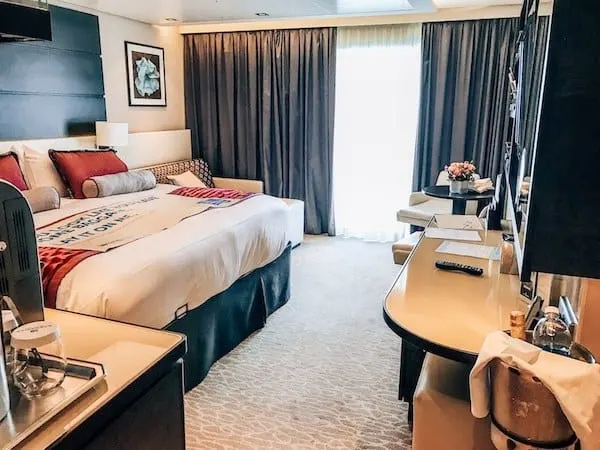 The butler was on call when we needed him – not that we really used him. Every afternoon, we would return from port to find, and we'd find yummy snacks he'd leave in our room.
Our steward kept the room clean and was on top of everything. The concierge was always available and helpful. The crew throughout the entire ship was friendly and wonderful. No complaints.
The exclusive pool, hot tubs, and courtyard for Haven guests are precisely what was needed to relax during sea days.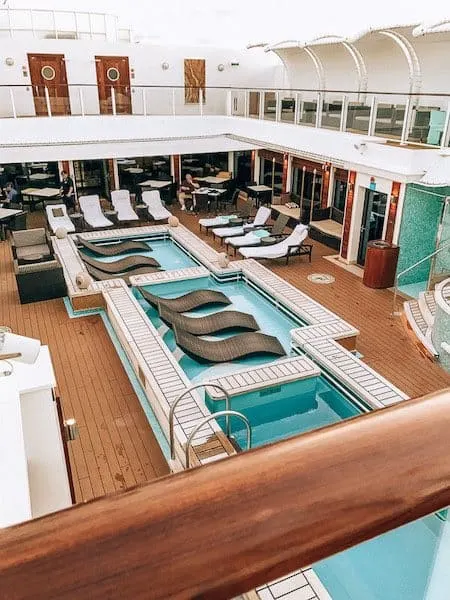 We did venture out of the Haven. We enjoyed the water slides, ate at the buffet many times for lunch, and sat at the waterfront with a couple of drinks while gazing at the sunset. The cruise ship had plenty to do, and we made a pretty good attempt not to miss out on anything. I do regret not trying out the rope course.
Don't Miss: 28 Top Cruise Essentials for Your Cruise Packing List
Tasty Itinerary: Food on the Norwegian Getaway
The food, we thought, was great throughout.
Buffet: I loved that they had scooped ice cream of different flavors and soft served. Fresh crepes for dessert at dinner time – YUM. As far as the rest of the food, what I did try, I remember enjoying. The best part of a buffet is there is something for everyone.
O'Sheehan's: This pub is open 24/7, where you can have a late-night burger and wings. Beer is optional.
Cagney's Steakhouse (a specialty restaurant): While it is not Peter Luger's in New York City, it was still pretty good, and I recommend it if you are a carnivore.
Teppanyaki (a specialty restaurant): The chef was highly entertaining, and there was plenty of food. Scratch that, an abundance. We booked this with our free specialty dining package, but if you decide to pay a la carte, you'll get your money's worth.d
The Haven Restaurant (only available to Haven guests): This restaurant is superb! We were impressed and didn't feel the need to try other specialty restaurants beside the ones already mentioned. We had breakfast there every morning. I had my favorite eggs Benedict and hubby got his fill of filet mignon and eggs.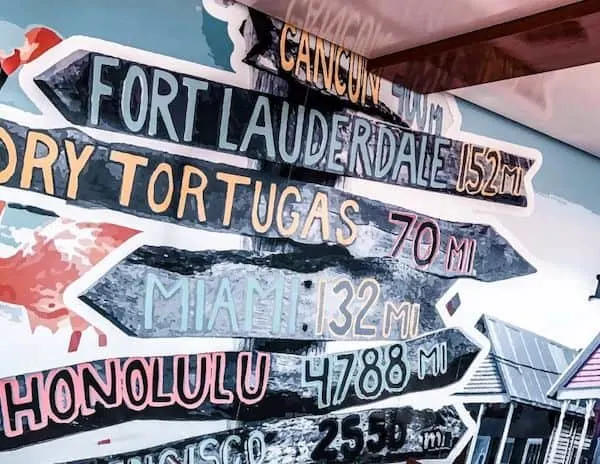 Entertainment
I have to give props where they are due. The Norwegian Getaway was the first ship I'd been on in 8 years, but I remember the boredom and aggravation endured on our previous cruise. To say the entertainment on this one was above par would be an understatement.
I participated in many of the activities throughout the ship. Every night there was a different dance party at H20. If that isn't your scene, you can hang out in the atrium, where a band played different music. There was also Howl at the Moon – hubby's favorite activity – and singing along with the guys dueling with their pianos. There was something for everyone.
The best show of the week was "Million Dollar Quartet." Standing ovation! Hubby and I were astonished at the talent of this ensemble. The music, the acting and the singing was unbelievable. I recommend you not miss this show while it's still playing on NCL Getaway.
Bonus: You might be able to catch the cast members at Howl at the Moon, and if you're lucky, they might even join in on the performance.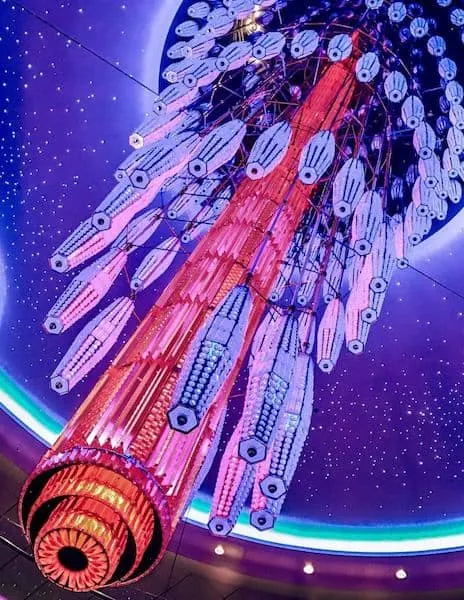 I'm sure I'm missing something, as it was a full week. Even though it was a while ago, it was a pleasure to reminisce and write a summary of the great vacation hubby, and I had
Norwegian won us over as customers; we even purchased two cruise next vouchers. We are looking forward to dividing our time between land vacations and cruising. I'm looking forward to sharing our experiences with you… the good, the amazing, and the ugly.
Share the tips & love on Pinterest: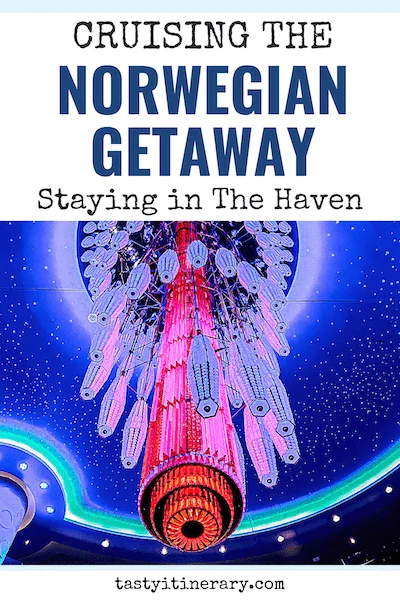 Meet Kathy Ava, a food, travel, and cruise writer based in Los Angeles/Pasadena, and the owner and main writer of Tasty Itinerary. With over 20 years of experience planning trips and logistics at her full-time job and for herself, she's become a pro at crafting unforgettable tasty itineraries. She's always on the hunt for delicious, fun travel destinations and cruise itineraries. She firmly believes that life is short and we must make the most of it, so always say yes to dessert.