Looking for things to do in the French Quarter of New Orleans? Is this your first visit to the French Quarter?
The French Quarter is the oldest neighborhood in New Orleans, also known as Vieux Carre Historic District. It is in the heart of New Orleans.
By far one of my favorite places to visit and eat. The charming European architecture, the amazing food, the kindness of the locals, and the vibrant jazz and music are heard throughout the city.
It's the trip you take when you only want a few days of great food and atmosphere. The one you take when you miss your European adventures, the French Quarter helps fill that void and more.
If you're looking for a city that is always in a festive mood, the French Quarter is it. After almost two years in quarantine in Los Angeles, I was ready for this trip.
What is the French Quarter known for? Mardi Gras… New Orleans knows how to celebrate. They have a festival for just about everything. If you love something, New Orleans probably has a festival for it. This is a city that celebrates fried chicken! What's not to love about that? Finger-lickin' good. I'm in!
We were recently in the French Quarter during Halloween weekend (a whole other post) for a wedding with a Second Line. It was an experience we'll never forget and one of the most fun weddings we have ever attended.
Locals and tourists joined in on the celebration as we paraded with the bride and groom through the streets of the French Quarter.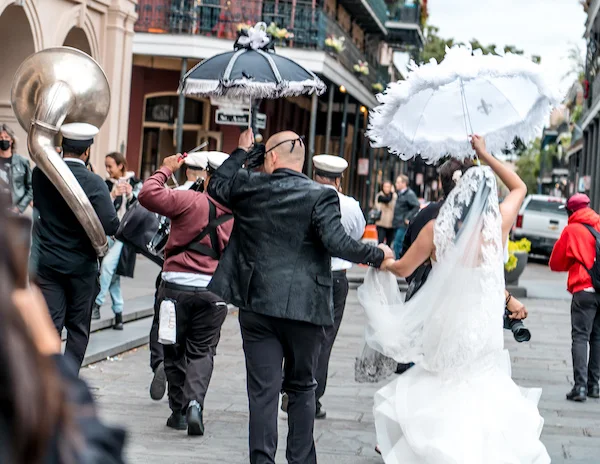 Four years ago, we were last in New Orleans for 3 days. While three days in New Orleans may seem like not enough, at the same time, it is. The French Quarter is a great place to explore in doses because you can't do everything simultaneously.
Three to four days is a good time in the French Quarter; you can even explore beyond it. What top attractions are a must-see in New Orleans? You may want to visit the World War II Museum and New Orleans Museum of Art, eat where Obama likes his fried chicken from – Willie Mae's (seriously the best-fried chicken), and perhaps take a swamp tour. These are all great ideas for great things to do in New Orleans.
On this trip, we mostly explored the French Quarter during the day. Ate our way through this vibrant city. And fell in love with New Orleans all over again. From then on, we vowed to try to visit New Orleans more often.
The food in New Orleans is incredible. And the European influence in the French Quarter is like no other place in the United States.
I'm still swooning over the gas lamps found throughout the quarter.
This post may contain affiliate links, which means we'll receive a commission if you purchase through our links at no extra cost to you. Please read full disclosure for more information. We appreciate your support!
In this post, we share all the best things to do in the French Quarter, including some of our favorite things to eat. This is a Tasty Itinerary, so food is a big part of our travel itineraries. So if this is your first time visiting New Orleans, this is a great list to help you plan that trip to the French Quarter.
New Orleans is also one of our top places to visit.
You'll want to take a ghost tour while you're there. Walk up and down Bourbon Street and Royal Street. Hit up Cafe Du Monde for beignets and cafe au laite. Visit the oldest structure that's a bar in the US. Eat your way through the French Market and more.
A Few Tips for Your French Quarter Trip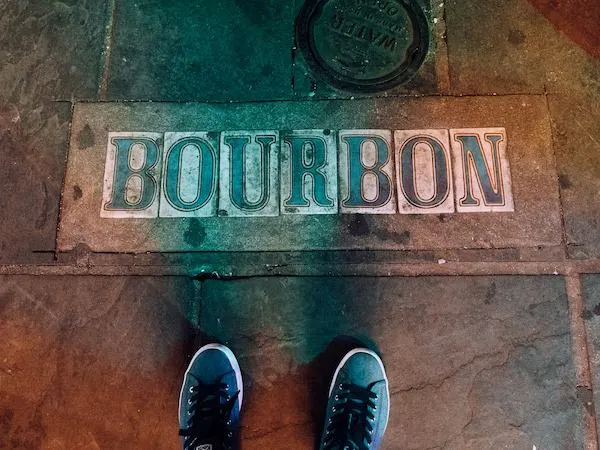 1. The street names can be found on the corner of the sidewalks. I point this out because we are used to seeing signs and kept looking for them. Even though we knew from our last visit, they were on the sidewalk corners.
2. Where to stay in the French Quarter? In the past, we stayed closer to Canal Street at the Courtyard by Marriott Iberville. That was nice, and we were able to walk to everything.
However, the most recent stay was right in the heart of everything, and stayed in The Place d'Armes Hotel (make sure to ask for a renovated room). I loved that it was around the corner from St. Louis Cathedral and closer to Decatur. It was a great location.
I recommend staying away from Bourbon Street if you like to sleep. But if you want to be part of the lively festivities at night on Bourbon Street, then, by all means, check out the hotels on Bourbon Street.
3. Book a hotel room months in advance if you're going around the holiday (like I did for Halloween) or during one of their festivals.
4. If a popular restaurant is high on your list of places to eat, see if they take reservations and make one in advance.
5. Wear comfortable shoes. Those cobblestone streets are not made for heels.
6. Is it safe to walk around the French Quarter at night? The French Quarter is relatively safe, but like any other city, always be cautious and vigilant of your surroundings. Also, do not fall for any scams.
Things to Do in the French Quarter
Here is a Google Maps link to all the places mentioned in this article so you save and start planning your time in the French Quarter of New Orleans.
1. Bourbon Street
The infamous Bourbon Street is at the top of the list because you can't visit the French Quarter in New Orleans without experiencing it. Bourbon Street is 13 blocks long from Canal Street to Esplanade Avenue.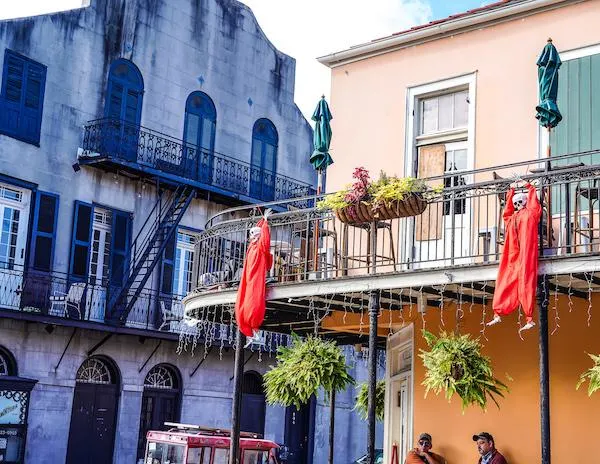 The majority of the city's festivities take place on Bourbon Street. Everyone spills out onto the streets from the bars and hotels. Above the street, balconies are full of visitors and locals celebrating with drinks and tossing beads into the crowds below.
In our opinion, the best time to appreciate Bourbon Street is during the day. It's quieter (if there isn't a festival), and sometimes you'll come across a street jazz band or two, which is always so much fun and makes New Orleans magical.
While it's daylight out, you can admire the architecture and history along Bourbon Street, including the ornate ironwork from the balconies that used to signify the wealth of the person, the homeowner.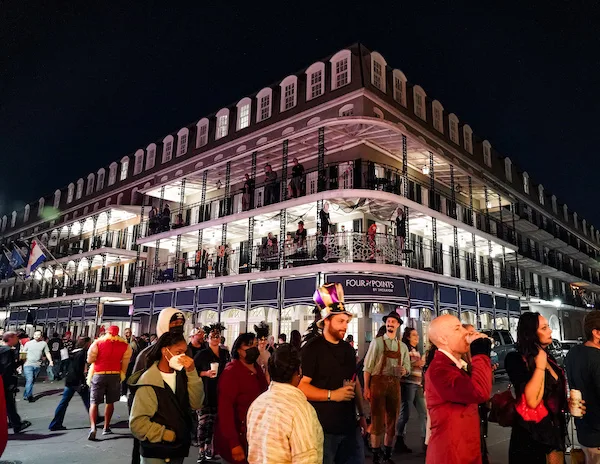 At night it's a whole party scene and can get quite rowdy. If it's for you, have a blast. Looking for a quieter scene in the French Quarter at night? Just walk away from Bourbon, and you'll be fine.
2. Take a walking tour of the French Quarter
One of the things to do in the French Quarter is a walking tour of this historic neighborhood. Especially if it's your first visit, it's a great introduction, and you'll learn some great facts you wouldn't on your own. They'll take you down intriguing paths and point out our nooks and crannies you'd probably miss otherwise.
Free Tours by Foot offers walking tours in the French Quarter and other related tours. Highly recommend booking a tour with them.
Wondering how to spend 3 Days in New Orleans? Get a taste of New Orleans with this itinerary.
3. St. Louis Cathedral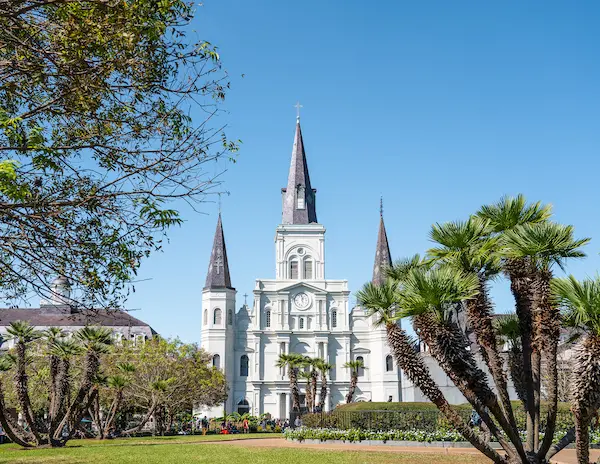 The Saint Louis Cathedral is hard to miss as it is the heart of the French Quarter. This beautiful church dominates the beauty of Jackson Square. It is the oldest Catholic Cathedral still operating in the United States. And one of the most photographed landmarks in New Orleans.
It is worth the visit inside when it is open to the public. You wouldn't expect it to be so grand from the outside, but it takes your breath away when you enter. You can take a self-guided tour with a $1 donation.
St. Louis Cathedral | 615 Pere Antoine Alley, New Orleans | Google Map It
4. Take a Stroll Through Jackson Square
Jackson Square is a National Historic Landmark. This historic park can be found right before St. Louis Cathedral or off Decatur Street.
The grounds of the park are beautifully kept. It's a great spot for photo opportunities with the Andrew Jackson statue and the St. Louis Cathedral in the background. It's also a quiet place to take a seat and people-watch.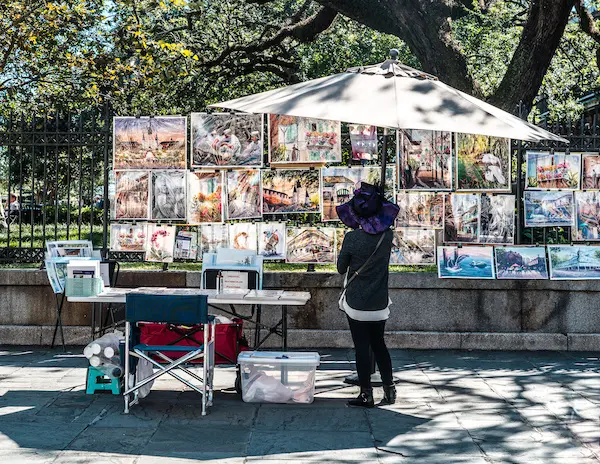 Outside the park's exterior, you'll find local artists selling their works of art. We purchased a beautiful watercolor painting of Cafe du Monde on this last trip. It's a great memory of the trip.
If you need a psychic visit, several hang out in front of Jackson Square.
Jackson Square | 701 Decatur St, New Orleans | Google Map It
5. Visit the Presbytère Museum
Located right in Jackson Square is the former courthouse, the Presbytere Museum. There are two permanent exhibits here. One that educates us on the history of the Mardis Gras celebration. The other tells us the story and resiliency of the city and the hurricanes it has endured.
Presbytère Museum | 751 Chartres St, New Orleans | Google Map It
6. Eat Beignets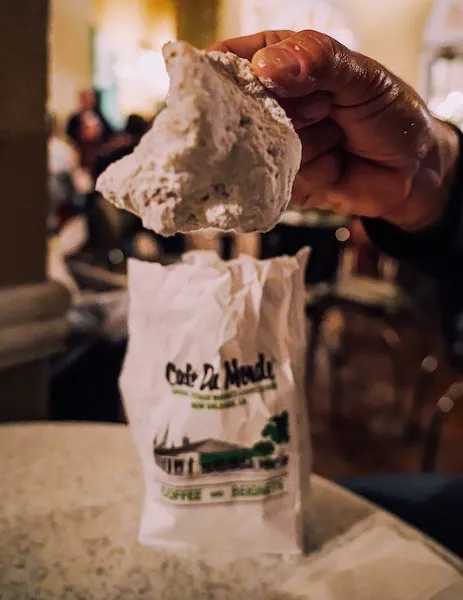 No trip to New Orleans is complete without beignets. If it's your first visit, eating beignets at the renowned Cafe du Monde should be one of the top things to do in the French Quarter.
There are several spots where you can have beignets. But it can't be denied that Cafe du Monde is the most popular and classic spot for Beignets. I wouldn't want you to miss this experience. Get a serving of 3 or 6 of these powdered sugared donuts with a cafe au lait, take a seat and enjoy them while they are hot.
Of course, you do not have to stop at Cafe du Monde only. Try as many beignets as you can handle. I love the beignets from Loretta's at the French Market and Cafe Beignet.
Cafe Beignet on Bourbon Street is also open until late at night.
7. Visit the French market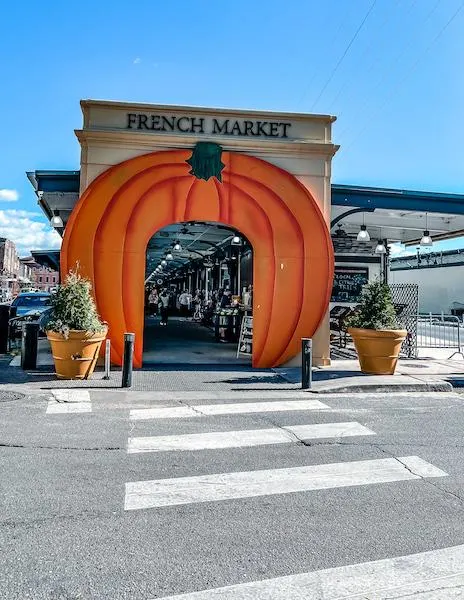 One of my favorite things to do in the French Quarter is to visit the French Market, also known as Shops of the Colonnade. This market makes up six blocks of shops and commercial buildings. It's filled with fantastic food stands, local shops, and local artisans.
This is one of those stops that I recommend you go hungry. You'll find all the local treats and delicious eats in New Orleans here.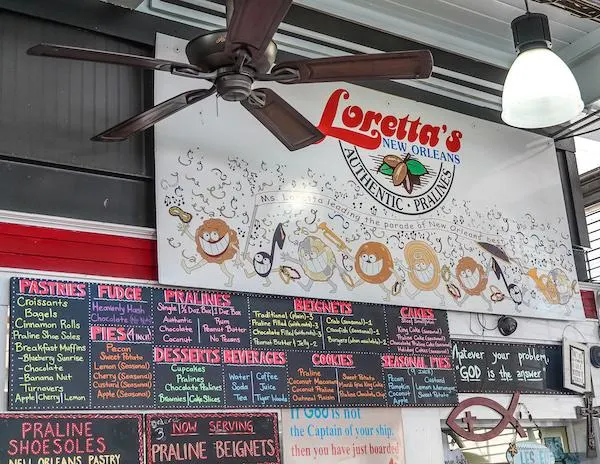 Don't miss the stuff beignets at Loretta's. Not only are the praline-filled beignets the best I've ever had, but locals around me told me I must have the crab-stuffed beignets next time I'm in town.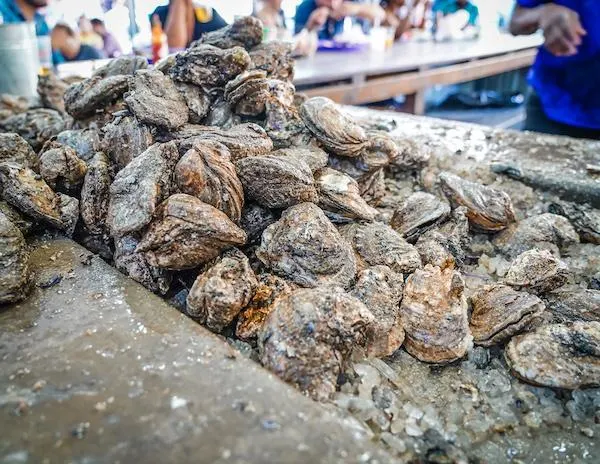 Also, the fresh shucked oysters and seafood.
And, Muffaletta's at Alberto's.
Is alligator on the menu? Give it a try.
If you need souvenir shopping, the French Market is the place.
The French Market | 1008 N Peters St, New Orleans | Google Map It
8. Don't Forget to Try a Muffuletta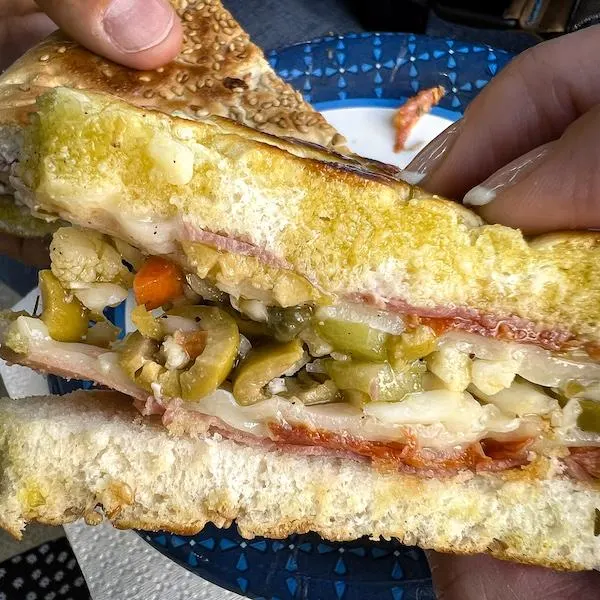 Another classic dish in New Orleans is the muffuletta. Originally from Italy, the sandwich is on a large round sesame bread layered with Italian meats, cheese, and an olive tapenade.
The most popular spot to enjoy a muffuletta is at Central Grocery & Deli (temporarily closed due to the hurricane). However, if you read my post on our first trip there, I prefer the muffuletta at Alberto's at the French Market.
No matter where you have it, it's food from New Orleans not to be missed.
9. Experience the Local Food
Speaking of beignets and muffuletta, New Orleans is home to some of the best food in the United States. That may be just my opinion, but this is one of those foodie cities you can expect to eat through while you're there. I sure did on this last visit.
You'll want to try everything from charbroil oysters, boudin balls, gumbo, po'boys, beignets, shrimp boils, and other scrumptious creole dishes that are part of this amazing city.
Highly recommend booking a food tour while you're in New Orleans. Food tours are fun, filling, and worth every penny. You will be introduced to dishes that you would probably have never tried on your own. Plus, it's a great way to get local recommendations for fantastic places to eat in New Orleans.
Tour Options:
New Orleans Small-Group French Quarter Food Tour [book here]
New Orleans Cocktail and Food History Tour [book here]
Delicious Spots for Beignets in New Orleans
Where to have the best beignets in New Orleans? Cafe du Monde is not the only place to have beignets in New Orleans. Check out our list of places for delicious beignets in Nola.
10. Moonwalk Riverfront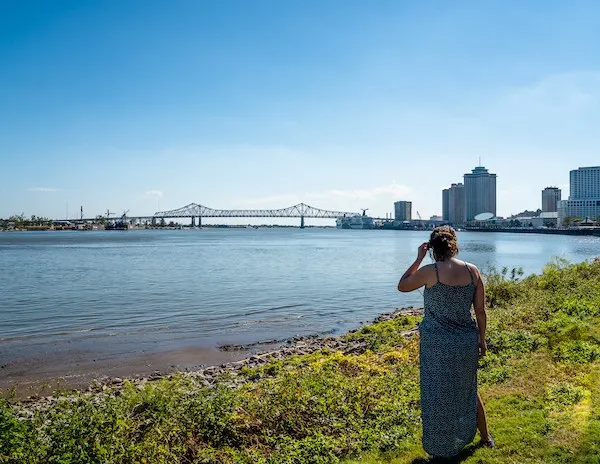 After grabbing your beignets from Cafe du Monde or eating at the French Market, head to the Moonwalk Riverfront.
Moonwalk Riverfront is a pedestrian path that you can take off one of the side streets connected to Decatur. The walk takes you by the Mississippi River, serving as a great lookout point for the Crescent City Connection Bridge.
Stroll along, take in the beautiful site, and finish at the Washington Artillery Park, where you'll find another great view of Jackson Square.
11. Go Antique shopping
As you explore the French Quarter, you will notice many antique shops. It's a great time to do some window shopping or seek out some fascinating finds. Old pieces of artwork, furniture, or trinkets for the home.
12. Visit The New Orleans Pharmacy Museum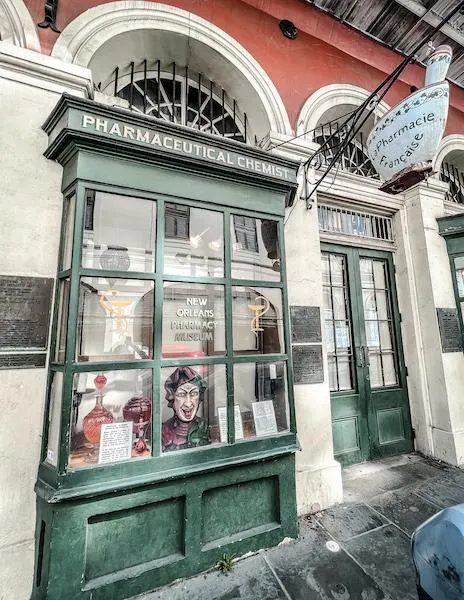 A must-see in New Orleans, check out the New Orleans Pharmacy Museum. Circa 1823… this is one of the oldest apothecaries in the US. You learn and see what pharmacies looked like before modern medicine. There is a total of two floors with historic pharmaceutical and medicinal items.
It's pretty cool and yet creepy how far we've come. Vintage eyewear, antique medicine bottles, superstitious cures, old informative posters, birthing chairs, and more.
Expect to spend 30-60 minutes here.
Fun fact: They have a beautiful courtyard that they use for weddings. We ran into a wedding one of the days we passed by the pharmacy.
The Pharmacy Museum | 514 Chartres St, New Orleans | Google Map It
13. Take a Ghost Tour
With a history like New Orleans, you can imagine ghosts lurking around the city. A ghost tour is one of the best things to do in the French Quarter. It will easily help you find these legendary haunted spots.
It's creepy, fun, and eye-opening. You may find out that the hotel you're staying at is haunted. The hotel we did stay at, Place d'Armes, IS haunted – watch out for the little girl asking for her parents and then vanishing.
Tour Options:
New Orleans Haunted History Ghost Tour [book here]
New Orleans #1 Haunted Ghost, Voodoo, & Vampire Tour [book here]
14. Marie Laveau House of Voodoo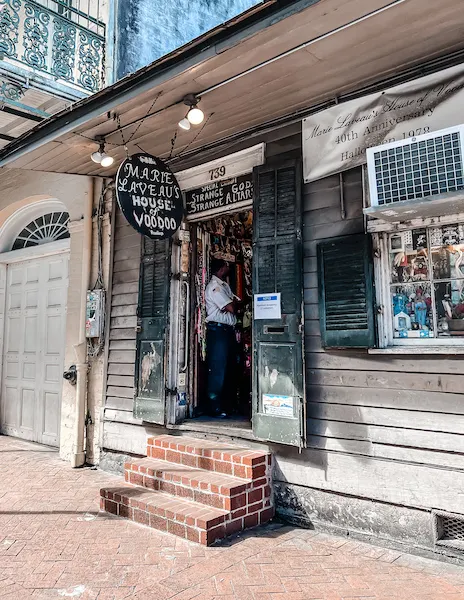 The Marie Laveau House is an interesting spot to visit and check out. It is a small museum, a store with many Voodoo items, and even an altar.
The history of Marie Laveau, the Voodoo Queen of New Orleans, is quite interesting, and nothing like American Horror Story makes her out to be. In short, she was a hairdresser that was privy to the information (gossip) she overheard while working or from other servants. She took that information and provided paid counsel for those that sought it. As well as assist them with keeping evil spirits away.
Visiting the House of Voodoo is a great opportunity to learn more about this religion.
No pictures are allowed inside. Be respectful.
Marie Laveau House of Voodoo | 739 Bourbon St, New Orleans | Google Map It
15. The Lalaurie Mansion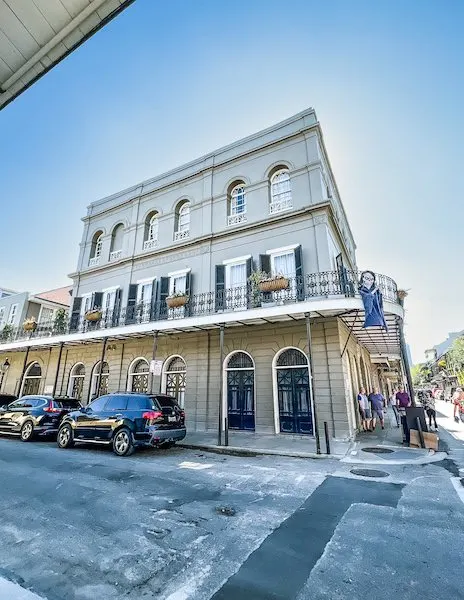 Another historical mansion to add to your list is the Lalaurie Mansion. It is one of the most haunted houses in the French Quarter. It was also featured in season 3 of American Horror Stories.
The mansion once belonged to Madame Delphine LaLaurie, a socialite sadist who enjoyed torturing her slaves. In 1834 a fire erupted, and a torture chamber was discovered. The ghosts of her slaves haunt the home to this day.
At night, many ghost tour groups gather around the mansion.
Fun fact: Nicholas Cage once owned and resided here.
The LaLaurie Mansion | 1138 Royal St, New Orleans | Google Map It
Amazing Restaurants in New Orleans
Add these amazing places to eat in New Orleans to your itinerary. This shortlist of French Quarter restaurants r and nearby will guarantee you'll have a delicious time in the Big Easy.
16. Drinks at Lafitte's Blacksmith Shop Bar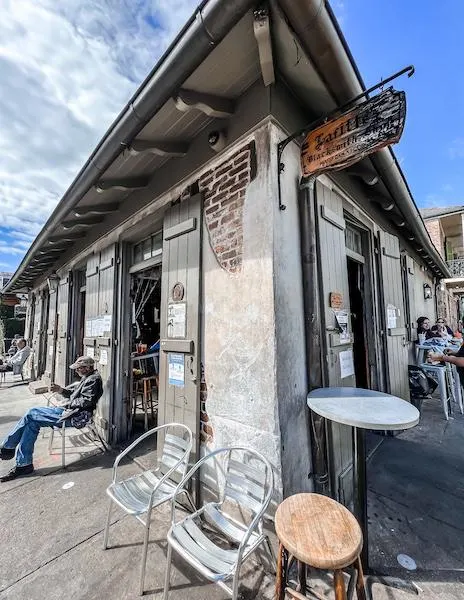 Nearby on Bourbon Street, you'll find Lafitte's, the oldest structure used as a bar in the United States. You will wish the walls could talk from the moment you enter.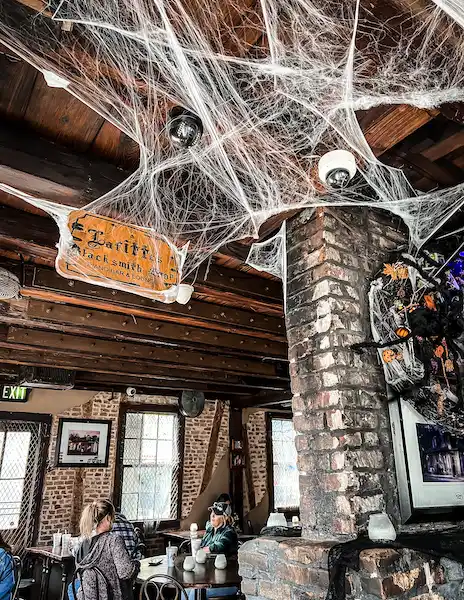 Stop by for a beer, and enjoy the cool atmosphere. It will take you back in time, and you'll start envisioning what it was centuries ago.
At night, candles light up the bar, keeping it dimly lit while live music energizes it. Possibly one of the best bars on Bourbon Street.
Lafitte's Blacksmith Bar | 941 Bourbon St, New Orleans | Google Map It
17. The LaBranche House
The LaBranche House is another historic and iconic home to visit. This building and this entire corner are probably the most recognizable as it is always featured on film whenever a movie or TV show is set in New Orleans.
The last time we visited this corner, a wonderful street jazz band played.
The LaBranche House | 700 Royal St, New Orleans | Google Map It
18. Take a Steamboat Ride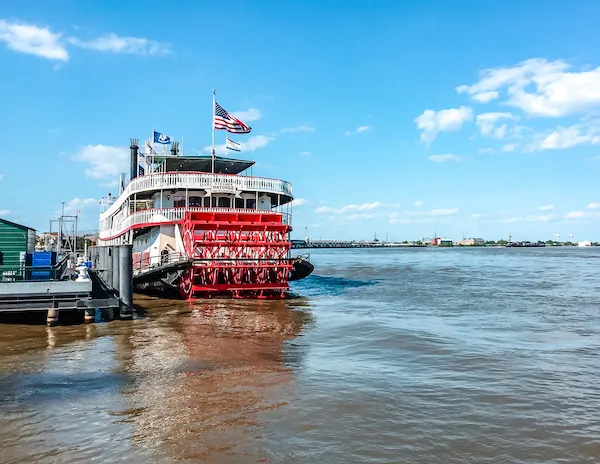 One of the things I keep missing out on but want to pass along to my readers is a Steamboat Ride on the Natchez. It's a fun riverboard experience over the Mississippi River. Depending on the time of year, a dinner cruise would be ideal for catching a glorious sunset leaving the French Quarter.
This is an experience everyone can enjoy. Plan and book this in advance.
Tour Options:
New Orleans Steamboat Natchez Harbor Cruise [book here]
Steamboat Natchez Evening Jazz Cruise with Dinner Option [book here]
19. Grab a Drink at the Carousel Bar & Lounge
The Carousel Bar is located at Hotel Monteleone and is one of the most unique bars in the French Quarter. It's pretty freaking cool! This classic spot is an actual Carousel that rotates with seating. It's unlike anything I've ever seen.
Seating at the bar is difficult. So I only got to look from afar. I suggest going there EARLY to claim a seat at the bar and try to experience it. Expect a wait.
The Carousel Bar | 214 Royal St, New Orleans Google Map It
20. Enjoy a Jazz Band Play at Preservation Hall
Do you love Jazz? Preservation Hall is the jazz venue to experience some of the best Jazz musicians performing. This intimate classic spot is a favorite. The entire experience will take you back in time. It will be the best jazz performance you'll see during your trip.
Reservations are required in advance. It's a small space with limited seating, so they limit the audience. No bathrooms are available.
Preservation Hall | 726 St Peter, New Orleans | Google Map It
You can't visit New Orleans without spending time in the French Quarter. It's almost like visiting a charming European city but in the US. The history and architecture are fascinating, and the food is out of this world. You will love your time in the French Quarter.
What do you love about the French Quarter in New Orleans? What are things to do in the French Quarter that you're looking forward to?
Share the tips & love on Pinterest: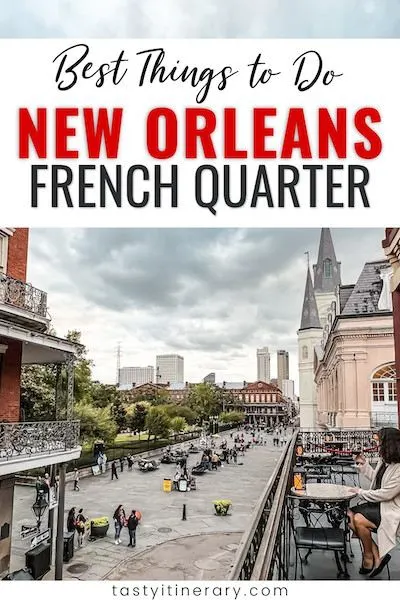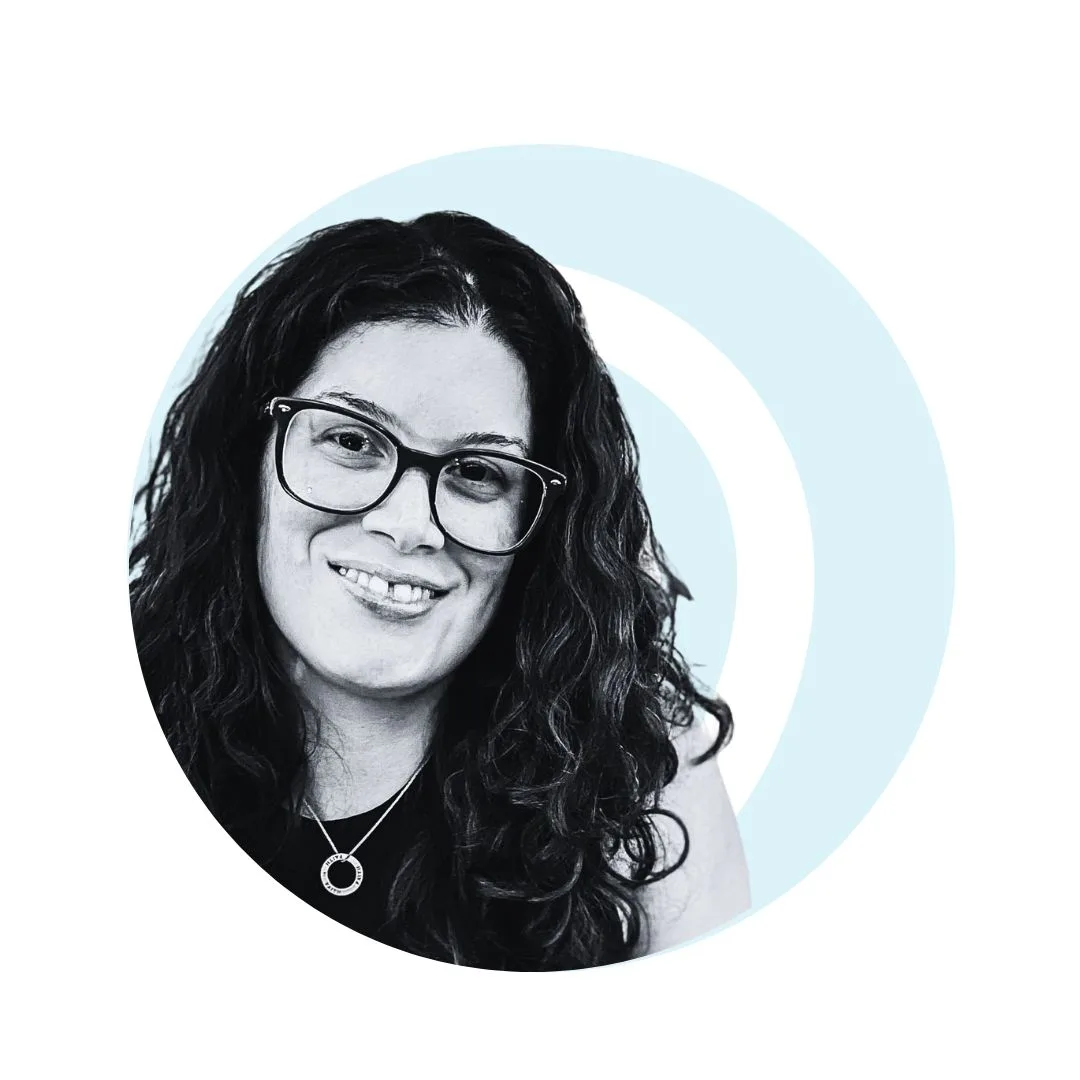 Meet Kathy Ava – a food, travel, and cruise writer based in Los Angeles/Pasadena. With over 20 years of experience planning trips and logistics at her full-time job and for herself, she's become a pro at crafting unforgettable travel itineraries. She's always looking for delicious, fun cruise itineraries and travel destinations and is slightly obsessed with Italy. Her passion and curiosity for travel started in childhood on her yearly and sometimes bi-yearly trips to PR. She firmly believes that life is short and we must make the most of it – so let's explore the world and make some incredible memories.