Are you on the hunt for the most scrumptious beignets in New Orleans? In this post, we chat about French Quarter beignets, traditional beignets, and savory beignets.
What's a beignet? A beignet is a square piece of fried dough that is fried until golden. It's like a donut, only better. Definitely, not gluten-friendly. Pair it with cafe au lait and it's the perfect breakfast… midday snack… dessert… or whenever you feel like having beignets.
It is served hot, freshly fried, and usually covered generously with powdered sugar. Sometimes they are served stuffed with something sweet, or they are served as a savory meal. I recently discovered crab stuffed beignets and even a cheeseburger beignet.
The consistency of beignets varies. It is all dependent on that dough recipe and how it is handled. Also, the oil it's fried in can make a difference as well as the temperature of it. It's a science. One that many of these places have down to a tee. That's why it's important to know where to go for beignets in New Orleans and see which ones are your favorites.
I will say, there is no comparison to the ones served at Disney.
Disclosure: This post may contain affiliate links. If you decide to make a purchase from one of those links, we may get a commission at no extra cost to you. We appreciate your support.
Obviously, I haven't had the chance to try ALL the beignets in New Orleans. I did enjoy enough of them that I can direct you to spots that will have you in powered sugared beignet bliss.
I have this thing that when I'm visiting a city that's known for something, especially if it's sweet, I try to have it daily from different spots. I did this in the Florida Keys, hunting down the best Key Lime Pie – of course, there was only so much pie I could have in 4 days.
Same with beignets. But I've tried enough French Quarter Beignets now between my trips to New Orleans that I'm compelled to share them all with you. Yes, it means that much to me. My hope is that you get to enjoy similar experiences and not miss out on anything.
I also plan to return more frequently to continue my research and enjoy everything that the French Quarter… and New Orleans have to offer, including the best foodie spots and must-eats. Cause who doesn't love this kind of research?
Beignets in New Orleans
1. Loretta's Authentic Pralines
The French Market is one of my favorite spots in the French Quarter because you can try multiple local treats all in one area. Loretta's Authentic Pralines is located in the French Market and is serving some of the best beignets in New Orleans for 35 years. It was love at first bite.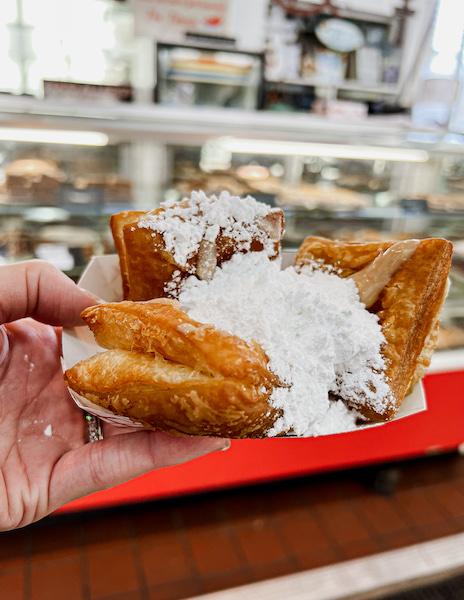 At Loretta's, you can get traditional beignets, stuffed with praline (which is what I had) or even better, have one of her savory stuffed beignets.
As I waited for beignets, multiple locals waiting in the stand nearby guaranteed me that they are "the best". One said, "Oh you must try their crab beignets." Another chimed in and said, "oh my, have you tried the burger beignet? Cause I've had it twice this week."
It's the best when I'm surrounded by fellow local foodies.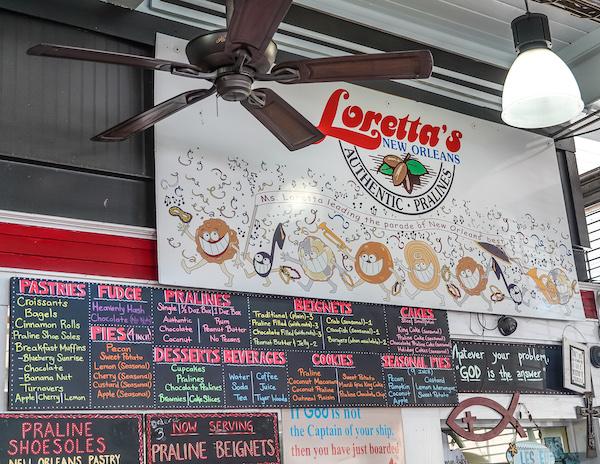 Seriously, drool formed at the corner of my mouth as I took in all this information. Crab stuff beignets?! Cheeseburger beignets?! Then I looked carefully at the menu and there were all sorts of savory beignets available. A whole new world of beignets opened up to me.
Did I try the savory beignets? No. I was still full from a fantastic breakfast from Muriel's that I was just there for the praline beignets.
The praline beignets blew me away. Loretta's beignets are light and airy, the praline feeling not overly sweet. I thought I was having one but I ate two of them. Loretta's instantly topped this list.
Loretta's | 1008 N Peters St, New Orleans | Google Map It
2. Cafe Beignet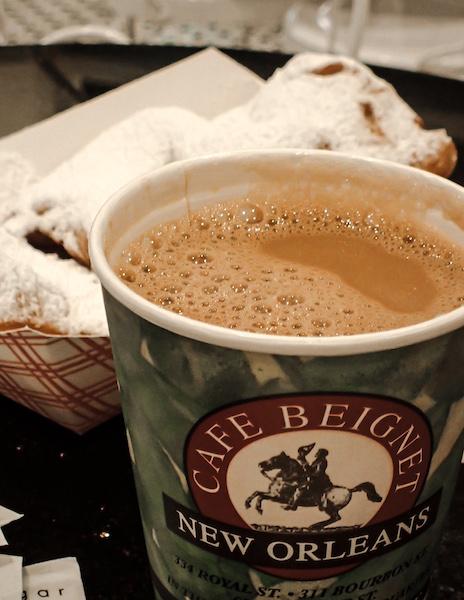 Prior to trying Loretta's, Cafe Beignet was on the top of my list. Their donuts are amazingly light and flakey with pockets of air that just make it a wonderfully pillowy bite. It's no wonder that Alton Brown claims it's one of the best things he ever ate.
On my last trip to New Orleans, I compared Cafe Beignet and Cafe du Monde… Cafe du Monde won by a landslide.
As far as the cafe au lait… it's not Cafe du Monde or Morning Call. While their chicory coffee is sourced locally, it really didn't taste like anything special to me.
Cafe Beignet has multiple locations in New Orleans. There is even one on Decatur Street, not far from Cafe du Monde. The Bourbon Street location is open until 10 pm for a late-night snack.
Cafe Beignet | 334 Royal St, New Orleans | Google Map It
Best Things to Do in the French Quarter
Visiting the French Quarter of New Orleans? See what the best thing to do and see…. from walking tours, local eats, and ghosts.
3. Streetcar Cafe
For French Quarter beignets, add Streetcar Cafe to your list. This cafe serves breakfast and lunch. Have an order of beignets on the side or just simply stop by for coffee and beignets.
Warm, toasty, and fluffy squares served with powdered sugar. You may consider them one of the top beignets in the French Quarter. You won't know unless you try them.
They are only open until 3 pm, so plan accordingly to go for breakfast or brunch.
Streetcar Cafe | 312 St Charles Ave, New Orleans | Google Map It
4. Cafe Du Monde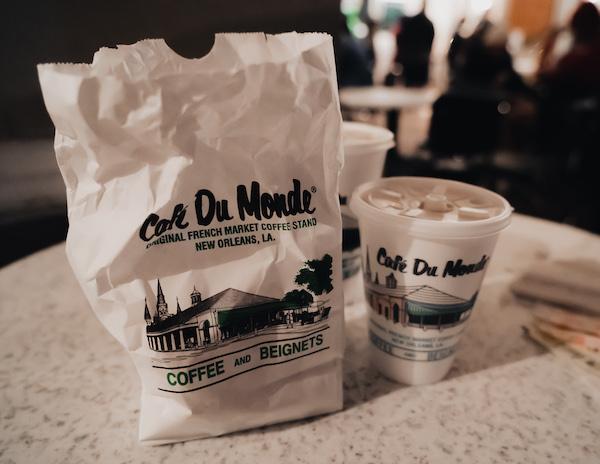 Cafe du Monde is synonymous with French Quarter beignets. It's not unheard of for Cafe du Monde and beignets in New Orleans not to be mentioned in the same conversation. Cafe du Monde is an iconic coffee stand in the French Quarter and is on everyone's list of things to do when visiting New Orleans.
Since 1862 Cafe du Monde has been serving coffee and french-syle donuts. They have it down to a science. Their kitchens are full of powered sugar as they are cranking out beignets all day long. The line for beignets starts early and it stays steadily busy throughout the day.
If you don't want to wait in a long line, look to go later in the evening.
Naturally, these are the first beignets I ever tried in New Orleans along with Cafe du Monde's cafe au lait. The beignets are crispy and slightly dense, not as airy as others below. I find them to be slightly heavier and crunchier in a bite.
Are they my favorites? No. But they are good.
Their cafe au lait is one of my favorites. You can taste the chicory in their coffee which adds a whole new dimension of flavor. I'm a big fan.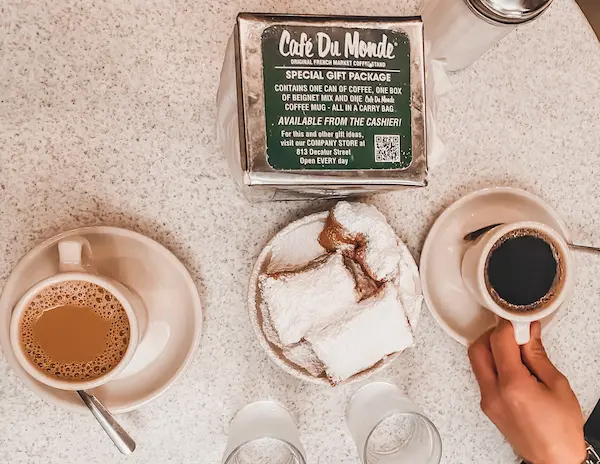 The Decatur St location is usually open 24 hours a day, 7 days a week. Due to the pandemic and staff shortages, they are currently operating on shorter hours. Check the location store hours prior to going.
Other branches can be found throughout Louisianna.
Cafe du Monde | 800 Decatur St, New Orleans, LA 70116 | Google Map It
5. Morning Call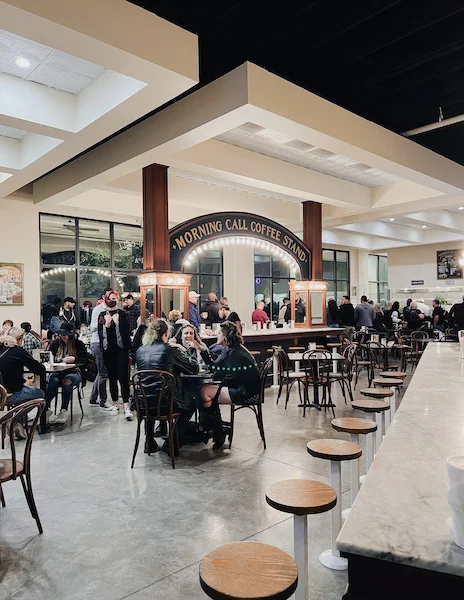 Morning Call was a lucky stop during a night cemetery tour. The tour guide (a local) made a not-so-nice comment about a certain popular beignet spot mentioned above and deemed the beignets from Morning Call one of the best beignets in New Orleans. Just so you know, it wasn't the first time I witnessed a local comment negatively on this classic location.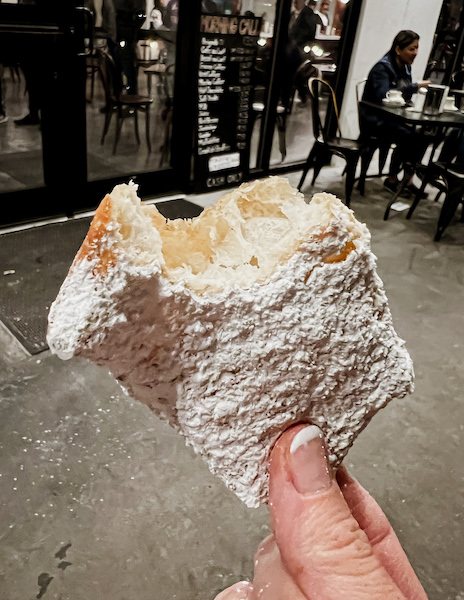 Are the beignets from Morning Call one of the best? In my humble opinion, I thought they were good, but not "the best". Seeing other reviews online rave over these beignets from Morning Call, locals included, just goes to show that "the best" is subjective.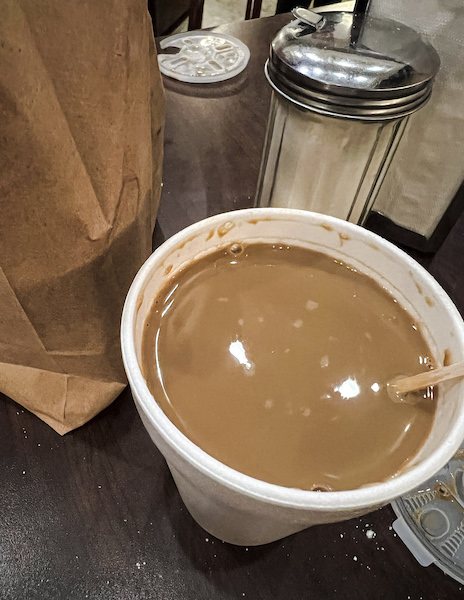 However, I'd absolutely go back. The cafe au lait at Morning Call is the best coffee in New Orleans that I've had so far. If you're a coffee-lover, I highly recommend checking them out. Have some beignets to go with them because they are the perfect pairing. Hey, the 2nd round may be better.
Note: Cash only.
Morning Call | 56 Dreyfous Dr, New Orleans | Google Map It
3 Days in New Orleans
Wondering how to spend 3 Days in New Orleans? Get a taste of New Orleans in 36 hours with this itinerary.
6. The Vintage
When an establishment describes a beignet as "a pillow of goodness", you know they take their beignets seriously. The Vintage is a chic cafe on Magazine Street with a Parisian vibe and a delicious menu, including beignets.
Your options: Traditional beignets, a Fancy Beignet Flight or Beignet Bites.
The Fancy Beignet Flight is 3 pillowy beignets filled with your choice of filling. From the Instagram photos, it looks amazing! Worthy of this list.
On Friday and Saturday, they are open late from 10 pm to close serving beignet bites, a glass of cava optional.
This is one spot I found AFTER leaving New Orleans and I seriously considered getting back on a plane just to have these beignets. I'm adding them to the list so YOU have the opportunity to try them and report back to me – I love to hear from my readers.
The Vintage | 3121 Magazine St, New Orleans | Google Map It
Beignets in New Orleans is definitely one of the foods in New Orleans you can't miss having during your visit. Hope this list helps you choose which locations to try.
Where are your favorite Beignets from in New Orleans? Do you love traditional beignets or do you like them filled?
Don't forget to share the love on Pinterest: