Planning 3 days in New Orleans? How to spend 3 days in New Orleans? Is it enough time in The Big Easy?
New Orleans offers a unique and vibrant culture with its own music scene, food, art, and architectural style. It is a city that celebrates every occasion and loves to have a good time.
Is 3 days enough for New Orleans?
Yes! With 3 days in New Orleans, you can taste the best New Orleans offers. From exploring the French Quarter, tasting the delicious cuisine, sampling Beignet's, and visiting the World War II museum, you can get quite a bit in just a few days.
If you are a first-time visitor, 3 days in New Orleans is enough to get a real sense of the city and its unique culture.
While we have visited New Orleans multiple times, including during Halloween, we based this New Orleans 3-day itinerary on our first trip there. The Crescent City had always been on our bucket list, and the opportunity never presented itself until some last-minute change of plans.
We booked a 9-day Western Caribbean cruise on Norwegian Pearl, departing from New Orleans, and decided to fly in a few days before embarkation day. A few days in any city is never enough to see it ALL, but with 3 days in New Orleans, we fell in love with the city, the people, and the food.
This post may contain affiliate links, which means we'll receive a commission if you purchase through our links at no extra cost to you. Please read full disclosure for more information. We appreciate your support!
New Orleans is one of those cities you'll want to always return to for short periods. You'll leave it remembering it fondly and wanting to go back soon. There are many events, festivals, and amazing restaurants in New Orleans, which is enough of an excuse to return.
This article shares how to spend 3 days in New Orleans. Hopefully, this New Orleans 3-day itinerary or part of it will inspire Tasty Itinerary.
Whether you're in New Orleans for a long weekend, a quick getaway, or before or after a cruise, a 3-day New Orleans itinerary will give you the perfect taste of NOLA.
A glance on things to do in New Orleans in 3 Days:
The French Quarter (Jackson Square, Bourbon Street, Royal Street… etc.)
Frenchman Street
Visit the French Market
Go on a Ghost Tour
Tour the oldest cemetery in New Orleans
The National WWII Museum
Ride the St. Charles Street Car
Explore the Garden District
Compare Beignets
Eat Muffaletta
How to Spend 3 Days in New Orleans
What to do for 3 days in New Orleans?
If it's your first time in New Orleans, you'll want to spend most of it in the heart of New Orleans, the French Quarter. You can also consider the Garden District, but most of what's on this itinerary are located in the French Quarter.
This charming district is part of the city's oldest neighborhood. It's walkable and easy to explore on foot.
Ready for three days in New Orleans? Let's go!
Day 1 in New Orleans
Explore The French Quarter
Book a Ghost Tour
Stop by Cafe Du Monde for a snack
Explore The French Quarter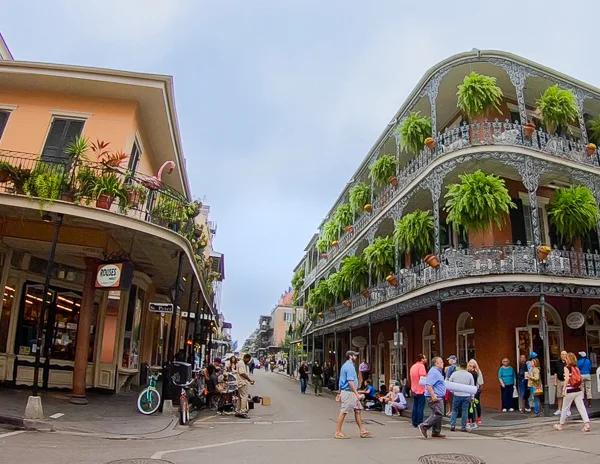 Once you check in to your hotel and drop off your luggage, one of the first things you want to do is explore the French Quarter.
You can't visit New Orleans without spending time in the French Quarter. Begin your three days in New Orleans by exploring the charming cobblestone streets of this historic district. Boutiques, antique shops, galleries, and restaurants line the narrow streets.
Visit Jackson Square, named after the hero of the Battle of New Orleans, Major General Andrew Jackson. This park and surrounding areas are full of local artists selling art and souvenirs. You'll also find musicians, dancers, and psychics around the square.
Behind Jackson Square on St. Chartres St. is the famous St. Louis Cathedral. The oldest cathedral in the United States.
Take some time to stroll around Bourbon Street, Royal Street, and Esplanade Avenue. Note that the vibe of those streets changes from day to night, especially on Bourbon Street.
Make a stop at the New Orleans Pharmacy Museum, the oldest pharmacy in the US.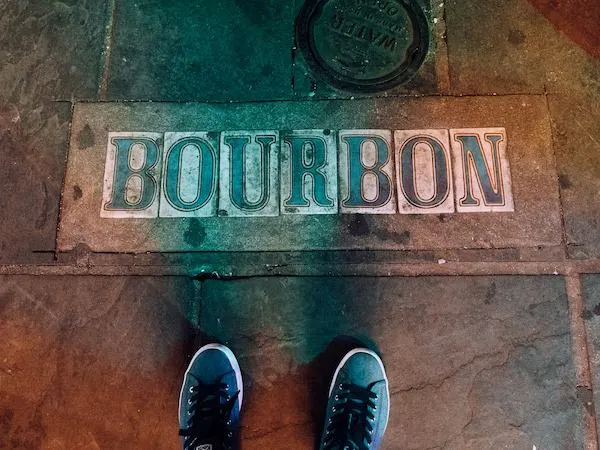 In the French Quarter, lookout for street names tiles found at the corners of each block. 
Read more: 20 Best Things to Do in The French Quarter
Save now to come back to read later.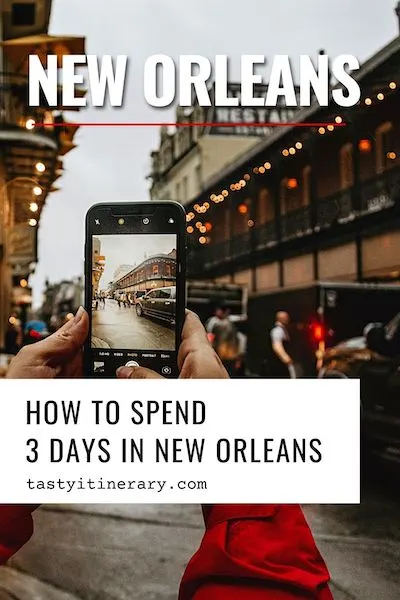 Go on a Ghost Tour
We booked a Ghost Tour around the French Quarter for our first night with Free Tour By Foot. It was a fun and spooky way to explore the French Quarter and learn about its history and hauntings. You'll soon realize that there is a haunting or tragic story at every corner of the French Quarter.
Learn about the paranormal activities, the haunted restaurants, and why Nicolas Cage has a tombstone in New Orleans' oldest cemetery.
You don't have to book this for your first night, but a visit to New Orleans isn't complete without a Ghost Tour. You can book a private tour or a group tour. While we love private tours for certain occasions, a group tour for this type of tour is more fun.
There are many tours available throughout the city. You can probably join one on the same day unless you're visiting for Halloween, and then you'll want to book in advance. We always like to book anything on the top of our list of things to do in advance.
Enjoy a Late Night Snack of Beignets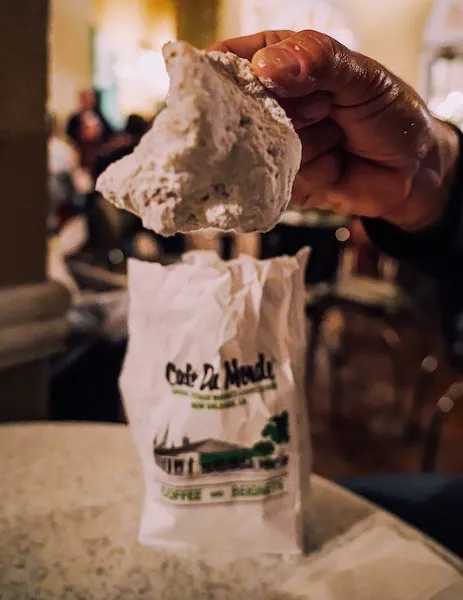 There are many places where you can enjoy beignets and coffee in the French Quarter, and in 3 days in New Orleans, you can try a few. You can opt to have them at any time of day as long as the shop is open. Breakfast is a popular time of day.
Café Du Monde is probably one of the most famous, open late. Is it our favorite? Not really, but still, as a first-time in New Orleans, you'll want to visit this iconic spot.
We compare Cafe du Monde versus Cafe Beignet further below.
We recommend checking out Cafe Beignet and Morning Call for a great late-night snack of beignets and coffee.
Delicious Spots for Beignets in New Orleans
Where to have the best beignets in New Orleans? The delicious, fluffy, and yummy beignets do not only come from Cafe du Monde. Check out our list of places for delicious beignets in Nola.
Day 2 in New Orleans
Book a guided tour of The French Quarter
Visit the French Market
Ride the St. Charles Street Car
Visit Frenchman Street
Take a French Quarter Walking Tour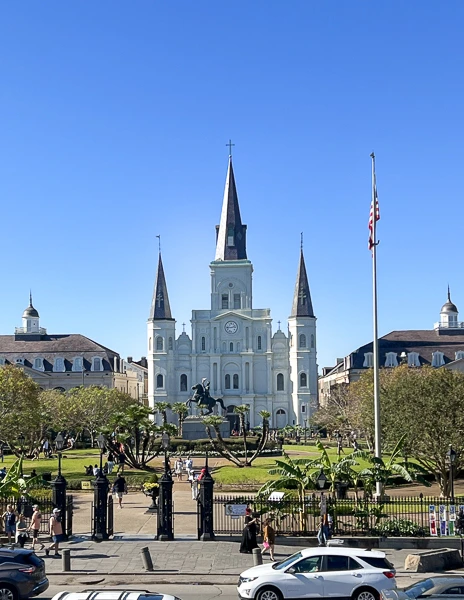 Exploring on your own is always fun, but having a local guide introduce you to their city is a great way to learn even more. There is a ton of history that one would miss on their own. It's not the same reading it from the guidebook or just staring at things as you walk around.
You can also book a guided French Quarter tour with Free Tours by Foot. If you arrive early on day one, you can book it for that day.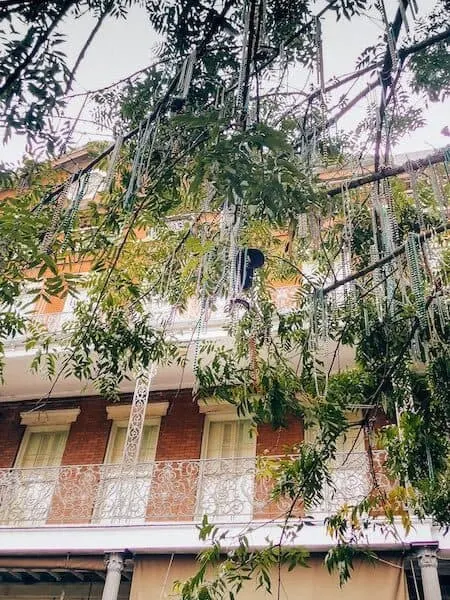 In a couple of hours, you'll see and learn the local history of Jackson Square, St. Louis Cathedral, Bourbon St, Mardi Gras, visit the French Market, and more. The guide will take you down alleys and streets you probably would have missed alone.
If you've already done a Ghost Tour, then this tour is the perfect way to dive deeper into the culture and history of New Orleans
And, always follow the sound of the music…
Best Things to Do in the French Quarter
Are you visiting New Orleans and staying in the French Quarter? Don't miss these things to do in this vibrant historic neighborhood. Eat beignets, visit Jackson Square, take a ghost tour, and more.
Visit the French Market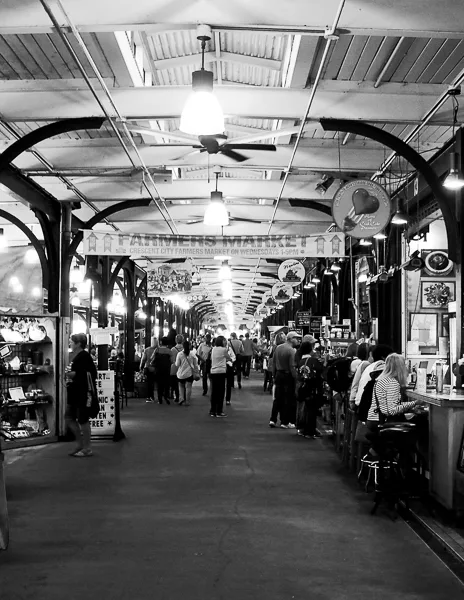 The French Market is one of the oldest public markets in America, established in the late 1700s as a Native American trading post. It comprises five blocks between the French Quarter and the Mississippi River.
This is the perfect spot for lunch, especially after a morning tour. Many food vendors sell some of the top New Orleans cuisines you should have on your tasty itinerary. Get your taste of muffuletta at Alberto's, beignets at Loretta's, oyster bars, gator on a stick, local treats, and more.
There is an array of local shops and foods. This is also a neat place to pick up some handcrafted souvenirs.
We love the muffuletta at Alberto's Wine and Cheese for lunch.
The market is open daily from 10 AM to 6 PM.
Ride the St. Charles Street Car to the Garden District (the Dark Green Line)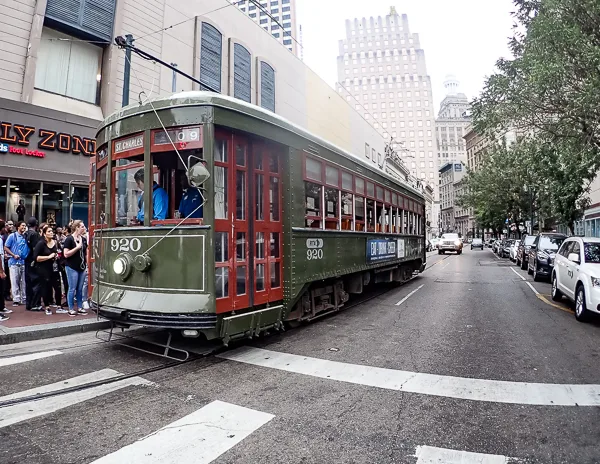 Ride the St. Charles Streetcar, the dark green line which runs from St. Charles to the Garden District. You can see a part of the city for $1.25 each way. Remember, you MUST have the exact change.
The ride in these New Orleans vintage streetcars is a fun little adventure.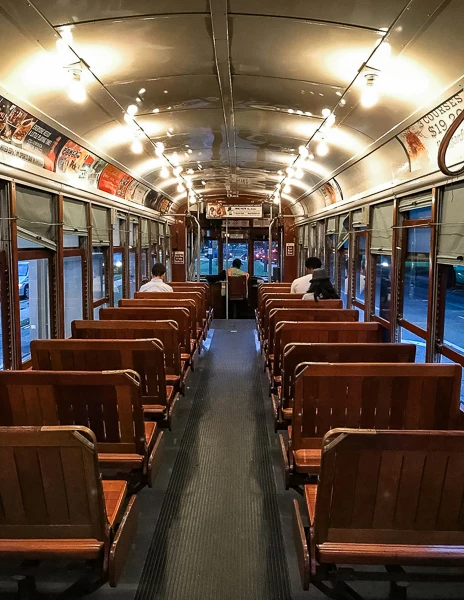 You can hop on and off in the Garden District. The Garden District is a beautiful neighborhood of historic mansions, trees, gardens, and quaint cafes. Stroll down the streets.
Guided walking tours of the Garden District are also available if you want to dive into the history of this neighborhood.
You can also choose to ride the streetcar to the end and then ride it back.
Where do you catch the St. Charles Streetcar?
Hop on the St. Charles streetcar at the corner of St. Charles Avenue and Canal Street. Take it to the Garden District and hop around Jackson Ave or Washington Ave to explore. Or stay until the end as it turns around at S. Claiborne Ave.
Visit Frenchman Street
Once you've filled the French Quarter, take a walk to Frenchman Street at night. This is where all of the locals go for music, drinks, and food.
This 3-block radius offers a unique experience with live jazz clubs featuring local musicians in the evening.
We enjoyed our night here walking and listening to live Jazz from right outside these clubs. There were lines for some to get in. So be prepared to wait or get there early.
Day 3 in New Orleans
Plan your day at the National World War II Museum
The National World War II Museum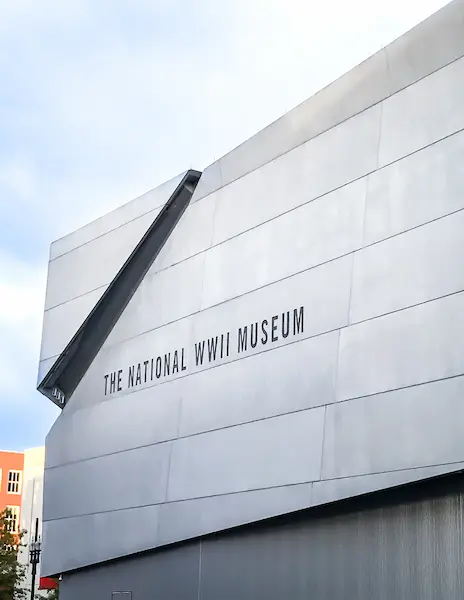 The National World War II Museum in New Orleans needs a day. This incredible museum comprises interactive exhibits, documentaries, emotional recounts, and artifacts. It is an amazing place to explore the events of World War II.
We had planned only to stay here half a day which was a mistake; there is so much to see and do at the National World War II Museum that recommends you plan a full day here. Take the time to explore everything.
The audio tour provided is an engaging and interactive way to learn about the events of World War II.
It's one of the best museums we've been to so far.
National World War II Museum | 945 Magazine St, New Orleans | Google Map It
New Orleans Tours to Book
1. Free Tours By Foot
This is the first time I booked with Free Tours by Foot, and we had a great experience. They have tours in different cities across the US, and they are almost all FREE. Some may have a small surcharge upon booking.
The guides work for tips. Whatever you can afford or feel the tour is worth at the end of it, please tip.
We did two tours with Free Tours by Foot:
Visit their site for other available tours.
Both guides did a great job. With any tour, a tour guide can make or break the experience.
2. Take a 2-hour Jazz Cruise on the Mississippi River
This is a great way to spend a nice afternoon. Cruise on an authentic steamboat on the lower Mississippi River. Take in the views. Visit the engine room. Have an optional creole lunch.
3. New Orleans Cocktail and Food History Tour
New Orleans is one of the dining capitals of the United States. Sample 4 full-size drinks and 8 local dishes typical to New Orleans. Consider this a late lunch or early dinner.
4. Hop-On & Hop-Off Bus
With limited time in a new city, a Hop-On Hop-Off Bus can be a lifesaver, especially if you're looking to go beyond the French Quarter of New Orleans. You don't have to worry about transportation. You will get information about the city and be dropped off at most points of interest. Get a pass for 1 or 2 days.
Where to Eat In New Orleans
Here are a few places we enjoyed during our 3 days in New Orleans.
Alberto's Cheese and Wine Bistro
Alberto's is located in the French Market on N Peters St, which is open daily. Our local guide was adamant that they served one of the best muffalettas. They mentioned Alberto's and Napoleon House, but we didn't have a chance to go to Napoleon's during this visit.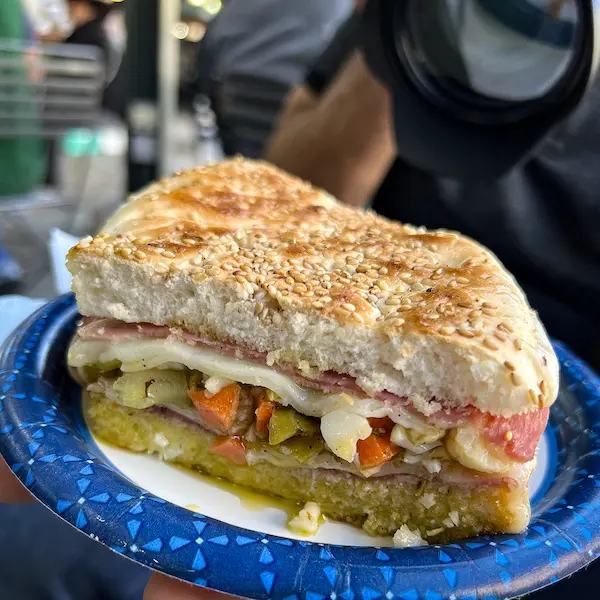 Not only does Alberto's make their muffalettas fresh to order, but you also have the option to have it heated. It's served with cheese, all melted and gooey. Place your order accordingly. The melted cheese and warm bread did make a huge difference.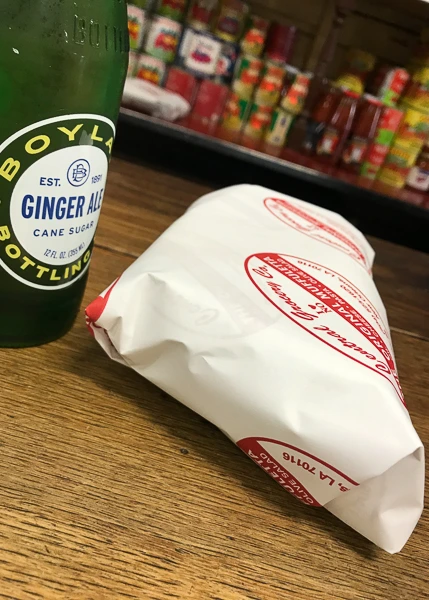 We had Central Grocery on the top of our list to try the muffuletta as they are the home of the original muffuletta. Our guide didn't have the best things to say about their sandwiches. We took on the challenge of comparing muffulettas within hours on the same afternoon.
And oh boy, Alberto's, without a doubt, was a greater sandwich.
When we ordered at Central Grocery, they had the sandwiches wrapped and stacked behind them to go. Only one way to eat them, cold. We like options. Also, the olive tapenade was too salty for my taste.
We recommend Alberto's… order a quarter, a half, or a whole muffuletta, heated or not.
Alberto's | 1100 N Peters St, New Orleans | Google Map It
The Original Pierre Maspero
The staff at our hotel recommended The Original Pierre Maspero. This is where we had are one and only hurricane, which we felt the rest of the night. One was enough for me but it was delicious.
Their meat pie was amazing as well as their crab cakes. The shrimp po'boy met expectations.
The Original Pierre Maspero | 440 Chartres St, New Orleans | Google Map It
The Ruby Slipper Cafe
This is a delicious breakfast spot with a southern-style menu. Order the biscuits with honey butter! That's what you want to order. Trust us.
The Ruby Slipper Cafe | 200 Magazine St, New Orleans | Google Map It
Red Fish Grill
As we waited for a table at Red Fish Grill, we met a couple that used to live in New Orleans but had moved sometime after Katrina. After some conversation, a table became available, and we invited them to sit with us.
They went on and on about the BBQ Oysters here, so we had to try them. We are not a fan of raw oysters but never had them BBQed. Shockingly, they were amazing!
If you have to have Oysters in New Orleans, definitely plan to get the BBQed Oysters at Red Fish Grill. Or you can try the charbroiled oysters at Felix's or Acme Oyster House.
Red Fish Grill | 115 Bourbon St, New Orleans | Google Maple It
Create Stunning Photo Websites with SmugMug – Try It Free!
The food in New Orleans is a delight for the taste buds. From gumbo and jambalaya to beignets, here are 15 dishes in Nola everyone needs to try while they are there.
Café du Monde vs. Café Beignet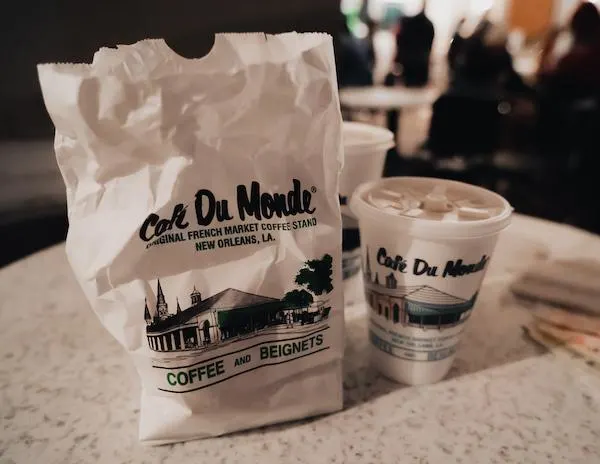 What would a trip to New Orleans be like without beignets? A waste of time! You have to fit beignets into your 3 days in New Orleans itinerary.
Still stuffed from dinner, we managed to go to the famous Café du Monde on our first night. We ordered café au lait and beignets. We fell in love more with the coffee than the beignets.
The beignets were good, and we stuffed our faces with the sugary French donuts. There wasn't a crumb left after we were done. We found the beignets to be denser than expected. Truthfully, we were more wowed by the coffee.
On our last night, we decided to try Café Beignet, after a few locals recommended we go there instead of Café du Monde. According to them, they were more authentic.
We honestly do not know what an authentic beignet would taste like. Café du Monde seemed legit, but we were ready to try another place.
We ended up loving the beignets at Cafe Beignet! They were airy and less dense than Café du Monde. Sadly, the coffee was just okay.
In our ideal world, we would pick up a coffee at Café du Monde and then beignets from Café Beignet. Have the best of both worlds. Ah, sounds so good right now.
We know food is subjective, so you may not agree with me, and that's okay. What is your favorite spot for beignets in New Orleans? We'd love to try them next time.
Looking for other great eats? Perhaps try one of these popular New Orleans restaurants:
Read More: Amazing Places to Eat in New Orleans
Where to Stay in the French Quarter
Since this was our first time in New Orleans, we chose to stay in the French Quarter. At least within walking distance of everything in the French Quarter. We didn't want to stay on Bourbon Street. It becomes loud at night, and after experiencing it, it is not our scene.
Marriott Courtyard New Orleans French Quarter/Iberville
Marriott Courtyard New Orleans French Quarter/Iberville was our home for the first time in New Orleans. It's a great location, not far from Bourbon St, and pretty central to everything.
The staff was wonderful and helpful. The room was spacious, and the bed was comfortable. My only complaint is cleanliness could have been a tad better.
The Place d'Armes Hotel
In 2021 we returned for Halloween in New Orleans and stayed at The Place d'Armes Hotel, close to Jackson Square. Fantastic location. Great hotel – make sure to ask for a renovated room!
You can't jam everything in 3 days in New Orleans, but you can enjoy a wonderful itinerary full of fabulous eats, history, and spooky tales. It's one of our favorite cities, and we hope it will also become yours.
Check out these articles to continue planning your New Orleans trip:
20 Best Things to Do in The French Quarter
Share the tips & love on Pinterest: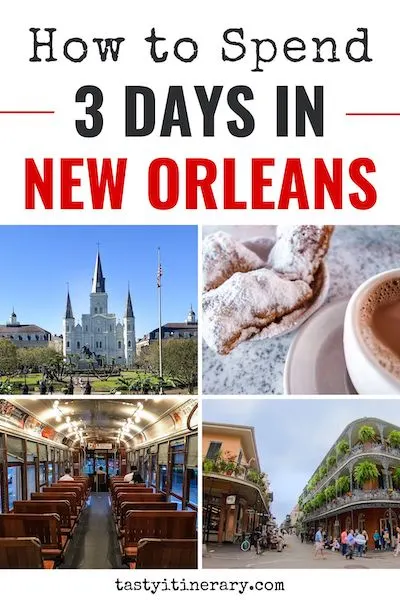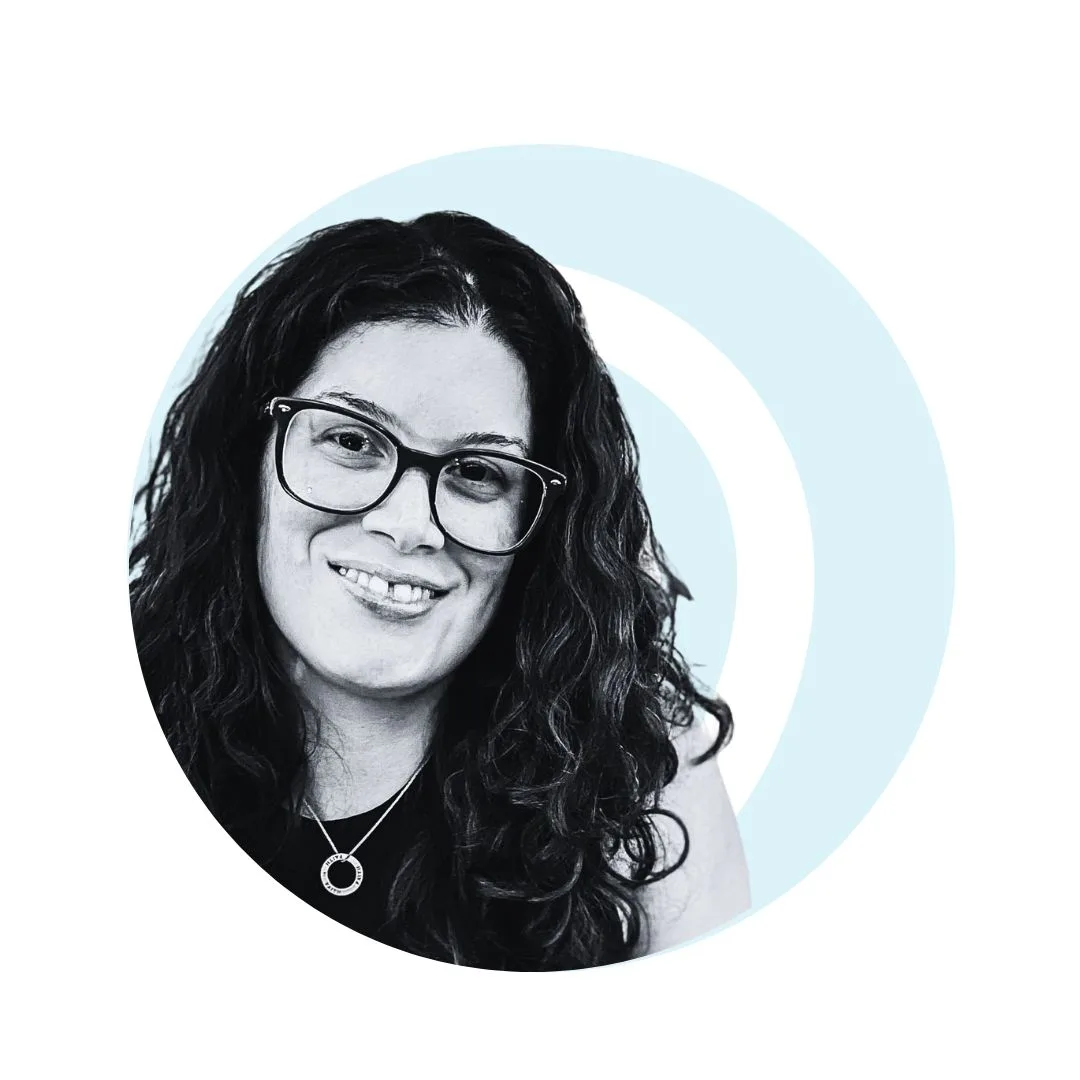 Meet Kathy Ava – a food, travel, and cruise writer based in Los Angeles/Pasadena. With over 20 years of experience planning trips and logistics at her full-time job and for herself, she's become a pro at crafting unforgettable travel itineraries. She's always looking for delicious, fun cruise itineraries and travel destinations and is slightly obsessed with Italy. Her passion and curiosity for travel started in childhood on her yearly and sometimes bi-yearly trips to PR. She firmly believes that life is short and we must make the most of it – so let's explore the world and make some incredible memories.