There is no denying Santorini, Greece is stunning. We spent 6 days on this lovely island, enjoying some of the most touristy spots. Then it got to the point that we needed to explore spots off the beaten path of Santorini, away from cruise ship crowds in Oia and Fira.
The sights are incredible, the idyllic white mountainside homes are just as picturesque as you see in travel magazines, Instagram, and even on the big screen (Sisterhood of the Traveling Pants, as reference). The sunsets are magical and the sunrises are worth the early rise – and that's saying a lot because we're not morning people.
We fondly remember all of this from our visit. In the same token, we also recall the surge of crowds in the afternoons in Oia and Firá that pushed us to find quieter, and less explored parts of the island. We found a few spots off the beaten path that are worth visiting and sharing with you.
Disclosure: This post may contain affiliate links. If you decide to make a purchase from one of those links, we may get a commission at no extra cost to you. We appreciate your support.
Off the Beaten Path in Santorini, Greece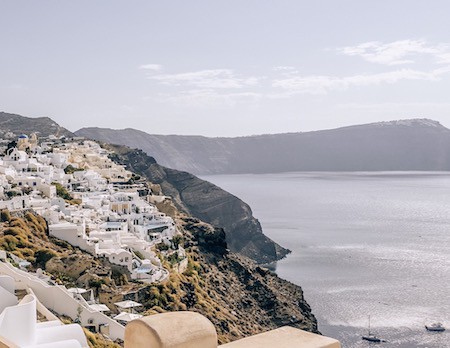 Hubby and I visited Santorini for a week and stayed in Oia. Which meant, we had the time to explore outside of Oia and Fira. We rented a car for part of the time and set out to explore.
Our local hostess, born and raised in Santorini, was a wealth of knowledge and insisted we venture outside of the tourist areas. I wish I had written down every single one of her recommendations to share with you. However, the following three spots were our favorites.
The Good Heart Santorini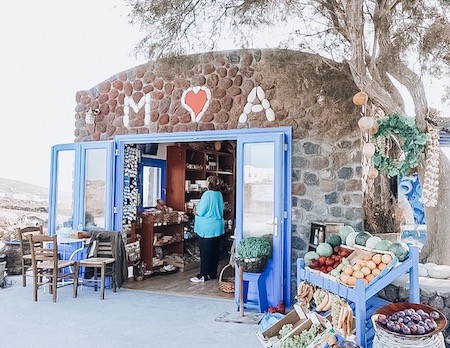 This Tasty Itinerary was quite the find. It's a produce market and a tavern. By now, it's probably gained popularity, but we will never forget the warm welcome by the owner and the full tray of samples given to us the second we stepped into the shop.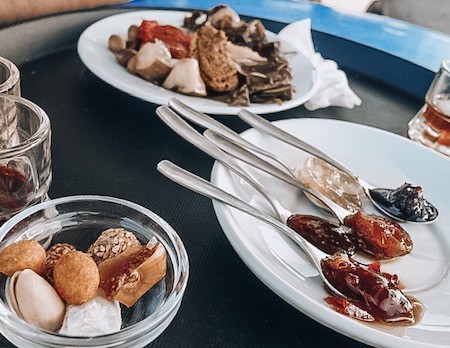 The majority of the fixings were homemade with local produce. We purchased all sorts of goodies to take back home: fig jam, Santorini tomato paste (prepared with local Santorini tomatoes), olives… etc.
As a matter of fact, this past Christmas my sister-in-law served the tomato paste we had given her as part of an antipasto and it tasted better than we remembered it being.
If you are a foodie, and you love to try local goods, stop by and have a taste. You won't regret it.
Tasty itinerary Tip: Say YES to the Fig jam and tomato paste.
The Good Heart | Greece, Akrotiri 847 00, Greece (Google Map It) | Website
Red Beach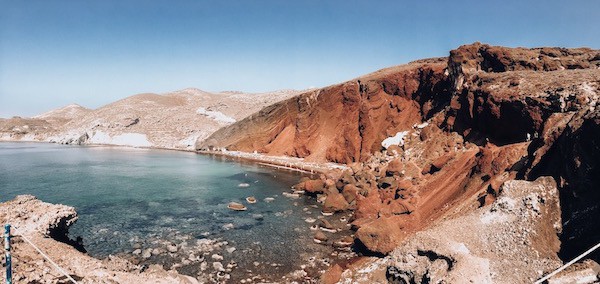 Ever imagine what it may be like to step foot onto Mars? Mars with a large body of water, that is.
This is quite possibly one of the most unique beaches I've ever been to… so far. It is spectacular with its large red lava rock formations and rocky terrain. The clear cerulean water in contrast to it is simply breathtaking. Definitely, plan to take a dip here.
When we went in October, it wasn't too busy, but expect it to be in the summertime. This can be a huge tourist spot, but not everyone that visits the island will venture off the beaten path in Santorini, Greece to see it.
Red Beach | Google Map It | Tripadvisor
Tour Option: Sailing Cruise in Santorini to Red Beach and Akrotiri with a BBQ [Book Here]
Wine Tasting at Art Space
At Art Space you'll find an ancient winery and an art gallery in the same space. Plus, a free wine tasting!
At the Art Space not only do they provide samples of their wines, but they also educate you on their process as they give you a tour of their old winery. The old winery, a cave carved out of pumice rocks, has been turned into a beautiful art space displaying an array of art from international artists.
We enjoyed the wine immensely. The art was worth the visit, too. Delicious wine, plus great art… you can't go wrong.
Tip: We absolutely loved their Vinsanto (a dessert wine). I highly recommend taking a bottle back home with you. We did, and it didn't last long.
Art Space | Έξω Γωνιά 847 00, Greece (Google Map It) | Website
Places to Eat in Florence, Italy
Visit one of our favorite destinations in the world in Italy and try these amazing places to eat that we can't get enough of.
Other Unique Things to Do in Santorini, Greece
1. Take a Cooking Class
During this trip, you will fall in love with Greek cuisine. Why not take a cooking class and learn how to make an authentic Greek dish. Return home with a new recipe to cook for your friends and family the next time you throw a dinner party. If anything, go for the food and wine! That's enough of a reason for me.
2. Tour the Volcano
This is technically an off-the-beath path Santorini adventure, but only because you need to take a boat there. Otherwise, it's a popular thing to do. We did a volcano tour when visited, it was cool and interesting. When will you ever tour a volcano? Remember to wear sneakers and be ready for a bit of a hike.
3. Food Tour on an Electric Bike
Take a tour of Santorini on a bike while making stops for Greek meze (bites). And, the bike is electric! The tour takes place in the lovely coastal village of Perissa in Santorini. You will have amazing views of the caldera during the tour and eat yummy Greekbites, drink local wine and coffee.
I needed this electric bike in Palma de Mallorca.
4. Hike the Best Trail in Santorini
Book a guide to hike the trail that takes you through the most incredible views of the caldera. Start in Fira, walk through Firostefani, Imerovigli, and Oia all while you learn about the history of the island. It's one of the most popular hikes and definitely worth going with a guide that knows all the hidden pathways of the island they love.
5. Staying a Villa? Hire a Private Chef
As you know, I'm all about the food when I travel. Hiring a local private chef to cook us an authentic meal is a luxury I dream of and would absolutely take advantage of if we are staying in the right location, i.e., it must have a kitchen.
Wouldn't it be nice to have a chef cook a romantic meal for you and your significant other? Perhaps a nice family dinner where you don't have to worry about going out and finding a restaurant that will seat you all? This is a great vacation indulgence that you will always remember because great food equals great memories.
---
I'd love to hear if you have any other spots in Santorini to share with us, leave them in the comments.
---
Don't forget to share the love on Pinterest: