Cruising the Norwegian Epic and sailing the Western Mediterranean? In this Norwegian Epic review, you will find everything we loved and didn't love about this cruise ship and its itinerary.
This year we were not going to cruise. We planned to spend it exploring parts of Spain and maybe even hop over to Portugal. We played around with the idea and a few itineraries, but nothing that overly excited one or the other.
That was until I found a great deal on Norwegian Cruise Line for a week cruising the Western Mediterranean on the Norwegian Epic.
It fit our budget and is docked at multiple ports of interest. Plus, it started and ended in Barcelona, Catalonia, Spain.
We wouldn't be able to explore Southern Spain with our limited time, but at least I would get to check off Barcelona and some other nearby areas off my bucket list.
On this cruise, we chose not to take advantage of Norwegian's Free at Sea promotion and only purchased a soda package on embarkation day. We also chose not to participate in the cruise roll call activities, which probably was not a good idea.
The Epic is Norwegian's cruise line's first mega-ship. It launched in 2009, and at the time of its christening, it was the 3rd largest cruise ship in the world. It was last refurbished in 2015.
In the past couple of years, the Epic has been exploring the Mediterranean before returning to the Caribbean during winter.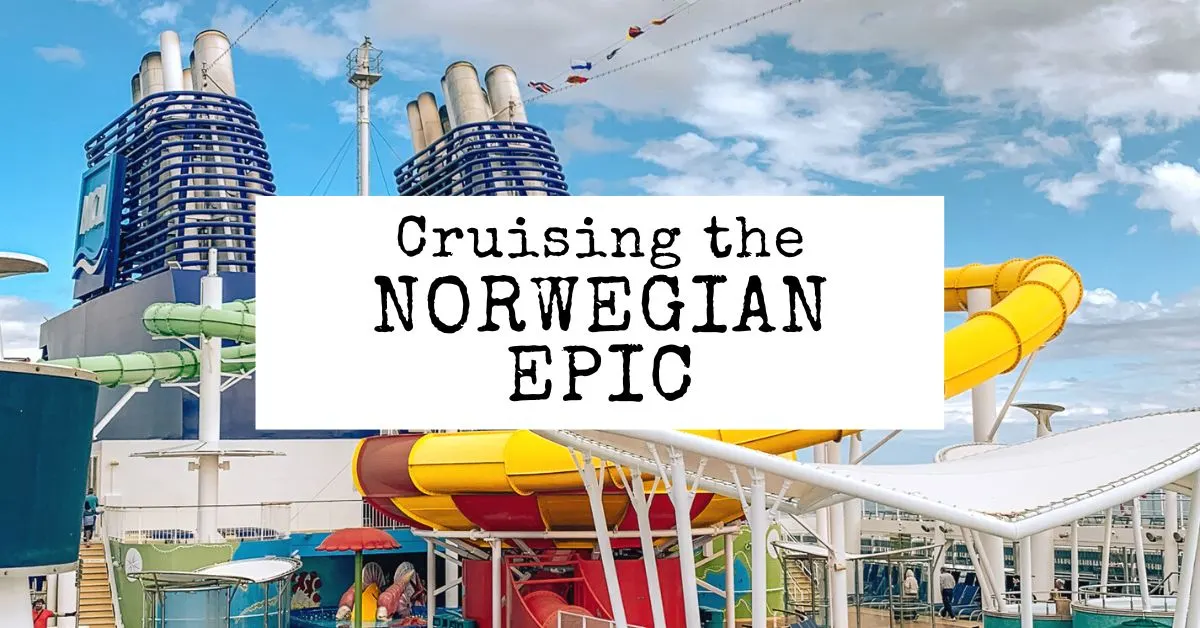 This post may contain affiliate links, which means we'll receive a commission if you purchase through our links at no extra cost to you. Please read full disclosure for more information. We appreciate your support!
Before booking this cruise, we discussed the mixed reviews of the ship. We had heard about the weird ship layout, the closed-off public spaces, and the oddly shaped cabin with the not-so-private bathroom.
We decided the itinerary was enough for us, and we'd judge the ship later. In the past, we read many mixed reviews on certain ships due to the variety of personalities and expectations and found it was far from what we ended up experiencing.
We now understand what makes this ship different from the others and noticed the service's downfall compared to all our other cruises.
While the itinerary was fantastic, we can't say the same for the cruise ship itself. The Epic left a lot to be desired. We will be honest about our experience cruising on the Norwegian Epic.
Was it the worst cruise that we have taken? No.
Did Norwegian lose points with us? Yes.
Cruising the Norwegian Epic Review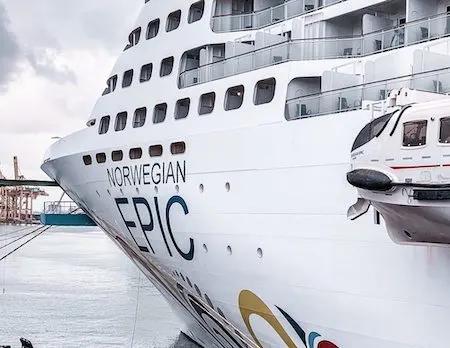 Barcelona Cruise Port Embarkation
We were pleasantly surprised by how painless the check-in process was at the Barcelona cruise port. Lines were short, close to non-existent. A rarity in our experience on cruise embarkation day. They were also efficient and informative.
For the first time, we were given a ship map (we later find out that a map is desperately needed to get around). We waited 15 minutes for our number to be called to embark. It was a relatively great start.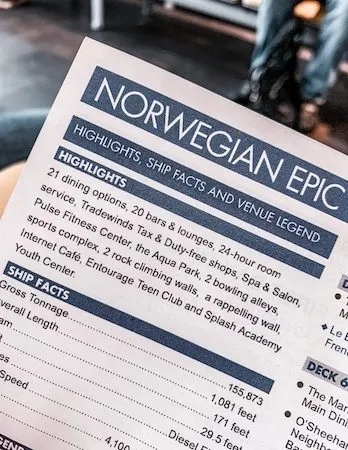 Sail Away
Nothing exciting to report. The ship sailed away at the expected time. We watched the sunset from the top deck and popped into the sail-away party at Spice H20. We decided to explore the ship's interior when it started to rain.
25 of the Best Reasons to Cruise
Cruising will always be one of the best vacations. Not convinced? Here are 25 reasons why you should consider a cruise vacation.
Our Balcony Cabin: Cabin # 10163
Our cabin was mid-ship on deck 10, cabin # 10163. Sadly, we did not get a proper room video this time. We wouldn't book a room mid-ship if you would like to be near the elevators.
As mentioned, the cabin is oddly shaped in curves, like the room was one big wave. We don't think anyone would be comfortable sleeping on the curved sofa in that room, but there is storage space behind it if needed.
The bathroom was different, and if you're sharing the cabin with someone you are not 100% comfortable with, you may be in for a rude awakening. There is no actual separate room for the bathroom itself. As soon you enter the room, you'll find the shower to your right and the toilet to your left.
Both have frosted slide doors you can close for "privacy." The sink is next to the shower for all in the room. We didn't have any issues with this arrangement, but I can see others who would.
The cabin is modern, with a flat-screen television. A plus is all the storage space in the room to put away your belongings. You can shove your luggage underneath the bed for storage space.
There were two outlets available, but no USB outlets. Don't forget to pack a USB adapter.
Add these items to your cruise packing list. Don't forget to pack these cruise items that will help enhance your cruise vacation.
Service on the Norwegian Epic
Service was hit & miss throughout the ship. O'Sheehan's had the worst service. We usually love this establishment on the other ships, but there was always a problem at the 24hr pub on the Epic.
The main dining room depended on where you sat and who your waiter was for the night. Some waiters seemed severely overwhelmed and spread out thin, which we can only blame the management for.
Our room steward was great. We met him a few days after our cruise started, but that didn't bother us. He always cleaned up our room during the day while we were gone and turned it down for us at dinner time. He did ask us multiple times if there were any special requests he could take care of for us.
Many crew members on the ship were kind & hospitable, but there were plenty that seemed miserable to be there.
We understand we are all human and have days we don't even want to get out of bed in the morning, but when you keep facing the same attitude throughout the ship, you have to wonder what the management is doing wrong.
As always, our favorite crew members were the washy-washy folk. Thank you for always being cheery and brightening my day before we even had our coffee.
NCL Epic's Spa & Barbershop
I convinced hubby to treat himself to the spa because he works his butt off and rarely gets to do nice things for himself like this back home. He did a men's facial with a shave and a hot stone pedicure.
The pedicure turned out to be fantastic and better than he expected. The fire and ice pedicure is highly recommended. The facial and the shave, not so much.
There is a cute old-school-looking barbershop on this ship that looks great for a nice shave. This is where the facial took place, not at their spa. The problem with this barbershop is that it's open to everyone passing by it and not far from the casino.
So as you're trying to relax during your facial and shave, you hear casino bells and rings going off in the background. Far from the relaxing spa environment, they have an upstairs.
The staff there was wonderful; they did their best with what was available. In my honest opinion, they shouldn't offer spa facials that will take place at the barbershop.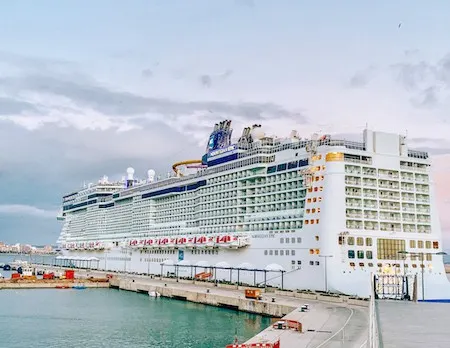 Cruise vs All-Inclusive Resort
What's the difference? Check out our breakdown of the pros and cons of each option to help make your decision easier. Plan your cruise or all-inclusive resort vacation with these travel tips and tricks.
Tasty Itinerary: Norwegian Epic Restaurants
The food is the heart of our travels, and sadly, I do not have much to report under this section of the Norwegian Epic review. Perhaps it's partially my fault for not purchasing a specialty dining package and not eating at their finer dining establishments. However, that is a splurge not everyone can make.
When you're on a cruise vacation, you expect even the food included to be up to par with all their other dining establishments. On their other ships, I had wonderful meals all around.
Cirque Dreams Dinner
We booked this dinner show in advance, and the pre-fixed menu is the same as the magic show from our Norwegian Getaway cruise.
O'Sheehan's
They could never get the order right. Their hot dogs were not edible. Their fries were nibs of soggy potatoes. We tried eating here a few times, even once sending an order back multiple times because the description on the menu did not match what they served us.
Nowhere on the menu did it say the item comes with chili, but they argued it was the way it came. Well then, folks, if you're going to contradict your menu description, update it. That's a big no-no to add-on to add to anyone's order just because you feel it belongs.
Taste
We had our embarkation lunch here, which should have been a sign of things to come – the food was tasteless. The fried chicken they served hubby tasted like they tossed the chicken in some breadcrumb, fried it, and forgot to add a dash of salt or seasoning.
My lamb was tough and needed extra TLC. We returned for dinner a few more times that week, and there were a few highlights worth mentioning: popcorn shrimp, crab cake, baked ziti, and crème brûlée.
Manhattan Room
Overall the best service and food, compared to the other restaurants. Not sure why there is a discrepancy because they serve the same menu from Taste and probably from the same kitchen.
We were given a table right by the stage on the last night and had a fantastic meal with wonderful service.
Highlights: prime rib, onion crostata flatbread, and scallops.
Shanghai's
On the night we tried Shanghai's, we tried to get reservations at one of the specialty restaurants to no avail. We wanted something different, so we decided to try the included Chinese restaurant.
We had it on the Norwegian Pearl, which was fairly good, so we thought it would be the same. Well, this was barely edible. Everything was severely salty. The service was severely lacking. Skip this one.
Norwegian Cruise Tip: If you plan to eat at any of their specialty restaurants, make reservations as soon as possible. You can start making reservations 90 days in advance.
Buffet
We mostly ate breakfast at the buffet, and it was always great. It's the same every day, so it does get old after a while. We always found something to eat. When we're on a cruise, we snack, especially in the late evenings, way past having dinner and spending time in the casino.
Unfortunately, their late-night snack section was not up to par with what they served on the Norwegian Pearl. It was the same poor choices every night.
Don't Miss: What's included in a Cruise Ship Vacation?
Entertainment on the Norwegian Epic
Beatlemania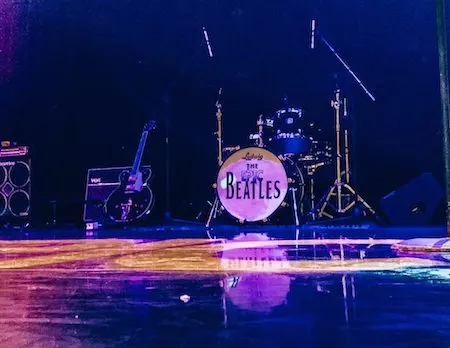 The cover band for the Beatles dressed sounded and acted very close to the real Beatles. The band is even fitted with the appropriate wigs.
As a huge Beatles fan, my husband loved this show. We watched The Beatles the first night in the theater, and then they played in one of the smaller lounges throughout the week.
We suggest you get there early if you want to see them on one of the other nights outside the theater. It fills up quickly. Norwegian should give them a bigger space.
Priscilla Queen of the Desert
We loved this drag queen show! It reminded me somewhat of the movie Birdcage with Robin Williams. Have you seen it? It was flamboyant, hilarious, and fun. We enjoyed every minute of the show.
*Do not recommend if you're easily offended.
Cirque Dreams
Fantastic circus act. We enjoyed this show immensely—a talented acrobatic cast with unhuman-like skills that we'll never have in our lifetime. We closed our eyes many times. Cringed. Gasped. Gawked. My heart leaped into my throat a few times.
Our only gripe was the seating arrangement. They should have the tables horizontally facing the center of the room. Instead, they have them vertically, and you'll have stiff necks to try to see around the person in front of you.
We guess they fit more seats in this way. There is a surcharge for this show.
Other Observations Cruising the Norwegian Epic
Andre, the cruise director of the ship, is fantastic. He's personable, funny, and engaging. We loved when he took the stage at any event.
The ship is closed off, and it is the biggest downside. There isn't enough outdoor space for a ship that carries over 4500 passengers. We are unsure how this ship does during a Caribbean itinerary, where most people like to lay out on the deck and sunbathe.

At least the Getaway and the Escape have the waterfront and a deck that almost wraps around the ship to walk through.
We appreciate the pool and hot tubs in H20, the adult section of the ship. That extra pool is missed on the other mega-ships. This area does feel cumbersome, though, compared to the Getaway.
We felt very at home on the ship on our past two cruises. Not on this ship. It was due to the crew, the layout, and the vibe. There was just a complete disconnect.
The layout is a messy flow. We couldn't help but wonder when this ship was designed if all they thought about was how many cabins they could cram onto each deck.
While we may favor the itinerary, the ship is also part of the vacation. This time, it simply served as our transportation from place to place. When it was time to disembark, we were ready to leave. That's a first for us with Norwegian.
Disembarkation
Unlike previous cruises, we were ready to get off and continue our extended time in Spain. As requested, we didn't rush to disembark but were out of our cabin by 8 AM. We had breakfast and walked off the ship with our luggage by 9 AM.
Read more: 12 Tips for a Smooth Cruise Disembarkation Day
Final Thoughts of the Norwegian Epic
This ship did not live up to its name. It was not as Epic as we expected it to be.
Due to our disappointment with the Epic, we did not buy Cruise Next vouchers. We also weren't even compelled to take photos of the ship.
This was our third cruise with Norwegian Cruise Line, and it may be our last for a while as we would like to try other cruise lines in the future.
Now, don't completely hold me to that.
If we see an interesting NCL itinerary at a great rate, it will be difficult for us to stand by this self-imposed NCL break. We can't help ourselves when we see a great price combined with a brilliant itinerary. Unless it's on the Norwegian Epic, then most likely not.
We will not cruise again on the Norwegian Epic ship. It wasn't a terrible cruise, as we've heard horror stories of other ships, but it lacks all the wonderful things that other Norwegian ships have and was dearly missed.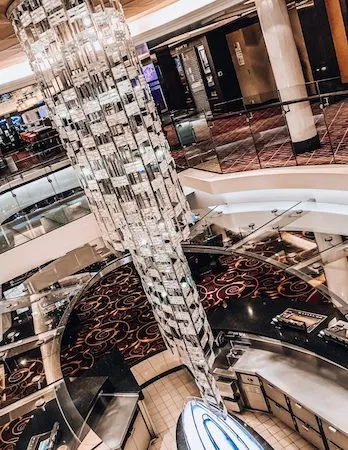 You are probably reading this Norwegian Epic review in preparation for your upcoming Epic cruise… don't fret. Just take the knowledge I provided and use it to your advantage. Learn from it. You will have a completely different experience than we did. It is a ship people either love or are disappointed with.
122 Quick & Helpful Cruise Tips
We've gathered 122 of our top cruise tips and hacks to help make your planning process smoother and your cruising experience even more fabulous. From cruise packing tips and hacks to what to do on the cruise ship and at the cruise ports, we have everything you need to know to ensure your cruise is unforgettable.
Don't Miss These Other Cruise Ship Reviews:
Share the tips & love on Pinterest: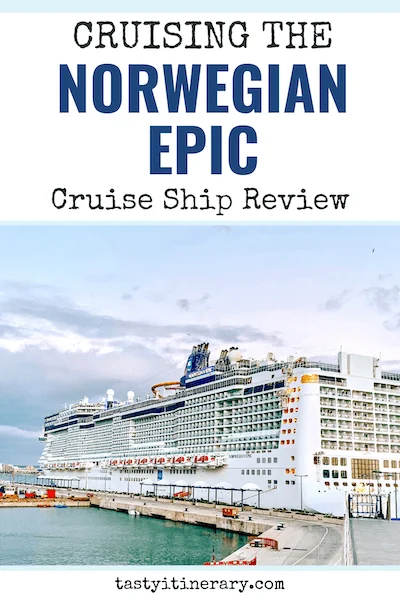 Quick Cruise Planning Guide
Where to book a cruise?
We like to shop around before booking by going directly to the cruise line and checking out the deals on GoToSea, CruiseDirect.com, Costco Travel, and Cruise Compete. Ultimately, the best advice is to find a travel agent you can trust to help you book a cruise.
Hotels for pre-cruise and post-cruise stays
We always use Booking.com or Hotels.com to book international accommodations and Expedia or Hotels.com for US accommodations. Airbnb or Vrbo for vacation rentals.
Can I book my own shore excursions?
Yes, you'll save money booking your own excursions and not with the cruise ship. We like to use Viator or WithLocals. Don't forget to read up on our tips for booking.
Car Rentals
We like to rent a car at cruise ports and for the freedom to explore on our own when the destination makes sense. We also sometimes rent cars during our pre-cruise stay or on embarkation day.
Should I book cruise insurance?
Yes! Cruise insurance is essential. We always book with a third party rather than the cruise line. Compare pricing on Insuremytrip.com.
Packing for a Cruise? Don't miss our essential cruise packing list.
Meet Kathy Ava, a food, travel, and cruise writer based in Los Angeles/Pasadena, and the owner and main writer of Tasty Itinerary. With over 20 years of experience planning trips and logistics at her full-time job and for herself, she's become a pro at crafting unforgettable tasty itineraries. She's always on the hunt for delicious, fun travel destinations and cruise itineraries. She firmly believes that life is short and we must make the most of it, so always say yes to dessert.