Spend an adventurous day in Palma de Mallorca by booking a Palma de Mallorca bike tour.
I huffed… and puffed my way as I peddled down the streets of Palma de Mallorca.
With a short day in Palma de Mallorca, I had the fantastic idea of booking a bike tour in Palma de Mallorca in advance.
When I told the hubby about the bike tour, he responded, "You are riding a bike?"
I then thanked him for the vote of confidence. However, he wasn't wrong. He knows me best.
It quickly turned into a thing, though. Anytime I told anyone we were taking a bike tour at this cruise stop, they'd give me an incredulous look and question me. Really?! YOU on a bike?!
For those that don't know me, let me introduce myself…
My name is Kathy, and I don't work out. My idea of working out is walking the dogs to the nearby coffee shop for my next latte and a chocolate croissant. Eat, sip, and then walk back home a quarter of a mile to burn off the calories.
I know, it's so bad!
The truth is I haven't found anything I enjoy doing. And biking is not one of them. Before Palma de Mallorca, I hadn't been on a bike for over 20 years! My husband has tried to get me to bike ride with him. Bless his heart. I have no interest.
I should have at least trained. But when the guide explained that it's an easy ride and anyone can do it. Even a child could do it, and then I believed I could.
This post may contain affiliate links, which means we'll receive a commission if you purchase through our links at no extra cost to you. Please read full disclosure for more information. We appreciate your support!
Well, that was a lie I told myself because I seriously thought I would die pedaling or running into someone once I was there.
Thankfully, neither happened. Now, I'm here to tell you about our adventurous day bicycling through the streets of Palma de Mallorca.
As you can tell, this article stands on its own as I share what I experienced peddling around Palma de Mallorca for a day. We share the bike tour company we used, the highlights not to miss, and the few local treats you should try while in Palma.
Palma de Mallorca Bike Tour
Why Book a Palma de Mallorca Bike Tour?
You're probably wondering why I'm about to tell you why it's a great option when I almost died.
No, not really; that's just me being dramatic.
Arriving on the Norwegian Epic, our day in Palma de Mallorca was short, from 1 PM to 8 PM. That's not enough time to do much.
I didn't feel like being in a jam-packed car with other tourists, trying to see the city in traffic. I also had the option to walk from the cruise terminal and into town and enjoyed it for what it was, but I would have left with regrets.
When I am in a new place I've never been to, I like to learn about the local history and try to take in as much of the culture as possible.
Bicycling is a great way to get around town, slip past traffic and pedestrians, and see as much as possible while making stops. It made for smooth transportation during our day in Palma de Mallorca as we could dodge the traffic from a cycling competition in the city.
We booked our tour with Call & Ride. The guide did a fantastic job introducing us to his city and motivating me to keep peddling. I give him an extra star for his patience.
Should you rent a bike in Palma de Mallorca on your own instead of booking a tour?
I don't see why not. You just will be exploring on your own without a guide. Palma de Mallorca is a bike-friendly city.
Tour Ideas:
Palma de Mallorca Bike Tour with Optional Tapas [book here]
3 Hours E-Bike Tour in Palma de Mallorca [book here]
Palma de Mallorca Easy Bike Tour [book here]
Read more: 11 Helpful Tips for Booking Shore Excursions Independently
A Day in Palma de Mallorca, Spain
Things to See in Palma de Mallorca
La Seu Cathedral (Cathedral de Mallorca)
Old Town Palma
Passeig des Born
Santa Catalina
Convento de Santa Clara
Can Joan de s'Aigo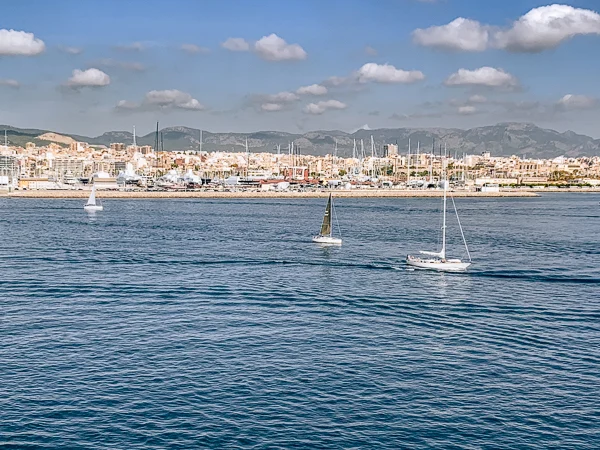 If you're arriving by cruise ship and planning to rent a bike nearby or have your tour booked, you will most likely ride through the marina.
The walk or ride from the marina into town is tranquil as you'll have the sea breeze kissing your face, and the sight of sailboats always makes me smile.
At this point, I was biking on flat ground and chanting, "I can do this… I can do this."
I'm not going to highlight everything. We rode through many streets and stopped at many sites and hidden corners. All while being introduced to the history of Old Town Palma.
The legends the guide shared with us were entertaining, and I could never replicate them with his enthusiasm. I will share the highlights and the most memorable ones to look out for.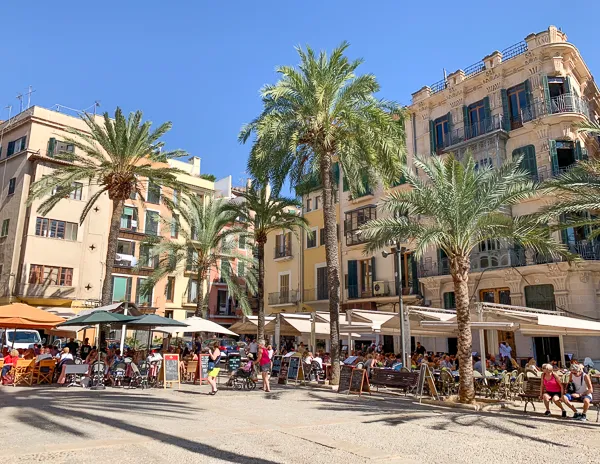 One of our first stops was across the fountain, the Cathedral of Palma, also known as La Seu. This is a great spot to take it in for its massive glory and those cool family shots.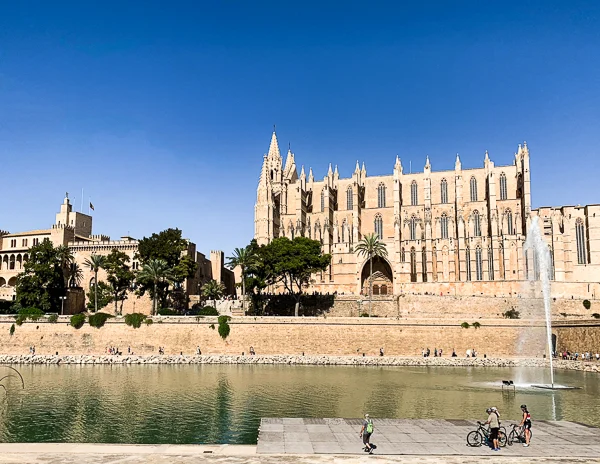 If you thought La Sagrada Familia in Barcelona was taking forever to finish, then you haven't heard of the history of this Mallorca Cathedral.
King James the First ordered the Mallorca Cathedral to be constructed in 1229, but it was completed in 1601. That's almost 400 years! In the 1800s, the cathedral had to be restored after a bad earthquake, and in 1901, Gaudi took over the restoration.
Another cool fact: the church sits on top of a mosque.
Even though I had issues bicycling, I did take notice and loved that Palma de Mallorca is a bike-friendly city. Once you are pasts the crowds, you can enjoy what I would say is the backend of Palma de Mallorca.
Tour Ideas:
City Kickstart Tour of Palma de Mallorca [book here]
Highlights & Hidden Gems of Palma de Mallorca [book here]
Local Treats in Palma de Mallorca
What kept me pedaling? The tasty treats the guide introduced us to. At the mention of cookies, you bet I moved my ass as if I was in an imaginary soul cycle class I'd never attended.
Back to the tasty treats…
Cookies Baked by Nuns at Convento de Santa Clara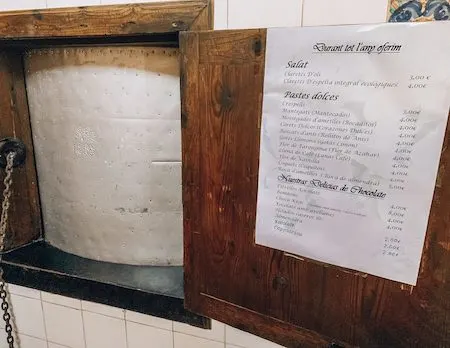 Baking cookies at this convent is a centuries-old tradition. You should visit the convent and see the baked goods they have for sale.
You can ring the bell and order through the turnstile table they have at a window. You will never see a nun as they do not have contact with the outside world.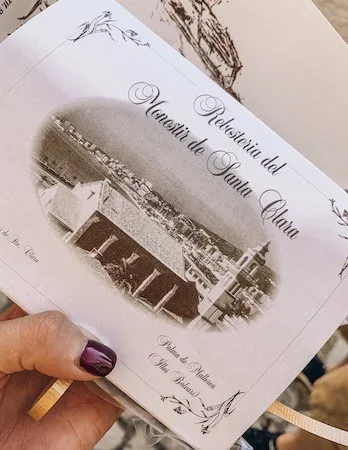 One of the legends and traditions is that when someone gets married in the city, they are supposed to donate eggs to the nuns to pray for no rain on their wedding day.
If you do not donate eggs, the chances of rain will be higher. So if you plan to wed in Palma, don't forget to donate eggs weeks in advance!
The cookies were delicious. We got two boxes to share with the group, and we had leftovers, so we had to sneak them onto the cruise ship. You're not allowed to bring back unsealed foods onto the cruise ship, but we managed to on this day.
It was good because we ate cookies during our road trip to Girona, Spain, on disembarkation day.
Convento de Santa Clara
Carrer de Can Fonollar, 2, 07001 Palma
(Google Map It)
Have an Ensaïmada at Can Joan de s'Aigo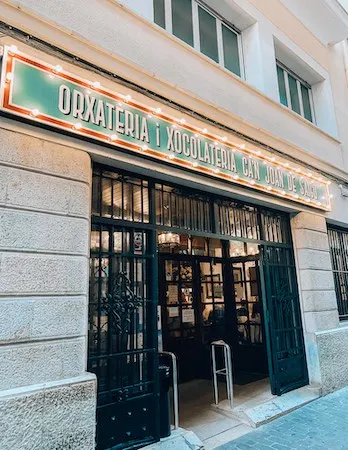 We were a small group, and while I wasn't familiar with anyone in the group besides my husband, we quickly learned we all had one thing in common: we loved to eat.
So when our 30 min break came up, we all asked the guide where to find something good to eat. The guide asked us if we'd like to go somewhere special. There were no objections.
We all returned on the bike and followed him to this local cafe to try the best ensaïmada in Palma de Mallorca.
Can Joan de s'Aigo is the oldest cafe in Palma de Mallorca. Not only can you find the Majorcan sweet bread called ensaïmada, but they are also known for their Spanish Style hot chocolate.
When we ordered, only two types of ensaïmada were available: plain or pumpkin. Naturally, we got one of each with cafe con leches.
That's right, I, unfortunately, skipped the hot chocolate. I knew I wouldn't finish it in time to resume the rest of our ride.
A real caffeine kick was in order.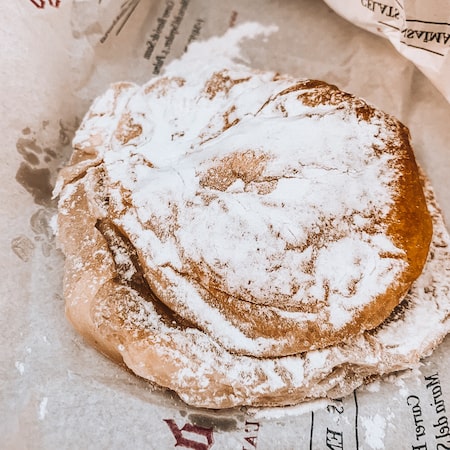 I loved the plain ensaïmada and could easily eat a whole one alone with my cafe con leche. Who doesn't like soft sweet bread dusted with powdered sugar?
As far as the pumpkin stuffing, it was good but overly sweet. I wish they had a custard-filled one the day we were there—next time.
Oh, the Cafe con Leche was excellent. It hit the spot.
Can Joan de s'Aigo
Carrer de Can Sanç, 10, 07001 Palma
(Google Map It)
Tour Ideas:
The 10 Tastings of Palma de Mallorca [book here]
Drinks & Bites in Palma de Mallorca Private Tour [book here]
Bike Ride to Never Forget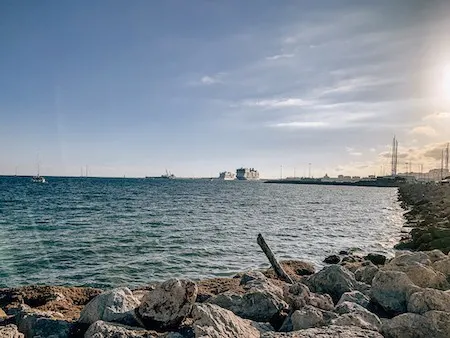 I survived! I never gave up! Don't give up!
We ended our bike tour at the meeting point with a couple of hours to spare. I'm not going to lie; I was dead tired. Hubby had to convince me to return to the city center. I'm so glad he did because we took the time to check some shops and sit down for a nice glass of wine.
Palma de Mallorca on a bike is a great introduction to this resort city.
Share the tips & love on Pinterest: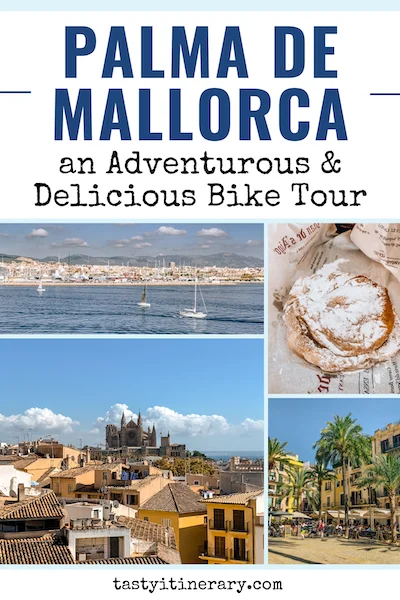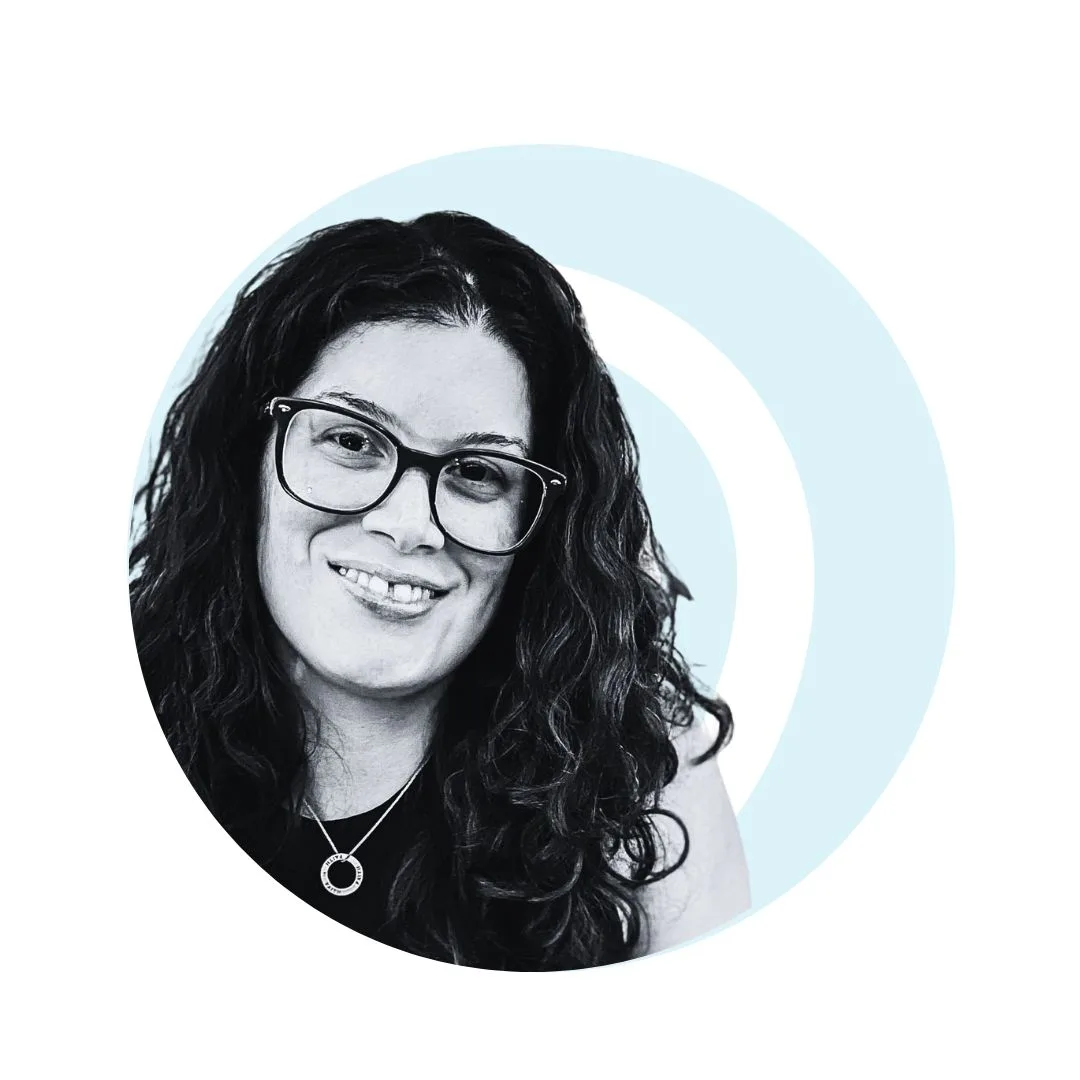 Meet Kathy Ava – a food, travel, and cruise writer based in Los Angeles/Pasadena. With over 20 years of experience planning trips and logistics at her full-time job and for herself, she's become a pro at crafting unforgettable travel itineraries. She's always looking for delicious, fun cruise itineraries and travel destinations and is slightly obsessed with Italy. Her passion and curiosity for travel started in childhood on her yearly and sometimes bi-yearly trips to PR. She firmly believes that life is short and we must make the most of it – so let's explore the world and make some incredible memories.