Is Cannes, France a port-of-call on your Western Mediterranean cruise? Are you staying in Cannes and are thinking of spending one day in Nice, France? Cannes to Nice is an easy and fun day trip.
When I saw Cannes, France on our Western Mediterranean cruise itinerary, the first thing that came to mind is the yearly film festival packed with celebrities. Was that your first thought, too.
Cannes is more than that. It is part of the French Riviera, also known as Côte d'Azur in Southern France. An absolutely beautiful coastal city that is worth exploring if you choose to stay in Cannes for the day.
Not far from Cannes are many other cities to explore, perfect for a day trip, including Nice, France.
Disclosure: This post may contain affiliate links. If you decide to make a purchase from one of those links, we may get a commission at no extra cost to you. We appreciate your support.
Cannes Cruise Port
This was our first trip to Southern France. When you start digging into all the places you can see from the Cannes cruise port, you'll see that there are numerous destinations you can take a day trip to.
Do you stay in Cannes? Reserve a car? Book a tour of Monte Carlo? Or, do you try to see as much as the French Riviera as possible? This is truly a great port-of-call for a cruise day. There is plenty to explore as long as you have a full day ahead of you. You just have to narrow it down to what you'd like to see most.
We narrowed it down between taking a rushed tour of the French Riviera or simply hopping a train to a nearby city.
Nice, France has always been on our bucket list. While we loved renting our own vehicles during our first few cruise stops, Europe also has an amazing rail system. A train to Nice sounded like an easy do-it-yourself day trip. It's also the cheapest and the quickest way to get there.
Cannes is a tender port
What do you mean by tender?

The cruise ship will dock and anchor off-shore. Which means smaller boats will transfer cruise passengers ashore.

CRUISING TIP: IF IT'S A TENDER PORT, AND YOU DO NOT HAVE PRIORITY STATUS ON THE SHIP, GIVE YOURSELF ENOUGH TIME IN THE MORNING TO BE ONE OF THE FIRST ONES OFF THE SHIP. THAT IS IF YOU WANT TO MAKE THE MOST OF YOUR DAY AT THE PORT.
Our itinerary at Cannes port was from 8 AM to 6 PM. After contacting the tour company regarding the French Riviera tour, we realized, there wasn't enough time for the tour. Cannes to Nice quickly became the winner.
We didn't get to book the tour, but a day trip from Cannes to Nice allowed us time to explore at our own pace. On top of that, we saved money.
As I've mentioned in other posts, there isn't enough time at these cruise stops, period. One of the many downsides of cruising, I admit. And tendering automatically shaves us an hour or more of your time at the beginning of the day and at the end of the day. You do not want to miss the ship. Give yourself enough time to tender back in time.
Cruise Tip: On the Norwegian Epic, sign-up for tendering at any of the ports applicable from the TV in your cabin or from one of the many touchscreens throughout the ship. You want to do this on day 1 of your cruise, so you can choose the earliest time available and be one of the first off the ship.
Cannes to Nice by Train
How far is it from Cannes to Nice?
Cannes to Nice is about a 30-min train ride.
How much does it cost?
It costs less than 10€ pp for a roundtrip fare.
How to get from Cannes to Nice, France by Train?
Let me first start by saying that once you get to the train station, your options are open. If you want to follow my advice on Nice, that's great. However, if you're just looking to navigate your way to the train station, perhaps this will help you and then you can choose another city nearby. No matter what you do, Nice or Cannes, you will have a great day.
When you arrive at Cannes port, take a 17-min walk to Gare de Cannes – Cannes-Ville, the main railway station for the Southern part of the city.
→ Google Map Directions from Cannes port to train station: Click Here (Save this link or print out directions)
→ Train timetable information: Click Here
Once you arrive at the train station, find an electronic kiosk. It is pretty easy to navigate. I suggest you should know which station you would like to travel to beforehand so your chances of getting lost are low.
For Nice, choose NICE VILLE and the time you wish to depart Gare de Cannes – Cannes-Ville. We purchased roundtrip tickets and made sure to choose a return time that allowed us time to walk back to the port to tender.
Note: some trains are faster than others, so keep that in mind when making your selection.
The platform where the train will be departing from will be shown on the ticket.
If you don't feel like exploring Nice on your own, you can take the train to Nice and do a walking tour.
Cruise Tip: The last tender is normally an hour before the ship is scheduled to leave. In our case, we had to be back no later than 5 PM. This meant that we purchased return tickets from Nice to Cannes for 4 PM. The ride back is no longer than 30 mins, but we also had to consider the time it took to walk back to the port.
Tour Options from Cannes
These are some of the shore excursions to consider if you find traveling by train intimating or you just feel like something more exciting. There is nothing here I wouldn't do myself. Just make sure it fits within your cruise itinerary for the day.
One Day in Nice, France
Our morning started with breakfast and lining up to tender to port. Sometimes depending on the ship and the port, it's super easy. Other times, it's an ordeal. You find me swearing and saying that I will never pick an itinerary with a tender port again.
But, once you're off the ship and in Cannes port on a lovely serene morning like the one we experienced, you forget all about how you made it there.
Then a beautiful day follows and the memory of the tender line from the morning is buried deep into the back of your mind until you have to tender back to the ship. This time though, you return to the ship with wonderful memories.
The Nice-Ville train station is beautiful. I think we were the only ones to stop and take pictures. This was the start of our adventure in Nice. You're not going to step out of the train station and immediately be where you are in the middle of everything below. The best way to explore is to walk.
Our goal was to head towards Old Town Nice and it is a nice 25-min walk from Nice-Ville Train station. You can take a bus or a taxi to save time, that is always an option. Since we had no real agenda besides the old town, we decided to just see what the city had to offer by walking.
Naples to the Island of Capri, Italy
Take the ferry from Naples and spend a beautiful day in Capri. See lemons the size of your head! Have some limoncello and take a chairlift up to Mount Solero.
Things to Do in Nice, France
Avenue Jean Médecin
We used Google Maps to lead us towards Old Town and we were led towards Avenue Jean Médecin. It is the city's main north-south street. It will lead you directly to Old Town Nice.
If you're looking to do some shopping, this would be the street. Every store you can think of is on this street. This is the main shopping area for tourists and locals.
FYI: Our cellphones were connected to our Solis Wifi Hot Spot for the day.
Le Jardin Albert 1er (Albert I Garden)
This 19th-century public park is a gem. Such a wonderful surprise when we came across it. You can spend a good amount of time strolling through the park and seeing everything it has to offer.
We only managed to walk through the fountains and I loved seeing everyone enjoying these fountains, including me. I felt like a kid.
On the other side of this park is Promenade du Paillon. With more fountains and play areas for kids. Nice, France makes for a great family-friendly day trip.
Vieux Nice (Old Town Nice)
Promenade des Anglais & Beach
After passing by the park, you'll start to see the coast and we followed the sight of the ocean to the Promenade des Anglais and the public beach. The promenade is actually about 4 miles long along the Mediterranean and starts at the Cote d'Azur Airport.
The beach was pretty empty, but I have a feeling during the summer it is packed with rows of beach chairs, umbrellas, and vacationers. We took a short walk and I can happily say that I dipped my toes in the French Riviera.
Ascenseur du Château & Castle Hil
If you would like to see a panoramic view of the coast of Nice, go to Ascenseur du Château and take a classic art-deco elevator all the way up to Castle Hill Park. You can also just take the stairs around the corner to the deck. We chose the latter.
This view was worth the extra steps. The color of the water was different from above than from below.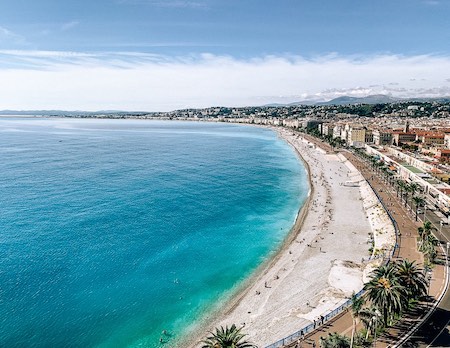 Explore Charming Old Town Nice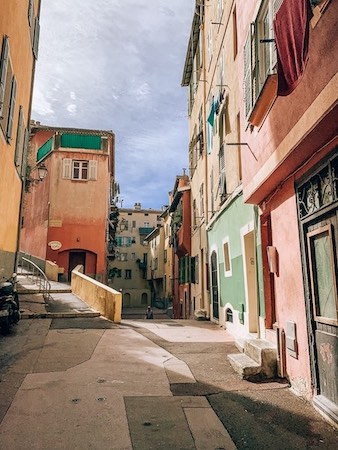 The further you walk from the coast, away from the overly touristy parts, and the deeper into the vibrant old town of this European city you go, you will be taken back in time. You will fall in love with the cobblestone streets, old-world Europe, French cafes, and charming bistros.
Here is a funny story, maybe this has happened to you. I was so mesmerized and in awe walking around, looking up at all the details and recording that I walked right into a steel pole. ? This is not the first time this has happened to me. Thankfully, I'm fine and simply laughed it off. I did have a black & blue on my thigh for a while.
Spend a Day in Civita di Bagnoregio, Italy
Have you heard of the dying city in Italy? See this charming ancient village perch on a hill.
Tasty Itinerary: What to Eat in Nice, France?
There was so much to see and do in the small amount of time we had, we didn't know if we were going to sit and have a full lunch. It was all up in the air and then we found lunch at the market.
We did stop at a French cafe for a bit for a coffee.
Cours Saleya Open-Air Market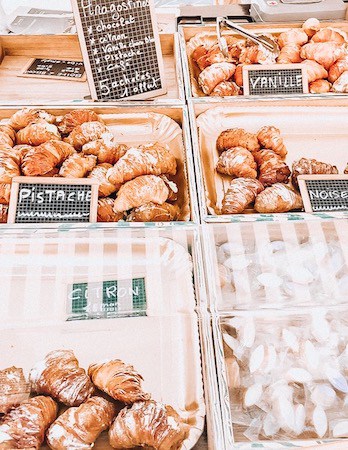 We completely lucked out and ran into an open market along the Cours Saleya in old town Nice. It was a great treat! I was honestly taken aback by the lovely people running these stands, so gracious and welcoming.
This market takes place almost daily: Tuesday thru Sunday from 7 AM to 1 PM.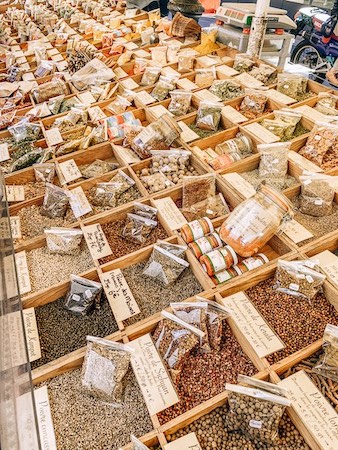 There was everything from fruit stands, baked goods, seasonings, and flowers. I purchased some seasonings and dried lavender to bring back home with me. So many flavors and delicious aromas all in one place!
We purchased multiple goodies that we ate along the way, including a sandwich. Hubby loves sandwiches, what can I say. There were a couple of stands with long lines serving hot dishes, which I wish we had noticed before stuffing our faces with other things. I think you can find a smorgasbord of delicious local items and return to the beach for a picnic.
Visit Nice, France
Our day trip from Cannes to Nice was a success and we had a wonderful time exploring this lovely city. I will dare to say, we loved Nice more than our visit to Paris years ago. It was a completely different vibe. I encourage you to visit Nice, France.
We didn't do everything, but we did enough to leave us smiling and craving another return in the future. I think Nice would also make a great home base for day trips around the French Riviera.
Tour Options From Nice
Just in case you decide that you have no problem getting to Nice, but would love to do something more than explore on your own. I'm eyeing these for my next visit.
When booking your train tickets, give yourself enough time to arrive and return. Book a tour within the time frame you will have in Nice.
Are you excited about your trip to Nice, France? What are you looking forward to the most?
If you have been to Nice, what did you love the most?
Don't forget to share the love on Pinterest: