Are you staying in Florence or Tuscany? Is your Livorno, Italy a port-of-call on your cruise itinerary? Let's take a quick day trip to Lucca, Italy. See all the things to do in Lucca, Italy!
Livorno Cruise Port
We decided to spend our day in Lucca because our cruise docked for the day in Livorno, Italy. There are tips here for cruisers and for anyone here looking to take a day trip to Lucca, Italy.
The most obvious and popular option is Livorno to Florence, Italy. I don't blame anyone because I LOVE Florence. I have more than one post on what to do in Florence. The temptation to spend our day there was high.
Firenze is our favorite city in the world! With about 8 hours or so in Florence, you have time to stroll the city, visit the Duomo, and perhaps eat at one of our favorite spots.
If you are thinking about spending the day in Florence, I highly recommend booking a transfer bus with the cruise line. It will take you directly to Florence and return the cruise ship in time.
Tuscany, in general, has a special place in our hearts. If you're looking to explore it, rent a car to be picked up at the Livorno cruise port and drive into Tuscany. You will want to return and spend a longer length of time.
Disclosure: This post may contain affiliate links. If you decide to make a purchase from one of those links, we may get a commission at no extra cost to you. We appreciate your support.
For more Covid-19 information for Italy, click here.
Day Trip to Lucca, Italy
This time around, we decided we'd do a quick day trip to Lucca, Italy. Every single time we are in Tuscany, everyone suggests we make it to the province of Lucca but we always run out of time.
So if you're looking for a new Tuscan city to explore or a day trip from Florence, Lucca is the perfect alternative. You don't have to do everything in Lucca in one day. We list the top things to do in Lucca, so you can get the most out of your day there.
I'm not sure what I expected when we 'planned' our visit here. I use the word planned loosely as I did little research beforehand. That's unlike me, but I did have 5 cruise stops and then another week in Northern Spain I had to plan for. I do work a full-time job. Plus, my dog tore his ACL right before we left.
So besides seeing how long of a drive it was to get there and a few must things to do, I relied on Google during our drive there. My Wi-Fi Hot Spot worked overtime while hubby used it for directions and I perused Tripadvisor.
Of course, it was hard to focus on my phone as we entered the countryside and started spotting a few rolling hills and my favorite Cypress trees. We fought the other temptation, the one to forget Lucca and just drive around Tuscany.
It's important to note that when you arrive in Lucca, you can not park inside the historic walls of the old city. There are free and paid parking lots outside the medieval city walls. Visit this site for more info.
After we parked our car, we followed one of the paths that entered the old city of Lucca through one of their multiple entrances. This one was a tunnel that walked us under the old city walls.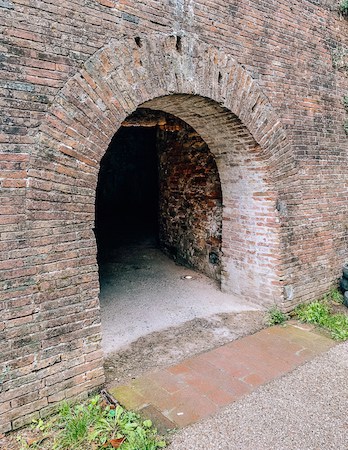 Things to Do in Lucca, Italy
Explore the Underground Tunnels
One of the things to do in Lucca, Italy that can easily be missed is exploring the underground tunnels. We entered through one of the tunnel entrances, but we could have missed it completely had we entered via a different route.

When we first entered the tunnels, we had no idea where we were headed exactly, but we knew we were in Lucca. We were in an Italian European city, no matter what we decided to do, we would love it.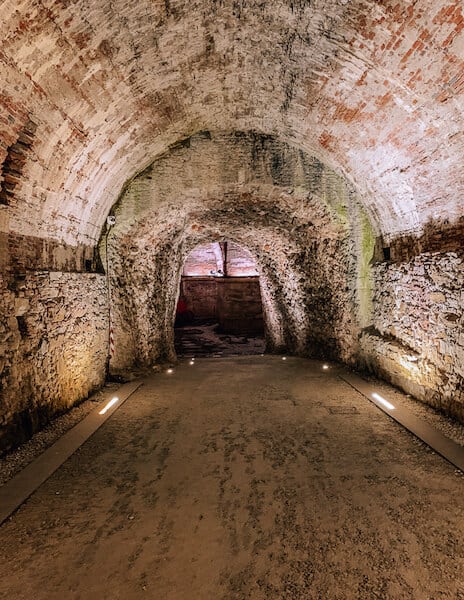 Looking back, I'm glad that we entered the city through the underground tunnels. We would have missed them completely had we taken another entrance.
As we entered the old city of Lucca, it instantly reminded me of the city of Florence. It's probably why we felt immediately at home. I dare say, it was less crowded. It may have been because it was off-season and it was raining on/off.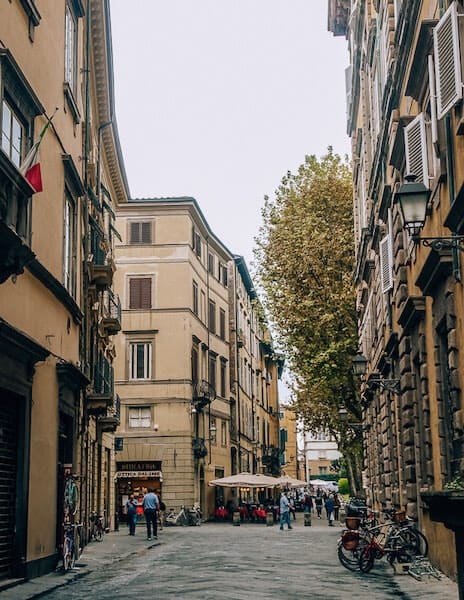 How to Spend a day in Florence, Italy
Thinking of visiting Florence, Italy for one day? We provide 3 itinerary options to inspire your day in Florence. Take a food tour, visit the Uffizi, or explore the Duomo. See why it is one of our favorite cities in the world.
What to do in Lucca: Eat Pizza
Our first order of business was coffee. I needed an espresso… and a bathroom. Many of the shops were still closed. We happen to find a pizza place that had just opened.
They were in the midst of making their first pie of the day. By the time we finished savoring our espresso, the first fresh pizza of the day had emerged from the oven. As the pizza man was slicing the pie and the aroma of basil, cheese, and tomatoes taunted us, hubby and I looked at each other.
Guess what we were thinking? Of course, we were thinking of having the first slice of the day.
Next thing you know, we were both scarfing down a slice. It was the PERFECT mid-morning snack.
What am I suggesting? Instead of quickly trying to knock things off your list of things to see, stop and smell the pizza… and then eat a slice! It will be well worth it!
We had about 5 hours or so left to explore. We did so leisurely, sometimes having to run and find shelter from the rain that kept coming and going. This is how we found St. Martin's Cathedral.
St. Martin's Cathedral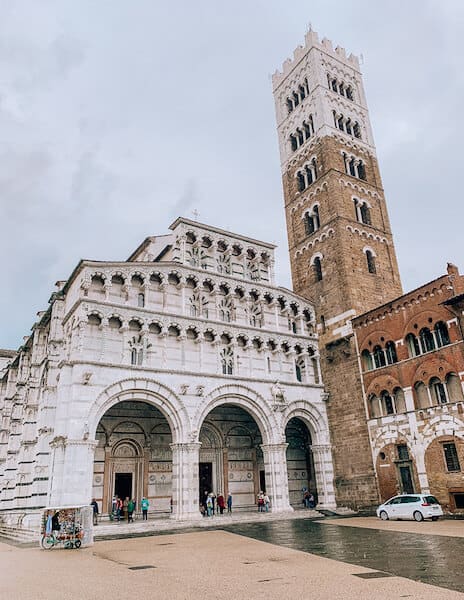 There is always a church to visit and in Lucca, Italy, it is St. Martin's Cathedral. It is located in the center of the old city and in front of Piazza St. Martin.
I absolutely love Gothic architecture and this church is a mix of Gothic and Romanesque architecture. I sat in the middle of the pews and just took it all in.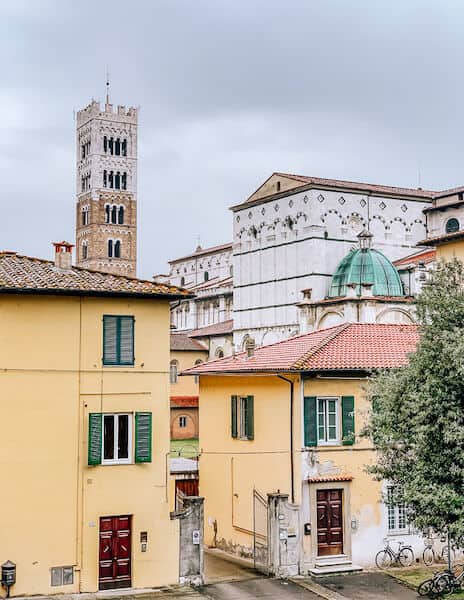 St. Martin's Cathedral | Piazza Antelminelli, 55100 Lucca LU, Italy (Google Map It) | Tripadvisor
Climb Torre Guinigi
One of the top attractions and sights that stayed with me while researching Lucca is the Guinigi Tower. It's one of the tallest towers in Lucca and it has oak trees planted at the top of it. I thought that was interesting. How many towers have you visited with oak trees at the top?
As you approach this tower, be forewarned that there is a good chance you will be very distracted by a wonderful smell that will instantly make you hungry and that's all you're going to think about on your way up.
When you make it to the top, you will be greeted with a 360º view of the city of Lucca. You will finally get to see holm oak trees that are planted and growing strongly in the garden.
It is a tight fit up there. So please be conscious of that. It can be difficult to walk around and you can easily block the small space. Be mindful of others.
The day we were there, it wasn't busy, but there were a few people that parked in their spot and rudely thought it was okay to not let others pass by. I'm not sure how they control the crowds during the busy season.
Fun fact: Did you know that families used to compete to have the tallest tower? I have a feeling this is why the Guinigi family added a garden of trees.
Guinigi Tower | Via Sant'Andrea, 45, 55100 Lucca LU, Italy (Google Map It) | TripAdvisor
Cost: 4€ to enter & climb to the top
Naples to Capri, Italy in a Day
Is your cruise docking in Naples, Italy for a day? Take the ferry to Capri, taste limoncello, enjoy a chair lift up to Mount Solaro, and don't forget a boat tour. See how to get to Capri from Naples and what to do on this Italian island.
San Giusto Church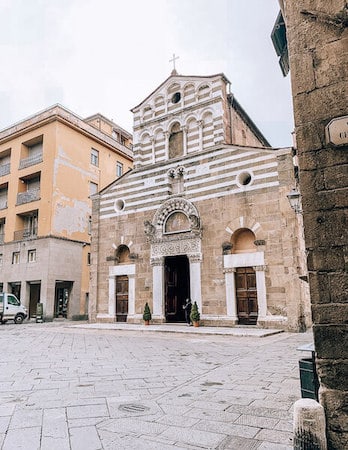 We didn't enter this charming 12th-century church as it was closed. The ornate baroque architecture is worth a visit. If open, I wouldn't miss taking a peek inside.
San Giusto Church | Corte del Biancone, 5, 55100 Lucca LU, Italy (Google Map It) | TripAdvisor
Piazza Anfiteatro
The main square in the old city of Lucca is Piazza Antiteatro. It is in the heart of Lucca and built on an ancient Roman amphitheater.
Here you'll find lots of restaurants, cafes, and unique shops. It's a great spot to sit, relax, and grab an espresso. This is what we did and it was a nice break from exploring.
Piazza Anfiteatro | Piazza dell'Anfiteatro, 55100 Lucca LU, Italy (Google Map It) | TripAdvisor
The Old City Wall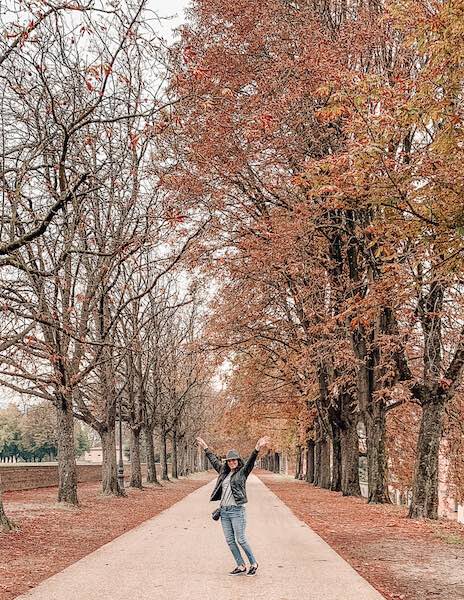 If there is one thing you should do in Lucca that is to take a stroll or ride a bike on the city wall. We left the wall towards the end of our day when we were heading back to our car. I really wished we had more time.
Tour Inspiration: A Guided Tour of Lucca [Book Here]
Interesting Find: Canal of Lucca, Italy
From all the things to do in Lucca, I didn't expect to come across a canal. It was a nice little find as we were strolling this European city. It's a charming mini canal in the middle of the historic city of Lucca.
Tasty Itinerary: Where to Grab a Bite?
Forno F. Casali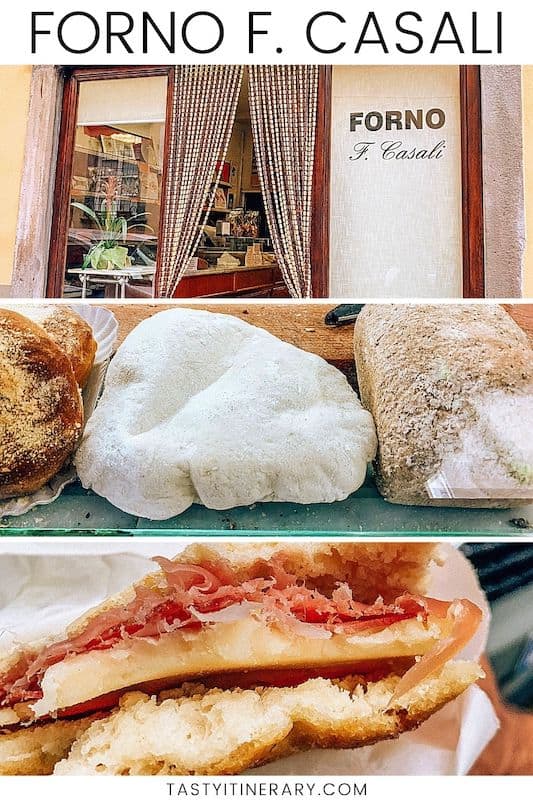 Remember the delicious smell that had us distracted while visiting Guinigi Tower? Well after leaving the tower, the aroma pulled us in its direction and we found this amazing bakery. I almost didn't share it and wanted to keep it a secret, but that smell of heavenly-baked goodness will pull you in.
According to a local getting their fix for the day, this bakery makes the best focaccia. Now, because everything looked amazing and my mouth was watering, we believed her.
We decided to share a sandwich for lunch on their fresh-baked focaccia. And boy, it definitely was one of the best focaccia bread we ever had.
It was the perfect lunch.
Sit at a Cafe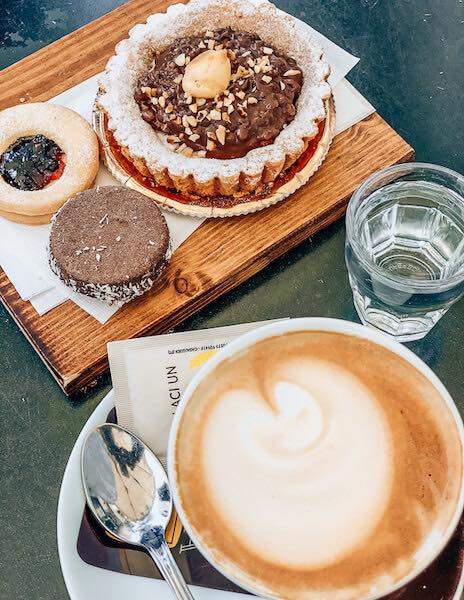 We were ready for another round of coffee and some sweets. We found a corner cafe without outdoor seating, ordered two cappuccinos and a few treats.
Tour Inspiration: Lucca Bikes and Bites Small Group or Private Food Adventure [Book Here]
How to Get to Lucca, Italy?
On Your Own Transportation Options
Rent a Car
If you enjoy having the freedom of driving wherever you want, making stops along the way, and the option of changing your itinerary on a whim, I recommend a car rental for an easy day trip to Lucca, Italy.
It's also the best way to explore Tuscany as long as you feel comfortable driving. This is an option available from Livorno or even Florence for the day. We are fans of Avis.
Driving to this city from either Livorno or Florence is definitely much quicker than taking the train.
Take the Train
From Livorno Cruise Port
First, you have to take the shuttle from the cruise terminal into the town of Livorno. From the drop-off point, you will walk about 20 mins to the Livorno Centrale Railway Station. Note, if you choose this route, the train will also stop in Pisa, where you will have to make a change to another train. The train ride altogether is about 1 hr 05 min.
From Florence
Take a train from Stazione di Santa Maria Novella, you'll want to buy a ticket on the route to Viareggio.
The train ride is about 1 hr 20 min.
Tip: Book your tickets in advance. Click here for train times and info.
Tour Options
We do our fair share of train rides. But when driving time is less time than taking public transportation, we will look into tours or drivers if we don't want to drive ourselves. You also may be more comfortable with a tour.
Here are some tour ideas:
Round-Trip Transfer Service to Lucca and Pisa from Livorno [book here]
Pisa and Lucca Day Trip from Florence [book here]
Private Half-Day Excursion to Lucca from Florence [book here]
I Love Lucca, Italy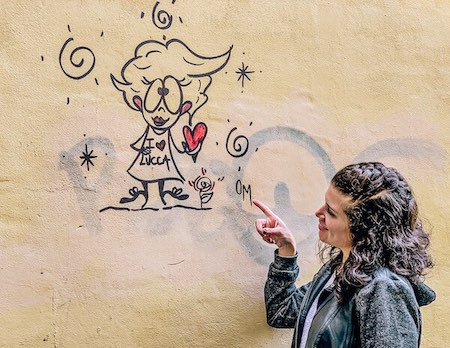 In the short amount of time we were there, Lucca became a place we imagined ourselves living in one day. To the point, that hubby started talking to locals about real estate, the economy, their day-to-day lives, and what they thought about the city they called home.
I laughed when quite a few said to us, "it's funny because Americans want to l live here and yet we would love to be in America." That's not to say they didn't love their home country, just that they were as interested in how we live in the States as we are in living in Italy.
Of course, it still boggles my mind… who wouldn't want to live in Italy? Politics aside, with beautiful European towns like Lucca, rich with amazing architecture and history, and possibly one of the best cuisines in the world, it's a match made in heaven for me and hubby.
We met a really nice lady from Canada that owned property there and migrated a few times a year. Seriously, I loved the joy on her face as she told us all about how much she loved it there that she ended up buying a property. Talk about GOALS.
Are you planning a day trip to Lucca Italy? What is one of the things to do in Lucca that you're looking forward to the most?
Don't forget to share the love on Pinterest: