Planning a day trip to Lucca, Italy? Whether you're visiting from Florence, exploring Tuscany, or in for a cruise day from the port of Livorno, a quick day in Lucca is better than none.
Italy is one of our favorite countries. Not only do we have ancestry roots here, we feel at home when we visit. One of the cities we love the most is the city of Firenze, which we have visited multiple times.
And Tuscany is one of those magical places with rolling hills, vineyards, and charming medieval villages dotting the landscape. You can spend a month exploring Tuscany and still not cover all the gems in this region.
Lucca is one city that seems to be overlooked, but it should not be missed. It's an enchanting city located in the region of Tuscany. It is known for its renaissance-era architecture, cobblestone streets, and majestic walls that encircle the city.
We recommend a day trip from Florence to Lucca if you're visiting Florence.
Or if you're cruising the Western Mediterranean and Livorno is on your cruise itinerary, visit Lucca. That's what we did during our 7-day cruise on the Norwegian Epic.
Lucca is also a great half-day trip from visiting the leaning tower of Pisa.
Florence to Lucca is about 51 miles from each other
Livorno to Lucca is about 32 miles from each other
This post may contain affiliate links, which means we'll receive a commission if you purchase through our links at no extra cost to you. Please read full disclosure for more information. We appreciate your support!
This article discusses how to get to Lucca from Florence and Livorno cruise port. And, we share things to do in Lucca in a day.
How to Get to Lucca, Italy?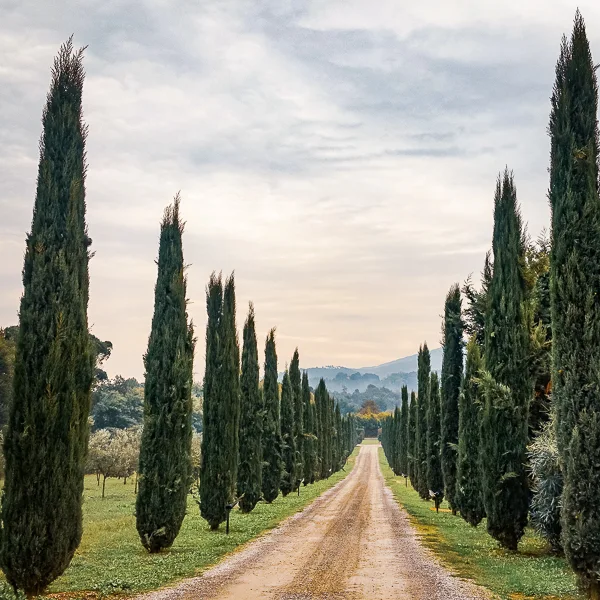 Livorno to Lucca, Italy
Cruisers arriving at the Livorno cruise port have a few options.
Option 1: Rent a Car
If you enjoy having the freedom of driving wherever you want, making stops along the way, and the option of changing your itinerary on a whim, I recommend a car rental for an easy day trip to Lucca, Italy.
It's also the best way to explore Tuscany if you feel comfortable driving. This is an option available from Livorno or even Florence for the day. We are fans of Avis.
Note: Plan to get your international driver's license before traveling to Italy. You can get this at a AAA near you for a small cost.
Find a car on rentalcars.com.
Option 2: Take the Train
Is there a direct train from Livorno to Lucca?
Yes. You can take the train from Livorno Centrale Railway Station, but it is not direct. There is a transfer from Pisa Centrale to Lucca.

You must take the shuttle provided at the cruise terminal to the town of Livorno from the port of Livorno. You will walk about 20-30 mins from the drop-off point to the Livorno Centrale Railway Station

.
If you choose this route, the train will also stop in Pisa, where you must transfer to another train. The train ride altogether is about 1 hr 05 min.
Book your tickets in advance. Click here for train schedules and info; it will come up if a bus transfer option is available.
Option 3: Book a Private Driver or Guided Tour
Tour Ideas
Round-Trip Transfer Service to Lucca and Pisa from Livorno [book here]
Florence to Lucca, Italy
Is there a direct train from Florence to Lucca?
Yes. Take the train from Stazione di Santa Maria Novella in Florence to Lucca. The train ride from Florence to Lucca is about 1hr 15min.

Book your tickets in advance. Click here for train times and info.
Option 2: Rent a Car
The drive from Florence to Lucca is about 1hr 10mins. You can rent a car with a local car rental in Florence. Don't forget to have an international driver's license ready – this is only used if the police stop you.
Tour Ideas
Pisa and Lucca Day Trip from Florence [book here]
Private Half-Day Excursion to Lucca from Florence [book here]
Parking in Lucca, Italy
It's important to note that when you arrive in Lucca, you can not park inside the historic walls of the old city. There are free and paid parking lots outside the medieval city walls. Visit this site for more info.
Arriving in Lucca by Train
The train from Lucca to Florence will leave right outside the walls of Lucca. 
Day Trip to Lucca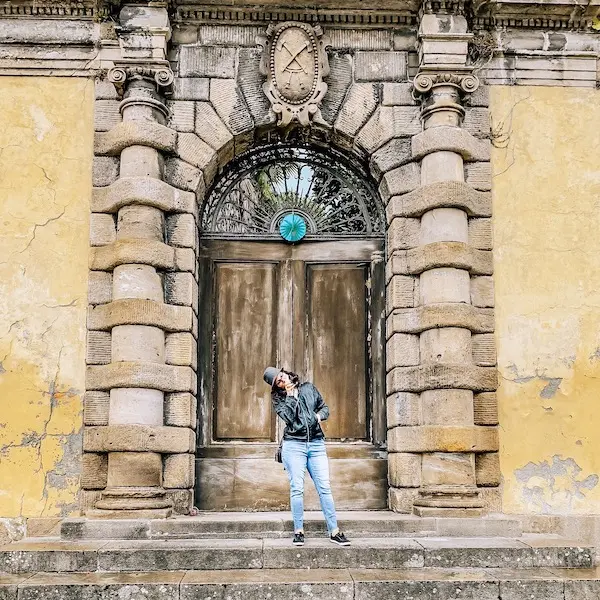 Is Lucca worth a day trip?
Yes! Lucca is worth the day trip and maybe even a longer stay. It is filled with century-old buildings and charming cobblestone streets, and you can explore its Renaissance walls. The walls are unique with the underground tunnels, and the paths atop the walls have been converted into green paths that are part of locals' everyday life.
How much time do you need in Lucca?
While this post is about a day in Lucca, you can easily spend more than 2-3 days considering what this wonderful historic city offers.
What to do in Lucca in half a day?
With half a day in Lucca, we'd recommend exploring the walls of Lucca and then sitting at a cafe in Piazza Anfiteatro for an espresso or an aperitivo.
No matter how well you plan a day trip, you can never get everything in. The magic of day trips is that you get to taste a destination. Perhaps focus on one or two sites or activities while you take in your surrounding as you walk around and explore.
Don't think you have to do everything in Lucca in one day. We certainly didn't. We planned a loose itinerary for our time here since we explored five cruise stops and another week in Barcelona and Girona, Spain.
So if you find yourself overwhelmed, don't be. Just enjoy the journey and mark down the few spots we share in this post.
If you choose to drive into Lucca, the scenery is worth the trouble of driving. As you enter the countryside and spot some rolling hills and my favorite Cypress trees, you may want to stop to take it all in. This is a plus to driving to Lucca.
Remember, time is of the essence if you're on a cruise schedule. We fought the temptation to forget Lucca and drive around Tuscany instead. You can plan a Tuscan road trip instead if that sounds like a good idea.
Read More: 3 Days in Tuscany Itinerary
Tour Ideas:
A Guided Tour of Lucca [book here]
Walking Tour and Exploration of Lucca [book here]
Lucca Highlights Private Walking Tour [book here]
Things to Do in Lucca, Italy
The historic city of Lucca is located in the Tuscany region of Italy, the Lucca Province. We were told repeatedly that if we loved Florence, we'd love Lucca. And they were right. There were a lot of similarities walking around Lucca, the architecture being one of them.
There are a lot of similarities walking around Lucca, the architecture being one of them. One of the best things about visiting Lucca is that it's smaller than Florence. So if you thought Florence was easy to explore and walkable, Lucca is easier, cozier, and not as crowded.
You can easily spend a day in Lucca, but it doesn't mean you'll see everything. You'll have a nice leisurely, and enjoyable day.
It's also a fantastic day trip from Florence to Lucca to consider.
These are some things to do in Lucca and what to look out for during your day trip there if you wish to explore independently. We recount how we spent our day trip to Lucca.
You can also always have a walking tour of the city with a local guide booked in advance. So you can get more out of your day trip to Lucca.
Explore the Underground Tunnels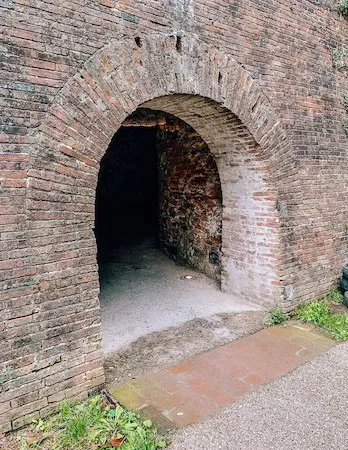 After we parked our car, we followed one of the paths that entered the old city of Lucca through one of its multiple entrances. This one was a tunnel that walked us under the old city walls.
One of the things to do in Lucca that can easily be missed is exploring the underground tunnels. We entered through one of the tunnel entrances and could have missed it completely had we entered via a different route.
When we first entered the tunnels, we had no idea where we were headed, but we knew we were in Lucca. We were in an Italian European city and loved the experience so far.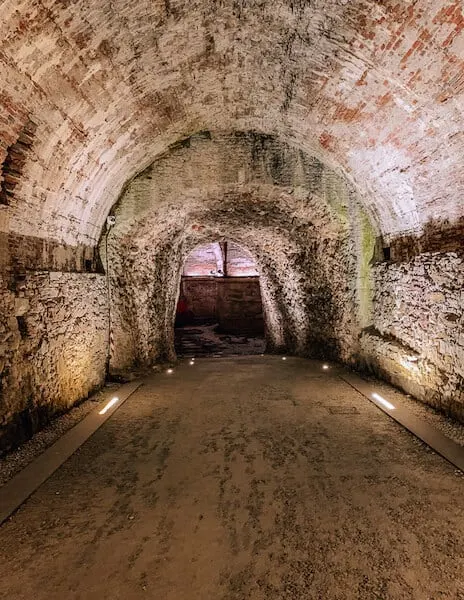 As you enter the underground tunnels of the old city walls of Lucca, you'll feel like you've gone back in time. The tunnels were originally built as a public walkway around the city. The experience will give you a true feeling of what it was like.
It was cool, dark, and damp because you could feel the humidity. Granted, it was raining the day we were there.
It's a short walk that takes about 5-10 minutes, but it's well worth it.
As we entered the old city of Lucca, it instantly reminded me of the city of Florence. It's probably why we felt immediately at home. I dare say it was less crowded. It may have been because it was off-season and raining on/off.
8 UNESCO World Heritage Sites in Tuscany
Fact: There are 8 UNESCO World Heritage Sites in Tuscany, Italy. What are their locations? What makes them special? Add them to your Italy itinerary as you explore Tuscany and what this special region of Italy offers.
Explore the Cobblestone Streets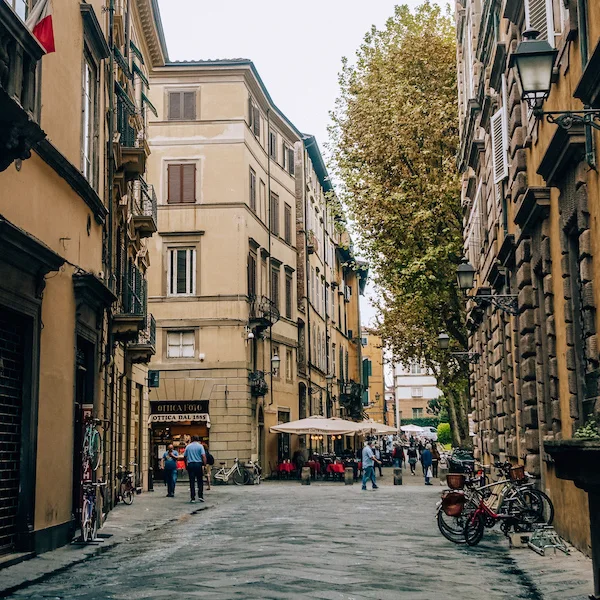 As we entered the old city of Lucca, it instantly reminded me of the city of Florence. Both cities are in the region of Tuscany in Italy and are known for their Renaissance-era architecture.
It's probably why we felt immediately at home.
Make a Stop for Pizza… and Espresso
After a long drive, you'll either need a shot of caffeine or a snack… pizza, to be exact… or both.
Our first order of business was coffee. We needed an espresso… and a bathroom. Many of the shops were still closed. We happened to find a pizza place that had just opened.
Have you ever had the first slice of the day?
They were making their first pie of the day. By the time we finished savoring our espresso, the first pizza of the day had emerged from the oven.
As the pizza man was slicing the pie and the aroma of basil, cheese, and tomatoes taunted us, hubby and I looked at each other. Guess what we were thinking?
Of course, we thought of having the day's first slice. Which is special… at least take it from two people that have spent lots of time working in our family's pizzerias.
We shared the first slice, and then we ordered a second slice. It was the PERFECT mid-morning snack, breakfast, or whatever you want-to call it.
What am I suggesting? Instead of quickly trying to knock things off your list of things to see, stop and smell the pizza… and then eat a slice! It will be well worth it!
We had about 5 hours or so left to explore. We did so leisurely, sometimes having to run and find shelter from the rain that kept coming and going. This is how we found St. Martin's Cathedral.
St. Martin's Cathedral | Lucca Cathedral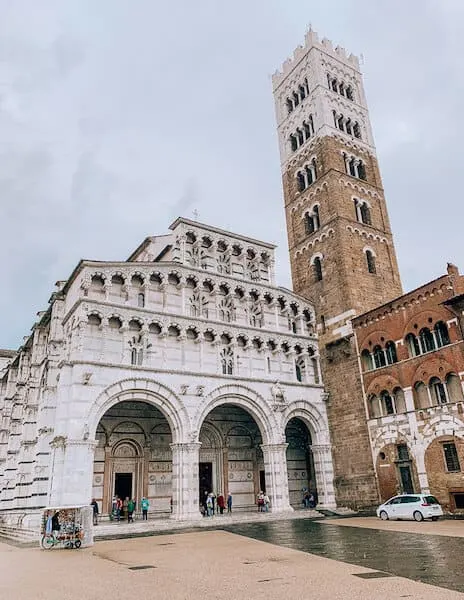 There is always a church to visit; in Lucca, it is St. Martin's Cathedral, also known as Lucca Cathedral.
The St. Martin's Cathedral is in the center of the old city of Lucca and is in front of the Piazza St. Martin. The cathedral was built with a mix of Romanesque and Gothic styles. It is dedicated to Saint Martin of Tours.
The interior of St. Martin Cathedral has a beautiful interior with its arched ceilings and two aisles divided by columns.
There is always a church to visit; in Lucca, Italy, it is St. Martin's Cathedral, also known as Lucca Cathedral. It is in the center of the old city and front of Piazza St. Martin.
We sat at the center of the pews and took it all in.
St. Martin's Cathedral | Piazza Antelminelli, 55100 Lucca | Google Map It
Climb Guinigi Tower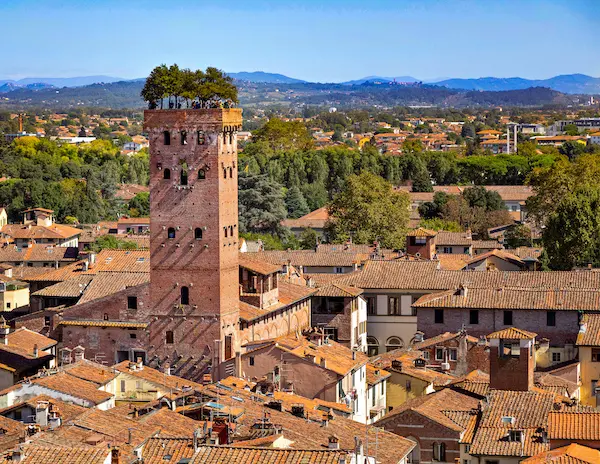 The Guinigi Tower is a tower located in the old city of Lucca. It is also known as Torre Guinigi. The tower was built in the late 1300s and is approximately 45 meters high.
The Guinigi family built the tower, and it is named after them.
It's one of the tallest towers in Lucca and has Holm oak trees planted at the top, which is interesting. How many towers have you visited with oak trees at the top?
As you approach this tower, be forewarned that there is a good chance you will be very distracted by a wonderful smell that will instantly make you hungry, and that's all you're going to think about on your way up.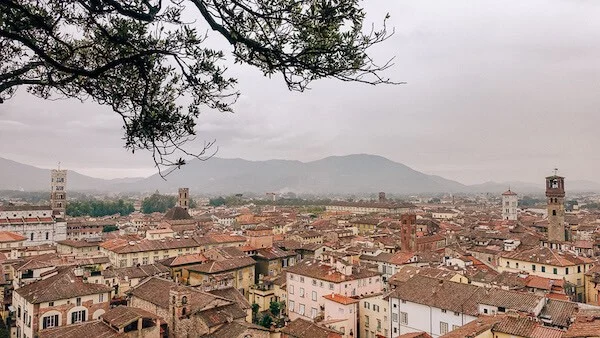 When you reach the top, you will be greeted with a 360º view of Lucca. You will finally see holm oak trees planted and growing strongly in the garden.
It is a tight fit up there. So please be conscious of that. It can be challenging to walk around, and you can easily block the small space. Be mindful of others.
The day we were there, it wasn't busy, but a few people parked in their spots and rudely thought it was okay not to let others pass by. I'm not sure how they control the crowds during the busy season. But the view sure is pretty from up there.
Fun fact: Did you know that families used to compete to have the tallest tower? I feel this is why the Guinigi family added a garden of trees.
Entrance fee: There is a small fee.
Torre Guinigi | Via Sant'Andrea, 45, 55100 Lucca | Google Map It
Eat the Best Foccacia at Forno F. Casali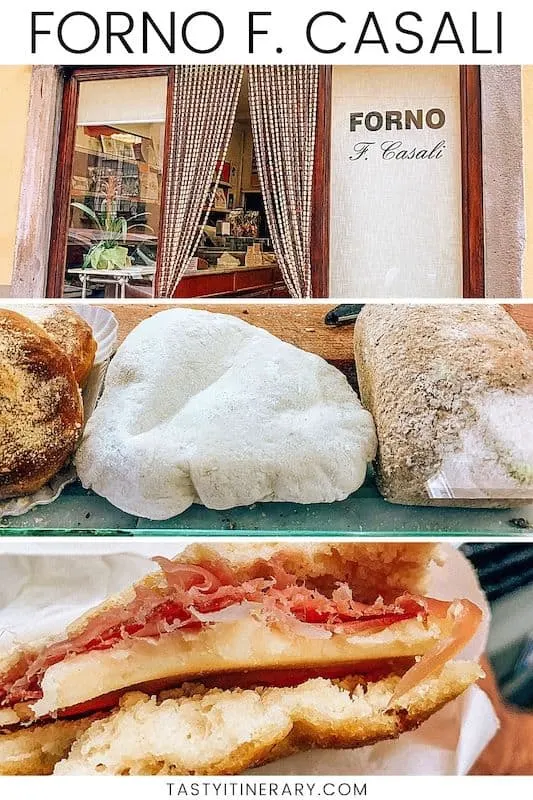 Remember the delicious smell that had us distracted while visiting Guinigi Tower?
After leaving the tower, the aroma pulled us in its direction. We found a fantastic bakery! I almost didn't share, so I could keep it a secret, but that would have been selfish. But believe me, that smell of heavenly-baked goodness will pull you in.
According to a local getting their daily fix, this bakery makes the best focaccia. Now, because everything looked amazing and my mouth was watering, we believed her.
We decided to share a sandwich for lunch on their fresh-baked focaccia. And boy, it was one of the best focaccia bread ever had.
It was the perfect lunch.
Tour Idea:
Lucca Food Walking Tour 2Italia [book here]
San Giusto Church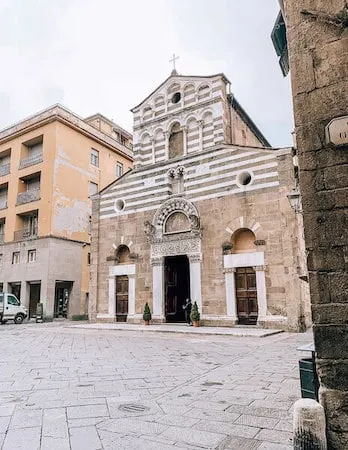 We didn't enter this charming 12th-century church as it was closed. The ornate baroque architecture is worth a visit. If it opens, we won't miss taking a peek inside.
San Giusto Church | Corte del Biancone, 5, 55100 Lucca | Google Map It
Sit at a Cafe at Piazza Anfiteatro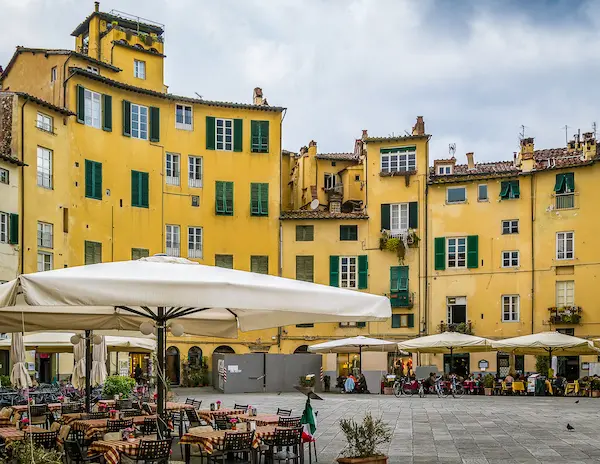 The main square in the old city of Lucca is Piazza Anfiteatro. It is in the heart of Lucca and built on an ancient Roman amphitheater. Standing in the middle of the piazza, you can envision the grandeur of the area that used to be an amphitheater.
Here you'll find lots of restaurants, cafes, and unique shops. It's a great spot to sit, relax, and grab an espresso. We did this, and it was a nice break from exploring.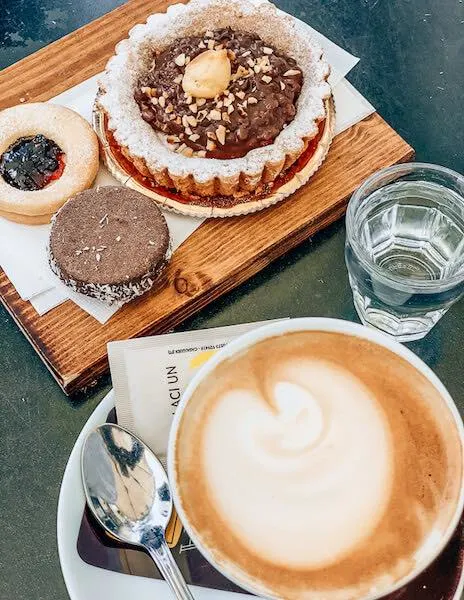 We were ready for another round of coffee and some sweets. We found a corner cafe without outdoor seating and ordered two cappuccinos and a few treats.
Piazza Anfiteatro | Piazza dell'Anfiteatro, 55100 Lucca | Google Map It
Tour Ideas:
Lucca Bikes & Bites with Food Tastings for Small Groups or Private [Book Here]
Keep a Lookout for the Canal of Lucca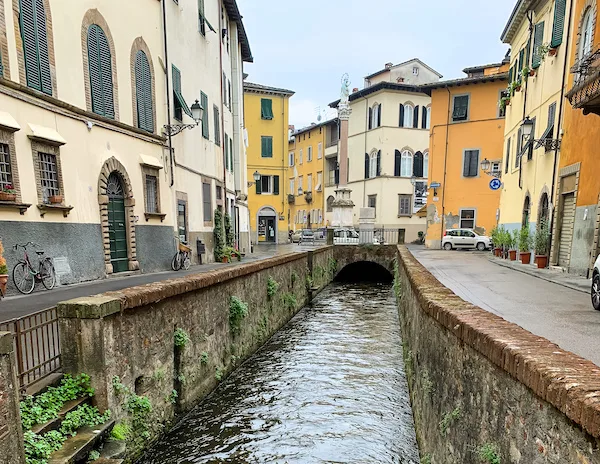 We didn't expect to come across a canal from all the things to do in Lucca. It was a nice little find as we were strolling this European city. It's a charming mini canal in the middle of the historic city of Lucca.
It's not the River Arno or the canals of Venice, but it was delightful to come across during our walk.
Explore the Old City Wall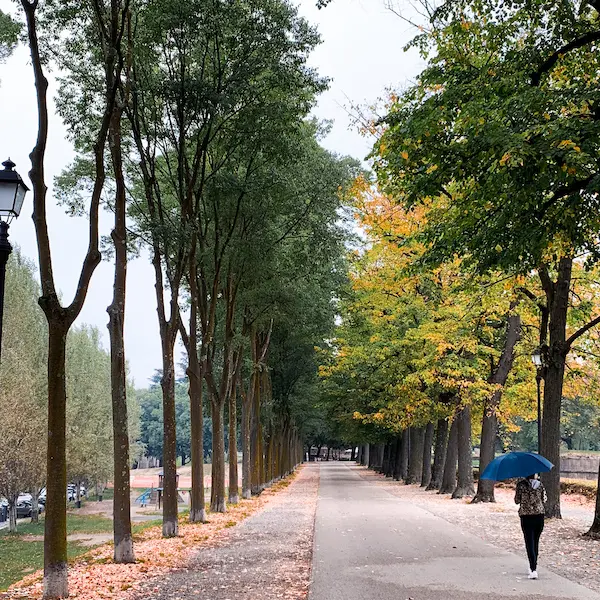 One of the best things to do in Lucca is to explore its city walls. Once built to fortify and protect the old city, these historic walls are now lined with beautiful trees and foliage, walking and bike paths, and benches. There are beautiful views of the landscape of the city of Lucca.
We didn't explore the wall until the end of the day on our way back to the car. We wish we had more time this October fall day in Italy to explore the city walls.
Add this to the top of your list and make more time to explore the walls.
10 Attractive Reasons to Travel to Italy
Why visit Italy? We share ten important reasons to visit Italy, starting with the delicious Italian food and ending with the amazing locals of this beautiful European travel destination. These reasons alone are why you should visit Italy, but there are more reasons why traveling to Italy is a must-visit destination.
I Love Lucca, Italy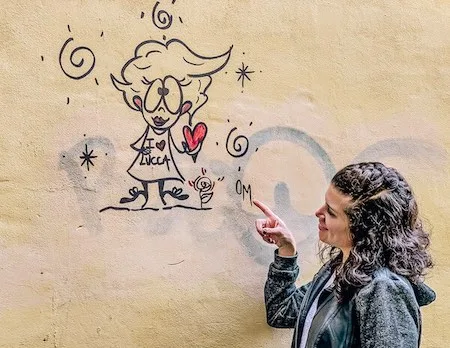 In the short time we were there, Lucca became a place we imagined living in one day. Hubby started talking to locals about real estate, the economy, their day-to-day lives, and their thoughts about the city they called home.
We laughed when quite a few said, "it's funny because Americans want to live here, and yet we would love to be in America."
That's not to say they didn't love their home country, just that they were as interested in how we live in the States as we are in Italy.
Of course, it still boggles my mind… who wouldn't want to live in Italy? Politics aside, with beautiful European towns like Lucca, rich with amazing architecture and history and possibly one of the best cuisines in the world, it's a match made in heaven for hubby and me.
We met a nice lady from Canada who owned property and migrated a few times a year. We loved the joy on her face as she told us all about how much she loved it there and that she ended up buying a property.
Talk about GOALS.
– Don't Miss: Inspiring Quotes About Italy – Your Next Foodie Destination –
You can plan a day trip to Lucca or spend a few days there and call it home base. We think it's a great city to explore and spend time in if you want to get away from the big crowds. Also, you can plan some great day trips with a train station outside the city walls.
Other Related Mediterranean Itinerary Articles:
Civita Di Bagnoregio: A Charming Day Trip
Share the tips & love on Pinterest: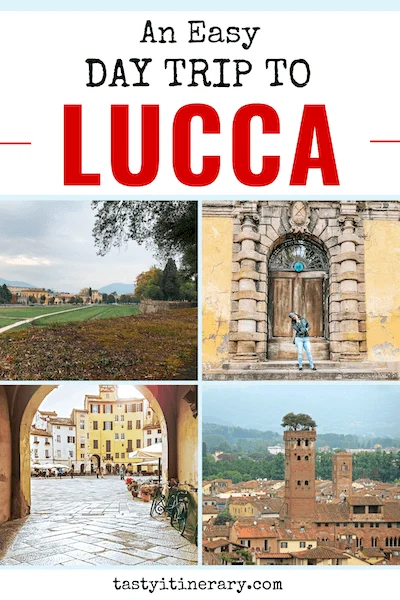 Meet Kathy Ava, a food, travel, and cruise writer based in Los Angeles/Pasadena, and the owner and main writer of Tasty Itinerary. With over 20 years of experience planning trips and logistics at her full-time job and for herself, she's become a pro at crafting unforgettable tasty itineraries. She's always on the hunt for delicious, fun travel destinations and cruise itineraries. She firmly believes that life is short and we must make the most of it, so always say yes to dessert.