Where to Eat in Barcelona & What Site Not to Miss
Traveling to Barcelona, Spain? Wondering where to eat in Barcelona with great Barcelona food and dining experience? Here are some of the best spots we enjoyed when we visited.
After 3 days in Girona, we spent the rest of our time (3 ½ days) in Barcelona. Three days is not enough to see or eat all the Barcelona food it offers. It's just enough to get acquainted with the city.
We know how hard it is to find a great place to eat while visiting a new city. Nobody wants to get sucked into a tourist trap with subpar Barcelona food.
It rained on and off during our time there. Hopefully, when you are there, the weather cooperates. However, the rain did not stop us from having great dining experiences or seeing the beautiful city. Especially La Sagrada Familia – we were blown away by the magnificence of Gaudi's masterpiece.
That said, if there is one site you should add to your tasty itinerary, La Sagrada Familia. It's a must-visit.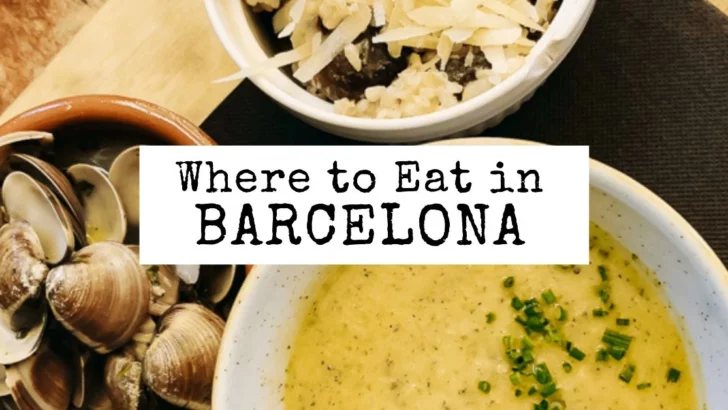 This post may contain affiliate links, which means we'll receive a commission if you purchase through our links at no extra cost to you. Please read full disclosure for more information. We appreciate your support!
Where to Eat in Barcelona, Spain
Experience a Food Tour in Barcelona
There's nothing like a great food tour in Barcelona to kick off your vacation in a new city. There are few tour companies with foodie tours, and you have to do your research to make sure you get an authentic experience.
Devour Barcelona Food Tour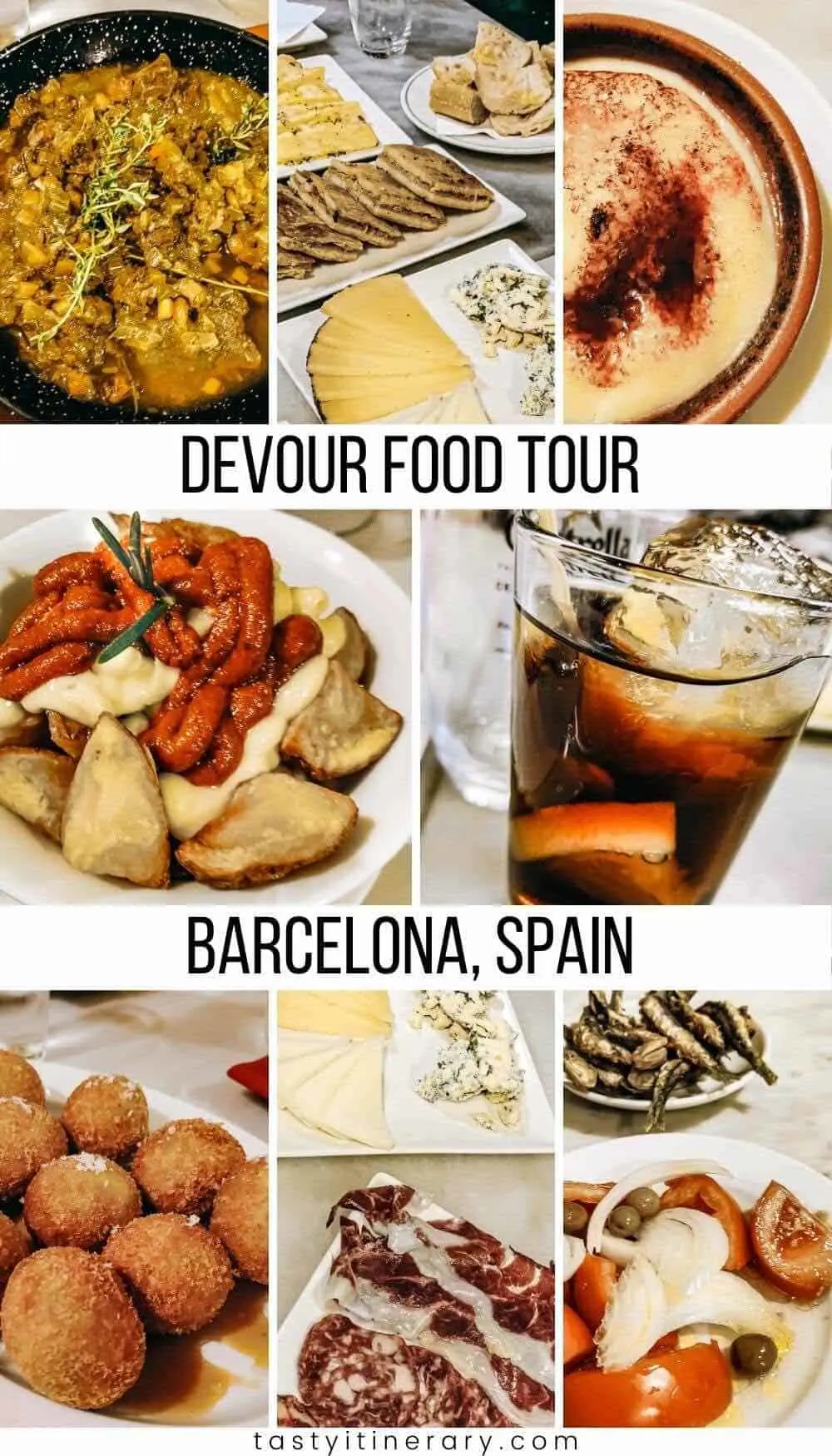 Ultimately, we booked the Tastes & Traditions of Barcelona Food Tour with Devour Barcelona.
What's great about this particular food tour is that it takes place in the evening, just in time for dinner. Therefore, there is no need to worry about finding a restaurant.
It's also a 2-in-1 tour! You'll eat and drink at a few places while being guided through the history of a few of Barcelona's oldest areas. As foodies, we enjoyed it immensely.
We strolled through the Gothic Quarter and El Born (my favorite districts) while being told about the history of these two areas. It was cool at one point to discover that I was probably standing in the same spot Christoper Columbus stood and had an audience with the King and Queen of Spain.
It blows your mind, right?! Mine too.
On this tour, we visited three different establishments:
All with great history, food, drinks, and company, I will never forget. And out of all the patatas bravas I had during this trip, I had the best ones on this tour. I still think of that sweet vermouth above.
Our fabulous Devour guide, Fintan, emailed us the next day with all the great eats we enjoyed on our tour and recommendations for the rest of our time there. He was super personable and ready to answer any questions via email, even after the fact. I mean, seriously, above and beyond.
Related Reads: What is a Food Tour? Plus Practical Tips to Book One
Tour Ideas:
The 10 Tastings of Barcelona: Local Markets [book here]
Tapas & Wine at Hidden Bodegas [book here]
Drinks & Bites in El Born Tour [book here]
Barcelona Taps & Wine Experience Small Group Tour [book here]
Barcelona Restaurants We Loved
Bar del Pla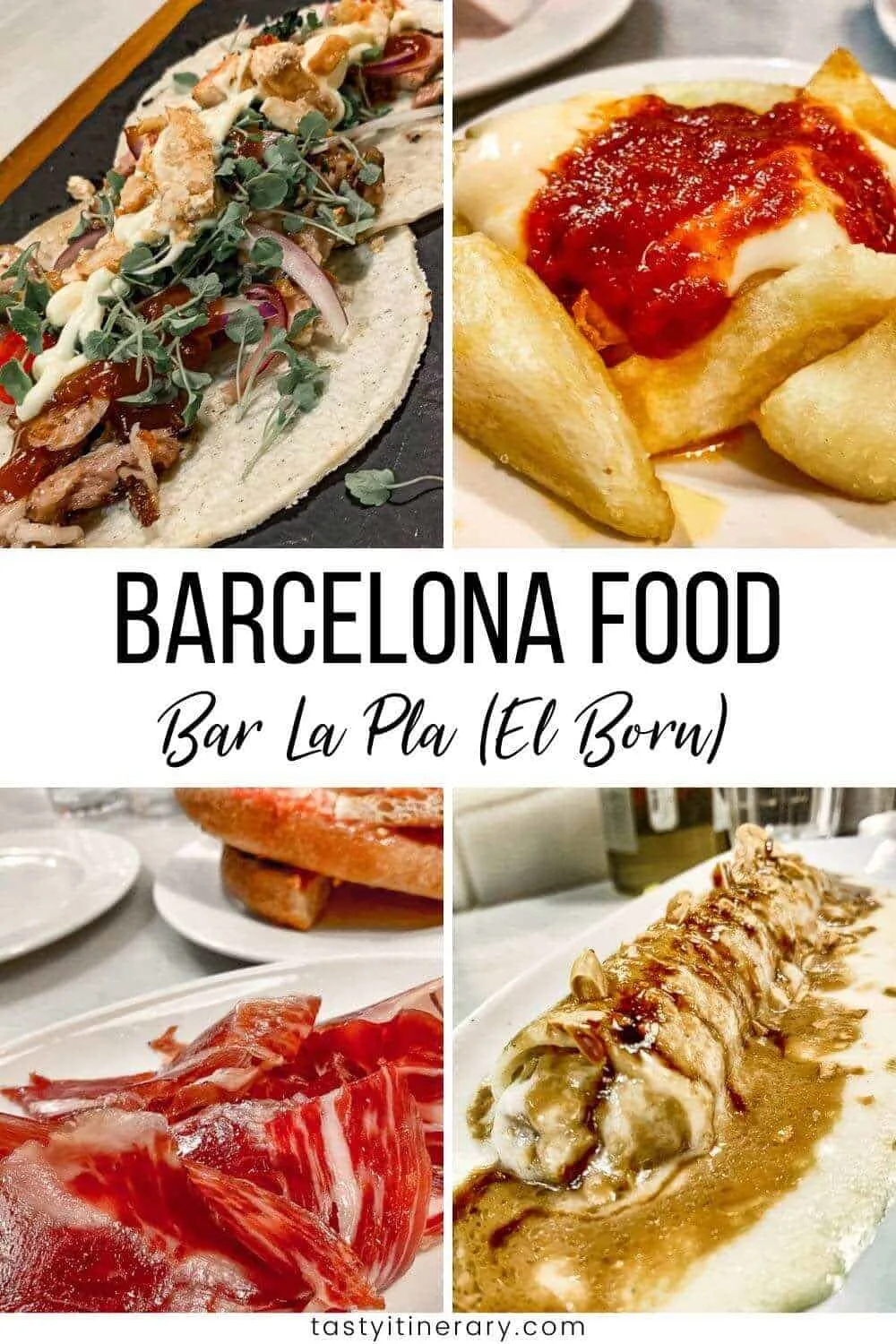 Our very first night in Barcelona was the night before our cruise. After twenty hours of travel, we arrived at our hotel in El Born, starving and tired. The front desk recommended Arcano, but we had difficulty finding it.
Miraculously, we came across Bar del Pla. A tapas bar recommended by Kate, a fellow Instagrammer [@OhHelloKate] and a resident of Spain.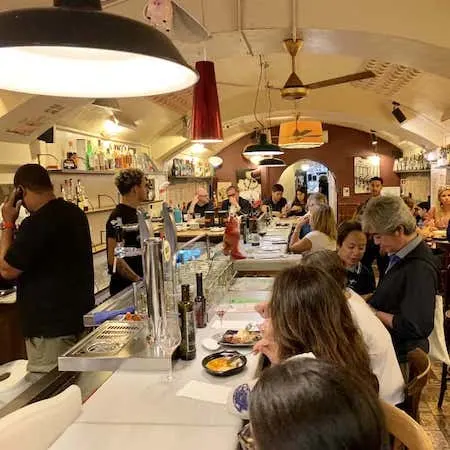 Bar del Pla is a busy tapas bar, and reservations are recommended. We were lucky when we got there they had two seats at the counter, and they were available for 45 minutes until the next reservation arrived. They made it clear if we chose to stay to eat that, we had to be out of there in that time frame. We were okay with that. I was ready for bed.
While we sat at the counter, locals were constantly coming in and being turned away. Some were able to snag reservations after 10 pm.
We were happy we stayed because we had a great array of tapas on our first night in Spain. Everything was fresh and delicious, and we ate every bite.
Tip: Make sure you order everything you want at once. 
When we returned to the hotel, the front desk asked if we had found Arcano. He was impressed that we ended up at Bar del Pla and told us he loved it there, too.
Reservations recommended.
Bar del Pla | El Born District, Carrer de Montcada, 2 | Google Map It
Arcano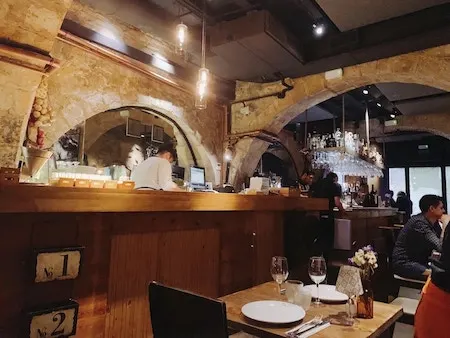 On our way back to the hotel after Bar del Pla, we stumbled upon Arcano and decided to make advanced reservations. We would be back in town after our cruise and trip to Girona.
We instantly loved the vibe of the restaurant. It's in an old seventeenth-century barn with stone walls and beautiful Romanesque arches. It's perfect for a romantic dinner or special occasion.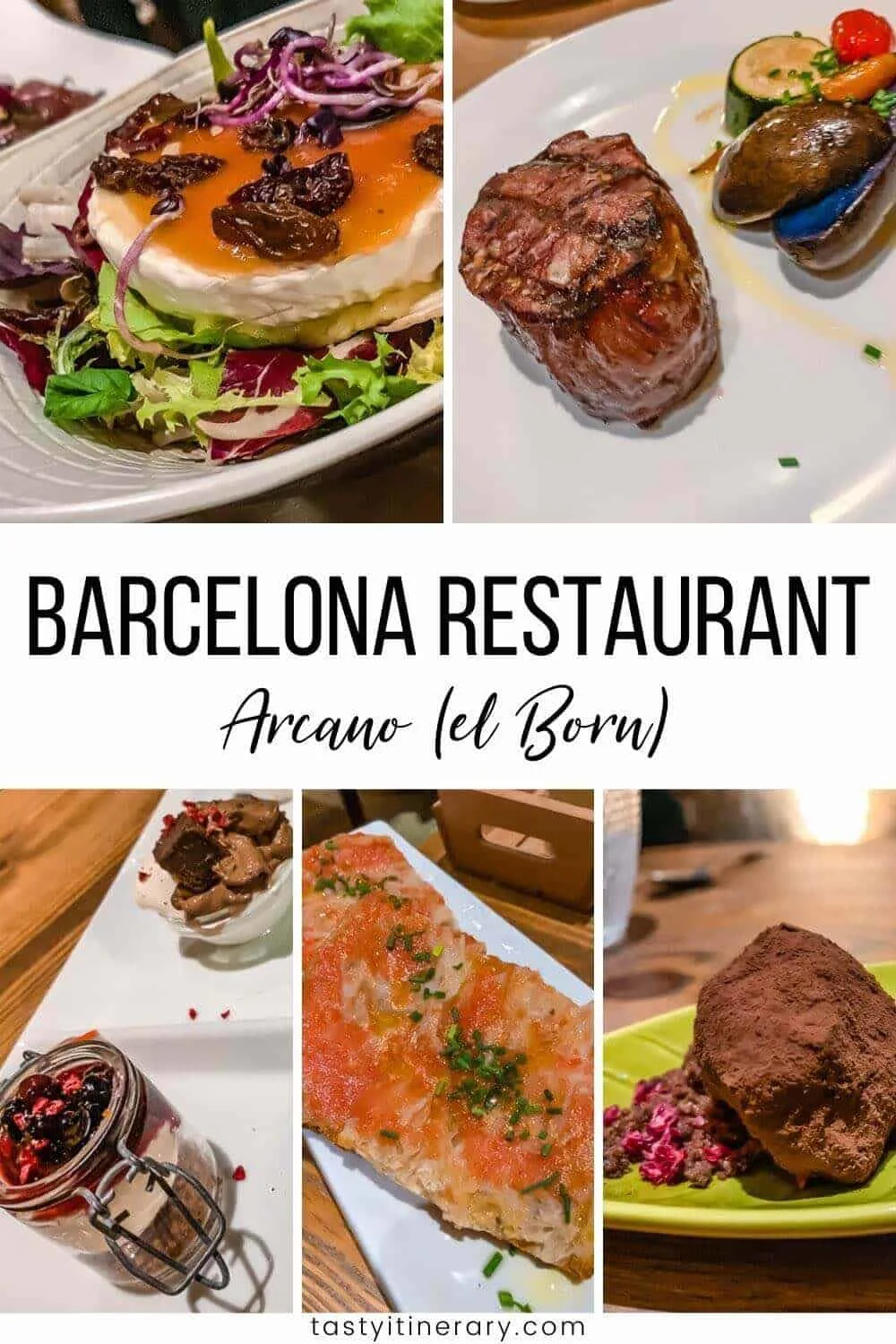 Make sure you're hungry when you go there. The food is excellent. If you decide on their prefixed menu with multiple courses (worth every penny), you'll need a wheelbarrow to get out of there.
Reservations recommended.
Arcano | El Born District, Carrer dels Mercaders, 10 | Google Map It
Kserol
We loved Kserol restaurant. Fintan, our guide from Devour Barcelona, heard we would be visiting La Sagrada Familia the next day and practically insisted we have lunch here.
Since it came highly suggested, we made an effort to make it there in the rain after we toured La Sagrada Familia. It's only a 10-minute walk.
It was lunchtime, and they had a prix fixe menu we chose. We adored the homey, comfy feel of the restaurant and the divine food they served. The staff there was so lovely.
Tasty Itinerary Tip: Lunch is a great time to try some of the higher-end restaurants as they may have a pre-fixe menu. 
We felt like we had a homecooked meal, and we loved how we got to choose 3 items each, including dessert. It was so filling.
We would not have minded returning here for dinner.
Kserol | l'Eixample District, Carrer de Nàpols, 182 | Google Map It
El Foro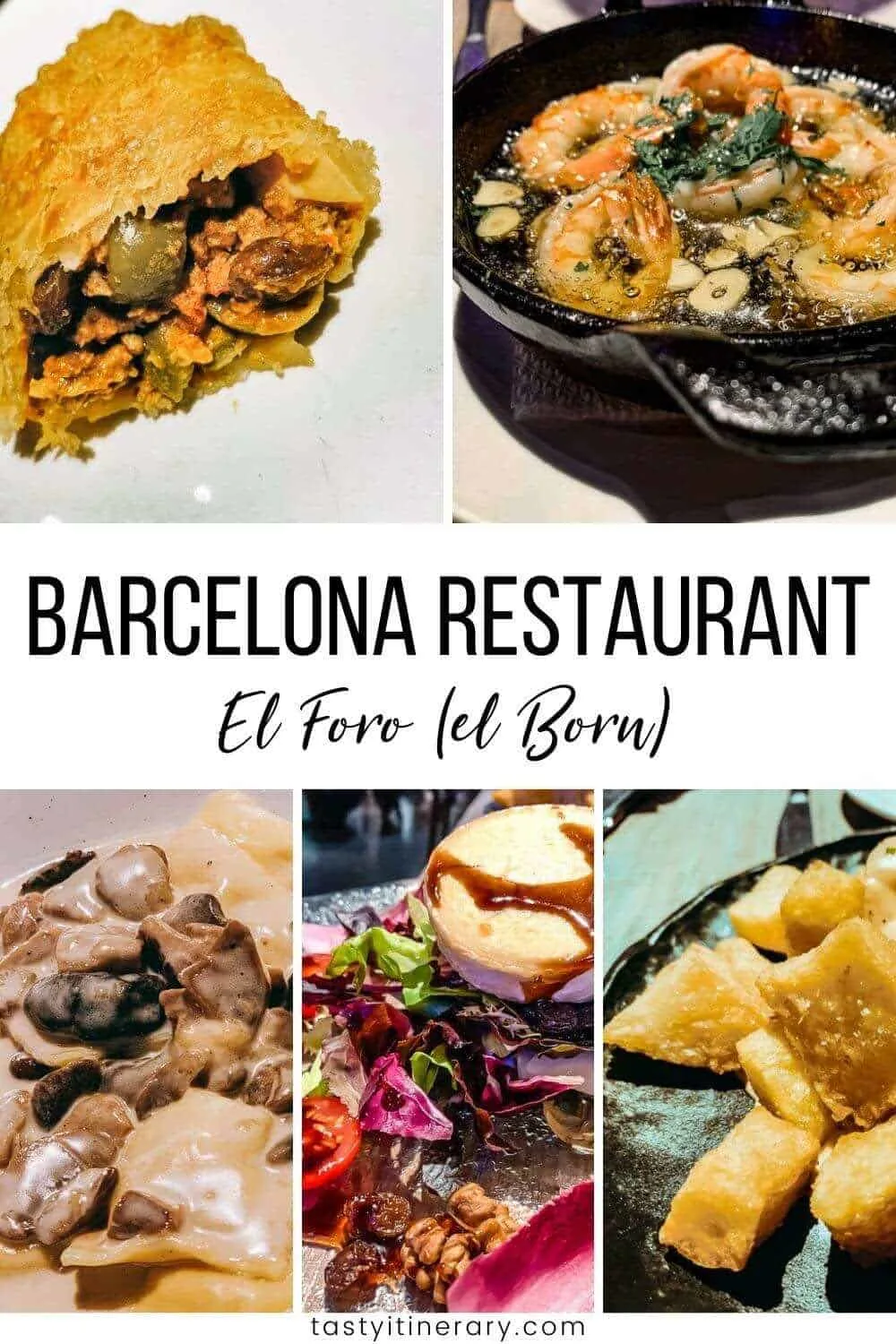 Imagine it starts pouring rain not long after leaving your hotel to find food. You see a swarm of locals enter a restaurant, so you follow them inside.
The restaurant was full of patrons, chatting away in Catalan and Spain with delicious plates of food in front of them. It also smells amazing, and your stomach starts to growl.
What would you do? You ask to be seated.
We found El Foro by luck, by rain, by however you would like to call it. and we ended up eating here at this Argentinian restaurant two nights in a row. It was that good.
We still think about these dishes. We don't have pictures of everything from both nights because we were too busy enjoying ourselves. It was the end of our trip, and my blogger side was done. Thankfully hubby captured a few.
We have a video if you want to see the sizzling shrimp in butter and garlic in action! You will seriously drool.
The waitress was so kind! When she saw us the next night, she hugged me and kissed my cheeks.
Reservations are suggested for large groups.
El Foro | El Born District, Carrer de la Princesa, 53 | Google Map It
Barcelona Foods Not to Miss
• Catalan Tomato bread
• Patatas Bravas
• Crema Catalana
• Churros
• Croquettas
• Jamon
Don't Skip La Sagrada Familia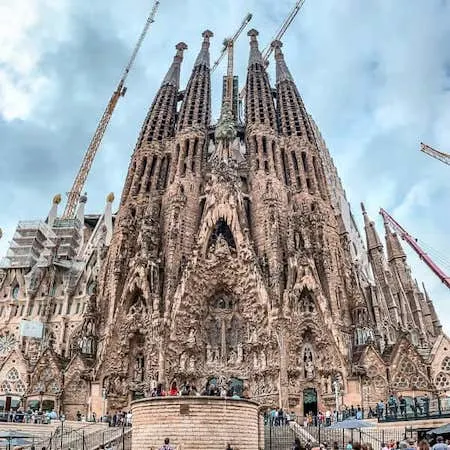 La Sagrada Familia is more than just a church… it's an ICONIC MASTERPIECE. You see photographs, and we are telling you, it does NOT compare to seeing it up close and personal. This UNESCO World Heritage site is magnificent inside and out.
We hired a local guide for a private tour Withlocals, which was one of the best decisions we made for our time in Barcelona.
We customized and arranged a Gaudi Tour with a Skip the Line to La Sagrada Familia, which started with the other Gaudi homes in Barcelona.
Our guide provided a wealth of information, from history to details we would never have learned about doing this on our own. And, as a local, she knew all the best spots to visit.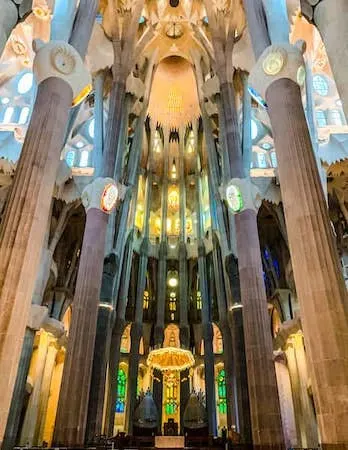 When we arrived at La Sagrada Familia, the guide had the tickets purchased and reservations made so we could enter quickly. She introduced us to Gaudi's work and the meaning behind every little work of art and helped us understand how his mind worked.
We probably could have read it from a guidebook but not understood or appreciated it as much as we did with the guide's help. We left impressed and would return if and when the cathedral is ever finished.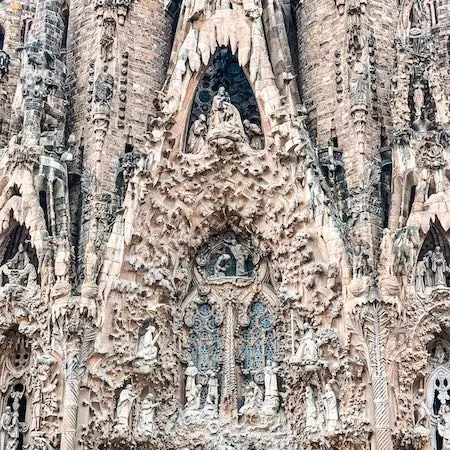 If you plan to visit Barcelona, don't just go there and see it from a distance. Plan your visit. Book a reservation in advance at La Sagrada Familia or book a guided tour. It is well worth the time, effort, and investment.
Tour Options:
Sagrada Familia and Casa Mila Tour [book here]
Fast Track Sagrada Familia Guided Tour [book here]
Barcelona in One Day: Sagrada Familia, Park Guell & Old Town [book here]

Hotel Recommendations in Barcelona
There were a few Airbnb apartments and B&Bs worth looking into in Barcelona with great rates. We only recommend this option if you're staying at least three nights.
We suggest reading Airbnb Tips to Book Your Next Stay if you have never booked an Airbnb.
We chose to book a hotel for our longer stay after many of the apartments we had in our favorites were booked up quickly.
H10 Montcada Boutique Hotel
For our pre-cruise stay, we found the H10 Montcada Boutique Hotel on Booking.com or a great price and in a fantastic location. Located in the El Born district, right across from the Gothic Quarter and in the center of Barcelona.
The standard queen room was small but modern and comfortable for a few days' stay. The breakfast was top notch and worth the extra fee per person. And there is a rooftop with beautiful views of the city.
Fun Tip: Did you know that you don't need a hotel reservation to visit the hotel rooftops bar locations?
Sadly, we were only here for one night, but this boutique hotel certainly left a great impression. We wish we had booked it for our return to Barcelona a week later.
Motel One Barcelona-Ciutadella
Since most great Airbnbs were taken by the time we had our itinerary figured out, we booked the Motel One Barcelona for the rest of our stay after we returned from Girona.
This is another great option to consider in Barcelona. The cost is more affordable than most other hotels in the area, including H10 Montcada. It's close to El Born and the Gothic Quarter district.
The rooms were modern and clean. It has a wonderful rooftop as well as a bar and lobby downstairs. Breakfast was a great start to the day.
Share the tips & love on Pinterest: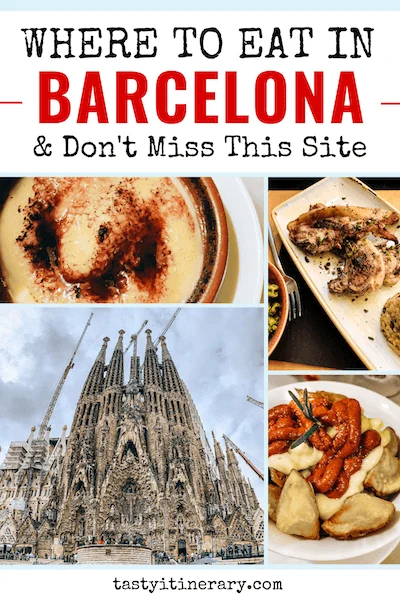 Meet Kathy Ava, a food, travel, and cruise writer based in Los Angeles/Pasadena, and the owner and main writer of Tasty Itinerary. With over 20 years of experience planning trips and logistics at her full-time job and for herself, she's become a pro at crafting unforgettable tasty itineraries. She's always on the hunt for delicious, fun travel destinations and cruise itineraries. She firmly believes that life is short and we must make the most of it, so always say yes to dessert.