Planning a trip to Girona, Spain? What are the greatest things to do in Girona? We cover the highlights not to miss in this wonderful city as well as a few delicious eats.
Girona is a beautiful city located in the Catalonia region in northeastern Spain. It's the capital of the province of the same name. Only hours away from the border of France.
The city is home to many historical landmarks, including the Girona Cathedral and the Eiffel Bridge. This charming city is full of history, culture, Michelin guide restaurants, and shops. The locals are super friendly and warm, they made us feel right at home. We felt at home.
We spent 3 days in Girona, after disembarking our Western Meditteranean cruise with Norwegian Epic. We had extended our time in Spain another week, but we didn't want to spend the entirety of it in Barcelona. We wanted to get away from the city and explore Costa Brava a bit.
We were pleasantly surprised by Girona and it was the highlight of the week. Whether you visit for a day or stay for a few days, you can explore the best things to do in Girona, Spain in one or two days.
Girona is also centrally located and a great point of interest in Catalonia. You can make Girona a home base while you set out to explore the Northwest Region of Catalonia. You can also make it a stop along the way to Costa Brava's coast or even just plan a day trip from Barcelona.
Disclosure: This post may contain affiliate links. If you decide to make a purchase from one of those links, we may get a commission at no extra cost to you. We appreciate your support.
How do you pronounce Girona?
It all depends if you're saying it in Catalan or in Spanish. If in Catalan, you would pronounce the G as in Gee-rona. In Spanish, the G sounds like an H and you would say, Hee-rona.
Is Girona worth visiting?
Yes! If you enjoy charming European medieval cities with lots of history, great foodie spots, and things to do, then Girona is perfect for you. The city is also very walkable and it's easy to get around.
Is one day enough in Girona?
If you're short on time, then one day is enough to explore the highlights of Girona: Girona Cathedral, the Eiffel Bridge, and the city wall. However, we recommend staying at least two days so that you can explore the city at a leisurely pace without feeling rushed.
Is there a train from Barcelona to Girona?
Yes. There is a high-speed train from Barcelona to Girona that will have you there in 40 minutes. Click here to check the times and book tickets from the Barcelona-Sants station.
What is there to do in Girona, Spain?
Plenty! Enough to warrant a visit there at least once. In Roman times, it was the gateway to Spain. The city has a long and varied history that makes it so interesting to visit.
Girona is also famous for the Game of Thrones series as episodes of Season 6 were filmed here. But, there is so much more to do in Girona. In this post, we share all the best things to do in Girona, Spain.
Things to Do in Girona, Spain
1. Cathedral of Girona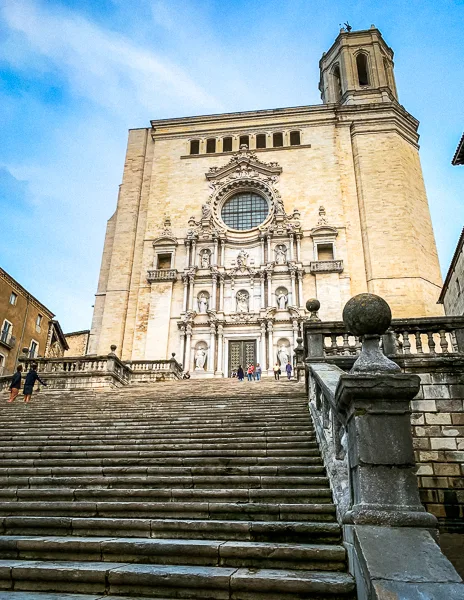 When we arrived in the city of Girona and parked our car rental in the parking lot outside of the old city. We had no idea that when we entered the old city, we'd be rounding the corner of cobblestone streets to immediately face the Cathedral of Girona.
I looked back at hubby dragging our suitcase, and all I could say was, "Wow, wow!." He then stopped and his eyes widened upon seeing it as well.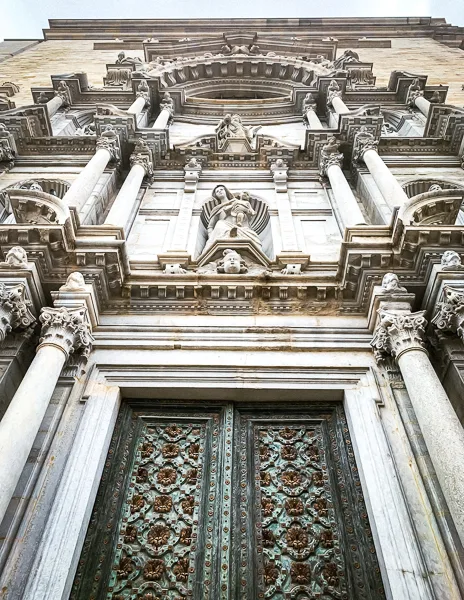 The grandeur of this cathedral is unexpected in person and photos really don't do it justice. The Cathedral of Girona is one of the largest cathedrals in Europe and definitely worth a visit while in Girona.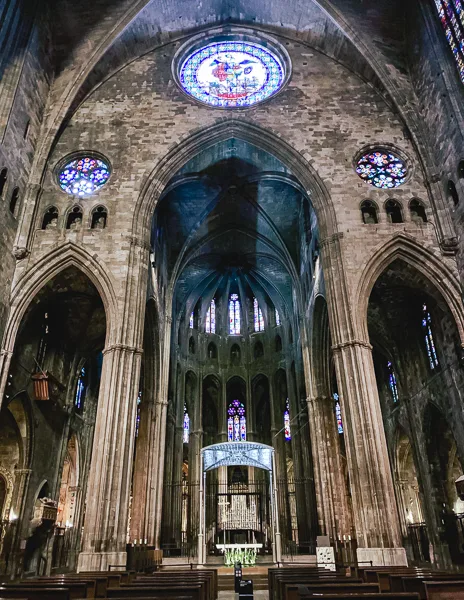 Many tourists come to take pictures from outside and leave. We urge you to go inside and see the beauty of it. It's just as amazing.
Just as well walk around the Cathedral. You will even find a lovely garden area behind the church called Jardins de La Francesa.
A few facts about the Cathedral of Girona:
Is Officially known as the Cathedral of Saint Mary of Girona.
Featured in Season 6 of Games of Thrones, as well as other parts of the city.
There are 90 steps up.
Its features are a mix of different styles from Romanesque, Baroque, and Gothic.
The Gothic Nave is the largest in the world; slightly smaller than St. Peter's at the Vatican.
Entrance fee: 7 €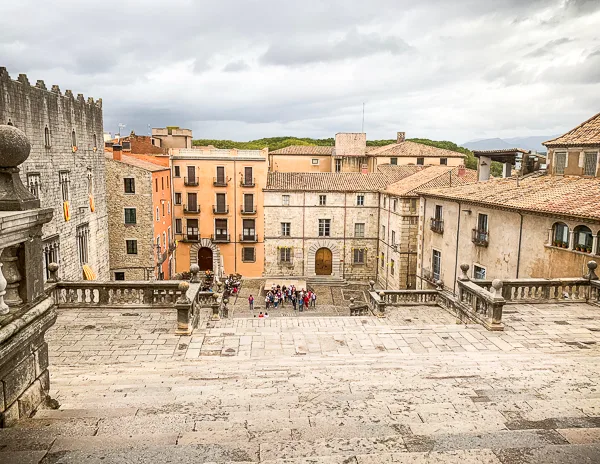 Note: Cafè l'Arc is right across from the Cathedral of Girona. If you can snag a seat, you can order coffee and join others admiring the cathedral for long periods of time. Every time we passed the cafe, it was always busy.
Cathedral of Girona | Pl. de la Catedral, s/n, 17004 | Google Map It
Games of Thrones Fans: Tour Options
Game of Thrones Walking Tour of Girona [book here]
Game of Thrones SMALL GROUP Tour in Girona from Barcelona [book here]
Plan a city break from Barcelona and spend a few days in Girona exploring this beautiful Catalonian city and its surroundings.
2. City Wall of Girona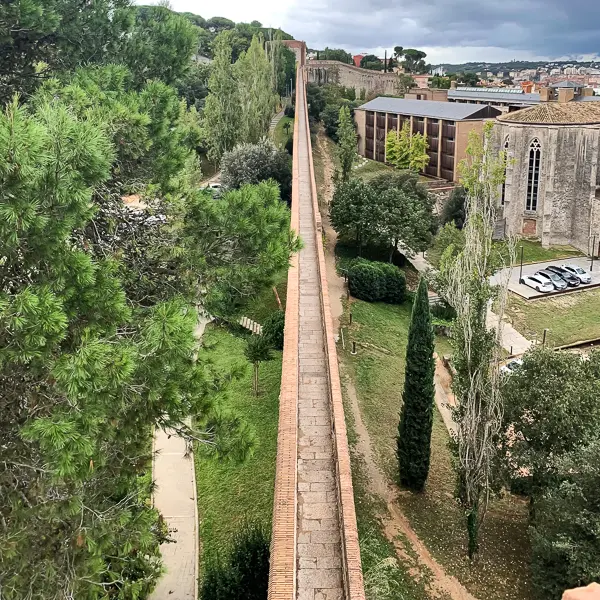 One of the best things to do in Girona Spain is the city wall. With its amazing views of the city, it's one that should not be missed. Unfortunately, it's usually skipped or goes unnoticed. Make sure to add it to your list. It's open to the public and it's FREE.
Girona's Old City Wall (Muralles de Girona) is one of the longest and best-preserved medieval walls in Europe. It's approximately 3 kilometers long. The wall was built between the 9thth and 17 centuries to protect the citizens of Girona from invaders.
There are several staircases and viewpoints where you can enter and exit the city wall. We recommend starting your walk from behind Girona Cathedral. You can find one of the entrances around the corner from it.
Yes, you will have to climb those cathedral steps and explore what's behind the cathedral. There are no signs or arrows pointing the way to the wall.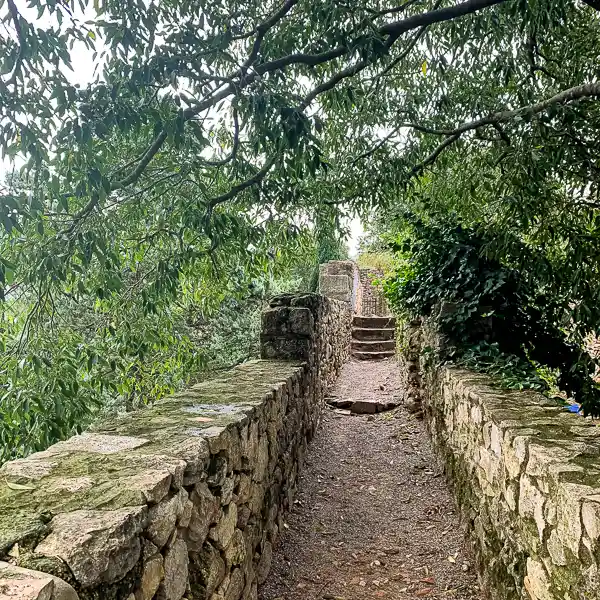 You'll have to go on a little exploration of sorts. Walk around the corner of the cathedral. You'll keep going until you find some raw iron gates that will lead to a garden and then down some rocky steps. It's quite a little adventure. If you're not steady on your feet, be careful.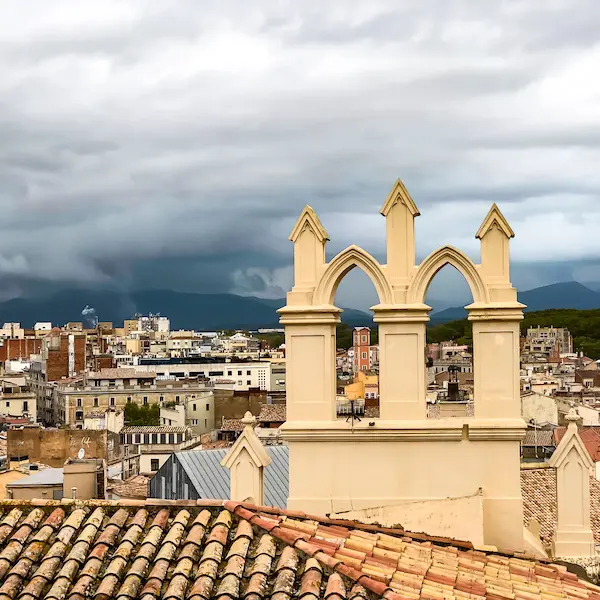 Soon you will come to the path of the city wall and enjoy the lovely views of Girona. It's about a 30-40 min walk before you see an exit that will lead you down a set of stairs in another part of Girona. Totally worth the trek.
3. Jewish Quarter (El Call)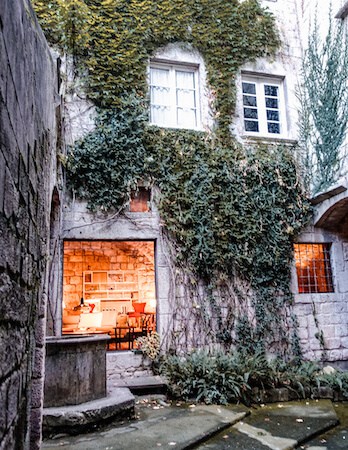 The Jewish Quarter is known as El Call, this part of Girona in the old town is definitely the most idyllic part of the city as it is well-preserved. It is also where the cathedral resides and the Jewish History Museum.
Our Airbnb was located in this part of the city which made it easy to explore. The streets are narrow, winding, and full of character. It's hard not to want to take photos at every turn.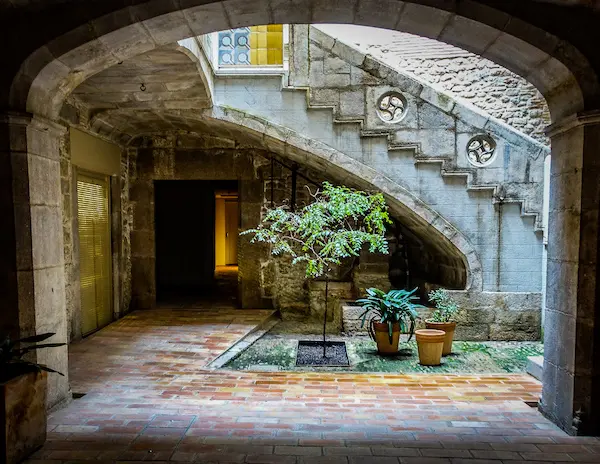 My favorite part, besides the cobblestone streets and narrow streets, were the homes off the main street that have now mostly turned into apartment buildings. Sometimes the entrance to the apartment buildings was left open and you could peel inside into the beautiful courtyards.
Are you visiting Barcelona sometime during your Catalonia travels? We had the pleasure of dining at some great places to eat in Barcelona and we share them with you in this post. As well as the one site that is not to be missed.
4. The Eiffel Bridge (Old Iron Bridge)
One of the best things to do in Girona and one you won't miss whilst exploring the city is to admire the Eiffel Bridge.
The Eiffel Bridge, also known as the old iron bridge, is one of the most iconic landmarks in Girona. At first, we had no idea it was called Eiffel Bridge and that it was designed and constructed by Gustave Eiffel.
Gustave Eiffel? Sound familiar? The creator of the Eiffel Tower in Paris.
I know! We didn't put two and two together either. This is one of the best parts of traveling, learning cool facts like this in person.
It's no wonder why the Eiffel Bridge is often photographed by tourists.
While Girona has many bridges, the iron bridge is one of the top attractions of Girona Spain. The iron bridge was constructed in 1877 right before the Eiffel Tower.
The iron bridge in Girona is a stunning sight. The high, narrow structure sits brightly pained in red and connects the old town with the new city. Its beautiful design stands out amongst the pastel-colored buildings on either side of the river.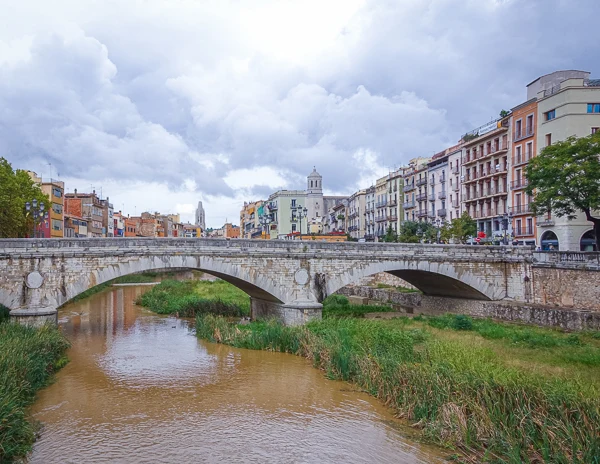 Fun Fact: The Onyar River used to be the main road for transport during Roman times.
5. Girona Food Tour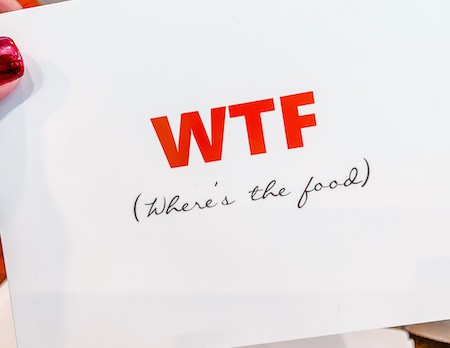 Add a food tour to your things to do in Girona! It was one of the most delicious, fun, and educational things to do in Girona, Spain. You can't beat the combination of food, history, and culture.
Girona Food Tours gave us a fantastic tour of the city, and their local cuisine. We were fed well. The guide was fabulous. The cost was worth every penny. You get a walking tour of the city while making tasty stops along the way.
You'll start the tour at a bakery cafe, stopping along places like the local farmers market, jamón tasting, a fantastic lunch that includes wine, tapas, and entree, and ending it with dessert.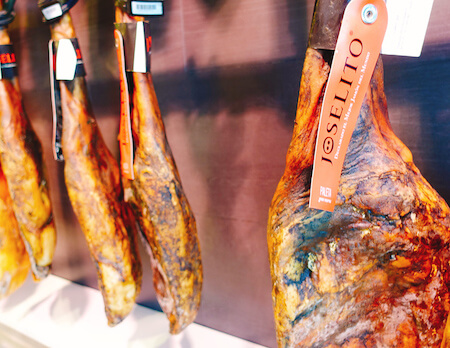 The Catalan culture has a total of 5 meals a day. Which explains why you'll find 3-course meals offered at restaurants at what would be an American lunchtime. Their heaviest meal of the day is had at lunchtime. This explains one of the many reasons why siestas still exist and why tapas (small plates) are had during their late dinnertime.
We always suggest booking food tours in advance and during one of the first days of your trip to a new city.
6. Try the Local Girona Pastry: Xuixo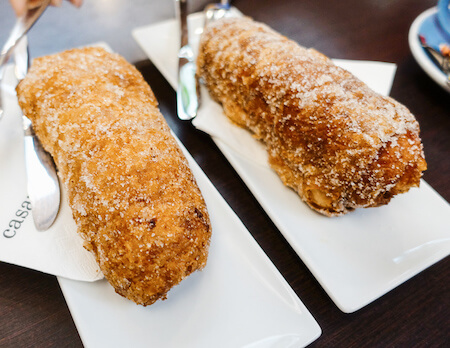 When of the first stops on our Girona food tour was a local bakery and cafe where we were introduced to one of the best pastries: Xuixo.
The Xuixo is a local Girona pastry. This flakey and buttery pastry is fried and stuffed with Catalan cream and rolled in cinnamon sugar. Probably one of the best pastries we've ever consumed.
You want to add this pastry to your tasty itinerary.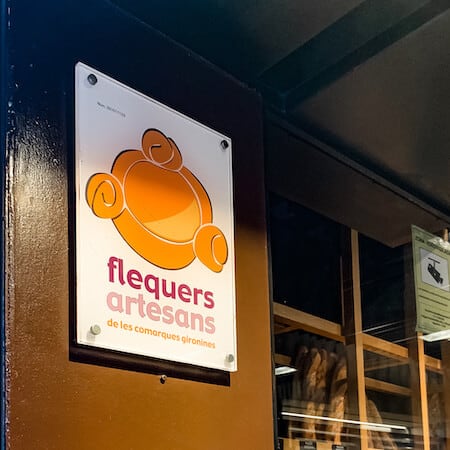 7. Visit Mercat del Lleó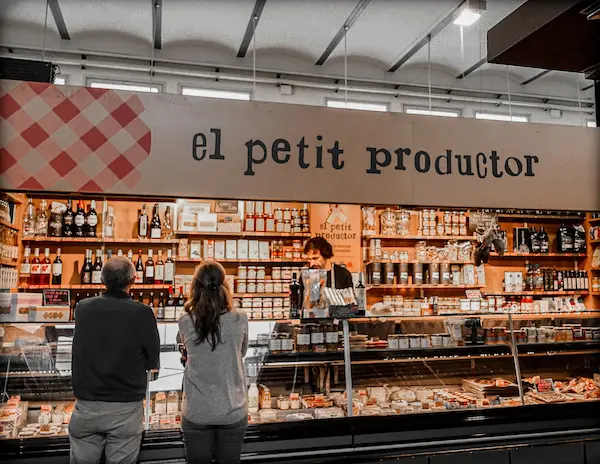 Even if you do not take a food tour, make sure to check out Girona's farmers market, Mercat del Lleó.
If you love food, then you'll love Mercat del Lleó. This farmers market is the place to find some of the best produce and local goodies in Girona. From fresh fruits and vegetables to meat and seafood. This is where locals will go to buy everything they need to cook up a delicious meal.
You may want to pick up some foodie treats that you're able to stash away in your luggage to bring back home with you. We sure did!
When we visited the Girona farmers market, we stopped by a butcher for a sampling of different local meats. For the first time in our lives, we tasted candied meat sausage. Yes, you read that right!
Legend has it many many years ago (I'm paraphrasing) the woman that invented it prepared it as revenge to embarrass the husband for inviting company over, in hopes he never invited anyone over again. Her plan failed as everyone loved it and it became a local specialty.
It's an acquired taste. The first bite was good, the rest I was unable to finish. Hubby actually enjoyed it.
This is the kind of inside treats you'll experience by booking a food tour.
Mercat del Lleó | Plaça Calvet i Rubalcaba, s/n, 17002 | Google Map It
8. Visit the Arab Baths
The Arab Baths are some of the most impressive and well-preserved baths in all of Europe that date back to the 12th century. It was a well-engineered spa of that time.
The baths were also featured in Season 6 of Games of Thrones, Episode 8.
Banys Arabs | Carrer del Rei Ferran el Catòlic, s/n, 17004 | Google Map It
9. Rocambolesc Gelateria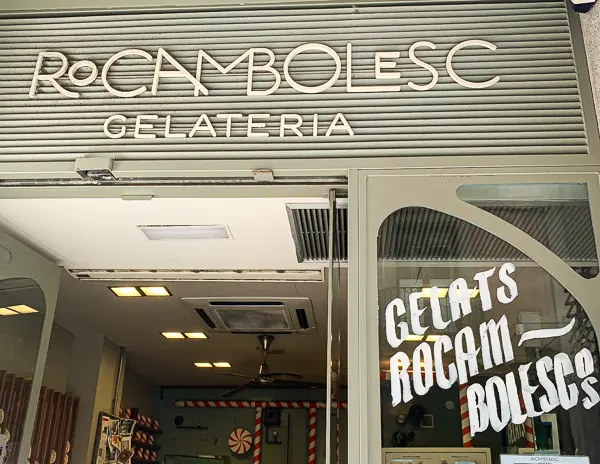 After all the walking you'll be doing, I'm sure you will need a snack break. Girona Food tours introduced us to this gelato shop and I must say, it's a must-visit. Three-Star Michelin pastry chef Jordi Roca I Fontané, the youngest of the three brothers of Celler de Can Roca created this sweet spot.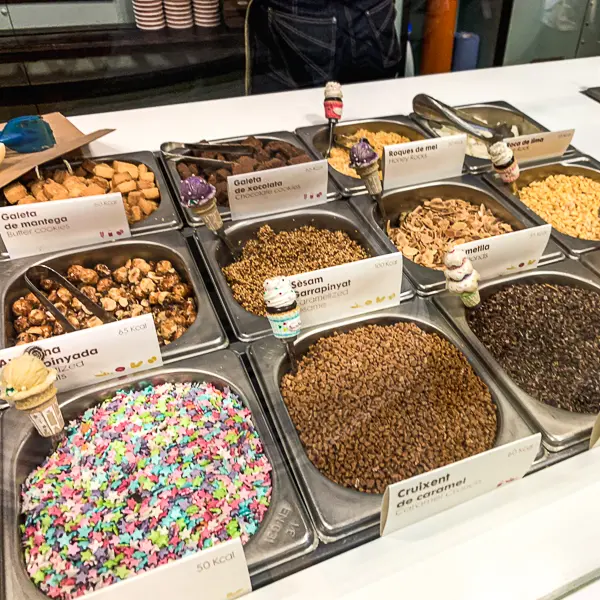 Why is this Rocambolesc Gelateria one of the best things to do in Girona? Not only is it delicious gelato, but the chef is one of Girona's own. Locals are quite proud of this. So if you can't make it to any of the restaurants, you can try the gelato at Rocambolsec Gelateria.
The shop is also fun, you will instantly get Willy Wonka vibes.
It first all started with an old ice trust. You can read about how the history and how this shop was born on the front page of their site.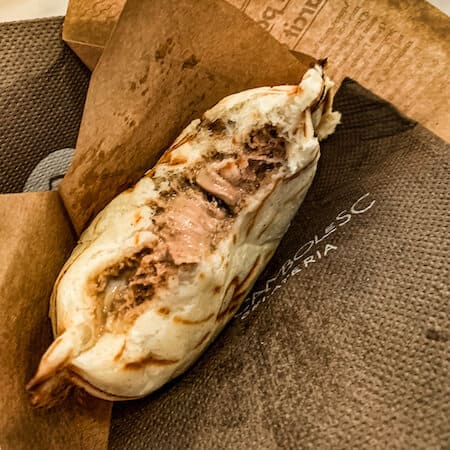 We tried one of their famous ice cream sandwiches. You're in luck, we have a video of our ice cream sandwich being prepared and it was a delicious as it looks in the video. I'd have one right now! Check out the video here.
Choose an ice cream flavor or combination. They will stuff a brioche bun with it and then toast it up in a special toaster. The sandwich will come out toasty and warm while the inside will be filled with yummy gelato.
They also offer a variety of interesting homemade flavors and combinations. Some flavors may be seasonal.
Rocambolesc Gelateria | Carrer de Santa Clara, 50, 17001 | Google Map It
10. Stroll Along Rambla de la Llibertat
During your Girona walks, you'll come across Rambla de la Libertad.
Rambla de la Llibertat is one of the most popular streets in Girona for a leisurely stroll…. sometimes a protest or two. The tree-lined street is filled with shops, cafes, and restaurants. It's the perfect place to spend an afternoon wandering around. Don't forget to look up as some of the architecture here is quite beautiful.
Rambla de la Llibertat | Google Map It
With any European city, our biggest piece of advice is to walk as much of it as possible. The more you explore, the more you'll discover.
This list of best things to do in Girona should cover the highlights of this wonderful city. So you can make this into an easy day trip or for a longer stay. Hope this inspires you to make a visit to this wonderful city in Catalonia that should not be missed.
Are you inspired to visit Girona? What are you looking forward to the most?
Planning a longer trip? Don't miss our 3 Days in Girona itinerary. We explore and enjoy Girona as well as take a few day trips to other cities in Costa Brava.
Don't forget to share the love on Pinterest: