What to do in Kauai? Plan an amazing 7-day itinerary. We share our Kauai itinerary and what to do in Kauai in 7 days.
Are you ready for a break? A real vacation? Yeah? We can relate. Sounds like 7 perfect days in Kauai will do the trick.
We were so ready when we decided to book our first 7 day trip to the Garden Island of Hawaii. Can you see everything on this beautiful island in a week? Not really. Will you be able to fit some highlights and experiences? Yes!
We share with you things to do in Kauai in 7 days. You will enjoy some of the most amazing highlights of this beautiful island.
Kauai hadn't been on our radar until we were 2 months into 2019. Something called exhaustion started pushing us to look into our next vacation ASAP. We were also desperate for some sunny warm days by the beach.
As soon as we got back from our trip to Spain, we spent the holidays helping our German Shepard recover from ACL surgery and that's on top of crazy 80-hour work weeks (for hubby) and other life surprises. It was also terribly rainy and cold the past winter in Los Angeles.
A great friend of ours, born and raised in Kona, suggested we visit Kauai or Maui, two of her favorite islands. We don't think you can go wrong with any of the Hawaiian Islands, but Kauai is the most rugged and not as developed as the other islands.
It's known for its beaches, waterfalls, and incredible coastlines. There is something to do for everyone whether that is sunbathing, hiking, eating great food, or sitting by your resort pool.
Disclosure: This post may contain affiliate links. If you decide to make a purchase from one of those links, we may get a commission at no extra cost to you. We appreciate your support.
Covid-19 June 27, 2021 Update:

Effective July 8, 2021, Hawaii will no longer require a negative COVID test from VACCINATED Domestic Travelers. Travelers will have to upload their CDC-issued vaccination cards to the state's Safe Travel Program.

Stay up-to-date and read more info here.
Where to Stay in Kauai?
As we researched the best area to stay in Kauai, we immediately fell in love with the description of the North Shore – lush valleys, waterfalls, sandy beaches, tropical jungles… Doesn't it sound like paradise? The area of Princeville made it to the top of our options.
In Princeville, there are a few resorts that are worth considering. For this trip, we were on a budget (when are we not? ?) and really wanted to spend a good portion of it on food and experiences. So after perusing Airbnb, we found a beautifully remodeled studio in one of the many vacation resorts in the area, The Cliffs.
And, if you think Kauai is out of your reach, think again. Airbnb may be a great option to consider to make that Hawaii trip come true on a budget. If you're traveling as a family, you may even find a condo with a kitchen.
The studio came with everything we needed, a clean space, a private bathroom, a comfortable bed, parking, and a washer/dryer for less than half the price of a hotel room. There were additional amenities included with the resort stay: a pool, tennis courts, barbecues, and even a small library.
A video of the studio can be found under my Kauai highlights on Instagram.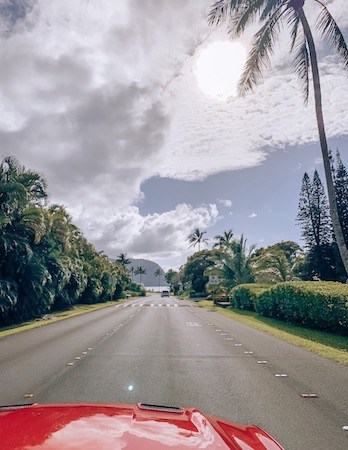 The con of staying on the North Shore is that it's far from everything.
If you're planning to explore the island and leave the North Shore every day, perhaps Kapaa or Poipu may be best.
We had no problems driving when we needed to as we got to see so much of the island.
You can also split your time, stay half the time on the North Shore, and the other half in Poipu.
Is a Car Rental Necessary in Kauai?
The short answer is YES.
You need a car rental if you plan to explore the island. It's the easiest and best way to get around. Unless you plan to sit the majority of the time by the resort pool.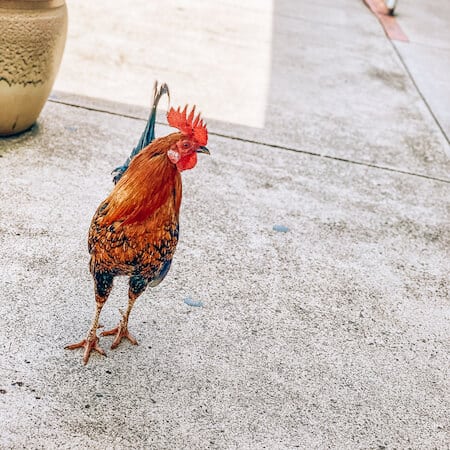 We splurged and booked a convertible with Avis.
One of the biggest tips I can give you after arriving at the airport and you have your luggage is to walk to pick up your car rental.
You will save time by walking, then waiting, and fighting your way on a disorganized "line" to hop on a shuttle. Unless you're physically unable to and are carrying way more luggage than you can handle alone, I suggest you walk.
Most major car rentals are right across the parking lot. Waiting to get on the shuttle will take more time than walking. We learned this lesson quickly.
Click on the satellite view of the map above, you will see the parking lot that separates the terminal from the car rental locations.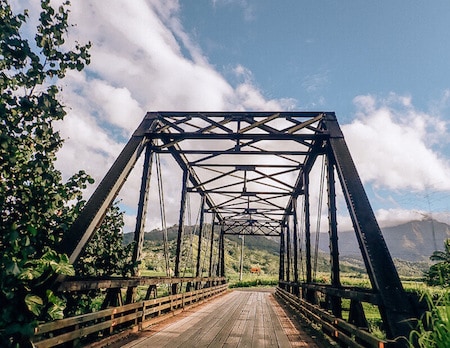 Kauai Driving Tip: You may come across a few one-lane bridges while exploring the island. Be courteous and follow the unwritten local rule of taking turns, several cars will go in one direction first and then it's the other side's turn.
Resources to help you plan your Kauai trip
These two Kauai travel guides helped us plan our first successful trip to Kauai. Worth packing them in your carry-on.
What to do in Kauai in 7 Days
Day 1: Start Exploring
Book that early flight! Don't waste the day. It's totally worth waking up at the crack of dawn for paradise.
Once we picked up our convertible and hit the road, there was this instantaneous feeling of relaxation. It may be the ocean air and palm trees that help, but I felt at home right away.
The drive up to the North Shore was filled with many moments of oohs and ahhs. For a while, the view of the coast is on your right. As you drive up the Coconut Coconut coast, you're wowed upon entering the lush farmlands.
The view of dramatic mountains in the distance will stay within your sight almost the entire way to Princeville. You just know that the next 7 days in Kauai are going to be full of spectacular views.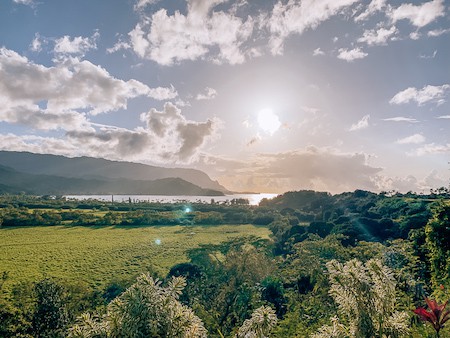 You're going to want to check in to your Airbnb or hotel, so you can leave your luggage and head back out.
We immediately got back in our car rental and started to drive around Princeville and down to Hanalei Bay to get the lay of the land. We also stopped at the supermarket to get drinks and snacks to put in our mini-fridge at the hotel.
Pick a spot in Hanalei Bay for dinner and maybe have your first Mai Tai. Don't wait to eat too late as everything starts to close early.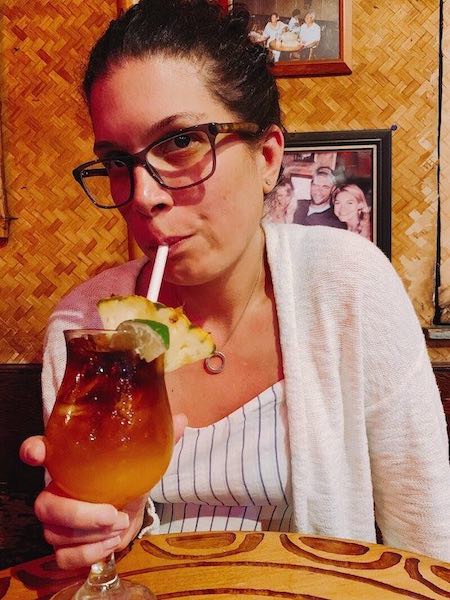 Tahiti Nui
Quite possibly the best Mai Tai I've ever had.
We visited this spot a few times during our stay. Their food is good too, try their Huli Huli Chicken Pizza.
5-5134 Kuhio Hwy, Hanalei, HI 96714 (Google Map It) | Website
– Don't Miss: Best Beach Drinks That Never Fail –
Day 2: Tour the Garden Island by Air
Our 2nd day in Kauai was a Saturday. I had read fantastic things about the Hanalei Farmers Market that takes place on Saturday mornings but when we woke up, it was pouring.
Expect rain at any time of day, just remember that it's not all over the island, you can get in the car and just drive away from it. That's what we did since our adventure for the day was in Lihue, we got in the car and drove down to Kapa'a for breakfast where the sun was starting to come out.
Fun fact: Did you know Kauai is one of the rainiest places on earth?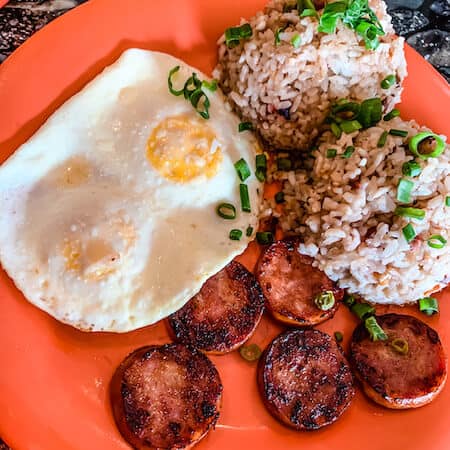 Kountry Kitchen
One of the best breakfast spots in Kapa'a. We ate here a couple of times. Try their fried rice or loco moco. They also have a coffee shop next door for quick bites.
4-1485 Kuhio Hwy, Kapaʻa, HI 96746 (Google Map It) | Website
Plane Tour of Kauai
What to do in Kauai? Explore it from above!
If you're looking to have an overall introduction to the island of Kauai, I suggest taking either a plane tour or a helicopter tour. We chose a plane tour with Wings Over Kauai.
You will see parts of the island that no one has been able to reach on foot or by car. You'll instantly fall in love with Kauai as we did and want to experience as much as the island -the accessible parts) the rest of your vacation.
We were nervous about our flight. It was our first time on a Cessna and wasn't sure if we would get sick. The vibration from the plane made me a little nauseous towards the end of the flight, but nothing that would keep me from doing this again. Without seeing it from above, you won't fully understand why it's nicknamed the Garden Island.
Fun fact: Did you know that 90% of Kauai can only be reached by helicopter?
Tip: Book in advance as this type of excursion gets booked quickly.
Where to Eat in Kauai: Food Guide
A Kauai vacation isn't complete without food hopping to a few of the local places to eat. See where to eat in Kauai and what not to miss.
Day 3: Sail the Napali Coast or South Shore
What to do in Kauai? Go sailing!
After seeing the Nā Pali Coast from above the day before, you will want to sail to see it off the coast. We booked the BBQ & Sail with Captain Andy.
Now, the weather may or may not be in your favor and you may end up sailing the south shore or nothing at all. That's what happened to us, so just keep that in mind when you book your sailing adventure. Believe me, we regret nothing.
When we arrived at check-in at Captain Andy's, they immediately let us know that we would be sailing the South Shore and gave us the option to reschedule. Top-notch customer service from booking to the very end.
While I'm a planner and I do get frustrated when things don't work out exactly how I planned, I have learned that sometimes it's best to just go with the flow. That's exactly what we did. We reminded each other that we are on vacation and no matter what, we were there to have a great time.
Our sailing adventure turned out to be fantastic. The South Shore is not the Nā Pali Coast, but nonetheless beautiful and worth the day out at sea. We got to see sea turtles, several pods of dolphins, a whale, and monk seals.
My eyes welled up with tears upon seeing dolphins for the first time in their natural habitat. Such a special experience. It was definitely one of the highlights of my trip and it will be yours too during your week in Kauai. I can't wait to go back.
Captain Andy also has a sunset dinner cruise that I would love to fit into my itinerary next time as well.
Day 4: Tour the Beaches Near You
What to do in Kauai? Go beach hopping!
Since we spent our first couple of full days on adventures, we hadn't gotten the chance to really tour the beaches on the North Shore. We finally had great weather on day 4 and decided to venture out.
If you're staying in Princeville or just heading up to the North Shore on this day, this is a great time to visit these spots.
Tip: Head to the beach during the weekday. On the weekends, they may be more crowded as locals are off work and they are enjoying time with their family at their favorite beaches.
Prepare for your days at the beach with this beach packing list.
Hanalei Bay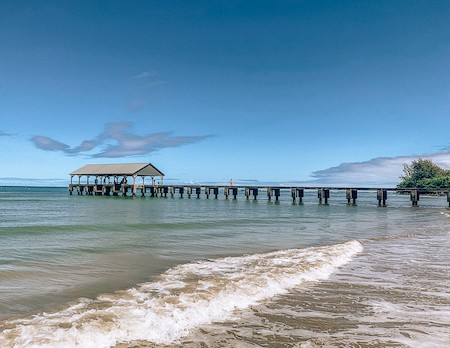 After visiting the town of Hanalei and stopping for some coffee, you can drive down one of the side streets to one of the parking lots by the beach. From there you can walk the 2 miles of beach and to the Hanalei Pier. Direct access from the parking lot near the bridge is currently closed, so your best bet is to walk the beach to get to it.
Don't forget to look up at the mountains to the north as you'll be mesmerized by the waterfalls in the distance. It's a surreal sight.
You can choose to stay here for the day and grab lunch in the main town. After a few hours here, we decided to visit our next beach.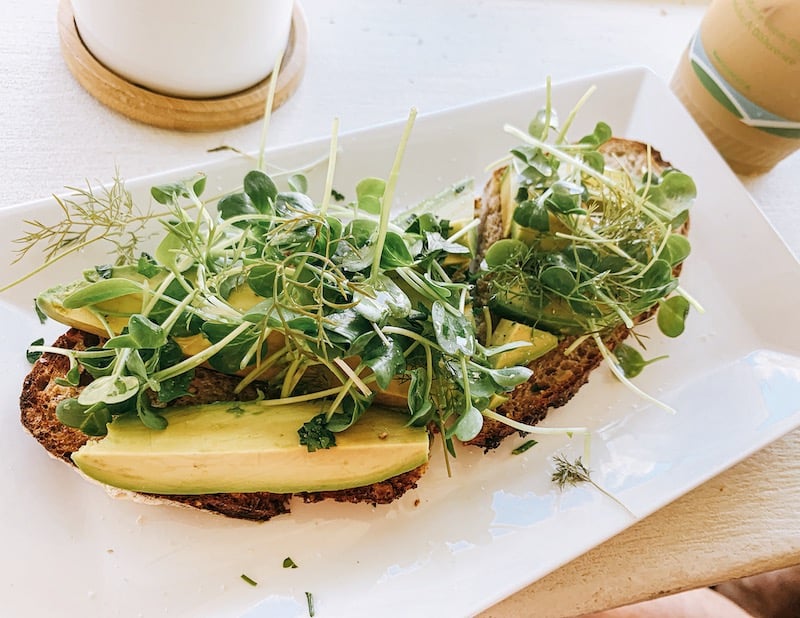 Hanalei Bread Company
Great breakfast or lunch spot. Avocado toast for the win with ice coffee.
5-5161 Kuhio Hwy #4, Hanalei, HI 96714 (Google Map It) | Website
Tunnels Beach
We did not make it to Tunnels Beach due to road closures from the flooding of 2018. It reopened a month after our time there. It would be silly of me not to include a beach that supposedly offers the best snorkeling on the North Shore and the start of the Nā Pali Coast. I had it on my list and unfortunately could not make it there. Next time for me.
Anini Beach
Anini Beach turned out to be our favorite beach during the trip. The water was calmer than in Hanalei and easier to snorkel in. The farther down you go on the stretch of beach, the better you'll find a nice quiet spot to relax for the day. This is the beach to sunbathe and snorkel.
Don't forget to bring drinks, snacks or lunch. No lifeguards or easily accessible bathrooms.
Kilauea Lighthouse
Before or after Anini Beach, you can visit the Kilauea Lighthouse and Wildlife Refuge that's nearby at Kīlauea Point. We didn't make it until late and only was able to enjoy it from a distance.
Plan to go when it's open Tuesday to Saturday between 10:00 am & 4:00 pm.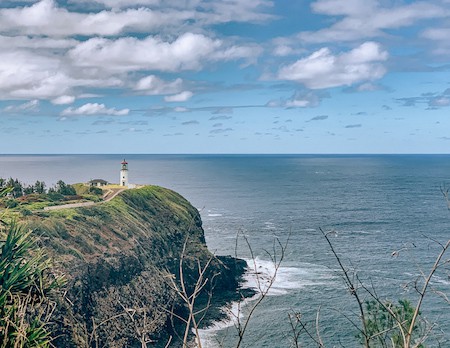 See a Sunset or Sunrise
During your 7 days in Kauai, you must make time to see a sunset or sunrise.
We decided to watch the sunset from where our Airbnb was located on this night. Yup, this essentially was our backyard during our one week in Kauai.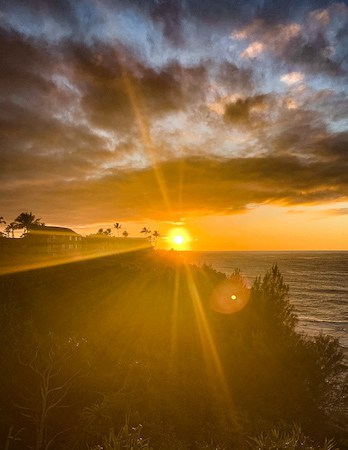 Day 5: See the Grand Canyon of the Pacific
What to do in Kauai? Don't miss the Grand Canyon of the Pacific.
When I first booked our trip to Kauai, I had several people tell me I had to see the Grand Canyon of the Pacific. The first time I ever heard of this, I quickly had to look it up. Waimea Canyon quickly made it onto our itinerary and I knew we would make a day of it.
Waimea Canyon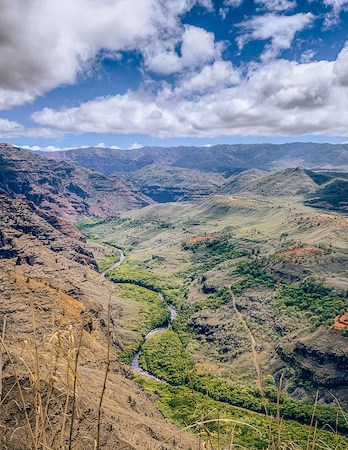 As first-timers in Kauai with 7 days, we decided to drive the entire Waimea Canyon Drive that starts from Waimea town. During the ride, you come across many lookout points offering different valley views and waterfalls. You'll see how much drier this side of the island is.
We didn't go hiking, but I did bring my sneakers in the car just in case we decided to. There are multiple trails here and camping grounds that you can plan for if this is something that interests you.
Visit a Coffee Plantation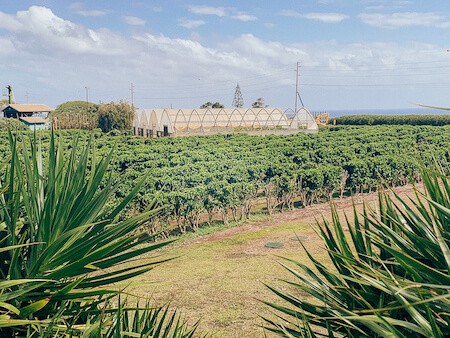 Free COFFEE!
Raise your hand if you're a coffee lover! ??‍
You are not going to want to miss visiting the Kauai Coffee Company Estate. They offer free coffee you can sample daily. You can take self-guided tours of their estate. Guided tours have to be reserved at an extra cost.
Day 6: Enjoy Another Local Kauai Adventure
What to do in Kauai?
Kayak the Wailua River, take surfing lessons, go on a food tour or book a luau. Whatever it is, do something fun. We chose to go mountain tubing.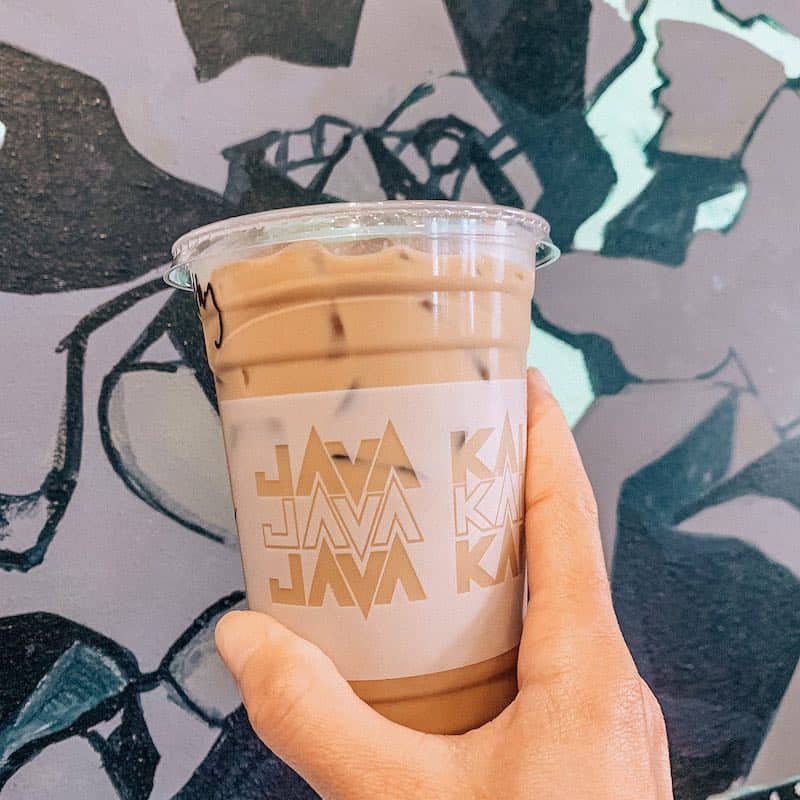 Java Kai
The coffee and breakfast spot in Ka'paa to stop at before you set out for your adventure. Try their Acai berry bowl or the JK granola bowl.
4-1384 Kuhio Hwy, Kapaʻa, HI 96746 (Google Map It) | Website
Mountain Tubing
The #1 activity suggested by our Hawaiian friend was the mountain tubing adventure Kauai Backcountry Adventures. She insisted it is one of the best activities on the island. I booked it right away!
We had a blast mountain tubing and learned about the history of the old sugar plantation that is located on 17,000 acres of conserved land of Kauai not far from Wailua Falls. You will tube and swirl down old mining tunnels. Sometimes it will be dark and bumpy, so if you're easily scared, perhaps it's not for you.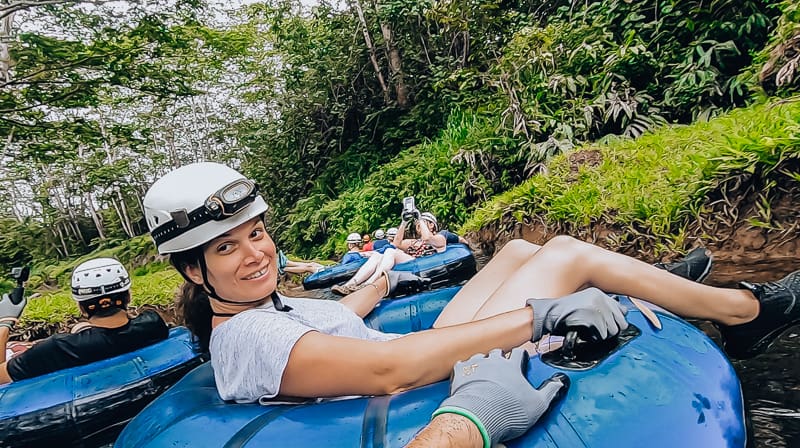 I thought my claustrophobia would kick in, but it never did. It was fun and also at times relaxing on a lazy river. Also, a great way to cool off on a hot and humid day.
When you book, keep in mind twenty percent of the profits from the bookings goes back to land conservation which means the world to the locals.
Don't forget your water shoes! Book way in advance.
Wailua Falls
One of the easiest waterfalls to see as you can drive right up to it to take photos. Parking is limited, but most people don't stay long after admiring it for a bit.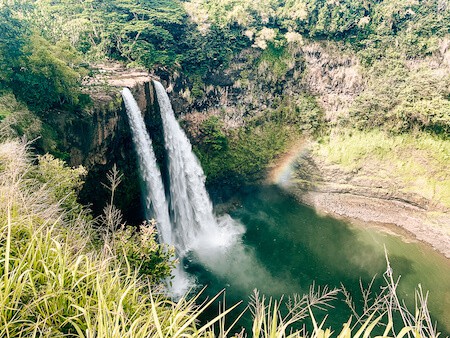 Best Things to do in Kauai, Hawaii
What are the best things to do in Kauai? Here are all the things we thought are must-see and must-do in Kauai. You can plan your vacation and choose which things to fit within your itinerary.
Day 7: Explore the South Shore
The Tree Tunnel
On your way to Poipu, look out for the Tree Tunnel on Hwy 520. You'll drive through this magical canopy of lush Eucalyptus trees that is so picturesque, that you'll feel like you're in the middle of a movie set. They call it the gateway of the South Shore.
Old Koloa Town
Make a stop in the historic Old Koloa Town. This charming little town is full of history and shops. Walk around, take a little walking tour and read the plaques that tell the history of this once upon a time plantation village. While you're there doing shopping, I ended up purchasing the cutest bracelet made out of Hawaiian Koa Wood.
Poipu
In Poipu, you'll find many vacation resorts and Poipu Beach Park. The day we made it there, the waves looked rough and the beaches seemed crowded. We wanted to look for a more secluded spot.
Earlier in the week, a local tour guide let us in on their favorite beach. I sort of remembered it, didn't know how to spell it but I looked it up on Google anyway and found Maha'ulepu Beach. This is a beach tucked away from the crowds of Poipu state park. After entering it in Google maps, the directions took us down dirt roads to different paths that lead down to a few secluded beaches.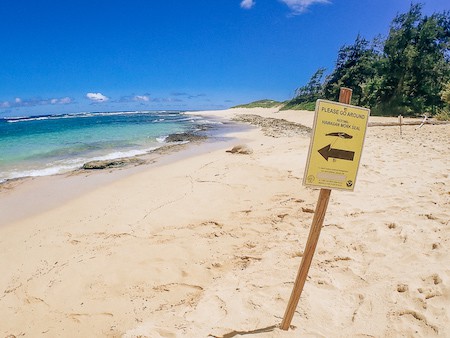 Maha-ulepu Beach was one of our best finds. There are no lifeguards or facilities. Just pure paradise. You may be sharing the beach with Hawaiian Monk Seals. This is their territory, you are a guest, so let them rest in peace and admire them from distance.
The water was beautiful and clear, however, on this day a little rough. That didn't stop several snorkelers out there. I love our time at this beach and you will too. Don't forget to bring some drinks and snacks.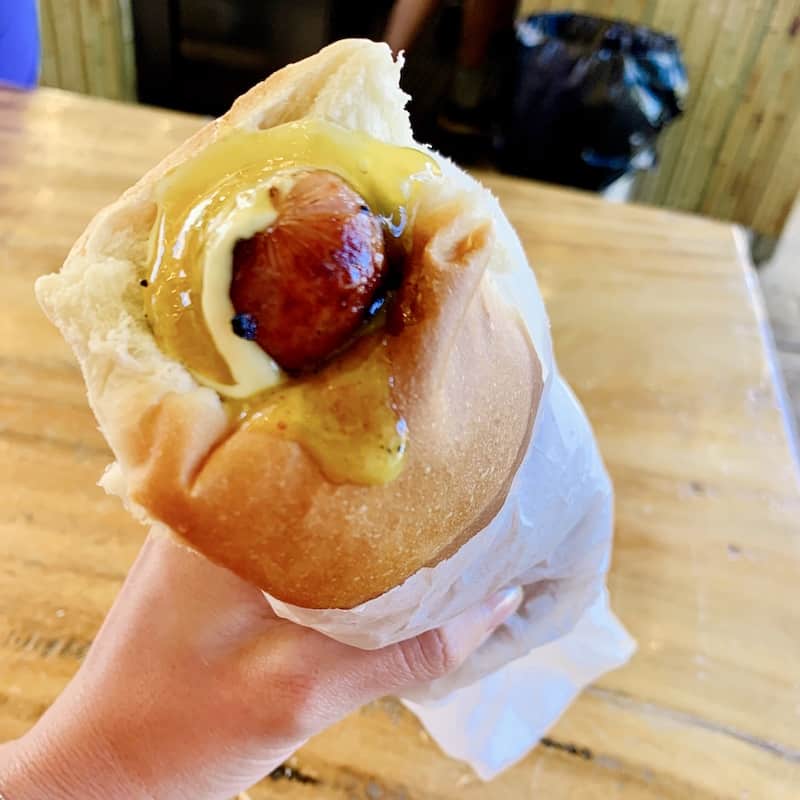 Puka Dog
One of Anthony Bourdain's favorite eats in Kauai. Get a Hawaiian-style hot dog and ask them for the most popular combination. Mine pictured above had a sweet and spicy mango relish with the works.
VGHR+QH Poipu, Koloa, HI (Google Map It) | Website
With this sadly being day 7 in Kauai, our last day, we made sure to hit Java Kai again on our way back to Princeville and one last Mai Tai at Tahiti Nui. So make sure to hit some of your favorites and pick up a few last-minute souvenirs like Hawaiian coffee and chocolate-covered macadamia nuts.
Top Things to do in Kauai in 7 Days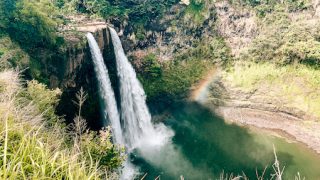 Helicopter or Plane Tour of the Island – This is a great introduction to the beginning of the trip, especially as a first-timer in Kauai.
Sail the Nā Pali Coast or take a Sunset Cruise.
Explore Hanalei Bay and Tunnels Beach. If you're in the area on Wednesday or Saturday morning, don't forget to stop by the farmer's market.
Sunbathe and snorkel at Anini Beach.
Take a road trip to Waimea Canyon.
Visit Kauai Coffee Estate Company
Go mountain tubing with Kauai Backcountry Adventures.
Visit Wailua Falls.
Drive through Tree Tunnel on your way to check out Old Koala Town.
Explore Poipu and its beaches.
Don't miss seeing a sunrise or a sunset.
Enjoy local eats.
Instructions
Book a flight to Kauai
Book a flight or vacation rental
Go and relax on the beach with a mai tai
What to Pack for Kauai
We packed many items from the Beach Packing List. I want to remind you of a few things that really made a difference during our trip. We clung to these items.
Sunscreen – Get the highest SPF you can find that is reef safe and apply it multiple times of the day. Even if the temperature is just warm, the sun is powerful and you will most likely burn.
Maui Vera – When you're sunburnt, this stuff is so soothing.
A rash guard for the beach and snorkeling. I never believed in wearing one until this trip.
Bring a hat! Something to cover your head from the sun. I wore my cap all the time.
During the 7 days in Kauai, we absolutely fell in love with the island and you will too! We appreciated the eco-friendly environment, the local friendliest, and the natural wonders. It was full of beautiful surprises and I am looking forward to returning in the future to explore more of it.
Have you been to Kauai? Did I convince you to spend enjoy 7 days in Kauai? What would you love to do the most from the highlights I provided?
Also, I can't wait to have another Mai Tai from Tahiti Nui!
Don't forget to share the love on Pinterest: