Will you be cruising the Celebrity Equinox soon? We just cruised the South Caribbean. Read our Celebrity Equinox review.
For years there were two things on our bucket list: explore the ABC islands and try a Celebrity cruise. While sitting in our Kauai Airbnb this last Spring in a state of beach-loving euphoria, hubby got an email from Celebrity with the perfect itinerary. He didn't have to convince me, we booked it right away and began to count down the days till we were cruising the Celebrity Equinox.
This is our first Celebrity cruise. Full disclosure, we were comparing it to Norwegian Cruise Line the entire time. It's difficult not to as there are things we love about Norwegian and things we don't. We are just trying to find the right cruise line for us.
As always, we choose our cruises based on the itinerary first and then the ship. Some of you may be all about the ship, that's fine too – you do you!
That said, I'm probably never going to chase the newest ships unless the right opportunity came along. So this review may be lost in the middle of a thousand others as the Celebrity Equinox is a 10 yr old ship. I still hope you enjoy this Celebrity Equinox review and find something helpful to plan your future cruises.
Disclosure: This post may contain affiliate links. If you decide to make a purchase from one of those links, we may get a commission at no extra cost to you. We appreciate your support.
Please note: this post was written and published pre-COVID.

Keep up to date with COVID guidelines by visiting Celebrity Cruise Line's health and safety protocols.

In the meantime, take advantage of the cruise deals for a 2021 cruise vacation.
What are the ABC Islands?
Every time I mention the ABC islands to someone they ask, what is that?
ABC stands for Aruba, Bonaire, and Curaçao. These islands are located in the most Southern Caribbean off the coast of Venezuela. They are part of the Netherlands, but all vastly different from one another. They are outside of the hurricane belt.
I was especially excited to visit these islands.
This cruise had a little too many sea days for my liking. To top it off, Grand Cayman was canceled due to weather and that added another sea day – not the cruise line's fault. The best part about that was that we were able to arrive super early in Aruba.
Celebrity Cruise Review
Embarking in Fort Lauderdale, Florida
Our red-eye flight landed at 6:30 AM and we didn't waste time getting to the port. We were the first ones at the terminal.
Somewhat of a mistake. The arrival terminal is basically closed until closer to 10 AM. I don't mind being early but we had more than enough time to waste. We should have taken our time to have coffee at an airport lounge or even a nearby breakfast spot for some coffee. Hubby needs his coffee. That would be my advice if your flight gets in super early in the morning.
Close to 10 AM the doors open and it was time to get through security. It all went by pretty fast but there was some disorganization. There were no clear lines.
Since we followed all the steps needed to prepare for a cruise, check-in was taken care of and we had ur Xpress passes ready to be scanned.
The Xpress check-in is new and absolutely genius. You can submit your photo, credit card information when you check-in online before your cruise. After you go through security an agent will scan your passes, verify that there is a photo and ask you all the questions regarding sickness. Once that is done, you're good to go into the waiting area. No need to check in at the desk.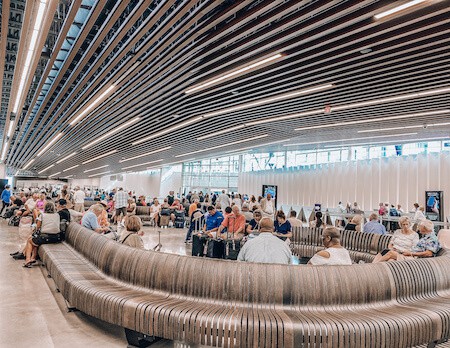 Celebrity has a beautiful terminal with plenty of seating and restrooms. The only thing that is missing is a coffee station.
Concierge Class
Priority Check-in / Disembarkation
If you paid for Concierge Class, there is a section all the way in the back corner. We almost missed the sign. Make sure to look for it or else you'll miss out on "priority check-in".
Just because you have priority check-in, it doesn't mean you will get through security first or even have a special check-in line after security. You will be on the same line like everyone else. In order to truly get special treatment, book a suite!
What we found that the only plus was getting on the ship before everyone else.
Priority disembarkation was included, and yet, we didn't disembark until after 9:30 AM. We were out of our rooms at 8 AM. What time did they assign to us? The last ones off the ship.
The trick to getting off early with any cruise line is to hold on to your luggage the night before and disembark with it.
---
Clarification on priority boarding & early debarkation for Concierge Class
We upgraded to Concierge Class because we were informed by the Celebrity customer service rep that priority embarkation and disembarkation are included at every port. I questioned the rep multiple times, are you sure it's not just priority boarding and early debarkation at the start and end of the cruise? (As I had read on their website). The rep confirmed and insisted, the priority embarkation and disembarkation is at every port. That's how she made an instant sale.
You may be wondering, what's the big deal about waiting in lines? Time, my friends. You have to make the most of your time and sometimes it's worth paying extra to bypass the lines.
Once on the ship and had a chat with the concierge, we realized we were lied to. We were disappointed and knew making a complaint on the ship was worthless. I also wasn't going to waste my vacation time complaining.
To be fair, on this cruise, the priority on and off was unnecessary. We never waited in long lines to get on or off the ship. So even if what the rep sold us turned out to be true, it would have been a waste of money. There were never long and slow lines like we have experienced on past cruises.
To be clear, I do not think the Celebrity rep was trying to scam us. I truly believe she was misinformed.
---
Celebrity Equinox Concierge Class Veranda Cabin 12147
We upgraded to Concierge Class a few days before the final payment was due. It was a very spur-of-the-moment decision and I didn't get to choose my balcony cabin. There was only one Concierge Veranda Cabin left # 12147 located on deck 12, aft portside.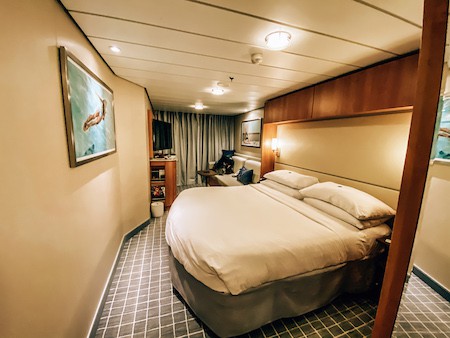 First, I'll start with the negative parts of the room.
I was told there would be no obstructions. Yet, there is a slight obstruction. Nothing terrible but it did make it difficult to take pictures from the cabin.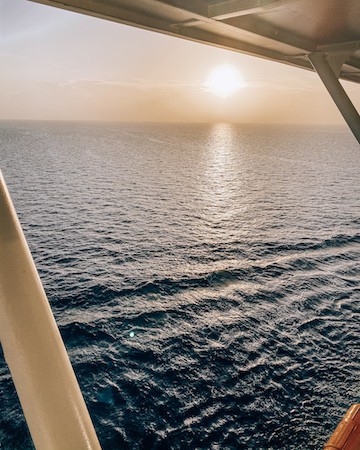 Cabin # 12147 is located under Oceanview Cafe (the buffet), expect loud noises at night. We had to call a few times to complain about it as it sometimes woke us up or didn't allow us to fall to sleep.
We loved that the room was updated with the modern Edge design. The couch was brand new. The balcony was a room with seats that reclined. No footstools, but there was a nice little table you can set your morning coffee on.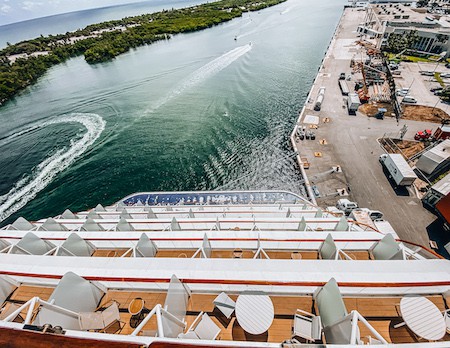 Most importantly, the room was clean, the bed was comfortable and the bathroom was functional.
What to Pack for a Cruise
Add these items to your cruise packing list. Don't forget to pack these cruise items that will help enhance your cruise vacation.
Is Concierge Class Worth it?
Not to me. If the difference in rate is exponentially high compared to the standard balcony cabin, it is not worth it.
That extra $300-$400 spent per person is not worth the robes in your room, small afternoon snacks or the personalized concierge service that is only looking to book dinner reservations that you can easily do yourself.
During our time on the ship, we tried to justify the extra cost spent on Concierge Class but we couldn't find these small amenities that made no difference in our vacation.
In the future, we wouldn't mind sailing Concierge Class again, but only if the rate isn't much different from a standard sailing. I would rather pay to upgrade to the Aqua Class, at least it has its own restaurant and the spa is included.
Celebrity Equinox Cruise Ship Refurbishment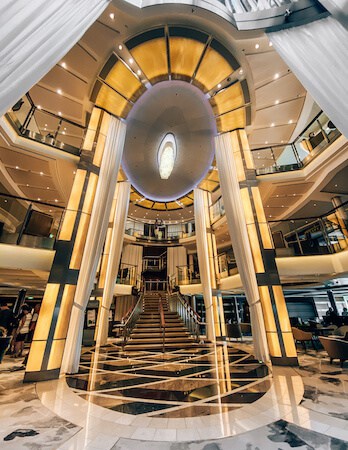 In June 2019 the Celebrity Equinox was refurbished. It was supposed to be fully renovated to fit the new Celebrity Revolution.
Celebrity Cruises is set to transform the industry with the unveiling of THE CELEBRITY REVOLUTION, a more than $500-million reimagining of the fleet in partnership with more than 500 leading architects, designers, and engineers designed to bring the rest of the brand's award-winning fleet to the Edge.

Celebrity Cruises Press Center
Unfortunately, the month of time allocated for the Celebrity Equinox refurbishment was cut short. The public spaces on Celebrity Equinox were refurbished in a span of two weeks. The ship set sail and cabins were left as is. I read comments on old ratty couches and worn-out bathrooms. So, I was pleasantly surprised that my cabin had been somewhat refurbished with Edge's modern look.
The crew supposedly was working on updating furniture and other details of the rooms during the sailings.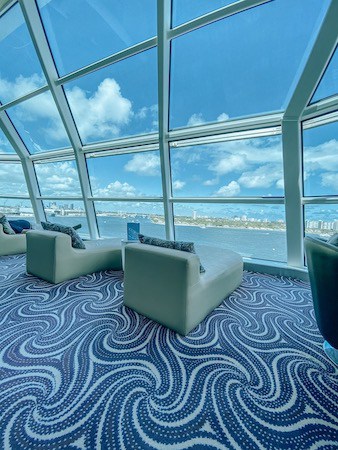 The Celebrity Equinox looks fabulous donning the new modern Edge design. When I book a ship, I am looking for an updated ship with modern and classy decor. They did a great job incorporating the Edge while still leaving and polishing up what makes the Equinox great. Not once during my time on the ship did I think, "this is outdated."
The Canyon Ranch Spa
The services offered are just way out of my price range. That doesn't mean I won't treat myself if I felt inclined to. Back home, we can find spa service for half the price and I frequently take advantage of on my days off. When we're on vacation, I push my husband to indulge as he works crazy hours and never does anything like this for himself.
Hubby enjoyed a Canyon Ranch Pedicure. The technician did an amazing job with his feet. They were baby smooth.
Aqua Class Cabins come with spa passes, which means you can use their facilities to lounge in and relax. If you're not part of Aqua Class, you can purchase a pass that allows unlimited use to their spa facility. Services like massages, facials and such are extra.
I did notice that the spa area here does not have therapy pools to use as the thermal spas on the Norwegian ships.
The gym is available to all guests on the ship. Guess how many times I went?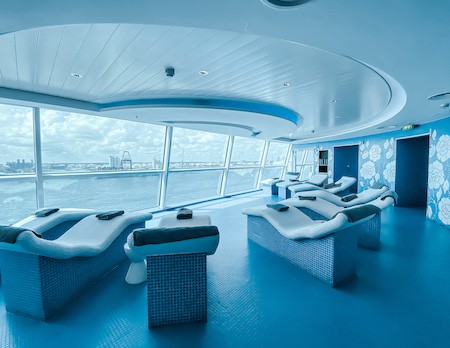 Cruising the Norwegian Pearl
We went from enjoying the suite life on a mega-ship to a standard balcony cabin on this mid-size cruise ship. See why it turned out to be one of our favorite cruises.
Tasty Itinerary: Celebrity Equinox Food
Cafes and Bars
Cafe al Bacio
My favorite place on the cruise ship is Cafe al Bacio. I bet you already imagined this was our first stop the moment we got on the ship.
This cafe kicked Starbucks ass. They were cranking out lattes and other specialty coffees all day long. You bet you can have Bailey's in your coffee topped off with whip cream.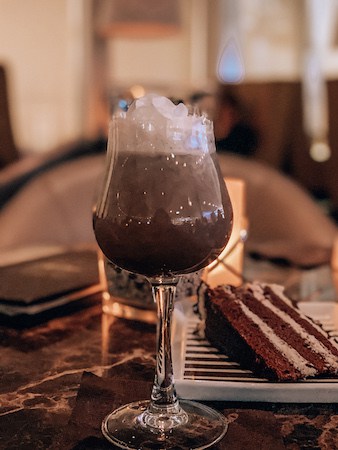 There is a surcharge at the cafe for the drinks. If you have the Classic Beverage (up to $9) or Premium Beverage (up to $15) package, the drinks are included.
The best part is the fresh-baked cookies, cakes, and treats in their display. They are always available. These are free of charge to all cruisers. See a video of the dessert display here.
The Martini Bar
Another one of Tasty Itinerary favorites. I had a martini almost daily. The plan was to work my way through the menu, but I never got that far. The martinis I did have were fantastic and they are served right on their frozen bar counter.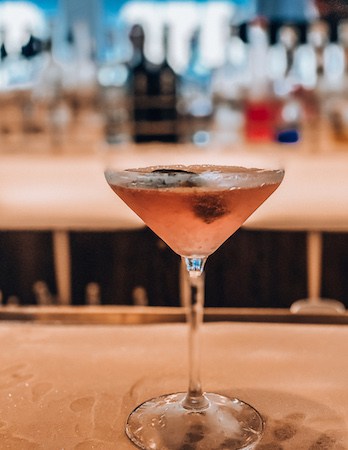 The bartenders here are talented and put on a great show for their guests when you order a martini flight. Just like Tom Cruise in the movie Cocktails.
– Don't Miss: Best Beach Drinks That Never Fail –
Main Dining
Oceanview Cafe
The buffet on the Celebrity Equinox cruise is by far one of the best of all the cruises I have taken. Color me impressed.
Normally for dinner, we like to dine in the main dining room. Being on vacation, it's nice to have someone take your order and bring your meal. It's those little luxuries sometimes that make it. On this trip, we had most of our meals at the buffet.
Why? Because the food exceeded it. Everything was flavorful and some things were sometimes cooked to order.
It's impossible for me to give you a rundown on everything, but here is what stood out:
The pizza on the ship was delicious. Hand-tossed dough with pizza sauce that was season just right and baked in an oven like a Neapolitan pizza.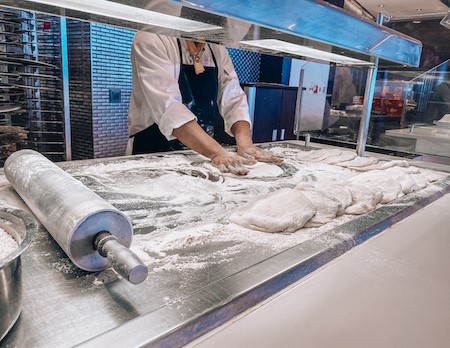 Every day the carving stations had something newly roasted. It wasn't just the standard turkey or roast beef. We're talking about ribs, Peking duck, porchetta, a whole salmon… it was always delicious.
Fried chicken.
Jerk chicken
Arroz con pollo
Pork schnitzels that they breaded right there in front of you and then popped it on the griddle.
Meats cooked to order.
Your choice of MahiMahi, salmon, or tuna that you choose from and they'd grill it for you.
Fish and chips
Individual chicken pot pies
Huge apple and berry pies
One day they even had a chocolate foundation at lunch.
You get the drift. I'm sure you're hungry now because I am.
Silhouette Main Dining Room
We dined in the Silhouette a total of 3 times. The food was nothing to write home about. I enjoyed it, but I loved the food at the buffet more.
The food has nothing to do with the service. Our waiter and his assistants did a fabulous job.
We had any time dining and was always able to get a table in our waiter's section. I did appreciate the attention to detail that Celebrity offers in the dining room.
Celebrity Equinox Specialty Restaurants
Le Petit Chef™️ At Qsine
Celebrity does not do a great job explaining Le Petit Chef on their website, at least not when I was booking. This is the one restaurant I did not book in advance because I didn't understand it. When we finally visited and seen a sample of what it is, we signed up for dinner on our first night.
Basically, this is a dinner and a show. It is an extra charge.
This 4D animation show takes place between your meals. These animated "celebrity" chefs are competing and preparing your plate right in front of you. It's actually quite comical and entertaining – I got a kick out of it. Once a dished is presented by the animated chef, the waiters serve the real thing.
Watch the video of the appetizer here.
Animation aside, the food was delicious. I recommend it! If you have kids, I think they would find it entertaining. Will they eat the food? That depends on your child. My 6 yr old and 4 yr old niece would devour it all.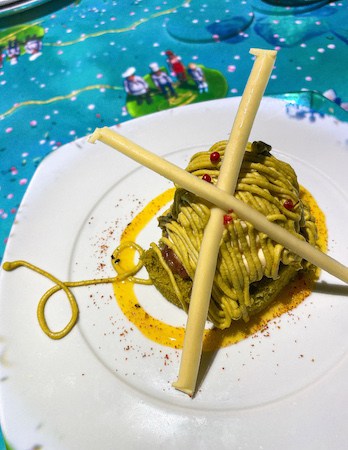 During the week, Le Petit Chef features two prefixed menus. One features filet mignon as an entree and the other lobster. Make your reservations accordingly. They also have a classic menu you can choose from to swap out any of the courses.
Tuscan Grille
Out of the three specialty dining restaurants we tried, the Tuscan Grille was my least favorite. It was okay but it wasn't worth paying for extra for.
The appetizers were not memorable. The short rib Parpadelle ragu disappointed us, which isn't a surprise. Pasta dishes after visiting Italy are never the same. Hubby ordered the filet mignon (again). I had the grilled sea bass and I enjoyed it, but it was nothing special.
Murano
Murano was by far my favorite of the specialty restaurants. This French Continental restaurant had me at the scallop wellington and the baked goat cheese appetizers.
Hubby and I immensely enjoyed our chateaubriand for two and their specialty dish lobster Murano, both prepared tableside. The Grand Marnier soufflé was one of the best I've ever had. If you decide not to order dessert, don't worry they bring out a small assortment of fine chocolate. I highly enjoyed the wine recommended by the sommelier.
The service here is impeccable.
If I had to book the specialty restaurants again, I'd book two nights at Murano and skipped Tuscan Grille.
25 of the Best Reasons to Cruise
Cruising will always be one of the best vacations. Not convinced? Here are 25 reasons why you should consider a cruise vacation.
Entertainment on the Celebrity Equinox
One thing I always come across reading about the Celebrity sailings is that the ships are quiet. It turned out to be true. They lack in entertainment and the little entertainment they do have is not that great.
We spent a lot of our time in the casino on this trip.
At the Theater
The theater on the Equinox is probably one of the most well-designed theaters I've seen on a ship so far. There are two decks of real stadium seating.
Topper and Elysium are onboard production shows and they are without a doubt terrible. I wouldn't tell anyone to skip them as you should make up your own mind. I suggest sitting at the end of a row, so once it starts and you realize how bad it is, you can walk out. We had to after 15 minutes watching Elysium and then the couple next to us followed thanking us for making the move first.
The comedians and singers that boarded at different times during our itinerary were fantastic. Many of the performers are brought in for special performances and are on rotation with the cruise line. So you never know what you're going to see when you get on that cruise ship.
Shout out to singer Jesse Hamilton Jr., my favorite performance of the week, he killed it. His voice is incredible.
I also loved the performance by December 63. This foursome covers music by Frankie Valli and the Four Season. The group is not only talented but entertaining.
Nightlife
There weren't many parties. Silent disco seemed to be the popular fave. Lounges were always dead.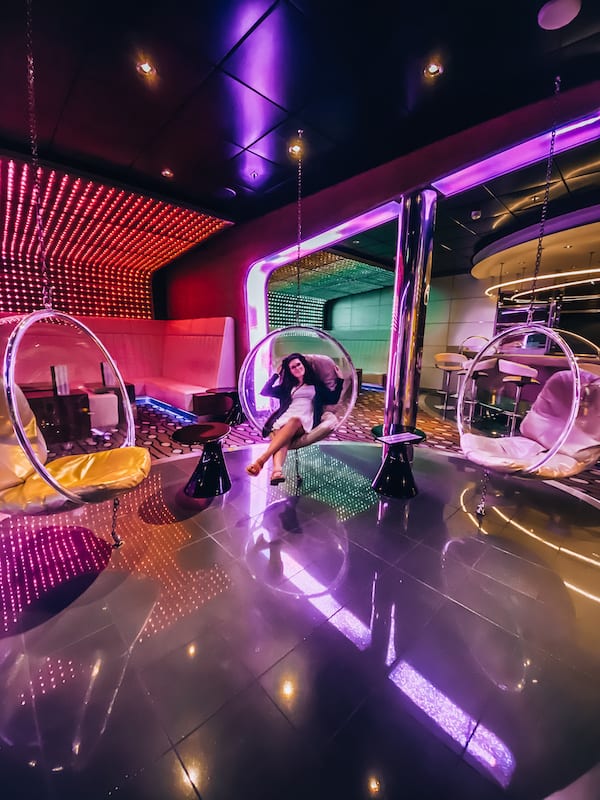 Towards one of the last nights, we finally went to the after-hours party that started at midnight in the Sky Lounge. The DJ was killing it with some great dance music. Also, this is where everyone around our age or younger was hanging out. All of about 30 of us on the ship. ?I wish they started this party earlier in the night.
The casino on this ship is SMALL. I guess it works out since most go to bed early.
Other Observations Cruising the Celebrity Equinox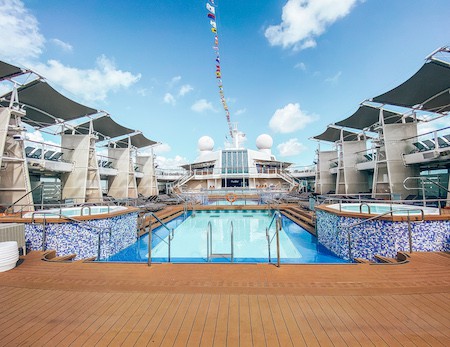 ➡ The Celebrity Equinox is a beloved ship amongst the veteran Celebrity cruisers.
➡ The demographic was much older than I anticipated. It may be the time of year we cruised on Celebrity, but it definitely solidified a cruising stereotype this time around. We were part of the 5% of the cruise that felt younger than usual.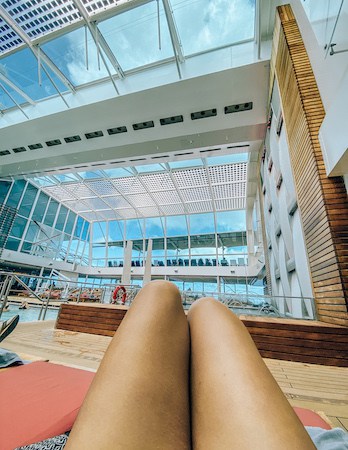 ➡ There is more than one pool on the ship! I spent a ton of time at the solarium.
➡ Not exactly a kid-friendly cruise. There aren't enough activities for children on the ship.
➡ Every day there are glass blowing classes available on the ship. Never attended as it is not my thing, but some of you may find it interesting.
➡ Bartenders are heavy-handed with the alcohol! Drink up.
➡ The Lawn Club has real grass! Pretty cool area to watch a movie on some days and nights.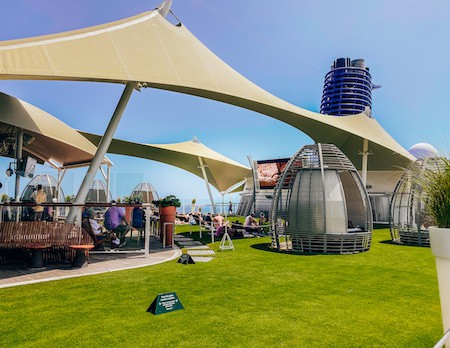 Will We Cruise Celebrity Again?
We like the Celebrity product and what it offers. Across the board, it's a more upscale experience compared to other cruise lines we have been on. If anything, the food definitely won me over. The service is excellent.
The atmosphere on the ship was a bit subdued for us. There wasn't even music by the pool during the day unless there was Zumba. I am not looking to be around rowdy drunks but at times it's nice to be around a livelier crowd.
I think it will all depend on what kind of vacation we are looking to take in the future. Are we looking to relax? Do we want a good mix of fun and relaxation?
During this cruise, we also grieved over a major loss in the family. We realized it all turned out how it should, we needed the quiet moments in between it all. However, at times I think we needed a distraction and the activities on this cruise were not exciting or at least, not catered to our demographic.
Celebrity Equinox is a favorite and has a loyal fan base. We met many veterans that sail her multiple times a year and I can see why. We would sail her again, probably on a shorter itinerary.
---
Have you cruised on Celebrity? What about the Celebrity Equinox? What was your experience like?
---
Don't forget to share the love on Pinterest: