Beach Hop Beautiful Curacao Beaches in A Day
Are you visiting Curaçao with your Southern Caribbean cruise or staying near Willemstad? Rent a car and beach hop the Curaçao beaches.
When we booked our Southern Caribbean cruise with the Celebrity Equinox cruise ship, we were the most excited to visit Curaçao.
We would see colorful photos of Willemstad, beautiful blue waters, and flourishing markets and imagine ourselves in these photos.
Like our day in Aruba, we had a full day in Curaçao and were ready to explore this Dutch Caribbean island. Most people get off the ship and spend their days in the capital city, Willemstad, but as usual, we wanted to see more.
Specifically, Curaçao beaches.
That doesn't mean we didn't take some time to visit Willemstad at the end of our day.
In the year before this cruise, we yearned to be at the beach more than ever, evident that it was just months ago we were in Kauai for a week. We've always been beach people. But more than ever, we were craving the comfort of the warm sun, salty air, and the sound of the waves crashing against the shoreline.
Sadly, during our day in Curacao, it was rainy and gloomy. The sun wanted to come out, and it tried throughout the day. It threatened our attempt at beach hopping in Curacao, not as we had dreamed, but still memorable enough to return here and share it with you all.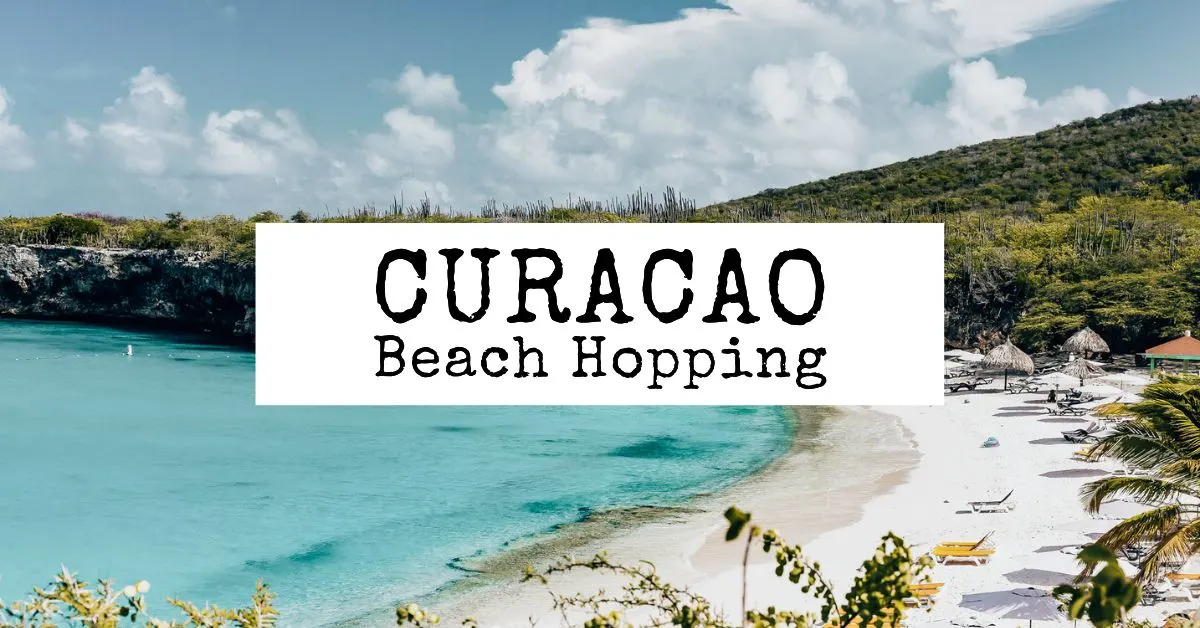 This post may contain affiliate links, which means we'll receive a commission if you purchase through our links at no extra cost to you. Please read full disclosure for more information. We appreciate your support!
The Curacao beaches here vary from tranquil and private to the more popular, wide-open public spots. Despite the rain, we explored a few beaches recommended by a local in Curacao and had a great time.
Curacao is well known for its snorkeling and diving. So if you're looking to explore the underwater world, take your gear and get ready to explore.
In this article, we share how it's possible to beach hop some of the beautiful curacao beaches and what not to miss in Willemstad. With anything we share, we hope you find some inspiration to plan you your tasty itinerary.
Curaçao Cruise Port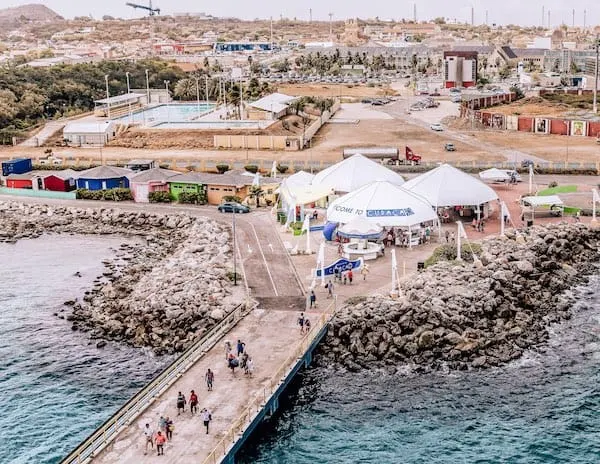 Where do cruise ships dock in Curacao?
Cruise ships in Curacao dock at the Curacao Cruise Terminal in Willemstad. This terminal is just a few steps away from downtown and the popular Queen Emma Pontoon Bridge.
We didn't explore the Curaçao Cruise Terminal much, but getting in and out of the terminal was easy. Relatively quiet compared to other Caribbean cruise terminals. We booked a car rental to be picked up at the terminal.
Can you walk to a beach from the cruise port in Curaçao?
No, you cannot walk to a beach from the cruise port in Curaçao. You will need to rent a car or hire a taxi/uber or bus to get to the closest beaches near the port: Mambo Beach, Sea Aquarium Beach, or Pirate Bay.
How far is the beach from the cruise port in Curaçao?
The closest beaches to the cruise port in Curacao are about a 10-15 minute drive.
How to get around in Curacao: rental or taxi?
From the Curacao Cruise Port, you can walk to Willemstad, taxi to a nearby beach, or consider renting a car to explore Curacao. We recommend renting a car if you want to visit farther into the countryside and explore other Curaçao beaches as we did. It is so freeing to explore at your own pace, of course, within the time your ship is at the port.
There are pros and cons to it.
If you're driving, you have to navigate on your own with a provided map or Google maps, and there is no tour guide to educate you on the local history and culture.
Having your own car means making as many stops as you want, going in the direction you want, and exploring local spots your tour guide may not show you.
It can cost as little as $50 for a car rental for the day. We suggest booking a car rental as soon as you have your cruise itinerary. The earlier you book, the better your rate and the faster you can secure a car rental, as they get booked quickly. All you need is a valid Driver's License.
We booked a car with Avis.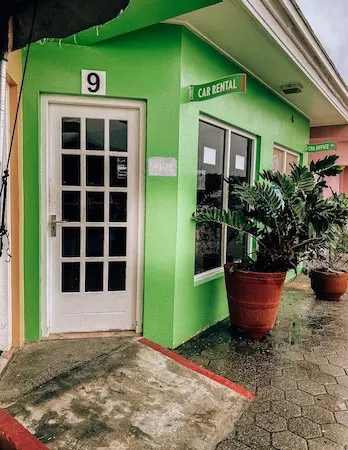 The Avis office is right in the terminal. Once you check-in, they will bring you to your car. Now, the only complaint I have from the day was that we had to wait for our vehicle to be ready for about 30 mins, even though we booked it for a specific time.
Remember, you're on vacation. Go with the flow.
Driving in Curaçao is easy and safe. There wasn't much traffic, and the beach stops are mostly off of one major road. Most are free unless you're heading to a resort beach.
– Don't Miss: 25 Best Things About Cruise Vacations –
Beach Hopping Curaçao Beaches
Did you know Curaçao has some of the best snorkeling and scuba diving in the Caribbean? We don't scuba dive, but we do enjoy snorkeling.
At each one of the beaches we visited, there were many snorkelers and sometimes scuba divers. I watched one diver suit up by his car, hike the tank over his shoulder, and walk right down to the beach and into the water.
If you're looking to beach hop on your own during your Southern Caribbean itinerary, Curaçao is probably one of the best islands to do so. Also, keep your eye out for flamingos; you never know when you'll come across them.
Probably because it was a weekday during the fall and rainy, none of the Curaçao beaches we visited on this day were crowded.
So I can't speak to what a summer day is like with a cruise in town. So if you do beach hop the Curaçao beaches and arrive at a crowded beach, you can always get back in the car and head on to the next one.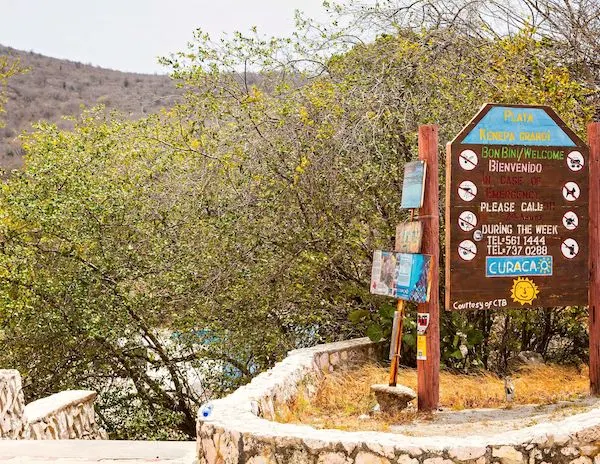 Here are some beach hopping tips:
1. Have your own vehicle so you have the freedom to explore. OR, book a beach-hopping tour.
2. Designate a certain amount of time you'll spend at each beach. If not, you get caught up at the beach and miss out on the hopping part. If you decide to stick to one beach, that's okay; make sure everyone in your party agrees.
3. Have at least a water bottle and a couple of packaged snacks between beaches. Even though I ate breakfast, I got lightheaded and thirsty at some point—a complete failure.
4. If you plan to snorkel, have all your gear ready.
5. Wear your swimsuit. Facilities are sparse.
6. Don't forget the reef-friendly sunscreen.
This beach packing list covers all the essential items you will need for you and your family. Add this beach vacation packing list as part of your beach planning. Time to have some fun in the sun!
Curacao Beaches
Daaibooi Beach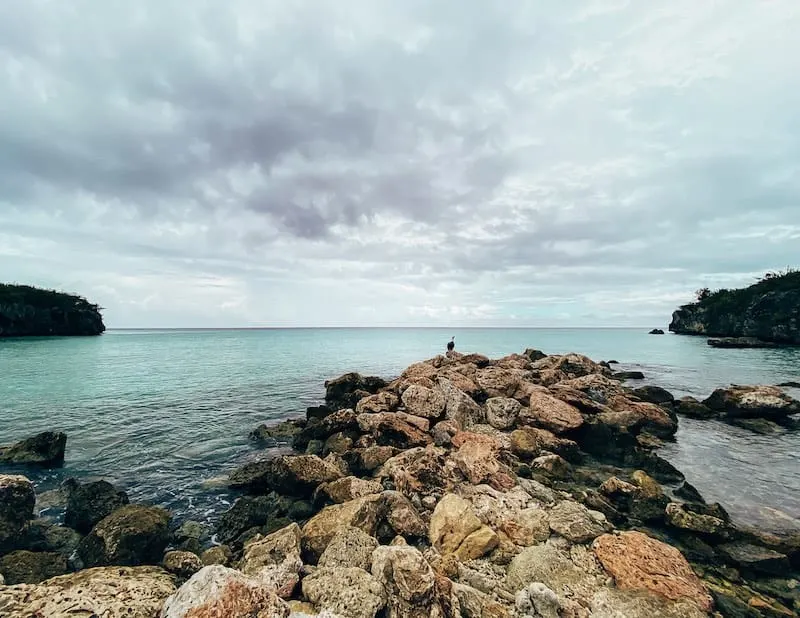 We came across a few cruisers here at Daaibooi Beach. It's a great first stop. And if you need any snorkeling gear, there is a hut on this beach renting snorkeling and diving gear. We ended up purchasing fins for hubby here.
Now when you snorkel here, you want to go left of the rocks. Beautiful fish are in that area, and you may spot a sea turtle.
Daiboo Beach | 6W68+R4 Sint Willibrordus | Google Map It
Playa Jeremi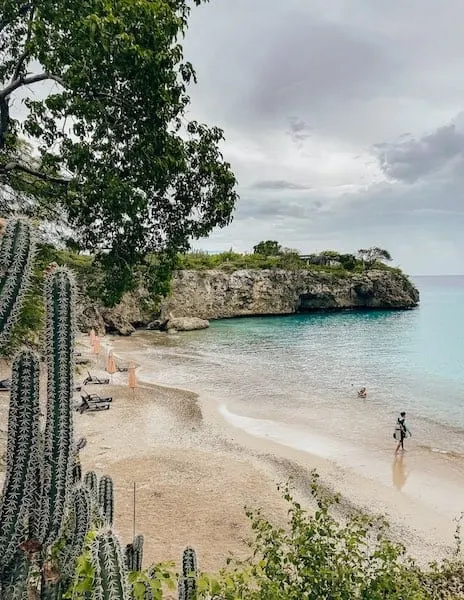 The sky was a bit overcast still when we made it to Playa Jeremi in Curacao, but it was still beautiful here. As we gathered our things in the parking lot, we watched as a man with his scuba gear walked into the water, disappearing.
The beach has some beach chairs and umbrellas that you can rent. It was quiet, but not sure if it's always like this or if it was a product of the rainy day.
There was some great snorkeling here, too.
Playa Jeremi | Google Map It
Grote Knip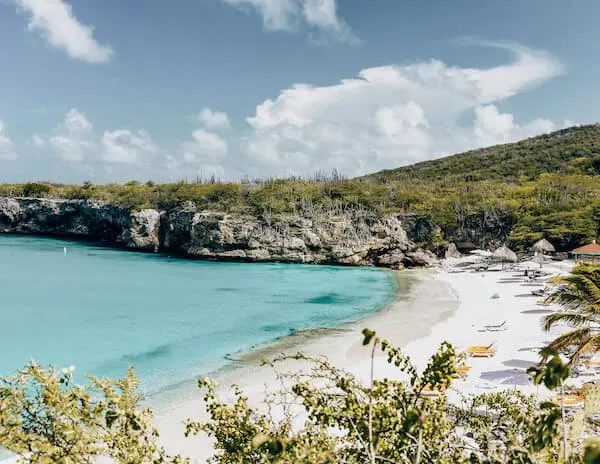 Absolute pristine water and is worth the drive north to visit this beach. Snorkeling, according to hubby, is some of the best yet. You may also spot a turtle!
You can rent chairs here. Since we were beach hopping the Curaçao beaches and not staying too long, we didn't.
There is a snack bar and a bathroom you will need to pay to use.
Grote Knip | 9R2X+PC Sabana Westpunt | Google Map It
Tour Ideas:
Swimming with Sea Turtles & Grote Knip Beach [book here]
Playa Forti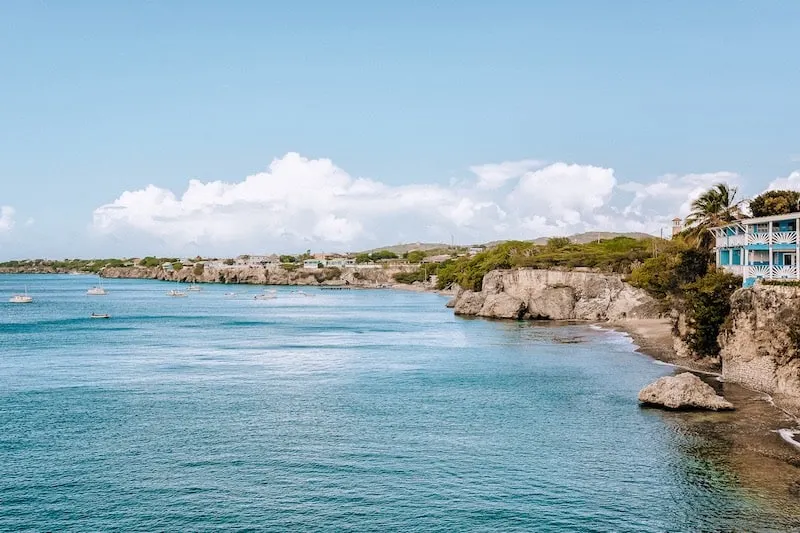 When we went for lunch at Blue View Sunset Terrace, we found Playa Forti. So after lunch, you can guess where we spent a good portion of our time.
There is a spot you can watch people cliff-jumping from; the local teens were having a great time. We chose not to but were entertained watching during lunch.
Playa Forti | Sabana Westpunt, Curaçao | Google Map It
Cas Abao Beach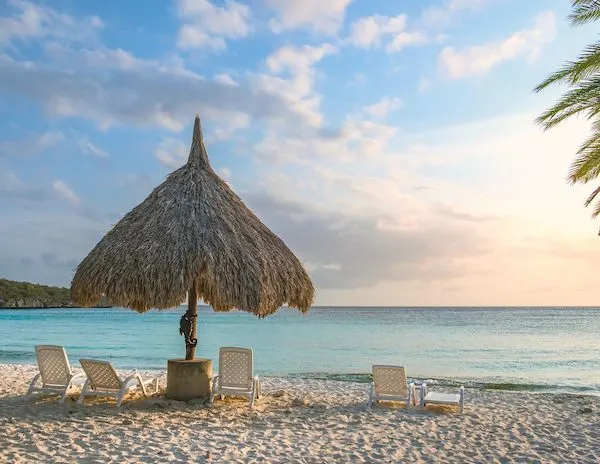 Are you looking for a resort-style beach in Curaçao? Or a beach to have lunch and lounge for the rest of the afternoon? Cas Abao Beach is a great option.
You can get off the cruise and head straight to this beach to lounge under a palapa for the day. This beach has it all: massages, snorkeling, kayak rentals, a beach bar, and a restaurant.
Cas Abao Beach | 6WH5+64 Willemstad, Curaçao | Google Map It
Explore Willemstad, Curaçao
One of the best things about this port is you can leave your cruise and, in minutes, be in Historic Willemstad, a UNESCO World Heritage site. So if visiting the Curaçao beaches or touring the island doesn't interest you, you can take a free walking tour of this dutch town filled with European colonial history.
After our day of beach hopping, we returned to the car in the late afternoon and then to the ship to freshen up. Our cruise ship didn't leave until 8 pm, so we had a few hours to explore Willemstad. Since it stopped raining, we wanted to make the most of the port.
We did not explore Willemstad at the best time as the markets and shops started closing. However, we got a feel for this beautiful town. It was reminiscent of San Juan, Puerto Rico, with its historic, colorful architecture and cobblestone streets.
The 19th-century Rif Fort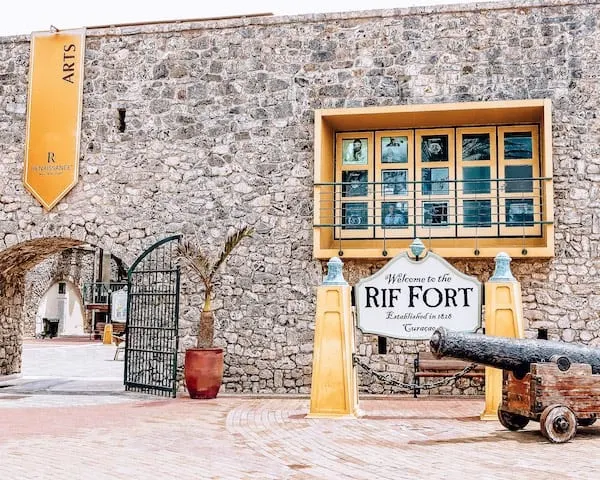 On your way to historic Willemstad, Punda, you will walk through the 19th-century Rif Fort. What was once a fort built to defend the island from pirates is now a shopping mall. You will find a variety of shops, bars, and eateries here.
Queen Emma Bridge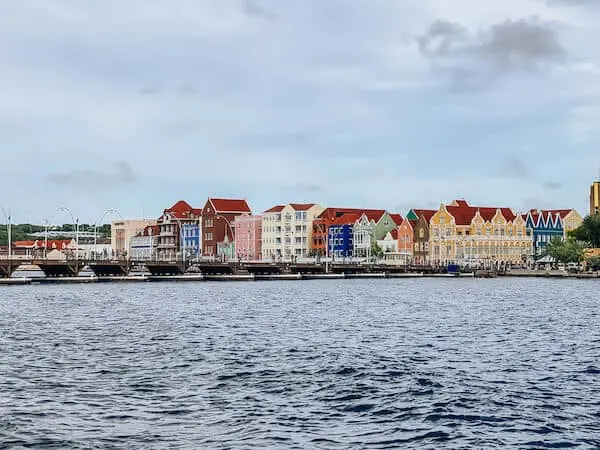 We didn't know the Queen Emma Bridge was a popular attraction until we started walking from the Otrabanda to Punda. This floating bridge connects the two sides of the city. And you may want to make it to Punda to explore; it's where you'll find the colorful town you see in photos.
As I was saying, we started to cross the Queen Emma Bridge, and in the middle of our crossing, a horn went off, and the barriers at each end of the bridge closed down. We had no idea what was going on. To say we were bewildered would be an understatement. Everyone around us was either as confused or completely overjoyed by what was about to happen.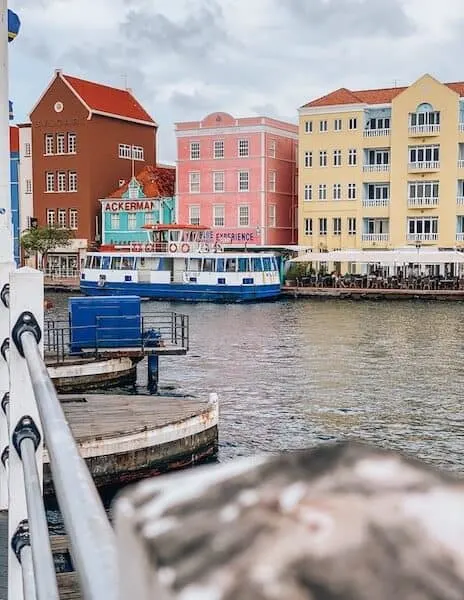 Beneath us, our feet, we felt a sudden vibration. Within minutes the bridge began to move in a lateral position to give passage to another boat through St. Anna Bay.
Right place and the right time. We enjoyed the unexpected experience.
Fun fact: The Queen Emma Bridge is also known as the Swinging Old Lady.
Explore Historic Willemstad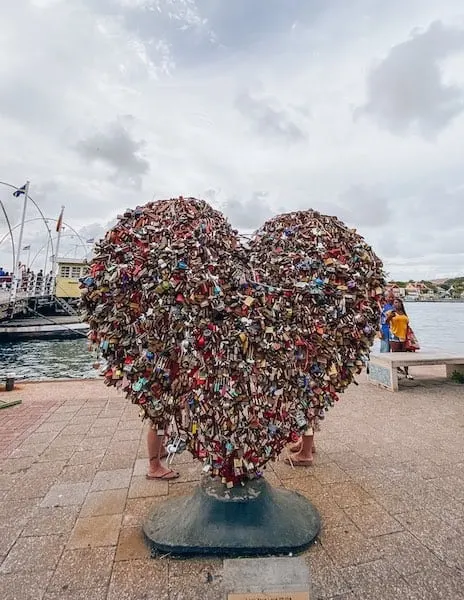 Once you're off the Emma Bridge and in historic Willemstad, you will quickly see the "Lock Your Love" sculpture to your left. Like in Paris, you can take a padlock and secure it to the sculpture.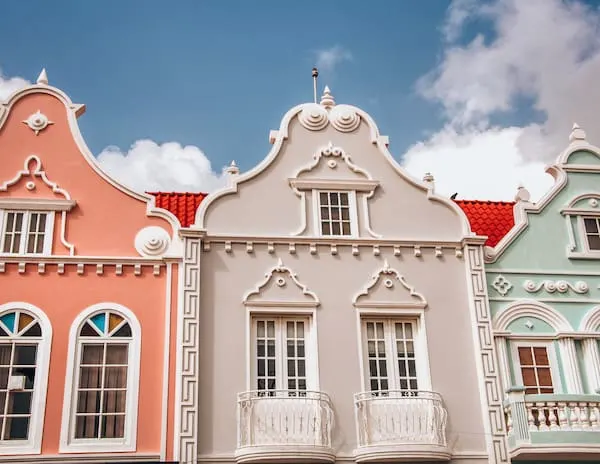 When exploring Willemstad, you want to look at Dutch European architecture. Colorful Willemstad is worth walking through. You will find lots of shopping and tourist shops.
Curaçao Sign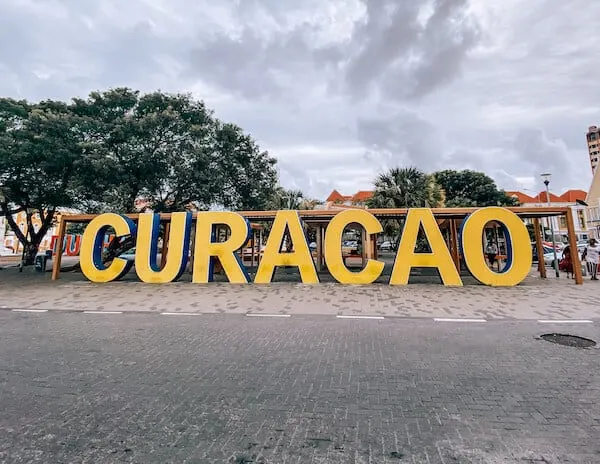 On the Punda side, you will also find Curacao sign the further you walk into town. In the same square, you'll find the justice buildings and police station.
The Floating Market
Sadly, this is permanently closed. We were so disappointed.
It's one of the things in Curaçao we were looking forward to the most, and we found out that it no longer exists. We figured we'd let you know, just in case you had it on your list or heard of it.
We missed this, but here are some things you can fit into your itinerary if you're planning a day in Willemstad:
Curaçao Tours You Can Take from Willemstad
Not interested in beach hopping or exploring Willemstad? Been there and done that, but you're looking for something adventurous. Perhaps one of these Curaçao shore excursions will pique your interest.
Tip: Don't wait to book a tour. As cruise or travel dates approach, the best tours get booked quickly. 
Read more: 11 Helpful Tips for Booking Shore Excursions Independently
Where to Eat in Curaçao
Blue View Sunset Terrace
It started to rain again after leaving Grote Knip, so we decided to break for lunch. We came across Blue View Sunset Terrace right at Playa Forti, and with everyone coming and going from the parking lot, we decided it had to be good.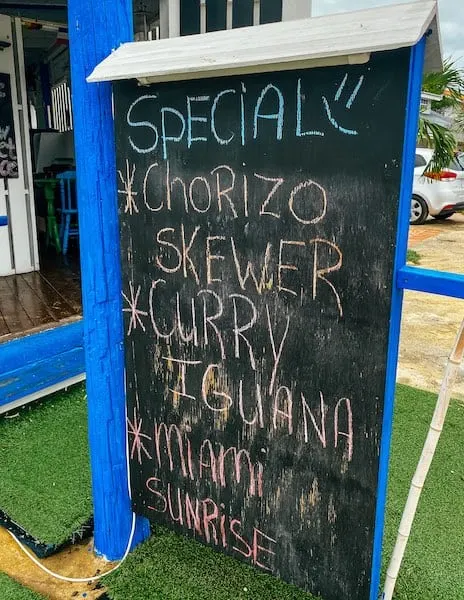 This eatery was super casual with island vibes and the best ocean view. On the menu, they had iguana. I could not get myself to try it. Where I come from, the iguana is not normally -I mean, ever- on the menu.
Have you tried iguana? How do you like it?
What we also loved about this restaurant is that the terrace has the most amazing views of Playa Forti. We sat at the counter, facing the ocean, and watched cliff jumpers dive into the water on the other side of us.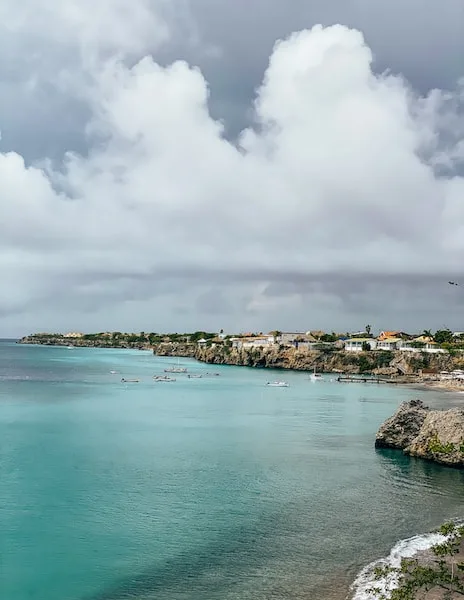 You're probably not going to be impressed by what we ordered as we didn't venture outside what we'd eat back home. That's okay because we enjoyed our Blue View Sunset Terrace lunch.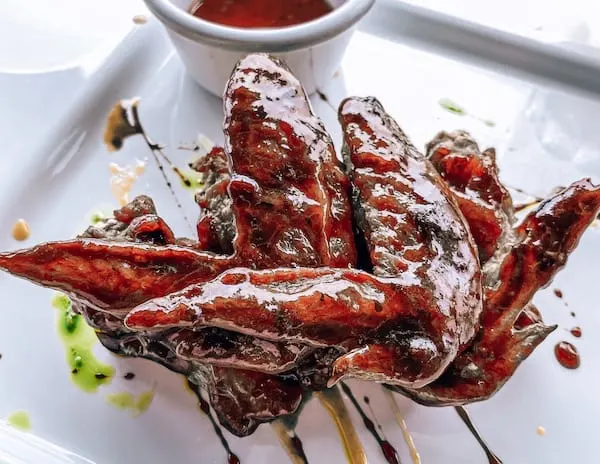 The BBQ chicken wings were one of the best I've ever had. They were crispy, not soggy, and their homemade BBQ was sweet, smokey, and just fantastic. I enjoyed them.
I had some of hubby's fries, and they were cooked perfectly. Everything was great tasting and of great quality.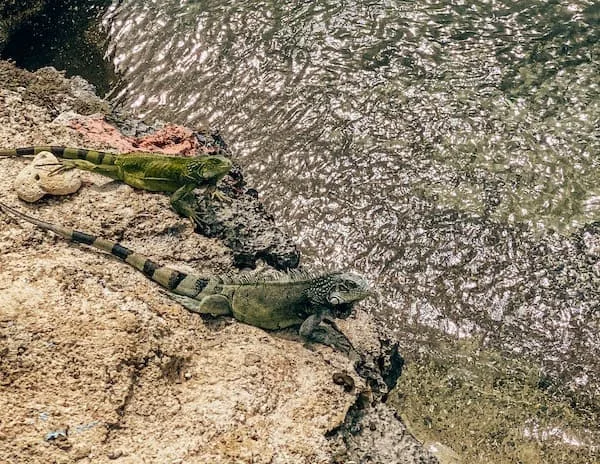 Blue View Terrace | Weg Naar Westpunt, Westpunt | Google Map It
Old Market at Plasa Bieu
We did not make it to the Old Market in Willemstad. However, it is on my list for authentic Curaçaoan eats. If you're exploring Willemstad and hungry for lunch, head to the Old Market.
Try one of the many food stands serving some local classic eats. Enjoy it on one of their picnic tables and maybe do some souvenir shopping when you're done.
Note: The Old Market is not open on Sundays.
Old Market at Plasa Bieu | De Ruyterkade, Willemstad | Google Map It
Share the tips & love on Pinterest: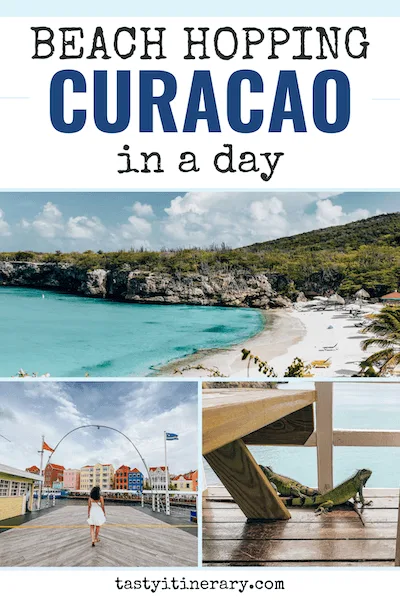 Meet Kathy Ava, a food, travel, and cruise writer based in Los Angeles/Pasadena, and the owner and main writer of Tasty Itinerary. With over 20 years of experience planning trips and logistics at her full-time job and for herself, she's become a pro at crafting unforgettable tasty itineraries. She's always on the hunt for delicious, fun travel destinations and cruise itineraries. She firmly believes that life is short and we must make the most of it, so always say yes to dessert.