Are you planning one day in Key West, Florida? See how to get the most out of this beloved popular destination in less than a day in Key West.
It feels like ages ago when we spent a day in Key West, Florida. The last time we cruised with the Celebrity Equinox, at the end of of 2019, we had the pleasure of spending a day here.
And then we recently returned in 2021 after spending four days in the Florida Keys, calling Islamorada home base. We made the drive down to Key West for the day.
We are so happy to have these memories and experiences to look back on. While we do, we want to share how you can spend one day in Key West.
Whether your future cruise is landing there for less than a day in Key West or taking a Key West day trip, these activities or foodie spots may be the inspiration you are looking for.
The things to do and see in Key West are endless. You're probably overwhelmed trying to figure out your day. While this post is based on our one day in Key West, Florida, we also give you alternative options and ideas to plan your day in Kest West.
Is one day enough in Key West? It's just enough to get a taste and have a great enough day that you'll start planning your next trip to Key West.
You can spend it sitting by the ocean with drinks in your hand at a nearby bar, like Sunset Pier. Or visit one of the many historic landmarks we did.
Planning and booking a fun excursion is always a good idea. You never know what you can discover walking around and exploring Old Town.
This post may contain affiliate links, which means we'll receive a commission if you purchase through our links at no extra cost to you. Please read full disclosure for more information. We appreciate your support!
Cruising to Key West
Cruising has restarted once again, and while some ships are running, Key West remains conflicted about whether to allow ships to dock at their port. These tips should help you navigate your time off the ship if your cruise does dock in Key West.
Key West was our last port-of-call on our Southern Caribbean Celebrity Equinox cruise in 2019.
It was hubby's first time in Key West, and I hadn't been there in years. The experience of driving from Miami and taking the 7-mile bridge is one I highly recommend. As well as the faster route, sailing in on a cruise ship.
Arriving on a cruise, you have enough time to do one or two of the following:
Explore Historic Key West
Drinks at Sunset Pier
Beach day at Fort Zachary or Higgs Beach
Take a shore excursion
Cruise Tip: Do not forget your government identification, passport, or cruise ID when leaving the cruies ship. The port authority in Key West will check all IDs prior to boarding. 
Here are the top 12 reasons why cruising is so much fun! From the activities on board to the destinations you'll visit, cruising is full of enjoyable experiences.
One Day in Key West, Florida
Can you drive to Key West for a day trip?
It is an easy drive to Key West for a day trip from the other Florida Keys. But, if you're staying in Miami or surrounding areas, you can attempt to drive down to Key West for a day trip. Remember that it is almost a 4-hour drive from Miami to Key West, and that's not considering stops or traffic. If you consider the return drive, it will be a long day of driving.
How do you spend a day in Key West?
A day in Key West can be spent in a variety of ways. If you want to maximize your time sightseeing as much as possible, we highly recommend doing the Old Town Trolley Tour to get around.
You can also focus on experiencing a few activities that may interest you in Key West, like Earnest Hemmingway Home, the Butterfly Conservatory, seeing the Southernmost Point and-or eating all the key lime pie you can eat.
What to do for a day in key west? Let's dive in on how to spend a day in Key West.
Old Town Trolley Tours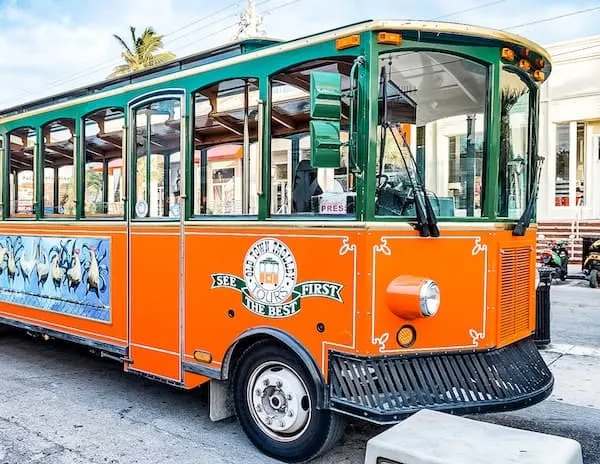 Every cruise veteran we spoke to on the ship suggested Old Town Trolly Tours.
A hop-and-off trolley takes you sightseeing around the old Key West and new Key West making stops along. You can hop on at any of their stops and then hop back on another trolly at another.
In the past, we've mentioned how we feel about hop-and-off tours. We are not fans. Usually not on our agenda since we have not had great experiences.
In big cities, traffic takes longer to get anywhere on those tours. It would have probably been faster than just taking a train or walking. Don't get me started on those audio headsets they give you that you can't hear or understand anything from—a complete waste of money most of the time.
Old Town Trolly Tours completely surprised us, and we're here to tell you it is worth the cost, especially for the short time you're in town.
What we loved about Old Town Trolly Tours:
The trolleys have a vintage feel with wooden two-seater seats on each side.
It's open-air.
The drivers are locals that are SUPER nice and informative.
No audio headsets. The drivers are your tour guides and speak to you LIVE.
Every driver has their own local tips and stories to share.
We never felt like we were stuck in endless traffic.
We never waited for a trolley too long.
We got a tour of all the key spots around Key West, a recount of the island's history, stops we shouldn't miss, and some of the driver's favorite local foodie spots.
The tour itself lasts about 90 minutes.
With less than one day in Key West, we recommend you take a tour of the island first, note where you'd like to stop, and what you'd like to do when you circle back.
Where to buy tickets for Old Town Trolly in Key West? You can buy them online prior to arriving and save 10%, or you can purchase them at a shop in Mallory Square (Google Map it), which is also their #1 stop.
Key West: Old Town Trolly Tour Updates & Safety Information
The Ernest Hemingway Home and Museum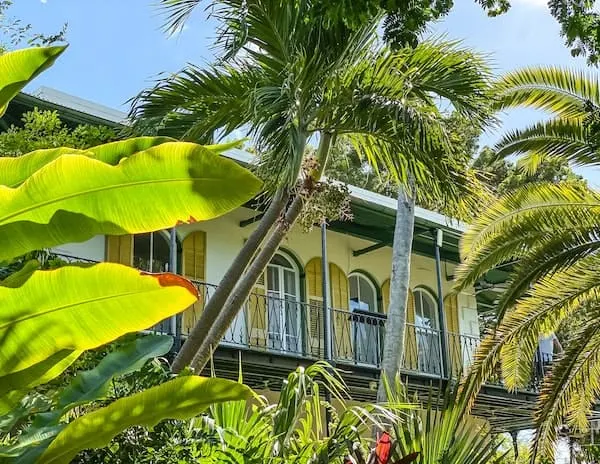 Visiting Ernest Hemingway's home in Key West was on our list. We didn't even know he had a home on the island until we started researching things to do in Key West. It sparked our interest.
As a bonus, there is a trolly stop nearby.
The beautiful estate is full of Hemingway's history, memorabilia, and tales of the infamous writer that loved Cuba, drank too much, and married one too many times.
While it was a fascinating and entertaining tour, it was also eye-opening.
Here are a few quick fun facts and things to look forward to:
Ernest Hemingway lived in this coastal home from 1931 to 1939.
There are about 60 cats on the property, all descendants of Hemingway's 1st six-toed cat.
He wrote the majority of his most-known work in Key West.
The swimming pool in his home was the first in Key West.
Don't miss Sloppy Joe's urinal-turned-fountain in his backyard,
Or his "last penny."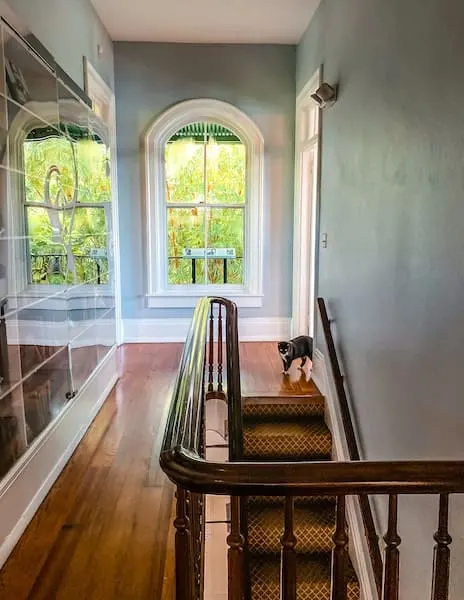 It was also nice and relaxing walking the lush grounds while we were there. It is kept up beautifully. At the time, there was seating in corners of the courtyard where you could sit, enjoy, and understand why Hemingway loved it there.
You can purchase your tickets in advance on their website or at the door. A tour is included with your ticket. Take advantage of the knowledge the guides have to share.
Time for a drink? Stop by Hemingway's watering hole: Sloppy Joe's.
Cost: $17 per adult, Cash Only
Open daily from 9 am to 5 pm
Guided tour included with entrance
Ernest Hemingway Home | 907 Whitehead St, Key West (Google Map It)
Old Town Key West
Hop-and-off is great, but if you have time, walk through the old town after leaving Hemingway's.
Did you know that over 3,000 historical buildings are in the old town of Key West?
If Hemingway's home doesn't interest you, here are some other points of interest to explore in Key West:
Southernmost Point
Mallory Square
Duval Street
Southernmost Point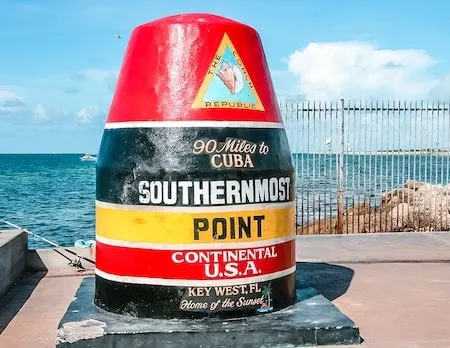 Don't miss the infamous southernmost point that marks the southern tip of the continental US.
Warning: there will more than likely be a long line for pictures. We decided not to wait in that line, but this is YOUR vacation. You decide what you want to stop and take pictures with. Do what feels best for you.
Other Key West Tours to Consider
If the hop-on, hop-off Key West trolly tour isn't something you'd like to do, you can book many other fun activities.
Having a shore excursion booked before getting off the ship or arriving in town on your one day in Key West is nice.
Read more: Helpful Tips for Booking Shore Excursions Independently
Food in Key West
The number one food in Key West to have is Key Lime Pie. Everywhere you go, you'll see signs for Key Lime Pie. Everyone sells "the best" on the island.
And we got our fill of Key Lime Pie when we returned a couple of years later.
On this day in Key west, we were looking to get a taste of Cuban coffee and/or any Cuban treats as it's not easy to find in Los Angeles. It's one of the things we always keep our eye out for when we are in Florida.
Cuban Coffee Queen
There is never a time that we turn down a cup of Cuban cafe con leche. We knew what we were having after our trolley tour when we spotted Cuban Coffee Queen.
We made a beeline to the closest one near Hemingway's and ordered two cafe con leches; mine was iced (it was hot out) and fresh warm Cuban bread with guava and cream cheese.
You guys, we were in heaven. This brought me back to my childhood having guava con queso with my kiddie version of cafe con leche while vacationing in Puerto Rico.
Don't you love the rush of memories food brings?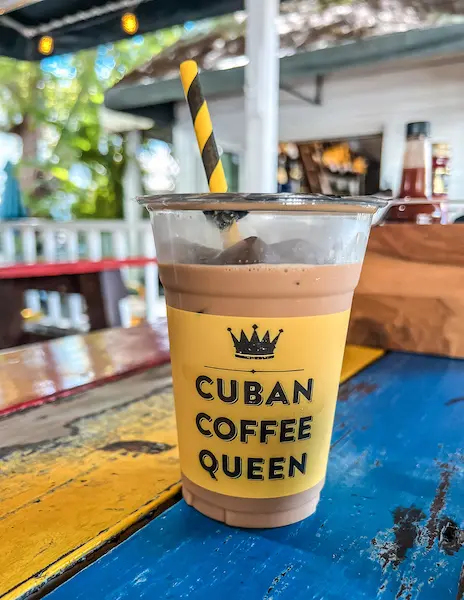 One thing we noticed that impressed us was the ice cubes in our iced cafe con leche were of coffee, not water. So as the ice melted on that humid hot morning, my iced coffee was never tasted watered down. It was the pick-me-up we needed to get us through until lunch.
We were back here recently, at the end of 2021, and had their Cuban sandwich. One of the best Cuban Sandwiches we have ever had. So add that to your list to try too.
We purchased a few pounds of coffee to take back home. You can also order their roasted coffee beans online and ship them home.
Cuban Coffee Queen | (3 locations) 5 Key Lime Square | 284 Margaret Street | Clinton Square Market
Salute on the Beach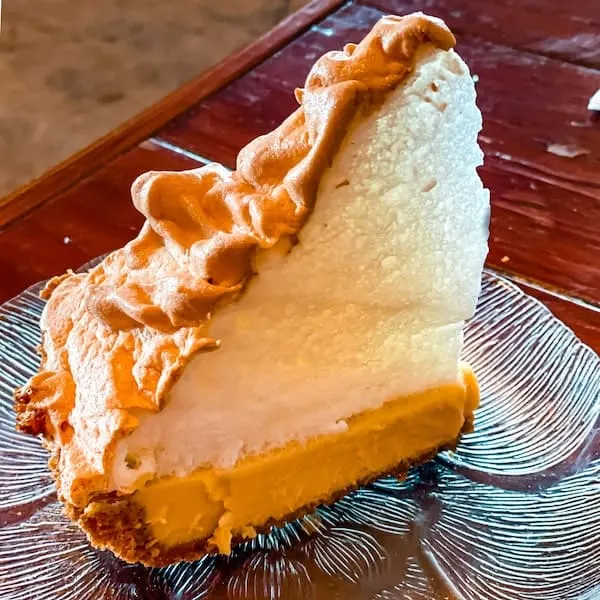 One of the drivers mentioned Salute on the Beach as a great spot to grab a bite to eat, and not only that, they are a sister restaurant of Blue Heaven.
From what we were told repeatedly, Blue Heaven serves one of the best Key Lime Pie in Key West, and so did Salute on the Beach. I knew where we'd have lunch.
We hopped back on Old Town Trolley and headed back toward the beach. This a casual restaurant on the beach. You can eat inside or outside, your choice. At the time, which we found surprising, it was not crowded, a plus.
We ordered their steamed mussels in Bianco, peel & eat Key West shrimp, a mojito, and a slice of their Blue Heaven Key Lime pie. It was all delicious and worth trekking back on the trolley for.
For someone like me who normally does not like key lime pie or any citrusy baked goods, I can tell you that Blue Heaven's Key Lime Pie gets five stars from me.
Next time we are in Key West, we definitely would like to make it to Blue Heaven.
Salute on the Beach | 1000 Atlantic Blvd, Key West, FL 33040 (Google Map It)
Sunset Pier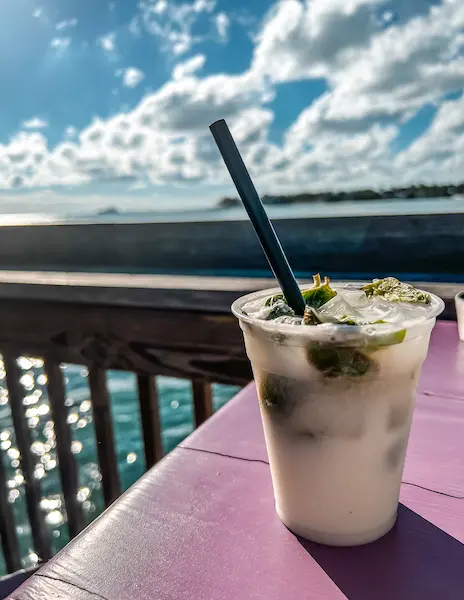 With only one day in Key West, you may want to stay close to the port. Another option is Sunset Pier, a restaurant and bar part of the Ocean Key Resort located in Mallory Square. I
It's the perfect location for oceanview drinks and a bite to eat. We were in Key West for a day during our most recent trip in 2022 and enjoyed sitting here in the afternoon.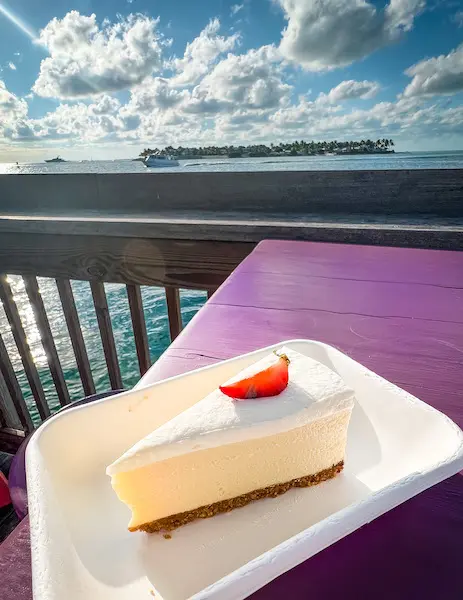 The coconut mojito went well with the pork belly tacos we ordered. The Key Lime Pie was surprisingly delicious.
Sunset Pier also has many seafood plates. It is pricey, but you are in Mallory Square, right by the ocean. It's a great spot to spend in until Sunset is over.
Sunset Pier | 0 Duval St, Key West, FL (Google Map It)
Other Key West Foodie Spots to try:
Blue Heaven because if their key lime pie is delicious, their food has to be as good as they say.
Better than Sex
Supposedly, it's the best dessert restaurant in town.
Pepe's Cafe
Told by a local it's a delicious fave, and President Truman ate there.
DJ's Clam shack
A Guy Fieri favorite and the home of the best lobster roll on the island.
Local food tours are always a fun idea if you're a foodie.
One day in Key West is a fun escape. While some parts can be touristy, it isn't bad. There are so many restaurants, bars, history, and plenty of things to see and do on the island for everyone.
Other Related Articles to Help Plan Your Florida Trip:
15 Fun Things to Do in Islamorada, Florida
Share the tips & love on Pinterest: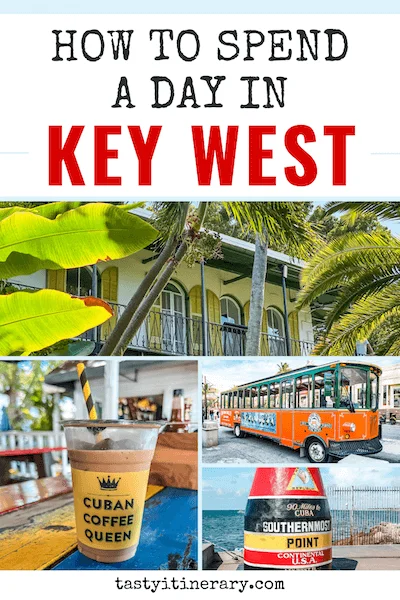 Meet Kathy Ava, a food, travel, and cruise writer based in Los Angeles/Pasadena, and the owner and main writer of Tasty Itinerary. With over 20 years of experience planning trips and logistics at her full-time job and for herself, she's become a pro at crafting unforgettable tasty itineraries. She's always on the hunt for delicious, fun travel destinations and cruise itineraries. She firmly believes that life is short and we must make the most of it, so always say yes to dessert.