Looking for the tastiest key lime pies in the Florida Keys?
If you're a fan of key lime pie, you're in for a treat – because the Florida Keys is home to some of the best key lime pies around. From up north in Key Largo to down south in Key West, there are all sorts of places to enjoy this iconic dessert.
Personally, I admit, I was never a big fan until I had a bite of Blue Heaven's key lime pie during our one day in Key West on a cruise vacation. Vowed that when I returned to the Florida Keys, I would try as many key lime pies as I possibly could.
When a destination is known for a certain dessert, I go all-in on the tasty itinerary and make it my mission to try that item everywhere I go. I just did this with beignets in New Orleans.
Recently, we vacationed in Islamorada for 4 days -after our New Orleans trip- and made that infamous drive over the 7-mile bridge to Key West. I had the pleasure of indulging in more than a few key lime pie slices to share with you.
Where can you find the best key lime pies in the Florida Keys? The best can mean differently to everyone. Some say it's Blue Heaven's. While I did enjoy theirs, I really loved the one from Ziggie's. While my husband thought Mrs. Mac's Kitchen was the best.
So really, you're going to have to make that trip and see for yourself. I can guarantee that the key lime pies listed in this post are some of the tastiest and you will enjoy them all. You can use this list as guidance, but I do suggest trying other locations that you may come across during your visit.
Without a doubt, while visiting the Florida Keys, one must-do activity is enjoying a slice of key lime pie. You're not going to want to miss out. You'll find key lime pie being sold almost everywhere you go.
This iconic dessert is beloved by locals and tourists alike for its tartness, sweetness, and creaminess. The one tip I can give you when you're out on your key lime pie quest is to run from any pie that is neon green. That's not authentic or natural key lime pie.
There is even a vegan key lime pie on this list that our blogger friend kindly shares with us in this post.
Here are 6 of the tastiest key lime pies in the Florida Keys starting from Key West going north to Key Largo.
Key Lime Pies in the Florida Keys
Key Lime Pie in Key West
1. Blue Heaven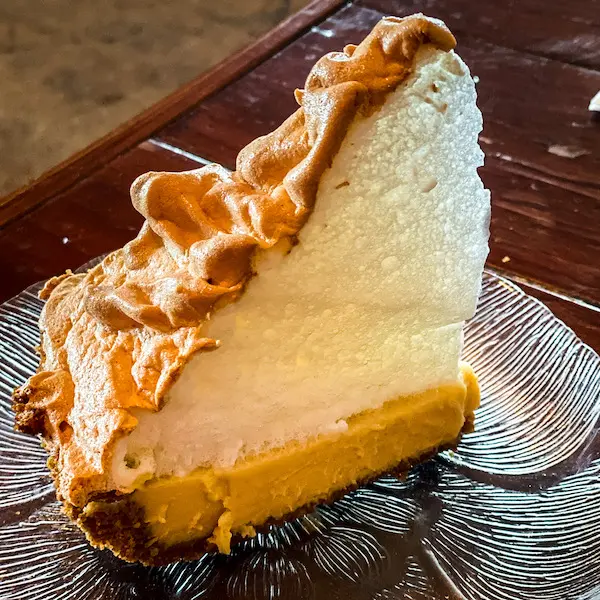 Blue Heaven is considered one of the best key lime pies in the Florida Keys. Or should I say, the best key lime pie in Key West? It is definitely popular and loved with reason.
Their key lime pie comes piled high with lightly sweet meringue that's perfectly toasted on top and basically a work of art. Usually, I'm not a fan of meringue, but I made an exception for this pie.
The graham cracker crust is buttery and crumbly. Pairs well with the key lime pie filling with its light and airy filling that has a subtle tartness and is not overly sweet.
We originally got to have a slice at Blue Heaven's at their sister restaurant – Salute! On the Beach. They serve Blue Heaven's key lime pie. So, if you can't make it to Blue Heaven or the wait time is busy, but all you want is their key lime pie, head over to Salute! We had a fantastic lunch here when were first visited Key West as well as the infamous pie.
Can't get to Key West fast enough? Make your own Blue Heaven Key Lime pie at home with CDKitchen's recipe.
2. Sunset Pier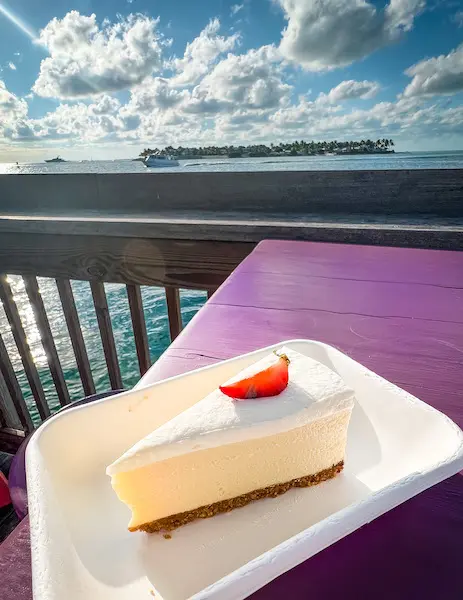 Have a delicious slice of key lime pie with a view.
The Sunset Pier is a great spot for drinks and a bite at any time of day. It's colorful, it's casual and more importantly, it has a great view of the ocean. What I didn't expect to find here was a fantastic slice of key lime pie.
The slice they serve is simple and even elegant if it wasn't on a paper plate. But, the pie itself had the texture of a light cheesecake with a subtleness of key lime.
I especially enjoyed it with the cashew graham cracker crust. You can definitely taste a hint of the cashew.
Things to do in Islamorada, Florida
Ready to explore the other Florida Keys? Islamorada is a great home base – or day trip – from Key West. With plenty of fun things to do, you can plan a fun-filled vacation in the Florida Keys. Check out our list of the best activities in Islamorada.
3. The Cafe Key West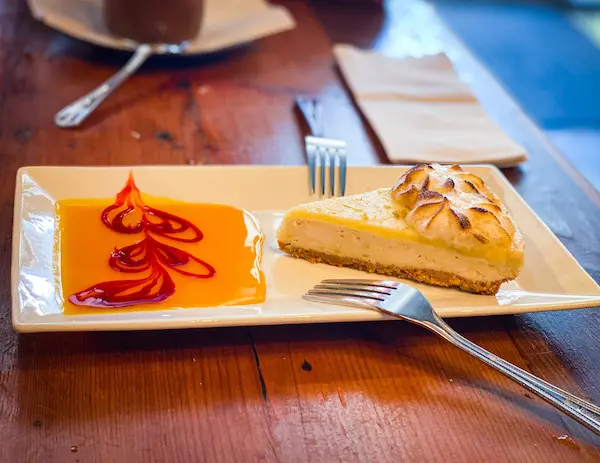 Vegan and would still like to try a good key lime pie during your trip to Key West? The Cafe in Key West has you covered with a tasty key lime pie cheesecake.
The Cafe is a mostly vegetarian restaurant serving what they claim is the only vegan key lime pie in Key West. We must state that the key lime pie at The Cafe is vegan, but NOT gluten-free.
Our friend, Christine from Uncorked Asheville, was recently in Key West and was able to enjoy a slice of this vegan key lime pie. We appreciate her sharing the photo above and her experience as I trust her judgment when it comes to fantastic vegan eats and food in general.
Key Lime Pie in Islamorada
4. Ziggy & Mad Dog's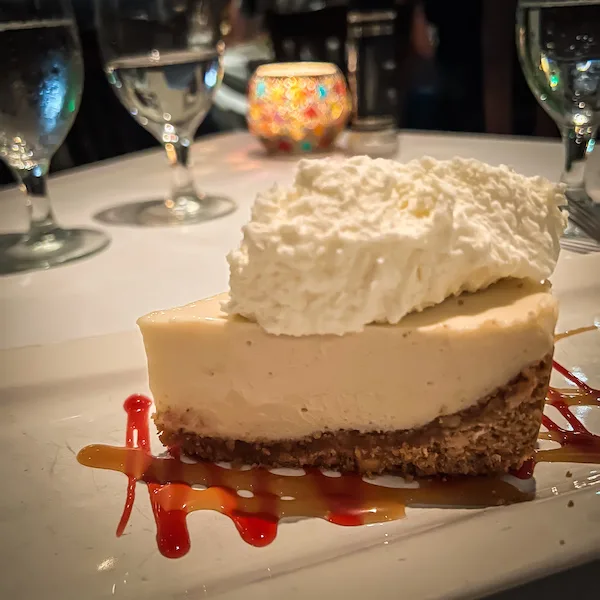 While Ziggie's does serve an excellent bone-in ribeye, make sure to save room for their key lime pie. This pie was thick and had more of a consistency of a cheesecake. It was the right amount of sweetness and the right amount of key lime laced into each delicious bite.
The walnut and graham cracker crust is thick and crumbly, and oh so perfect. If you love a good crust, this one has it.
The pie is topped with coconut whip cream tieing it all together for what I consider is the best key lime pie in Islamorada.
5. Lazy Day's Restaurant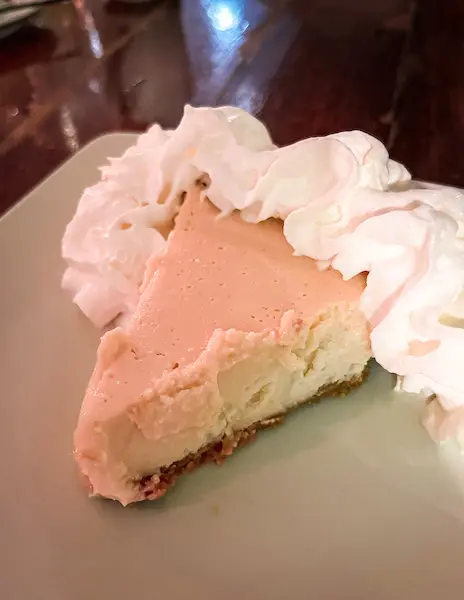 Lazy Day's restaurant wasn't the prettiest key lime pie in the Florida Keys, but it was definitely one worth adding to this list. We actually enjoyed the pie more than we did our dinner.
After deducting a few points for the sloppy presentation and canned whip cream, the pie itself is great. It was creamy, it was slightly tart and sweet, but not in the way that will give you a toothache.
While I do suggest Lazy Day'sfor drinks at sunset, if you are traveling sober, pie is a great substitution for drinks. Consider having key lime pie at sunset.
Not feeling like a key lime pie? Try their key lime martini.
One Day in Key West, Florida
Planning a day trip to Key West, Florida? Check out how to best spend your day in Key West. Take a trolley tour, visit the Heminway museum and see where to enjoy a great piece of Key Lime Pie.
Key Lime Pie in Key Largo
6. Mrs. Mac's Kitchen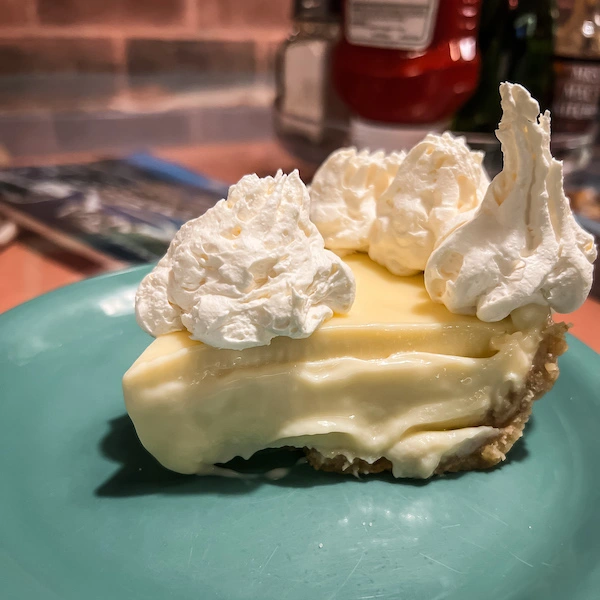 This is the last key lime pie we had before leaving Key West. Mrs. Mac's Kitchen delivers one of the creamiest pies you'll probably have, but also one that will have you puckering your lips. The tartness and sweetness of this one is delicious. You can absolutely taste the key lime in this one.
I love that this pie has what feels like a top custard layer when you cut into it. It's smooth on your tongue until that citrusy flavor of the key lime cut through.
If you're not a fan of meringue, you'll love that this one is topped with homemade whip cream.
This was by far hubby's favorite of all the key lime pies in the Florida Keys.
Now, it's time to find for you to find the best Key Lime pie in the Florida Keys. Which one will you try first?
What is your favorite Key Lime pie in the Florida Keys?
Don't forget to share the love on Pinterest: