Looking for things to do in Islamorada, Florida?
Islamorada is about 80 miles from Key West and about 80 miles from Miami. It's a village of 6 islands of the Florida Keys. So when planning a Florida Keys trip, Islamorada center point between the southernmost point and the mainland.
It was the perfect home base for us when we planned our trip to the Florida Keys. Our main goal was to experience the drive over the 7-mile bridge to Key West. Something hubby had never done, and I had not done since I was a child.
On our last cruise in 2019, on the Celebrity Equinox, we spent a day in Key West and fell in love. I knew we had to come back to try to finally experience the 7-mile bridge together and explore what the beautiful Florida Keys have to offer. It's basically a paradise in the continental US. It's like having the Caribbean much closer to home.
While we were familiar with the vibrant and lively island of Key West, we didn't know what to expect visiting Islamorada. We were surprised to find that kind of reminded us of Kauai, sans mountains, with its laidback vibes, coconut palm trees, lush flora, and kind locals. If anything, it gave us that zen feeling that we feel as soon as we land in Hawaii.
As you're driving through Islamorada, you admire the beauty and the peacefulness, and you might think there isn't much to do, but go fishing.
With only 4 days in Islamorada, with one dedicated to the drive down to Key West, we quickly realized you could spend two weeks here and not get to do everything. In reality, after a day, you'll want to stay on a permanent vacation.
This post may contain affiliate links, which means we'll receive a commission if you purchase through our links at no extra cost to you. Please read full disclosure for more information. We appreciate your support!
Is there anything to do in Islamorada?
YES. It is peaceful compared to Key West but there are plenty of things to do in Islamorada. From water activities, museums, and some great eats.
Is Islamorada worth visiting?
Absolutely. It all depends on what you're looking to do and what you're expecting during your time there.
Is it better to stay in Key Largo or Islamorada?
You can't go wrong with either Key. They are both great in their own ways and not far in driving distance from one another. Islamorada is just a great midpoint to the Southern Keys if you're planning to spend more of your time that way. Key Largo is definitely more populated and closer to Miami.
Does Islamorada have a downtown? It does not have a typical downtown area.
Is Islamorada walkable?
No. We highly recommend a vehicle to get around. Unless you book a hotel that offers a shuttle service to nearby establishments. For example, the hotel we stayed in, Amara Cay Resort, offers a shuttle service. Something to keep in mind when booking a hotel.
When is the best time to visit Islamorada?
Locals will tell you it's the summertime because it's the best time to do all the water activities and I can't disagree as we ran into some storms there in October.
However, there is something to be said about traveling in the off-season around Sept-Oct or Apr-May. The weather is not blazing hot and the humidity isn't as high as in the summer. Kids are also in school, which means fewer crowds.
What are the top attractions to visit in Islamorada?
In this post, I'll share all the fun things to do in Islamorada so you can plan your itinerary with your favorite activities. As well as a few places to eat and where to stay in Islamorada.
Things to Do in Islamorada
1. Charter a Boat
Thinking about chartering a boat?
Chartering a boat can be quite pricey, but if you can swing it and use the time wisely, you can do many of the activities below. Check out the sand bars, snorkel, fish, visit Alligator Reef Lighthouse, and more.
A private tour allows you the freedom to do what you want in the time that you have the charter for. Plus, spending time on the water as beautiful as it is in the Keys is glorious.
Who did we book a private charter in Islamorada?
We booked a private charter with Reef Quest Tours. They are also one of the few that have shared boat tours (if you're on a budget) and if available.
Jill and Captain Trevor showed us a great time. It rained on the day we booked, but they kindly had us back again the next day for a small redo. Their boat is brand new and clean. The captain is friendly, informative, and knowledgeable. We highly recommend Reef Quest Tours.
2. Experience the Sandbars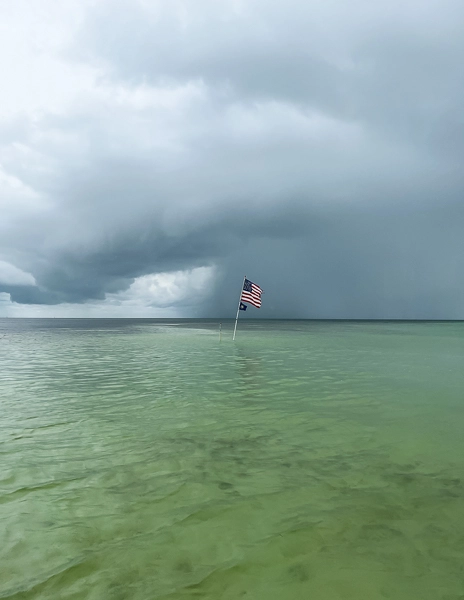 One of the most popular things to do in Islamorada is sandbarring. You'll need a boat to check out the sandbars.
This was my #1 reason to charter a boat and not going to lie (I like to keep it real always), the most popular sandbar was disappointing. The sandbar is underwater and not like many of the old photos you see out there. It has changed with time. The water is a couple of feet deep and will come halfway up your shin.
However, it is still neat to be able to walk in the middle of open water – the water is clear. This has also not stopped locals and tourists alike to spend time on the sandbars, enjoying themselves. I was told during the busiest days in the summer, there could be hundreds of boats gathered around the sandbar having a good time.
Since we visited in October and it kept raining on and off, it was sort of quiet. So it was nice to hang out with a drink and snack, enjoy the beautiful water and people watch.
3. Alligator Reef Lighthouse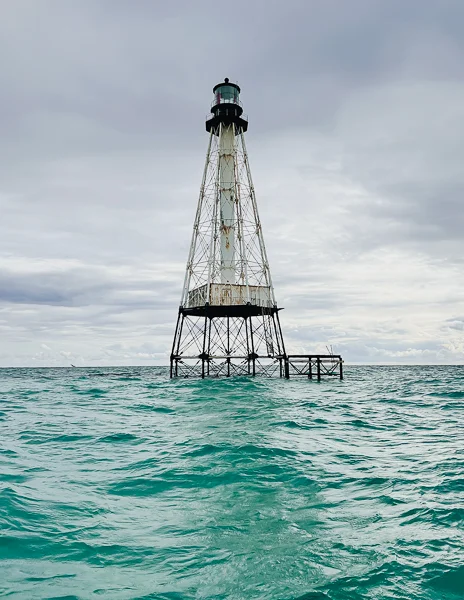 This is no longer a working lighthouse. Due to modern technology, Alligator Reef Lighthouse closed down years ago, but it remains to be part of one of Islamorada's historic sites.
Today, Alligator Reef is one of the top spots to snorkel and dive in. The coral reef is part of the Florida Keys National Marine Sanctuary. On a clear and bright day, the water surrounding it is a brilliant Caribbean blue that will amaze you.
There are snorkeling tours you can book that will include Alligator Reef if you're not chartering a boat.
Planning a day trip to Key West, Florida? Check out how to best spend your day in Key West. Take a trolley tour, visit the Heminway museum and see where to enjoy a great piece of Key Lime Pie.
4. Go Fishing
Fishing is not our thing, but it may be yours. Islamorada is known as the sport-fishing capital of the world. There are plenty of fishing opportunities. It may be best to book a fishing excursion to take you out to the best spots. Also, equipment is included with these tours.
If you've caught any fish, you can bring it to a local restaurant to prepare for you. Lazy Days Restaurant in Islamorada is known to cook your catch.
5. History of Diving Museum
One of the things to do in Islamorada is to visit the History of Diving Museum. If you love diving or have any interest in diving, this is a great spot to spend 2-3 hours of your day in this hidden gem.
Learn the history of diving and breathing underwater. See how much diving equipment has changed throughout the years and how much the technology has progressed.
Do you scuba dive? Coincidently, hubby got scuba certified in La Romana, Dominican Republic, days after leaving Islamorada.
History of Diving Museum | 82990 Overseas Hwy, Islamorada | Google Map It
6. Book a Kayak Tour through the Mangroves
Love to be on the water? A kayak tour through the mangroves is a fun activity that you can do in tandem with your travel partner. I'd say it's one of the fun things to do in Islamorada for couples.
Travel through mangrove tunnels and experience the magic of the keys. Spot manatees and other sea life as you partake in this adventure.
We booked a Clear Kayak Tour and unfortunately, we missed out on our kayak tour due to bad rain. This is still on my list for next time. I would love to hear about your adventures.
7. Watch for marine life at World Wide Sportsman Docks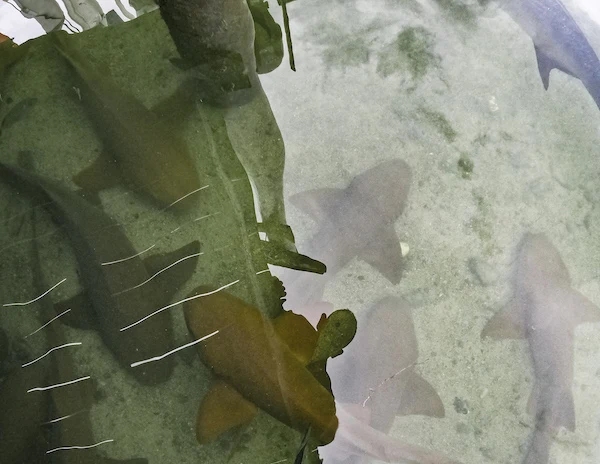 Right behind, the Bass Pro World Wide Sportsman is a marina and a great place to watch the marine life. It's one of the free things to do in Islamorada. Cautiously stroll around the docks, look over them, and spot the large fish, nurse sharks, manatees, and stingrays. We were able to see all of this during a short period there.
You may need to be patient to see a manatee, but the moment you look over the dock, you will definitely see fish. Just by our experience, you never know what you can find lurking around the docks.
World Wide Sportsman | 81576 Overseas Hwy, Islamorada | Google Map It
8. Feed the Tarpon at Robbie's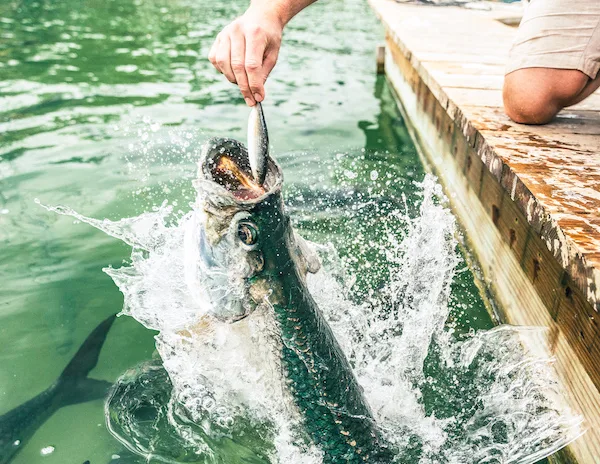 Robbie's is a popular restaurant and tourist attraction in the marina of Islamorada that caters not only to diners. From their docks, you can feed the tarpon and perhaps get a glimpse of other marine life.
A great family-friendly activity that the kiddos will love. It's $2.50pp to get on the docks and $4 for fish. Tip: Visit in the EARLY morning to avoid the crowds.
You can also book different types of fishing excursions, rent kayaks and boats, and book other activities like jet skiing, snuba, parasailing, and more.
Robbies | 77522 Overseas Hwy, Islamorada | Google Map It
9. Drinks at sunset at Lazy Days Restaurant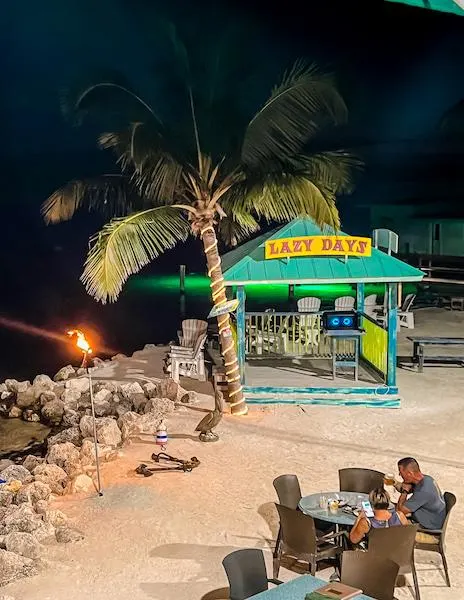 Looking for romantic things to do in Islamorada? Plan on beach drinks and sunset at Lazy Days Restaurant.
All outdoor seating at Lazy Days has a great view. But you can get there early if you wish to get a table on the beach or in the front of their outdoor porch upstairs. You'll have a great look at their beach area and the horizon.
We made it just after sunset as we enjoyed the sunset from our hotel right next door. It was spectacular.
Lazy Days | 79867 Overseas Hwy, Islamorada | Google Map It
10. Florida Keys History and Discovery Center
How much of the Florida Keys history are you familiar with? At the Florida Keys History and Discovery Center, you will find exhibits and informational movies on the history of the Keys.
This is a great stop for anyone that is new to the Keys or something to do on a rainy day. Find out more about the construction of the overseas railroad, the 1935 hurricane, the native Indians, pirates, the sea life and so much more.
Keys History and Discovery Center | 82100 Overseas Hwy, Islamorada | Google Map It
11. Meet Betty the Giant Lobster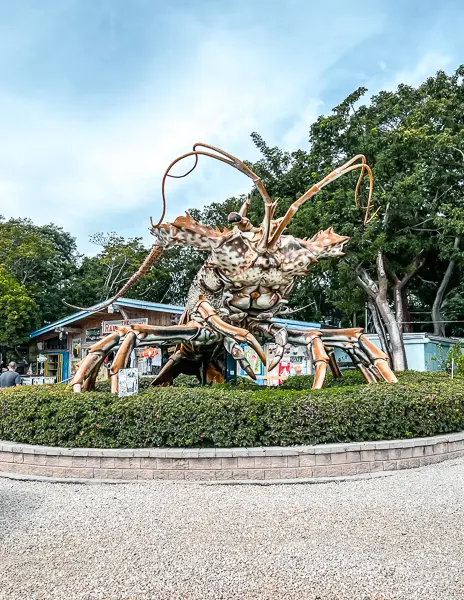 You'll either find Betty the Giant Lobster scary or cool. Either way, definitely an attraction in Islamorada that you won't miss driving down the Overseas Highway. Behind Betty is the Lobster Shack serving tasty lobster rolls.
Betty the Lobster | 86700 Overseas Hwy, Islamorada | Google Map It
12. Shop for Souvenirs at Rain Barrel Village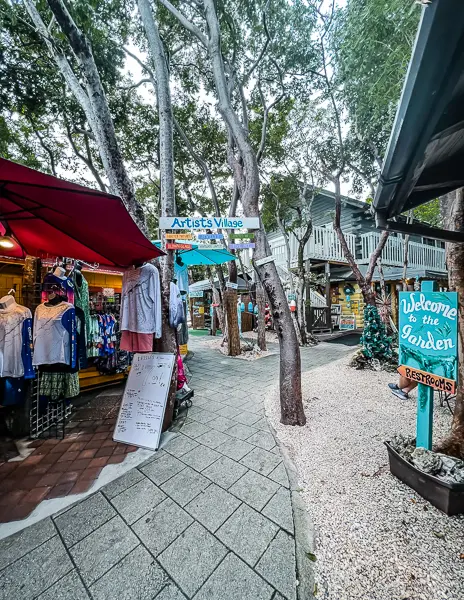 This fun, funky and colorful village is full of local eclectic shops. There is so much color, cool art, and neat little setups. It's a great place to do your souvenir shopping and find that one unique item to bring back home to your friends and family.
There is everything from woodwork, paintings, and glassblowing.
Rain Barrel Village | 86700 Overseas Hwy, Islamorada | Google Map It
13. Stop by Anne's Beach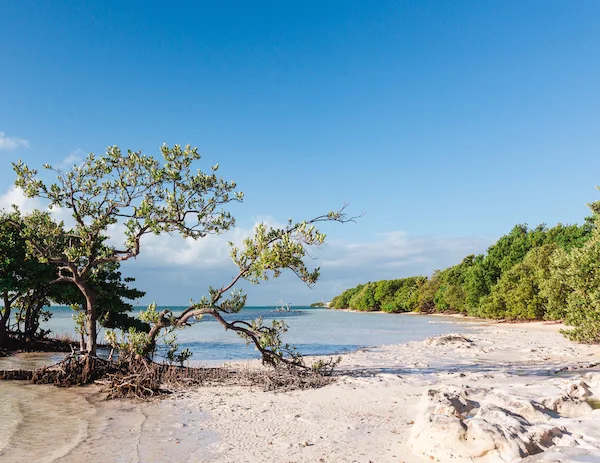 There are not many beaches in the Keys and if there are, I'm told by locals most are manmade. Anne's beach is one of the unique sandy beaches in the Keys. It's a small area and depending on the time of year, you'll probably find seaweed or it can be muddy.
The beach is shallow enough for kids to enjoy and great for a quick dip. Stop by to take a stroll on the boardwalk, enjoy the beauty of the water and spot those wonderful things that make mother nature so wonderful.
There are two parking lots with limited spaces, a boardwalk, bathrooms, and picnic tables. All that you can enjoy for free.
Fun fact: Anne's beach is dedicated to environmentalist Anne Eaton.
You can find more info on Islamorada parks, beaches, and preserves here.
Anne's Beach | Google Map It
14. Grab a Bite and Brew at Islamorada Brewery
While in Islamorada, stop by Islamorada Brewery for a flight of the local beer or try one of their cocktails like the Lavender Lemonade Vodka. Spanky's Kitchen (food truck) is parked at the brewery every long weekend from Friday to Monday – you don't want to drink on an empty stomach).
Behind the counter at the Brewery, you'll get a glimpse into the distillery. And there is plenty of outdoor seating and tables.
Islamorada Brewery | 82229 Overseas Hwy, Islamorada | Google Map It
15. Theater of the Sea
Theater of the Sea is a popular marine park in Islamorada that includes a variety of aquatic shows with dolphins, sea lions, and parrots. If you're looking for things to do in Islamorada for the family, Theater of the Seas is a great option.
Normally, I do not encourage attractions of this nature. However, I was educated by locals that Theater of the Sea is nothing like Sea World and takes great care and love of the animals they rescue.
This is a family-owned establishment that rescues and rehabilitates animals to be released, but in some cases, they can't because the animals have conditions that require long-term care.
If you plan to book an interaction, please see that Theather of the Sea has strict interaction policies to keep the animals safe.
Theater of the Sea | 84721 Overseas Hwy, Islamorada | Google Map It
A key lime pie is a must-eat when you visit the Florida Keys, Florida. Not all Key lime pies are created equal. Here are six delicious best key lime pie slices that will satisfy your pie-loving soul.
Restaurants in Islamorada or Nearby
We weren't overly impressed by the dining in the Florida Keys in general. Perhaps we were given bad recommendations. We definitely did not have enough time to visit all the places to eat in Islamorada.
However, there are a few spots that we quite enjoyed and would love to share with you. You can include them in your tasty itinerary as you'll definitely want to try the best key lime pie and bluestone crab when in season.
Ziggie & Mad Dog's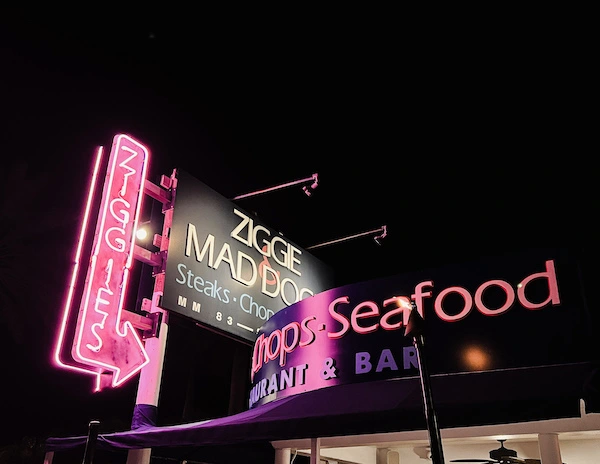 Ziggie & Mad Dog's is a peculiar name for a 4-star steakhouse. Because of its name and its bright neon sign, it caught our attention as we drove down the Overseas Hwy in search of food. We were fortunate to get seating without reservation. I have a feeling that during the busy season, you'll need to make a reservation.
If anyone in your party does not love seafood, Ziggie's is a great place for dinner as they are known for their steaks, chops, and seafood. Since hubby is a carnivore, we were able to have the best of both worlds.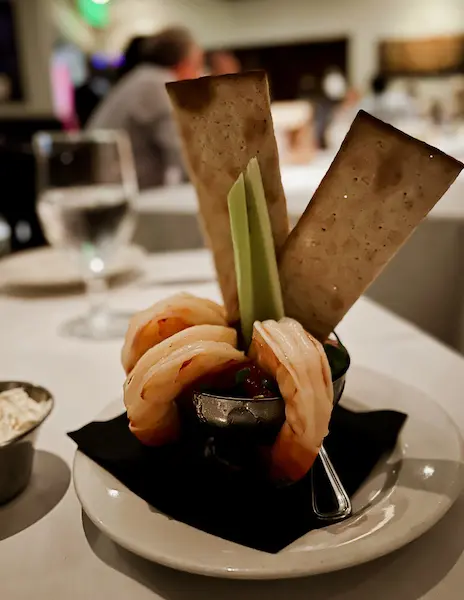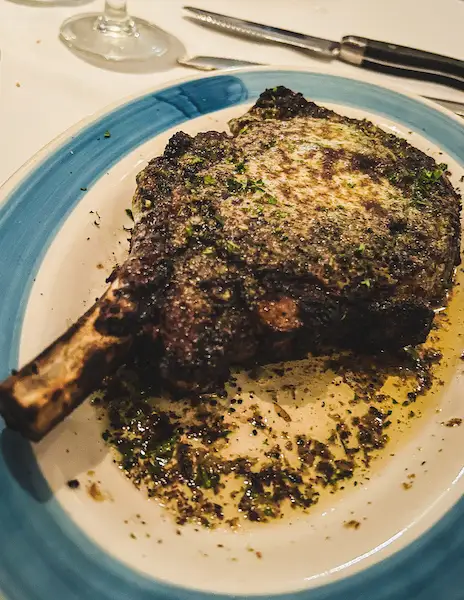 We ordered lobster bisque and shrimp cocktail as appetizers. And, a beautiful bone-in ribeye for our main entree. For dessert, in my opinion, we had the best key lime pies while in the Florida Keys.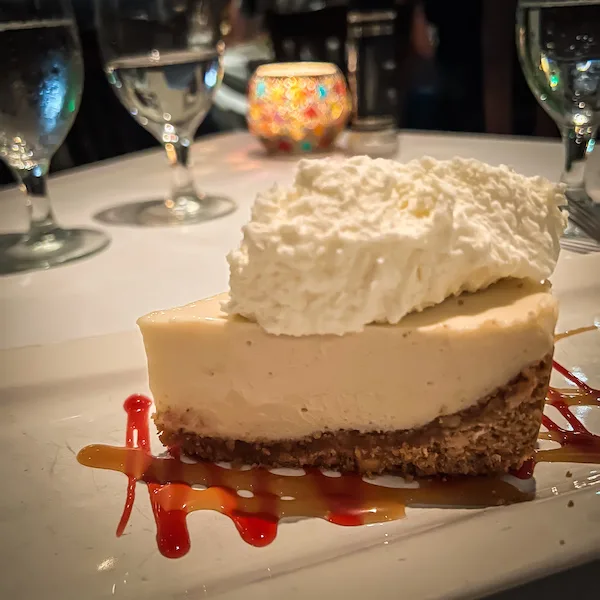 The food here was delicious and the best we had while in Islamorada. While it is on the more expensive side, it's a great spot to celebrate an occasion or have a beautiful date night. Also note, the main dishes and the sides are shareable.
Ziggie & Mad Dog's | 83000 Overseas Hwy, Islamorada | Google Map It
Mrs. Mac's Kitchen
Mrs. Mac's Kitchen has been on my list since watching Mike Chen from Strictly Dumpling. He claimed that their key lime pie was the best he's ever had. Everything else he ordered looked amazing, too.
When you first sit down inside Mrs. Mac's, you'll see it has a fun and kitschy vibe to it. Their menu is filled with so many choices that you may feel overwhelmed. But don't worry, they'll hand you a page of their most popular items to help you decide. On that page, there were crab cakes and I was so ready for them, but they sold out.
We ended up ordering their famous chili, an order of clams, lobster bites, and a fried shrimp basket. Everything was yummy. The chili was great, is it the best in the world? Not sure, but I enjoyed it. I really loved the clams.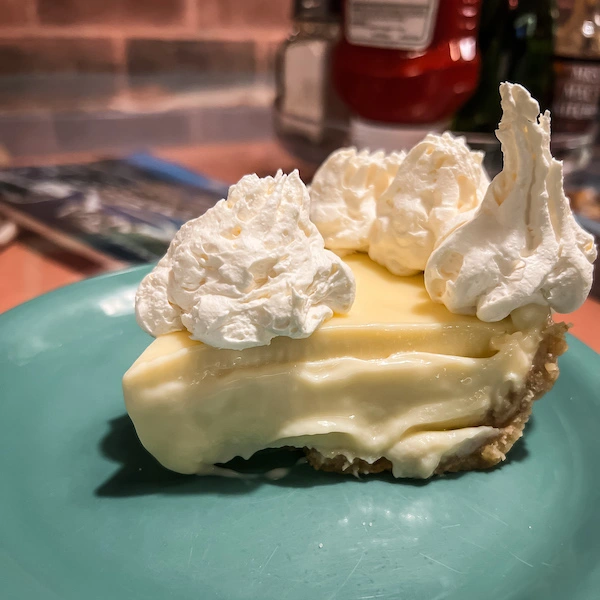 Now, the key lime pie… to hubby, this is the best key lime pie. I thought it was definitely amazing, but I still loved Ziggie's more. At Mrs. Mac's, I'll say that her pie definitely tasted more like key lime. It had a nice balance of sourness from the key limes that was not covered by sweetness. It was creamy and thick. Definitely one of the top 5 key lime pies.
Mrs. Mac's Kitchen | 99336 Overseas Hwy, Key Largo | Google Map It
The Mar Bar
Where to get bluestone crab claws? The Mar Bar.
The Mar Bar is not exactly a restaurant, it is a local raw bar in Tavenier. You'll find raw oysters, ceviche, and when in season blue stone crab claws. It is definitely a local spot for drinks and small bites to eat. This turned out to be one of my favorite places – thank you Captain Trevor from Reef Quest Tours for the recommendation.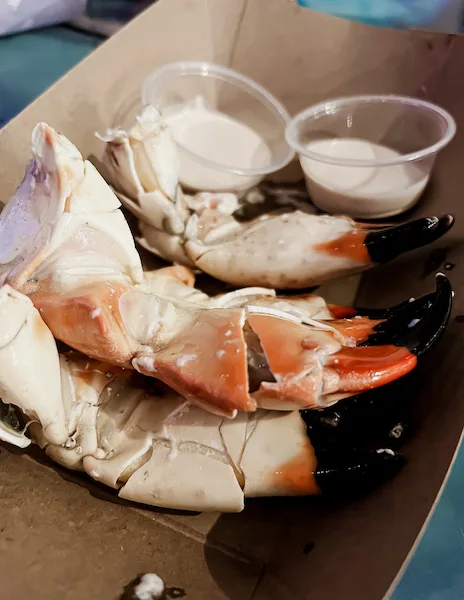 The bluestone crab is cooked and served cold with a side of its own mustard sauce. I loved it as is, fresh and delicious without anything on it. Didn't even think it needed butter.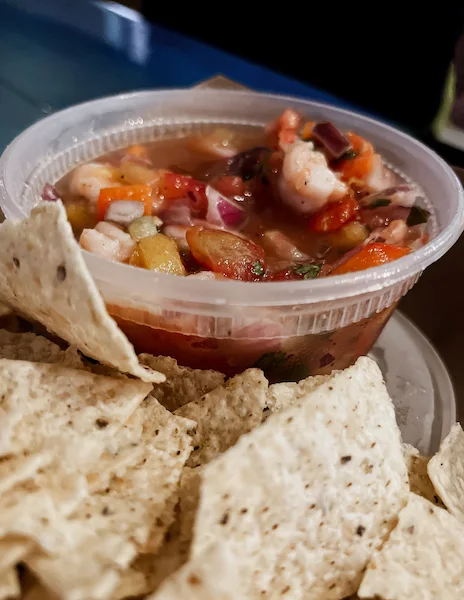 The shrimp ceviche served with tortilla chips was fabulous. I enjoyed the bits of mango in it.
I had these appetizers with a beer before we headed out to have dinner elsewhere. I would have happily stayed to eat more of the same and call it my dinner but hubby needed to eat (remember he doesn't eat seafood).
The Mar Bar | 90775 Old Hwy, Tavernier | Google Map It
Other Attractions Not to Miss Near Islamorada
Where to Stay in Islamorada
In Islamorada, there are a number of boutique hotels, including boutique resorts. You have the option to stay at a small hotel with basic amenities or a resort that offers various amenities like a swimming pool, kayaking, paddleboarding…etc.
After almost two years of not traveling, we decided to book a room at Amara Cay Resort.
Amara Cay Resort Review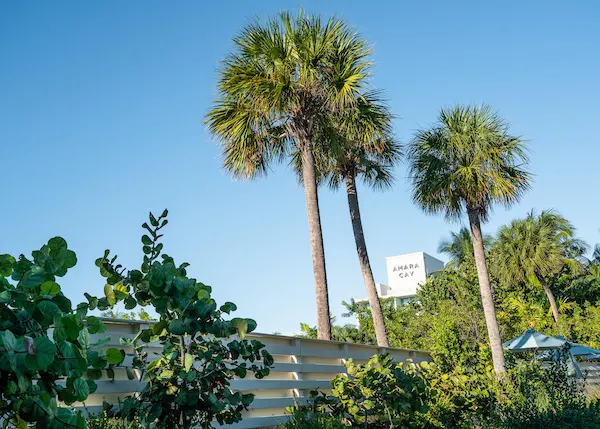 80001 Overseas Hwy, Islamorada, FL 33036
The Amara Cay Resort is a beachfront hotel at the southern end of Islamorada. The hotel has an upgraded beautiful lobby that is chic and laid back. The staff is friendly and helpful. The rooms are clean, modern, and updated.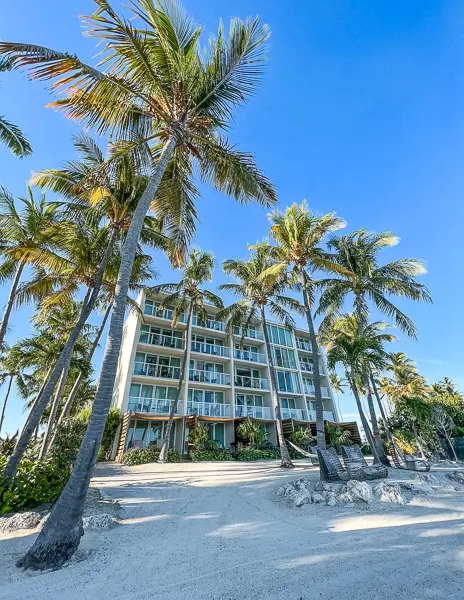 We originally booked a standard room and upgraded to an oceanfront suite upon checking as a treat. The standard room is lovely and a nice size, but note, you will have a view of a parking lot.
After spending a long weekend in the French Quarter of New Orleans in an interior room, we were ready to see the oceanfront when we woke up in the mornings. So we upgraded.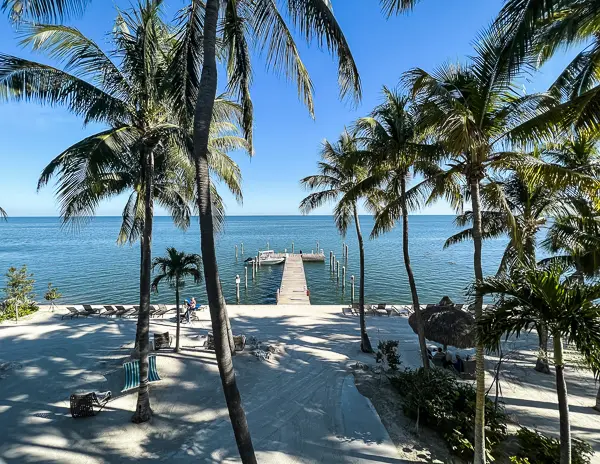 The view was worth every penny… at least for this trip. Don't think we'll upgrade the next time we visit. When you're booking your room, consider your expectations and perhaps, the extra cost of a view. Is it worth it to you?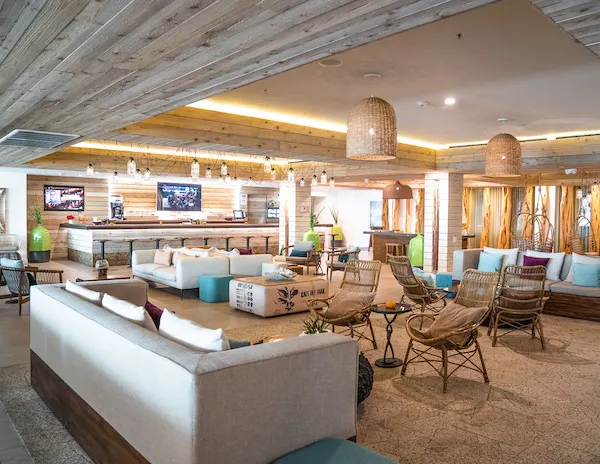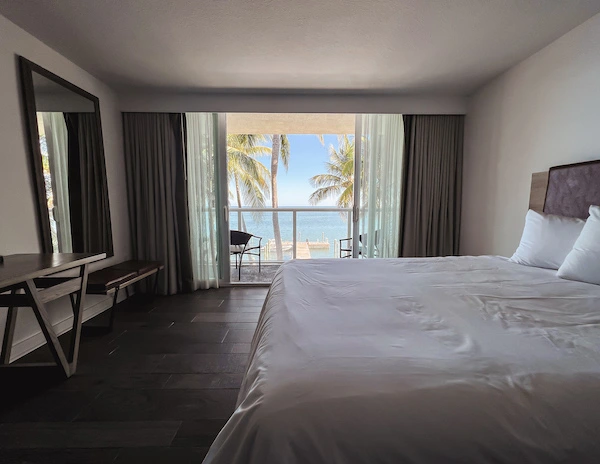 We loved how comfortable we felt in this hotel. From the moment we checked in, we just felt at home. My only complaint is that there isn't enough lighting inside the hotel rooms.
As a guest of Amara Cay, you can welcome to use the amenities of their sister hotels.
There is a shuttle service for guests that will take you to locations and activities nearby.
Beautiful swimming pool for all guests.
Kayaking, paddleboarding, and snorkeling are included at the hotel and sister properties.
Beach towels are provided.
Tiki bar
Firepit
Games are available outside and also a small indoor arcade is included.

Parking is free

.
A laundry room is available.
As far as the beach goes, it is nice, but it's not really a beach. They do lay down sand to give it a beachy feeling by the water.
Other Hotels in Islamorada to Consider
With all the things to do in Islamorada, I'm sure you're ready to start planning your time there. I suggest splitting up sometime between Islamorada and Key West.
If had to plan a week in the Florida Keys, I'd start my time in Key West for 2-3 days. Then I'd drive up to Islamorada to spend the remainder of my time there exploring. I'd plan to depart from the Miami airport.
Have you been to Islamorada? What is one of your favorite things to do in Islamorada?
Share the tips & love on Pinterest: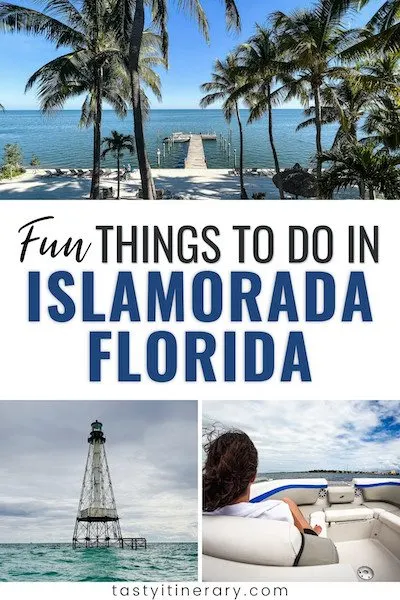 Meet Kathy Ava, a food, travel, and cruise writer based in Los Angeles/Pasadena, and the owner and main writer of Tasty Itinerary. With over 20 years of experience planning trips and logistics at her full-time job and for herself, she's become a pro at crafting unforgettable tasty itineraries. She's always on the hunt for delicious, fun travel destinations and cruise itineraries. She firmly believes that life is short and we must make the most of it, so always say yes to dessert.