Looking for romantic restaurants in Pasadena for date night or a special occasion?
A romantic night out is about creating memories you and your significant other will cherish for years to come. Whether celebrating a special occasion or enjoying a much-needed date night, choosing the right restaurant can make all the difference.
So what makes a restaurant romantic? Is it the soft lighting, the intimate setting, or the breathtaking view? Perhaps it's the delicious food or the attentive service that sets the mood. Or maybe it's simply the joy of spending quality time with your loved one in a beautiful setting.
Of course, what one person finds romantic may not be the same for another. For some, a casual burger joint or a cozy cafe can be just as romantic as a fancy restaurant. It's all about finding the right atmosphere that suits your style and taste.
Take our close friends, for example. They had their first Valentine's Day date at Boiling Crab – a messy, garlicky seafood spot where you eat with your hands and wear a bib. Despite the messy experience, they had a fantastic time and still consider it a romantic memory. They're now happily married with two kids!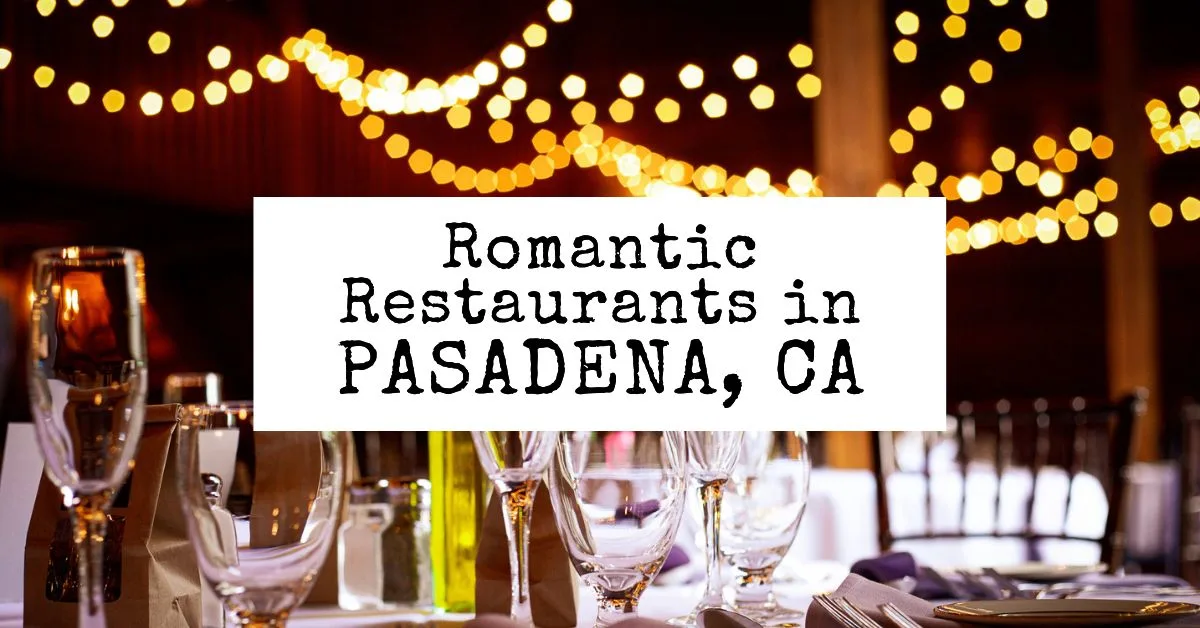 According to the dictionary, "romantic" means "conducive to or characterized by the expression of love." And when it comes to finding a romantic restaurant in Pasadena, it's all about finding a place that embodies that definition.
In this guide, we've compiled a list of the most romantic restaurants in Pasadena – places where every detail, from the setting to the food, is infused with love and care. These restaurants go above and beyond to create a special atmosphere that will make your night unforgettable.
Of course, great restaurants are popular, so we recommend booking reservations in advance and requesting special seating if needed. While the restaurant may not always be able to accommodate your requests, it's worth asking for that extra touch of magic.
What is your favorite romantic restaurant in Pasadena?
Romantic Restaurants in Pasadena
1. Perle Restaurant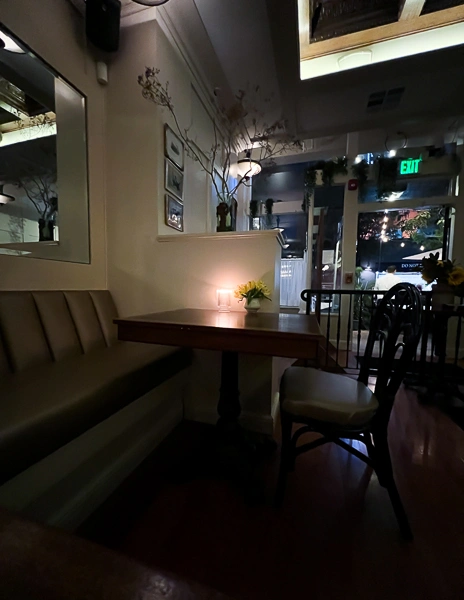 Looking for the most romantic restaurants in Pasadena? Look no further than Perle – a Michelin guide restaurant serving classic French cuisine in an intimate and charming setting. Every detail at Perle is designed to create a truly unforgettable dining experience, from the soft lighting to the attentive service.
Perle is the perfect choice to celebrate a special occasion or look for a romantic night out. And if you're in the mood for a pre-dinner drink or some small bites, check out the intimate bar in the back.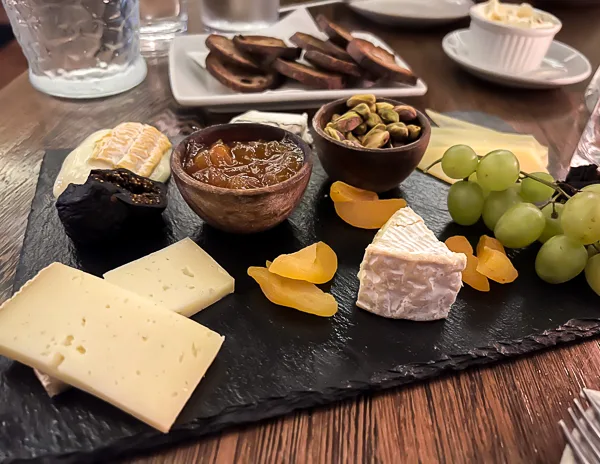 As foodies, my husband and I have celebrated at Perle several times on special occasions. Perle always goes above and beyond to make our night special. Their thoughtfulness and attention touched us to detail, and we highly recommend this restaurant to anyone looking for a romantic dining experience in Pasadena.
Tip: Reserve a table in advance and sit inside if you want an intimate setting. Their outdoor is cozy and friendly, but the traffic on Union Street isn't as intimate. Also, let them know if you're celebrating a special occasion.
Perle | 43 Union St, Pasadena | Google Map It
2. Agnes Restaurant & Cheesery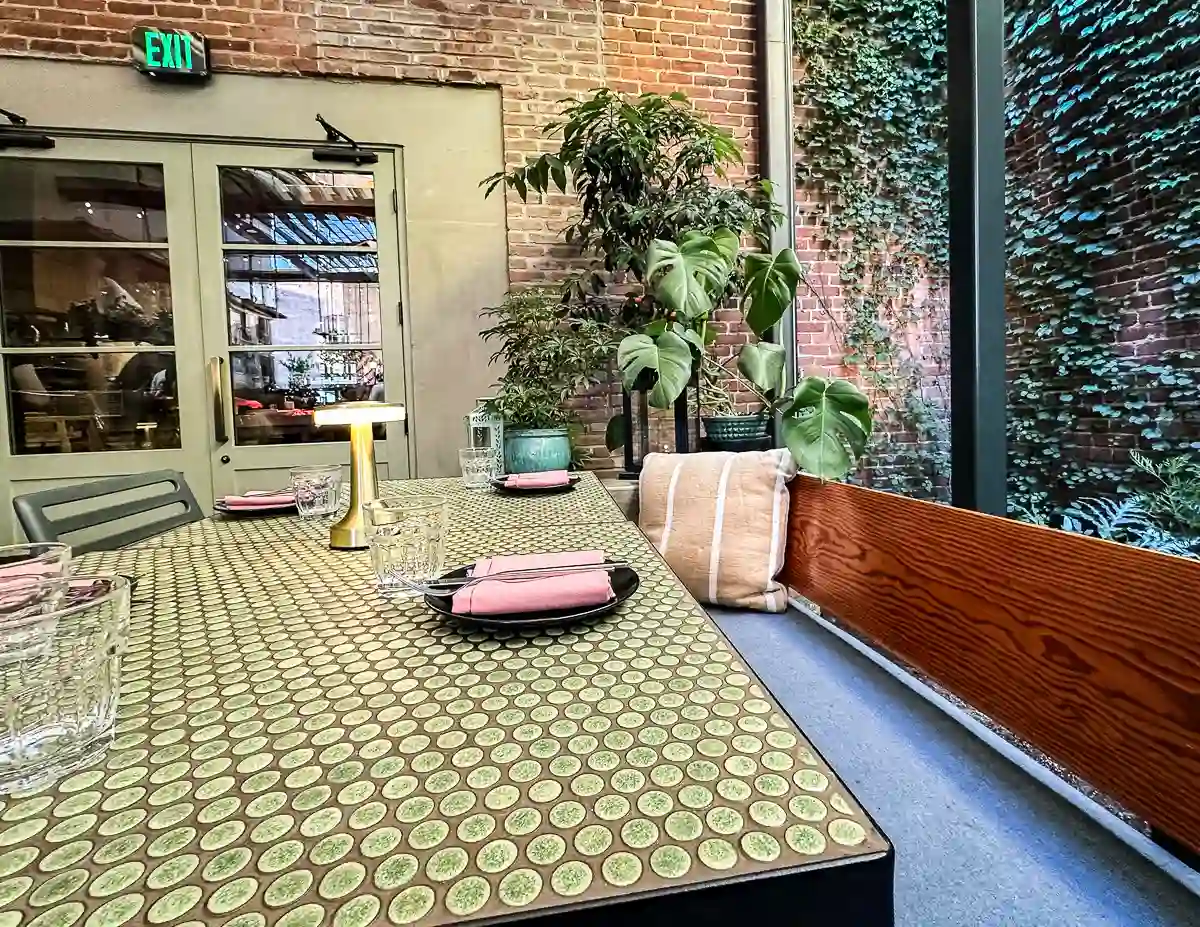 Looking for a romantic restaurant in Pasadena that combines excellent food and a charming ambiance? Agnes – another Michelin guide restaurant on Greent Street with a fabulous menu and a lovely back patio perfect for date night.
The patio becomes more private and intimate as the sun sets, with soft lighting and cozy corners. Inside, the restaurant is equally beautiful, with an open kitchen, brick walls, and vintage plates that add a touch of nostalgia.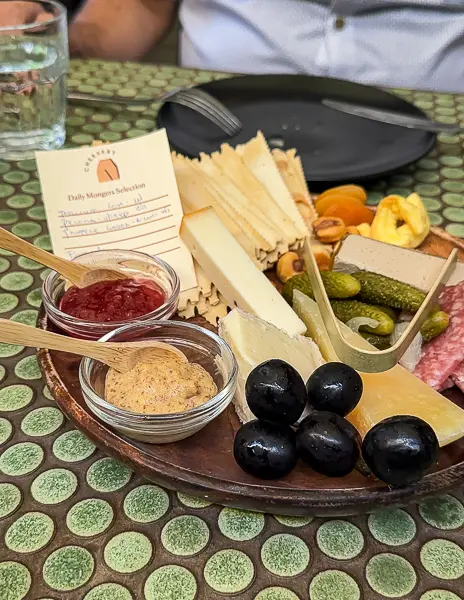 But the real star of the show is the food. Every dish at Agnes is expertly crafted and scrumptious, from handmade pasta to the famous Choco Taco dessert.
And if you're in the mood for something to share, don't miss the 1/2 & 1/2 board – it's the perfect way to start your romantic meal at this cheesery.
As a couple themselves, the owners of Agnes have poured their hearts and souls into every detail of the restaurant, creating a truly delicious dining experience. So if you're looking for a romantic spot to enjoy a special night out, Agnes should be at the top of your list.
Agnes Restaurant | 40 W Green St, Pasadena | Google Map It
3. Entre Nous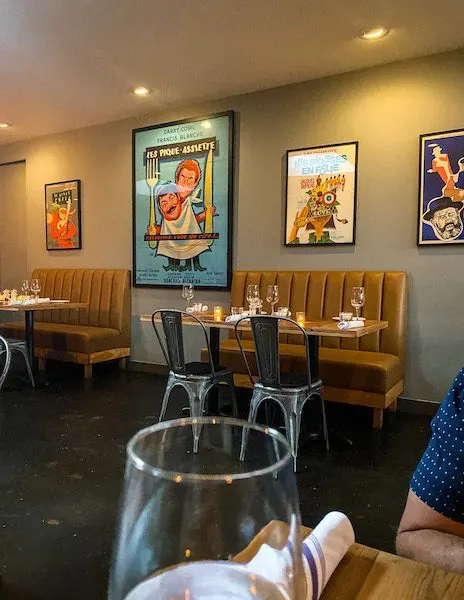 Looking for a romantic French bistro in Pasadena? Entre Nous – a charming restaurant on Green Street that transports you to the heart of France with its well-known dishes and cozy vibes.
Every detail, from the delectable menu to the lovely French wine list, is designed to create a truly unforgettable dining experience.
We recommend starting with the escargot and the chef's selection of charcuterie, followed by the mouth-watering ribeye steak with pomme frites. And be sure to save room for dessert – the profiteroles and crème brûlée are a must.
The French movie posters on the wall add a touch of charm to the cozy interior, but if you're looking for a more intimate and romantic setting, try to snag a table on the small outside patio.
Entre Nous | 119 W Green St, Pasadena | Google Map It
4. Cafe Santorini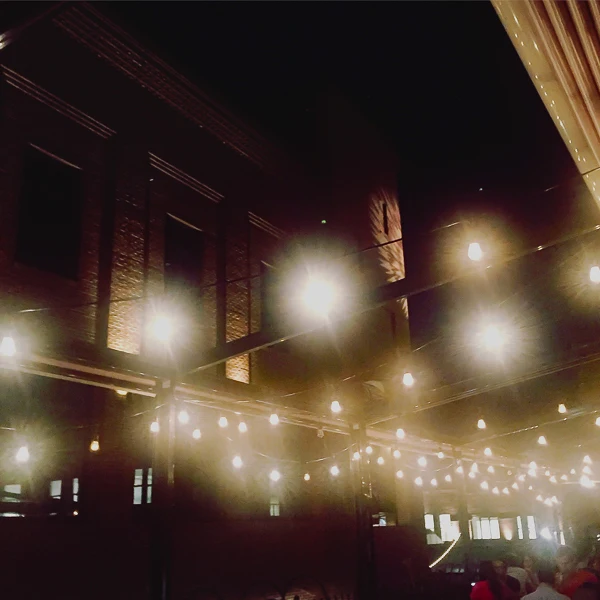 Cafe Santorini is hard to beat for a romantic dinner with a view in Old Pasadena. Located on the second floor in the heart of Old Pasadena, this Mediterranean restaurant offers indoor and outdoor seating with a lovely ambiance.
Our favorite spot is the shaded outdoor terrace, strung with lights and offering a stunning view of One Colorado. And the food is just as impressive as the view – the Mediterranean cuisine is delicious, with some dishes that remind us of our travels to Greece and Italy.
For a perfect start to your meal, we recommend trying the Santorini Mezze Tasting – it's a delicious way to sample a variety of Mediterranean flavors.
For those looking to celebrate a special occasion or enjoy a romantic night out, Cafe Santorini offers a lovely dining experience. You can combine it with a movie at iPic next door.
Note: This restaurant is not ideal for anyone with limited mobility. There is a narrow set of stairs to get up to this restaurant.
Cafe Santorini | 64 W Union St, Pasadena | Google Map It
5. Arroyo Chophouse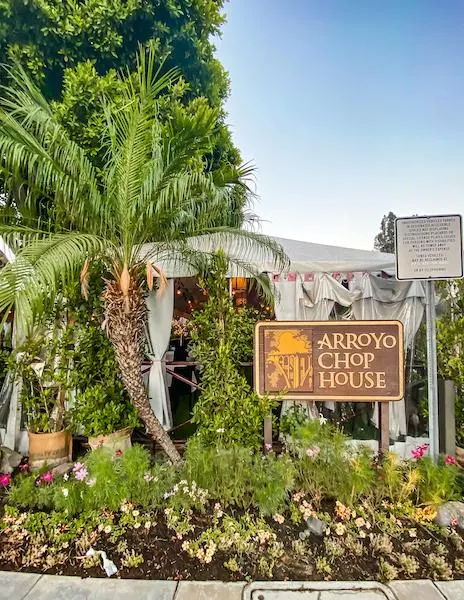 Arroyo Chophouse, one of the best steakhouses in Pasadena, also caters to the details. We celebrated our 19th anniversary here, and while we had a fantastic porterhouse dinner, I was most impressed by the note left on our table.
Looking for a romantic cozy outdoor setting? Arroyo Chophouse has a beautifully set outdoor area with fairy lights, lanterns, and greenery. No worries, they do have heaters for the colder time of year.
Inside is a nice dimly lit atmosphere, and even more romantic when a pianist plays in the background. We suggest not sitting near the bar.
Tip: Get the souffle for dessert.
Celebrating a special occasion? Make sure to let them know when you make the reservation.
Arroyo Chophouse | 536 S Arroyo Pkwy, Pasadena | Google Map It
6. The Raymond 1886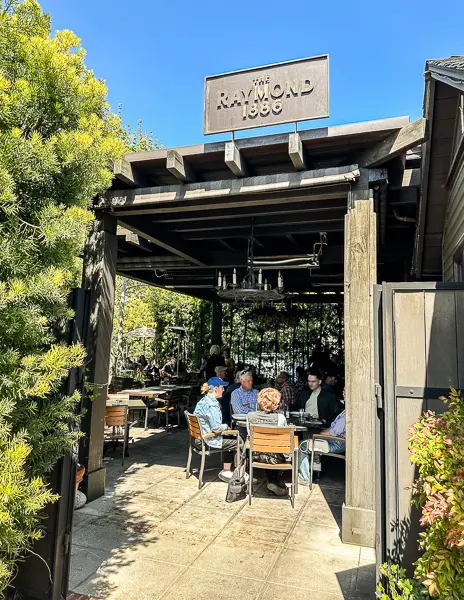 For a romantic restaurant in Pasadena with a rich history, look no further than The Raymond 1886. This old craftsman-style cottage was once the caretaker's cottage of a 300-room hotel that no longer exists, adding to its charm and character.
Locals rave about the excellently crafted cocktails and delicious menu, making The Raymond a must-visit for any romantic occasion. And with three sweet and quaint outdoor areas surrounded by lush greens, covered in wisteria (during the right season), and antique chandeliers above the tables, it's no wonder why.
The outdoor stone fireplace adds a touch of warmth and coziness, making it the perfect spot for a romantic date night.
And if you're looking to plan a special brunch, The Raymond 1886 is an ideal spot to celebrate your special occasion.
The Raymond | 536 S Arroyo Pkwy, Pasadena | Google Map It
7. The Arbour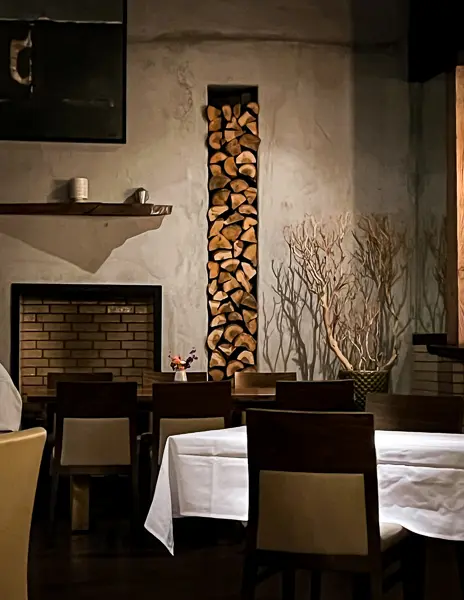 For a romantic restaurant in Pasadena that's chic and cozy, look no further than The Arbour – a hidden gem on S. Lake Ave that's sure to impress.
From the wood accents to the relaxing ambiance and the excellent service, every detail at The Arbour is designed to create a stunning dining experience.
And with a menu that's not too large, it's easy to select from their excellent dishes that are locally sourced and organic.
We highly recommend trying the bucatini alla vodka and the New York striploin – both are simply delicious. And for dessert, the strudel is a must-try.
The Arbour | 527 S Lake Ave #120, Pasadena | Google Map It
8. Celestino Ristorante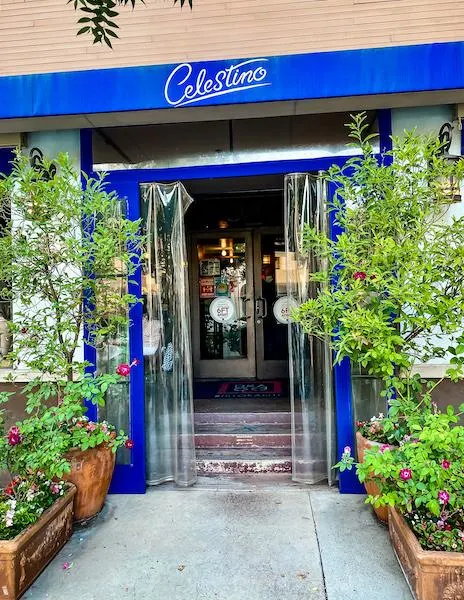 For a romantic restaurant in Pasadena with European-style vibes and traditional Italian dishes, consider Celestino's. This intimate restaurant won us over with its charming ambiance and excellent service.
Whether you sit inside or outside on one of their patios, you're in for a treat. The outdoor patio in the back is particularly charming and offers a cozy spot to enjoy your meal away from the hustle and bustle of the main restaurant.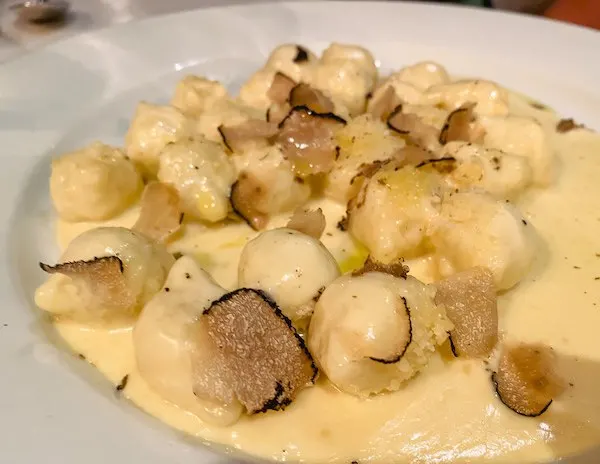 And with an extensive menu filled with delicious handmade pasta and other specialty dishes, there's something for every taste. Our favorites include the truffle gnocchi and tiramisu – both were divine.
So if you're looking for a romantic spot to enjoy a delicious Italian meal in Pasadena, Celestino's is a great choice.
Celestino | 141 S Lake Ave, Pasadena | Google Map It
Read more: Fantastic Pasadena Restaurants on Lake Ave
9. Sushi Roku
Sushi lovers looking for a nice restaurant in Pasadena, Sushi Roku in Old Pasadena. This popular spot is known for its beautifully presented sushi and idyllic ambiance, perfect for couples.
And while the outside may be deceiving, the inside is even more impressive. The restaurant's lanterns, bamboo plants, stone walls, and decor create a modern, romantic patio-like atmosphere perfect for a special night out.
But the real star of the show is the sushi. Sushi Roku's expert chefs use only the freshest ingredients to create beautifully presented sushi that is as delicious as visually stunning. And with an extensive menu that includes traditional and modern sushi dishes, there's something for every taste.
Even if your partner doesn't like fish, like mine doesn't, they have lamb, wagyu skewers, and even wagyu sushi.
Sushi Roku | 33 Miller Alley, Pasadena | Google Map It
Hope this list of romantic restaurants in Pasadena inspires your next beautiful night out with your significant other.
If you're looking to end the night with a stayover, I suggest going out all out and booking a room at The Langham Hotel, a 5-star luxury hotel in Pasadena. Wake up the following day with room service for breakfast. Then enjoy a picturesque stroll through their gardens and grounds before checking out.
Before you go ahead and book your reservations, don't miss these related articles:
Share the tips & love on Pinterest: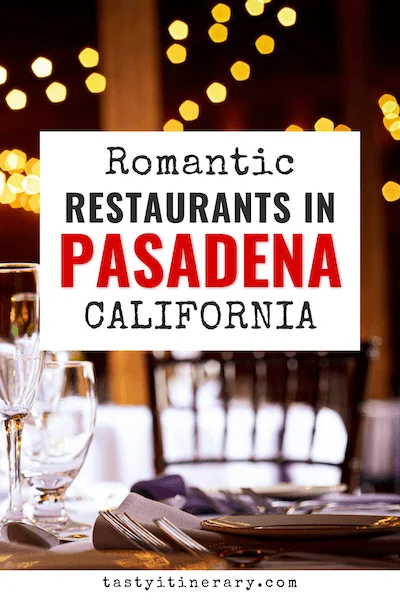 Meet Kathy Ava, a food, travel, and cruise writer based in Los Angeles/Pasadena, and the owner and main writer of Tasty Itinerary. With over 20 years of experience planning trips and logistics at her full-time job and for herself, she's become a pro at crafting unforgettable tasty itineraries. She's always on the hunt for delicious, fun travel destinations and cruise itineraries. She firmly believes that life is short and we must make the most of it, so always say yes to dessert.