Looking for some of the best and wonderful cafes and coffee shops in Pasadena?
As proclaimed coffee lovers living in Pasadena, knowing where all the cafes and coffee shops in Pasadena are is a must. Drinking coffee at all the different locations that pop up is part of exploring Pasadena, which we do like to take seriously.
There is nothing like grabbing a good cup of joe and possibly something to eat with your partner, friend, and family. So many important conversations happen with a cup of coffee in hand.
Or perhaps you just want to sit in a coffee shop and work on your laptop for a while? James Brown coffee roasters have great seating for that. While you're there, you can also pick up a pound of their freshly roasted coffee to take home with you.
At Amara's, you can have authentic Spanish-style churros or get an arepa for a taste of Venezuela.
Do you want to feel like you're in Italy for a little while? Grab a cannoli and an espresso at Carrara's. They have the best Italian pastries.
Find the love of chocolate with a mocha iced latte at CAR Artisan Chocolate Cafe.
Don't miss Little Flower, the cutest little cafe in Pasadena that will give you all the charm and delicious baked goods.
While we have favorites that we visit closer to home often, it is important to venture out and find variety. Where can we get the best coffee, lattes, baked treats, and small bites?
There was a bit of a debate when I started thinking about my favorite cafes. A café to me is the same as a coffee shop. Amazing coffee, plus snacks and food.
The dictionary defines a cafe as "a small restaurant selling light meals and drinks."
A coffee shop is "a cafe serving coffee and light refreshments… a small, informal restaurant." Sounds pretty similar to me.
What's your take?
This post may contain affiliate links, which means we'll receive a commission if you purchase through our links at no extra cost to you. Please read full disclosure for more information. We appreciate your support!
At the end of the day, we think we can all agree that we are looking for a wonderful cafe or coffee shop with good coffee and good eats. And the atmosphere and the staff are part of that, too. Plenty of cafes and coffee shops in Pasadena meet those requirements.
While a few are small franchises, unlike Starbucks, they have gained popularity for the quality of products served. So we've included them in the list.
Normally our orders consist of lattes, espressos, and regular drip. Now and then, we'll order a specialty drink. What is your go-to coffee order?
Cafes and Coffee Shops in Pasadena
1. Dot's Cafe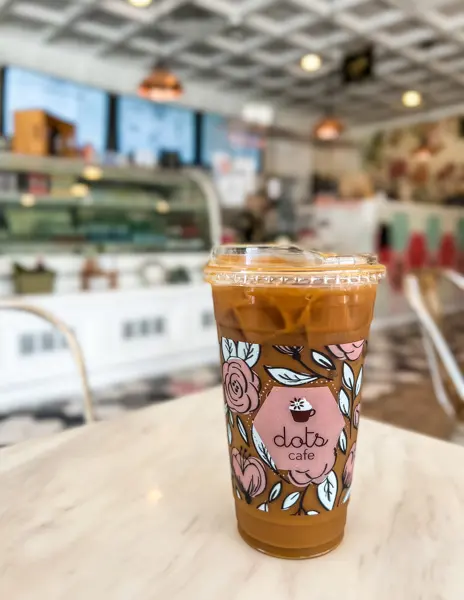 Dot's is one of the prettiest cafes in Pasadena, serving fantastic food. Their bright and colorful decor -which we love- gives this cafe a special touch. Their food, dessert bar, and coffee make this cafe one of the most awesome cafes in Pasadena. Have you been?
We frequently order cupcakes from Dot's. But when we visit in person, it's iced lattes for us. We love when we can taste the espresso in our lattes. We also spend time just oohing and ahhing over their dessert bar.
One of each, please!
Dot's Cafe | 3819 E Colorado Blvd, Pasadena (Google Map It)
2. Amara Café
Spanish churros and rich hot chocolate? YES, please!
Amara's is a South American cafe in Pasadena on S. Raymond that can't be missed. They serve delicious hot and thick hot chocolate, freshly made Madrid-style churros, South American breakfasts, and lunch, including one of my favorites, arepas.
The lattes here are delicious. Their Caracas latte with condensed milk has won our hearts along with their fabulous churros.
Seating is limited, but the tables turn quickly. Also, don't be afraid to order take-out to pick up or for delivery.
Vegan options are available.
Btw: Did you know you can order their hot chocolate online?
Amara Café | 55 S Raymond Ave, Pasadena (Google Map It)
3. Carrara's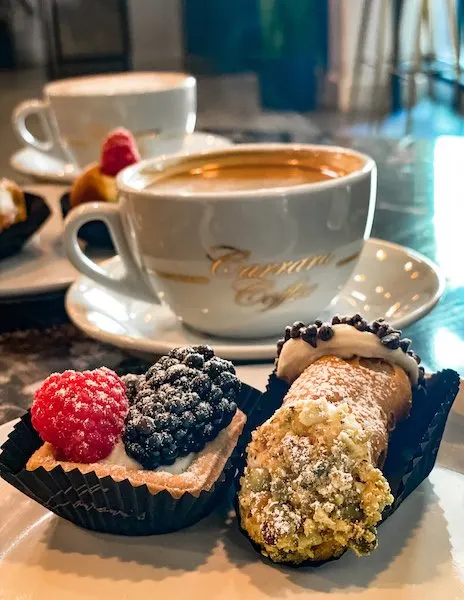 When we discovered Carrara's opened a location in Pasadena, we knew they'd be on this list. We've been a fan of Carrara's since falling in love with their spot in Agoura Hills. We had to visit when they popped up on a recent search looking for pastries.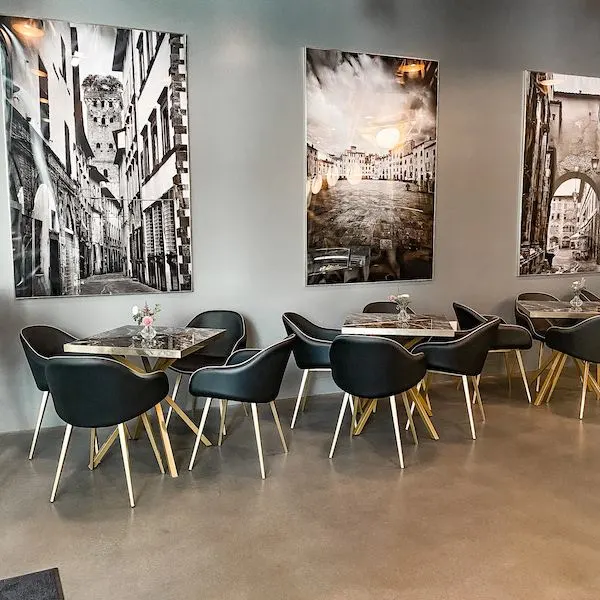 What's to love? Everything. To start, their Italian pastries are ridiculously good. Ingredients are imported from Italy. An Italian pastry is a perfect treat with its amazing cappuccino or espresso. You'll thank me later. They also gave gelato, if you're in the mood for that.
As a former New Yorker that has missed having multiple Italian bakeries to buy from, we are happy to have a legit Italian pastry and cafe shop in the Pasadena community. Please feel free to let me know of others.
Carrara's | 75 W Walnut St, Pasadena at Villa Apartments (Google Map It)
Where to have a full breakfast and brunch in Pasadena? These fantastic spots serve delicious pancakes, chicken and waffles, mimosa carafes, and other great brunch items.
4. Little Flower Candy Co.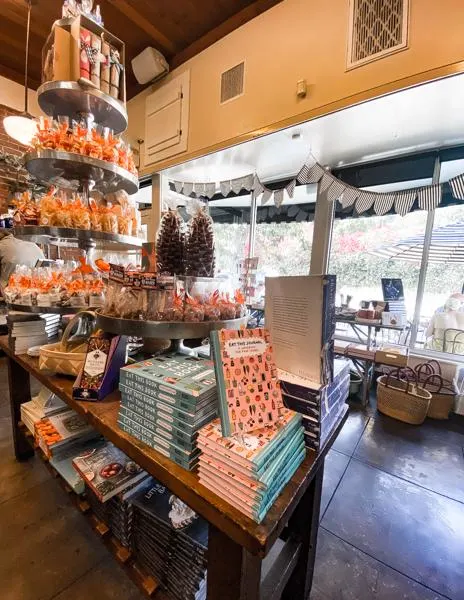 Little Flower is a small, charming cafe located on Colorado St, away from busy Old Pasadena. They serve strong delicious coffee, baked goods, and tasty breakfast and lunch items.
While waiting for your order, you'll feel the community love pour in and out of the cafe. Then situating themselves outside on the sidewalk at one of the outdoor tables. Locals know what's good.
The iced lattes are strong. We love it when we can taste quality espresso without asking for an extra shot.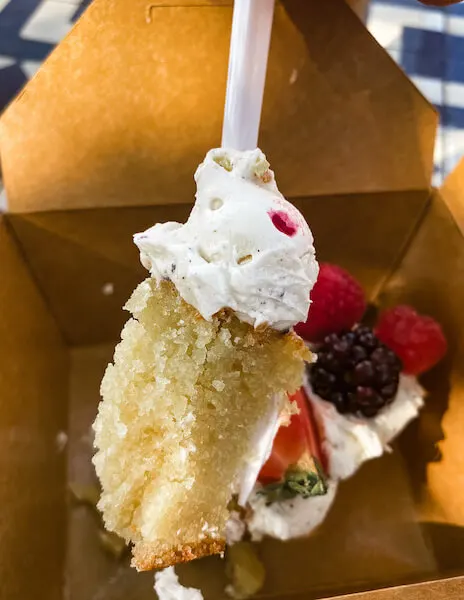 If you're feeling like a snack, I'm here to tell you that you can't go wrong with olive oil cake or chocolate olive oil cake. Although, I wanted to have all their baked goods. Honestly, the Barefoot Contessa vibes are strong here.
Inside the cafe, you'll also find unique and adorable foodie gifts. As well as homemade jams, high-quality hot chocolate, candies and housemade marshmallows of different flavors.
Little Flower | 1424 W Colorado Blvd, Pasadena (Google Map It)
5. CAR Artisan Chocolate Manufactory & Cafe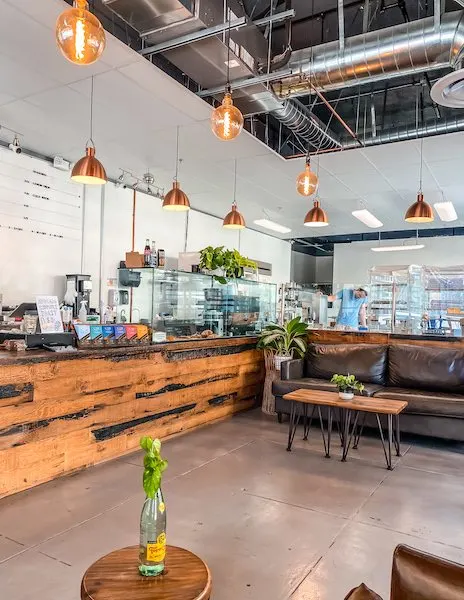 Calling all chocolate lovers!
Car Artisan Chocolate is one of the newest cafes in Pasadena on Colorado Blvd. It's one of those spots that you'll easily drive past if you're not curious and adventurous.
They produce high-quality artisan chocolate. We dare you not to visit and not try any of their chocolate treats or drinks.
The moment you enter their cafe, you're wrapped in the amazing aroma of chocolate. The staff is welcoming and nice, ready to explain their passion for chocolate and what they do there. You can tell that they love what they do. There is enough evidence behind the counter as they work on their chocolate creations.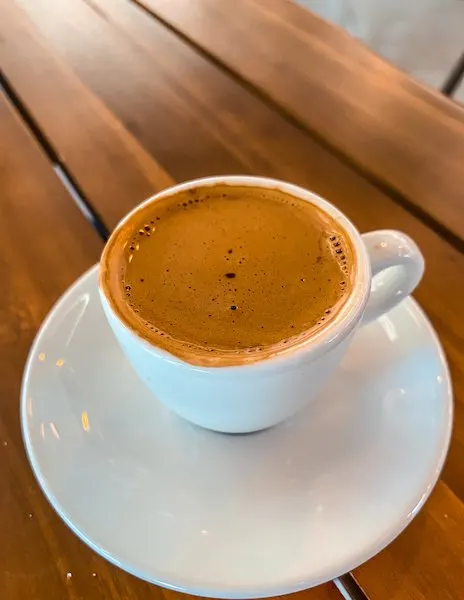 We enjoyed the choco espresso, which is triple espresso poured over a piece of their organic chocolate. And an iced mocha latte which was a nice balance of coffee, chocolate, and creaminess without being overly sweet was quite perfect.
The chocolate croissant and chocolate chip cookie baked in-house were divine.
CAR Artisan Chocolate | 1009 E Colorado Blvd, Pasadena (Google Map It)
One of the best parts of Pasadena is all the delicious spots to eat. Check out some of our favorite places to eat from restaurants to take-out.
6. Urth Caffé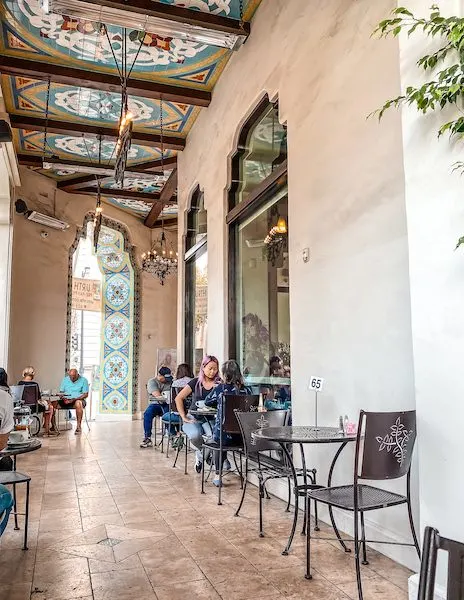 Urth Caffé is a Los Angeles favorite. We've been fans since they only had one location in West Hollywood. So it's no surprise it's landed on this list of cafes in Pasadena.
This Playhouse District location is always busy with a line out the door from morning tonight. With good reason, they serve amazing coffee drinks, baked goods, and brunch. And they have a beautiful outdoor space.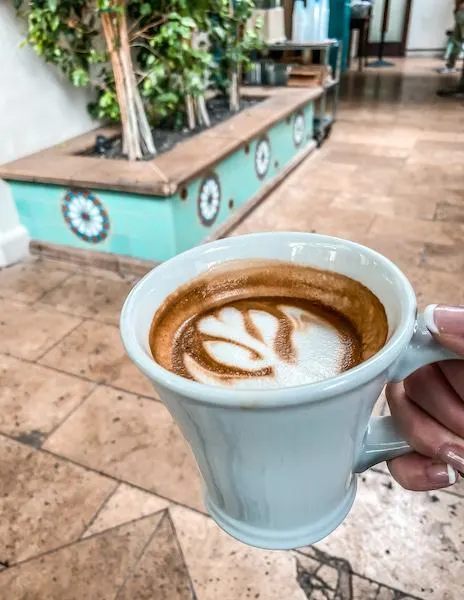 While this is a great breakfast and brunch spot, we love to go to Urth for their coffee drinks and desserts. Spanish lattes are a fave of ours. We love when the barista asks us if we want it strong or mild. Strong, please.
There hasn't been a baked good there that we have not liked. We do always tend to get the banana cream pie. Recently, we tried their coconut cake, and it blew us away with how soft, fluffy, and buttery it was without it being overly sweet.
We know that sometimes it can be overwhelming to go just for coffee when it's always so crowded. The trick is walking around the corner from their main entrance on South Madison and ordering at their smaller adjacent coffee shop – the Madison Room. You can just order a coffee drink and get a pastry. Don't be afraid to place an advance order online on their website.
Urth Caffé Pasadena | 594 E Colorado Blvd, Pasadena (Google Map It)
7. Republik Coffee Lounge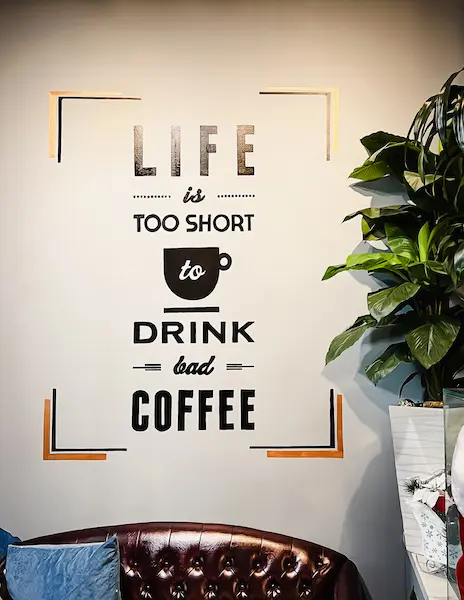 With a motto like "Life is too short to drink bad coffee," you have to give them a chance, right?
Republik Coffee Lounge is more than just coffee, it's a cafe in Pasadena and also a wine bar on Thursday nights.
Their excellent coffee drinks are served daily until 6 pm. Brunch is served on the weekends only until 6 pm.
They have great indoor and outdoor seating and enjoy a meal solo, with a partner, or with friends. We'd get there a little early to grab a table, definitely worth the wait.
Republik Coffee | 854 E Green St, Pasadena (Google Map It)
8. Jameson Brown Coffee Roasters
Coffee addicts will want to visit Jameson Brown. They roast their own coffee beans in-house, you can see the roaster as soon as you walk in. You can also smell the wonderful roasted beans as soon as you enter the coffee shop. And, they know how to prepare a fantastic cup of joe.
This great local coffee shop in Pasadena for great quality coffee and delicious fresh pastries. I also recommend stopping by to get your coffee beans for home.
The coffee shop is cozy, with plenty of seating inside and a few tables inside. Perfect place to pound on your laptop while you enjoy that cup of coffee.
They are near the train station on Allen Avenue, so keep Jameson Brown in mind as a pit stop on your way to catch the train.
James Brown Coffee | 260 Allen Ave, Pasadena (Google Map It)
Craving some ice cream? Here are the best spots to enjoy ice cream in Pasadena.
9. Coffee and Plants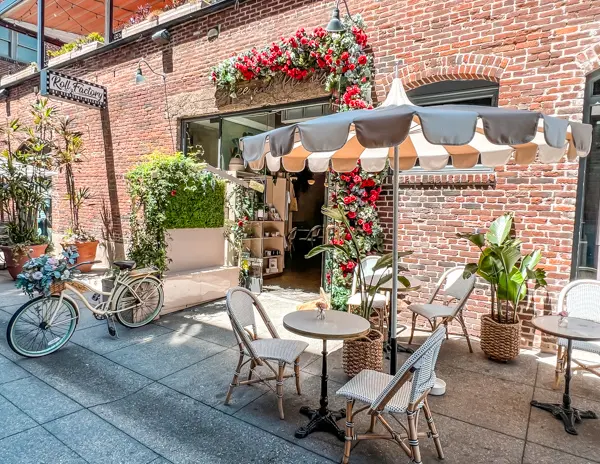 This cute coffee shop in Pasadena stops you in your tracks upon seeing it in Old Pasadena. Coffee and Plants is so pretty and inviting that you'll want to stop by to take photos. Please remember to support this small business.
Everything served by Coffee and Plants is 100% plant-based. They have coffee, matcha, beautiful avocado toast, sandwiches, and other treats.
Coffee and Plants | 62 W Union St, Pasadena (Google Map It)
10. Lavender & Honey Espresso Bar
This little coffeehouse is outside of Old Town and serves lovely espresso drinks, cold brews, teas and lemonade, and some simple, delicious eats.
We love their toast bar as there are various toasts, not just avocado toast. Their classic taste of butter with jam and their peanut butter honey banana reminds me of being a kid again. It's a great snack that pairs well with a latte.
Given the name Lavender & Honey, try one of their drinks with lavender.
Gluten-free items are available.
Lavender & Honey | 1383 E Washington Blvd, Pasadena (Google Map It)
11. Philz Coffee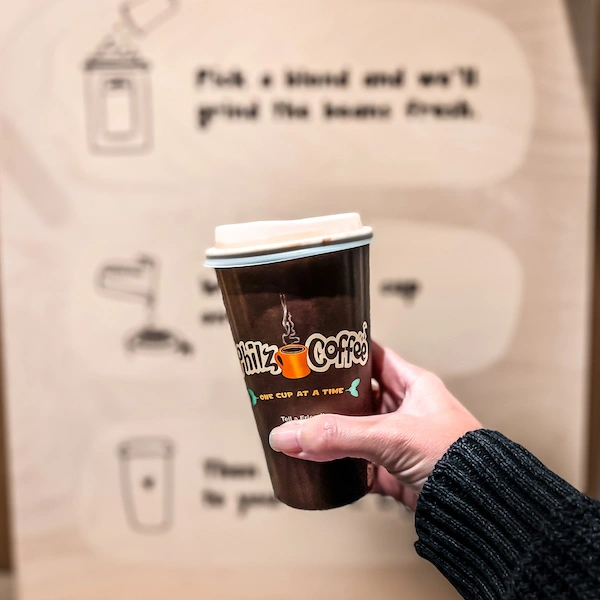 Located in The Commons on Lake Ave, Philz Coffee serves fantastic coffee and a light menu of yummy items. This San Francisco coffee chain can be found in other parts of the country. But this location in Pasadena is the perfect spot to grab a coffee and stroll along Lake Ave.
What I love about Philz Coffee is that every cup is brewed fresh for every order. You can taste it at first sip.
They have interesting featured creations that change from time to time. I suggest trying something outside of your regular comfort zone.
Philz Coffee | 146 S Lake Ave #106, Pasadena (Google Map It)
12. Blue Bottle Coffee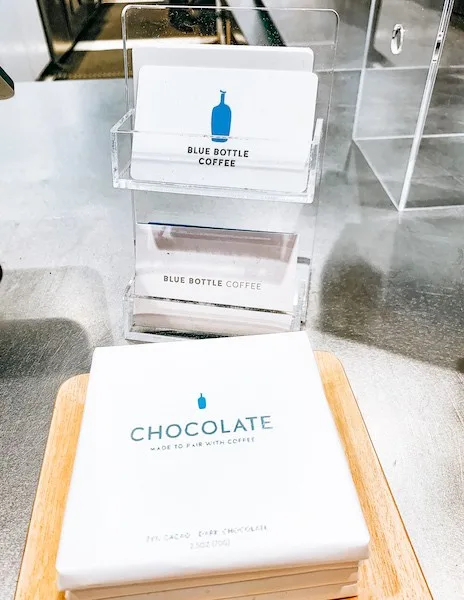 Finally, Blue Bottle Coffee has opened a location in Old Town Pasadena. I first had Blue Bottle Coffee in Downtown LA; it was love at first taste.
The espresso is smooth, not bitter and the steamed milk in the latte was nice and velvety. They also have some wonderful pastries you can also order with lattes.
They also have a back patio where you can enjoy your coffee.
Urth Cafe Pasadena | 18 S Fair Oaks Ave, Pasadena (Google Map It)
Other cafes to keep on your radar:
Have fun getting a caffeine buzz visiting all these wonderful cafes in Pasadena. There are still a few cafes and coffee shops in Pasadena we still have to venture to and share with you all. Bookmark this post to return to it later.
Is your favorite cafe or coffee shop in Pasadena on the list? Which cafes in Pasadena have you visited? What is your favorite spot? What do you normally order?
Share the tips & love on Pinterest: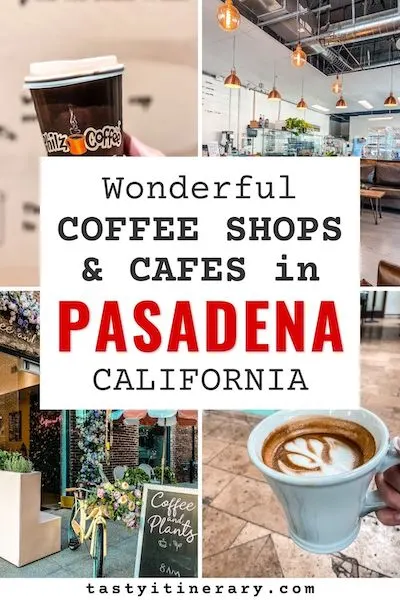 Meet Kathy Ava, a food, travel, and cruise writer based in Los Angeles/Pasadena, and the owner and main writer of Tasty Itinerary. With over 20 years of experience planning trips and logistics at her full-time job and for herself, she's become a pro at crafting unforgettable tasty itineraries. She's always on the hunt for delicious, fun travel destinations and cruise itineraries. She firmly believes that life is short and we must make the most of it, so always say yes to dessert.