Looking for delicious places to eat in Florence, Italy? You'll have delicious meals and quick bites in Florence at these mouthwatering spots.
Whenever Italy comes up in conversation, we talk about all the delicious places to eat in Florence, Italy, which have become our favorite spots.
Some of the best dishes we've ever had are from Italy, especially in Florence, where we have many fond memories.
The food in Italy is one of the reasons why we always want to travel back to Italy. But with limited vacation time, we try to travel to other destinations.
Friends and family traveling to Firenze always ask us, what are your favorite places to eat in Florence? So we've compiled a list of our favorite Florence eats for everyone. This list will help you eat your way through Firenze as we do every time we are there.
We recently revisited Florence (Oct 2022) and made reservations at some of these beloved restaurants. And making reservations these days is essential!
So much has changed in Florence over the past several years. There are many new restaurants in the city, but we were happy to return to restaurants we know and love and ones that have been there for decades.
We love the foods of Florence and are so happy to share these spots along with what we ate there. It's not all the places to eat in Florence, but they are the ones we truly enjoy when we are there.
This post may contain affiliate links, which means we'll receive a commission if you purchase through our links at no extra cost to you. Please read full disclosure for more information. We appreciate your support!
Who doesn't love pasta? Or pizza? Or any dish prepared by Nonna? You'll wonder if nonna is cooking in the back at a few of these.
This article covers delicious quick bites and a few of our favorite restaurants in Florence where you can sit down and have a traditional Tuscan meal.
Places to Eat in Florence, Italy
Before we start this Tasty Itinerary, here are a few tips…
Make restaurant reservations in advance. Do not wait and think you'll get a table as a walk-in. If there is a restaurant you want to eat at, make reservations.
Always ask… what's in season? What's the special of the day? If they have any.
Usually, what's on special is what's in season. We are in Florence during the mushroom season a lot of the time. The mushrooms they serve are incredible and nothing like what we would eat back home. So always recommend asking.
While ordering a bottle of wine is lovely. Feel free to try the house wine. It's almost as good or better than the next expensive bottle of wine. Note that the wine will most likely be cheaper than a soda.
Have gelato every day because the time is short, and you never know when you'll be in Italy the next time.
Restaurants in Florence We Love
While this is a short list of restaurants in Florence we love, they are restaurants that we are confident will serve you a fantastic meal. It's an amazing tasty itinerary to get you started for your short time in Florence.
Trattoria Sostanza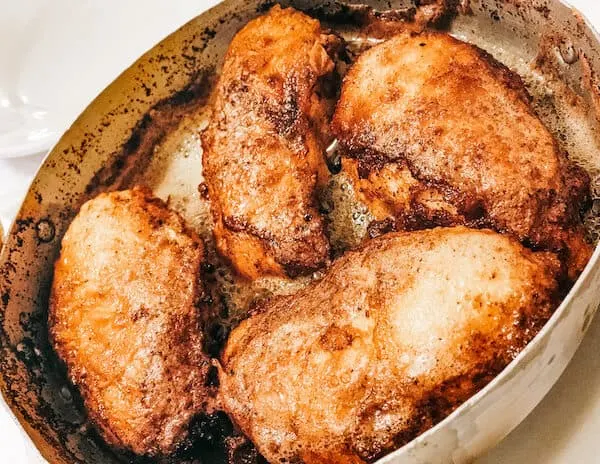 Two words: BUTTERED CHICKEN!
Melt-in-your-mouth buttered chicken. It sounds like a simple dish, but replicating it wouldn't be as easy at home. Even after they give you the steps. It just doesn't come out the same!
The chicken is pan-fried in this frothy, buttery sauce. The chicken comes out delicately crispy and so tender that it melts in your mouth.
They are also known for their Florentine steak and artichoke pie.
We can't visit Florence and not have Trattoria Sostanza one night for dinner. It is excellent! One of our favorite places to eat in Florence.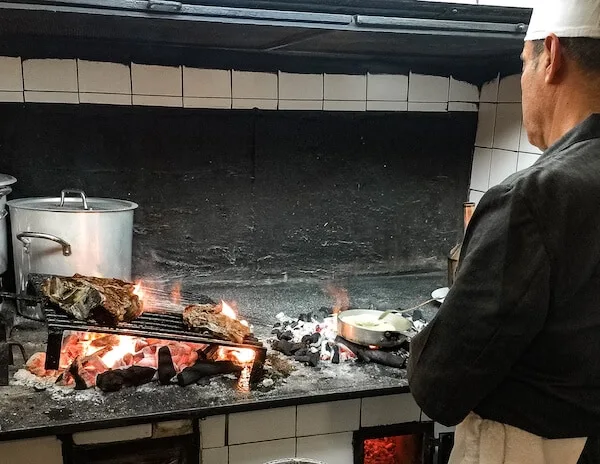 The family running Trattoria Sostanza is welcoming, and sometimes they'll invite you into the back of the kitchen to demonstrate how they make their favorite dishes over an antique stove. Of course, after the pandemic, they may have changed that.
Don't dare leave anything on your plate, they expect you to mangia-mangia!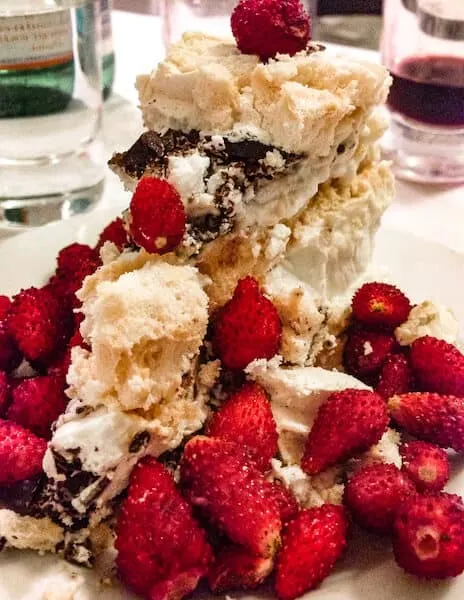 Leave room for dessert! Their Meringue Wild Raspberry Cake is amazing.
Cash only.
Communal dining.
Reservations recommended.
Trattoria Sostanza | Via del Porcellana, 25/R, 50123 Firenze | Google Map It
Acquacotta Trattoria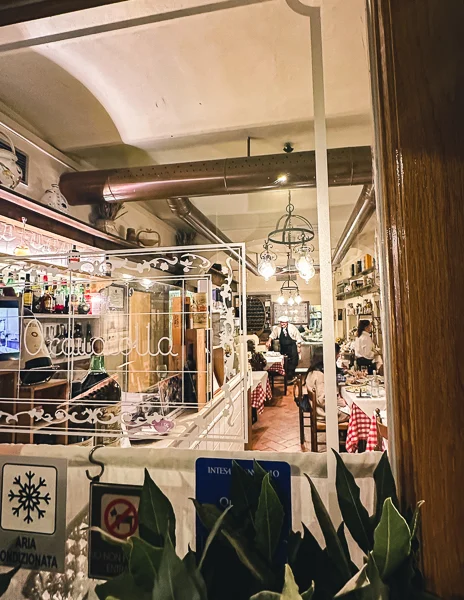 The ambiance, the food, and the service make us feel like we are at nonna's having a home-cooked dinner.
We initially thought nonna was in the kitchen cooking, but then we found out it was a husband and wife operation. The wife is waitressing and running the front while the husband works his magic in the kitchen.
They are an excellent duo, serving dishes that warm the soul after the first bite.
We were happy to be back here during this recent trip, leaving it for our last night, where we ate some of our favorite Tuscan dishes.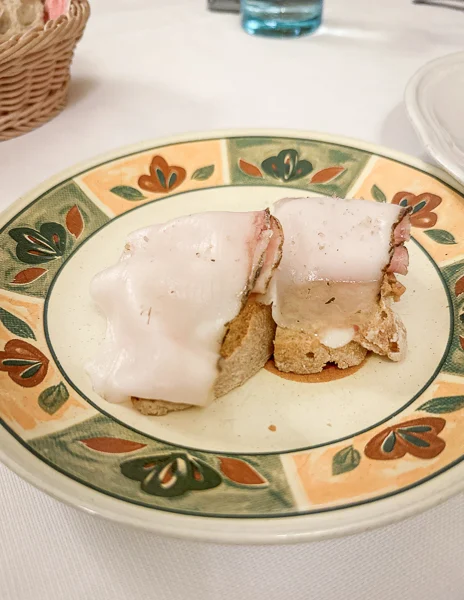 We started with some crostini al lardo and sliced Tuscan prosciutto DOP with truffle pecorino. Our second course was ribollita ( a Tuscan peasant soup) and tagliatelle with wild boar ragout. We shared the roasted chianti pork with the best-baked potatoes as an entree. And then we finished off with mille fiore for dessert, a favorite.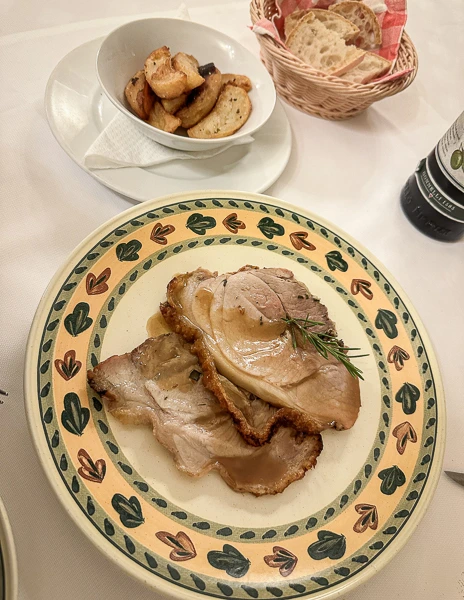 So happy we were recommended to eat here for the first time many years ago by our favorite B&B in Florence (sadly, now temporarily closed).
When we paid our bill, we promised we'd be back!
Reservations recommended.
Acquacotta Trattoria | Via dei Pilastri, 51/R, 50121 Firenze | Google Map It

Ristorante Del Fagioli
This cozy tavern is filled with locals and tourists feasting on traditional menu items like ribollita and Bistecca alla Fiorentina.
This Florence restaurant came highly recommended by many locals we met during our first trip for an authentic Bistecca alla Fiorentina experience.
What makes a Florentine steak? A traditional Florentine steak comes from their local Chianina cattle (white cow). When you order the steak, they will bring the raw steak out and present it to you at your table for approval before they cook it in the kitchen.
We were astonished but delighted all at the same time.
We paired our steak with sauteed white beans, spinach, and some of their house chianti. It is one of the best cuts of meat we've ever had. The meat is excellent, tender, and properly prepared. This is one of our favorite meals when we are in Firenze.
Cash only.
Reservations recommended.
Del Fagioli | Corso dei Tintori, 47-red, 50122 Firenze | Google Map It

Florence is a fantastic city to explore. With all of the best sites, tips, and day trips available from here you'll be sure not to want for anything while your visit! Google map included!
Osteria del Cinghiale Bianco
Just a short 3-minute walk from the South Side of Ponte Vecchio is Osteria del Cinghiale Bianco, a popular and busy Tuscan restaurant.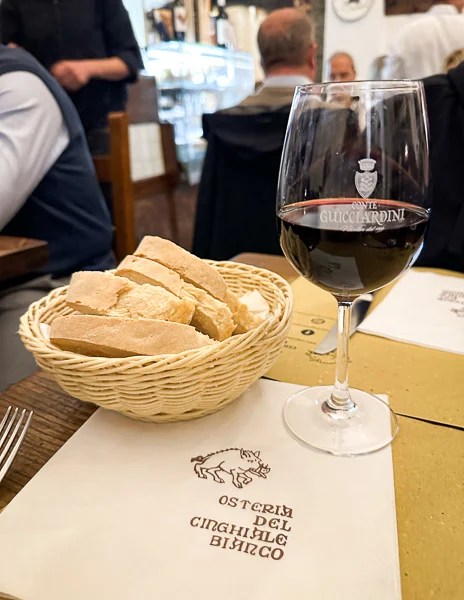 The restaurant is located on the ground floor of a 14th-century tower. You will get the feeling of medieval vibes upon sitting down.
You also may recognize this restaurant from Stanley Tucci's Search for Italy Tuscany episode. But we've loved this Osteria for over a decade, and just like Tucci, it's one of our favorite places to eat in Florence.
The literal translation of Cinghiale Bianco translates into White Boar.
They serve many typical Tuscan dishes, all very amazing and delicious. Choosing what to eat is always tricky because everything looks so good, and you'll want one of everything.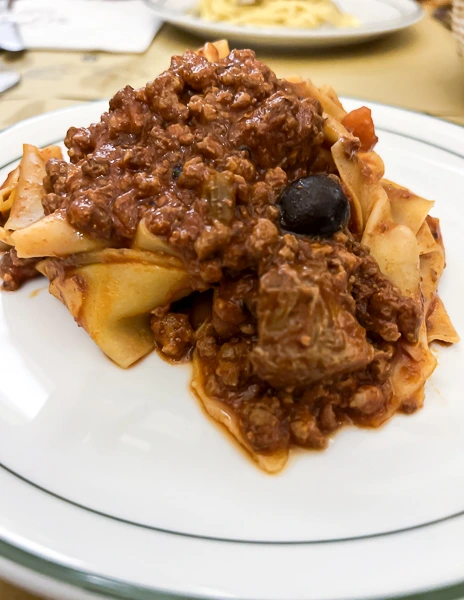 During our most recent visit, we had a fantastic dinner. We had a plate of tagliolini with truffles, prepared perfectly with the pasta al dente, and the fresh truffles were fragrant, savory, and earthy in the dish's simplicity.
We also ordered the pappardelle with wild boar ragú always a standout dish here and a Tuscan favorite. It's comfort in a plate.
As an entree, we had to try their wild boar steak this time. The wine sauce reduction that this wild boar steak comes in is incredible. You'll want to dip everything into this sauce.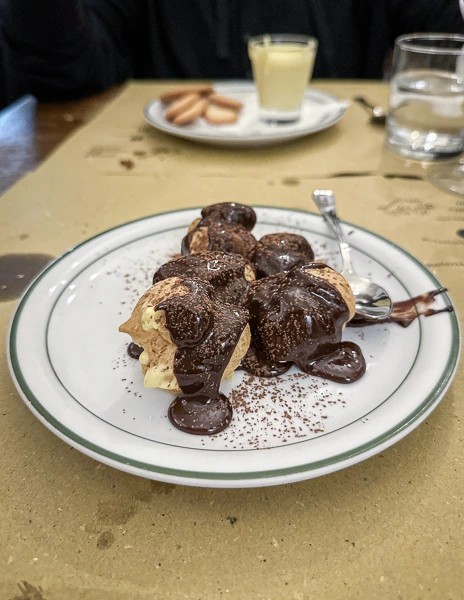 For dessert, we had their cream puffs and the mascarpone cream with cat tongues, a thin buttery cookie. These cookies just reminded hubby of his childhood.
The restaurant is bustling and full of happy locals and tourists. You will want to make a reservation ahead of time to eat here.
Reservations recommended.
If you can't get into Cinghiale Bianco, check out their sister restaurant Osteria del Pavone. We couldn't get in when we were there, but we heard great things about it.
Osteria del Cinghiale Bianco | Borgo S. Jacopo, 43, 50125 Firenze | Google Map It
Tip: Download The Fork app before your trip to Italy. 

This is Europe's version (works in 22 countries) of Open Table and Resy. You won't find the restaurants listed in this post on this app, you'll have to call to get reservations as these are smaller restaurants.

However, this app is helpful to get same-day reservations (or farther in advance) at other popular restaurants in Florence. 

We successfully found a couple of excellent restaurants on The Fork during our travels in Italy. 
Quick and Delicious Bites in Florence
Salumeria Verdi | Pino's Sandwiches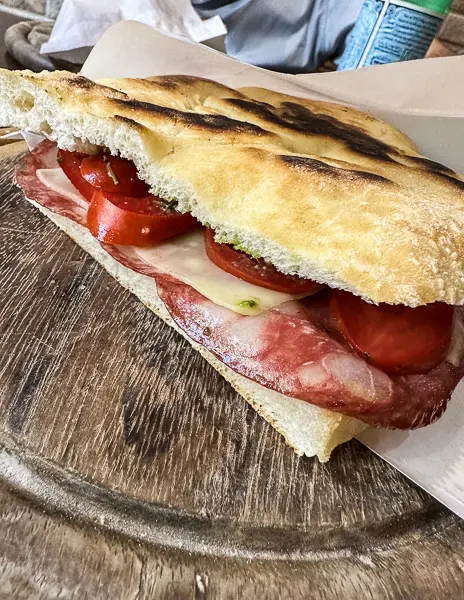 Where to go for paninis? You'll find Pino's Sandwiches in Santa Croce, also known as Salumeria Verdi.
Years ago, we'd walk into this local salumeria on an afternoon and enjoy a glass of wine with a platter of salumi or panini for a few bucks. We'd watch locals come in and out, order takeaway, or sit down with a glass of wine.
Today, you'll find long lines for paninis, especially in the afternoon. But not as busy as the infamous All'Antico Vinaio. Locals still frequent Pino's, and you will spot them dining inside or outdoors.
As tourism has grown in the city of Rennaissance, so has the popularity of our favorite places to eat in Florence. However, Pino's Sandwiches are still serving delicious sandwiches for great prices.
We suggest heading to Pino's for paninis, where the salumeria is still a local favorite.
You can also order other things on the menu. They do not only sell panini.
Foodie Tip: Save room for gelato. Vivoli is just a short walk away from Pino's. 
Pinos Sandwiches | Via Giuseppe Verdi, 36R, 50122 Firenze | Google Map It
All'Antico Vinaio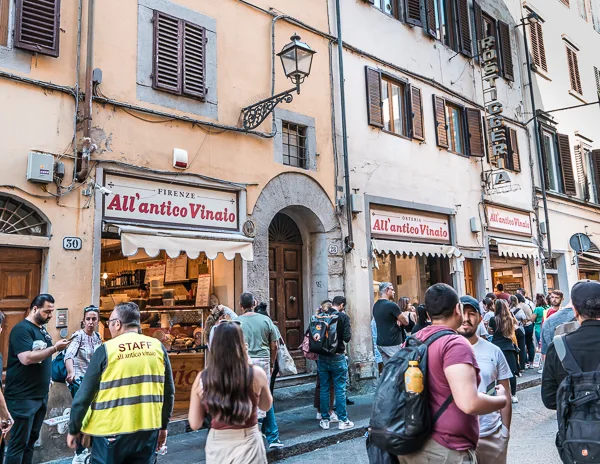 In the heart of Florence, near the Uffizi, is All'Antico Vinaio.
On this last trip, we didn't return to have sandwiches here. We did witness how much they've grown in the past ten years. They have a total of 4 locations on the same street! Yes, all of them with long lines.
They've become world famous. Expanding to New York City!
The paninis at All'Antico Vinaio are next level. They are not just a sandwich, as some non-foodies may say.
Of course, if you want a plain sandwich with just salumi and formaggio, you can have that elsewhere for cheaper. What makes their sandwiches unique are all the extra fillings they put inside them.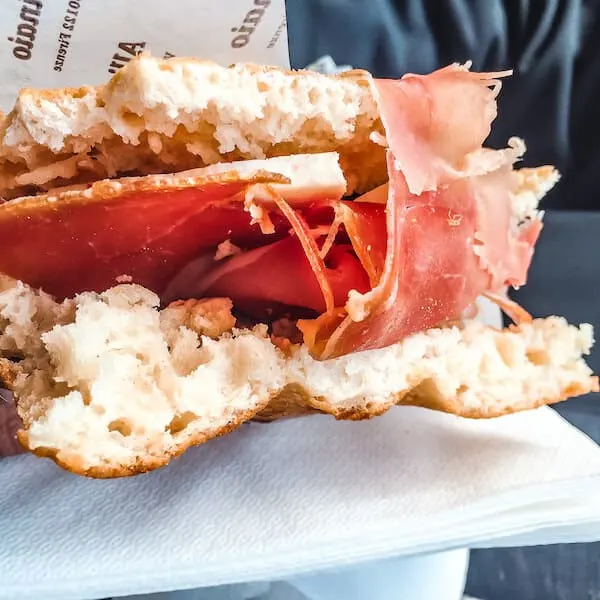 Their paninis at All'Antico Vinao are big! They are savory, decadent sandwiches with local Italian cold cuts and unique creamy sauces on schiacciata bread. And they are not shy in smearing those sauces on the sandwiches.
Order from their menu board, pick your own fillings, or be surprised and ask them to make you their favorite combination.
Take your sandwiches and walk down by the River Arno to enjoy them.
You should try one of their sandwiches at least once to see if the hype is worth it. We believe it is, but we ran out of time on this last visit.
All'Antico Vinaio | Via dei Neri, 76 R, 50122 Firenze | Google Map It
Rent a car or take the train and spend the day in Lucca. See what to do in the old city of Lucca behind the ancient Renaissance walls.
Gusta Pizza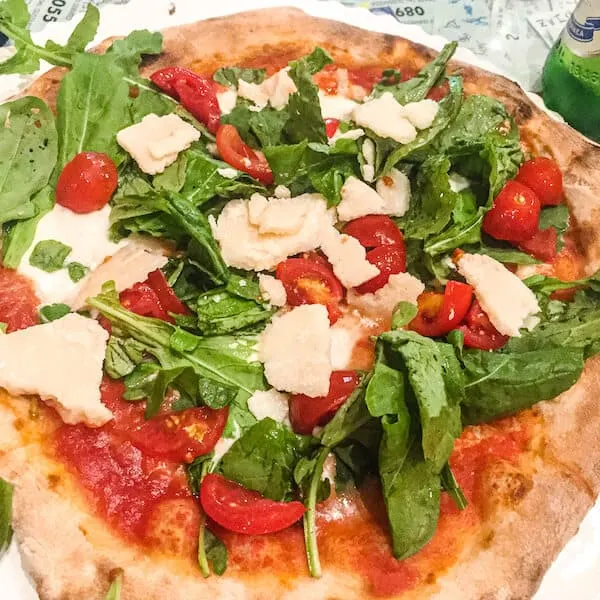 You can't visit Italy and not have at least a taste of pizza. Gusta Pizza is one of the best places for a quick and delicious pizza near Palazzo Pitti.
Gusta Pizza has also been featured on Diners, Drive-ins, and Dives. Guy Fieri was not wrong about this place; it quickly became one of our favorite eats of Florence, Italy, too!
Order a classic Margherita and sprinkle on some of their special hot sauce to spice it up. Any of their combinations will satisfy any pizza lover.
Cash Only.
Gusta Pizza | Via Maggio, 46r, 50125 Firenze | Google Map It
Mercato Centrale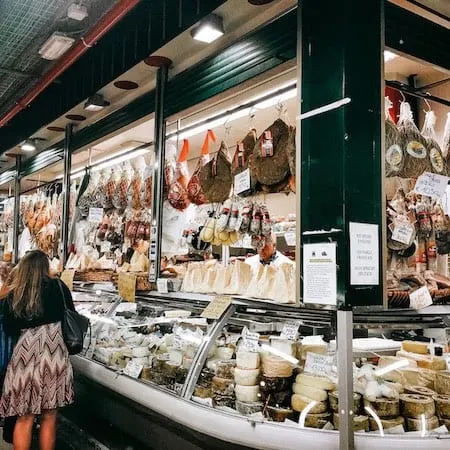 The central market is the farmer's market in the city of Firenze. You can do local food shopping here to prepare back at your vacation rental with a kitchen or eat at several of their food stands.
Stop at the family-owned Conti Tuscany Flavour to buy truffle honey or aged balsamic.
Then stop by da Nerbone, a food stand that's been there as long as the market, and try a bollito (a boiled beef sandwich) with salsa verde.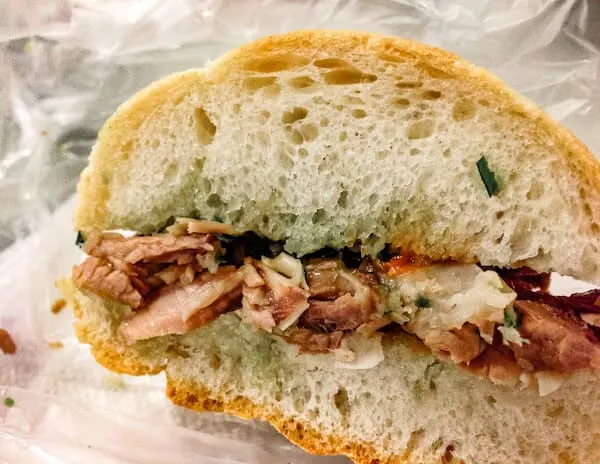 The 2nd floor of this market has a trendy food court with many food stands open until 12 AM. It's a great place to try various foods at great prices. You should try to visit, if only to look around. See where the locals shop. Learn about their traditional local foods.
Mercato Centrale | Piazza del Mercato Centrale, Via dell'Ariento (Google Map It | Website
Perche No!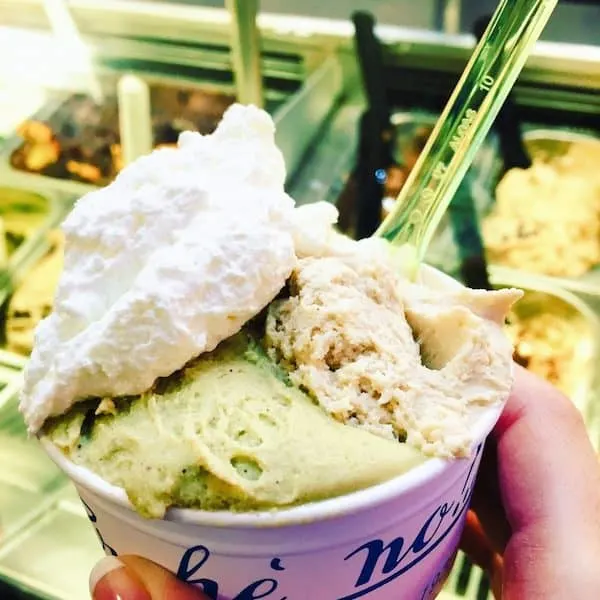 When you're in Florence, you must have some GELATO! We can't have a list of our favorite eats of Florence without mentioning gelato, right?
We were introduced to Perche No! by Florence For Foodies (I highly recommend this food tour with Nat and Samanta). We had tried other gelato places before being introduced to Perche No! and I can say, this is one of the best in town. All the gelato is made fresh, in-house daily.
Don't forget to top your gelato with some Panna (whipped cream)!
Perche No! | Via dei Tavolini, 19r, 50122 Firenze | Google Map It | Tripadvisor
Tasty and Best Day Trips From Florences
Traveling to Florence, Italy? Check out these tasty and fantastic day trips from Florence that are a short distance away. These Florence day trips are easy to travel on your own via train or car.
Cafe Rivoire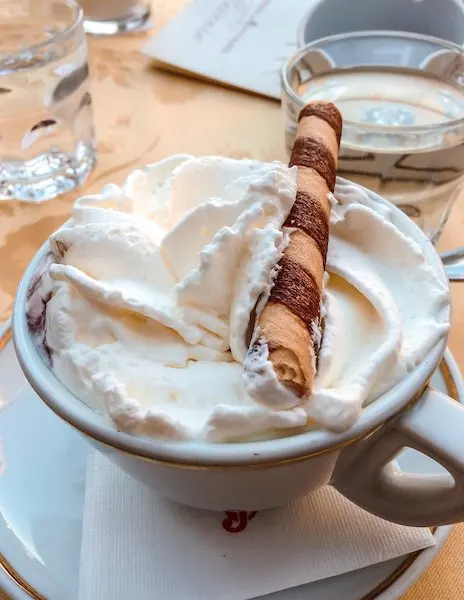 Right across from the copy of Michelangelo's David in Piazza Della Signoria, you will find one of the best hot chocolates in Florence at Cafe Rivoire. The hot chocolate is thick, rich, smooth, and creamy. Make sure to ask for panna (whip cream). I couldn't drink it all, it was so rich, but it was definitely worth the many sips I did get to have.
Cafe Rivoire has been producing some of the finest Italian chocolates for 150 years. So it is worth the stop, even if it's just to purchase a few chocolates and have an espresso.
Our favorite thing to do is take a seat outside of the cafe, order some hot chocolate and espresso, and admire the main square, Piazza della Signoria.
Cafe Rivoire | P.za della Signoria, 5/R, 50122 Firenze | Google Map It
Don't Miss the Wine!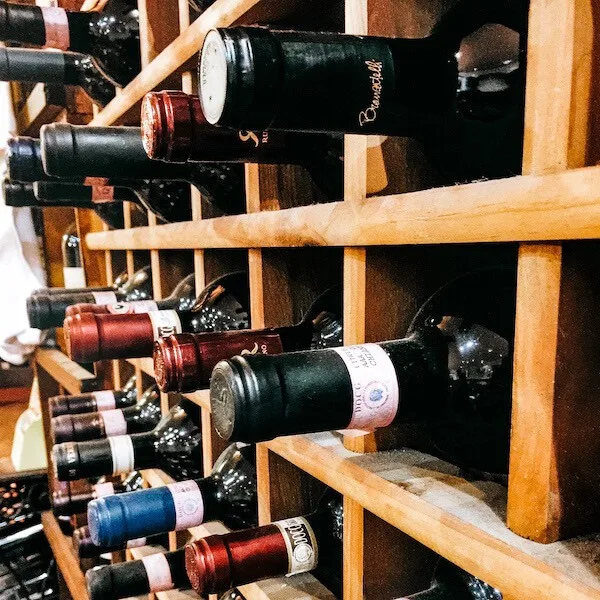 Florence is known for its Chianti. You can't visit Italy without trying one of the many things they are known for. Order the house wine or ask your server what their favorite bottle is to discover a local favorite.
We discovered our favorite wine this way: Nipozzano Riserva. You can visit the Frescobaldi winery in Tuscany.
Don't Miss: Inspiring Quotes About Italy – Your Next Foodie Destination
Only have one day in Florence? Without a doubt lunch at All'Antico Vinaio, Perch No! for gelato, and dinner at El Fagiole.
Anytime I revisit this list, I long to book a trip to revisit them all and eat my heart out. This is one of my favorite cities in the world. I'm sure you will enjoy eating through Florence as much as I have.
Which place are you looking forward to eating at?
Have you been to Florence, Italy? What are your favorite places to eat in Florence?
Share the tips & love on Pinterest: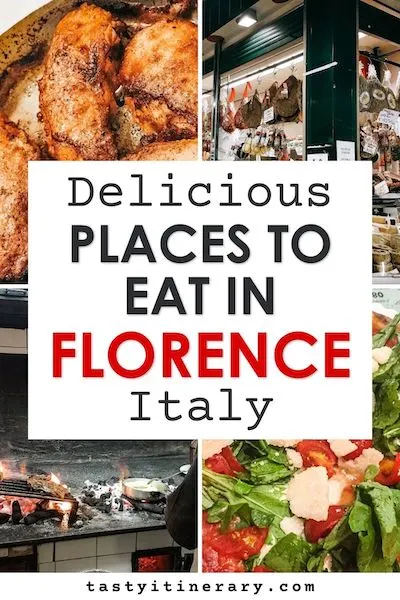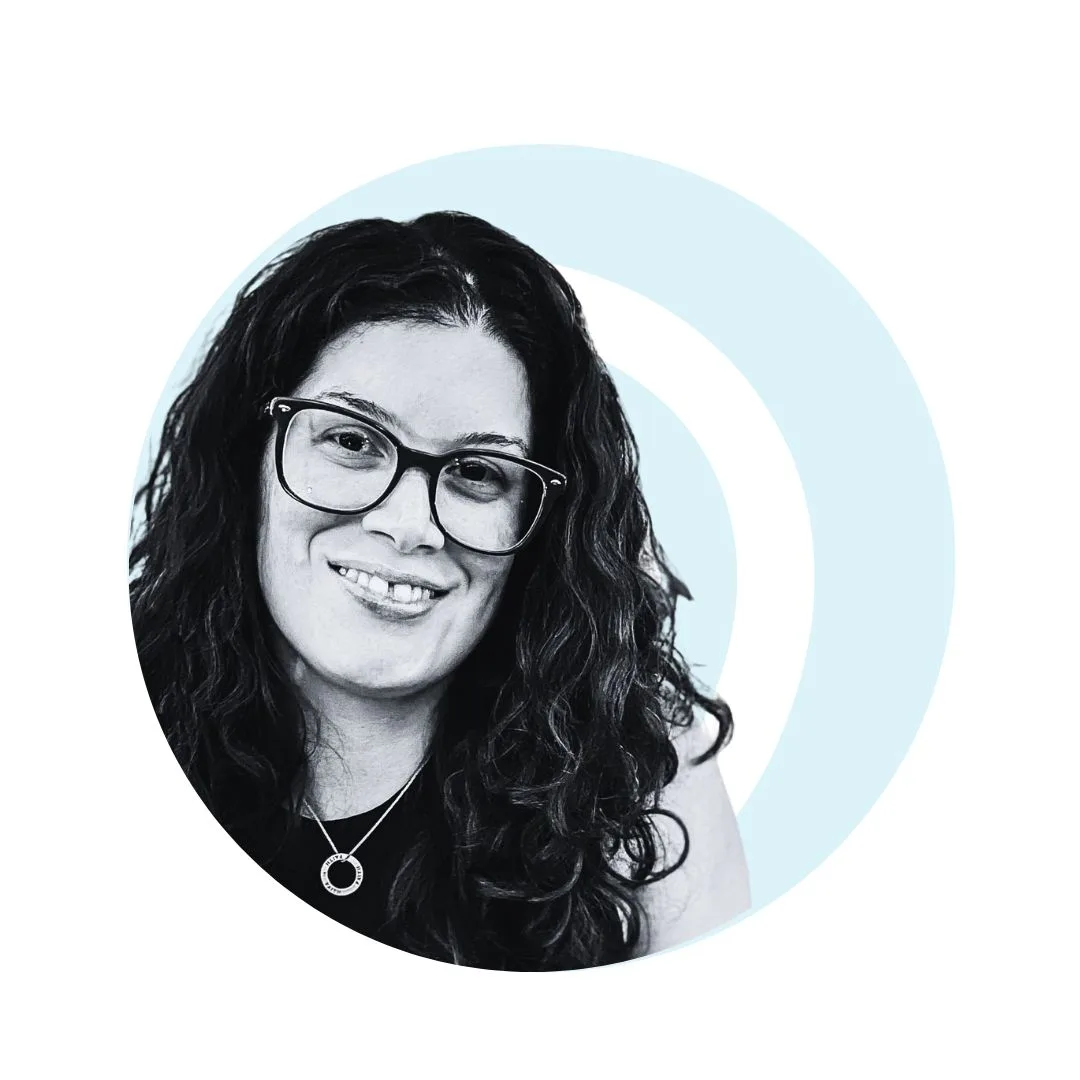 Meet Kathy Ava – a food, travel, and cruise writer based in Los Angeles/Pasadena. With over 20 years of experience planning trips and logistics at her full-time job and for herself, she's become a pro at crafting unforgettable travel itineraries. She's always looking for delicious, fun cruise itineraries and travel destinations and is slightly obsessed with Italy. Her passion and curiosity for travel started in childhood on her yearly and sometimes bi-yearly trips to PR. She firmly believes that life is short and we must make the most of it – so let's explore the world and make some incredible memories.