As we plan for our future European trip, our thoughts and conversations keep drifting off to some of our favorite places to eat in Florence, Italy. Some of the best dishes I've ever had are from Italy. I mean, who doesn't love pasta? Or pizza? Or any dish prepared by Nonna?
Since I'm asked all the time by friends or family about where they should eat when they visit Firenze, I compiled a list of some of our favorite foodie spots. I hope this list will help you eat your way through Firenze as we do every time we are there.
Please note: this trip and post was written pre-Covid.
Places to Eat in Florence, Italy
Quick and Delicious Foodie Spots to Eat in Florence
Mercato Centrale
The central market is the farmer's market in the city of Firenze. You can do some local food shopping here to prepare back at your Airbnb or you can eat at a number of their food stands.
Make a stop at the family-owned Conti Tuscany Flavour to buy some of their truffle honey or aged balsamic. Stop by da Nerbone, a food stand that's been there as long as the market, and try a bollito (a boiled beef sandwich) with salsa verde.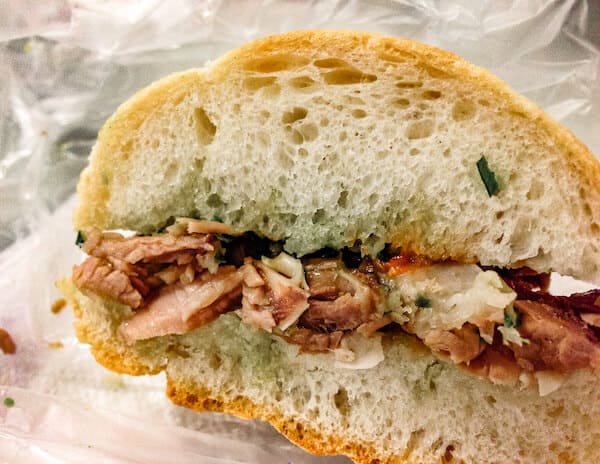 The 2nd floor of this market has a trendy food court with a number of food stands open until 12 AM. It's a great place to try a variety of foods at great prices. You should absolutely try to visit if only to just look around and see where the locals shop and learn about their traditional local foods.
Piazza del Mercato Centrale, Via dell'Ariento, 50123 (Google Map It) | Website
Gusta Pizza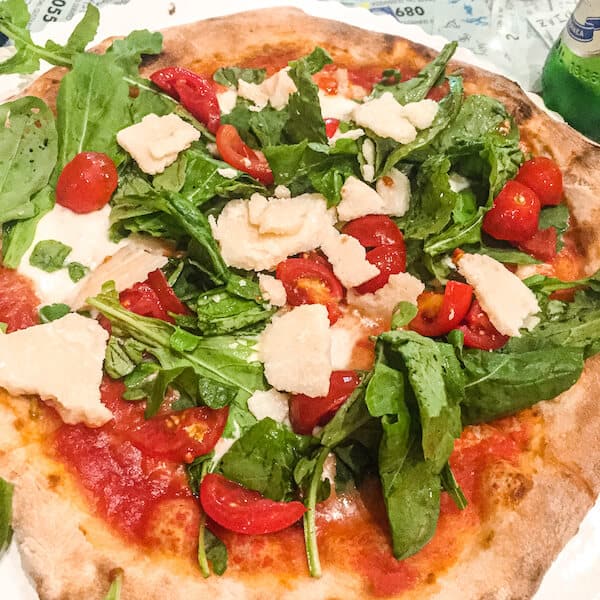 You can't visit Italy and not have at least a taste of pizza. Gusta Pizza is one of the best places for a quick and delicious pizza near Palazzo Pitti.
Gusta Pizza has also been featured on Diners, Drive-ins, and Dives. Guy Fieri was not wrong about this place and it quickly became one of our favorite eats of Florence, Italy too! Order a classic Margherita and sprinkle on some of their special hot sauce to spice it up. Any of their combinations will satisfy any pizza lover. Cash Only.
Via Maggio, 46r, 50125 Firenze FI, Italy (Google Map It) | Tripadvisor | Yelp
All'Antico Vinaio
Do you love savory sandwiches on homemade bread and local Italian coldcuts? Well, this is the place to grab one to-go.
There seems to always be a long line at All'Antico Vinaio but with reason. Don't let the line scare you. Sandwiches are made to order on fresh focaccia bread. Order from their menu board, pick your own fillings, or be surprised and ask them to make you their favorite combination. All the meats and cheeses are hand-sliced. Take your sandwiches to go, grab a bottle of wine with some plastic cups, and find a spot by the River Arno to enjoy it.
Via dei Neri, 76 R, 50122 Firenze FI, Italy (Google Map It) | Tripadvisor | Yelp
One Day in Florence, Italy: 3 Itinerary Options
Planning a day or three in Florence, Italy? Here are our top recommendations for things to do in Florence.
Perche No!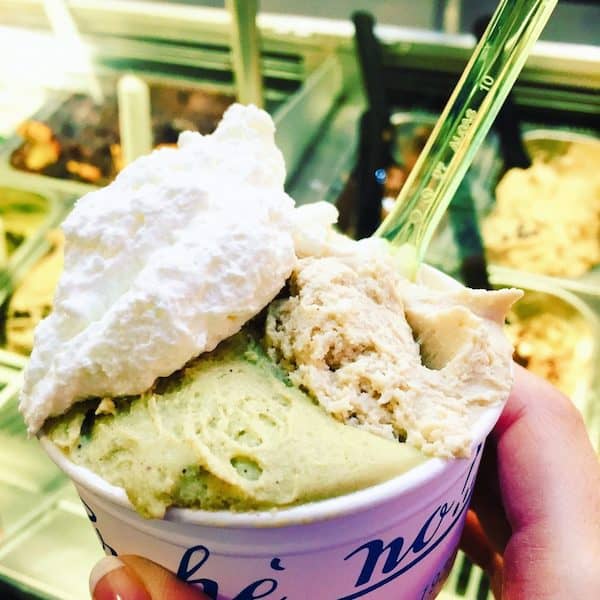 When you're in Florence, you must have some GELATO! We can't have a list of our favorite eats of Florence without mentioning gelato, right?
We were introduced to Perche No! by Florence For Foodies (I highly recommend this food tour with Nat and Samanta). We had tried other gelato places before being introduced to Perche No! and I can say, this is one of the best in town. All the gelato is made fresh, in-house daily.
Don't forget to top off your gelato with some Panna (whipped cream)!
Via dei Tavolini, 19r, 50122 Firenze FI, Italy (Google Map It) | Tripadvisor
Restaurants in Florence, Italy We Love
Trattoria Sostanza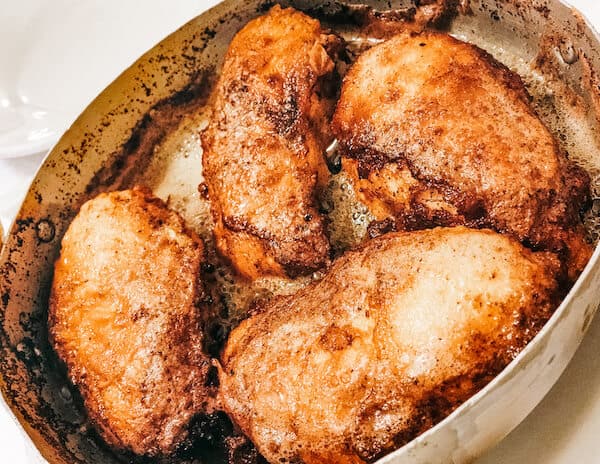 Two words: BUTTERED CHICKEN!
Melt-in-your-mouth buttered chicken. It sounds like a simple dish, but the process they use to make it wouldn't be as easy to replicate at home. The chicken is pan-fried in this frothy buttery sauce. The chicken comes out delicately crispy and it's so tender that it melts in your mouth.
They are also known for their Florentine steak and egg soufflé.
I can't visit Florence and not have Trattoria Sostanza one night for dinner. It is excellent! Absolutely, one of our favorite places to eat in Florence.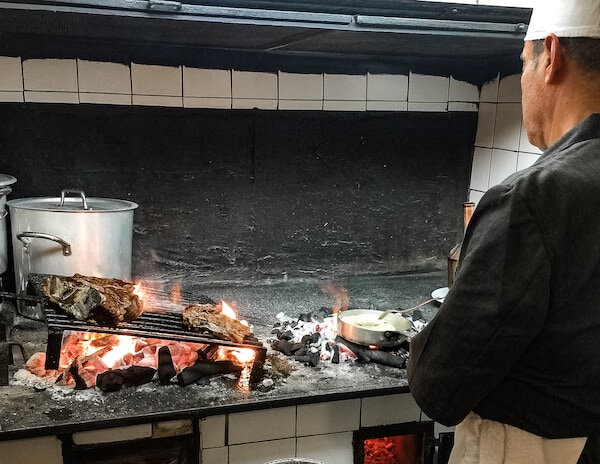 The family that runs Trattoria Sostanza are welcoming and invite you into the back of the kitchen and demonstrate how they make their favorite dishes over an antique stove. Don't dare leave anything on your plate, they expect you to mangia-mangia!
Leave room for dessert! Their cake Meringue Raspberry Cake is amazing.
Via del Porcellana, 25/R, 50123 Firenze FI, Italy (Google Map It) | Tripadvisor | Yelp
Cash only. Communal dining. Reservations recommended.
Acquacotta Trattoria
Italian comfort food at it's finest and one of the best places to eat in Florence, Italy. The combination of the ambiance, the food, and the service makes me feel like I'm at nonna's having a home-cooked meal here at Acquacotta Trattoria.
I initially thought nonna was in the kitchen cooking, but then I found out it's a husband and wife operation. The wife is waitressing and running the front, while the husband works his magic in the kitchen. An excellent duo, serving dishes that warm the soul after the first bite.
Check to see if the wild boar is on the menu; it's a local delicacy, and Acquacotta is the place to try it.
Via dei Pilastri, 51/R, 50121 Firenze FI, Italy (Google Map It) | Tripadvisor | Yelp
Reservations recommended.
Ristorante del Fagioli
This cozy tavern is filled with locals and tourists feasting on traditional menu items like ribollita and Bistecca alla Fiorentina. This Florence restaurant came highly recommended by many locals we met during our first trip for an 'authentic' Bistecca alla Fiorentina experience.
What makes a Florentine steak? A traditional Florentine steak comes from their local Chianina cattle (white cow). When you order the steak, they will bring out and present the cut of raw meat to your table for approval before they proceed to cook it in the kitchen. We were astonished but delighted all at the same time.
We paired our steak with sauteed white beans, spinach, and some of their house chianti. It is one of the best cuts of meat we've ever had. The meat is excellent, tender, and properly prepared. This is one of our favorite meals when we are in Firenze.
Corso dei Tintori, 47-red, 50122 Firenze FI, Italy (Google Map It) | Tripadvisor | Yelp
Cash only. Reservations recommended.
Don't Miss the Wine!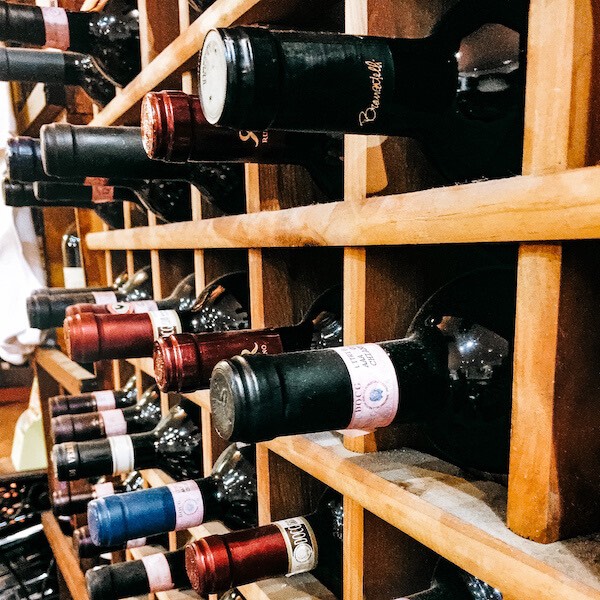 Florence is known for its Chianti. You can't visit Italy without trying one of the many things they are known for. Order the house wine or ask your server what their favorite bottle is to discover a local favorite.
We discovered our favorite wine this way: Nipozzano Riserva. You can actually visit the Frescobaldi winery in Tuscany.
---
Would love to hear back if you make it to any of our favorite places to eat in Florence, Italy.
If you have any recommendations, let me know in the comments. I'm always looking for some new tasty eats.
---
Don't forget to share the love on Pinterest: