Are you looking to make the most out of your 2 days in Florence?? Is a Florence 2-day itinerary sufficient?
Not if you expect to explore everything Florence offers.
And let's be honest. If we want to explore every part of Florence, we must live there for an extended time. But if we only want to visit, the essential 2 days in Florence is enough to get you acquainted.
One day in Florence is a tease; two days in Florence seems essential to get to know the city. It's enough time to see the highlights, book a tour, and eat at some delicious spots.
Even if you just had a few hours, this city is worth exploring on foot with gelato. Florence is bursting with culture, history, and beauty around every corner.
And for us, this time around, it was more about getting reacquainted as we've been here a few times already.
During our recent trip to Italy, after we visited Bologna, Parma, and Modena in Emilia Romagna and spent 3 Days in Tuscany, we decided to return to our favorite city at the end of our time there.
We spent a tad over two days in Florence, Italy. But we won't be counting the few hours we spent settling into our Airbnb and familiarizing ourselves with the city in a few hectic hours. That's just a travel day.
The itinerary you plan during this short time in Florence is important. It can make or break your view of Florence, especially since tourism has grown so much in the past several years.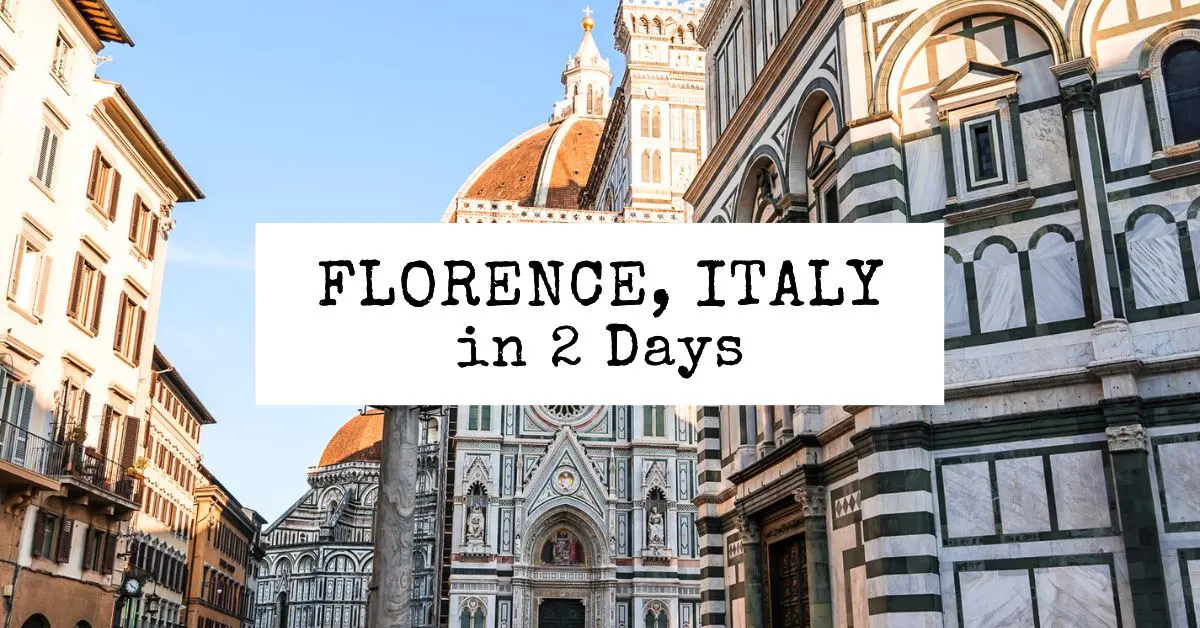 This post may contain affiliate links, which means we'll receive a commission if you purchase through our links at no extra cost to you. Please read full disclosure for more information. We appreciate your support!
We were even surprised by how busy the city was compared to when we visited some years prior. We even felt overwhelmed on the day we arrived, wondering what had happened and why it had changed so much.
In reality, the essence of Florence has remained the same: an intoxicating city is still filled with art, the architecture is still miraculous, and the food is still as delicious.
The makings of a tasty itinerary.
In this article, this Florence 2 Day Itinerary, we share is based on our full two days in Florence before heading back home to Los Angeles.
While we have spent some time in the city of Rennaissance in the past and have experienced most of the things to do in Florence, we wanted to revisit the city and experience a couple of activities we had never done before. We do, though, revisit the highlights.
Even if your first time in Florence and you only have two full days, it's not about fitting everything in those two days. It's impossible without rushing through it all.
As always, we recommend planning and researching the attractions and activities you want to visit the most and preparing to walk as much as possible.
Table of Contents
2 Days in Florence, Italy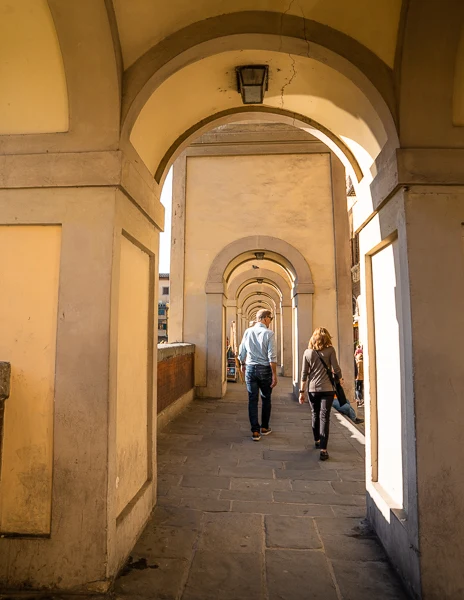 There is plenty to experience and enjoy with only two days in Florence, as you will see from this Florence 2 day itinerary.
We may have moved some things around between the two days to cluster things together for planning purposes. You will find yourself walking around Firenze, getting lost, and passing through piazzas and different parts more than once.
The historic center is compact. Easily walkable. It's about how you'd like to spend a short time there.
Keep in mind what brings you joy and what doesn't. If museums bore you, you don't have to tour the Uffizi. If you've had enough of churches, seeing the magnificence of the Duomo of Firenze from outside is probably enough. Long lines aren't for you? Look for off-the-beaten-path options.
You're not obligated to check things off a list because a guidebook told you to. But sometimes, it is nice to push ourselves outside our comfort zone.
Where to Stay in Florence?

For a short stay, you may want to be centrally located. However, we love the Santa Croce area as homebase as it's away from the hustle and bustle but walkable to everywhere you want to go.

Book Accomodations In Florence
Day 1 in Florence
On Day 1, start early.
Find a cafe near where you're staying. Have your morning espresso or cappuccino. We were lucky that there was a cafe right downstairs from where we were staying.
If your hotel provides breakfast, take advantage of that Italian breakfast, which usually consists of cafe, pastries, formaggio, salumi, and fruits.
Foodie Fun Fact: The typical Italian breakfast consists of un cafe and a pastry, like a cornetto.
Early Morning Start at Piazza della Repubblica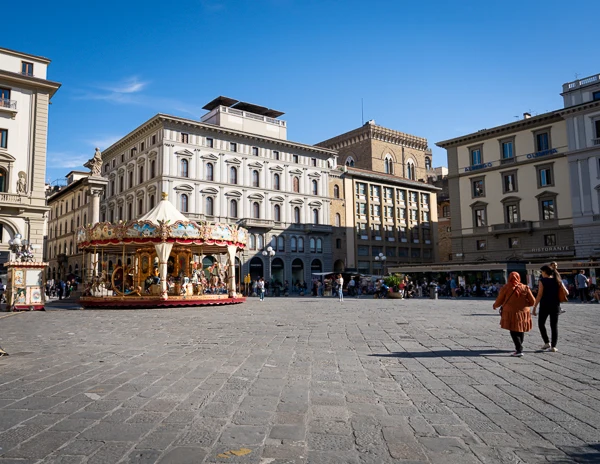 We stayed close to the Piazza della Repubblica and passed through it every morning. Even if you're not staying near here, add it to your itinerary during your walks throughout the city center of Florence.
Piazza della Republica in Firenze is a lively square surrounded by cafes, restaurants, and a carousel ride. Historically, this piazza sits on what used to be the city's Roman Forum over 2000 years ago.
In the morning, it's quiet. You'll find people walking their dogs, others heading to work or school, and some just sitting there enjoying the morning.
At night, it's livelier with people dining and drinking at restaurants, some playing music, and conversations taking place. Big events sometimes take place here too.
On our last night cutting through the piazza, we were surprised to find rows and rows of Ferraris being set up for a large event the next day. It made my hubby's night. Note this is not the norm.
Marvel at the Duomo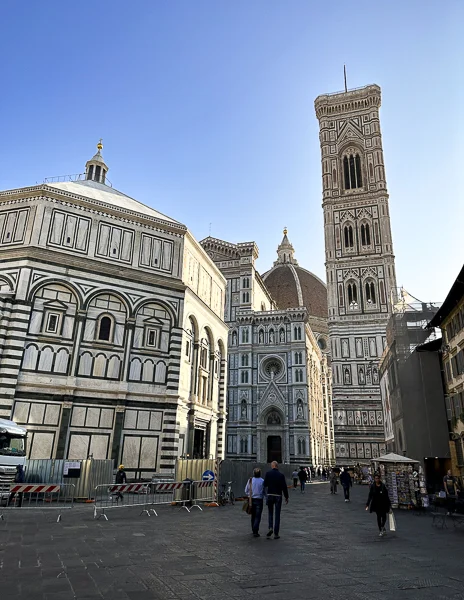 Not far is the Florence Cathedral, the Cathedral of Santa Maria del Fiore. You can marvel at its grandeur and beauty at any time of the day. And you will, whenever a road leads you back to the Duomo.
The Duomo di Firenze is an iconic structure of Florence. It dominates the skyline of Firenze and is a powerful presence along Giotto's Bell Tower, marking the city's center.
Fun fact: Did you know that by law, no structures can be built any higher than the Duomo? This means that no buildings in Florence can be taller than the Duomo, and no one can build anything that would block the view of the Duomo.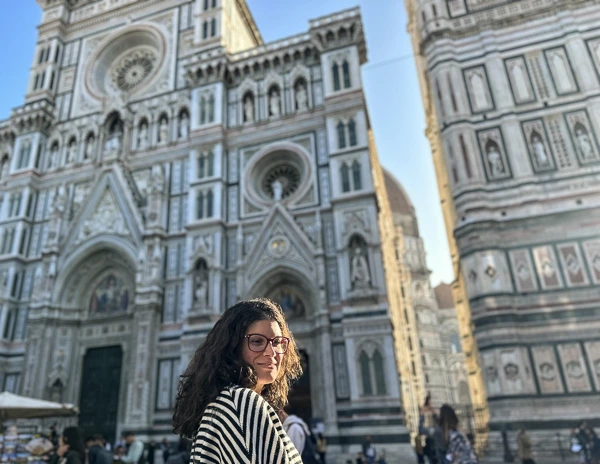 The morning is our favorite time to visit the Duomo. You have a better chance of avoiding crowds in the afternoon. It's peaceful, and the morning light hits just right.
Entering the cathedral is free. Make time for it, as long lines begin in the early morning. Make reservations to climb the Duomo and Giotto's Campanile.
We did not enter during our two days in Florence, but we have on our past trips.
Admire the Copy of David at Piazza della Signoria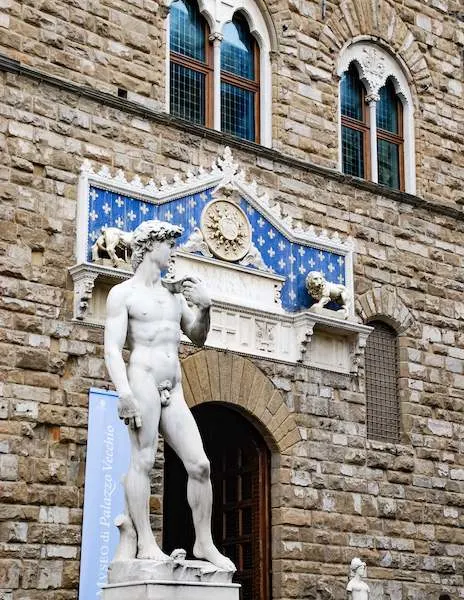 Make your way to Piazza della Signoria where you'll find a copy of Leonardo's David and Fontana del Nettuno.
The piazza is full of sculptures, and the statues are old and modern. It is surrounded by historical buildings such as Palazzo Vecchio, Uffizi Gallery, and Loggia dei Lanzi.
The 2-meter tall statue in Piazza della Signoria in front of Palazzo Vecchio is a copy of the original David. It stands in the same spot where the original used to be.
The actual David statue is located in the Galleria dell'Accademia. However, the 2-meter tall copy in Piazza della Signoria is impressive enough for 2 Days in Florence.
However, if you want to see it in person (it is an incredible sight), book your tickets with Galleria dell'Accademia in advance. If you can also book a guided tour with Skip the Line, it's worth it.
Tour Idea:
Florence Walking Tour with Skip-the-Line to Accademia & Michelangelo's 'David' [book here]
Secret Passages Tour at Palazzo Vecchio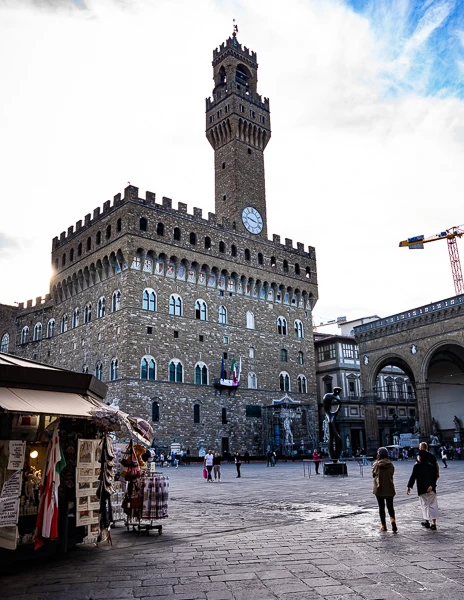 On the morning of day one, we booked a Secret Passages Tour at Palazzo Vecchio in advance.
The Palazzo Vecchio is the town hall of Florence, and it stands over Piazza della Signoria. It was once the Medici family's home, and taking a tour of the palace is interesting, to begin with.
But imagine taking a tour of the secret passages that the Medici took. These passages are not open to the public with tickets to enter Palazzo Vecchio. It's a guided tour only.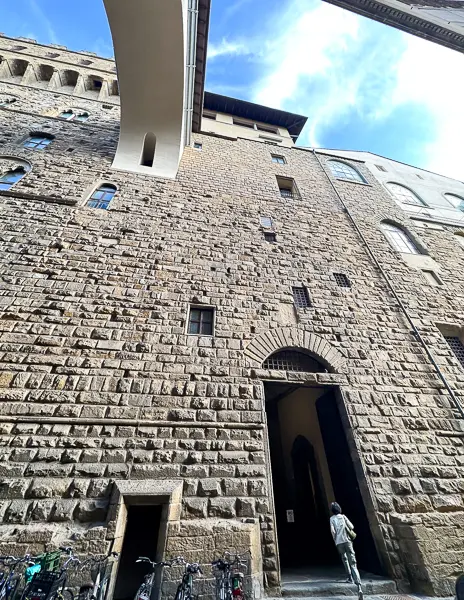 The 2-hour tour of secret passages was exciting and better than we expected. After meeting the guide, we officially started our tour outside Palazzo Vecchio. We entered the palace through an inconspicuous short side door inside the back steps and into rooms the Medici used to take when they wanted to escape unseen.
We were led through narrow corridors, secret chambers, and hidden staircases until we reached the top of Palazzo Vecchio. The enthusiastic guide informed us about the Medici family's secrets and history.
There is also a fantastic view of the city from Palazzo Vecchio.
The 2-hour tour was an amazing experience.
You can book the ticket directly with Palazzo Vecchio Museum. We emailed them to book and received a prompt response to reserve our time: info@muse.comune.fi.it.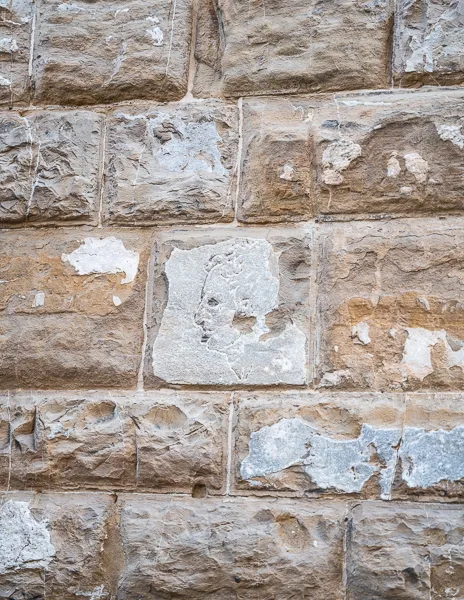 Interesting Tip: When you leave Palazzo Vecchio or before you enter it, look for Michelangelo's graffiti of a face on a stone to the right from the entrance stairs, at the corner. The face is looking toward David's statue. Legend has it he carved it out of boredom.

Buy Some Artwork From An Artist Outside the Uffizi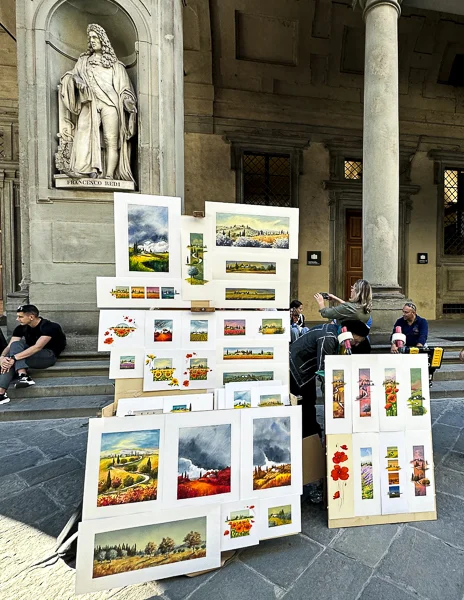 Outside the Uffizi, you'll find many artists who create beautiful artwork.
We recommend buying some of their work—it's stunning and makes for a great souvenir to take home. It's a great way to support local artists.
We purchased three pieces of art from one artist and one from another as a gift.
Grab a Panino at Pino's Sandwiches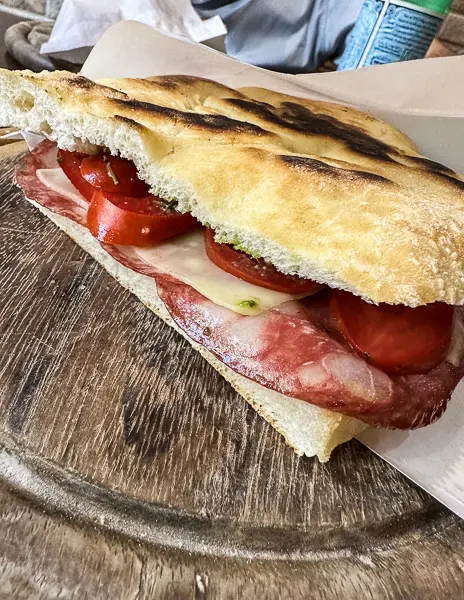 Hungry yet? Paninis are a fast and quick lunch when you have a full day ahead.
We decided to head to the Santa Croce area to stop by one of our favorite places to eat, Pino's Sandwiches – Salumeria Verdi, where we had amazing paninis. The salumeria is visited daily by locals and visitors.
After lunch, check to see if Gelateria Vivoli is open. It's two mins away on foot from Salumeria Verdi.
Optional:
You can stop by All'Antico Vinaio for one of their famous paninis. They are good, but they've become super popular since we had a sandwich from them many years ago. The lines to their three locations are long. So if you want to wait, you can.
You can also visit the Mercato Centrale or pick up another famous Florence street food, Lampredotto, from the street carts in the area.
Visit Explore San Croce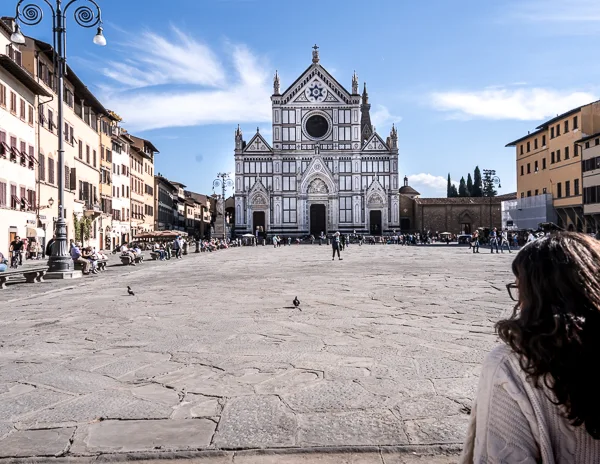 Santa Croce is a beautiful area to explore away from the crowds that take over Piazza della Signoria and the Duomo.
The Basilica of Santa Croce is a stunning 13th-century Gothic basilica. We sat outside in the Piazza, which was relatively empty that afternoon, and admired it. There is something so serene about it.
The resting places for Galileo, Michelangelo, Davinci, and other famous artists are inside the basilica. If you have time, you can enter.
In the area of Santa Croce, you'll want to walk around, explore the small streets and admire the architecture. If you want to stop, there are plenty of souvenir shops, restaurants, bars, and cafes. There are also artisanal shop owners who create beautiful leather goods.
Visit the Leather School of Florence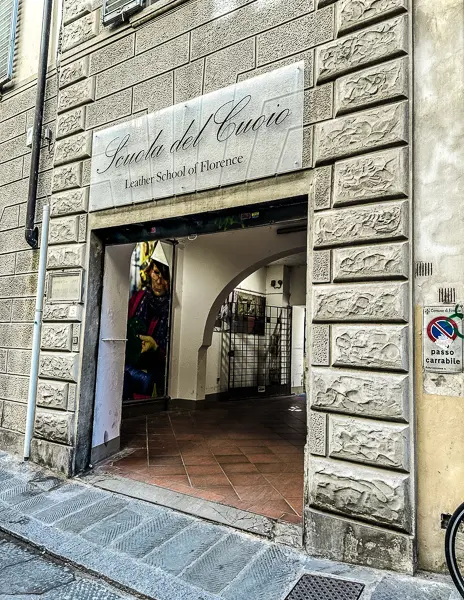 Speaking of leather goods, in Santa Croce, you'll find the leather school of Florence, where you can learn about the traditional methods used to make leather goods.
You can buy handmade bags, belts, and wallets created by the students.
We always stop here as we have belts and wallets that have been with us for a decade.
Officina Profumo-Farmaceutica di Santa Maria Novella
With only 2 days in Florence, we had a few things to check off our list, including visiting one of the oldest pharmacies in the world.
What's nice about Officina Profumo Farmaceutica di Santa Maria Novella is that it's a quick visit on your Florence 2 Day itinerary that is free. You get to experience another part of the history of Florence.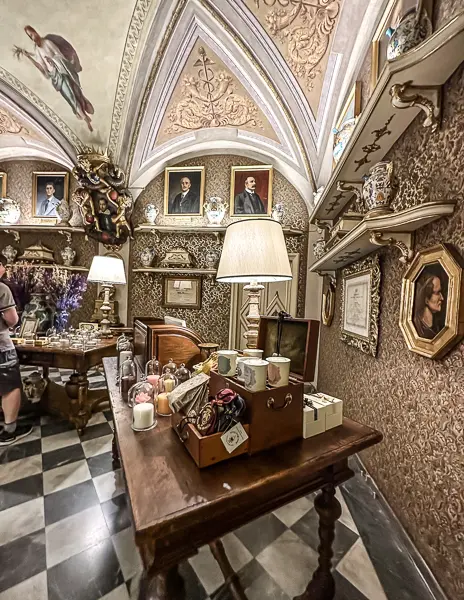 This Old Pharmacy and Apocethary is a beautiful building with an original interior preserved throughout the centuries. It's like stepping into a small museum, and you're engulfed by rosemary, bergamot, and lavender scents.
You can take a free tour of the pharmacy, which has an area outlining the store's history. It is known for its beauty products, including facial creams and perfumes.
You'll want a whiff of the scent created for Catherine Medici to commemorate her engagement, Acqua di Santa Maria Novella. At the time, it was called Acqua della Regina.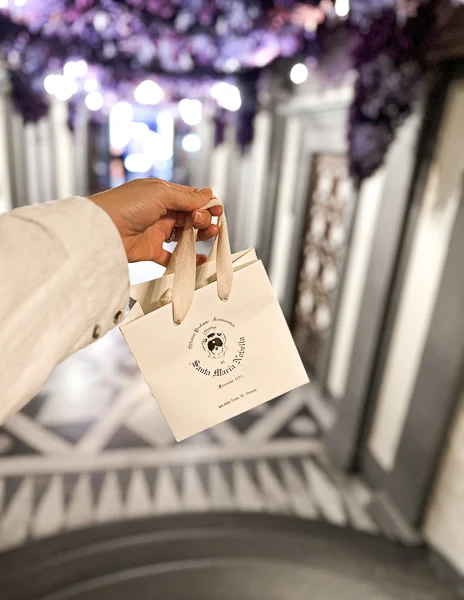 This is another great spot to pick a special gift for yourself or someone you love.
The associates there are kind and ready to help you find the right scent. They assisted us in finding the right scent for hubby, which he purchased for himself. My skin is allergic to perfumes, so I enjoy it on him.
There are a few locations, but we are referring to the original location: Via della Scala, 16, 50123 Firenze FI, Italy.
Basilica of Santa Maria Novella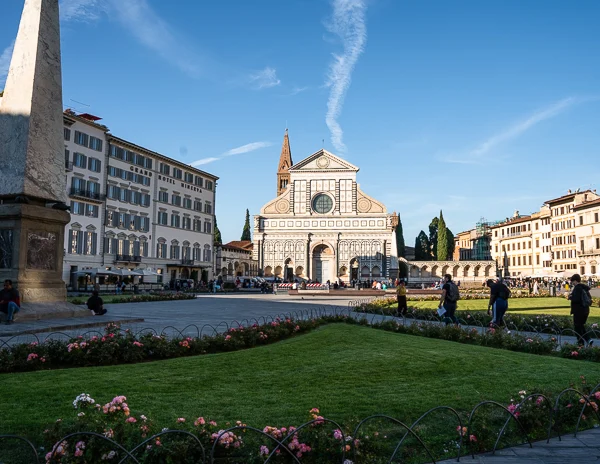 On your way to the pharmacy or when you're done, you can stop by Basilica of Santa Maria Novella. It's also located across the main railway station in Florence, so if you decide to come in by train or leave by train, you can visit it then.
Basilica of Santa Maria Novella is a stunningly beautiful church that dates back to the 13th century. Upon seeing it, its Renaissance and gothic style facade will lure you and stop you.
The lovely gardens outside this basilica are a quiet respite from the hustle and bustle of Florence. It's incredibly peaceful here, and some benches in the area allow you to take a moment to admire the basilica's beauty.
Day 2 in Florence
Take a Cooking Class or a Food Tour
During our 2 Days in Florence, taking a cooking class or a food tour was at the top of our list.
Food tours are one of our favorite things to do when we travel. However, we do not take enough cooking classes. We found a cooking class on a wonderful terrace with a full view of Florence.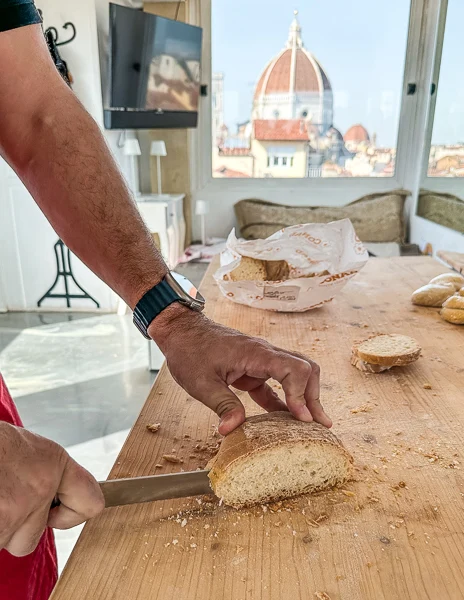 The cooking class was of the best experiences we've had. It was a morning of learning and cooking with a local chef who instructed and assisted us in preparing a delicious lunch with fresh local foods from the market.
We were a small group of lovely people who shared their love of food and Italy over making fresh pasta and then eating it with a view of the Duomo.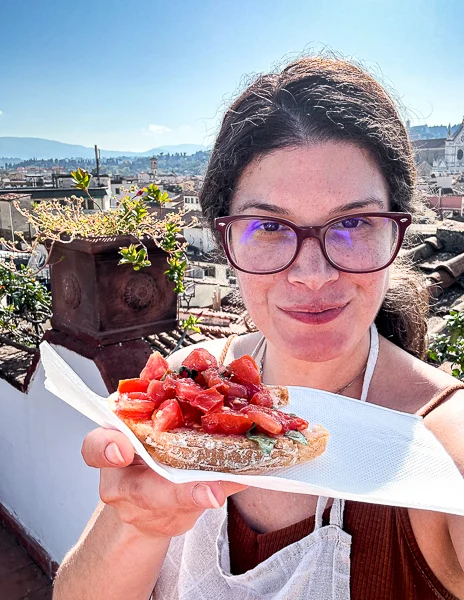 We highly recommend taking a fun, interactive, and educational tour. It will add another experience in Italy to your short time in Florence that will have you talking about it for years.
In the past, we have taken food tours in Florence, and to this day, we still reminisce over all the delicious foods, the guides, and the people we met along the way. This cooking class experience was the same.
Cooking Class in Florence with 360 View [book here]
Other Tour Ideas:
Pastamania – Pasta Making Class [book here]
The 10 Tastings of Florence With Locals [book here]
Florence Food Tour – Do Eat Better Experience [book here]
– Don't Miss: 50 Food and Travel Quotes That Speaks to a Foodie Traveler's Soul –
Gelato at Gelateria dei Neri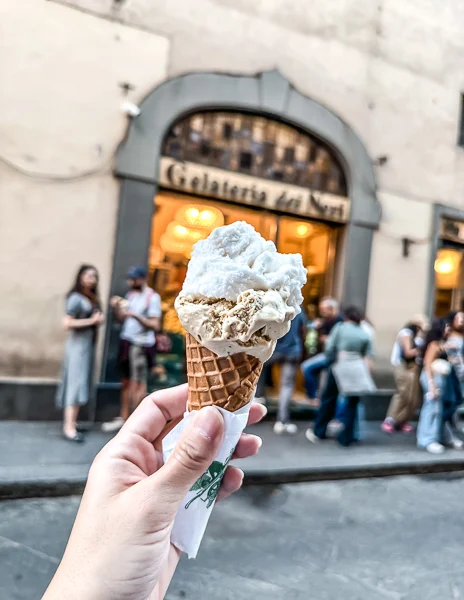 Even though we were still full from lunch and had tiramisu for dessert, we decided to stop by Gelateria di Neri for gelato.
There is always room for gelato. And why not have gelato in Florence, where it was originally invented?
The gelato is some of the best in Florence, creamy and scrumptious. It's homemade; some flavors depend on the season and local produce.
Expect a line, especially on a hot day, but it goes fast.
Take your gelato and head south towards Lungarno delle Grazie to enjoy it while walking along the Arno to the Ponte Vecchio.
Visit the Ponte Vecchio Bridge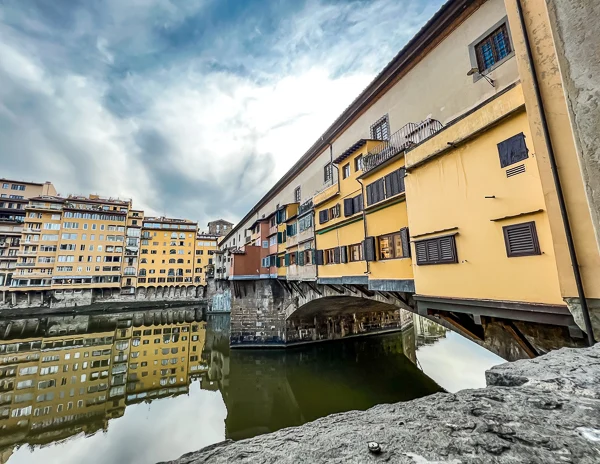 Your two days in Florence are incomplete without visiting the iconic Ponte Vecchio.
The Ponte Vecchio is one of Florence's oldest and most famous bridges. It dates back to 1345, when it was completed. It s a picturesque bridge with small jewelry shops on either side.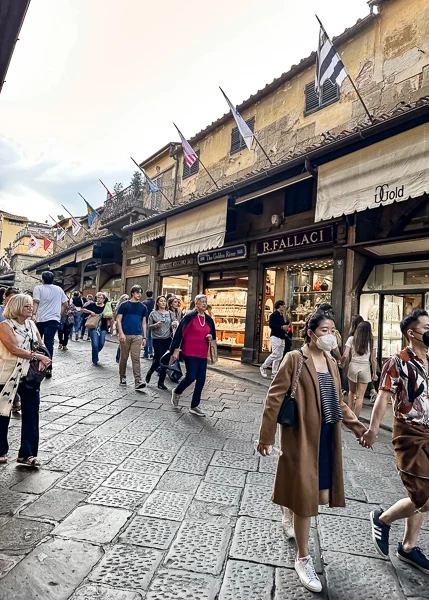 It always seems crowded during the day, but that's part of the charm. Walk across it, and you'll also find a stunning view of Florence that will have you staring for some time.
Once you cross Ponte Vecchio, you have options, and you can try to fit these in your 2 days in Florence:
Sunset at Piazzale Michelangelo
Pizza at Gusta Pizza
Do some shopping
It was a long two weeks in Italy, and we were leaving tomorrow, so we decided to take the rest of the day leisurely.
Aperitivo With a View at Signorvino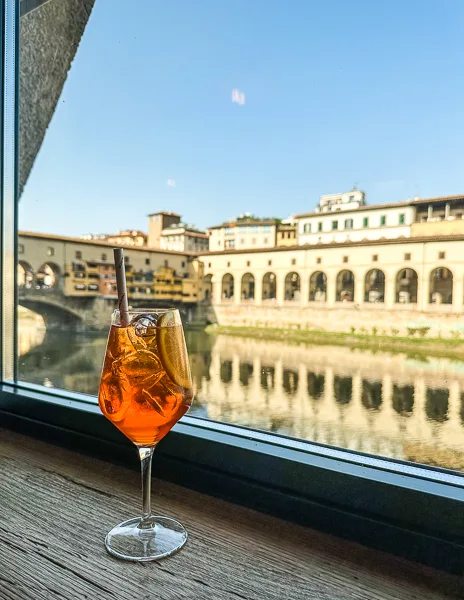 A favorite spot to have an aperitivo is Signorvino because of its incredible view of the Ponte Vecchio. They have an outdoor terrace overlooking the Arno and an unobstructed view of the old bridge. You want to try to get there on the early side to snag a table.
We've been lucky in the past to sit out there in one of the best spots overlooking this view, once upon a time when Florence wasn't as crowded. This time around, we got a table by the window inside. The view was still fantastic.
You can order your Aperol Spritz or a glass or bottle of wine. They also have food you can order.
Make Sure to Walk and Take in Florence at Night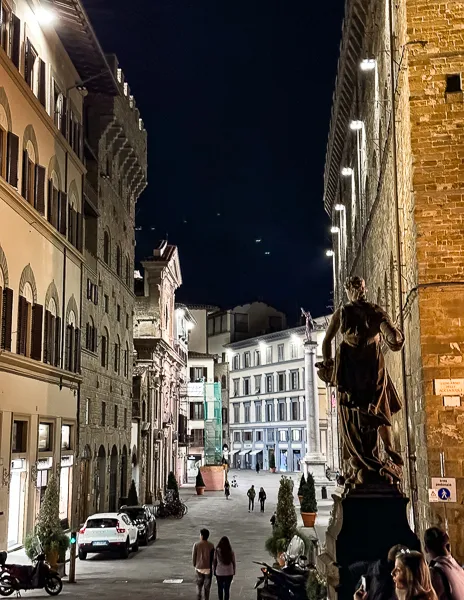 Florence is one of the most romantic cities in Europe. Taking a walk at night to take in the city's views and the way the city is illuminated, whether it's the lights reflecting on the Arno or the highlight of Florence's Duomo, will leave an impression.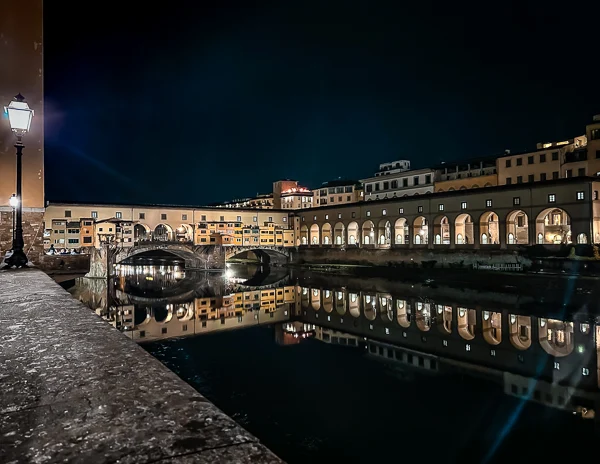 This is one of the best times to see Florence without the afternoon crowds. The streets are quieter, and you can appreciate the beauty of Florence from a different angle.
As the sun sets, you'll want to take this incredible city from a different perspective.
One of the best places to see the sunset is Piazzale Michelangelo if you can make it there. If you can't, it's okay; the city is magical at golden hour.
Tour Option:
Florence by Night [book here]
One Last Glass of Wine at Babae's Wine Window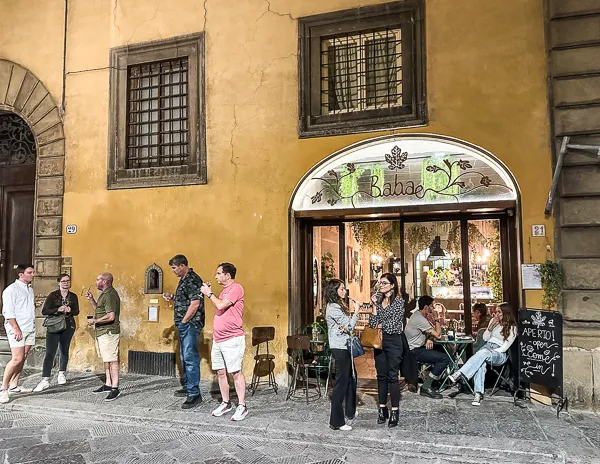 The wine windows of Florence, Buchette del Vino, are a historical part of the city. There used to be small windows where people could easily buy wine without entering a bar.
If you look closely during your walks, you'll find them throughout the city. Mostly non-working or closed off, they are a big part of Florence's heritage.
Babae's Wine Window in Via San di Spirito is operational, and you can stop by to enjoy a glass of wine outside. It was featured in Searching for Italy with Stanley Tucci.
How does the wine window work? You enter the window, ring the bell for service, and someone will take your order. They'll return with it in minutes.
This is one of the last things we did during our two days in Florence. You can swap this out for an afternoon aperitivo.
Inspiring Quotes About Italy: Your Next Foodie Destination
Are you seeking a travel and foodie destination that inspires your wanderlust and appetite? Look no further than Italy. This beautiful country is home to stunning scenery, delicious food, and fascinating history. To help get you excited about planning your trip, here are 40 Italy quotes that will make you want to pack your bags and go!
Two Days in Florence FAQs
Is 2 days enough to see Florence?
Yes, 2 days are enough to see the essentials of Florence. The city is walkable with plenty of outdoor attractions since it is like a museum with stunning architecture and historical sights.
How do you spend two days in Florence, Italy?
If you follow the essentials of our Florence 2 day itinerary or similar, you will see the best of Florence that includes the Duomo, Ponte Vecchio, Palazzo Vecchio, Uffizi Gallery, and more. All while fitting in a couple of experiences that will help make your trip to Florence memorable.
The Florence 2 Day Itinerary has come to an end. Two days in Florence may be short, but if you plan them right with what you want to see and do, you can experience the essentials of Florence in 2 days.
Don't force yourself to see everything in 2 Days in Florence. There is no such thing as a perfect itinerary. Just one that works with your style and interests.
Need more inspiration to plan your trip to Florence? Check out these articles to help you with your Italy travel plans:
Things to Do in Florence, Italy
Tantalizing Florence Foods to Eat
Share the tips & love on Pinterest: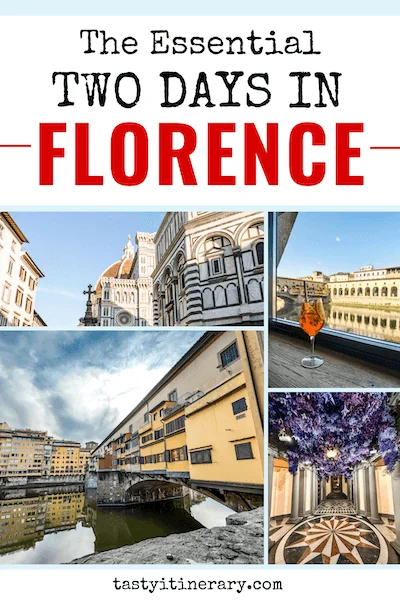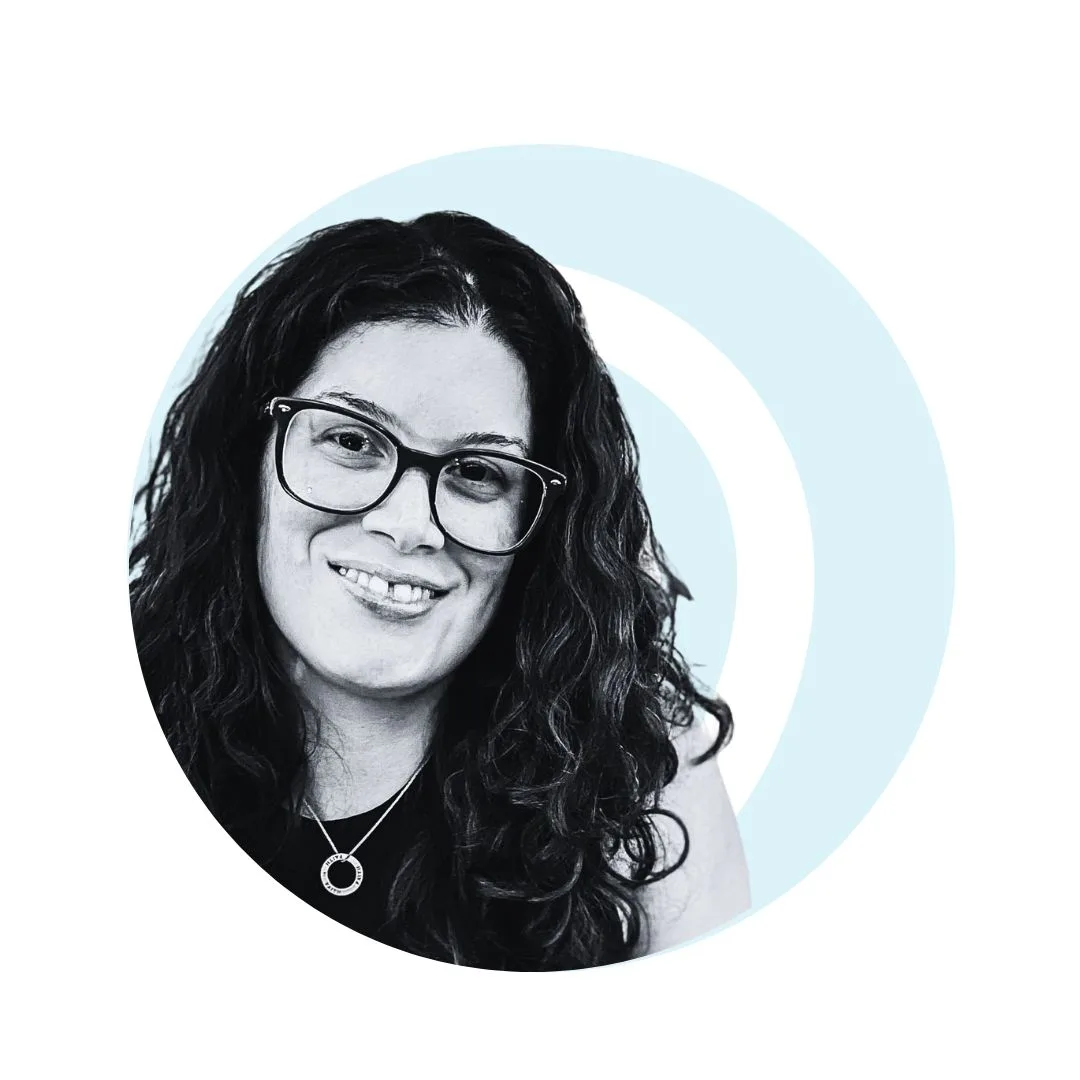 Meet Kathy Ava – a food, travel, and cruise writer based in Los Angeles/Pasadena. With over 20 years of experience planning trips and logistics at her full-time job and for herself, she's become a pro at crafting unforgettable travel itineraries. She's always looking for delicious, fun cruise itineraries and travel destinations and is slightly obsessed with Italy. Her passion and curiosity for travel started in childhood on her yearly and sometimes bi-yearly trips to PR. She firmly believes that life is short and we must make the most of it – so let's explore the world and make some incredible memories.