Looking for the best things to do in Modena, Italy? What is there to see in Modena? What are the Modena Foods to eat?
This wonderful Italian city in Emilia Romagna is known for its Balsamic Vinegar, Luciano Pavarotti's birthplace, and the Enzo Ferrari museum. The city is not to be missed.
Modena, Italy, is a beautiful historic city with plenty of things to see and do. It's not one of the most popular cities in Italy, unlike Rome, Florence, and Venice.
It ranks third among the most visited cities in the Emilia Romagna region, followed by Bologna and Parma.
Known as the foodie capital of Italy, Emilia Romagna is where some of the country's best cuisine originates with familiar favorites like Parmigiano Reggiano, parma ham (prosciutto), tortellini, tagliatelle pasta with ragu, and Modena's balsamic Vinegar, to name a few.
What's modena famous for? Modena is especially famous for its balsamic vinegar, with some producers in business since the 11th century. Several tours and tastings are available to learn about and enjoy this unique product.
Visiting Emilia Romagna during our recent trip to Italy was important to us. Well, to me. Hubby didn't understand how much better the food could be here from Tuscany, but he was on board, ready to visit the Enzo Ferrari museum.
We wanted to try some of these Emilia Romagna famous ingredients and dishes directly from where they come from.
While visiting the top three cities in the region, Bologna, Parma, and Modena, we both learned that if we wanted to eat the best, we had to come to the source.
If you didn't know, Modena is also where the best restaurant in the world resides, Osteria Francescana. Unfortunately, we couldn't get reservations (you have to book many months in advance), and honestly, not sure if this restaurant is our vibe. However, always willing to try given the opportunity; perhaps that will be next time.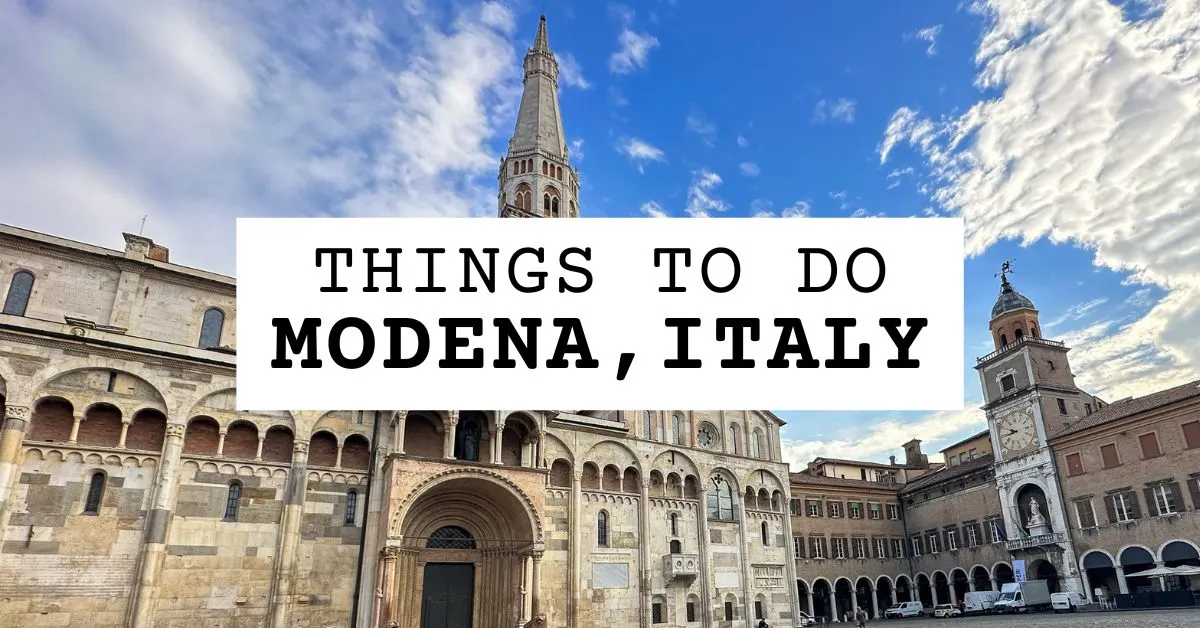 This post may contain affiliate links, which means we'll receive a commission if you purchase through our links at no extra cost to you. Please read full disclosure for more information. We appreciate your support!
Is Modena, Italy, worth visiting?
Modena is worth the visit to learn about and enjoy the local foods, see amazing historic architecture, tour a UNESCO site, balsamic vinegar production, and of course, the Enzo Ferrari museum.
How long should I spend in Modena?
One day in Modena to see the top sites is doable, but we recommend spending at least two to three days enjoying everything it offers. Modena also is a great base to explore nearby cities and towns in Emilia Romagna, like Parma, Bologna, Ferrara, and Ravenna.
We stayed in the historic center of Modena for 3 nights to be able to explore. We thought it was quiet, not overcrowded with tourists, safe, and exactly what we were looking for. Once we visited Bologna and experienced the hustle and bustle of that city, we were happy that we decided to stay in Modena. It all depends on your preference.
In this article, we share the top things to do in Modena, Italy. So you can plan a day trip to Modena or a few days in Modena as part of your Tasty Itinerary.
As you know, we are foodies. Food is always part of our Tasty Itinerary. The food in Italy is also one of the top reasons to visit Italy.
Things to Do in Modena, Italy
What is there to see in Modena?
The historic center of Modena encompasses 3 locations that are considered Unesco World Heritage Sites: Ghirlandina Tower, Piazza Grande, and Modena's Cathedral. Also, the Enzo Ferrari museum is a must-see if you're a fan of cars, along with other fast car manufacturers and museums, like Panini Motor Museum.
And, if you're looking to explore a slower pace city with little to no crowds, Modena, Italy, is perfect.
1. Take a Food Tour
A food tour is always the top experience we like to have when we visit a new destination if we can fit it into our Tasty Itinerary. And Modena is no exception. On our food tour with Taste Bologna, we sampled some of the best foods locals eat daily, including a Balsamic Vinegar tasting.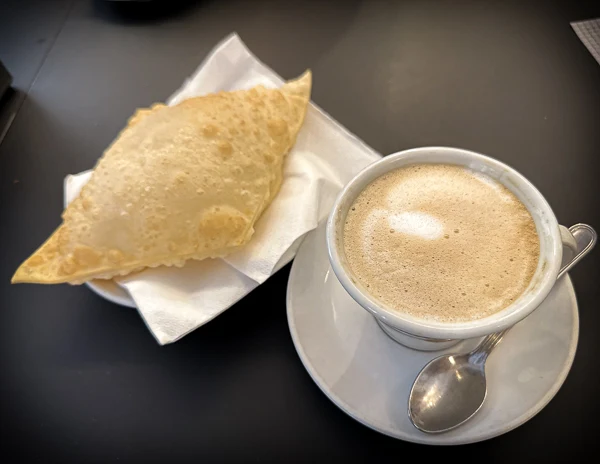 We started our food tour with gnocco fritto and a cappuccino at a local cafe. The gnocco fritto reminded me of a flakey empty empanada, but better. Gnocco fritto is made with rendered pig fat (lard) and then fried in more lard.
It's not greasy. It's just flakey, delicious, savory, and oh-so-delicious.
If you're a fan of Somebody Feed Phil, it may sound familiar as he eats the same thing during his visit to Modena in his Venice episode. Yes, he did partially inspire this visit, at least he inspired the food portion of the visit.
Gnocco fritto is also served in restaurants in different sizes and paired with local ham and cheeses. But on the morning of the food tour, we dunked our gnocco fritto in our cappuccino.
As someone with a Hispanic background that loves to dunk all sorts of bread and sandwiches into our coffee, it was not odd to me, and loved it.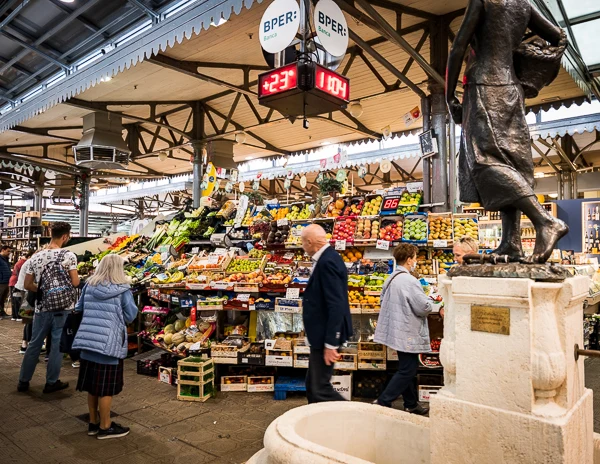 On this food tour, we also visited Mercato Albinelli, where locals that live in the historic center of Modena will shop for fresh ingredients. At the market, after exploring, we tried different ages of Parmigiano Reggiano.
We had our first taste of Lambrusco (I did, hubby doesn't drink), the regions sparkling red wine, which tastes exactly like wine but with bubbles.
We also stopped at a local shop for Tigella, a Modenese street food that reminded us of a thinner and flatter English Muffin. You can fill these with meats, cheese, and local spread.
A balsamic vinegar tasting was included, where we tried various balsamic vinegar aged up to 50 years old.
These samplings were special as these balsamic vineyards are from small productions produced by small families in Modena. So they were not all created equal and were different in their ways.
And we finished our food tour at a pastry shop that's been part of Modena's city for decades. A favorite of Pavarotti and Enzo Ferrari.
You can book this food tour here.
2. Piazza Grande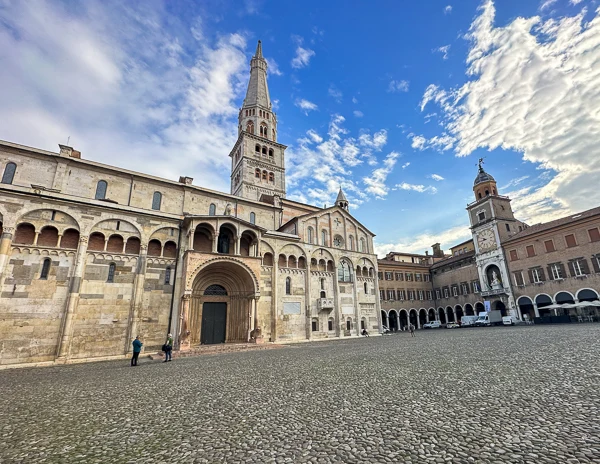 Piazza Grande in Modena is a central square that is a Unesco World Heritage site. If you decide to take a tour with Taste Bologna, you will meet at Piazza Grande.
Historical buildings surround Piazza Grande, including the Modena Cathedral, one on one side of the square and the tall tower on the other. The working clock tower in the piazza is part of the town hall.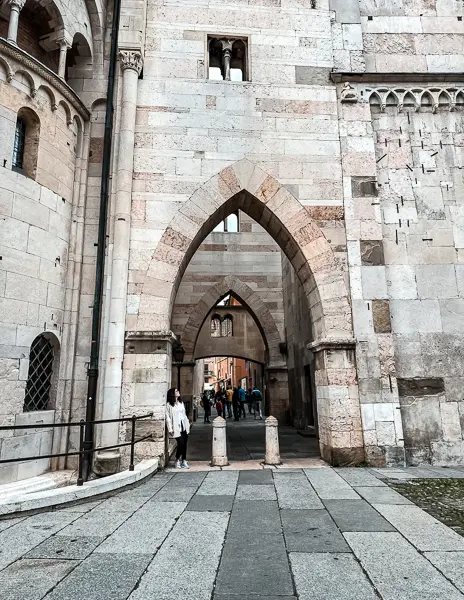 At the piazza, you'll find many shops and restaurants. It's a great spot to stop, have an aperitivo or coffee, and watch people stroll by while enjoying the view. We sat at Caffé Concerto to do exactly this.
Piazza Grande | 41121 Modena, Province of Modena | Google Map It
3. See the Crypt Inside Duomo di Modena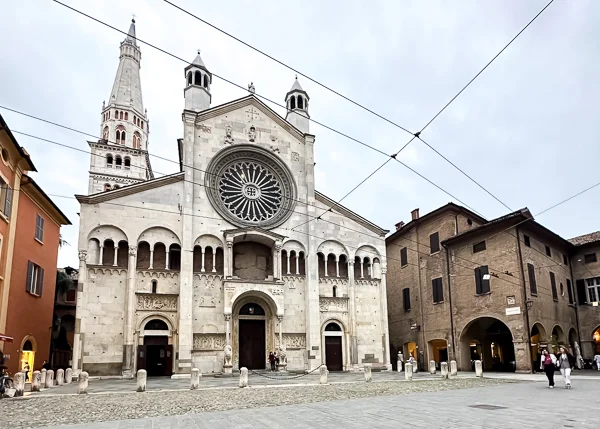 The Duomo di Modena, or Modena Cathedral, is one of the most beautiful and historic buildings in Piazza Grande. The Romanesque cathedral is part of the Unesco World Heritage site.
Every cathedral and church we enter in Italy always wows us with its grandeur and sometimes even its simplicity. The Duomo di Modena is no exception. It's a great example of Romanesque architecture and one of the most beautiful.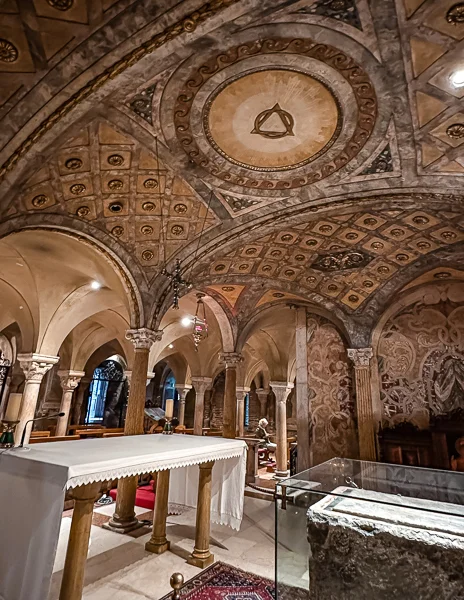 While it is an incredible cathedral, what stood out to us is the crypt inside the church. This is where you'll find the remains of Saint Geminianus, Modena's patron saint. Once a year, the crypt is opened for viewing to the public on his feast day.
The entrance is free.
Duomo di Modena | Corso Duomo, 41121 Modena | Google Map It
4. See or Climb the Ghirlandina Tower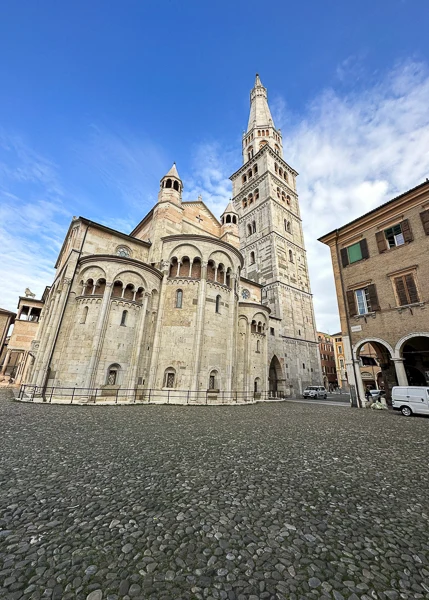 The Ghirlandina tower is part of the Modena Cathedral, and it's part of the Unesco World Heritage Site. It is one of the city's symbols, standing tall at 89.32 meters. The tower is what you'll see first when looking at Piazza Grande from afar.
You can climb this tower to get the best views of Modena but for only 3 euros per person.
Reservations are required in advance. You can email [email protected] to book.
Interesting Fact: Torre Ghirlandina is slightly leaning due to troubles with the foundation. You don't notice until you're standing in front of it, and even then, you're still doubting yourself. Our tour guide did confirm that it is.
Torre Ghirlandina | Piazza della Torre, 41121 Modena | Google Map It
Parma, Italy is only a 30-minute train ride from Modena and makes for a fabulous day trip to add to your itinerary. We share our one day in Parma with a suggested itinerary of all things you can do and what Parma foods not to miss.
5. Explore the Jewish Ghetto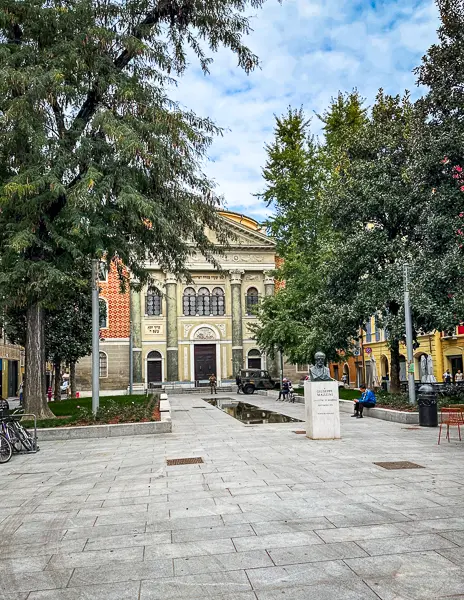 The Jewish Ghetto in Modena is one of the oldest in Italy, dating back to the 16th century. The ghetto, known as the Jewish Quarter, was established in 1638.
Visit Piazza Giuseppe Mazzini, the main square of the ghetto, where you'll find the Synagogue of Modena.
The piazza is lined with trees and outdoor seating that belong to a few cafes and foodie spots. There are some boutique shops and stores to visit. Usually, you'll see locals on this stretch sitting along the piazza and chatting amongst themselves.
Here you can also stop by Bloom for gelato and have multiple tastings of Modena's balsamic vinegar at La Consorteria 1966.
Piazza Giuseppe Mazzini, 26, 41121 Modena | Google Map It
6. Go Balsamic Vinegar Tasting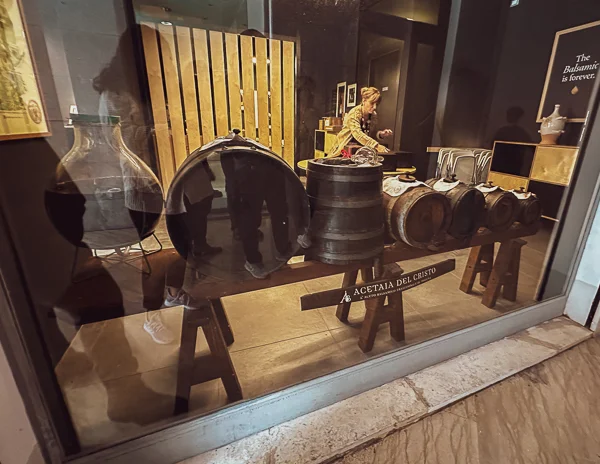 One of the top things to do in Modena is to do a balsamic vinegar tasting. Authentic traditional balsamic vinegar is what Modena is known for. And it's not the same as what you get at the supermarket.
You can book a food tour like we did, a balsamic tasting, or visit a balsamic vinegar shop within the city that will help you with a few samples.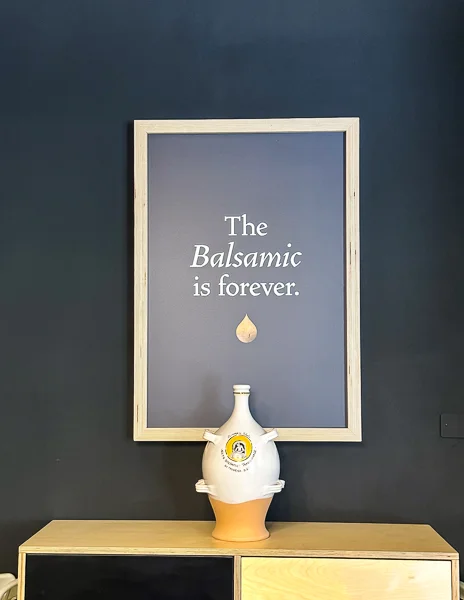 Balsamic vinegar is a unique product made in Modena or Reggio Emilia. It's made from pressed and cooked local grapes aged in a series of wood barrels. As it ages, the vinegar is moved into one barrel and to the next smaller barrel.
The longer it's aged, the more complex the flavors become. The vinegar can differ because of the elements, like the wood barrels, climate, etc.
The most authentic and prized balsamic vinegar is Aceto Balsamico Tradizionale di Modena with the D.O.P. stamp on it (Protected Designation of Origin). This vinegar is only made in the province of Modena and has to adhere strictly to rules. You'll want to look for this when tasting or buying a bottle to bring home.
Optional Tour Ideas:
Acetaia Cavedoni Balsamic Vinegar Tour in Modena [book here]
Lunch and Tasting of Traditional Balsamic Vinegar of Modena [book here]
Italy will steal your heart with its delicious food and amazing cities. There are so many reasons to visit this beautiful land, but we've narrowed down 10 of the most compelling ones for you!
7. Pick Up Some Treats at Mercato Storico Albinelli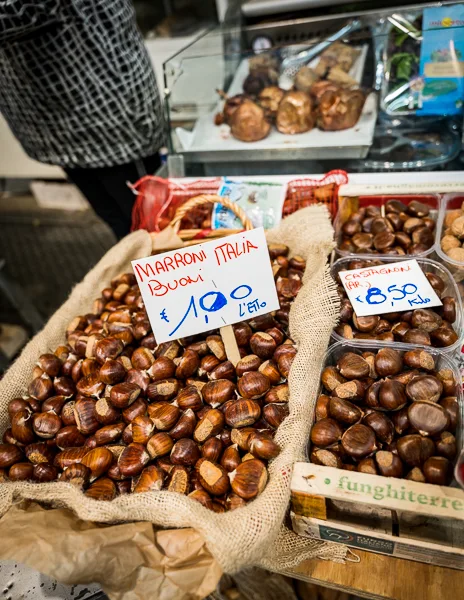 Mercato Albinelli is a fantastic market in the center of Modena. The market has been around since 1931, bringing locals fresh produce, cheeses, meats, pastries, and more.
It has been restored recently, adding coverage to what used to be open-air from above. When we visited, the fish stations made out of pink Verona marble were closed due to restoration.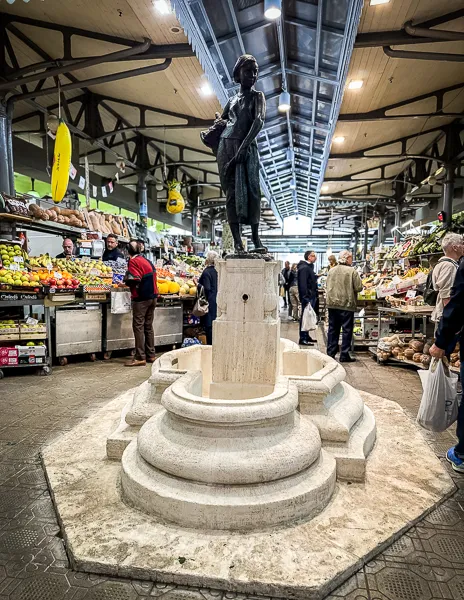 As you're walking the market, you'll come face to face with a beautiful fountain with a sculpture of a woman made by Giuseppe Graziosi. You'll probably wonder why a fountain is in the middle of the market. The fountain was once a place where locals used to wash their fruits and vegetables.
The market is open every day except Sundays. It's the perfect place to pick up goodies like a local pastry or a sandwich lunch.
Mercato Albinelli | Via Luigi Albinelli, 13, 41121 Modena | Google Map It
Optional Tour Ideas:
Small Group Market tour and Cooking Class in Modena [book here]
8. Visit the Enzo Ferrari Museum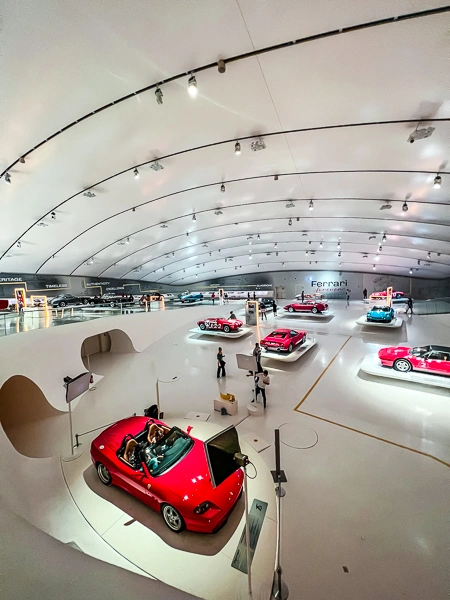 If there was one thing to do in Modena, if you're a car enthusiast, is visit the Enzo Ferarri Museum. This was a dream come true for my husband, who loves cars for their engineering, design, and how fast they go.
This museum is dedicated to the life and work of Enzo Ferrari, the founder of the Ferrari car company. It is not the Ferrari Factory Museum, which resides in Maranello.
The story of Enzo Ferrari and his work is told in this museum. He was born and raised in Modena. His love of cars and racing has been a part of him since childhood. Enzo's father was the first person in Modena to purchase and bring home an automobile.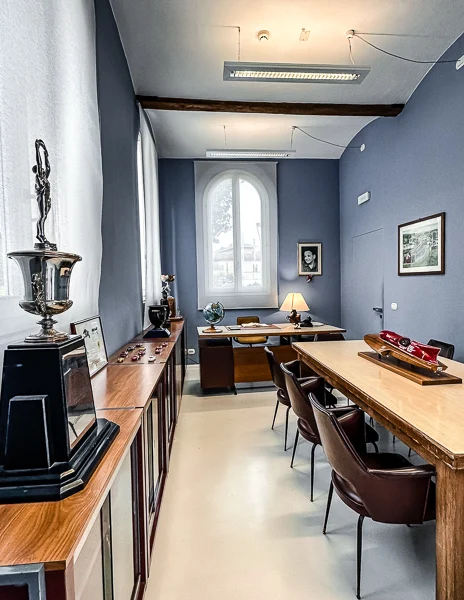 You'll see some of the first cars he made, race cars, and some of his favorite Ferraris. You don't need to be a car enthusiast to appreciate this museum. It's beautifully done, and you get a sense of the man behind the Ferrari brand.
The museum is divided into two structures, and you can easily spend a few hours here. There is also a cafe and gift shop on site. You can also take a photo sitting in a Ferrari as a souvenir – the photo is an extra $15 if you want to take it home.
The museum is about a 15-minute walk from Modena's city center. We did not book tickets in advance, you can purchase them the day of. During peak seasons in the summer, you may want to look into advance ticketing.
The museum is open 7 days a week, excluding some holidays.
Enzo Ferrari Museum | Via Paolo Ferrari, 85, 41121 Modena | Google Map It
9. Visit Casa Museo Luciano Pavarotti
Luciano Pavarotti was born in Modena, Italy, and had a successful career as an opera singer. If you're a fan of Pavarotti, you would appreciate seeing the home that has now been turned into a museum.
The majority of the things in the museum are things that belonged to Pavarotti. You'll see his piano, part of his kitchen, living room, and bedroom. There are photographs, awards, and collections from throughout his life.
The museum is located outside the city center and to visit it you'll need to take a 15-minute car ride. It is not walkable.
Unfortunately, due to time constraints, we missed it, but it is still of the top things to do in Modena when we return in the future. Our local guide told us that it was a special place to visit.
Did you know that Luciano Pavarotti and Enzo Ferrari were great friends?
Casa Museo Pavarotti | Stradello Nava, 6, 41126 Modena | Google Map It
10. Admire Palazzo Ducale di Modena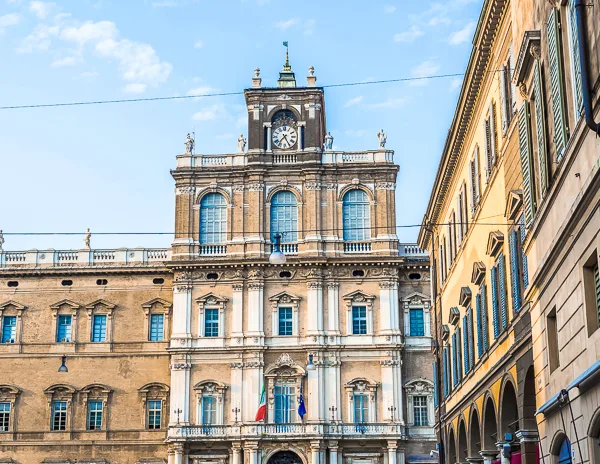 In the heart of Modena, in Piazza Roma, you'll find the magnificent Palazzo Ducale. This historic palace dates back to the 12th century and was once home to the Este family, who ruled over Modena and Ferrara.
Presently, it is where the Italian Military Academy is located.
You can visit the inside of this palace and see its grandeur. Guided tours of the palace are offered on Saturdays and Sundays only. You can reserve your time by emailing: [email protected].
Palazzo Ducale | Piazza Roma, 15, 41121 Modena | Google Map It
The Porticoes of Modena: Did you know that the city of Modena also has porticoes like in Bologna? Many of the original porticoes were destroyed during World War II, but your will still see remnants of them during your walks of the old city. When you're in Modena, be sure to take a look up and see if you can spot one of these hidden treasures.
A Day Trip to Modena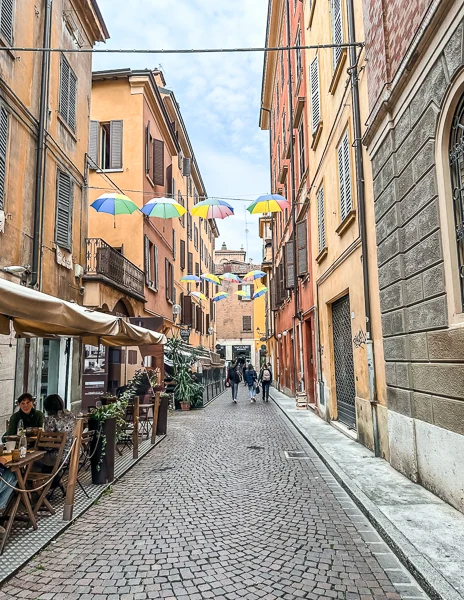 How do I spend a day in Modena?
This charming historic city is relatively small, making it very walkable with plenty of things to see and do in Modena in one day. It's an easy day trip from Florence, Bologna, and Parma.
Day trip from Bologna to Modena is a 25 min train ride one-way.
Day trip from Parma to Modena is a 30 min train ride one-way.
Day trip from Florence to Modena is a 1 hr 5 min train ride one-way.
Book your tickets in advance. Click here for train schedules and info; if a bus transfer option is available, it will come up.
Driving to Modena? Wondering where to park in Modena? With just a day, the best thing to do is to park at a garage instead of wasting time looking for a free parking spot. 

Parcheggio del Centro is close and walkable to the historic city center: Viale Achille Fontanelli, 18, 41124 Modena (Google Map It)
What to see in modena in one day? With just a day in Modena, we recommend starting with a food tour because not only will they show you the highlights of the historic center of Modena, you'll get fed very well. You won't have to worry about lunch.
Without a food tour or after a food tour, a day in Modena can look something like this:
Start at the Piazza Grande in Modena, you can visit the Duomo, the Cathedral of Modena, and the Ghirlandina Tower.
From there, you can visit Mercato Albinelli.
Cross Via Emilia into the Jewish Ghetto filled with trendy shops and good eats, like a balsamic tasting at La Consorteria 1966.
Have lunch at Salumeria Hosteria Giusti.
After lunch, take a long walk to Enzo Ferrari Museum or a taxi to Casa Museo Luciano Pavarotti.
Optional Tour Ideas:
Modena Highlights Small Group Tour with a Local Guide [book here]
City Explorer: Modena Private Day Trip [book here]
Modena Day Trip from Bologna with a Local: Private & Personalized [book here]
Planning a day in Florence, Italy? We have compiled 3 itinerary options for a day in Florence that can easily turn into three days. See how to spend a wonderful day in the city of Renaissance.
Modena Foods to Eat
When it comes to things to eat in Modena, the food scene is all about tradition. Depending on where you eat, sometimes it's about taking those traditions and giving them a modern twist.
Here are some things to eat and look out for in Modena:
Balsamic Vinegar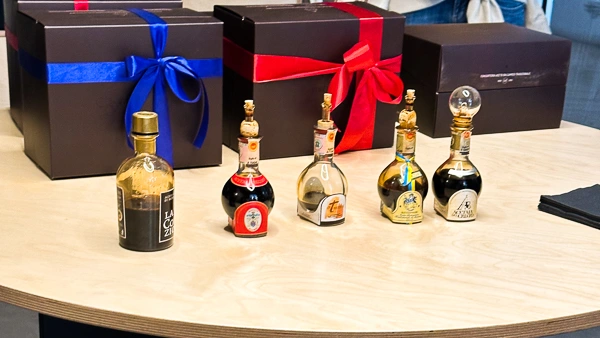 Modena is the birthplace of balsamic vinegar. The production of authentic aged balsamic vinegar is truly an art form passed down through the generations.
There are different ages of balsamic vinegar. All are used for different things. A younger balsamic vinegar may be used for salads as it's lighter and has a slightly tart flavor.
Whereas the oldest and most prized balsamic vinegar is used as a condiment to be added after a dish is cooked. It's liquid gold. It's thick, sweeter, and dark with a complex flavor profile which all depends on the production of the balsamic.
What can you do with Modena balsamic vinegar?
Authentic aged balsamic vinegar from Modena can be drizzled on pasta, cheeses, and meats. It's also used in desserts, like gelato or even panna cotta.
Gnocco Fritto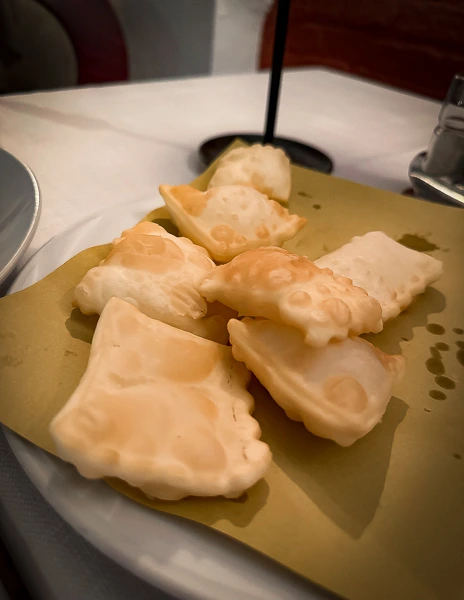 It is a fried pillowy dough or hollow dumpling made of lard. It's thin, flakey, and crispy, and while it can be eaten on its own, it's delicious with Prosciutto di Parma.
Modena locals like to dunk their Gnocco Fritto in cappuccinos in the morning.
You'll see it on almost every restaurant menu in Modena and other cities in Emilia Romagna, but they may call it differently.
Foodie Tip: For Gnocco fritto and cappuccino, visit Bar Tiffany in Modena. They only make Gnocco Fritto in the mornings and you just need one as they are pretty big.
Tigella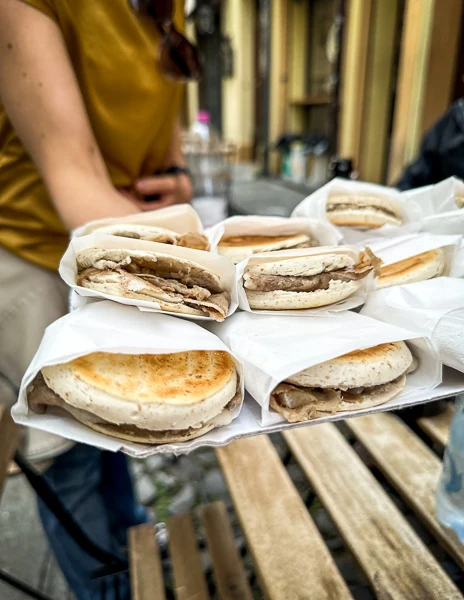 Tigella is a round flatbread cooked between two clay disks. It's served warm and typically sliced in half, filled with things like Mortadella, other salumi, Modenese pesto, and other spread.
You'll also see this on the menu at the restaurant. Usually, when locals sit down to order this at a restaurant, it is their main meal as the Tigella comes with different fillings and is usually enough to satisfy as a meal. They will pair it with some Lambrusco.
L'Or-Ma Crescenteria is a shop in Modena that serves Tigella with all sorts of fillings including proscuitto and formaggio. Stop by for a quick lunch.
Lambrusco
Lambrusco is a sparkling red wine made in the Emilia-Romagna region. It's light, slightly sweet, and perfect for a summer day or to accompany your Gnocco Fritto or Tigella.
At restaurants, when you ask for a glass of wine, they will ask if you'd like still or sparkling. The local wine is the Lambrusco, the sparkling. Give it a try at least once.
Torta di Erbetta
This pie is a specialty in Modena. It's a savory pie made with spinach, chard, and Parmesan cheese. Recipes can vary. It reminded us of a spinach pie. You can really taste the freshness of the spinach.
You can find and try this at Mercato Albinelli or any bakeries in the city center.
Tortellini
Forget the tortellini you grew up with. The tortellini you'll find in Modena and the Emilia Romagna region is on the next level. We were never tortellini lovers until we had it here.
Tortellini is a small ring-shaped pasta that can be filled with a mix of meat, like prosciutto, chicken, or pork. You'll find this dish on almost every restaurant menu, as it is a specialty in Modena.
From Modena to Bologna, it's only a 30-min train ride away. We break down the things to do in Bologna and what to eat in one day in Bologna, the foodie capital of Italy.
Where to Eat in Modena
Modena is one of those cities that is full of great restaurants. Our Airbnb hosts provided a full list of wonderful places to eat in Modena that she loves, and surprisingly, we already had most of them bookmarked. We will share a few of them below.
However, making reservations is key to eating a fantastic sit-down dinner in Modena. After landing, we found that out the hard way on our first night in Modena.
Make restaurant reservations! Add it to your things to do in Modena, Italy.
After being turned down by many restaurants (which becomes a recurring theme throughout our time in Italy), we finally sat at a restaurant that we had marked down in our Google Maps.
Honestly, we wouldn't have found it on our own as it was just a door leading down into this cozy restaurant with a vaulted ceiling and an underground vibe.
Taverna dei Servi
Our meal at Taverna dei Servi is one of the top meals we had during our two weeks in Italy. We are thankful to the lovely hostess up front who took pity on my husband's groveling and sat us down at an empty table.
She waited on us happily and suggested her favorite foods and wine, which we ordered. We enjoyed every single bite and sip, savoring it. We still talk about it.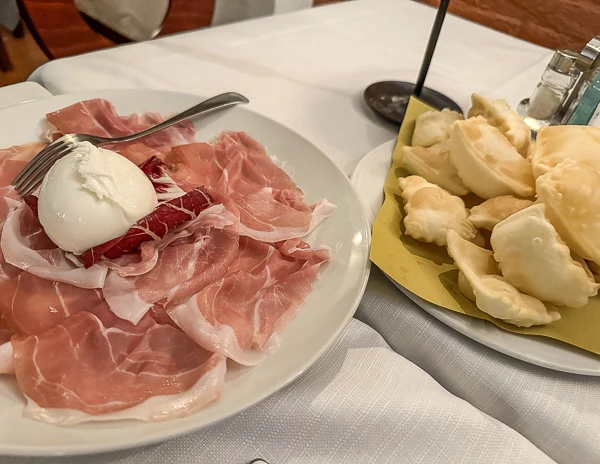 We started with our first plate of gnocco fritto that was served with Proscuitto di Parma and buffalo mozzarella. It was our first time. Hubby, who is Italian and grew up with all kinds of Italian food, had never heard of it. I've done my research extensively, so I knew we had to order it as it was a local favorite and it came recommended as the waitress's favorite.
So, you want to take some prosciutto and some cheese to make little sandwiches with the gnocco fritto. It was the best we've had out of all the gnocco fritto.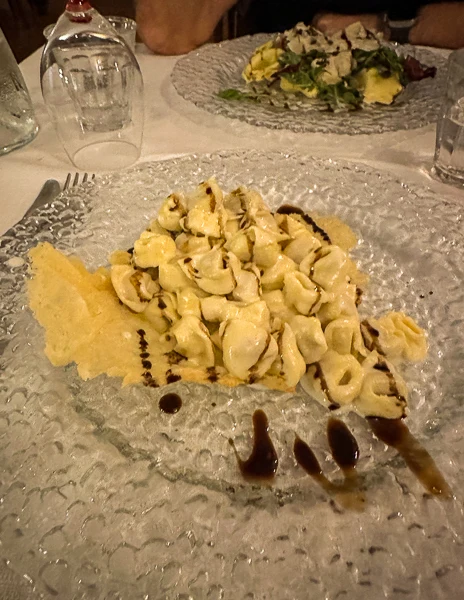 We both ordered two different plates of tortellini. One was cheese tortellini in a white ragu on top of a blanket of crispy Parmigiano Reggiano. The other plate was the chef's larger tortellini tossed with crispy pancetta and greens topped with shaved Parmigiano Reggiano and drizzled with balsamic vinegar.
You can immediately tell the tortellini was handmade. It was so fresh and flavorful. Not gummy. Just the right amount of bit. And the flavors of all the ingredients combined were just perfect.
Then we shared a plate of pork cheeks that had been simmered in a balsamic vinegar marinade for hours. It was so tender!
It was our first time having fresh tortellini like this, and we are ruined for the rest of our lives. You can't find tortellini like this where we are from.
You can make reservations to Taverna dei Servi directly on their website.
Taverna dei Servi | Via dei Servi, 37, 41121 Modena | Google Map It
A few other restaurants that came highly recommended by our local host, that was born, raised, and lives in Modena:
Tip: Download The Fork app before your trip to Italy.

It is their version of Open Table and Resy. Just like in the US, you won't find all restaurants, but sometimes it does help in a pinch to get same-day reservations or farther in advance. We successfully found a couple of excellent restaurants here during our travels in Italy.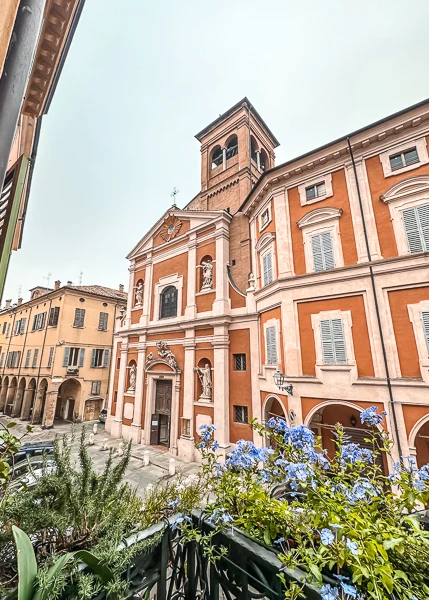 We loved our time in Modena. While it was short, it left a lasting impression. We miss the church bells near our Airbnb, waking us up in the early morning and reminding us where we were. The peacefulness of the old city as we strolled through it and the chatter of Italians around us in the market, cafes, and restaurants.
After we booked our stay in Modena, we wondered if we should have stayed in Bologna. Modena exceeded our needs, and we loved being away from the busy crowds without sacrificing being away from everything.
Modena is a great mid-point to explore the top three cities in Emilia Romagna and beyond.
We hope you visit and that this list of things to do in Modena, Italy, and the few tips we include help you plan your future Italy travels.
Have you been to Modena, Italy? What are you looking forward to?
Need more inspiration? Here are Inspiring Quotes About Italy: Your Next Foodie Destination
Share the tips & love on Pinterest: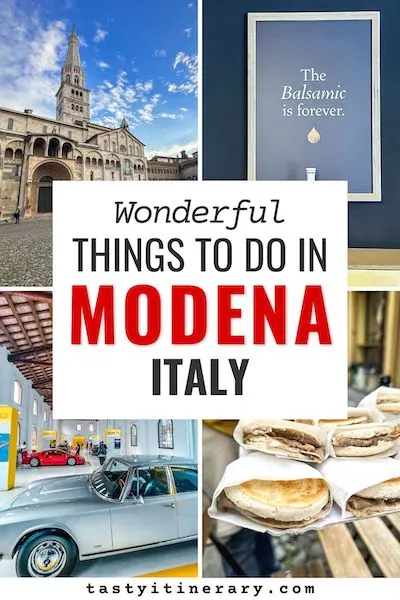 Meet Kathy Ava, a food, travel, and cruise writer based in Los Angeles/Pasadena, and the owner and main writer of Tasty Itinerary. With over 20 years of experience planning trips and logistics at her full-time job and for herself, she's become a pro at crafting unforgettable tasty itineraries. She's always on the hunt for delicious, fun travel destinations and cruise itineraries. She firmly believes that life is short and we must make the most of it, so always say yes to dessert.