Are you planning to spend only one day in Florence? Is it enough? What are the places to visit in Florence in 1 day?
Florence deserves more than a day, but sometimes all we have is one day.
Whether you're taking a day trip to Florence from another Italian city or a cruise passenger coming in on a cruise from Livorno cruise port, one day in Florence is enough to get a small taste of this incredible city.
With one day in Florence, Italy, the hope is to introduce you to one of the most beautiful cities in the world and leave you wanting more.
Firenze is the capital of Tuscany—the center of early Italian Renaissance art and architecture. The city center is a Unesco World Heritage Site, one of eight in Tuscany.
This magnificent city will win your hearts repeatedly as it has ours… as well as Italy as a whole.
One of our favorite things about Florence is that it's walkable and safe to explore, which makes it easy to get lost in the city intentionally. You'll want to walk away from the crowds and discover the hidden gems that make this city magical.
With one day in Florence, without a doubt, you'll be able to see the highlights of Florence just by walking: the Duomo, the copy of David in Piazza Signoria, Piazza della Republica, San Lorenzo Market, the Ponte Vecchio, outside the Uffizi Gallery, the River Arno, and much more.
And add this to your list. You can eat gelato in the city where it was invented.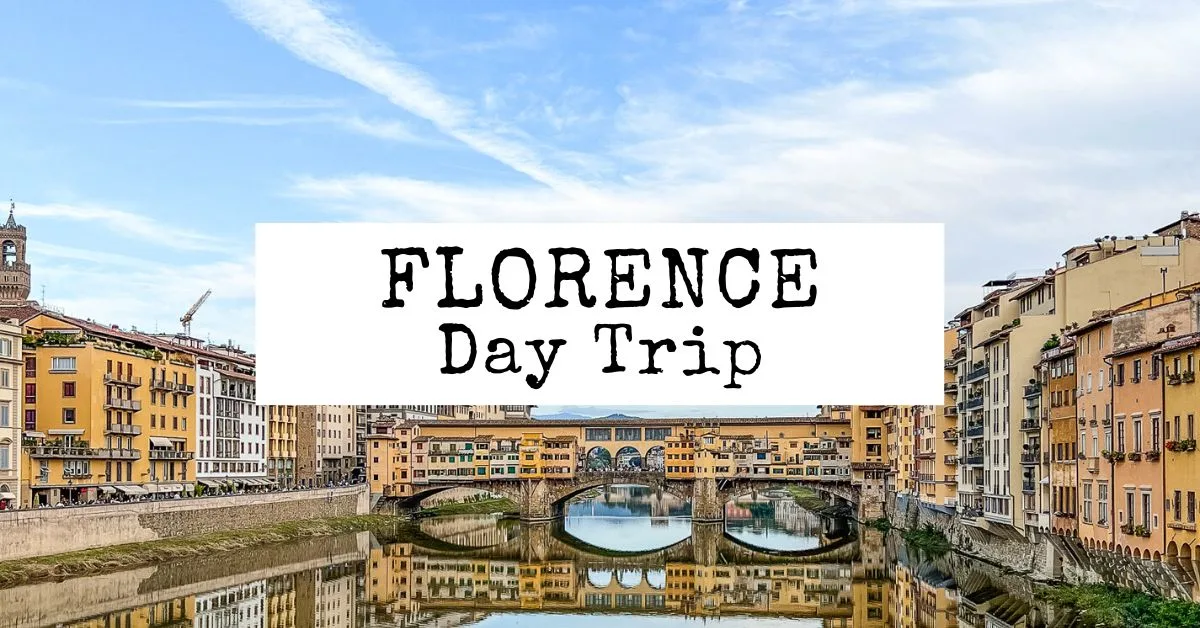 This post may contain affiliate links, which means we'll receive a commission if you purchase through our links at no extra cost to you. Please read full disclosure for more information. We appreciate your support!
In this article, we've put together three one-day Florence itineraries. Each one is designed to give you the best possible experience of Florence in one day. You can also mix and match to create your own ideal one-day Florence itinerary.
We've provided ideas for things to do in Florence in one day, including must-see sights and some fun activities you can book to add to your Italy experiences.
You will also find transportation options for your day trip to Florence.
One Day in Florence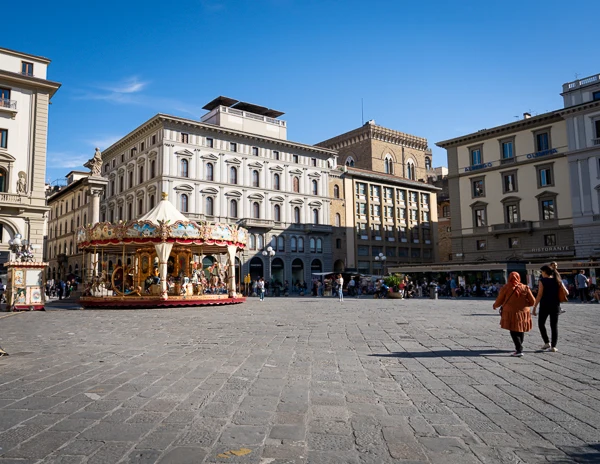 Is one day in Florence enough?
It's not ideal, but it can still be one of the best days of your trip and leave you wanting to spend a longer amount of time. Spend more time walking and experiencing the top 1-3 things you have your heart on rather than trying to do it all in a day.
Is it possible to visit Florence for a day?
Yes. With one day in Florence, it is possible to see and experience many of the city's highlights. You may miss entering some sites and attractions, but one day in Florence is enough to get a sense of the city and its culture.
Day Trip to Florence
A day trip to Florence is a popular choice for travelers wanting to get a taste of the city with the limited time they have in their itinerary.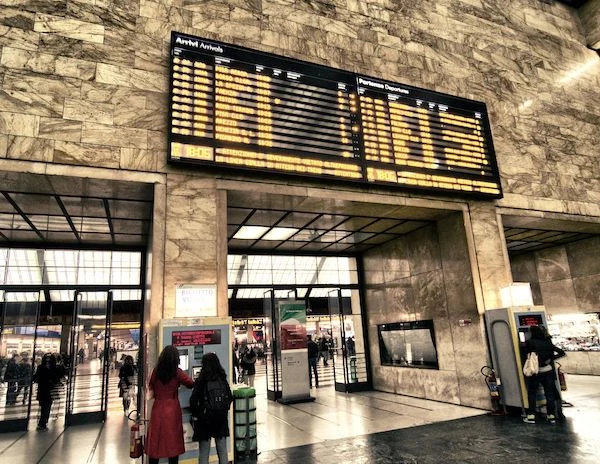 How to get to Florence, Italy?
Option 1: Rent a Car
You do not need a rental car in Florence. However, sometimes we like to control our schedule, so renting may be an option. Or you may already be exploring Tuscany, have rented a car, and want to make a quick day trip to Florence.
You can't drive into the ZTL zones within the city center of Florence. You can park outside the city center and leave your car there for the day while you explore one day in Florence.
Find a car on rentalcars.com.
Where to park in Florence?

You'll want to do a paid parking garage (free parking is non-existent) and there are many located around the restricted ZTL zones. The largest parking garage is located beaneath Santa Marina Novella Train Station. 

Location: Parcheggio Firenze Santa Maria Novella, Piazza della Stazione, 58, 50123 Firenze (Google Map It)
Option 2: Take the Train or Bus
Santa Maria Novella train station is the main hub in Florence. It is one of the easiest cities to reach from other Italian cities and Livorno cruise port.
Day trip from Rome to Florence on a high-speed train is only a 1 hr 12min ride one-way.
Day trip from Lucca to Florence is a 1 hr 21 min train ride one-way.
Day trip from Livorno to Florence is a 1 hr 12 min train ride one-way.
Day trip from Siena to Florence is a 1 hr 19min train ride one-way.
Day trip from Pisa to Florence is a 48 min train ride one-way.
Day trip from Bologna to Florence is a 35 min train ride one-way.
Book your tickets in advance. Click here for train schedules and info; it will come up if a bus transfer option is available.
Alternatively, if you're staying in Florence for longer, you can plan day trips from Florence to all the cities mentioned beloved and more.
Option 3: Book a guided day trip to Florence or hire a private driver.
Cruisers from the Port of Livorno to Florence
Not a cruiser? Click the link and skip to the One Day in Florence Itineraries.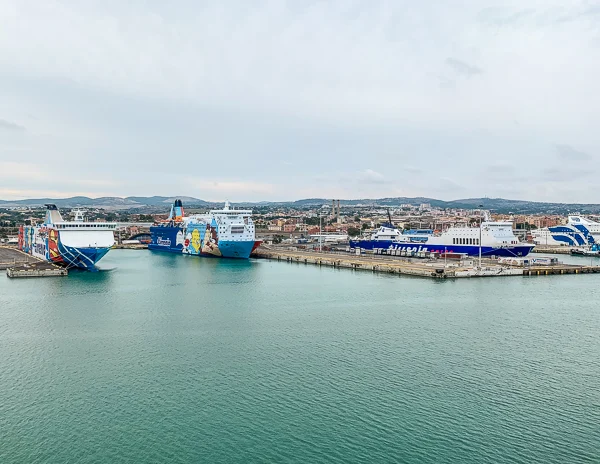 What to see in Florence in a day?
The best advice we can give cruisers during your day in Florence is to wander around the city to take it all in, stop for espresso now and then, have a nice lunch, and don't forget the gelato. Book it in advance or take a tour to maximize your time if something is on your must-do list. But don't cram too much in a short amount of time.
How far is Florence from Livorno cruise port?
The Port of Livorno is the closest cruise port to Florence. It's a 1 hr 20 min drive to Florence or a 1 hr 12 min direct train ride to Florence.
How to get from Livorno cruise port to Florence?
Option 1: Book a cruise ship shore excursion with transport only to Florence. In my opinion, this is the best option. The tour will take you directly from the cruise terminal to a meeting point in Florence. Then pick you up at the end of the day there.
Cruise-sponsored shore excursions guarantee to bring you back on the ship on time. If they are delayed, the cruise ship cannot leave you.
We usually book independent shore excursions or go exploring on our own, but we think this is the easiest route for transportation into the city of Florence.
Alternatively, you can book your own bus transfer to Florence that is not sponsored by the cruise ship.
Option 2: For adventure lovers and those who love to be in charge of their schedule, you can take a train from Livorno to Florence:
You must first trek from the Livorno cruise port to the Livorno Centrale train station. Note: Shuttle buses are provided from the Livorno cruise port to Piazza Grande outside of the port.
From Piazza Grande in Livorno, you will take a taxi or bus No. 1 to the Livorno Centrale train station. Walking from Piazza Grande to the train station is a 30 min walk vs. a 10 min drive. Make the best of your time.
At the Livorno Centrale train station, you want to try to purchase tickets that have a direct route to Florence Santa Marsanta Novella train station.
While you're making the purchase, book your return ticket. Give yourself enough time for delays that may arise. You also need to consider the time it takes to get back to the so you the cruise port from Livorno Centrale.
Book your tickets in advance. Click here for train times and info.
Option 3: Book a private car transfer for you and your group.
What alternative trips can you take from Livorno cruise port? When we were last in Livorno cruise port, we rented a car and spent the day in Lucca, Italy. Another option is visiting Pisa, it is closer and a great way to spend half a day seeing the Leaning Tower of Pisa.
Things to Do in Florence in One Day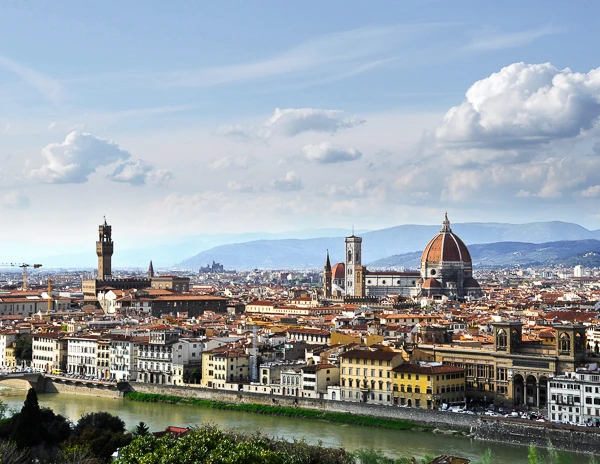 The magical part about Florence is that while walking from A to B, you'll see the top highlights and check off all the top places to visit in Florence in 1 Day.
The truth is, walking around and seeing the sites in Florence is one of the easiest parts. It's how you experience the city and what memories you leave with that matter.
Just remember, as you're planning your 1 day in Florence itinerary, consider your arrival and departure times for the train or transfer.
If you arrive from Livorno on a cruise, don't forget all aboard time, so give yourself a buffer.
And if there is one foodie tip that you can fit into any of these itineraries is to make reservations to eat Bistecca all Fiorentina. Our favorite Tuscan restaurant in Florence for Bistecca alla Fiorentina is Fagiole.
Here is a map of Florence Highlights and some of our favorite eating spots: Google Map Link.
One Day in Florence Itinerary Option 1:
Start the Day with a Walking Food Tour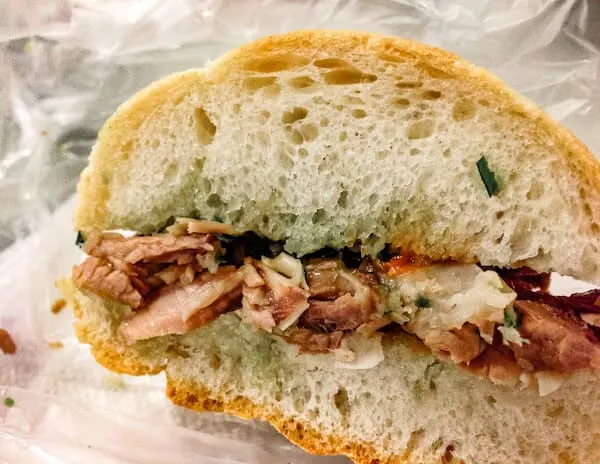 A food tour is always top of our list at Tasty Itinerary. That's because the first food tour we took many years ago was in Florence, which remains one of the best experiences.
On a walking food tour, you'll have the chance to explore the city with a local guide and indulge in the one-of-a-kind foods that Florence is famous for. The combination provides an insider look into the city you wouldn't have even with a book.
The food you get on a food tour is usually enough to cover breakfast and lunch. You won't have to worry about finding a place to eat later. Although, we can't fault you for returning to one of the local foodie spots for seconds.
Since Florence is compact, you will likely hit all the highlights that make this city incredible. By the time you're done with the tour, you'll have the lay of the land, and it won't be as intimidating as you continue your explorations.
Tour Ideas:
Small-Group Florence Food Walking Tour [book here]
Florence Walking Tasting Tour with Secret Food Tours [book here]
Florence Food Tours With Devour [book here]
Cross the Ponte Vecchio Bridge
If you've seen the Duomo and other highlights during your walking tour, walk along the River Arno and cross the Ponte Vecchio.
This bridge is one of the oldest in Florence and spans the Arno River. The original structure was constructed in the 11th century, and it was one of the few bridges left intact after the World War II bombings.
It's one of the most picturesque sights, so it does get crowded. But it is one of the places to visit in Florence in 1 day that should not be missed. You'll find many jewelry shops lining the bridge.
Fun Fact: Did you know Ponte Vecchio means "old bridge" in Italian?
Visit Boboli Gardens
Boboli Gardens is one of the most exquisite gardens in Florence, Italy. Located on the other side of the Ponte Vecchio Bridge behind Pitti Palace, this is one of the best things to do in Florence, especially if you're visiting in the Spring or Summer months.
The gardens are filled with landscaped greenery, fountains, and ancient statues. You can spend some time strolling the grounds and admiring all the beauty it has to offer.
There is an entrance fee to enter the gardens. You'll spend a couple of hours wandering around the garden.
If you think you have time, you can also visit Pitti Palace.
One Day in Florence Itinerary Option 2:
Visit the Duomo di Firenze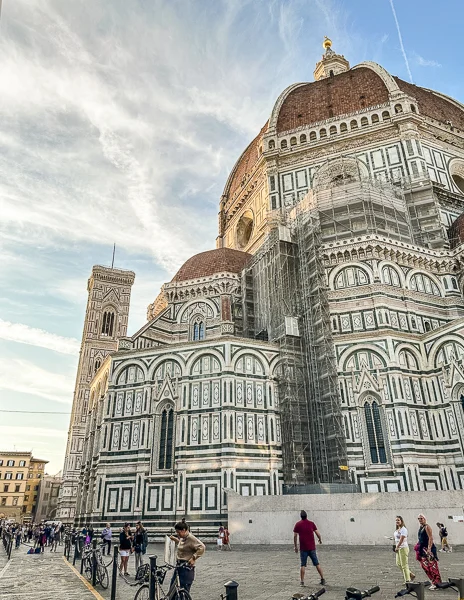 During your time in Florence, you will see the spectacular Duomo di Firenze at some point. The Florence Cathedral is so epic and grand that it is hard to miss.
The grandiose structure of Florence's cathedral stands magnanimously with Brunelleschi's Dome and Giotto Bell Tower. Your eyes will immediately gravitate towards this magnificent building as you enjoy a tour through the city streets on foot.
You can admire it from afar, walk around it and take pictures. That could be the extent of your time at the Duomo.
Or you can go inside and see what makes the Duomo so special. You can easily spend an entire morning or afternoon visiting the Florence Cathedral and climbing to the top of the structures without rushing.
The entrance to the Cathedral is FREE. Just be prepared to make a line to enter.
You can climb to the top of Brunelleschi's Dome.
And you can plan to climb to the top of Giottos Bell Tower.
Brunelleschi's Dome and Giottos Bell Tower will give you a 360-degree view of Florence and its surrounding hills. You can do both or one of the other. Remember that entering these two sites is an extra cost and are two separate lines.
Reservations should be made in advance.
Get Gelato at Perche No! or Gelateria dei Neri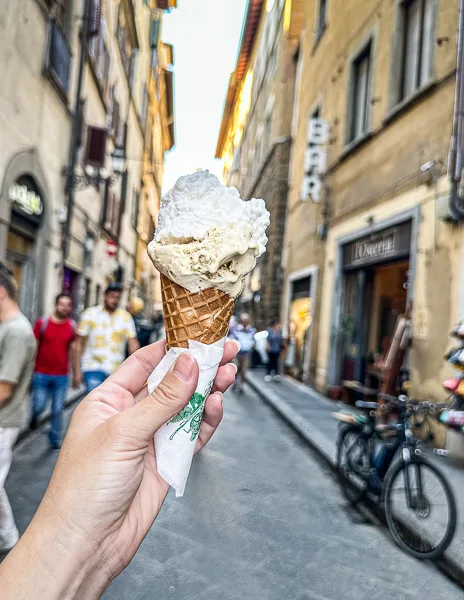 You can't leave Florence without having some gelato. It is one of the foods of Florence that originated here.
Perche No! or Gelateria dei Neri are two gelato places in Florence that are not far from El Duomo and serve artisanal gelato.
Explore Santa Croce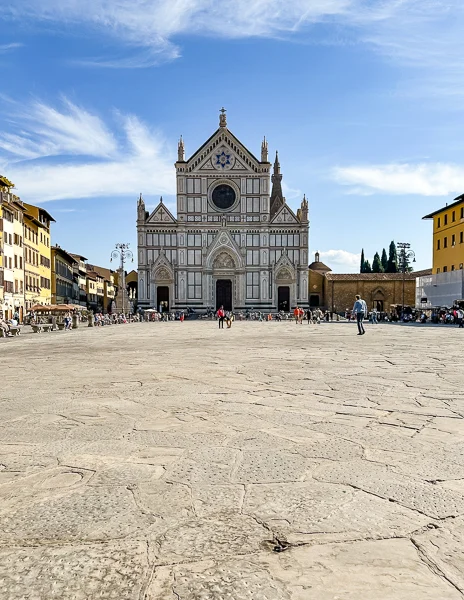 After spending time around the crowds around the Duomo, head to the Santa Croce area, where it will be quieter and the crowds will be thinner.
Santa Croce is one of Florence, Italy's most beautiful and historic districts. It's home to one of the most famous churches in Florence, the Basilica of Santa Croce, where the tombs of Michelangelo, Galileo, and Machiavelli are located.
Take a moment to sit in Piazza Santa Croce and admire the view of one of Florence's most beautiful squares.
This is a great district to explore on foot and wander around the narrow alleyways, admiring the beautiful architecture of one of Florence's oldest neighborhoods. There are many leather and boutique shops in the area, including The Leather School of Florence, where you can shop for leather goods.
Shopping Tip: If you want to buy leather, visit Florence's leather school, a leather boutique in the area, or Piazza del Mercato Nuovo in front of Il Porcellino (the famous bronze wild boar). Be selective about where you make you purchase your leather goods. Avoid shopping in San Lorenzo Market, it is swarming with tourists buying items that are not even made in Italy. 
Optional: Stop by Salumeria Verdi for a panino.
How to spend three days in Tuscany? If you're looking to plan an unforgettable Italian vacation, Tuscany should be at the top of your list. This stunning region is home to rolling hills, picturesque and charming villages, and delicious Tuscan food.
A Day In Florence Itinerary Option 3:
Visit the Uffizi Gallery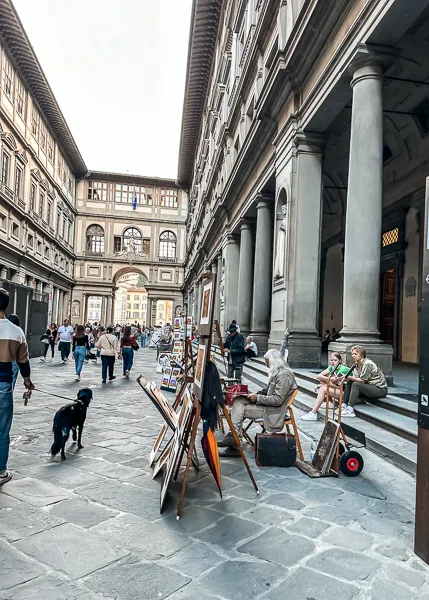 Do you enjoy great works of art? Then, the Uffizi Gallery is a not-miss.
The Uffizi Gallery houses a vast collection of art from the 13th century to the present day, including works by Michelangelo, Leonardo da Vinci, Botticelli, and Caravaggio.
You could spend the entire day here going from one exhibit to another.
On our first visit to the Uffizi, we enjoyed the art collections but were slightly lost. There is a ton of art and exhibits to cover.
During our second visit, we hired a guide, and it was a wonderful experience to understand the history and connection behind the art with Medici. We spent about 4 hours here and didn't even see everything.
Tour Ideas:
Uffizi & David at the Accademia Tour Exclusive [book here]
Highlights of Florence and the Uffizi Gallery [book here]
Explore Piazza della Signoria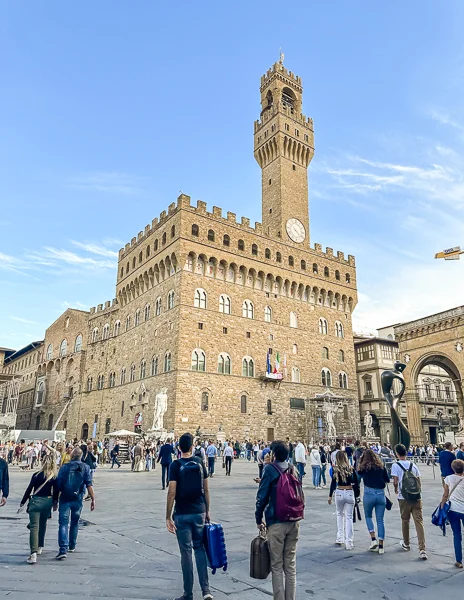 Right by the Uffizi is Piazza della Signoria, where Palazzao Vecchio is located, the reproduction of David and Neptune's fountain. In recent years, new modern statues have been added to the piazza.
The Piazza della Signoria is one of Florence's most beloved squares, rich in history as it was once one of the main political centers for the Florentine republic.
Today, Palazzo Vecchio serves as the city hall of Florence. You can purchase tickets in advance to enter and tour the home of one of Florence's most famous families, the Medici. Other tours they offer, like the Secret Passage Tour, are fascinating and one we highly recommend.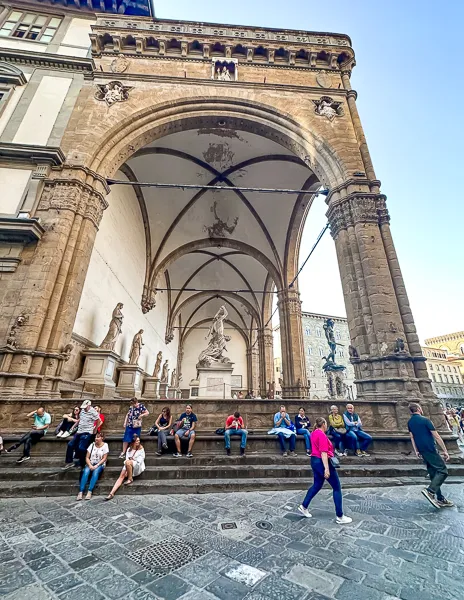 In the square, you'll also find Loggia dei Lanzi, with its many statues, including one of Perseus with the head of Medusa.
If you'd like to sit and admire the view and people-watch, one of the best spots is Cafe Riviore which has a full view of Palazzo Vecchio from its outdoor patio. They have some of the best hot chocolate.
End Your Day at Piazzale Michelangelo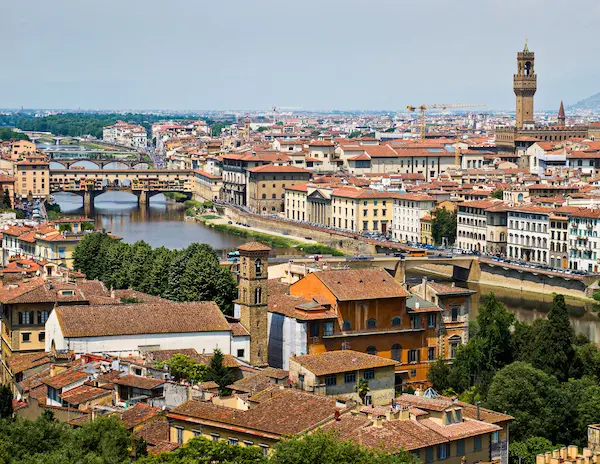 At sunset, end your day at Piazzale Michelangelo. However, if you're limited on time because of your cruise schedule or can't miss your return train, trekking to Piazzale Michelangelo anytime is worth it.
Some of Florence's best views are from Piazza Michelangelo's terrace. You will also feature a giant bronze replica of one of Michelangelo's works, the David.
Getting here is a walk uphill, so keep that in mind. You may want to take a short ride in a taxi or uber.
On the way there, we recommend stopping at a wine shop or market and purchasing a bottle of wine. Don't forget to ask for throw-away cups.
You will thank me once you get there and join the other locals and tourists. They'll be sitting on the steps, celebrating and watching the sunset over the fabulous panoramic view of Florence.
Other Fun Tour Options in Florence
When you only have a day to explore a destination, sometimes the best thing to do is book a tour with a local guide. You'll see the highlights or enjoy a local activity you will always remember.
You can also squeeze one of these into the Florence itineraries above.
1. Electric Golf Cart Tour of Florence
We always recommend walking as much as you can. However, sometimes time is limited, or someone in your party cannot get around easily; the electric golf car tour is one way to get around and see all the highlights of Florence.
Dates for these tours book fast.
2. Take a Cooking Class
This is a fun way to immerse yourself in Tuscan cuisine by learning how to make pasta or other local dishes.
We recently took a cooking class in Florence with the most amazing view of the city. It was a great combination of delicious food, great company, and a different perspective of this incredible city.
3. Vintage Sidecar Motorcycle Tour of Florence
A professional driver will zip you around town in a vintage sidecar and show you the city's highlights. This is a great tour for those that love a little adventure.
Share the tips & love on Pinterest: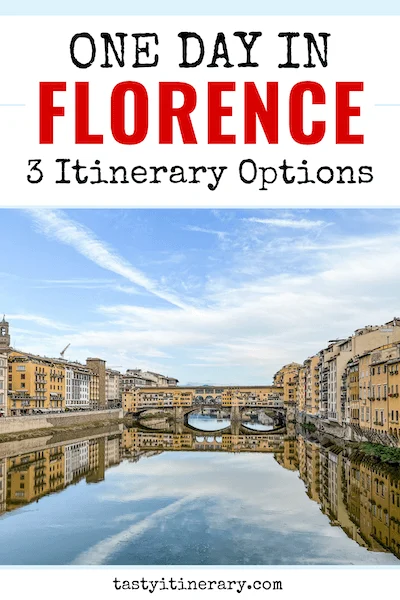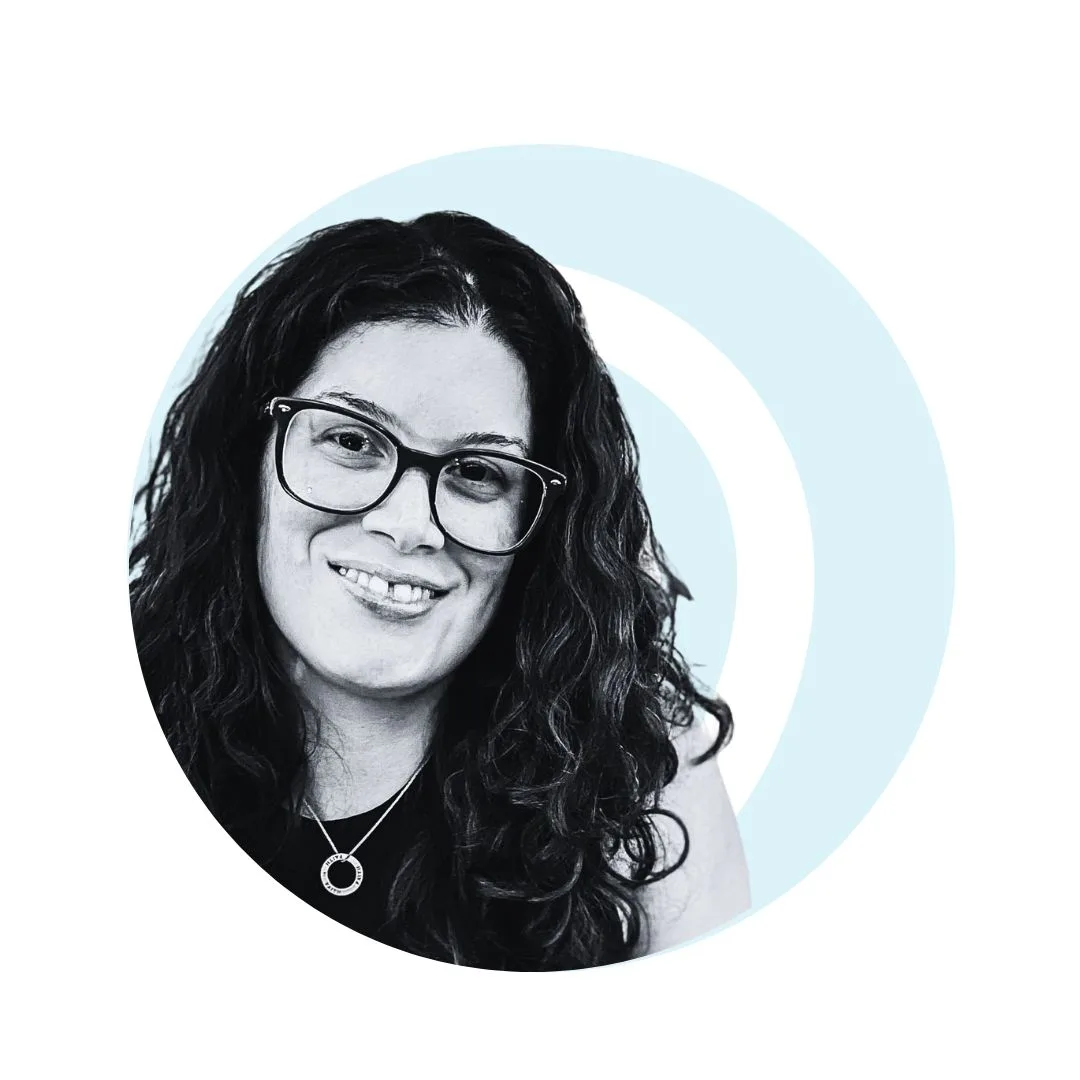 Meet Kathy – a food, travel, and cruise writer based in Los Angeles/Pasadena. With over 20 years of experience planning trips and logistics at her full-time job and for herself, she's become a pro at crafting unforgettable travel itineraries. She's always looking for delicious, fun cruise itineraries and travel destinations and is slightly obsessed with Italy. Her passion and curiosity for travel started in childhood on her yearly and sometimes bi-yearly trips to PR. She firmly believes that life is short and we must make the most of it – so let's explore the world and make some incredible memories.