Planning a trip to Italy and only planning to spend one day in Florence? Here are three fantastic Florence Itinerary options for a day in this amazing city.
One day in Florence, Italy is a great introduction to spend more time here in the future. Truthfully, one day in Florence, Italy is not enough to do everything. But, it's better than never visiting this beautiful city of Renaissance at all. You will fall in love and want to return for a longer length of time.
Firenze is the capital city of Tuscany. The center of early Italian Renaissance art and architecture. This magnificent city has won our hearts over and over, we will never tire of spending time there.
So far, it remains to be my favorite city in the world.
The food is incredible and will do things to your foodie soul that you never felt before. The history and art are plentiful, you're surrounded by it at every step. The beauty of the architecture and the city itself is magnificent – the Florence Cathedral and Duomo are part of that.
Disclosure: This post may contain affiliate links. If you decide to make a purchase from one of those links, we may get a commission at no extra cost to you. We appreciate your support.
With just one day in Florence, you can experience a taste of what this wonderful city has to offer. All you need is one day following one of these itineraries and you'll be planning your next trip back.
Since this is tasty itinerary, my vote is always the food tour. You can't go wrong with happy bellies and some history all at once.
Now if you're visiting for more than a day, keep reading because you can turn these options into 3 days in Florence, Italy.
As for us, we are dreaming of moving to Tuscany in the future. For now, we are content with renting an apartment on Airbnb and playing locals for a week or two when we have the opportunity.
Covid Vaccine Info: To enter many of these attractions, you will need to show proof of vaccination. They are requiring a Green Pass, which is mostly used by Italians. If you are a United States citizen, your CDC-issued card and-or negative test results should be acceptable.
One Day in Florence, Italy Itinerary
There are many things to do in Florence, Italy, but I've managed to create 3 one-day Florence itinerary options. And if you do end up returning to Florence, you can turn these itineraries into 3 days in Florence, Italy, or share with someone that is planning a few days in the city of renaissance.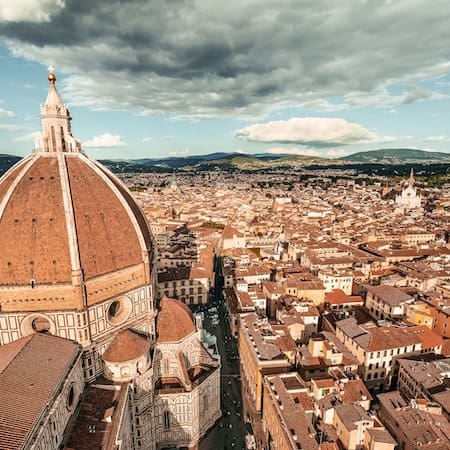 One Day in Florence Itinerary Option 1:
Food tour with a morning stop at Accademia Gallery
Why combine a food tour and Michelangelo's David? Because it is possible to do this in one day in Florence. You can see the David at the Accademia and then be introduced to Firenze's wonderful local cuisine. All you have to do is book the Nude and Food tour with Florence for Foodies (not sponsored).
On our first trip to Florence, we found this tour via Tripadvisor and booked the tour directly with Florence for Foodies. It's one of the best tours we've taken.
To this day, we still reminisce over the amazing day we had. They not only usher you and introduce you to their home city by foot, but they share the love and history behind some of their favorites. You will get to taste local coffee, wine, pastries, gelato and you'll even go on a quick excursion to the Mercato Centrale.
You will eat treats and specialty foods you probably wouldn't have ventured out for on your own. There is no need to eat breakfast or lunch if you go on this tour. You will definitely be full by the end of it.
If this is your first time in Florence or in Italy in general, this tour helps lessen any intimidation or reservations you may have to explore on your own afterward. I highly recommend doing this for anyone that loves food and culture.
At sunset, plan to end your day at Piazzale Michelangelo. Keep scrolling and see more info below.
Where to Eat in Florence, Italy
These are some of our favorite places to eat in Florence. We cover everything from pizza, sandwiches, Florentine steak, pasta, and yummy gelato.
One Day in Florence ItineraRY Italy Option 2:
Duomo di Firenze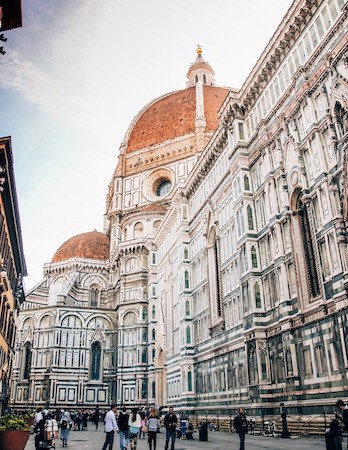 With any option you decide to go to, at some point, you will get a glimpse of the spectacular Duomo di Firenze. The Florence Cathedral is so epic and grand that it is hard to miss.
The Florence Cathedral (Santa Maria del Fiore), Brunelleschi's Dome, and Giotto's Bell Tower stand magnanimously together in the heart of Florence. Your eyes will immediately gravitate towards the grandiose structure.
The entrance to the cathedral is free but be prepared to line up to enter.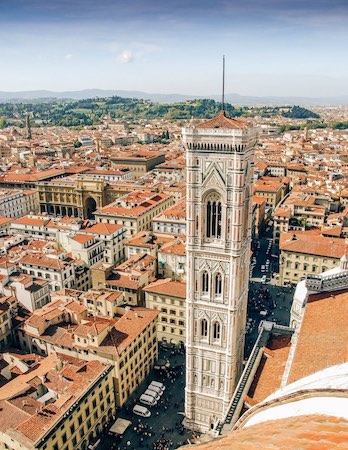 Climb to the top of the Duomo or Giottos Bell Tower for a beautiful view of the city for an extra cost. You should make reservations in advance. Note: The Duomo, Giottos Bell Tower are two separate lines and entrances.
You can easily spend an entire morning or afternoon visiting the Florence Cathedral and climbing to the top of the structures without rushing.
At sunset, plan to end your day at Piazzale Michelangelo. Keep scrolling and see more info below.
Day Trip from Florence to Lucca
Take a quick road trip or hop on a train to Lucca, Italy.
a Day In Florence Itinerary Option 3:
Visit the Uffizi Gallery
If you enjoy great works of art, this is a not-miss. Start your day early at the Uffizi. You could literally spend the entire day here going from one exhibit to another.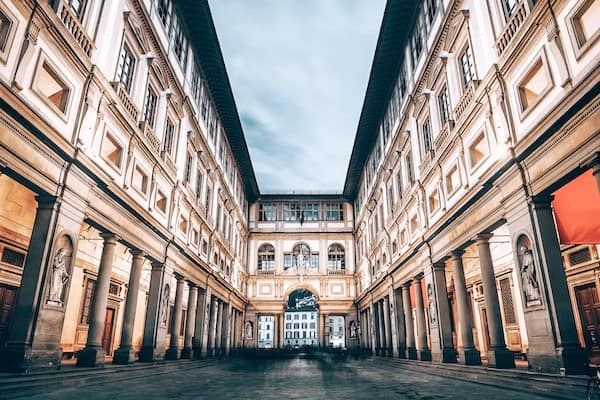 This renowned gallery is located next to Piazza Della Signoria. Where you can see a copy of the David statue.
I recommend booking skip-the-line tickets and reserving a time to visit in advance or hiring a guide. On our first visit to the Uffizi, we enjoyed the collections of art but were slightly lost. There is a ton of art to cover.
During our 2nd visit, we hired a guide and it was a wonderful experience to really understand the history and connection behind the art. We spent about 4 hours here and didn't even get to see everything.
Walk to El Ponte Vecchio
After you're done at the Uffizi, take a stroll over to El Ponte Vecchio.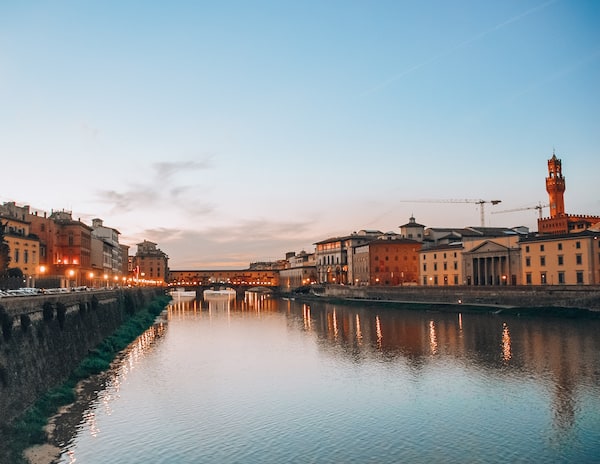 Did you know Ponte Vecchio means "old bridge" in Italian? It is the oldest bridge in Florence. It is also the most photographed bridge in Florence. It's the only bridge in Florence that survived the destruction of German forces during World World II.
At one time, it used to be where butchers would prepare and sell meat. The carcasses and leftovers would be thrown over into the river. Thankfully those days are in the past.
Presently, the bridge is filled with jewelry stores, and if you would like to take a token of Italian jewelry home, this is where you can do some shopping.
End Your Day in Piazzale Michelangelo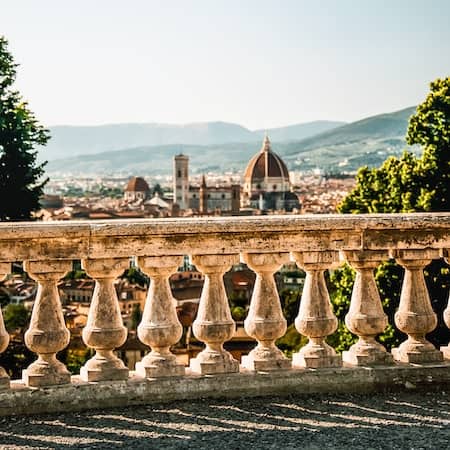 If you have time during your walk there, grab a bottle of wine and maybe even a snack. You will thank me once you get there and join everyone else sitting at the steps to watch the sunset over the fabulous panoramic view of the city of Florence.
And by all means, visit this piazza any time of day and take in the wonderful scene it has to offer.
The city of Florence is walkable and safe to explore; however, you should always be vigilant when exploring. Walking and getting lost in the city of Florence is one of my favorite things to do, besides eat. Don't be afraid to head out and discover this marvelous city on your own.
The yellow stars are all the places to eat in Florence, Italy listed above. You can save the Google Map Link Here.
Fun Tour Options in Florence
When you only have a day, sometimes the best thing to do is book a tour with a local guide. You'll get to see the highlights or enjoy a local activity that you will always remember.
1. Highlights of Florence
Take a private 3-hour walking tour of the highlights and hidden gems of Florence with a local. Plus, Enjoy some antipasti and wine for lunch.
2. Take a Cooking Class
If I was going to learn how to make gelato and pizza, it would be in Italy. The same goes for handmade pasta. Take time in Florence to take this fun cooking class.
Learn some tips and tricks from a professional local chef.
3. Vespa Tour
You only live once! That's why a Vespa tour may be perfect for a day in Florence. You get to ride from the city of Firenze into the Tuscan hills and then end your tour with a fantastic meal in Florence.
If you're planning to spend more time, we suggest reading our full guide on the Top Things to Do in Florence, Italy.
What do you plan to do with your one day in Florence, Italy? Will you spend it at the Uffizi or does the food tour sound more fun?
No matter what you do, you will have a wonderful day in Florence.
Don't forget to share the love on Pinterest: