Planning your trip to Tuscany, Italy? How to spend 3 days in Tuscany? Is 3 days enough for Tuscany?
If you're looking to plan an unforgettable Italian getaway, Tuscany should be at the top of your list. This stunning region is home to rolling hills, picturesque and charming villages, and delicious food. You're in for the trip of a lifetime.
After spending a few days in the Emilia Romagna region, we visited and ate through Bologna, Modena, and Parma. We spent 3 full days in Tuscany, not counting the travel day to get there. Specifically, we spent it exploring one of the most iconic areas of Tuscany, Val d'Orcia.
We had an incredible time in Tuscany. And we stayed in a fantastic bed and breakfast in a castle in Pienza! More on that is below.
It wasn't our first time in these majestic rolling hills or Tuscany. If you've followed me for a while, you know that our favorite city in the world is Florence, and we are obsessed with Tuscany… Italy, in general.
This was our first time on a Tuscany road trip, exploring on our own and taking the time to really appreciate the beauty of Val d'Orcia.
Knowing how to spend 3 days in Tuscany can be tricky – there's so much to see and do!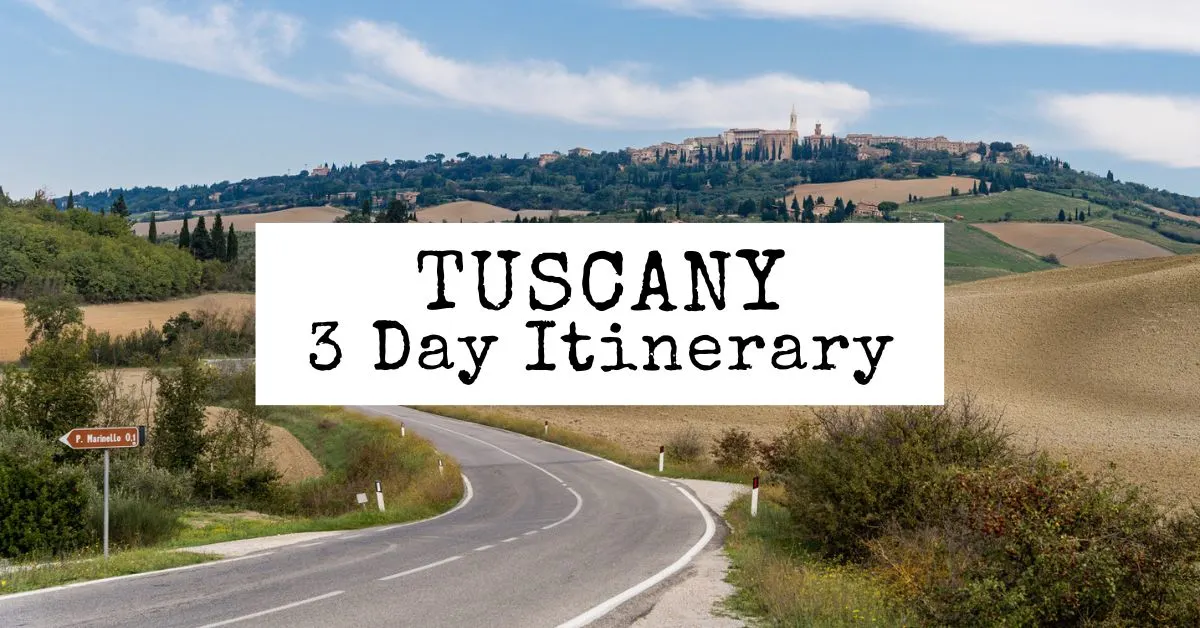 This post may contain affiliate links, which means we'll receive a commission if you purchase through our links at no extra cost to you. Please read full disclosure for more information. We appreciate your support!
Tuscany is a large region of Italy, and if you're planning to spend only three days, we suggest you first look at the map. See what area and cities of Tuscany you'd like to visit. Because when you start planning, you'll realize that just because a town looks close to another city on the map, it may be a 2-hour drive apart.
Always start with what is important to you, the city or area you're looking forward to seeing the most, and start planning from there.
Is 3 days enough for Tuscany?
More than three days are needed to enjoy and explore everything Tuscany offers. However, 3 days in Tuscany can be enough to explore parts of Tuscany. Such as creating 3 day Tuscany itinerary that explores either Val d'Orcia area, the Chianti area, the city of Siena, the city of Arezzo, and-or the city of Florence.
This article shares how we spent a fabulous 3 days in Tuscany. This 3 Day Tuscany itinerary is complete with what sights not to miss, where to stay, what to eat, and even alternative suggestions so you can plan your ideal Tuscan itinerary.
These itineraries are meant to be a guide. Feel free to add or remove activities as you see fit.
How to Get Around Tuscany?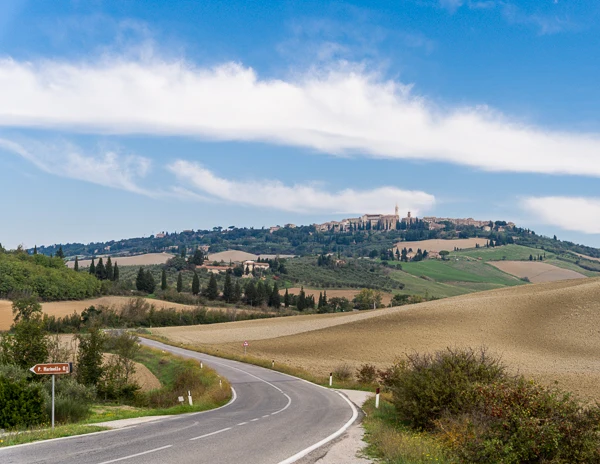 When exploring Tuscany, depending on where you decide to stay and call home base, you may have a few options: rent a car, take the train, book a private driver or book tours.
Book a rental car. If you plan to explore Val d'Orcia and the surrounding areas, we recommend renting a vehicle to make your life easier. This way, you'll be free of when and where to explore. Some of the most charming towns can only be reached by car.
A private driver is an excellent option if you don't want to drive and would love to explore Val d'Orcia, Chianti, and other hidden gems outside the main cities. Of course, this is one of the most expensive options, but it may be worth it for a day or two.
Take a tour. Lastly, if you're looking for a laidback approach to your Tuscan adventure, plenty of fantastic tours combine all the best of Tuscany.
On this trip, we rented a car during this 3 day Tuscany Itinerary that we spent exploring Val d'Orcia and nearby areas. We returned the car when we decided to end our trip with two days in Florence after that. In Florence, you do not need a car.
Driving Around Tuscany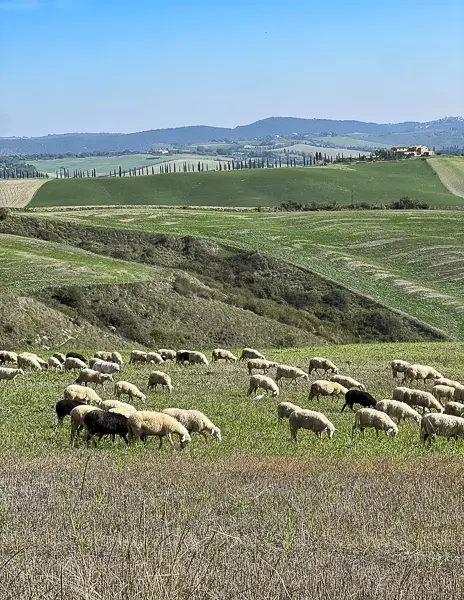 Driving around Tuscany is an excellent option for those who want to explore the region at their own pace. Unlike other regions in Italy, Tuscany is easier to navigate and drive, but expect winding roads and narrow roads when exploring the hills.
Driving around Tuscan roads (especially Val d'Orcia) will take some time, but it is worth the experience of such stunning countryside.
We drove to explore the charming towns of Tuscany, admire some of the most beautiful views, and take a break from sightseeing when we wanted.
The roads in Tuscany vary from four-lane highways to winding, narrow roads. In Val d'Orcia and the areas outside of it, expect plenty of tight curves, which is why we recommend a smaller vehicle.
3 Days in Tuscany Itinerary
How to spend 3 days in Tuscany?
Three days in Tuscany can be spent in various ways. As you plan your Tuscan itinerary, you'll want to piece it together depending on what area of Tuscany and what towns and sights you're looking forward to visiting.
Tuscany Itinerary Example 1: You can stay in Siena and, from there, explore nearby cities like San Gimignano, Monteriggioni, and Volterra.
Tuscany Itinerary Example 2: You can stay in Florence and make some day trips by train to see the leaning tower of Pisa and then take the train to Lucca. Or you can book a Chianti wine country tour.
Tuscany Itinerary Example 3: You can stay in Val d'Orcia, like in Pienza, and take a car to explore the charming top villages like Montalcino and the picturesque spots of the rolling hills that makes this a UNESCO World Heritage Site.
We opted for the third itinerary example, making the countryside of Pienza our home base while we explored Val d'Orcia and its charming towns and even made a day trip to Cortona on the third day.
Where to Stay in Val d'Orcia?

We highly recommend finding a hotel, agriturismo or B&B in Pienza, whether that's in the town or outside in the countryside of Pienza. Staying in the countryside of Val d'Orcia will allow you to admire stunning views and enjoy total peace and quiet while having a home base.

You can also consider nearby cities like Montepulciano or Montalcino. Note that if you stay in Montepulciano, while it is high up perched in the mountains and offers great views, you'll have to trek up and down the hills of Montepulciano every day to go explore.

We stayed in a castle in Pienza, Il Mastio di Spedaletto. We share more about it below.
Let's dive into the 3 day Tuscany itinerary based on full days.
We will also point out some postcard photo opportunities worth stopping for. Of course, when you're in Tuscany, those moments are neverending. You'll be driving around feeling like you're in a live painting. We will point out some memorable post-card moments throughout his post.
Day 1: Explore Val d'Orcia
If your accommodations include breakfast, take full advantage of the morning spread of fresh coffee and local pastries before heading out.
Visit Pienza
Since we were staying in the countryside of Pienza, one of the first things we did was visit the charming town of Pienza. It was quaint and lovely, with picturesque narrow streets and stunning views. You can't go wrong if you decide to stay in town.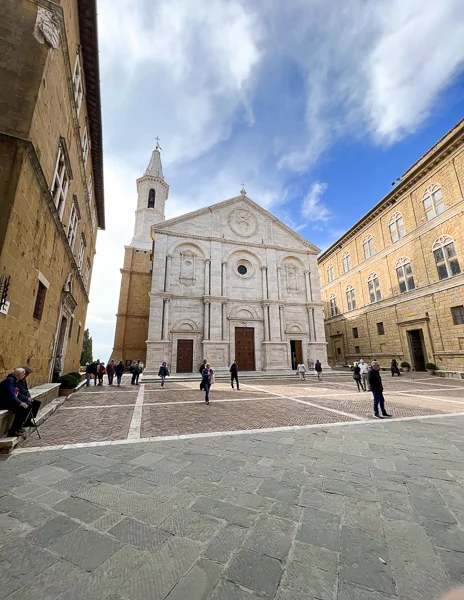 Pienza is a hilltop town in Val d'Orcia, an area of stunning beauty declared a UNESCO World Heritage Site because of its preserved Rennaisance architecture and beautiful rural landscapes. It is worth the visit.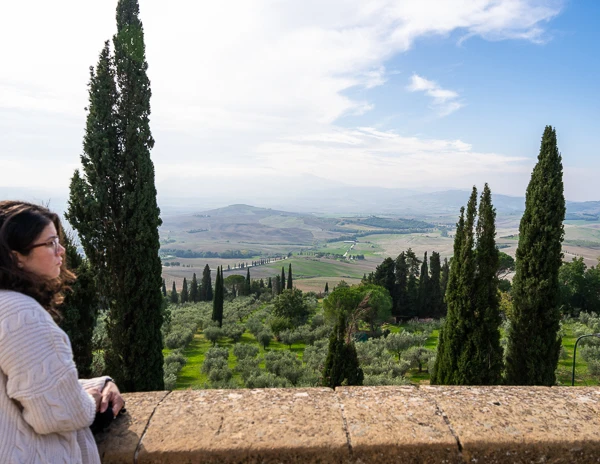 Fun Fact: Pope Pius II grew up in Pienza and named the town after himself when he became Pope in the 15th century. He rebuilt many of the Renaissance style structures along the main street of Pienza. 
We recommend wandering the cobblestone streets and exploring the town's shops and churches. At the same time, stopping along to admire the gorgeous architecture.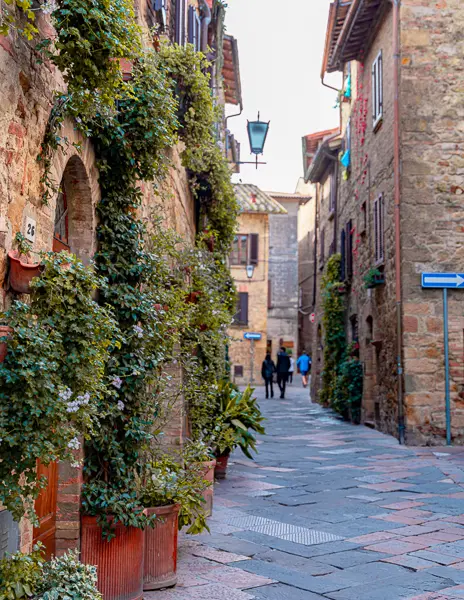 Walk along Corso Rossellino, the main street in Pienza, to visit some of the town's most famous sites, including the Palazzo Piccolomini, for breathtaking panoramic views, the Duomo di Pienza and the church of San Francesco.
Look outside the Duomo's exterior walls and see the remnants of the damage from World War II.
Stop by the cheese shops, where the aroma of pecorino cheese (a Pienza food) will lure you in. (But if you want a nice pecorino cheese sample for lunch, save your appetite for our suggested lunch stop below right outside of town.)
Stop for Lunch at Bindi Enzo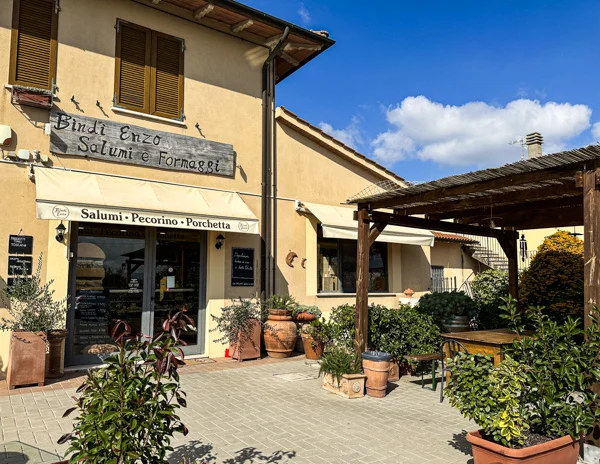 On the drive out from historic Pienza, you'll want to stop at Bindi Enzo. A salumeria with a beautiful variety of pecorino cheeses from their family farm, salami, and other meats, including some of the best porchetta during this Italy trip.
We stopped here for lunch, one of the highlights of our time in Tuscany.
Fun Fact: Pecorino cheese originates from Pienza. You'll find pecorino shops and farms throughout Pienza. As you're driving around Pienza and closer to farms, you'll get a wift of cheese in the air.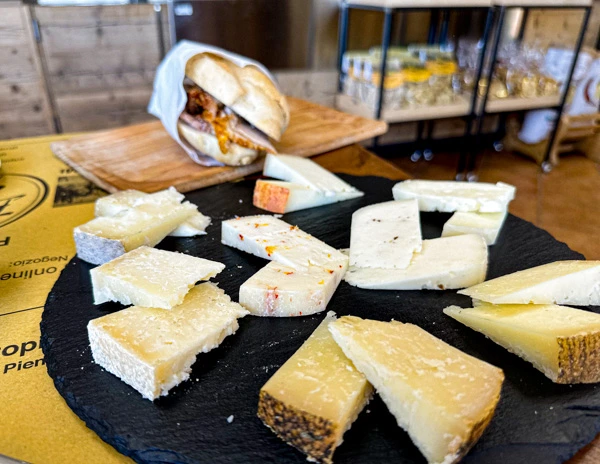 Hungry and ready to try it all, we probably over-ordered, but it was worth it. The son of Enzo behind the counter prepared a feast of a mix of pecorino cheeses and salumi for two and made us a delicious sandwich with porchetta.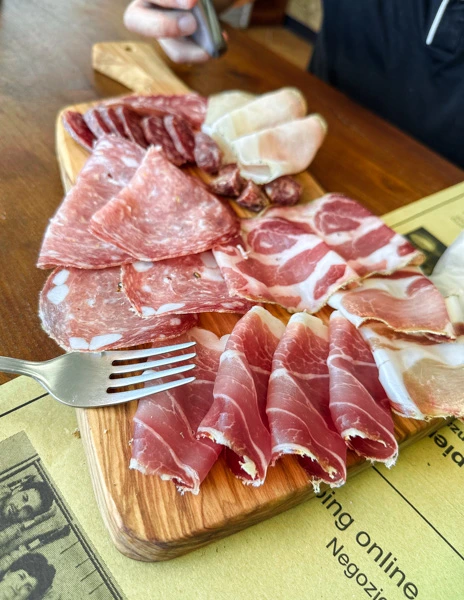 We share this spread with sparkling water and a glass of Montepulciano wine.
This cozy salumeria has seating inside. On warmer days, there is also seating outside. There are so many local goodies and wines throughout the store that you can also spend time shopping.
If you want the porchetta, get there early, as it is gone by lunchtime. We watched as the crusty slab of pork was sliced until it disappeared.
Side note, I still think about that porchetta.
Bindi Enzo | Località Il Borgo, 55, 53026 Pienza | Google Map It
Tour Idea:
Bike trip from Pienza to Montalcino through the Val d'Oricia [book here]
Scenic Photo Opp: Villa Cipressini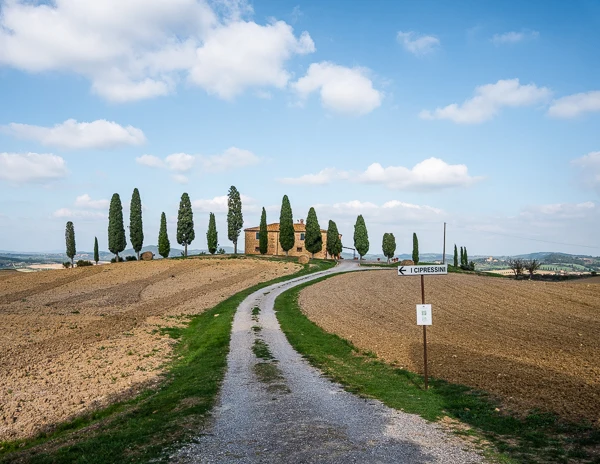 Nearby is Villa Cipressini, a farmhouse with idyllic Tuscan trees, making it a picture-perfect moment you can frame.
You can also book and rent this entire villa. Note it has five bedrooms, so it works for a large group staying in Tuscany.
Cappella della Madonna di Vitaleta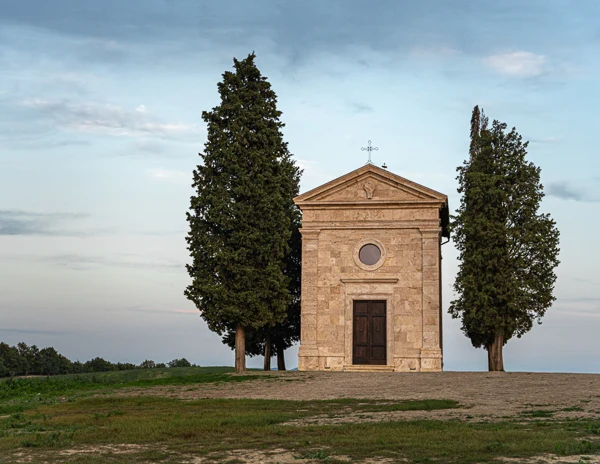 One of the top scenic spots in Val d'Orcia is Chiesa Di Vitaleta. This small church sits in a peaceful valley—surrounded by cypress trees and beautiful golden hills.
It's one of the most photographed spots in the region, and it was a dream to see this UNESCO World Heritage Site in person. It's as beautiful as it is in photos.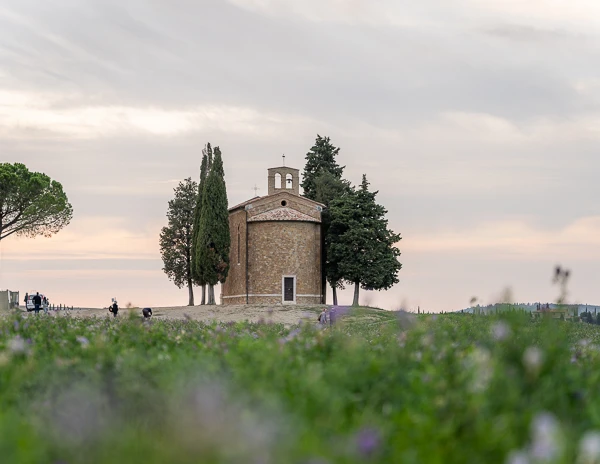 What do you need to know? There is a bit of a trek on foot to get to Chiesa Di Vitaleta.
When you enter this site into your google maps, it will bring you up a back road with a sign pointing you toward the church. The road does not bring you directly to the church but to a gated entrance of another road; this one leads to the church.
You will see other vehicles parking on the shoulder of the road, like a small parking lot, to leave their car behind and take that walk. There are signs, and the walk down this gated road takes about 5 minutes or so, probably longer if you stop to take photos because you will see the back of the church during the trek.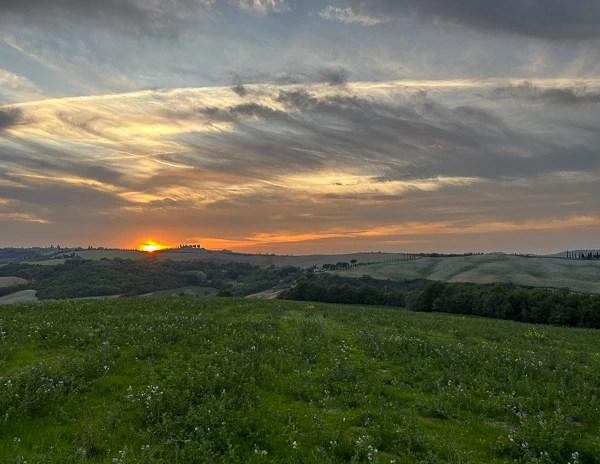 If you time it to get there right before sunset, your walk and the entire visit could be even more magical.
We recommend comfortable shoes to explore this area on foot.
The church is open from Tues-Sunday from 10:30 am to sunset.
There is also a restaurant next door that would be perfect for an aperitivo at sunset, but it's temporarily closed.
Optional Visit: San Quirico
If it's still early and you're good on time, you may want to add San Quirico D'Orcia to day 1 of your Tuscan Itinerary, which isn't far from Chiesa Di Vitaleta. You can flip the itinerary around and start your day here instead of finishing it in Pienza or Bagno Vignoni.
San Quirico D'Orcia is the heart of Val d'Orcia, a medieval town perched atop a hill. It's surrounded by a popular landscape of Cypress trees, olive groves, and rolling hills, leading to traces of old medieval walls.
Explore the town's churches, like Collegiata (Church) Pieve dei Santi Quirico e Giulitta and the Church of Santa Maria Assunta.
Visit the gardens of Horti Leonini.
We recommend walking around the town walls to take in the views of the Val d'Orcia.
Make dinner reservations beforehand if you'd like to end your day here.
Snenic Photo Opp: Cipressi di San Quirico d'Orcia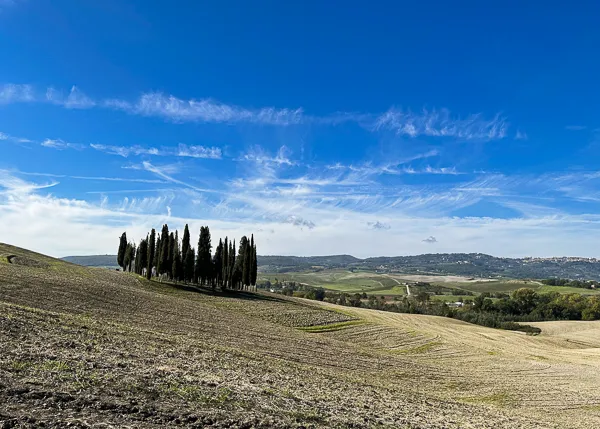 The iconic rings of cypress trees in San Quirico d'Orcia are a must-see. You'll drive past it, then double back to get a closer view. You'll have to park off the shoulder and walk on foot to get a better view.
It is a post-card moment of UNESCO World Heritage Site, Val d'Orcia.
Cypress trees are planted this way to separate fields and estates, but it's something about how this particular one is designed that makes it so scenic and picture-perfect.
Visit Bagno Vignoni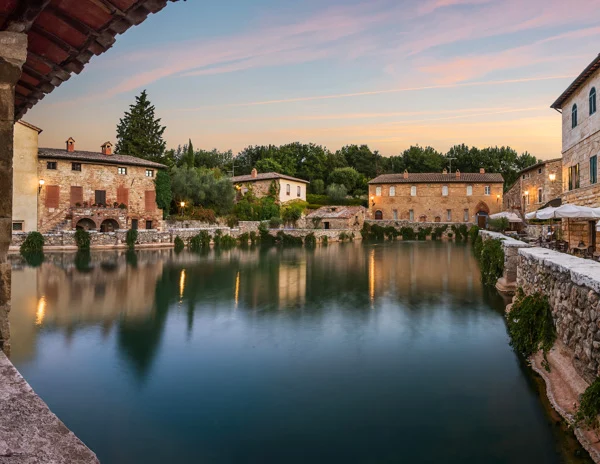 We ended our night at Bagno Vignoni with reservations at Osteria del Leone.
Bagno Vignoni is a small village in the Val d'Orcia region of Tuscany, Italy. It's known for its hot springs, which have existed since the Roman Empire.
The main pool inside the village is filled with water from the hot springs. You can't take a dip here, but if you go early enough, you can visit Parco dei Mulini. You'll have to trek behind the main square and past the cliff to reach it. You can find more info here.
The village is also known for its spas and wellness retreats that you can plan and book in advance.
Dinner at Osteria del Leone
One of the top Tuscan restaurants in Bagno Vignoni is Osteria del Leone, in the heart of this village. We recommend making reservations in advance, and you can do so using The Fork app.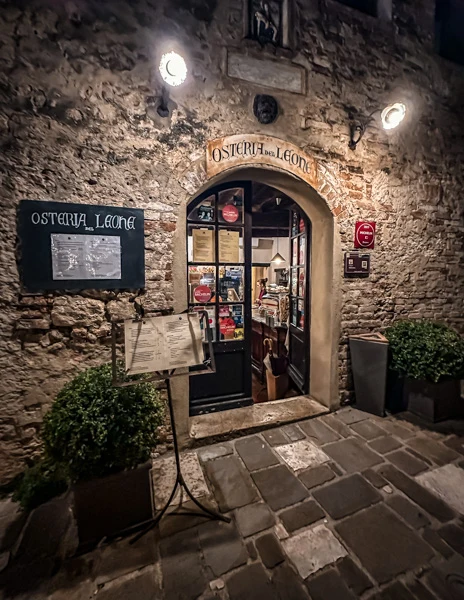 We booked this restaurant on the same day and were pleasantly surprised; it exceeded our expectations.
The restaurant is set in one of the historic stone structures. The inside is rustic and quaint. The exposed wood in the ceilings gives the restaurant a warm atmosphere and an authentic feel. Tables are also separated throughout the restaurant's few different rooms, allowing for an intimate dinner.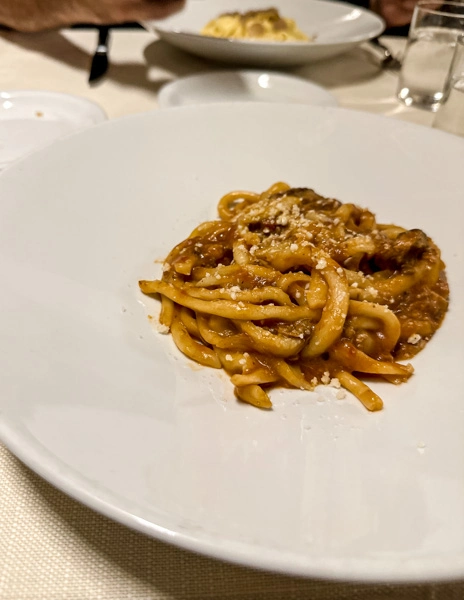 The pasta we ordered was a home run. The handmade picci pasta (a Tuscan favorite), perfectly cooked al dente was served with their sauce of the day, a beef ragu. Since the truffle was in season when we were there, we couldn't help but order their tagliolini with shaved white truffle.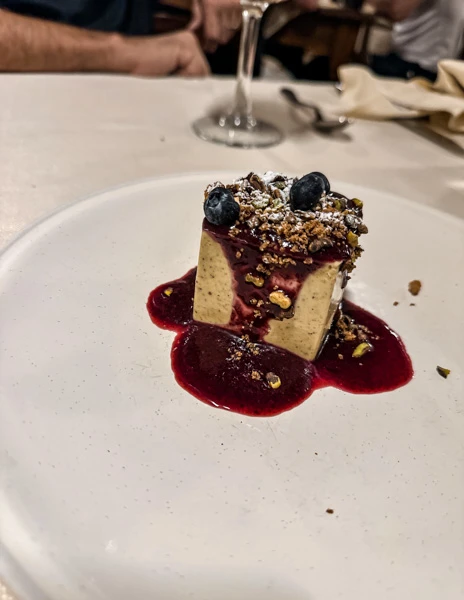 For dessert, we ordered the Bavarese al pistacchio, one of the best desserts we had during our time in Tuscany. It was a bavarian pistachio cream with this amazing raspberry sauce, and pistachio crumble. Outstanding!
Osteria del Leone | Via dei Mulini, 3, 53027 Bagno Vignoni | Google Map It
Tip: Download The Fork app before your trip to Italy.

It is their version of Open Table and Resy. Just like it is here, you won't find all restaurants, but sometimes it does help in a pinch to get same-day reservations or farther in advance. We successfully found a couple of excellent restaurants here during our travels in Italy. 
Day 2: Explore Tuscany Part 2
On day 2, we drove the Crete Senesi loop, making a few stops. We visited Montechiello and finished the day off in Montepulciano.
As much as we tried to cover this area, remember that you need at least 2-3 days to stop to admire the views and take pictures. So, we recommend picking 2 to 3 villages within Val d'Orcia that are on your way from Pienza.
Drive the Crete Senesi Loop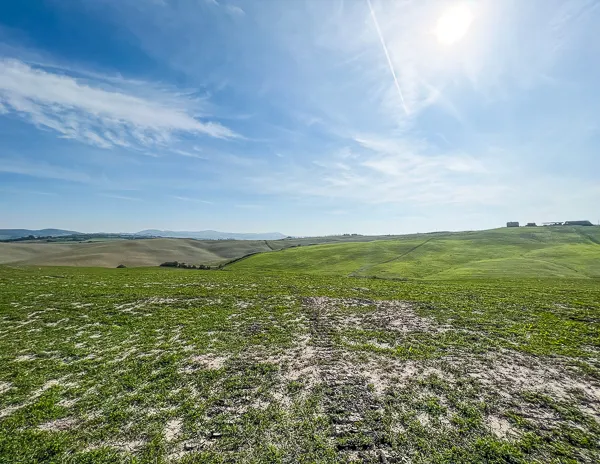 Drive around the Crete Senesi loop, one of the most popular routes in the backroads of the Siena region of Tuscany. One of the ways you can start the loop from Pienza and make stops along the way. If you decide to drive the loop without making stops at villages, it is about an hour and a half to two hours.
North from Pienza, you can start the Crete Senesi loop from Buonconvento going North on SP451.
The views here are breathtaking, and you'll drive past cycles of wheat fields, cypress trees, and rolling hillsides.
You can also plan to take a bike tour or hike the trails. Many take you through vineyards, old villages, and more. You have the option to make a day of Crete Senesi.
With limited time and everything we wanted to see, we chose to drive it.
Scenic Photo Opp: Winding Cypress Trees of Agriturismo Baccoleno
Our first stop was Agriturismo Baccoleno, a family-run farm with twisted cypress trees leading up to their door. This is one of the most instagrammable spots in Tuscany.
You can't drive up the road of cypress trees unless you book a stay at the Agriturismo. You can stop and park off the shoulder to walk up to the panoramic viewpoint. It's a short trek up the hill to get to the incredible view.
It is private property, and you will see where that begins as they have wires that indicate the boundary. You shouldn't cross those, but you can still get a wonderful view of the trees from where it is located.
Visit Montechiello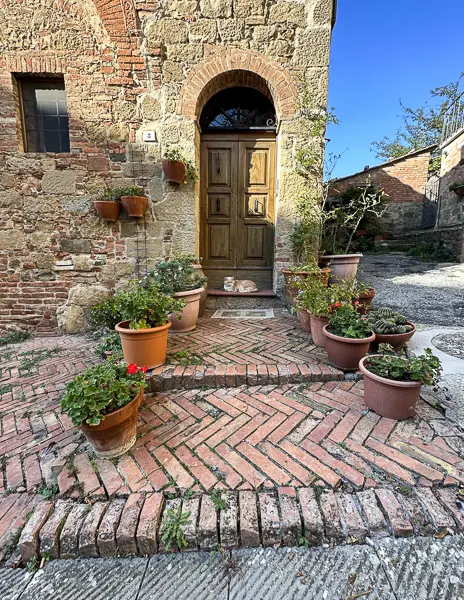 After the incredible drive through Crete Senesi, ooh-ing and ahh-ing at the views, we drove back south from Buonconvento to Montechiello. We parked our car outside of the village.
This small village was like something out of a fairytale—quiet and quaint with its stone houses and narrow cobblestone alleyways. We strolled through the alleyways, admiring the old stone walls and playing with the cats relaxing in the sun. We also visited the quaint church of Leonardo e Cristoforo.
The views of Tuscany from here are also incredible.
Optional lunch spot (or sunset dinner) with views at Osteria La Porta. Make reservations in advance.
Visit Montepulciano
With dinner reservations in Montepulciano, we drove north to our last stop for the day.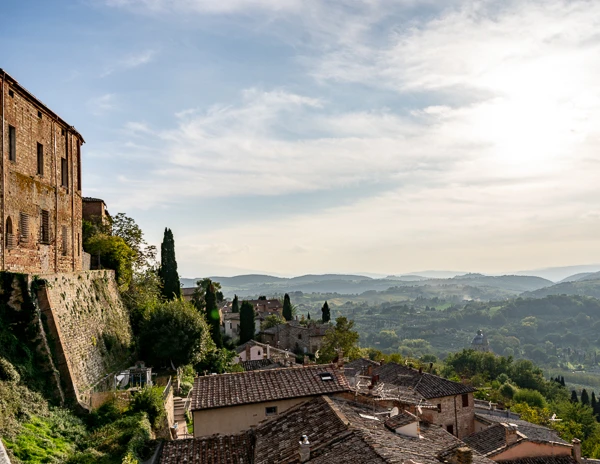 Montepulciano is a medieval hill town, and it's known for its Vino Nobile di Montepulciano and Chianina beef. The city is built into a hill, so you'll see winding streets and views of the countryside as you drive up to it.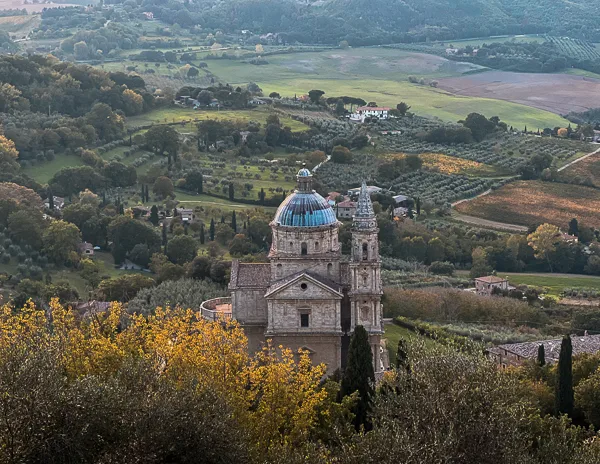 Including a view Sanctuary of the Madonna di San Biagio, a majestic 14th-century church that immediately catches your attention when admiring the views.
The drive up to Montepulciano is a trek, so you'll want to be careful as the roads are narrow and windy. There are multiple parking lots outside the city center. The farther up you go the closer you will be to the center.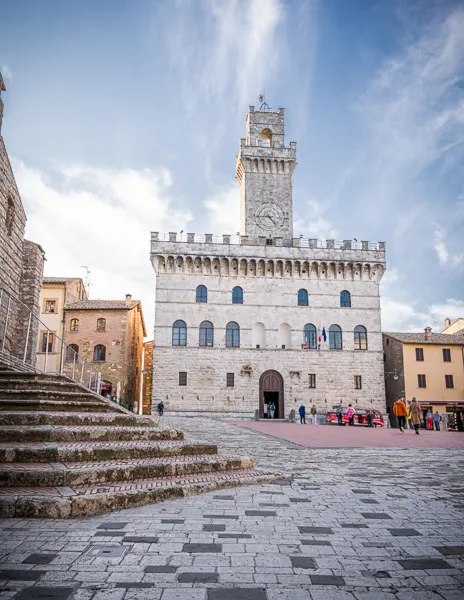 Once you're there, you can explore this beautiful hilltop town.
Start by walking up to the main square of Montepulciano, Piazza Grande.
There are several churches in Montepulciano, but if you're going to visit one in the city center Cattedrale di Santa Maria Assunta and Convento di San Francesco.
Find Palazzo Ricci on Via Ricci (entrance on 3rd photo above to courtyard), which will lead you to a courtyard with incredible views. Right next to this door, about several feet away, is a smaller door leading to Cantina de' Ricci an underground cellar with wine tasting.
Visit Fortezza Medicea, a 16th-century fortress built by the Medici Family and now a local park. Here you can go wine tasting at Enoliteca Consorzio Vino Nobile where they have various wines to taste from the area.
You can explore Montepulciano and make this home base during your 3 days in Tuscany.
Tour Ideas:
Wine Tour E-bike Experience [book here]
Winery Tour & Tasting Experience [book here]
Eat at Osteria Acquacheta
For dinner, we made reservations weeks in advance to dine in Osteria Acquacheta in Montepulciano for their specialty… Bistecca alla Fiorentina. We read amazing reviews about this osteria and couldn't wait to try it.
What is Bistecca all Fiorentina? It's a giant porterhouse steak, specifically from the Chianina cow, a cattle native to Tuscany. It is usually seared and cooked over an open flamed. Served rare or medium-rare with olive oil, salt, and sometimes pepper.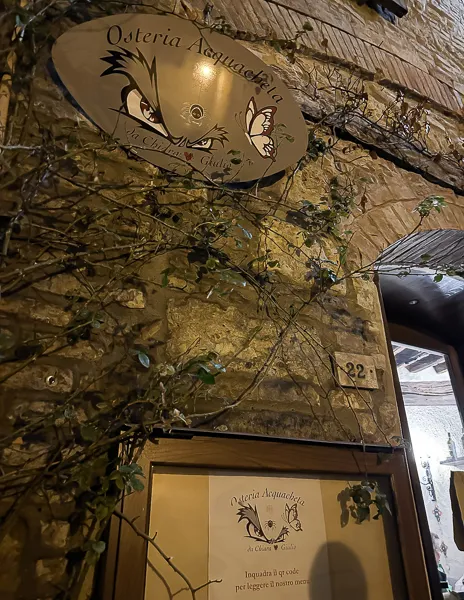 This Tuscan osteria was a unique experience, at least for us. This small rustic
Reservations can only be made by phone. There are two seatings for dinner: 7:30 pm and 9:30 pm. You can also make reservations for lunch. Everybody gets sat simultaneously, and you may share a table with others. We sat with a lovely young couple and had a great night chatting with them.
This restaurant is always busy, so the owner and staff have everything running like clockwork. Drink orders are taken first, and then you will order off the menu.
The owner explains the cut of bistecca, how many kilograms for your party, and if you'd like the filet to be part of it as that is extra. Of course, we went all in.
Then you watch him return to the back as he butchers the piece to bring it back to the table and show you for approval.
By the way: They only cook the Bistecca one way… rare. Don't ask them to cook it any other way; it insults them.
You have the antipasti dishes and the primi dishes on the menu. The menu changes seasonally, but the Bistecca all Fiorentina is the main course, and all other parties around you will likely be ordering the same.
Make sure you arrive hungry!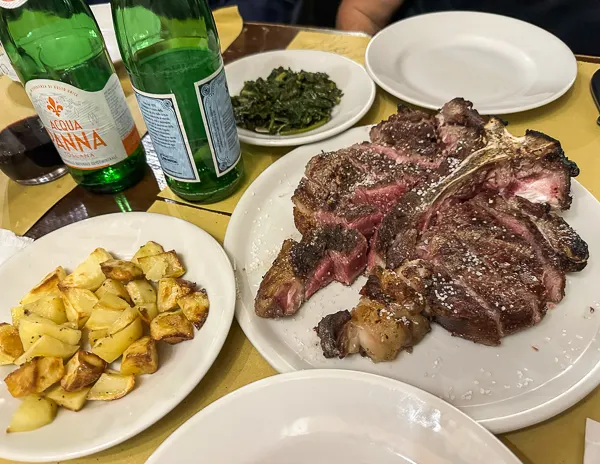 We saved our appetite for the Bistecca and sides we ordered and shared a small plate of pasta to start. Then the Bistecca Florentina arrived in all its glory.
The portion was massive but just enough for the two of us. It was cooked to perfection, rare inside and a nice salty char on the outside. The meat was so tender and flavorful; we truly enjoyed it.
Osteria Acquacheta | Via del Teatro, 22, 53045 Montepulciano | Google Map It
Plan a day trip to Florence, Italy. We have created 3 different Florence itinerary options for a day in Florence. Take a stroll over Ponte Vecchio, see the copy of the statue of David in Piazza della signoria, or book tickets to spend the morning admiring the art in the Uffizi Gallery.
Day 3: Day Trip to Cortona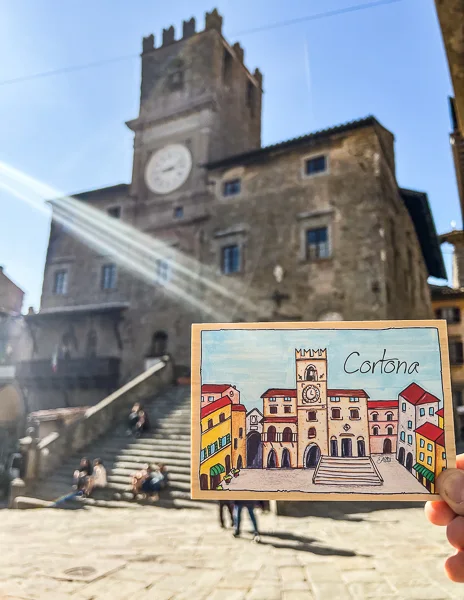 On day 3, you might want to plan a day trip to another part of Tuscany. Whether you stay in the province of Siena or venture out to the other provinces of Tuscany, this could
Arezzo, Lucca or even Florence. No matter the city you visit in these provinces, it will be a drive.
Fun fact: There are 10 provinces in the Tuscany region of Italy. Can you name them?
We chose to take a day trip to Cortona, located in the province of Arezzo. It was a 1hr 35-minute drive from Pienza to Cortona.
We had never been to Cortona and have wanted to visit since watching Under the Tuscan Sun, so we decided to drive there and explore. Spoiler alert, although we spent most of the day in the city center, we fell in love with Cortona.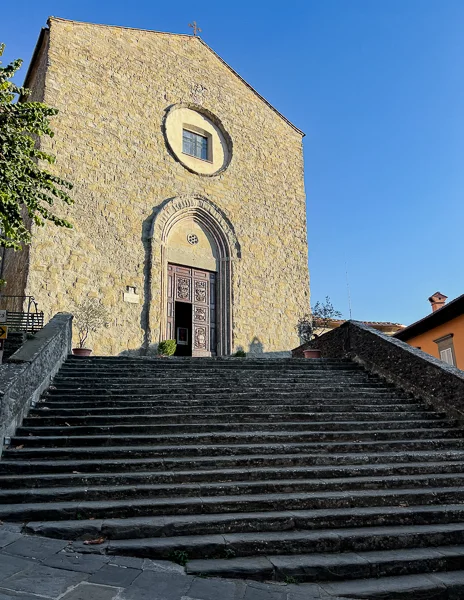 Cortona's old city center is charming, with narrow cobblestone streets and colorful buildings. It's a hilltop town situated on the southeastern slope of Mount Sant'Egidio and overlooks the vast Val di Chiana valley.
The views from Cortona are incredible, and you get your fill of them as you explore the ends of the city. The farther up you venture, the better the view you'll get.
Walk to the main square, Piazza della Repubblica, and get lost in the city's charming streets.
Explore some churches in Cortona, including Basilica di Santa Margherita and Convento de San Francisco.
Eat amazing artisanal gelato from Dolce Vita. After discovering that the Marfuga shop brand provided the olive oil, we tried the olive oil gelato.
Get lost in the charming streets of Cortona.
Close to Piazza dell Repubblica you'll find fantastic award-winning olive oil at Marfuga Shop. Tastings are available. We brought home a couple of bottles of olive oil from here and some truffle butter.
We loved our day in Cortona and will share more details about our day in a separate post, including the restaurants we ate at.
Tour Ideas:
Cortona Private Walking Tour [book here]
Easy E-Bike Tour of the Cortona Valley [book here]
Where to Stay in Pienza
As we mentioned before, we chose to call Pienza home during our time in Tuscany during this trip. It was centrally located in the areas we wanted to explore, and it made sense to us.
When choosing where to stay, it's best to look at a map and gather data on how far away the places you want to visit are. Are you traveling in a car? Is walkability important to you? Do you want to stay in a city or a rural area?
Note that Val d'Orcia is not easily explored without a car. If you do not plan to rent one, you'll have to rely on tour guides and drivers.
We chose to stay in a rural area of Pienza at a bed and breakfast in a castle.
Il Mastio di Spedaletto Relais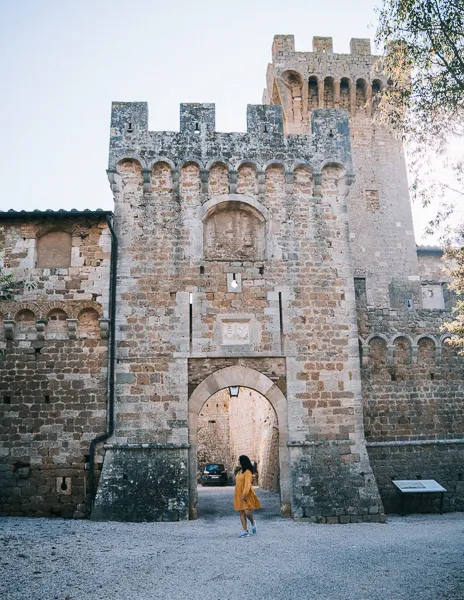 One of the highlights of our trip to Italy this time was our stay at Il Mastio di Spedaletto Relais. This bed & breakfast is in the Tuscan countryside and offers breathtaking views of Val d'Orcia.
The castle and property is shared amongst other businesses /accommodations, but the main part of the castle we booked has 4 guest rooms. We booked the Suite Piccolomini.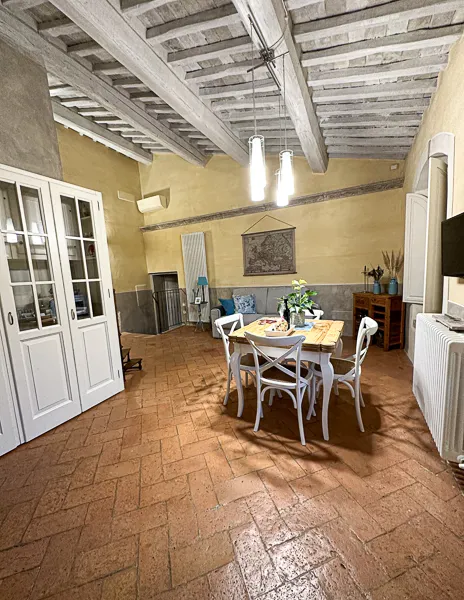 What made this stay spectacular was not only the fact that it was inside the castle, but the suite we stayed in was beautiful, modern, and up to date. No detail of comfort was overlooked. While there was no front desk or reception, nothing was spared inside the suite.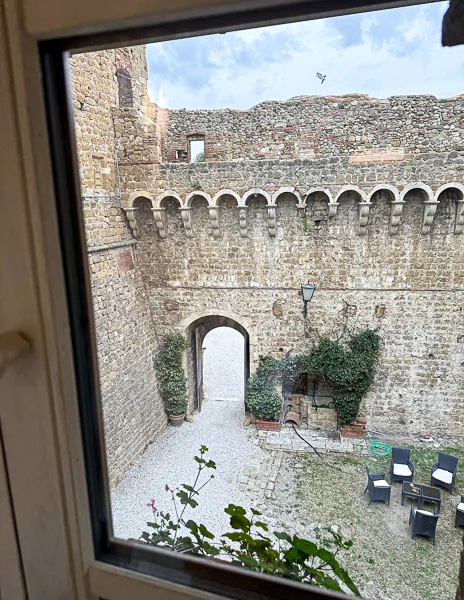 This bed & breakfast is hosted by a warm Italian woman and her daughter. There is limited English, but that didn't stop us from communicating. She was super helpful via email with reservations and recommendations.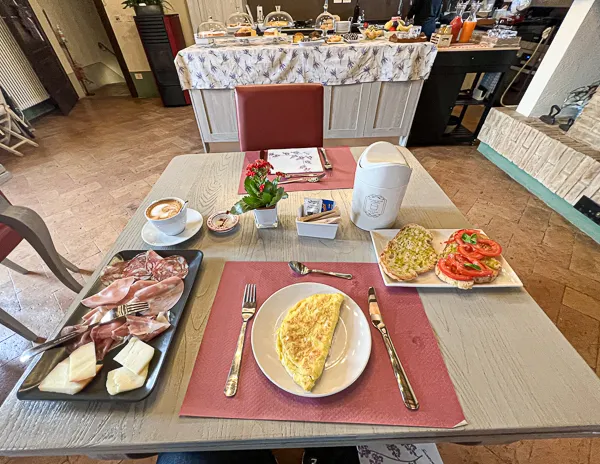 And they greeted us every morning with smiles and a delicious breakfast spread in the kitchen area—freshly baked goods and freshly made eggs, veggies, and fruit.
There is a beautiful courtyard and a garden with ample space to sit with a glass of wine on the property. There is also a jacuzzi.
If you're looking for rural and peaceful accommodation, this is perfect. It's also easy to drive from here to other parts of Val d'Orcia.
We can't wait to return to this beautiful establishment. We highly recommend booking a room at Il Mastio di Spedaletto Relais during your 3 days in Tuscany. You won't regret it. We used Booking.com to book, and it all went smoothly.
Book a Stay at Il Mastio di Spedaletto Relais
Share the tips & love on Pinterest: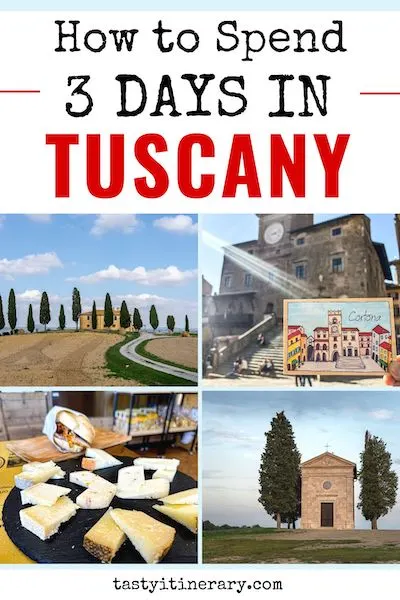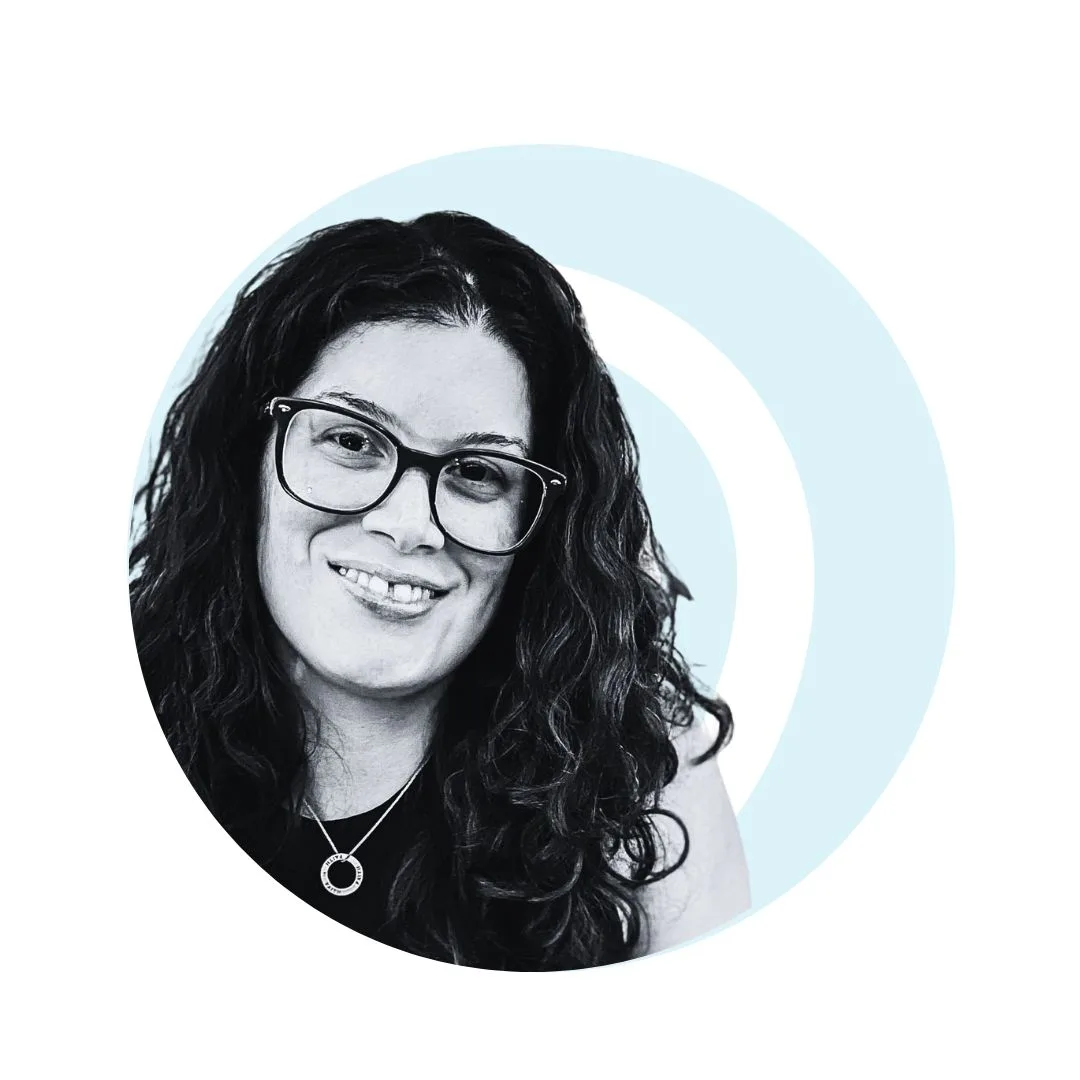 Meet Kathy Ava – a food, travel, and cruise writer based in Los Angeles/Pasadena. With over 20 years of experience planning trips and logistics at her full-time job and for herself, she's become a pro at crafting unforgettable travel itineraries. She's always looking for delicious, fun cruise itineraries and travel destinations and is slightly obsessed with Italy. Her passion and curiosity for travel started in childhood on her yearly and sometimes bi-yearly trips to PR. She firmly believes that life is short and we must make the most of it – so let's explore the world and make some incredible memories.