Looking for food and travel quotes that make your heart and stomach flutter? Food trip quotes that speak to your foodie traveler's soul?
What are some good travel quotes? What are some famous sayings about food?
Travel and food. A ying and yang of life.
Food and travel bring us so much joy. They offer us experiences that stay with us for a lifetime. It's what makes a Tasty Itinerary.
Do you try the local food when you travel?
There isn't a travel experience that isn't made better with a delicious meal. And no meal doesn't have something from travel woven into it.
Even when you venture out to a local restaurant it isn't just about having dinner. And when you explore a local farmers market, it's not just about buying food. It's a chance to explore food from other cultures and try something new.
Biting a drunken fish taco will take you to Matzalan, Mexico.
A slice of Key Lime Pie reminds us of Key West and the Florida Keys.
A cheeseburger reminds us that it was invented (adding cheese to the burger) in Pasadena, California.
Diving into that bowl of pasta probably makes you wish you were in Italy eating it, and sometimes, it's so good that it transports you there.
Beignets are synonymous with New Orleans.
Even if it's just for a few minutes, a journey of a thousand miles begins with a single bite.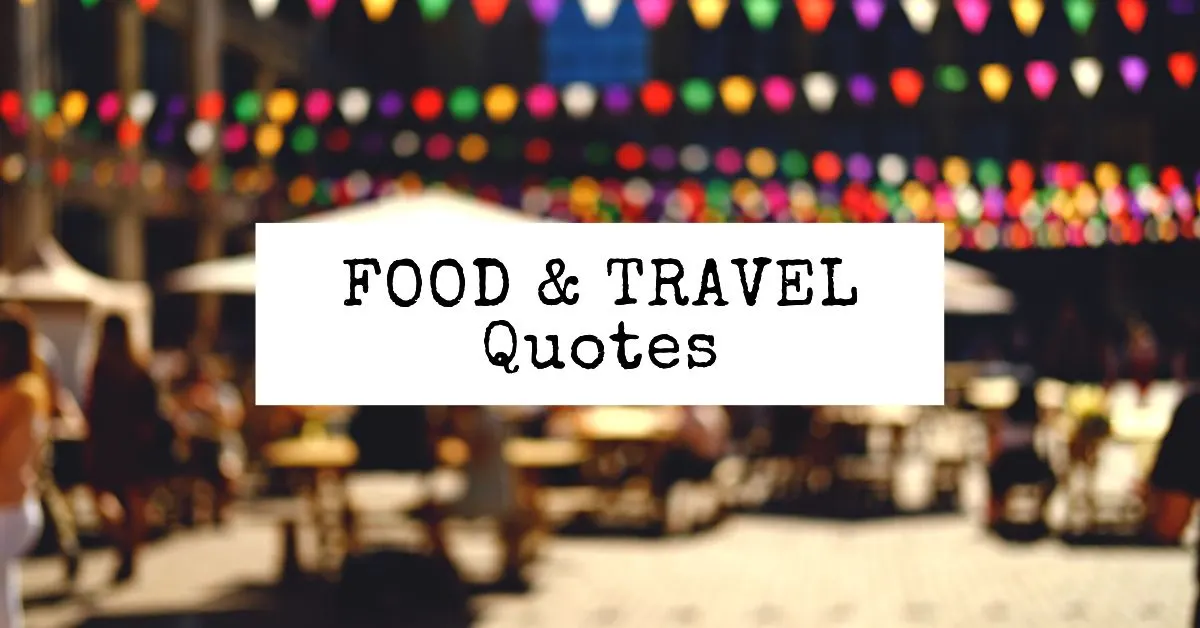 This post may contain affiliate links, which means we'll receive a commission if you purchase through our links at no extra cost to you. Please read full disclosure for more information. We appreciate your support!
Food and travel are intertwined.
In this article, we share some travel and food quotes from famous authors, renowned chefs, and travelers to celebrate this amazing combination of foodie travel.
These food trip quotes will make you want to book your next foodie trip.
Food and Travel Quotes
1. "If I'm an advocate for anything, it's to move. As far as you can, as much as you can. Across the ocean, or simply across the river. Walk in someone else's shoes or at least eat their food. It's a plus for everybody." – Anthony Bourdain
Anthony Bourdain has some of the best and the most food and travel quotes in the world. His passion for exploring the world through food was infectious, and his words of wisdom will never be forgotten.
2. "People who love to eat are always the best people." – Julia Child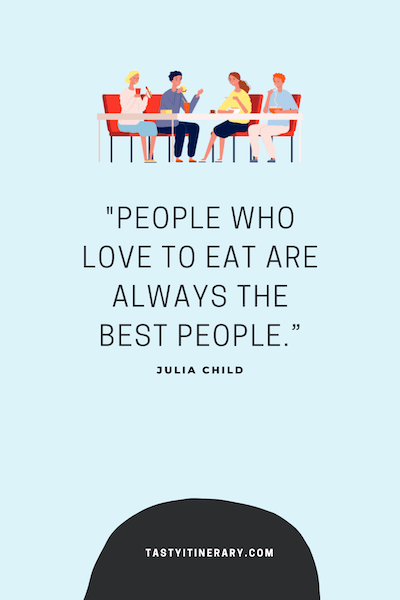 3. "Food is not just eating energy. It's an experience." – Guy Fieri
We couldn't agree more. Food isn't just sustenance; it's a chance to explore other cultures, and it gives us a connection to the world around us.
4. "One of the very nicest things about life is the way we must regularly stop whatever it is we are doing and devote our attention to eating." – Luciano Pavarotti
5. "Food is symbolic of love when words are inadequate." – Alan D. Wolfelt
6. "Food brings people together on many different levels. It's nourishment of the soul and body; it's truly love." – Giada De Laurentiis
7. "Give me books, French wine, fruit, fine weather and a little music played out of doors by somebody I do not know." – John Keats
When you visit Europe and sit outside a piazza, whether it's on the steps of an old monument or a cafe, this food and travel quote comes to life.
8. "People don't take trips… trips take people." – John Steinbeck
9. "In both business and personal life, I've always found that travel inspires me more than anything else I do. Evidence of the languages, cultures, scenery, food, and design sensibilities that I discover all over the world can be found in every piece of my jewelry." – Ivanka Trump
10. "It's true: Everything tastes best right out of the sea, the fields and the orchards." – Susan Magsamen
11. "A good restaurant is like a vacation; it transports you, and it becomes a lot more than just about the food." – Phil Rosenthal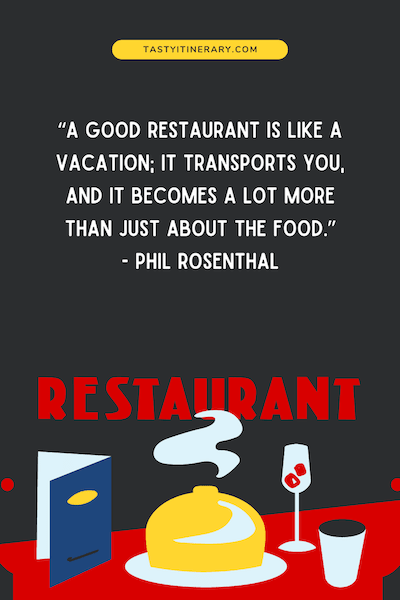 12. "We live life in restaurants, its the center of social life, where we celebrate with family and friends, make new friends, travel without traveling, and of course, eat." – Phil Rosenthal
If you haven't started watching Phil Rosenthal's travel show Somebody Feed Phil on Netflix, you should. His enthusiasm for food and travel is contagious.
13. "Eat dessert first because life is uncertain." – Arthur Murray
15. "I am not a great cook, I am not a great artist, but I love art, and I love food, so I am the perfect traveler." – Michael Palin
14. "People will travel anywhere for good food – it's crazy." – Rene Redzepi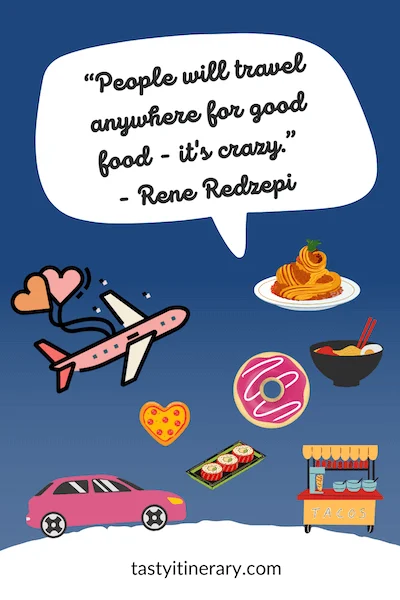 Of all the travel and food quotes, this one hits home the most as we travel to eat delicious food all the time. Locally to abroad.
We recently traveled to Italy, and at the top of our list was trying some of the local favorites in Bologna, Modena, and Parma. They are part of Italy's foodie capital, the Emilia Romagna region.
16. "We live life in restaurants, its the center of social life, where we celebrate with family and friends, make new friends, travel without traveling, and of course, eat." – Phil Rosenthal
17. "There comes a moment on a journey when something sweet, something irresistible and charming as wine raised to thirsty lips, wells up in the traveler's being." – Patrick MacGill
18. "In this life, you should read everything you can read. Taste everything you can taste. Meet everyone you can meet. Travel everywhere you can travel. Learn everything you can learn. Experience everything you can experience." – Mario Cuomo
19. "With enough butter, anything is good." – Julia Child
Julia Child was definitely onto something with this food quote. There's nothing like indulging in a delicious meal with some buttery goodness. Her love for Paris and French cuisine can't go unnoticed.
20. "Travel is a new experience that can transport you out of your everyday routine to create memories with the ones you love." – Brian Chesky
21. "Travel is the spice of life." – Charley Boorman
22. "Food makes travel so exceptional, because you get to taste what it's actually supposed to taste like. To eat the real Pad Thai or finally have a proper curry is something pretty amazing." – Meghan Markle
23. "There is no sincerer love than the love of food." – George Bernard Shaw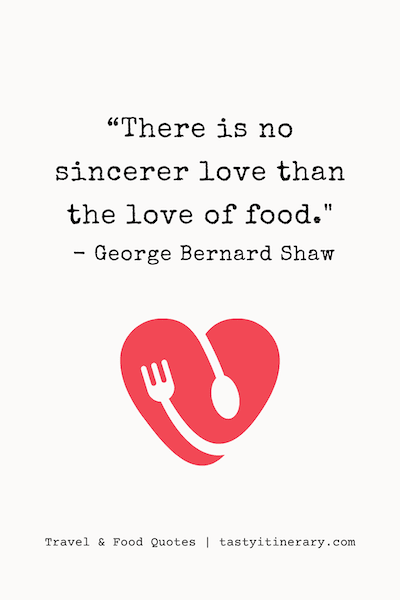 24. "I never subscribe to the stay-at-home policy. I'm not sick of the road or sick of eating in good restaurants around the country. I like to travel." – Levon Helm
25. "One cannot think well, love well, sleep well, if one has not dined well." – Virgina Woolf
26. "You know, food is such – it's a hug for people." – Rachel Ray
We could all use a hug right now, and what better way to get it than through food?
27. "You never know when some small thing will lead to a big idea. Travel is very inspirational – but it's in the ordinary that I find my themes of love and work and family." – Adriana Trigiani
28. "If you're twenty-two, physically fit, hungry to learn and be better, I urge you to travel — as far and as widely as possible. Sleep on floors if you have to. Find out how other people live and eat and cook. Learn from them — wherever you go." – Anthony Bourdain
29. "Feed is learning." – Bee Wilson
30. "All sorrows are less with bread. " – Miguel de Cervantes Saavedra
31. "Food is a gift and should be treated reverentially–romanced and ritualized and seasoned with memory." – Chris Bohjalian, Secrets of Eden
32. "The best way to know a city is to eat it." – Scott Westerfeld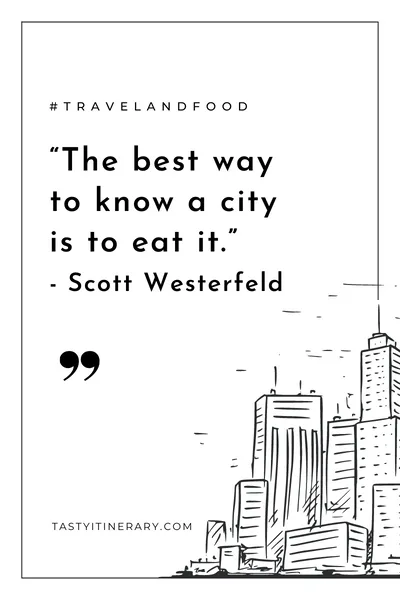 This is one of those travel and food quotes that is simple but to the point. Trying out local dishes, experiencing new flavors, learning about its history, and meeting people along the way are all part of the adventure. So the next time you travel, don't forget to eat your way through the city.
33. "There are precious few problems a good taco won't solve." – Steve Multer
34. "Food is our common ground, a universal experience." – James Beard
35. "Going to a restaurant is one of my keenest pleasures. Meeting someplace with old and new friends, ordering wine, eating food, surrounded by strangers, I think is the core of what it means to live a civilized life." – Adam Gopnik
36. "If you reject the food, ignore the customs, fear the religion and avoid the people, you might better stay home." – James Michener.
37. "A hangover suggests a great night, jet lag suggests a great adventure." – J.D. Andrews.
38. "If love is the food of life, travel is the dessert." – Amanda Jane Sturges
39. "Food should be fun." – Thomas Keller
Food is fun. Eating is fun.
40. "LOVE: A word properly applied to our delight in particular kinds of food; sometimes metaphorically spoken of the favorite objects of all our appetites." – Henry Fielding
41. "You can go anywhere in the world, and people's faces light up when they put delicious food in their mouths." – Sandi Toksvig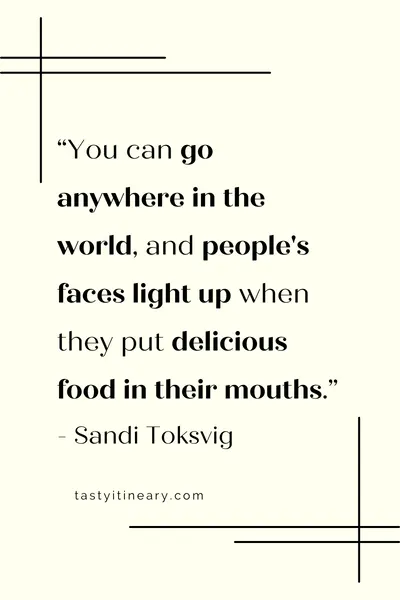 42. "There is no conflict between a better meal and a better world." – Rene Redzepi
43. "A great restaurant is one that just makes you feel like you're not sure whether you went out or you came home and confuses you. If it can do both of those things at the same time, you're hooked." – Danny Meyer
44. "Travel is rich with learning opportunities, and the ultimate souvenir is a broader perspective." – Rick Steves
Rick Steves is one of the pioneers of travel. His advice is to explore, learn, and broaden your perspective.
45. "I take a cooking class everywhere I travel. I find it's the best way to get to know a culture." – Blake Lively
Cooking classes and food tours are always on the top of the list of travel experiences for foodies or anyone that wants to learn more about the local foods in the city or country they are visiting.
46. "Traveling is an experience, and you have to experience it as a whole." – Zareen Khan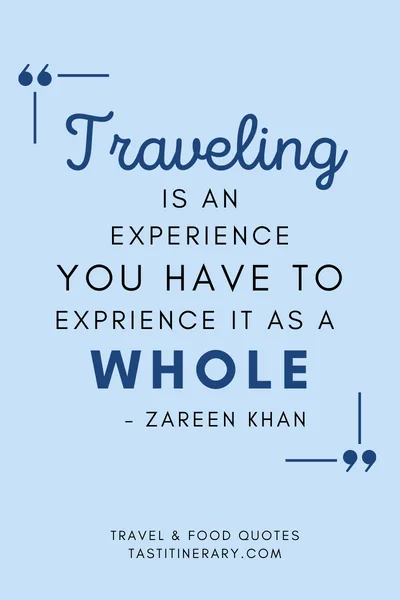 47. "I just couldn't live without other cultures' cuisines." – Henry Golding
48. "Most of us have fond memories of food from our childhood. Whether it was our mom's homemade lasagna or a memorable chocolate birthday cake, food has a way of transporting us back to the past." – Homaro Cantu
49. "Where you are is who you are. The further inside you the place moves, the more your identity is intertwined with it. Never casual, the choice of place is the choice of something you crave." – Frances Mayes, Under the Tuscan Sun: At Home in Italy
50. "Great Eats. Great Vacations." – Tasty Itinerary
Food and travel quotes can be a source of motivation to explore the world. From new cuisines, learning about local foods and cultures, or understanding how food connects us all, it helps remind us why we should never stop exploring.
Bookmark this page and use these amazing food trip quotes to inspire your next journey.
Here are other inspirational quotes we've gathered to fuel your wanderlust:
Influential Travel and Cruise Quotes to Inspire Your Next Vacation
Share the tips & love on Pinterest: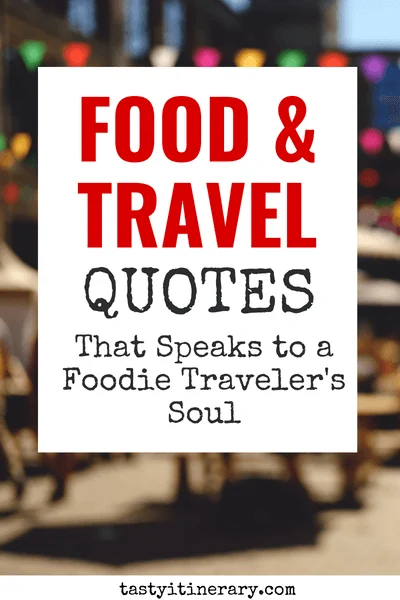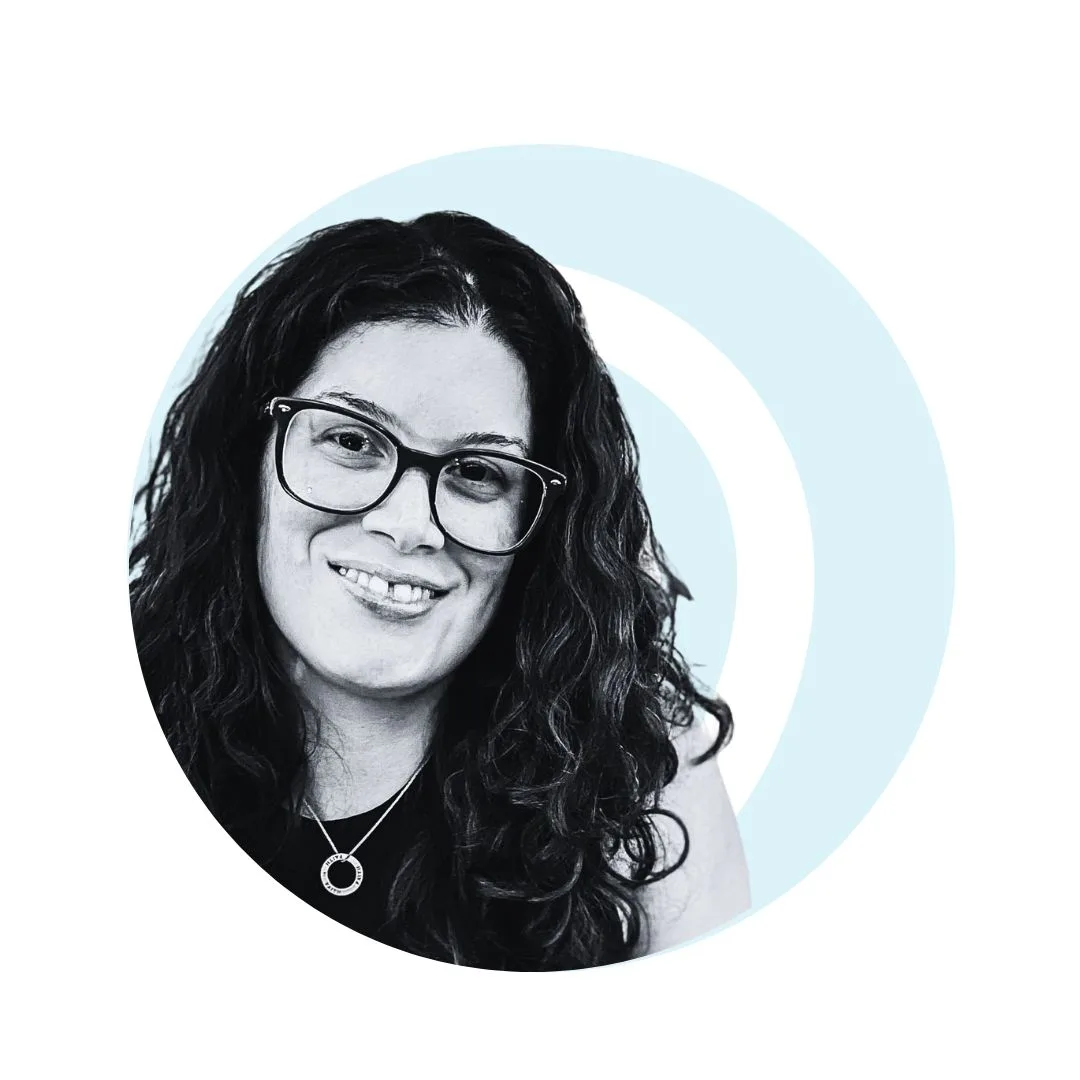 Meet Kathy Ava – a food, travel, and cruise writer based in Los Angeles/Pasadena. With over 20 years of experience planning trips and logistics at her full-time job and for herself, she's become a pro at crafting unforgettable travel itineraries. She's always looking for delicious, fun cruise itineraries and travel destinations and is slightly obsessed with Italy. Her passion and curiosity for travel started in childhood on her yearly and sometimes bi-yearly trips to PR. She firmly believes that life is short and we must make the most of it – so let's explore the world and make some incredible memories.