What are the must eats in New Orleans? The local cuisine in the Big Easy is one every foodie should have on their list. A printable checklist is included below!
Looking for some of the best food in the country? Look no further than New Orleans. The Crescent City is known for its Creole-Cajun cuisine and popular Southern dishes, which can be found throughout New Orleans.
With local favorites like gumbo, po'boys, red beans and rice, fried chicken, and beignets, what's not to like? There are endless options when it comes to food in New Orleans.
Since our first visit, New Orleans has become one of my favorite foodie destinations to visit in the United States. At the time, we spent a few days in New Orleans before our cruise. On our most recent trip to New Orleans during Halloween weekend, I wanted to try as many New Orleans restaurants as possible. Undoubtedly, I got to fit in quite a few beignet tastings.
You need many visits to get to try everything on the agenda. However, you can try to fit in as many of these delicious must-eats in New Orleans as you can.
This post may contain affiliate links, which means we'll receive a commission if you purchase through our links at no extra cost to you. Please read full disclosure for more information. We appreciate your support!
Cajun vs. Creole Cuisine
While you will find cajun-creole throughout New Orleans, and they can be similar in some ingredients, there is a difference between cajun and creole cuisine.
Cajun food is what's considered country food. I'd call it homestyle cooking, what the people of Louisiana cooked. A style of cooking that originated in Louisiana from the Acadian people and French descendants, who were expelled from Canada in the 18th century. This unique cuisine is characterized by its use of bold flavors and spices. You also won't find tomatoes in Cajun cuisine.
Creole cooking is more refined. It was born from the French and Spanish settlers, who brought their culinary traditions. Tomatoes are a key ingredient in Creole dishes, as well as bell peppers, onions, celery, and herbs.
No matter the differences, which I never distinguish when I'm eating out, the food you'll find in New Orleans is delicious. You'll leave New Orleans satisfied and wish to return sooner than later after a fabulous and successful trip.
Book a Food Tour
Food tours are one of my favorite things in any city, and I highly recommend them. A food tour is one of the best ways to get to know a city's cuisine and history. You'll also be introduced to some of the best spots to eat certain items.
Here are a few New Orleans food tours to consider:
New Orleans French Quarter Food Walking Tour (Small Group) [book now]
New Orleans Food and History Walking Tour [book now]
Food tours are also filling. Consider the cost of a food tour as a nice lunch. You'll be able to check off some of the following must eats in New Orleans in no time.
Must Eats in New Orleans
1. Beignets
The delicious, doughy treat known as beignets is a must-have for anyone visiting New Orleans. This pastry is made from fried dough and covered in powdered sugar. They are typically served with chicory coffee – cafe au lait – which is also a must-try.
Try them from different places—they're not all created equally! Some are doughy, and others have a light, airy texture.
Café du Monde is the most popular coffee stand in the French Quarter among tourists to get their first taste of beignets. This historic spot should be on your list to try, but there are other tasty beignets in New Orleans you should add to your list. Their cafe au lait is one of the best.
My favorite beignets are from Loretta's Pralines at the French Market in the French Quarter.
2. Gumbo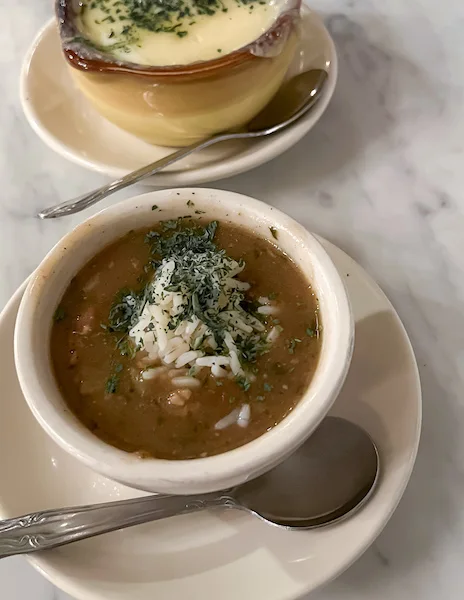 Gumbo is a Creole dish made with various types of meat and vegetables, like a stew. It is often served over rice and is one of the most popular dishes in New Orleans.
There are many variations of gumbo, but it typically includes seafood, chicken, sausage, ham, and the Holy Trinity of vegetables: celery, green bell peppers, and onions. Many also add okra to the mix.
Gumbo is hearty, flavorful, and comforting. Perfect for a cold day to eat gumbo.
Visit The Gumbo Shop for a bowl of this New Orleans classic. This French Quarter restaurant has been serving up authentic Creole gumbo since 1975.
Make your own gumbo recipe.
3. Jambalaya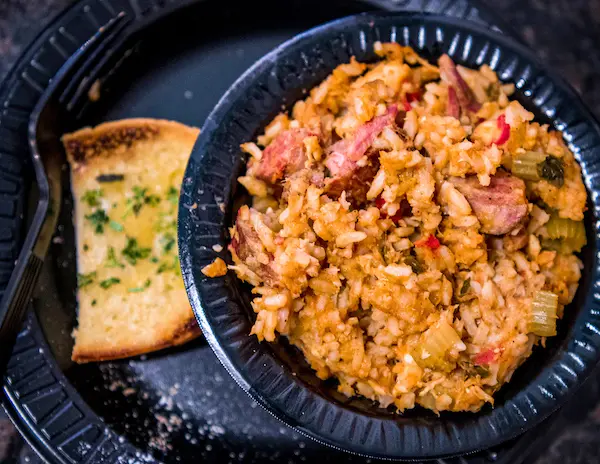 Jambalaya is a classic Creole dish made with rice, sausage, chicken, and shrimp. It sort of reminds me of Spanish paella, which is also another rice and meat combo meal. Jambalaya is prepared with creole seasonings It is hearty and filling and one of the must eats in New Orleans.
Some people say that jambalaya is the national dish of Louisiana. It's definitely one of the most well-known dishes in Creole cuisine.
You can find jambalaya at many different restaurants throughout New Orleans, but I hear that we should try it at Coop's Place. This restaurant has been serving up jambalaya since 1983 and is known for its authentic Creole recipes.
4. Red Beans and Rice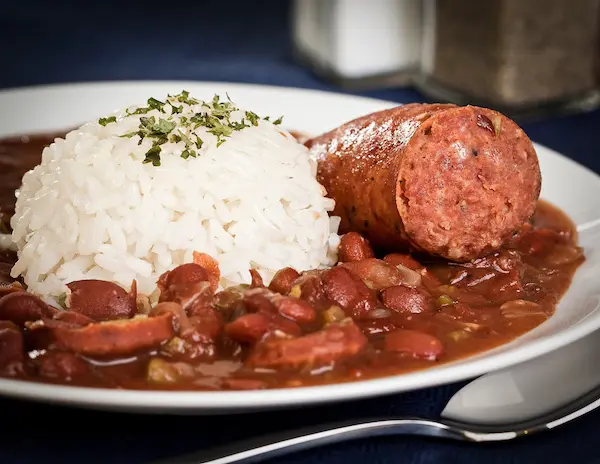 Red beans and rice is a classic Creole dish that is made with red kidney beans, rice, and sausage along with creole seasonings. It is one of the most well-known dishes and a common staple in Louisianna homes.
It used to be traditionally served on Mondays, as it was prepared with leftover ham from Sunday's dinner. They'd let the beans simmer in a pot all day. Now it's served in many restaurants throughout Louisianna.
For a taste of red beans and rice, head on over to Joey K's Restaurant & Bar.
Prepare your own New Orleans-style red beans and rice at home with this recipe.
5. Bananas Foster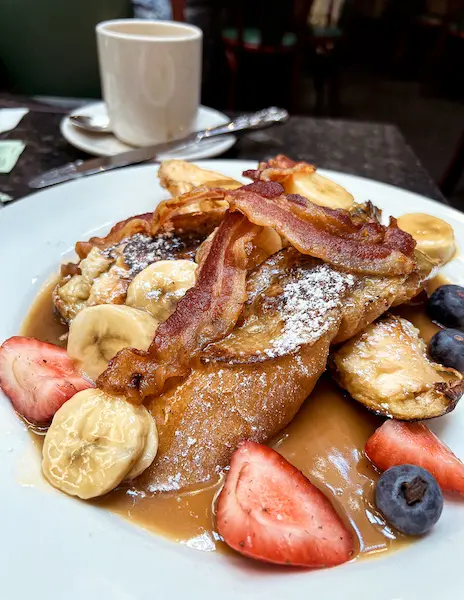 Bananas Foster is a dessert created in New Orleans in the 1950s at Brennan's Restaurant. This dessert comprises bananas, brown sugar, butter, cinnamon, and rum. The bananas are sautéed in the sugar and butter mixture and then flambéed with rum. The bananas foster then is served over vanilla ice cream.
While this dessert is absolutely sinful and amazing, it is entertaining to watch them make it. Find a spot that will make the bananas foster table-side.
New Orleans has plenty of must eats to enjoy. The city has a wide variety of dishes for everyone's taste buds.
Best Things to Do in the French Quarter
Visiting New Orleans and staying in the French Quarter? Don't miss these things to do in this vibrant historic neighborhood. Eat beignets, visit Jackson Square, take a ghost tour, and more.
6. Po' Boy
A must eat in New Orleans is the Po' Boy. They are local sandwiches made with Orleans style French bread and filled with either seafood or meat. The sandwich usually has lettuce, tomatoes, and mayonnaise. What makes the sandwich is the French bread and main filling.
The Po' Boy, also known back in the day as "Poor Boy" originated by the Martin Brothers' French Market, in 1929. A coffee stand feeding that took it upon themselves to feed the streetcar drives on strike. However, historians say that the sandwich was invented in the late 1800s and it was called an oyster loaf – oysters served on a French bread loaf.
Either way, you can find Po' Boys all over the city. The most popular one is the fried shrimp Po' Boy, but you can find all sorts of Po' Boys, including roast beef, ham and cheese, and even alligator.
We enjoyed our Big Easy Po' boy, a combination of roast beef and ham with gravy immensely, from NOLA Poboys on Bourbon Street in the French Quarter. However, the locals told me I had to try one from a gas station at Key Fuel last time. That's on my list for next time, I'm just sharing the knowledge I gained from my last trip.
7. Muffulettas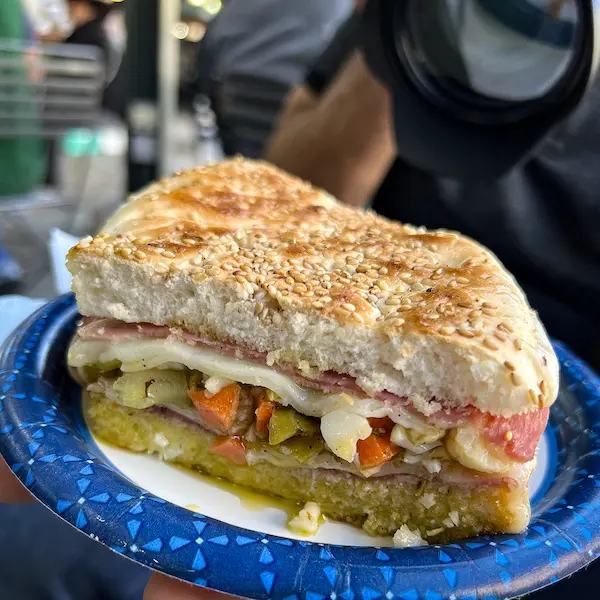 Speaking of sandwiches, muffulettas should definitely be on your list of must eats in New Orleans. This sandwich is made with Italian bread, olive salad, and various Italian meats. This is a great sandwich for a quick bite or lunch.
The muffulettas became a staple of New Orleans when Sicilian immigrants started making them in the early 1900s.
You can find this New Orleans classic in many different places. You may want to try Central Grocery in the French Quarter, a historic store serving fresh muffulettas since 1906, if you want to check that off your New Orleans bucket list.
Personally, I have tried the muffuletta at Central Grocery, and it isn't my favorite. I prefer the slightly warm and toasty muffuletta as served at Alberto's at the French Market.
Tip: Every place is different, but you can order the muffuletta by a quarter or a half serving. If you just want a taste of it.
8. Boiled Crawfish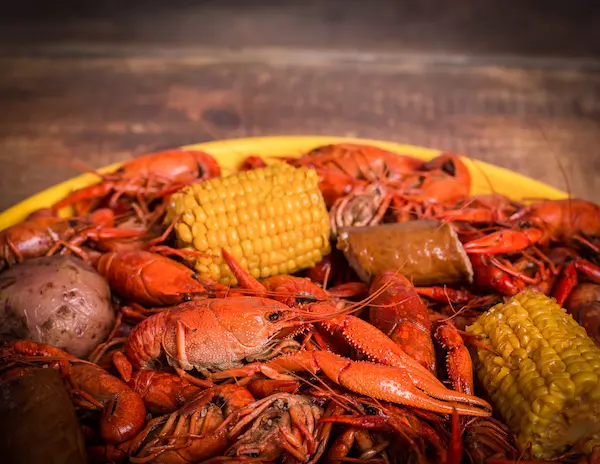 Are you a fan of crawfish? Then no trip to New Orleans is complete without trying some of the best boiled crawfish this city has to offer. Crawfish season in New Orleans starts as early as January to mid-Summer.
For a delicious crawfish boil experience, you should definitely check out Clesi's Restaurant a boil seafood house in New Orleans. This restaurant offers up a traditional Cajun crawfish boil with all the fixings. You'll get your fill of boiled crawfish, potatoes, andouille sausage, and corn on the cob.
I'm not a huge fan of crawfish. However, I'm always told by those who are that the head of the crawfish is the best part. So don't forget to suck out what's in the head.
9. Shrimp and Grits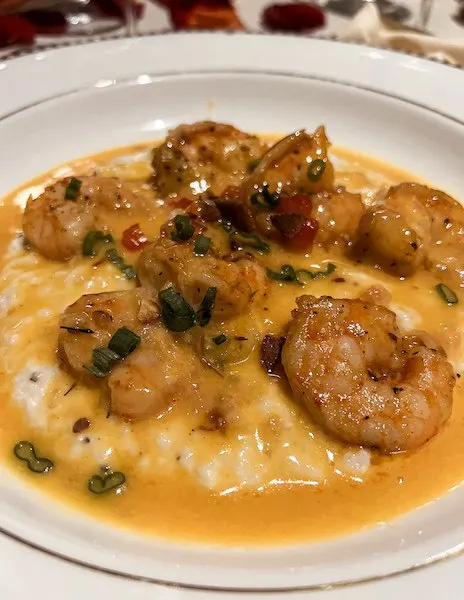 While Shrimps and Grits is a Southern staple, usually eaten in the morning, this creole prepared dish is a must eats in New Orleans. It can be found in many restaurants in New Orleans.
The shrimp is prepared with Andouille sausage, tomatoes, and creole spices. The shrimp are paired and served over grits, a type of cornmeal boiled in water to make a porridge-like buttery and creamy consistency.
We had the best shrimp and grits at Muriel's in New Orleans at a wedding, not less. But they also have it available on their daily menu. They also have a wonderful jazz brunch that you should add to your New Orleans bucket list.
10. Oysters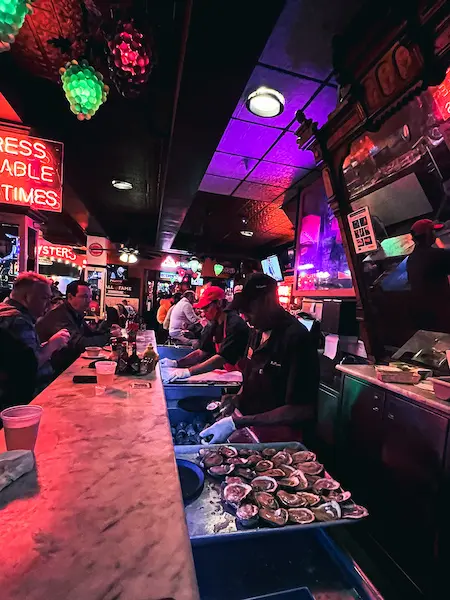 New Orleans is known for its oysters. They do have some of the best seafood. You will see raw oysters on the menu almost everywhere you go.
French settlers harvested oysters in the Gulf of Mexico as early as the 1700s. And since then, oyster farming and harvesting have been a part of Louisiana culture.
You can find raw, boiled, chargrilled, or fried oysters throughout the city.
If you love raw oysters on the half-shell, there are spots at the French Quarter shucking fresh oysters and serving them fresh. But, you can also find them boiled, chargrilled, or fried.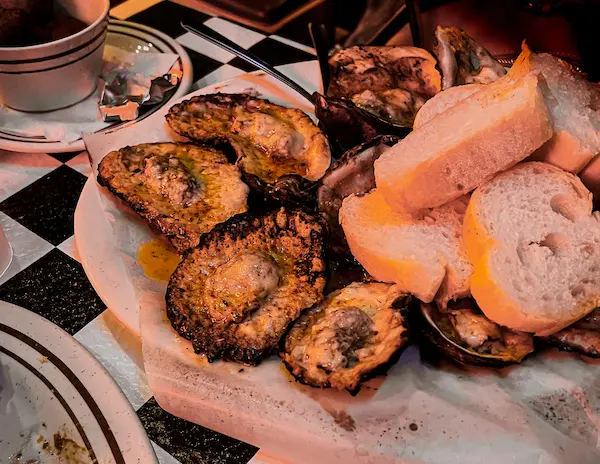 While raw oysters aren't for me, I love fried oysters and chargrilled. If you never had chargrilled oysters, you must have them for the first time at Acme Oyster House in New Orleans. These oysters topped with garlic, butter, and Parmesan cheese are grilled to perfection.
New Orleans is a city of legend and tradition. Spend your 3 days in this culturally rich destination to experience the vibrant culture and amazing food. And, stroll down famous streets lined by centuries-old buildings.
11. Fried Chicken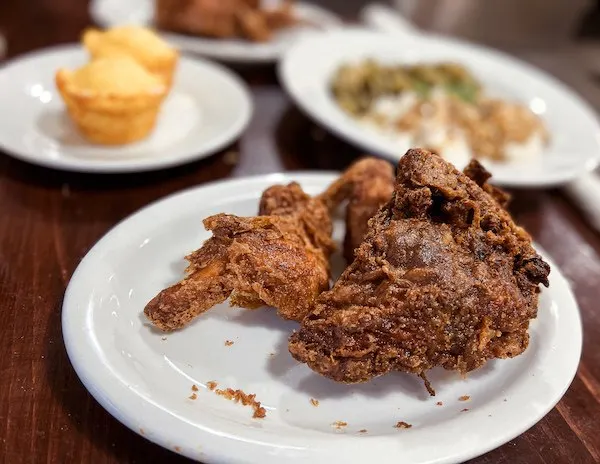 There is nothing better than Southern-style fried chicken. New Orleans has its own unique take on fried chicken that you must try. The creole and cajun seasonings added just bring this classic dish to another level and make it a must eat while in New Orleans.
The best fried chicken I had was at Willie Mae's Scotch House in New Orleans. This iconic New Orleans restaurant has been around since 1957 and has won accolades – including a James Beard Award- for its fried chicken. The fried chicken is crispy, tender, and juicy with the right amount of spiciness. I'm still thinking about it. Take it from me, I'm usually not a fried chicken fan. It's really good!
You can also check out Coop's Place for fried chicken inside the French Quarter.
12. King Cake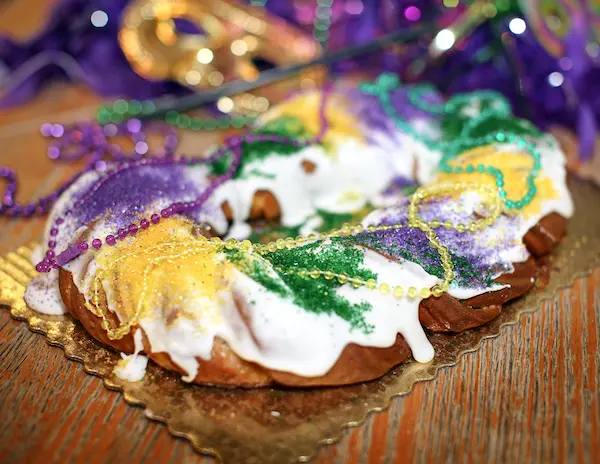 The king cake is a traditional fun and tasty food in New Orleans during Mardi Gras.
The king cake is a New Orleans tradition that dates back to the early 1800s. The king cake was originally eaten only by royalty during Mardi Gras celebrations. However, over time the king cake became a popular treat for all during Mardi Gras celebrations.
This cake is a ring-shaped cake that is filled with either cream cheese, cinnamon, and sugar or fruit fillings such as apricot, raspberry, or strawberry. The cake is then topped with colorful icing or gold, purple, and green sprinkles. The colors signify power (gold), justice (purple), and faith (green).
Every king cake also contains a small little figurine of a baby in it, it's supposed to be baby Jesus, but also it is for luck and prosperity. The one that finds it will have good fortune.
Today, you can find king cakes at bakeries throughout the city during Mardi Gras season.
13. Praline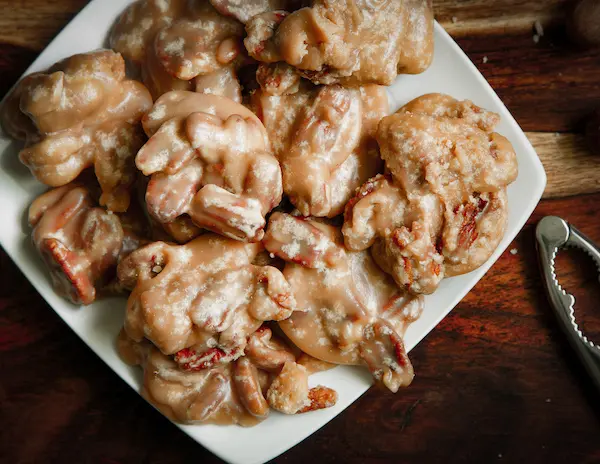 If you have a sweet tooth, you must try the praline in New Orleans. Pralines are a sweet confection made with sugar, butter, and pecans. They can either be crunchy, like hardened caramel, or soft. The soft ones are creamy candy literally melts in your mouth as you eat it. Warning it is SWEET, but oh so good.
French settlers in the early 1800s first brought over the New Orleans pralines. It used to be made with almonds and not pecans.
You can find pralines at most candy shops and bakeries throughout the city. You'll find shops giving out samples that I highly recommend taking advantage of.
The last time I was in the French Quarter, I couldn't help but purchase some from Leah's Pralines. They even had bacon pralines that were quite out of this world.
14. Alligator
Yes, alligator is unique New Orleans food to try. Alligator has been prepared and served in New Orleans cuisine for centuries.
Today, alligator can be found at many restaurants throughout the city. Alligator is cooked in many different ways, such as fried, grilled, or blackened.
The first time I had alligator was inside of andouille sausage in a gumbo at a New Orleans restaurant, which is a popular way to prepare it in New Orleans.
If you'd like some alligator tail bites, Ocean Grill has them as an appetizer.
15. Turtle Soup
While surprising, turtle soup has been part of the New Orleans Cajun cuisine for over 300 years and is still served today. The traditional turtle soup is made with turtle meat, vegetables, and herbs.
American snapping turtles are used in turtle soup, found in Lousianna swamps or from turtle farms.
Want to try turtle soup? Commander's Palace, in the Garden District, serves turtle soup on the menu.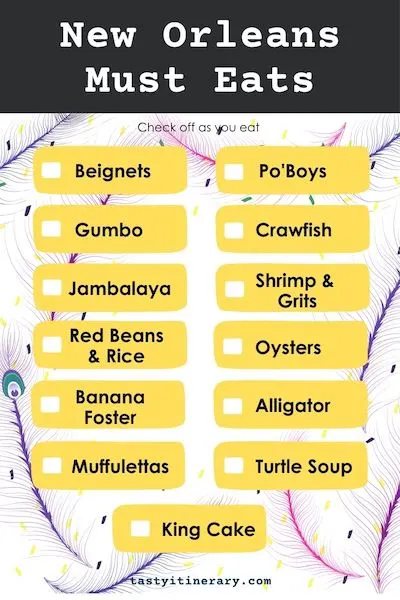 Save this checklist of New Orleans must eats to Pinterest to refer back to, or click here to print.
Food and Travel Quotes To Inspire the Foodie In You
Here are 50+ food and travel quotes that will make your heart and stomach flutter and speak to your foodie traveler's soul. Use these travel and food quotes as inspiration as you plan your next foodie trip. | tastyitinerary.com
Hope you enjoyed this list of yummy foods to try in New Orleans. New Orleans has plenty of must eats to enjoy. The city has a wide variety of dishes for everyone's taste buds.
Not sure which New Orleans Restaurants to visit? Check out: 8 Amazing Places to Eat in New Orleans.
I can't wait to return to eat in New Orleans to continue discovering new places and dishes in this foodie heaven.
What's on your foodie bucket list to eat in New Orleans?
Share the tips & love on Pinterest: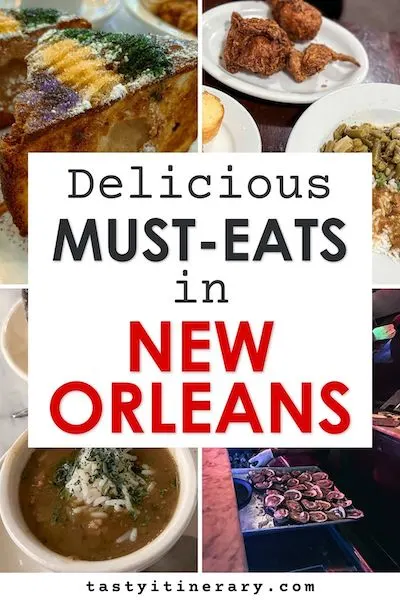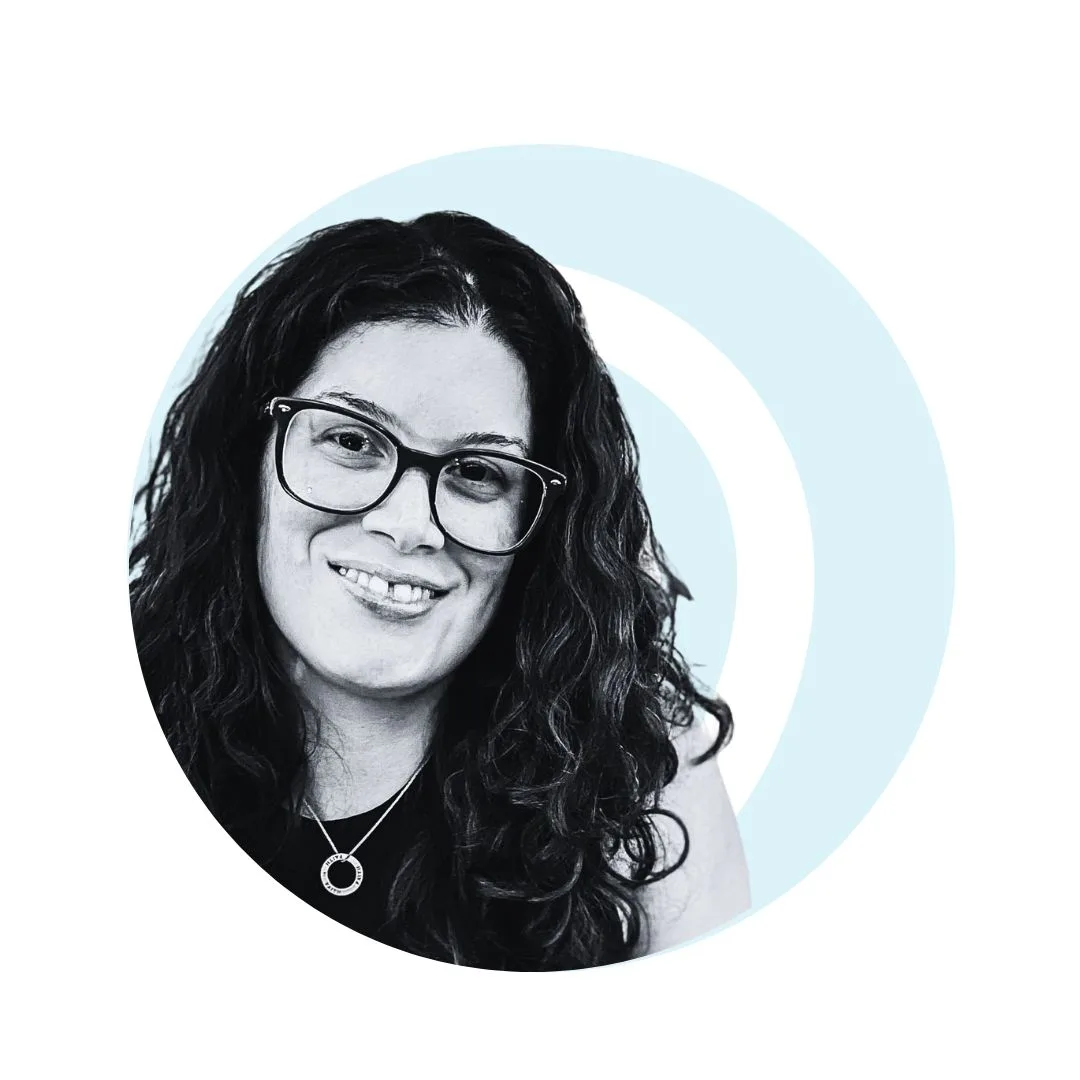 Meet Kathy Ava – a food, travel, and cruise writer based in Los Angeles/Pasadena. With over 20 years of experience planning trips and logistics at her full-time job and for herself, she's become a pro at crafting unforgettable travel itineraries. She's always looking for delicious, fun cruise itineraries and travel destinations and is slightly obsessed with Italy. Her passion and curiosity for travel started in childhood on her yearly and sometimes bi-yearly trips to PR. She firmly believes that life is short and we must make the most of it – so let's explore the world and make some incredible memories.