Looking for things to do in Venice Beach, California? Whether this is your first time visiting this famous beach or you are a SoCal local looking for things to do in Venice Beach, this post is a fabulous start.
What's to love about Venice Beach? Besides the fact that it's right on the Pacific Ocean… it's home to a historic boardwalk. It's buzzing with a mix of locals, visitors from all over the world, and a free-spirited community. That's what makes it exciting. There is a unique blend of things to do in Venice beach that makes it an amazing place to visit any time of year in Los Angeles County.
Venice Beach is part of Venice, a Bohemian beach neighborhood in the City of Los Angeles. Venice was first founded as a seaside resort town by Abbot Kinney in 1905. It didn't become part of Los Angeles until 1926.
Once upon a time, Venice Amusement Pier dazzled Venice Beach with carnival rides, games, and dancing. It was closed in 1946, and an arson fire destroyed what was left of it in 1947.
Venice beach is one of the quintessential spots in Los Angeles that everyone has heard about. It's not surprising that Venice Beach is always on the top of the visitor's list. Just like Miami has South Beach, and New York City has Coney Island.
With its beautiful beach homes, an expansive beach, and a boardwalk filled with an eclectic mix of people, street performers, vendors, and colorful murals. You can say that Venice Beach is full of energy.
This post may contain affiliate links, which means we'll receive a commission if you purchase through our links at no extra cost to you. Please read full disclosure for more information. We appreciate your support!
We used to live near Venice in the South Bay when we first moved to Los Angeles. We called the entire area home for many years from Marina del Rey, Playa Vista, Playa del Rey, Manhattan Beach, Redondo Beach, and Hermosa.
We'd frequent many spots in Venice, including Abbot Kinney Boulevard, for brunch and shopping. It has definitely changed throughout the years, but it is still as vibrant and full of life as ever.
You can pack most of these things to do in Venice Beach in a day or throughout a weekend visit. This post should help you take your own self-guided walking tour through the most popular spots like Venice Sign, Muscle Beach, Venice Beach Boardwalk, Venice Canals, Abbot Kinney Boulevard, and more. You can always book a fun guided tour or take surfing lessons.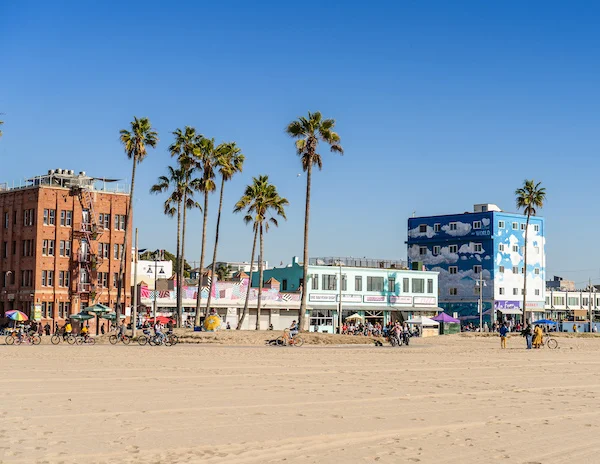 Is it worth visiting Venice Beach?
Yes! Venice Beach is worth visiting at least once so you can see what makes it such an iconic spot in Los Angeles. It's not everyone's scene, but it is a beach city that should be experienced, and you won't know unless you visit.
The bike ride from Venice Beach to Santa Monica is one of the popular things to do in Venice Beach, along with the Venice Canals. The Venice Beach Canals are worth visiting.
What do people do at Venice Beach?
People come to Venice Beach to enjoy the ocean views, sunbathe, walk or bike ride along the boardwalk, play in the sand and surf, check out the street performers, shop at local stores, eat at a beachfront restaurant, spot Venice murals, and more.
Where to park in Venice Beach?
There are two all-day parking lots at the end of Washington Blvd and North Venice Blvd for a small cost. There is also street parking on Pacific Avenue if you can find any. Keep reading for more info.
Parking at Venice Beach
Venice Beach Parking Lots
There are two main parking lots at Venice Beach. You should choose depending on where in Venice Beach you'd like to land. You will have to pay to park. Venice Beach parking cost us $9 on the weekend. Sometimes it's $5 on slower days. Please note that the cost is subject to change at any time.
W Washington Boulevard
If you park at the W Washington Blvd parking lot, you'll end up right by the pier. From here, you can explore the pier and walk the quieter residential part of the boardwalk. It will be a longer walk to get to the Venice beach promenade. I recommend parking here if you plan to see the Venice Canals.
North Venice Boulevard
From the N Venice Blvd Parking lot, you'll get right to the heart of Venice Beach and the most lively spots in the area. If you're doing a quick visit and only have one day in LA to see what Venice Beach is about, you want to park in the North Venice Blvd lot.
Private Parking
As you drive to Venice Beach and around the area, you'll see private parking lots charging an exorbitant amount to park. You can choose to park here, but just know that parking is right by the boardwalk.
Street Parking
If you can find legal street parking in Venice, that would be the way to go without paying to park in a lot.
Things to Do in Venice Beach
Here is a Google Maps with all the highlights and things to do in Venice Beach marked for easier navigation.
1. Venice Fishing Pier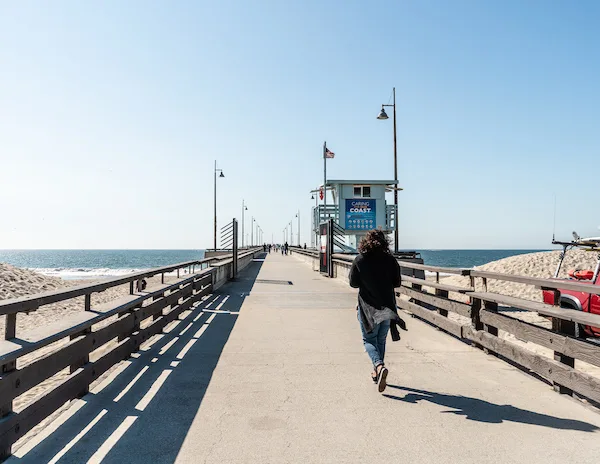 Take Washington Boulevard all the way west till your hit the Venice Beach parking lot, and straight ahead, you'll find the Venice Fishing Pier. The pier is open to the public, and no fishing license is required to fish from here.
The pier makes for a great long walk out into the Pacific Ocean. You can see as far out to nearby Santa Monica or the Palos Verdes peninsula on a clear day. You can also watch the surfers by the pier trying to catch a wave or two.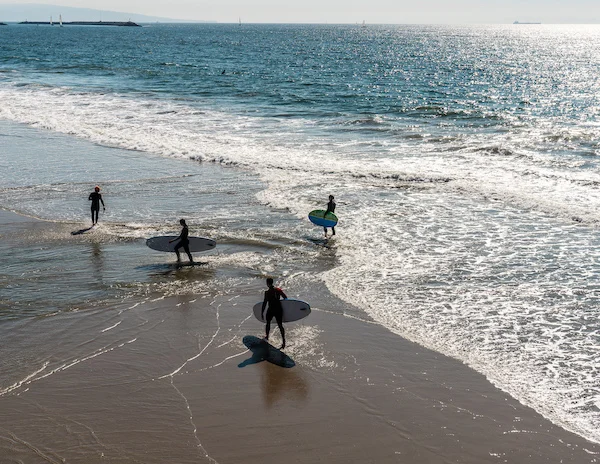 Be aware, that it can get quite windy by the Venice Pier.
Tour Option: Private Surfing Lesson in Venice Beach [book tour]
2. Rent a Bike & Ride from Venice Beach to Santa Monica Pier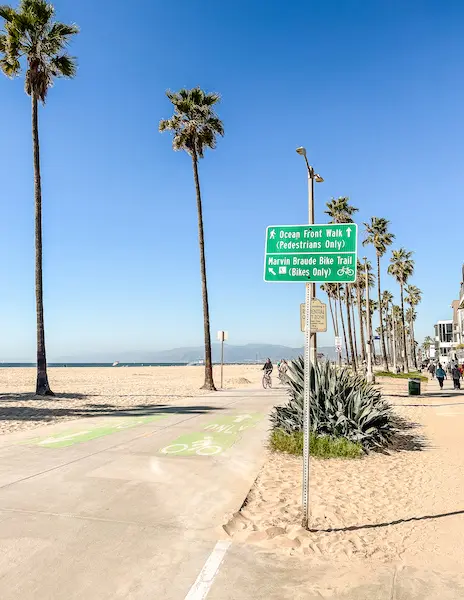 Another fun thing to do in Venice is the ride from Venice to Santa Monica Pier on the Marvin Braude trail. It's also one of the most loved Venice Beach activities among locals.
The Marvin Braude trail is 22 miles, and we locals call it The Strand. You can right onto the bike path from a couple of spots in Venice Beach. The most common ride in that area is to take it up to Santa Monica Pier and back.
During your ride, you'll ride along the beach next to the Pacific Ocean. You can take in the view of the beautiful coastline. It's a ride worth bragging about once you get back home.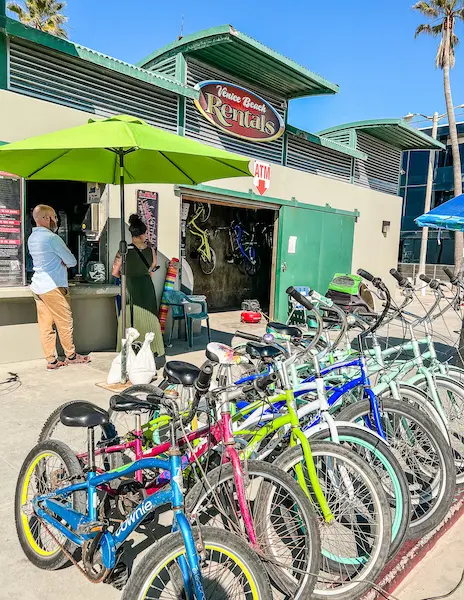 You'll find Venice Beach Rental shops right by the Washington Blvd, Venice Beach Fishing Pier, and North Venice Parking lot. The trails to ride on are right nearby.
3. Take a Casual Stroll Along Venice Beach Boardwalk (Ocean Front Walk)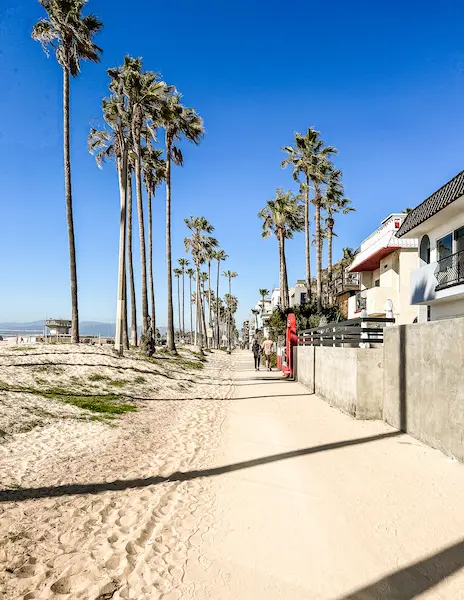 The Ocean Front Walk in Venice starts in Playa del Rey and ends past the Venice Beach Boardwalk. Spending the afternoon strolling along the Ocean Front Walk is one of the fun things to do in Venice Beach. It is also dog-friendly, just keep your beloved furbaby on a leash, but you can not bring them onto the beach itself.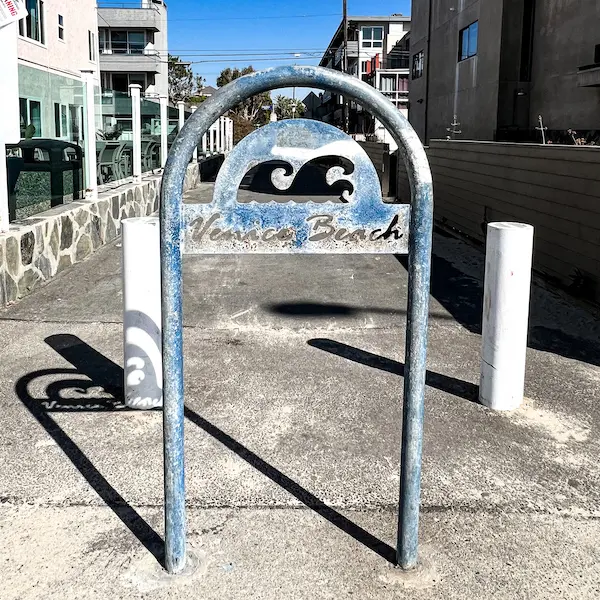 If you start by the pier, the entrance along Washington Blvd, it's a quieter walk as you are within the Venice residential area. You'll pass by a few small hotels and some beach homes along the walk. You'll take in that salty fresh air and watch bikers or rollerskaters whiz by on the trail next to you.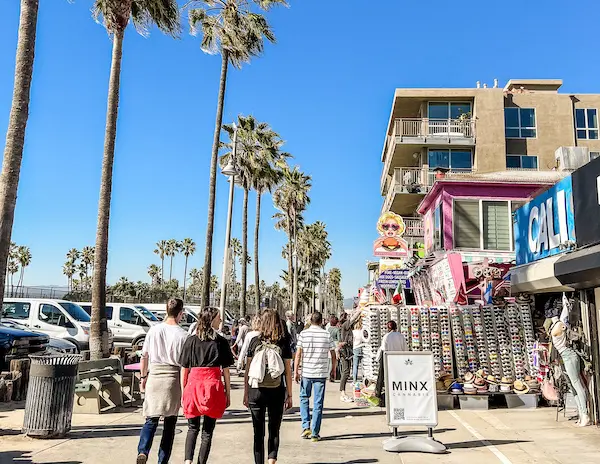 Once you leave the quieter residential area of Oceanfront and cross the street at North Venice Blvd, you'll enter the heart of Venice Beach Boardwalk. As you hit the boardwalk, be prepared to see things that may be questionable for children, I leave that up to you.
There is a flutter of visitors, street musicians, and performers amongst street vendors and souvenir shops. It's a great place to people-watch and soak in the culture of Venice Beach.
This is also about when you'll start getting a whiff of fresh smoked grass… if you get what I mean.
Stay cautious and vigilant while around the boardwalk.
Why not take in some of the LA sights while you are here? From walking among stars on Hollywood Blvd, seeing spectacular views of LA from Griffith Observatory, and enjoying a short ride on historic Angel's flight. Here is our list of top attractions in this city known as "The City Of Angels."
3. Explore the Venice Canals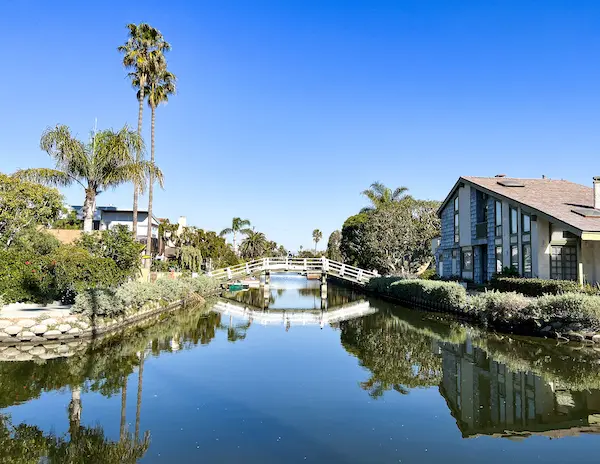 Did know you that there are canals in Venice Beach?
You can take a quick detour from Ocean Front Walk (before North Venice) to explore the Venice Canal Historic District. This is one of the Venice Beach attractions that should not be missed.
Public access to the Venice Canals is on 25th Ave, 27th Ave, and 29th Ave from Pacific Avenue. Keep an eye out on the street signs along your walk.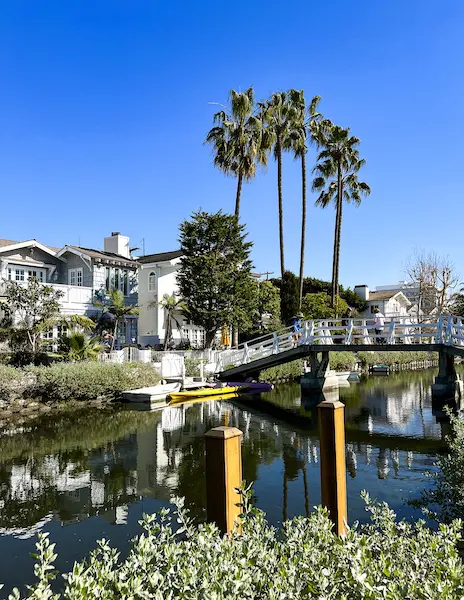 The Venice Canals are an idyllic remnant of what things were like in Venice back when it was a beachfront resort town over 100 years ago. The area used to be 3-4 times larger than it is today.
The idyllic scene is reminiscent of Venice, Italy, as that was what the founder had in mind when he developed it. So you will temporarily l feel like you are transported back somewhere in Europe. There is a mix of beautiful homes, some with Italian-style architecture and others that are Craftsman.
The Venice Canals were added to the National Register of Historic Places in 1990. It's a historic landmark and considered one of the top things to do in Venice Beach.
Read more about the Venice Beach Canals here.
Tour Option: Venice Boardwalk & Canals Walking Tour [book tour]
4. Check out Muscle Beach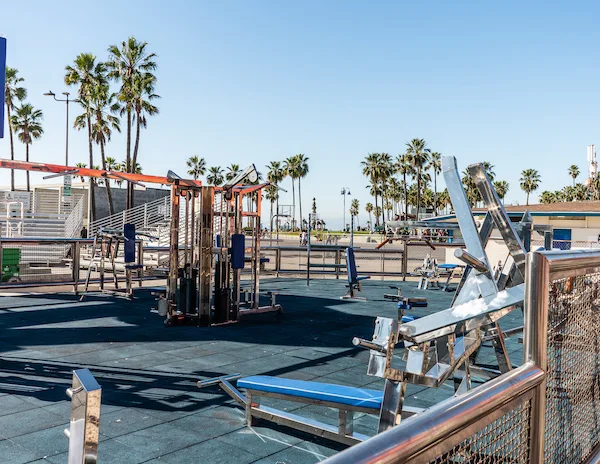 Venice Beach is home to the world-famous weightlifting and bodybuilding outdoor gym, Muscle Beach. It is one of the Venice Beach attractions you won't miss while on the boardwalk.
Today, you'll see people of all shapes and sizes working out here. But the predominant body type is the heavily-muscled hulk. The best time to go is during the day when they are open, and all the serious weightlifters are working out.
Fun fact: Arnold Schwarzenegger trained here during his bodybuilding competition days. It still makes an appearance from time to time.
5. Take a Photo of the Famous Venice Beach Sign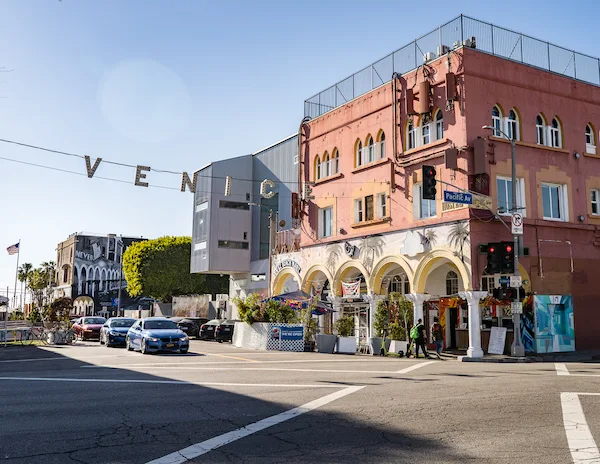 After walking past Muscle Beach, you'll want to make a quick detour east from the Boardwalk and onto Windward Ave. The iconic Venice Beach sign hangs on Windward Avenue and Pacific Avenue.
While the sign is historic as one existed in the early 1900s when Venice was its own independent city, the present modern sign was hung in 2007.
6. Venice Skatepark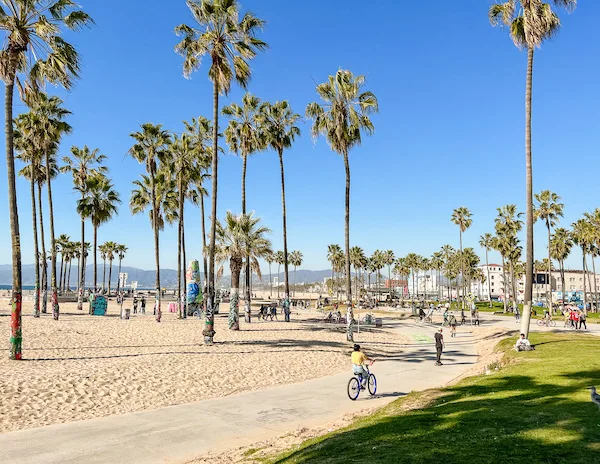 Head back towards the Venice Boardwalk towards our seaside skatepark. Venice Venice Beach Skatepark is one of California's most iconic skateboarding spots, and quite possibly in the US. It's located along the Ocean Front Walk west of Market St.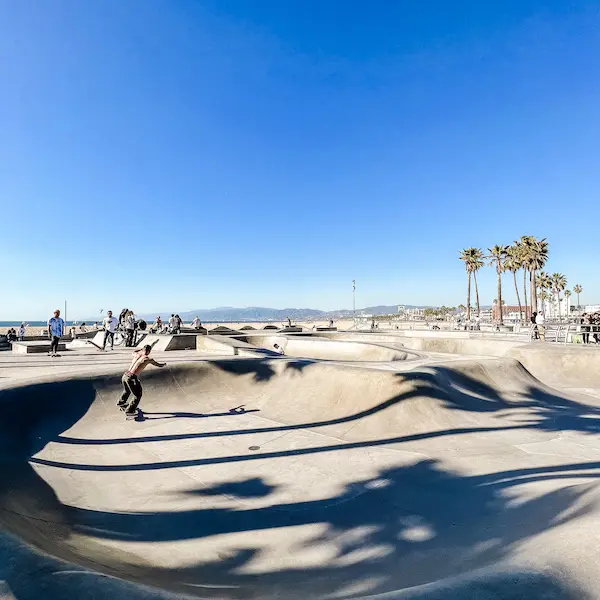 The skatepark was built in 2009 and is a favorite spot along the boardwalk. The park features various obstacles and skate bowls deep enough for beginners and experts alike.
The park has been featured in various films and videos and is often visited by professional skateboarders such as Tony Hawk.
Stop and check out as it is a whole exciting scene. You will be amazed at the talented skating at this park. You can see that the skaters love what they do.
7. Picnic at Venice Beach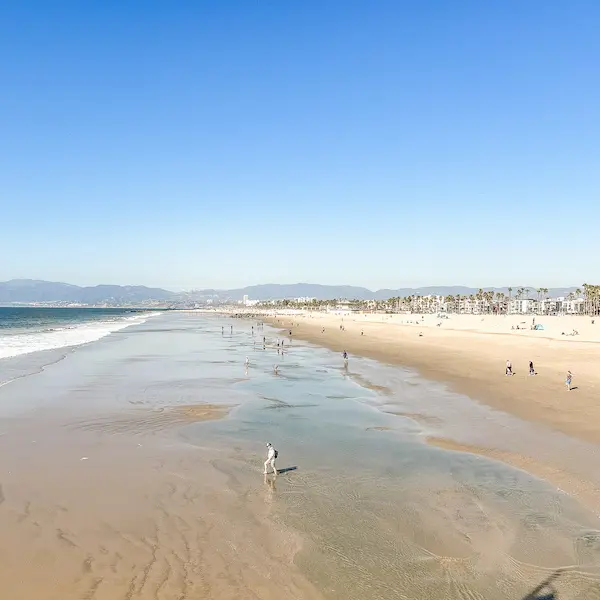 One of the things to do in Venice Beach is to pack a picnic or grab some food nearby and have a picnic at the beach. On a beautiful day, there is no better way to spend it than relaxing at the shore, listening to the waves break, and watching the boats sail by.
The boardwalk is bustling, but the beach area stretches so far and wide that you can find a quiet spot away from all the excitement.
Can you swim at Venice Beach? Yes! Personally, I think the Pacific Ocean is a little too cold for me. However, you'd be surprised by all the people in swimsuits on a sunny day in the middle of a California winter.
Day trips are the best way to escape the rat race of the city of Los Angeles. Find stunning beaches, awe-inspiring mountain ranges or hidden gem's in between with these day trips!
8. Don't Miss the Venice Pride Flag Lifeguard Tower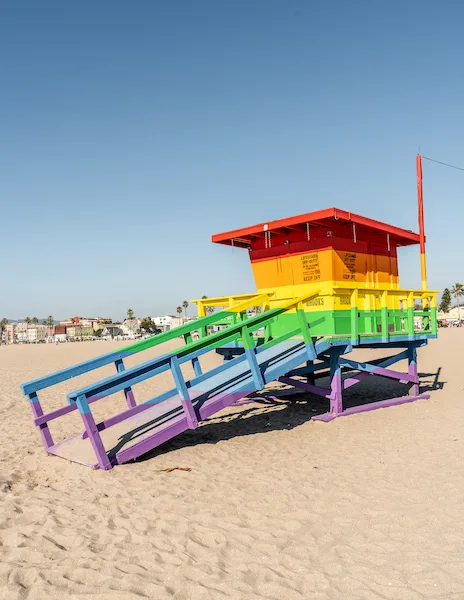 Standing farther north of the skatepark is the Venice Pride Flag Lifeguard Tower.
This lifeguard tower on Venice Beach was painted in 2017 by artist Patrick Marston in partnership with Venice Pride. It is a symbol of celebration and acceptance of the local LGBTQ community.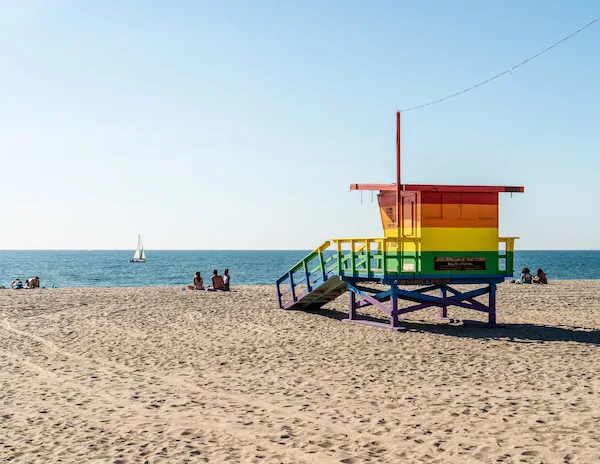 The rainbow tower is a popular photo spot in Venice Beach, Los Angeles.
9. Abbot Kinney Boulevard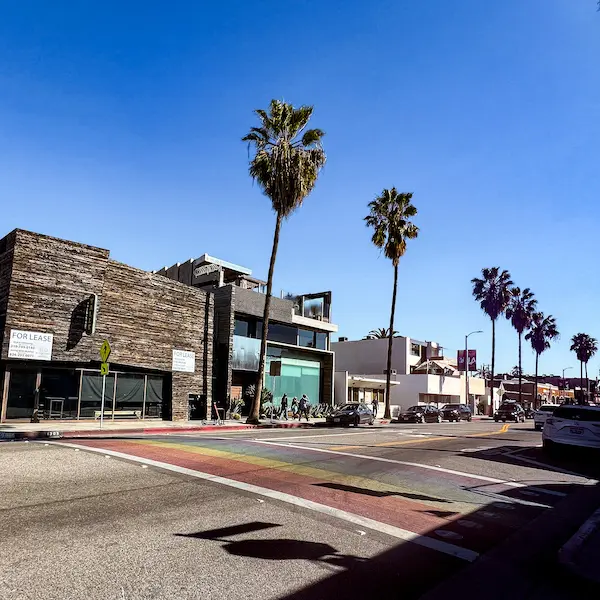 Abbot Kinney Boulevard is a street in Venice, California, that runs diagonally from Washington Boulevard to Venice Boulevard. It is named after Abbot Kinney, who founded the Venice neighborhood.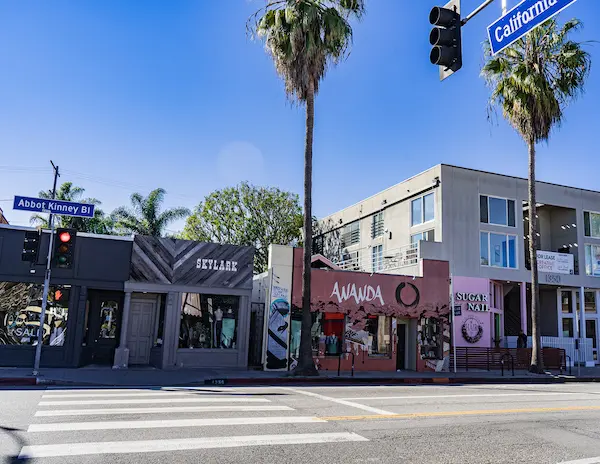 The boulevard is considered one of the most trendy streets in Los Angeles. I've heard it called the"Bohemian Rodeo Drive, " but it is more down-to-earth than Rodeo. You won't find top luxury brand stores here, rather you'll find some great boutique shops, some delicious high-quality eateries, art galleries, and more.
Although don't be surprised to pay $10 for a cup of coffee here.
This street is normally bustling by midday and through the night. At night, you'll find several food trucks parked on Abbot Kinney Boulevard.
10. Keep an Eye Out for Street Art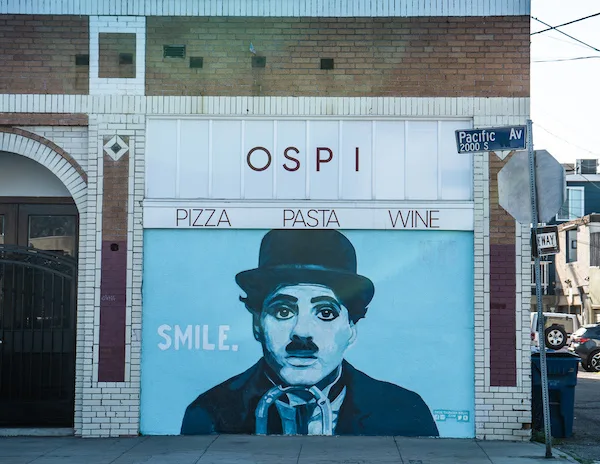 As you explore Venice and Venice Beach, you'll come across many fantastic street art in different forms. As well as all the colors on the structures.
Art is very much a part of the scene here, and it's difficult not to take notice of the many murals covering quite a bit of surface area around this area.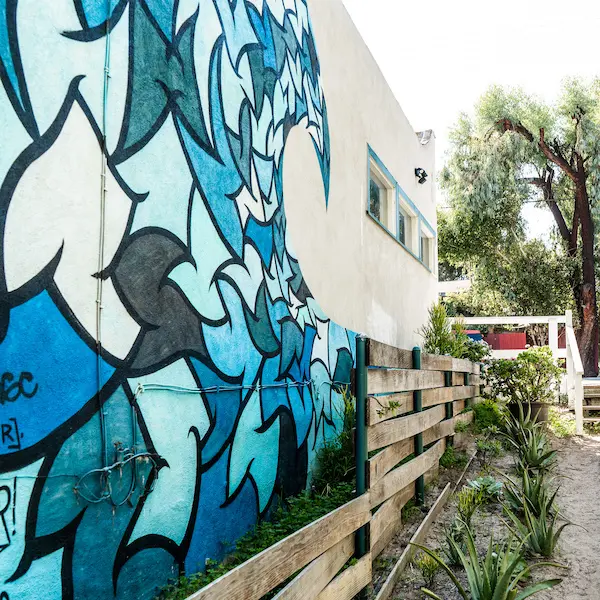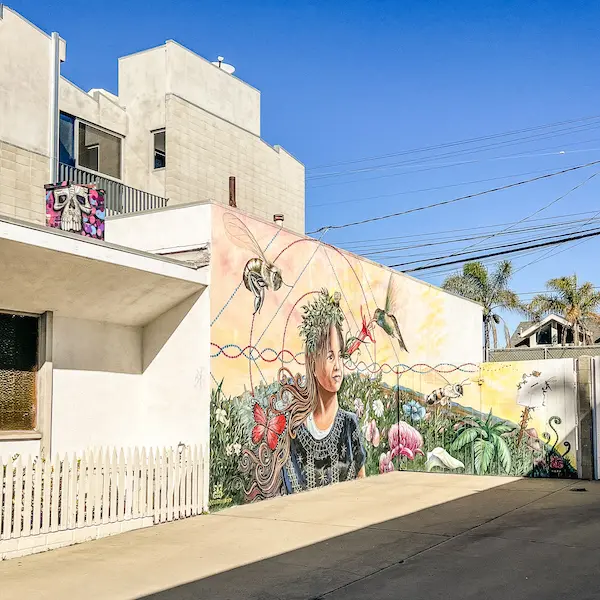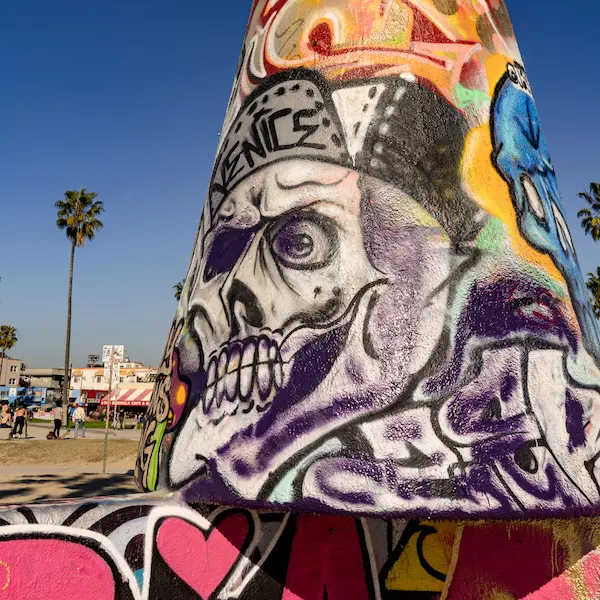 11. Make Reservations to See the Mosaic Tile House
The Mosaic Tile House in Venice Beach is not to be missed if you can get a reservation for a Saturday afternoon visit. This private home is owned by artists Cheri Pan and Gonzalo Duran. They have turned their home into a gorgeous mosaic art piece.
If you're adding the Mosaic Tile House to your things to do in Venice Beach during your visit, make sure to plan for a Saturday.
Cost: $20 per adult
Reservations Only: click here for more info
Where to Eat in Venice, CA
There are great places to eat in Venice, and it wouldn't be a tasty itinerary if we didn't shine a spotlight on a few foodie spots. New restaurants and cafes pop up all the time.
While in Venice Beach, you may want to grab a drink at the only rooftop bar, High Rooftop Lounge at Hotel Erwin at Sunset. Or get lunch at Sidewalk Cafe next to Small World Books, a popular choice amongst tourists.
If you start to leave the boardwalk area, you can get a few gems.
Scopa Italian Roots
One of the best restaurants in Venice is Scopa Italian Roots. It's right outside Venice Beach on Washington Blvd and so worth the detour. We've frequented Scopa since it first opened, and has remained one of our favorite places to eat in Los Angeles.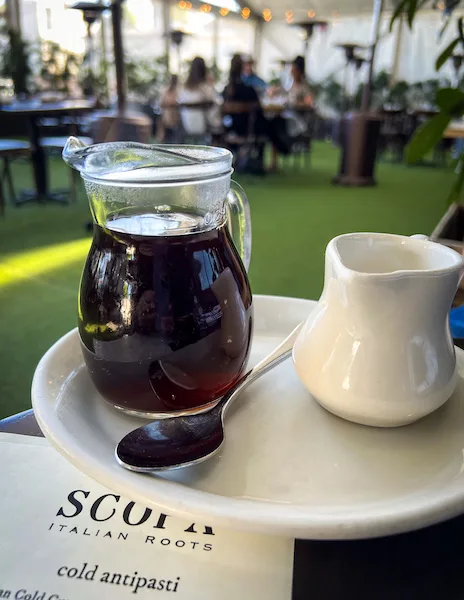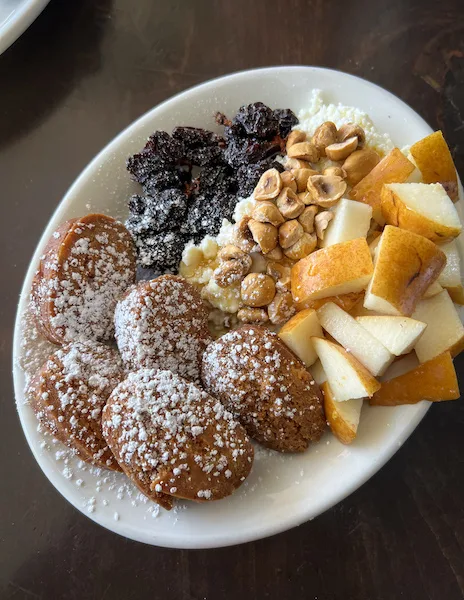 The Italian food here is phenomenal and the only place that reminds us of eating the old-school Italian cuisine we were raised on in New York City.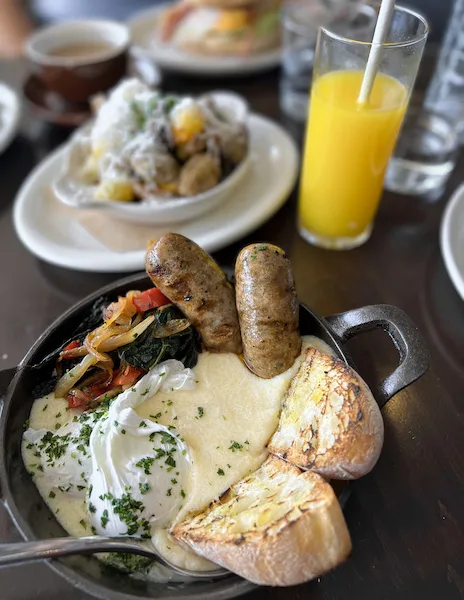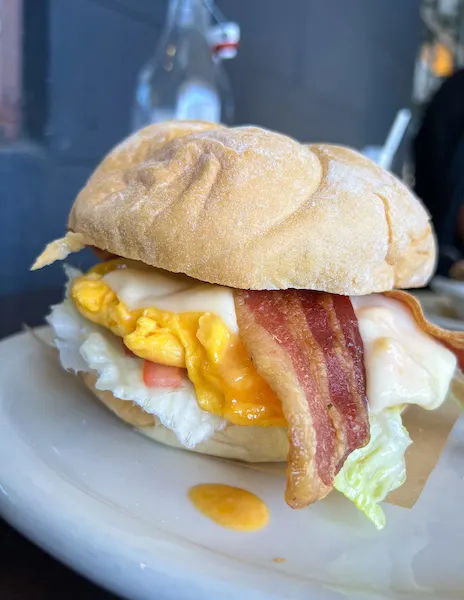 While dinner is always excellent here, and I can never get enough of their rice balls, we were recently there for brunch. Brunch is available at Scopa Italian Roots on the weekends.
Scopa Italian Roots | 2905 Washington Blvd, Venice
A few places to eat in Venice to check out:
Gjusta
Fabulous California artisanal bakery serving as my close friend describes "eye-candy" dishes that is a feast to the eyes and tastebuds.
Bluestone Lane Venice Beach Cafe
Menu and cafe inspired by the Australian beach culture. Premium coffee and excellent bites.
Venice Beach is one of the most unique and exciting places in Los Angeles. With its diverse population and eclectic mix of businesses, it's a great place to spend the day or just an afternoon.

Even if you just want to take pop in for the sights and sounds of this special beach city, Venice Beach should be on your list of places to visit in LA. With this list of things to do in Venice Beach, you'll be able to get the most out of your time here.
Have you been there before? What did you love or not love about it?
Share the tips & love on Pinterest: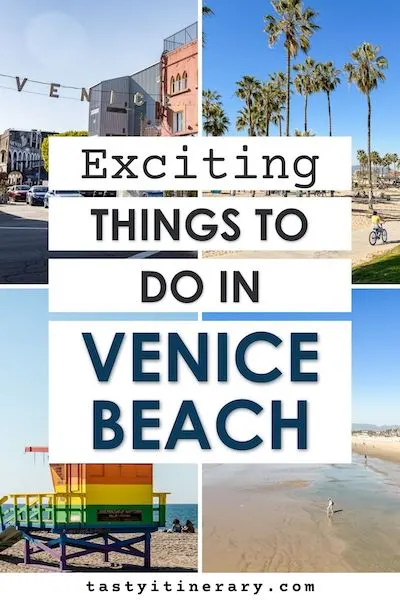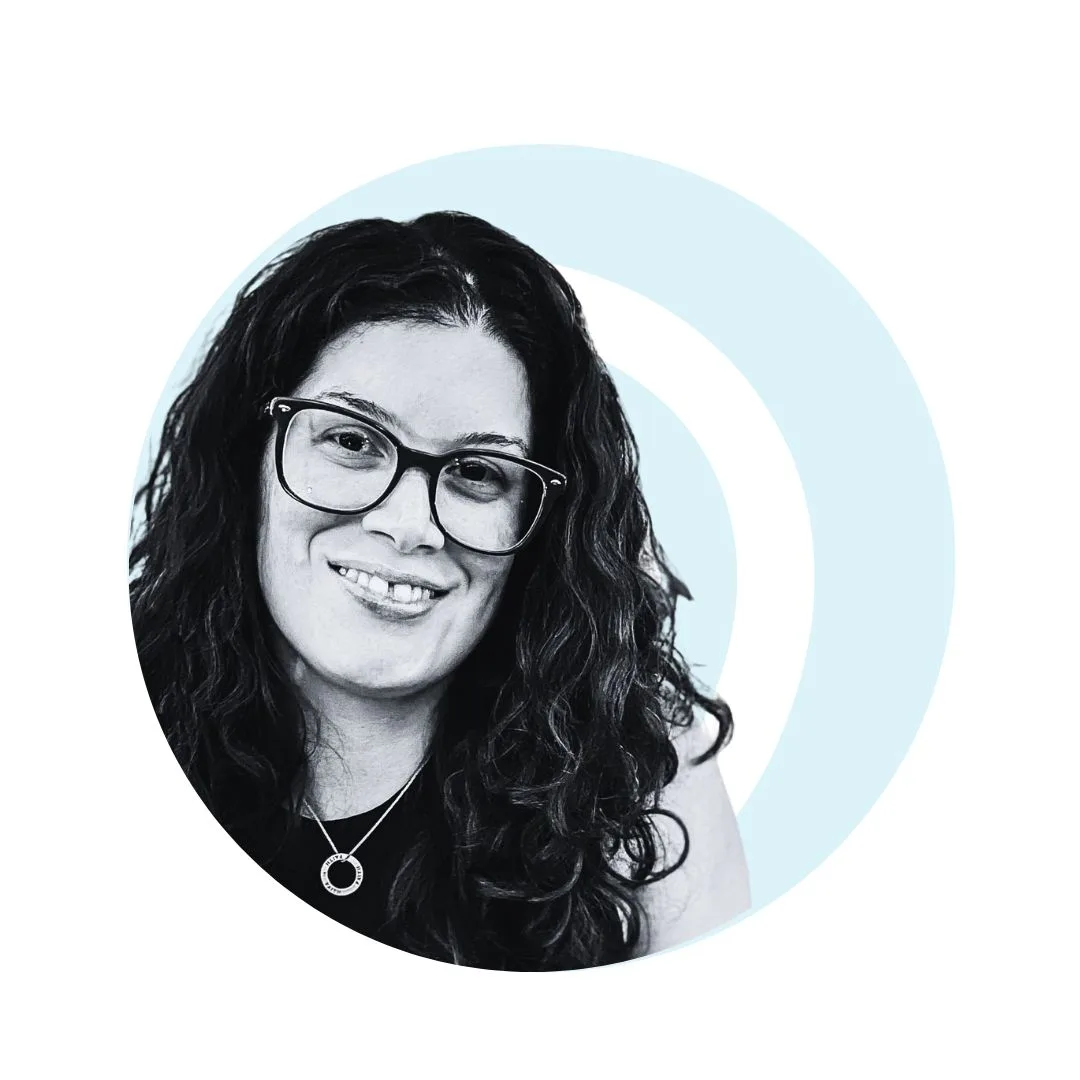 Meet Kathy Ava – a food, travel, and cruise writer based in Los Angeles/Pasadena. With over 20 years of experience planning trips and logistics at her full-time job and for herself, she's become a pro at crafting unforgettable travel itineraries. She's always looking for delicious, fun cruise itineraries and travel destinations and is slightly obsessed with Italy. Her passion and curiosity for travel started in childhood on her yearly and sometimes bi-yearly trips to PR. She firmly believes that life is short and we must make the most of it – so let's explore the world and make some incredible memories.