Looking for things to do in Pasadena, California? Plan a day trip or spend a weekend or longer in the city of Roses.
Sitting at dinner one day, enjoying a beautiful meal on a lovely patio in Pasadena's many excellent restaurants, we suddenly realized… we didn't have to leave Pasadena if we didn't want to.
When we go out to enjoy a day in Pasadena, we sometimes feel like we're on vacation.
Let us explain.
Pasadena is a fascinating city with a rich history – it was incorporated in 1886. It is a city full of rich history, charming neighborhoods, and old historic buildings with preserved architecture. It is a city with sites, attractions, and family-friendly events and activities that happen year around.
We have our own convention center, performing arts theater, movie theaters, ballet company, ice skating center, flea markets, antique shops, museums, botanical gardens, parks, hiking trails, a yearly nationally broadcasted Rose Parade, and a stadium – hello, Rose Bowl!
Pasadena is also known for its foodie scene. There are tons of options, from mom-and-pop restaurants, pubs, food trucks, and hole-in-the-wall spots to Michelin-guide restaurants serving unique dishes. No matter what you're into, we guarantee you'll find something delicious to eat in Pasadena.
The only thing we are missing here is the beach, but it's not a deal breaker. We have a waterfall; just take hike Eaton Canyon Falls trail. We also have an aquatic center with community pool times.
Pasadena is surrounded by other cool cities in the San Gabriel Valley, like Altadena, Sierra Madre, San Marino, La Cañada, Arcadia, Monrovia, and Alhambra. And we are 20 minutes from Downtown Los Angeles on a good day. It's a great place to stay if you want to explore this part of LA County.
This post may contain affiliate links, which means we'll receive a commission if you purchase through our links at no extra cost to you. Please read full disclosure for more information. We appreciate your support!
This article shares the best things to do in Pasadena, California. Is it everything? No, because that would make this list a little unmanageable, and we don't want to overwhelm you with choices.
We visited Pasadena for years long before we made the official move taking advantage of all Pasadena offers. It only took me several years of living here to finally post what are the best things to do in Pasadena.
Here are a few fun facts about Pasadena:
Pasadena is home to the Rose Bowl.
The Rose Parade is one of the biggest Pasadena attractions in Pasadena on New Year's Day (sometimes the day after).
Many movies and TV Shows are filmed or set in Pasadena (Father of the Bride, Big Bang Theory, and more).
Julia Child was born and raised here.
Trader Joe's founded and opened its first store here.
The cheeseburger was invented in Pasadena.
Van Halen emigrated to and lived in Pasadena. His band took off from here.
Things to Do in Pasadena, CA
Explore Historic Old Town Pasadena
What are the things to do in Old Pasadena? You can spend the day shopping, exploring its nooks, or eating your way through "Old Pas".
1. Explore Old Pasadena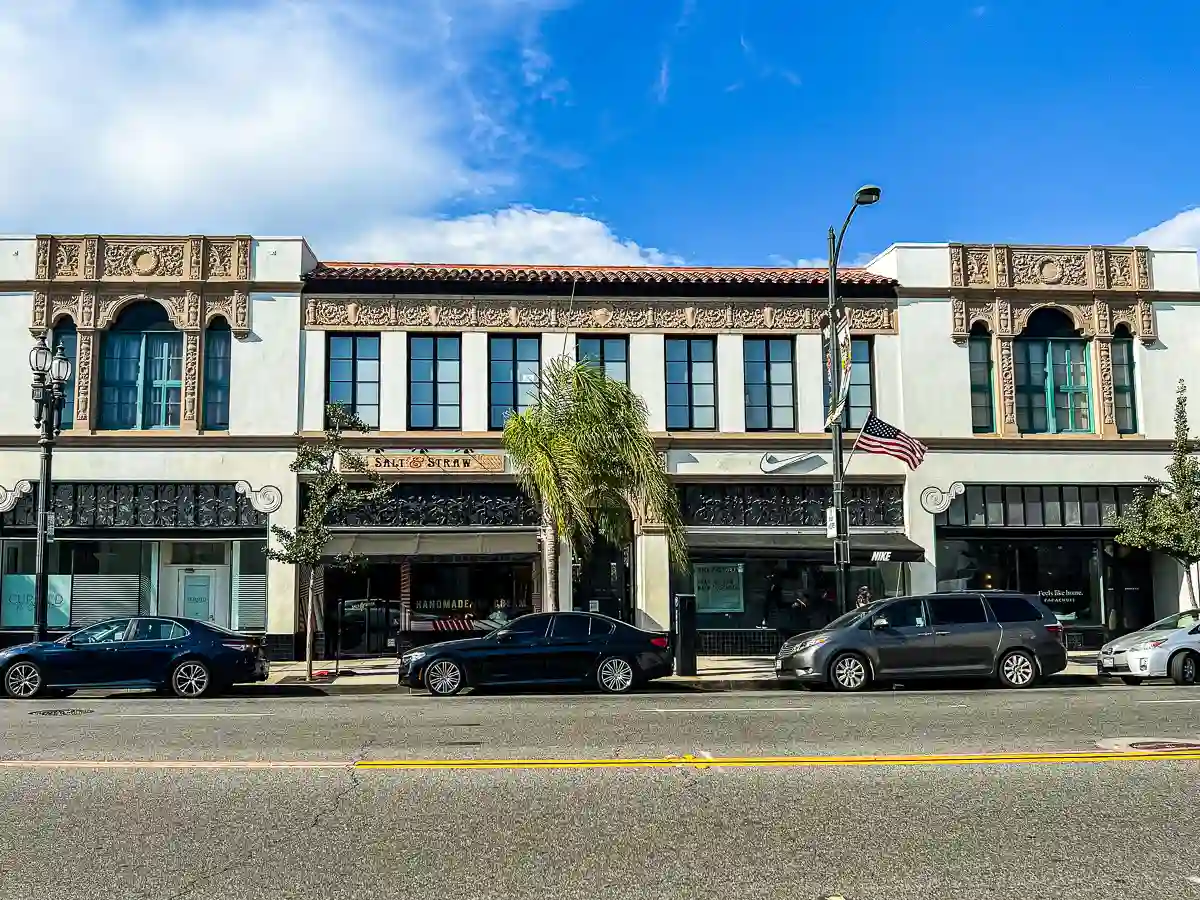 Most that visit Pasadena always end up in old Pasadena at some point or another, or at least you pass through it. It's the city's heart. It spans 22 blocks and houses over 300 businesses, providing endless options for shopping, dining, and entertainment.
Begin your walk on Colorado Boulevard, the historic Route 66 home of the Rose Parade. Discover shops, restaurants, and bars in turn-of-the-century brick buildings. Explore the historic alleys off of Colorado Boulevard for an authentic experience of Old Pasadena.
And with its charming alleys and corners, it's fun to get lost while exploring. You never know what unique shop, street art, historical find, or lovely restaurant is around the corner.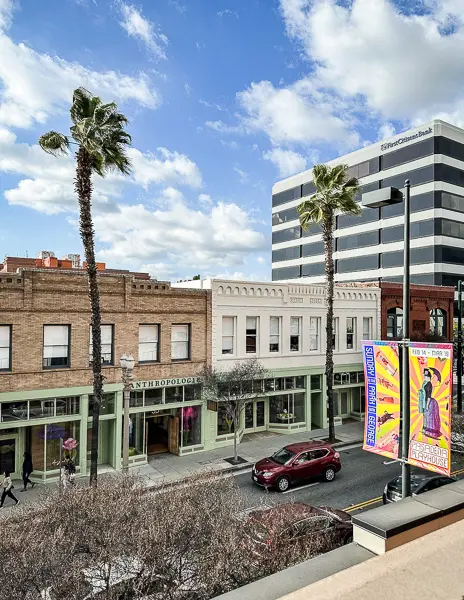 Make sure to look upwards and even down along the sidewalk and in front of buildings. You'll find some incredible architectural and historical details preserved around town.
The downside of Old Pasadena is the parking. Expect to pay if you park on the street or in one of the city's garages. Parking in a garage in Old Pasadena can cost up to $10.
Street parking is cheaper as you can pay per hour if you don't plan to be there all day, and that's if you can find a spot. Make sure to have the Passport Parking app downloaded on your phone and ready to pay.
Top Foodie Pick: Check out Russell's for the best breakfast and brunch in Old Pasadena. Make reservations for the best pasta at Union or amazing French-inspired cuisine at Perle. a local favorite in Pasadena.
2. Check out One Colorado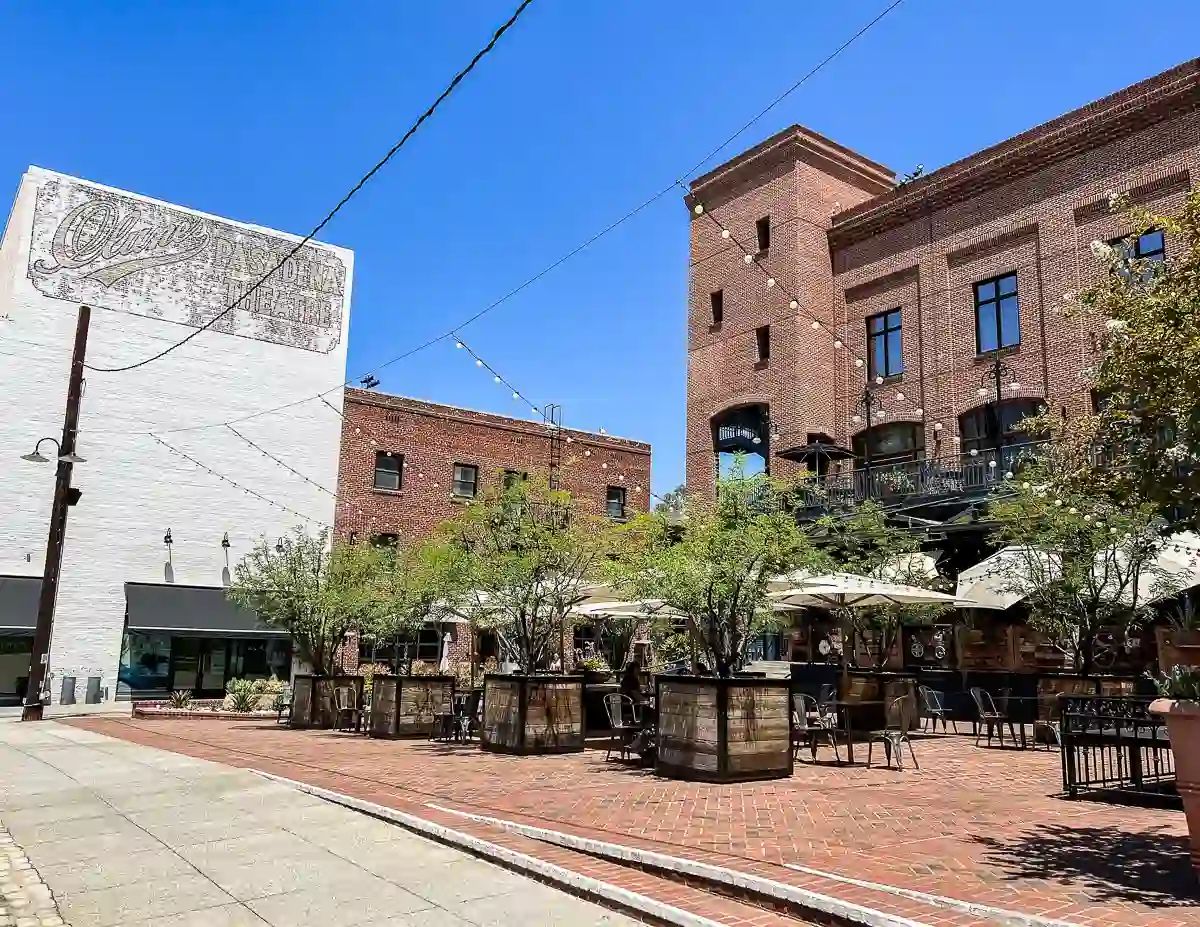 Check out the lovely courtyard at One Colorado, which is slightly hidden. Just walk down the alley by Sephora or Miller Alley you'll find a great outdoor space. When events are not taking place, the space is free to come and sit with a friend and a cup of coffee.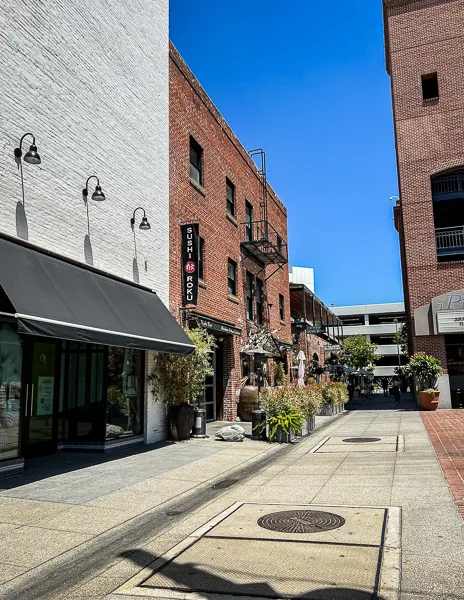 At One Colorado, you can dine al fresco at one of the restaurants like Sage Vegan Bistro or Il Fornaio or join in on one of the many events they have throughout the year, like silent disco, live music, outdoor movies, games, and more.
Don't forget to stop by one of the prettiest cafes, Coffee and Plants, for an iced matcha.
3. Walk Down Green Street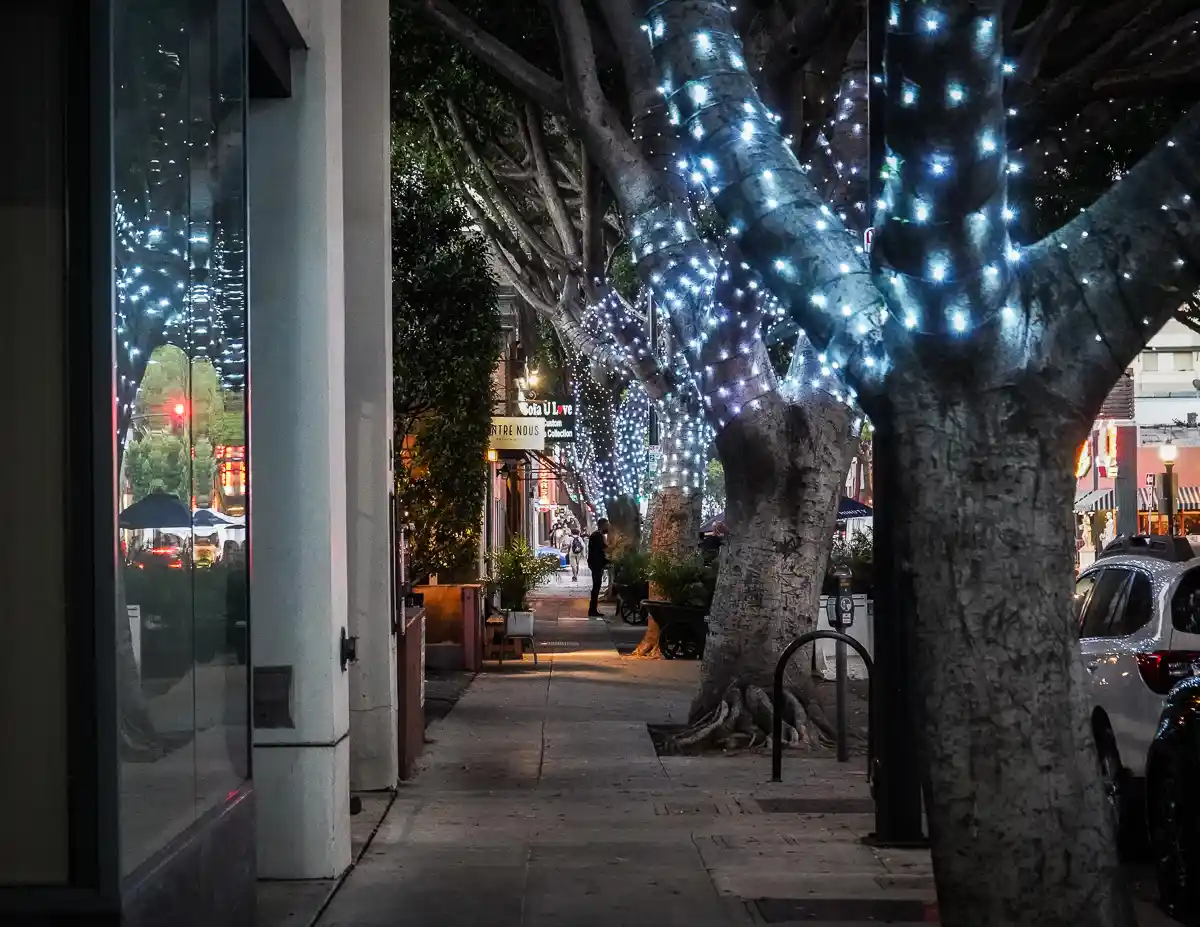 We love to walk down Green Street because of the blue lights around the trees, making it a charming stroll at night. People are dining outdoors or taking an evening stroll as they make their way around Old Pasadena.
Some of our favorite restaurants are on Green St, like Entre Nous and Agnes.
4. Find Big Bang Theory Way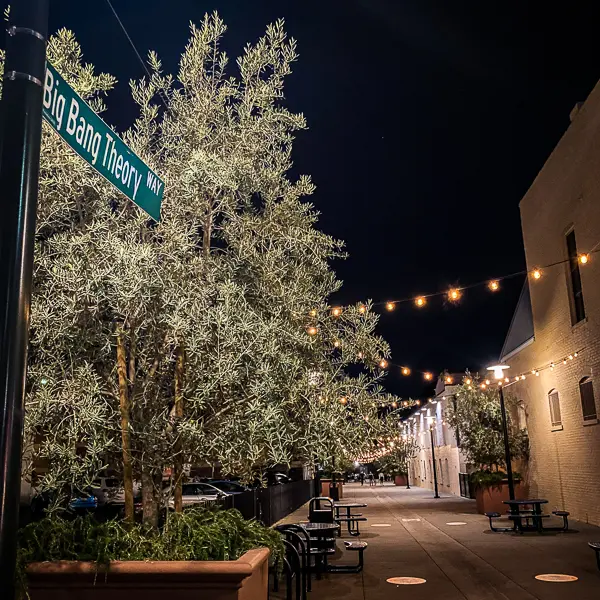 Big Bang Theory fans may know that the hit TV show was set in Pasadena. For the shows 200th episode, the city celebrated by naming a street, technically an alley in Pasadena, as Big Bang Theory Way. In addition, they dedicated February 25th as Big Bang Theory Day.
Fun Fact: Real-life locations in Pasadena were used in the show; check out more on that in this article by LAist.com.
5. See a Movie at iPic Theater
This luxury movie theater is a must-do if you haven't treated yourself to soft leather lie-back seats and delicious dinner service for a movie night. We were pleasantly surprised at how comfortable the seats were. I loved the blankets handed out so you could get cozy in your seat for the movie. Be aware that you may fall asleep.
It is pricey, but you should first sign up for their free Silver membership, as that automatically gives you a discount on their regular-priced tickets. Book movie tickets and select seats in advance as they sell out fast.
Food and beverages are extra on top of admission.
6. Play Classic Arcade Games at the NEON Retro Arcade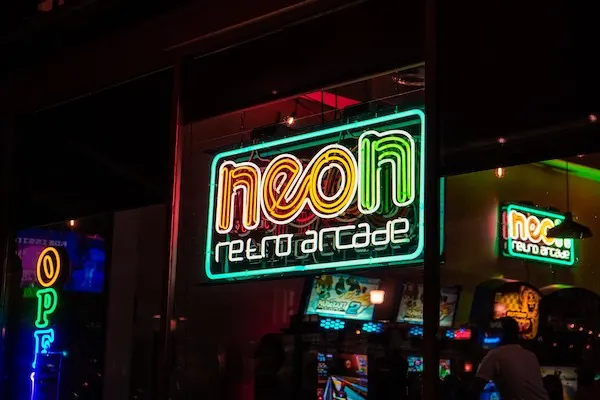 Located in Old Town Pasadena, the Neon Retro Arcade is a vintage arcade with more than 40 arcades and pinball machines. For anyone closer to my age, this fun Pasadena spot will take you back to your childhood. Play Tetris, Donkey Kong, PacMan, and many more.
This is a great spot to bring your family for some innocent fun. Plan a family day or night. Enjoy an hour or two at Neon Retro Arcade, then get some ice cream at Wanderlust Creamery.
The cost is $15 for one hour or $25 for all-day gaming
Reservations are available.
Neon Retro Arcade | 28 S Raymond Ave, Pasadena | Google Map It
7. Stop by Amara's Cafe for Spanish Style Churros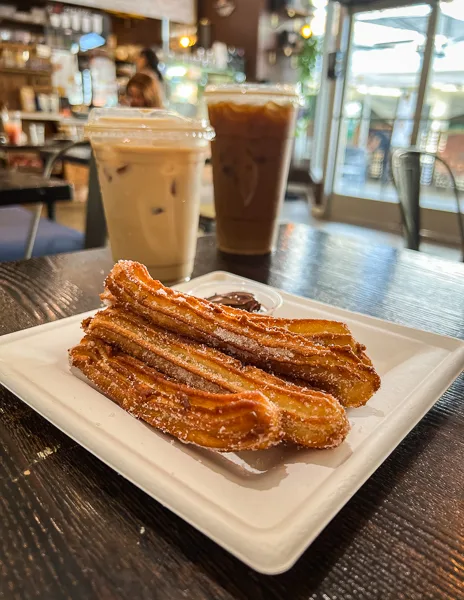 If you're a foodie lover and love churros, do yourself a favor and stop by Amara's Cafe on Raymond Ave for some legit Spanish-style churros. Take them to go as you continue to explore Old Pasadena, or sit down and enjoy them with their delicious hot chocolate or coffee. Dipping sauces are also available.
Their South American breakfast is also as delicious as it sounds. Their breakfast arepas and cachapas had me at first bite.
Amara's Cafe | 55 S Raymond Ave, Pasadena | Google Map It
8. Visit Pasadena City Hall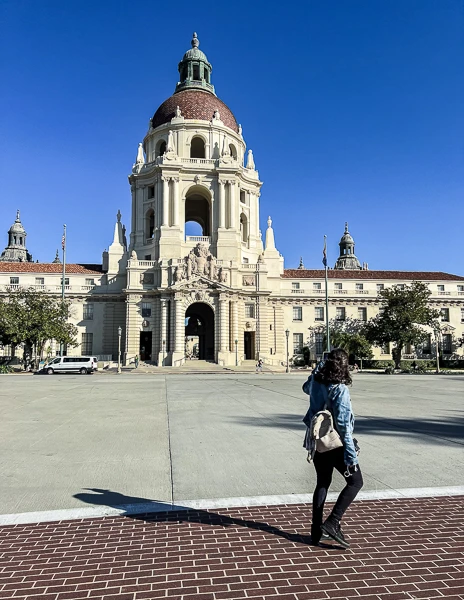 If you're in Old Pasadena, you don't want to miss seeing Pasadena City Hall. While we do have beautiful architecture all around Pasadena, this beauty is a vital landmark in Pasadena. It was completed in 1927 and is where our city government offices reside.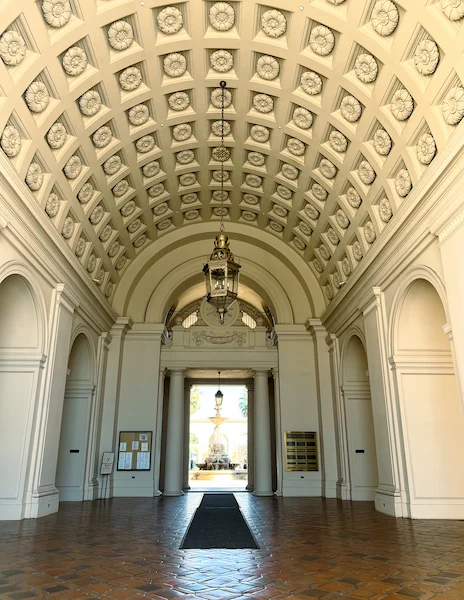 We recommend visiting during the week when it's not crowded with weddings and other occasions. Although, you never know what you'll run into here when visiting. It has been known to be featured in a couple of films and TV shows in the past, most recently Apple TV's drama series Truth Be Told.
Wander inside and visit the beautiful courtyard. It can be very peaceful and a great spot to meet a friend for a chat.
And at night, it is just as beautiful to see.
Our favorite time is Christmas when they have the tree lit up inside. Christmas in Pasadena is pretty special.
Pasadena City Hall | Garfield Ave, Pasadena (Google Map It)
9. Visit Plaza de Las Fuentes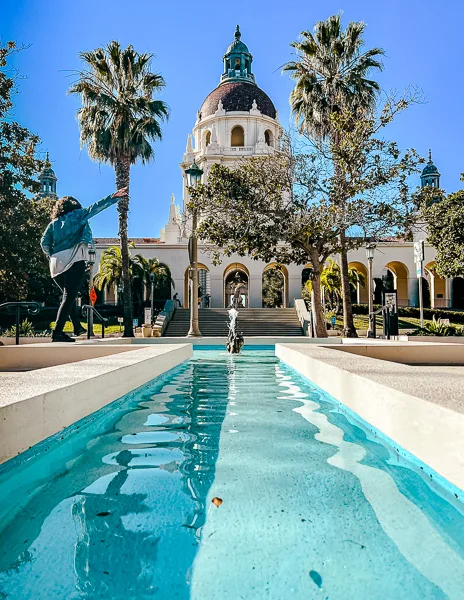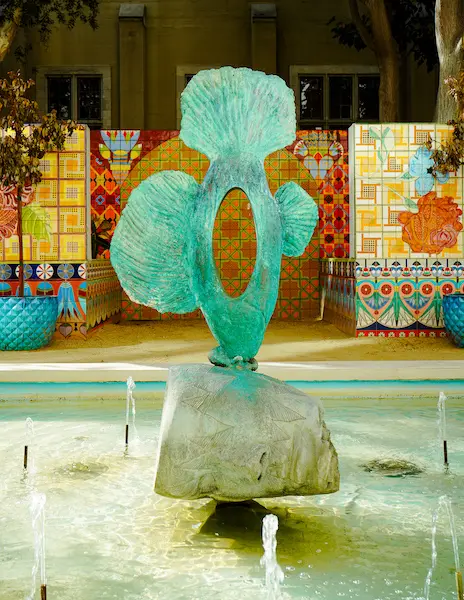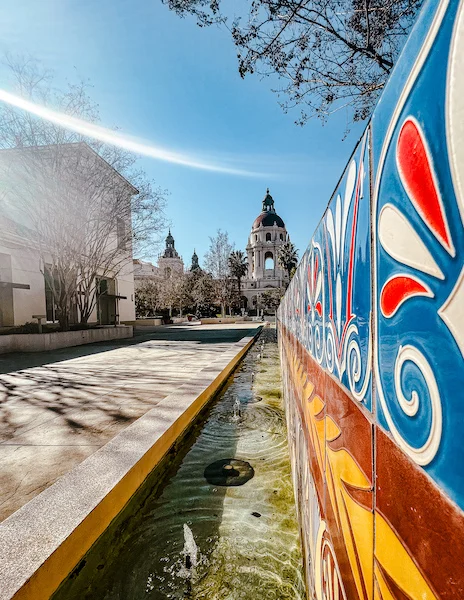 You can cross through city hall, past the fountain, and the back entrance. Across the street, on the other side of S Euclid, you'll find Plaza de Las Fuentes.
The literal translation is Plaza of Fountains. Here you'll find a beautifully designed courtyard with fountains of pools, beautiful tiled artwork, and the perfect spot to spend a quiet afternoon.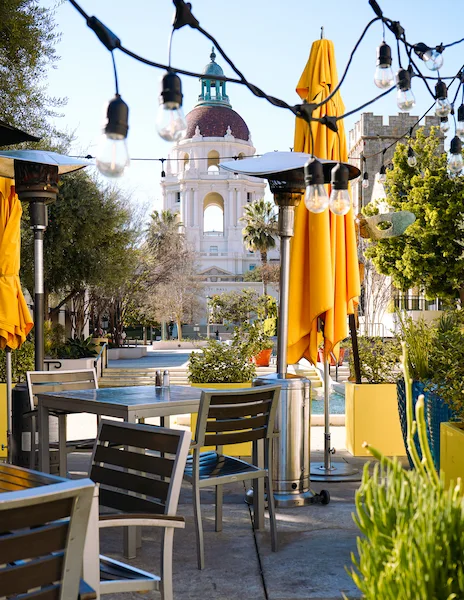 Tip: Dine in the outdoor area of California Pizza Kitchen for a fantastic view of Plaza de Las Fuentes and city hall. 
Plaza de Las Fuentes | 135 N Los Robles Ave, Pasadena | Google Map It
10. Spend the Afternoon at the Simon Norton Museum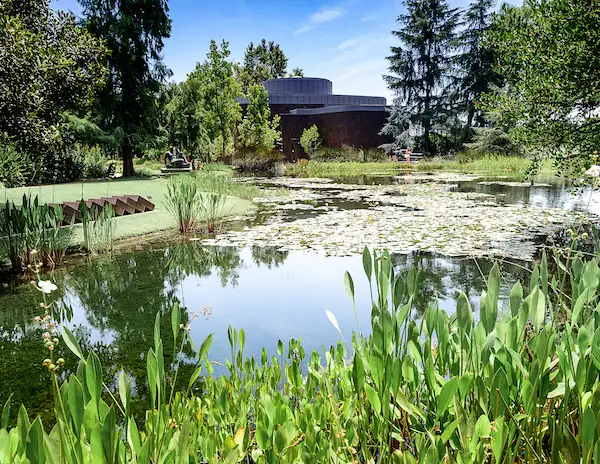 The Norton Simon Museum was previously known as the Pasadena Art Institute. It has a vast European, Asian, modern, and contemporary art collection.
The Simon Norton Museum is a Pasadena gem. It's small, but it's packed with a diverse art collection.
One of the best parts and one of the best things to do in Pasadena is its charming sculpture garden, which is one of the best things to do in Pasadena, CA. From the museum's exterior, you would never think a beautiful garden surrounded it. On a beautiful day, it's the perfect escape.
Stay up to date with the current and upcoming exhibitions.
The museum is currently closed on Tuesdays and Wednesdays.
Open from 12 pm to 5 pm.
Simon Norton Museum | 411 W Colorado Blvd, Pasadena | Google Map It
What to do in Pasadena, CA?
Pasadena is a lively and diverse city with much more beyond its historic center. Visitors can explore the beautiful architecture of the city's many neighborhoods, such as the Craftsman-style homes in Bungalow Heaven, or take a tour at Gamble House.
The city is also home to the Rose Bowl and the Rose Parade.
Outdoor enthusiasts can enjoy hiking in the nearby San Gabriel Mountains or exploring one of the many botanical gardens in the area.
Let's explore the other things to do in Pasadena.
11. The Rose Bowl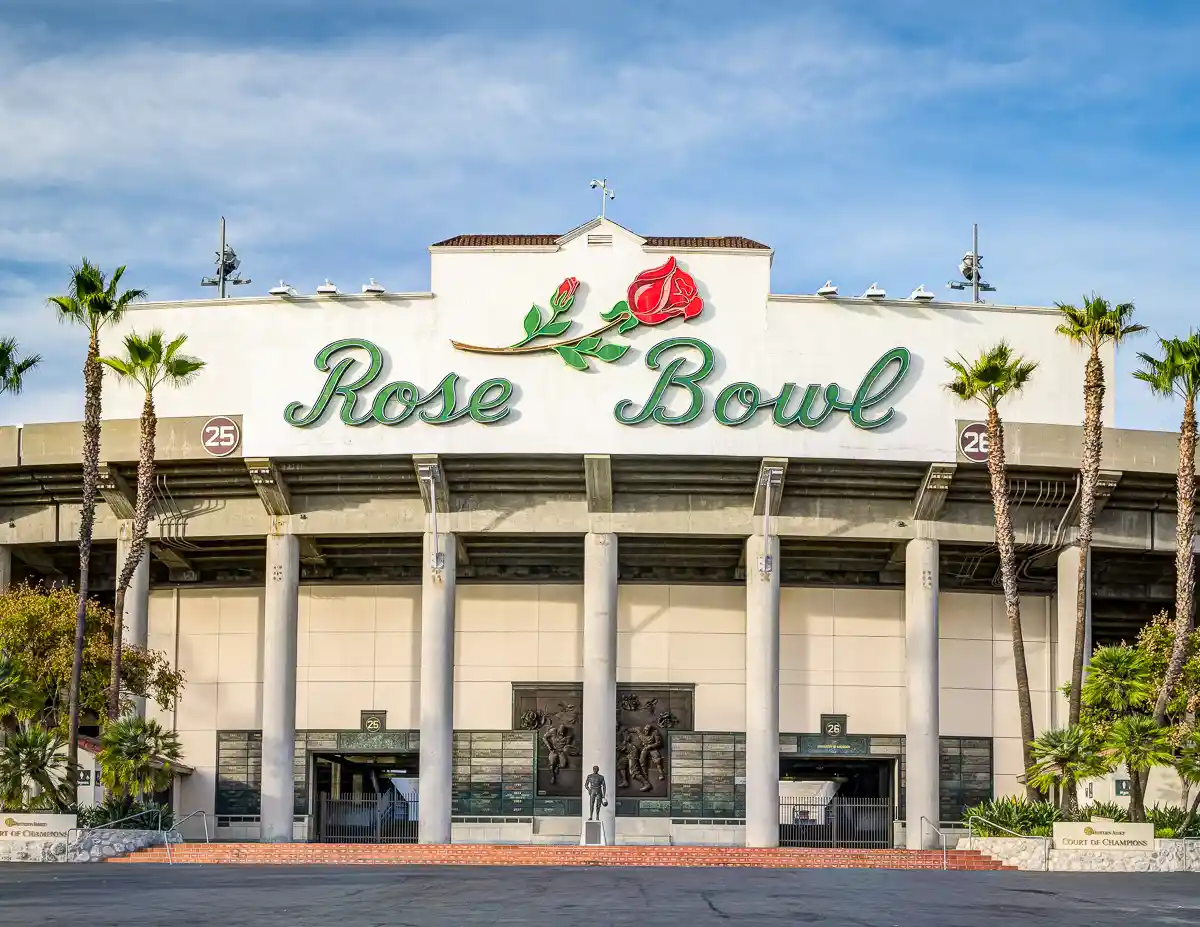 The Rose Bowl Stadium is a famous and historic American football stadium in Pasadena, California. It has been the home venue of the UCLA Bruins football team since 1982.
This National Historic Landmark hosts the annual Rose Bowl Game on New Year's Day. It starts right after the Rose Parade. The Rose Bowl stadium and its grounds are used for many events throughout the year, which locals and visitors attend to.
Concerts
Festivals
Flea Market
July 4th Amerifest Firework Display
Stay up to date with events at the Rose Bowl.
Rose Bowl Stadium public tours are available on the last Friday of every month.
As locals, we like to go to the Rose Bowl to get our steps in at the Rose Bowl loop, a great activity for the entire family.
The Rose Bowl | 1001 Rose Bowl Dr, Pasadena | Google Map It
12. Rose Bowl Flea Market
The iconic Rose Bowl Flea Market is one of the best things to do in Pasadena. This huge outdoor market occurs on the second Sunday of every month – so mark your calendars!
It's a great place to find unique treasures. You can find anything from vintage clothes to antique furniture at this market. If you're looking for a special gift for someone, this is where you'll find it.
The Rose Bowl Flea Market is worth checking out. This is a fun day out in Pasadena. Start your day here early. Especially if it's going to be a hot day, wear comfortable shoes as you'll be walking a lot.
At this time, tickets are sold online only
For more info on The Rose Bowl Flea Market: click here
13. Start Planning to Attend The Rose Parade
One of the top things to do in Pasadena is attend the Rose Parade. This New Year's Day celebration has been a local pride and joy for over a century.
This is a great family-friendly event. For locals and visitors from afar to celebrate, some begin festivities on New Year's Eve. Drive down Colorado Boulevard the morning of New Year's Eve, and you'll see people camping out to hold their spots overnight. Many traditions take place during these hours.
Confession: We do live right off the route. We can hear the festivities from our home as the New Year is rung. We even wake up on New Year's morning to the sounds of the Parade… however, we have yet to attend the parade.
What kind of local does that make me? An introvert that prefers to watch it peacefully from her warm cozy living room. What can we say? Crowds aren't for everyone.
14. Post-Parade Float Showcase
This leads me to the post-parade events.
If you can't make it to the parade, you can enjoy the fun after it by seeing the parade floats. The floats are showcased for two days. If you can't make it on Jan 1st, plan for Jan 2nd. It is fun and a great family activity that could be a yearly tradition.
Buy Rose Parade Tickets Here | Buy Post Parade Tickets Here.
15. Pasadena Farmer's Market
There are two official Pasadena Farmer markets. There used to be one in Old Town on Saturday mornings, but that has closed. If you're in the neighborhood during one of the scheduled days, this is a great place to stop up on local veggies and treats.
Victory Park
Every Saturday
8 am to 12 pm
Villa Park Center
Every Tuesday
8:30 am to 12:30 pm
16. Support Vroman's Bookstore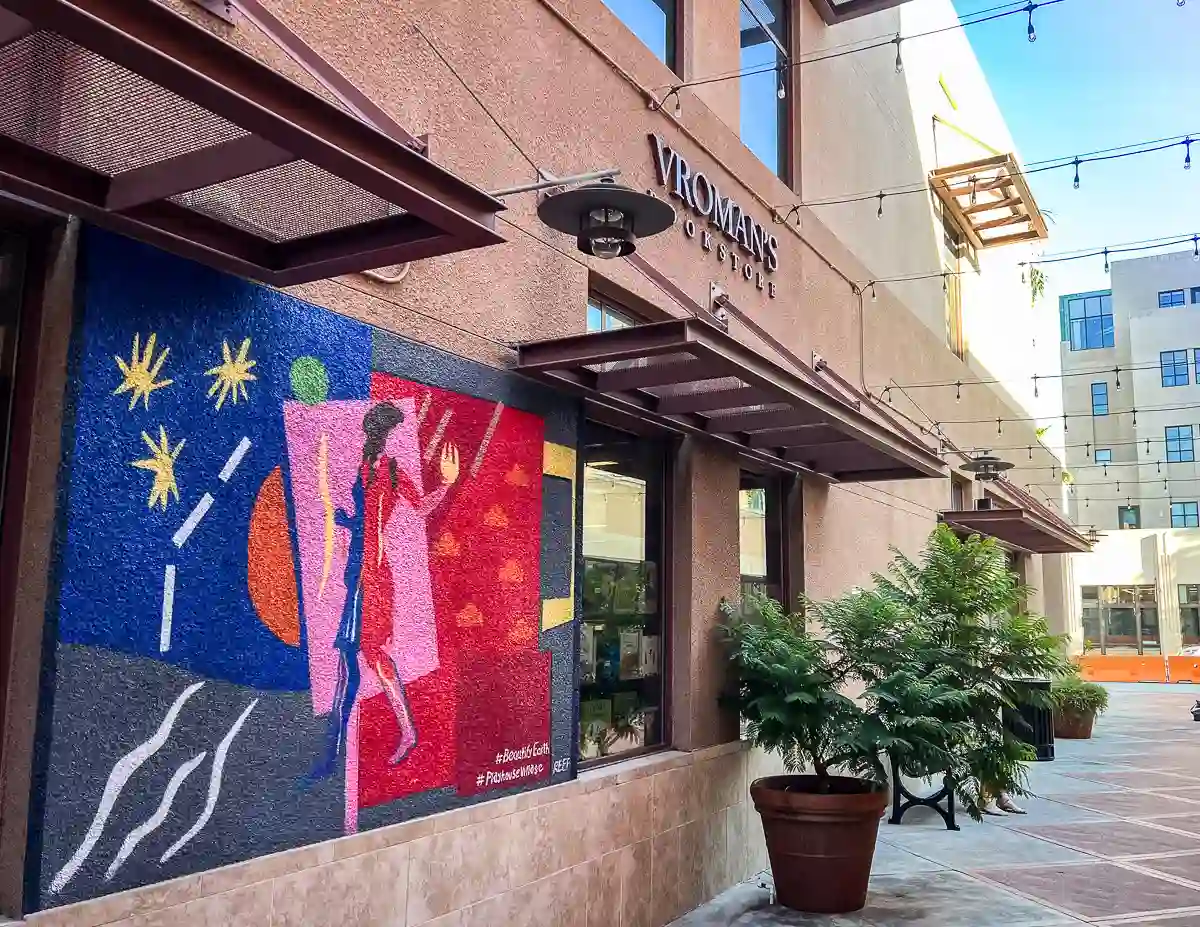 This Pasadena favorite on Colorado Blvd is a beloved spot. This bookshop was closed for in-person shopping throughout the pandemic, and we feared it would close down. If you're in the area and in the market for some books, please stop by and support one of our local bookstores.
Many events and author signings take place at Vroman's. Check here to see if one of your favorite authors will appear soon.
Vroman's Bookstore | 695 E Colorado Blvd | Google Map It
17. See a Play or Show at Pasadena Playhouse
Pasadena Playhouse is a historic performing arts theater in Pasadena, California that opened in 1925. Every year, the Pasadena Playhouse hosts a variety of concerts, events, and shows. With 686 seats, it's the perfect size for a cozy and intimate experience.
If you're looking for a great night out in Pasadena, check out what's playing at the Pasadena Playhouse: tickets & events.
Pasadena Playhouse | 39 S El Molino Ave, Pasadena | Google Map It
18. The Huntington Library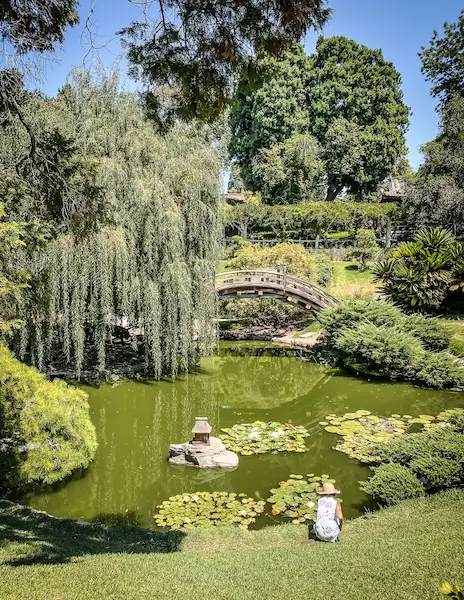 The Huntington Library is another great reason to visit Pasadena. This extraordinary institution is a research library and an art museum with botanical gardens. Fourteen gardens, to be exact.
You can spend the day here absorbing everything in their galleries and then wandering into their 14 gardens to be transported into another world.
The Huntington Library is a beautiful place to visit at any time of year. However, if you are wondering when it would be best to visit, we recommend going in the Spring and Summer when everything is in bloom.
Open from 10 am to 5 pm.
Closed only on Tuesdays.
Reservations are required for weekends only and Monday holidays.
You can make weekday reservations in advance for faster check-in.
The Huntington Library | 1151 Oxford Rd, San Marino | Google Map It
Top Parks and Gardens in Pasadena
Discover the beauty of nature in Pasadena. Here is a list of the top parks and gardens in the city, perfect for a relaxing day out. From peaceful gardens to sprawling parks, you'll find your ideal spot.
19. Go shopping at The Shops on Lake Avenue
Looking to do some more shopping? Visit the shops on South Lake Avenue. You'll find large retailers, boutiques, small shops, and a ton of great eateries here.
Don't miss Pasadena Commons. A charming nook off of Lake Ave with some fantastic dining like Dan Modern Chinese, Mercado, Philz Coffe, and more.
The Shops on Lake | 345 S Lake Ave, Pasadena | Google Map It
20. Discover the Boutique Shops at The Burlington Arcade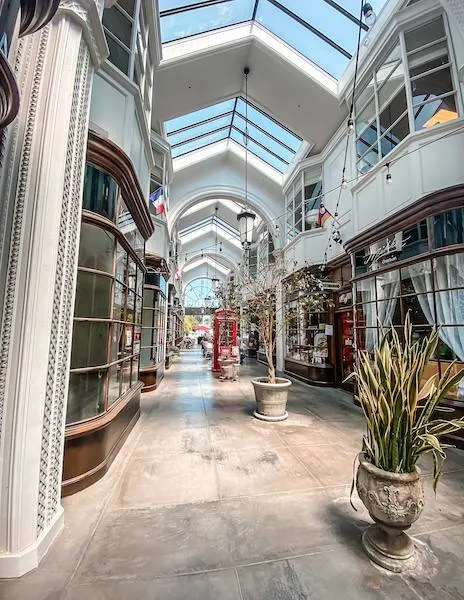 We'd call this a hidden gem in Pasadena. You don't know it's there until you're strolling down Lake Avenue and come across what we call the "secret nook." This is exactly how we discovered it a couple of years after living here.
There isn't much to do here besides visiting the little boutique shops or stopping by Float for a delicious rootbeer float and sandwich. Walking through feels like you're transported abroad for a few minutes. However, I thought I'd include this for anyone that appreciates beautiful architecture and a London red telephone booth.
Top Foodie Pick: Check out this charming and delicious shop, Float.
The Burlington Arcade | 380 S Lake Ave, Pasadena | Google Map It
– Don't Miss: Where to Find Delicious Burgers in Pasadena –
21. Go hiking at Eaton Canyon Trail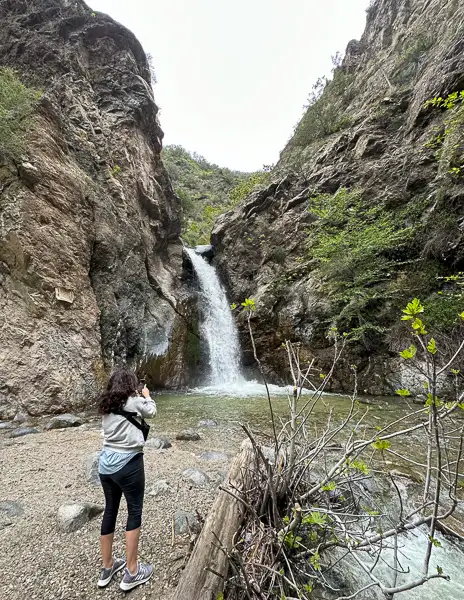 This popular local trail is moderate and leads to a pretty waterfall. The Eaton Canyon Falls trail is about 4 miles round trip. Depending on which day you go, expect it to be heavy traffic.
This is the one trail we thoroughly enjoy because we can get through it and not feel that we will not make it. The scenery is great, and the beat is you'll reach a waterfall. On a good day after a rainy season, it's a glorious sight.
It is dog-friendly. But be advised that you may see wildlife in the area while hiking. Eaton Canyon is a natural and wildlife-preserved area.
Eaton Canyon Nature Center | 1750 N Altadena Dr, Pasadena | Google Map It
22. Stroll Descanso Gardens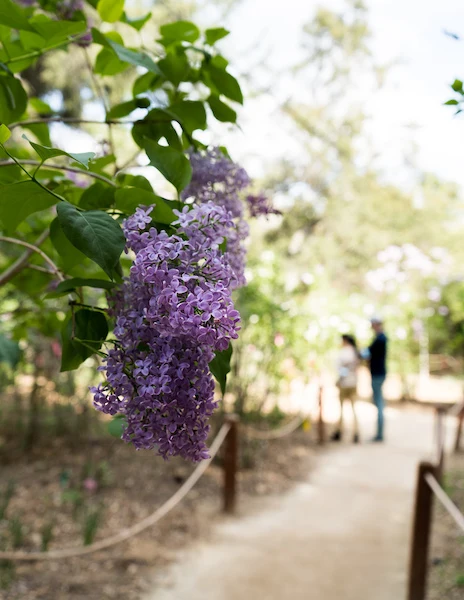 Located not far in the neighboring town of La Canada Flintridge, the Descanso Gardens is a botanical garden open all year round. With 150 acres to explore, it is a great family-friendly activity that everyone will enjoy.
Every year we look forward to attending a few of their most loved events:
Fall and Halloween: Carved
Holiday Event: Enchanted Forest of Lights
Advanced tickets are required for non-members.
Open Monday – Friday from 9 am to 8 pm. Saturday and Sunday, 9 am to 5 pm.
On the first day of the month, FREE tickets are available for advanced reservations for the first Tuesday of every month. See more info here.
Descanso Gardens | 1418 Descanso Dr, La Cañada Flintridge | Google Map It
23. Take the Kiddos to the Kidspace Children's Museum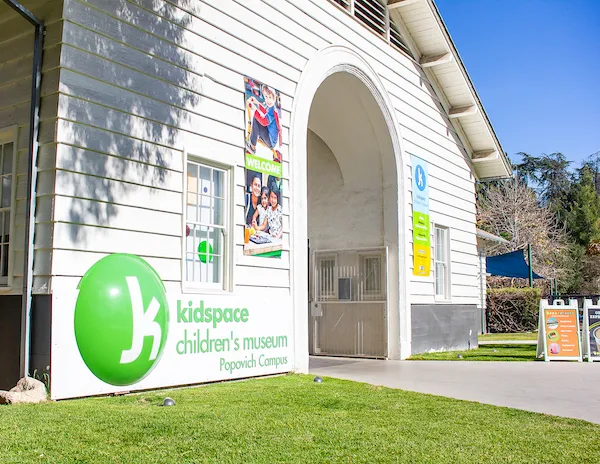 The Kidspace Children's Museum is one of my niece's favorites. Not only because it's a wonderful interactive museum for children, but it also has two great parks right across from it: Brookside Park and Rose Bowl Children's Playground. You can imagine my in-laws would start at the park and end at the museum or vice versa.
This museum usually has many hands-on and active activities for children. Your child will have fun, make discoveries and experience a few adventures like riding a tricycle through Tike Tracks, walking a rope bridge, and more. Everyone will leave happy, and the children will fall asleep on the car ride home.
Tip: Bring a change of clothes and a towel for the kiddos.
Advanced reservations are required.
Top Foodie Pick: Hit up the Luggage Room Pizzeria.
Kidspace Children's Museum | 480 N Arroyo Blvd, Pasadena | Google Map It
24. Visit The Gamble House
The Gamble House is a historic house museum preserved to showcase the architectural design of the American Craftsman. It is one of many craftsman homes designed by brothers Charles and Henry Greene in Pasadena.
If you're an architectural lover, this one-hour tour of this historic home may interest you.
Fun fact: The Gamble was featured as Doc Brown's house in Back to the Future. 
Top Foodie Pick: Eat breakfast, lunch, or dinner at the local fave La Grande Orange Cafe.
The Gamble House | 4 Westmoreland Pl, Pasadena | Google Map It
– Don't Miss: 8 Must-Visit Museums in Pasadena –
25. Check out The Colorado Street Bridge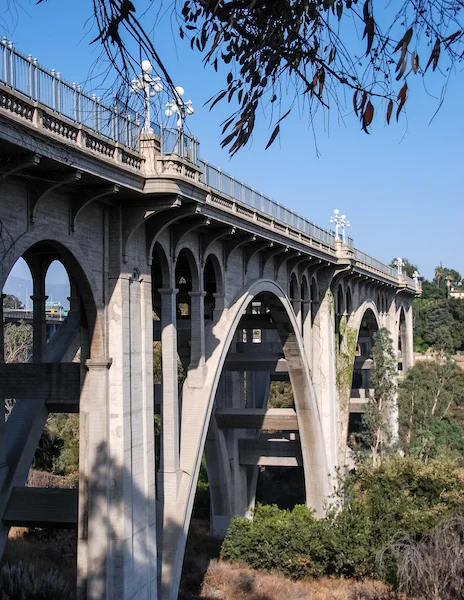 The Colorado Street Bridge is one of my favorite architectural landmarks in Pasadena. Every time I drive back to Pasadena, I can't help but admire it from the 210 freeway.
Sadly, it doesn't have the greatest history throughout the years, which I will not get into here. However, it is worth a look or a drive over this beautiful bridge.
26. Desiderio Neighborhood Park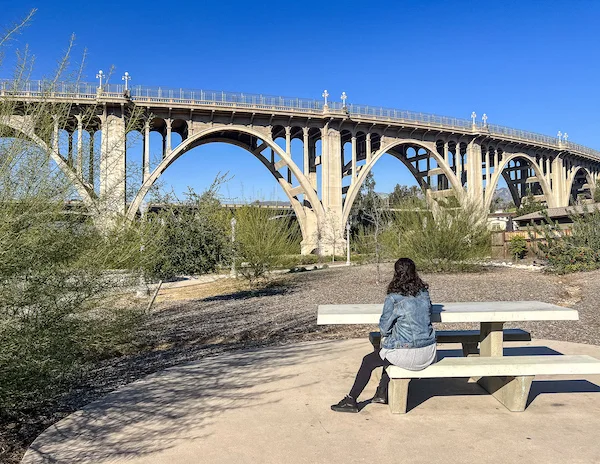 To get a safe and beautiful view of Colorado Street Bridge, visit Desiderio Neighborhood Park. This is one of my favorite parks in Pasadena because of the view of the bridge. You could visit, have a picnic or take a stroll through this small park as you admire the bridge's arches and architectural details.
The park is located in Lower Arroyo. There is a playground, a few picnic tables, and a public restroom.
Desiderio Neighborhood Park | 10 N Arroyo Blvd, Pasadena | Google Map It
Top Things to Do in Los Angeles, CA
What to do in Los Angeles? Come and walk amongst the stars on Hollywood Blvd. See the spectacular views of Los Angeles from the Griffith Observatory. Eat your heart out at Grand Central Market. Visit the Original Farmer's Market. See the best attractions in LA to plan a memorable visit.
27. Go Ice Skating at the Pasadena Ice Skating Center
After being closed for some time due to the pandemic, the Pasadena Ice Skating Center is now open.
While this ice skating rink is used for lessons, ice hockey, and other events, you can find on their schedule; they are open for public skating. You can also rent the rink for groups and parties.
Pasadena Ice Skating Center | 300 E Green St, Pasadena | Google Map It
28. Find Nostalgia at Fair Oaks Pharmacy Soda Fountain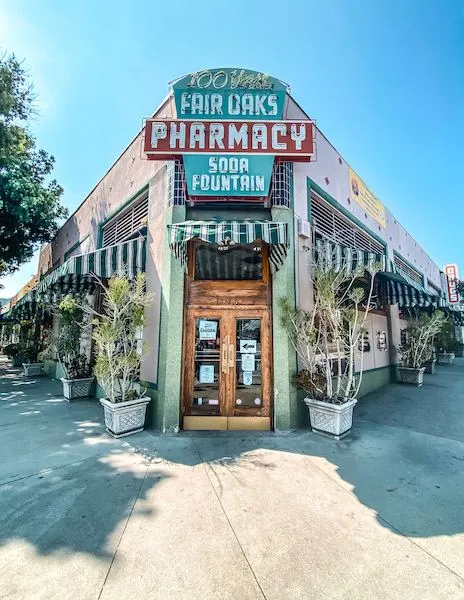 This old-school soda shop is located in South Pasadena, and it is one of our favorite spots to take first-time visitors because it is filled with so much nostalgia. While it is still a working pharmacy, its old-fashioned soda fountain counter is a blast from the past.
Bring the kiddos for ice cream. Check out all the classic toys, candies, and gifts.
And yes, this is still a working pharmacy.
Currently closed on the weekends.
Open weekday afternoons only.
Fair Oaks Pharmacy | 1526 Mission St, South Pasadena | Google Map It
29. Ice House Comedy Club
Located on Mentor Ave, Ice House Comedy Club is a great date night or night out with friends. What more could you ask for a couple of drinks and some laughs?
This comedy venue has been around since the 1960s. It is one of the first and oldest comedy clubs in America. It was recently updated and is now open to the public.
The Ice House | 24 N Mentor Ave, Pasadena | Google Map It
30. Enjoy a Ballet Performance by the Pasadena Civic Ballet
Not until recently did we know that Pasadena has its own ballet company, the Pasadena Civic Ballet. I saw their Instagram feed and adored their Wizard of Oz promotional spots around Old Town. Since then, I've been a fan.
If you're a fan of ballet performances, check to see what upcoming events they have. It can be a great date or family night out. This talented group shouldn't be missed.
31. Check Out The Paseo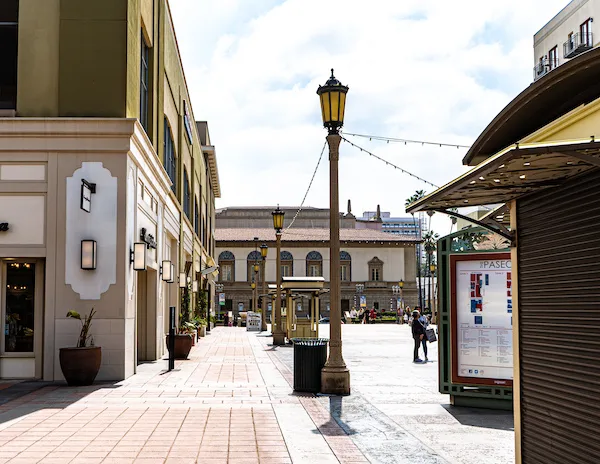 The Paseo is an outdoor mall in Pasadena with shops and restaurants. It can be a great place to start when looking for something to do in the city. This is where we first started our trips in Pasadena. We'd come here to see a movie at the Arclight, which unfortunately closed down recently (it's missed).
The Antique Mall here is cool to visit. Great Maple is great for drinks and a sinful lunch. Yardhouse has a yummy late-night menu with a variety of beers.
The Paseo | 280 E Colorado Blvd, Pasadena | Google Map It
– Don't Miss: Great Spots for Lunch in Pasadena –
32. See a Movie at Landmark Pasadena Playhouse
Landmark purchased Laemmle's Playhouse 7. This neighborhood theater received a full makeover and recently reopened as Landmark Pasadena Playhouse theater.
You can now watch the latest films and independent movies at the Landmark Pasadena Playhouse in spacious and comfortable lounger seats that recline. It's a 7-screen theater; however, the auditoriums are not huge but small and cozy.
We suggest booking tickets in advance if you plan to see a movie on the weekend.
Note: Parking is behind the theater and Vroman's off Union St and N Oak Ave.
Laemmle's Playhouse | 673 E Colorado Blvd, Pasadena | Google Map It
33. Take a Pasadena Walking Tour
Want to learn more about Pasadena? Book a guided walking tour with Pasadena Walking Tours. Every week they have 1-2 different tours exploring Pasadena and also another tour exploring the haunted side of Pasadena. Sometimes there is even a tour available for South Pasadena.
Check their calendar for more info on dates and times: click here.
Cost: $25 pp
Tours are 2 hours
Where to Stay in Pasadena
Planning a little local getaway to Pasadena? Landing in LAX, but planning to stay outside the city of Los Angeles? What's wonderful about Pasadena is that its own city in the center of everything.
The Langham
The Langham is a luxury resort hotel right by the San Gabriel Mountains. If you're looking for a relaxing couple of days away, this hotel is for you. This iconic hotel has gorgeous rooms, a spa, a pool, and 23 acres of lush grounds that make you feel like you're on vacation.
Personally, we have not stayed here yet. It is our goal to do a staycation here soon. But when our cousin was making a stopover in LA on his way to his honeymoon in Hawaii, we recommended The Langham. He and his wife raved about their short stay.
It's probably one of the most beautiful Pasadena hotels we've been in. We love that it's little ways away from the hustle and bustle of downtown Pasadena.
The Langham | 1401 S Oak Knoll Ave, Pasadena | Google Map It
Book a Hotel Room
Marriott Courtyard Old Town Pasadena
Prefer to be in the heart of it all?
The Marriott Courtyard is in the heart of downtown Pasadena. It's a great hotel if you prefer to keep restaurants and shops within walking distance.
If you're not planning on renting a car, you can easily take an Uber here to some of the attractions above.
Marriott Courtyard | 180 North Fair Oaks Avenue, Pasadena | Google Map It
Book a Hotel Room
FAQs
Where is Pasadena located in California?
Pasadena is located in the San Gabriel Valley in Los Angeles County, California. It is about 11 miles northeast of downtown Los Angeles.
How far is Pasadena from Los Angeles?
Depending – because this is LA- it's around 20-30 minutes from the city of Los Angeles to Pasadena or vice versa. Alternatively, you can take the Metro Gold Line train from Union Station in Los Angeles to Pasadena, which also takes 20-30 minutes.
What is Pasadena famous for?
While Pasadena is well known for several things, it is most notably known for the Rose Parade and Rose Bowl Game on New Year's Day.
Is Pasadena worth visiting?
Yes. Pasadena is a city full of history, fun things to do, beautiful architecture, and amazing restaurants. It's a city that worth exploring and spending time in.
What are the top attractions to visit in Pasadena?
A few top attractions in Pasadena are Old Town Pasadena, Rose Bowl, Norton Simon Museum, Gamble House, Huntington Library, and Descanso Gardens.
When is the best time of year in Pasadena?
It's always a great time to visit Pasadena. One of our favorite times of year is the holidays. After living in the South Bay area of Los Angeles for almost ten years, it never felt like Christmas. Not unless we visited the Grove. Once we moved to Pasadena and experienced our first Christmas here, it was the first time we truly felt the holiday spirit since moving from New York.
And then Spring in Pasadena is another beautiful time of year to visit. Everything is in bloom again in the Spring. As you drive along the Colorado Street bridge, the city's signature pink trumpet trees will surely win over your heart.
Superb Pasadena Restaurants You Need to Try
Pasadena, California, is known to have one of the best food scenes in Los Angeles. New cafes, eateries, and restaurants in Pasadena are opening monthly. We've gathered a list of superb Pasadena restaurants you should have on your radar when exploring Los Angeles.
We hope you found something that piqued your interest in this list of what to do in Pasadena.
What plans will you be making? What are you looking forward to the most?
This is just a small part of what this great city offers. Make sure to bookmark it for future reference.
Share the tips & love on Pinterest: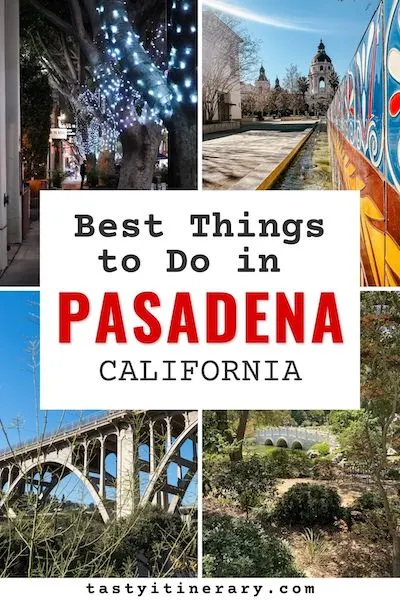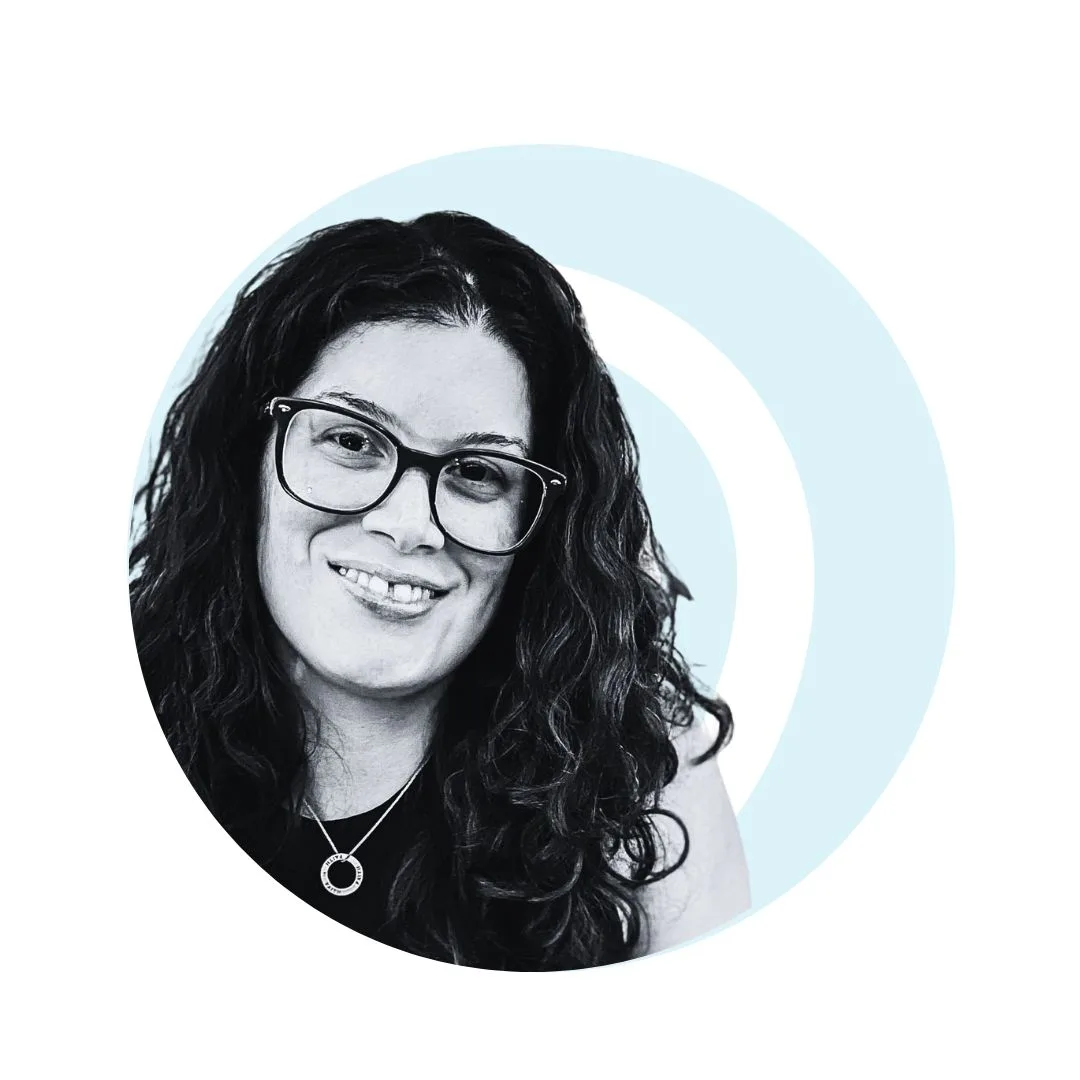 Meet Kathy Ava – a food, travel, and cruise writer based in Los Angeles/Pasadena. With over 20 years of experience planning trips and logistics at her full-time job and for herself, she's become a pro at crafting unforgettable travel itineraries. She's always looking for delicious, fun cruise itineraries and travel destinations and is slightly obsessed with Italy. Her passion and curiosity for travel started in childhood on her yearly and sometimes bi-yearly trips to PR. She firmly believes that life is short and we must make the most of it – so let's explore the world and make some incredible memories.