Looking for delicious places to eat in Pasadena, California?
As foodies, my husband and I were happy to make Pasadena our home over 8 years ago. One of the many reasons we fell in love with this city is the incredible variety of dining options available.
Whether you're in the mood to have coffee at a cozy cafe, try a different cuisine, eat at an upscale, restaurant, hit up a food truck, or hole-in-the-wall spots… Pasadena has it all – and more!
For us, dining out is more than just a meal – it's an adventure. We relish the opportunity to sample new flavors, experience different cuisines, and connect with the local community. And in Pasadena, there's no shortage of opportunities to do just that.
New places to eat in Pasadena are opening all the time! We try our best to try them all. Which sometimes is quite a fun feat.
Of course, we have our own preferences when it comes to food. We both love carbs, eat meat, and rarely say no to dessert, but hubby is not a fan of fish (while I love it!). Despite our differences, we're both open to trying new things and expanding our palates.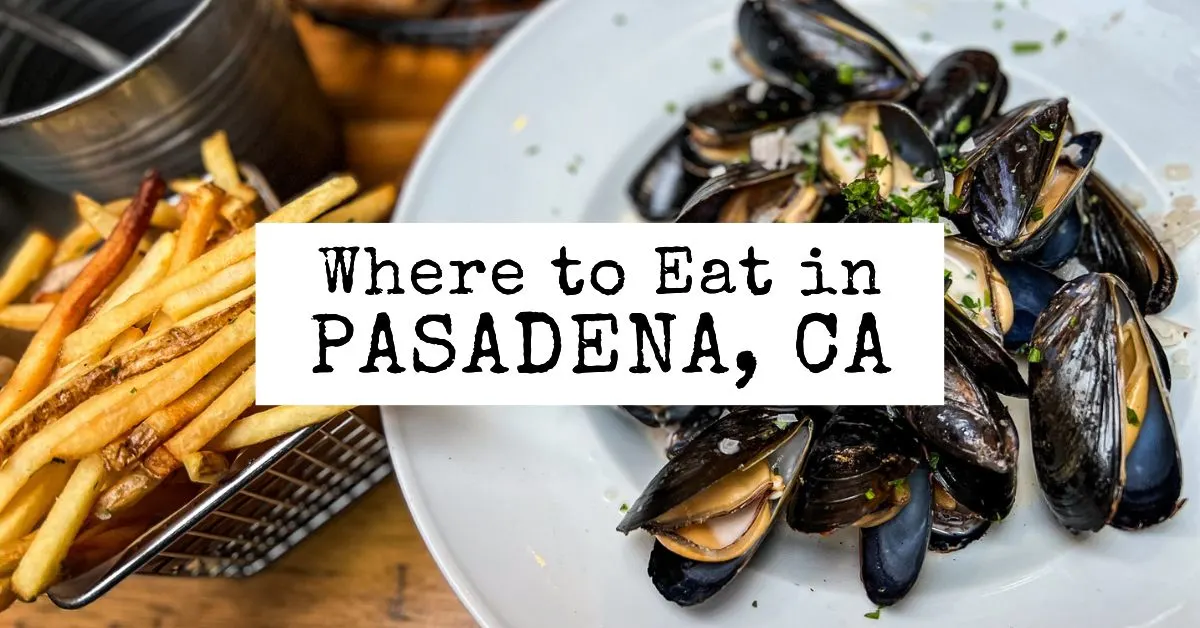 In this guide, we are sharing some delicious places to eat in Pasadena. You find a mix of hole-in-wall spots, quick takeout spots, food trucks, casual sit-down dining, and some upscale restaurants that won us over the years.
The following restaurants are some of our top picks for dining in Pasadena. We've listed them in no particular order, and we're not endorsing them because of their popularity or any fancy accolades they may have received. These are simply the places that we love to eat at and that we think you'll enjoy too.
No need for Tripadvisor or Yelp.
As locals, we genuinely love to eat at these Pasadena establishments and share them with others.
Other related reads to check out before you leave:
Places to Eat in Pasadena, CA
1. Amara Café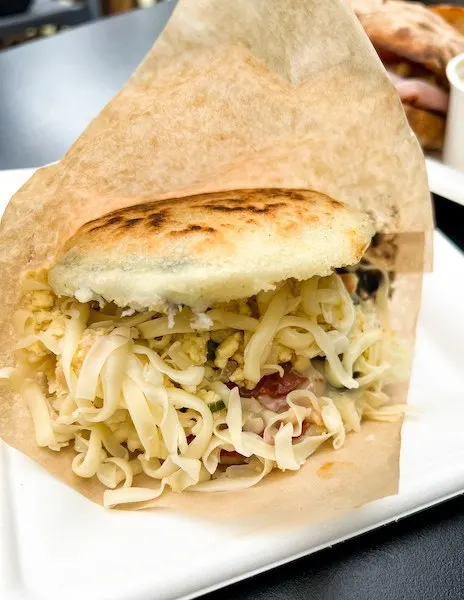 Are you a fan of South American cuisine? Or you're looking to try something special?
Amara Café is a remarkable cafe in Old Pasadena serving delicious Venezuelan dishes, empanadas, real Spanish churros, and exceptional coffee and hot chocolate.
You'll want to get here early or that sweet spot between breakfast and lunch, which is mostly open for breakfast and brunch. This is a great place to meet up with a friend for a quick bite to eat, where the food served packs a punch of flavor.
Also, a great place to grab a fabulous latte and a snack, like churros or an empanada, to go for your walk around Old Pasadena.
Foodie Favorites: The Pa'l Pana arepa and the churros.
Amara | 55 S Raymond Ave, Pasadena | Google Map It
2. The Arbour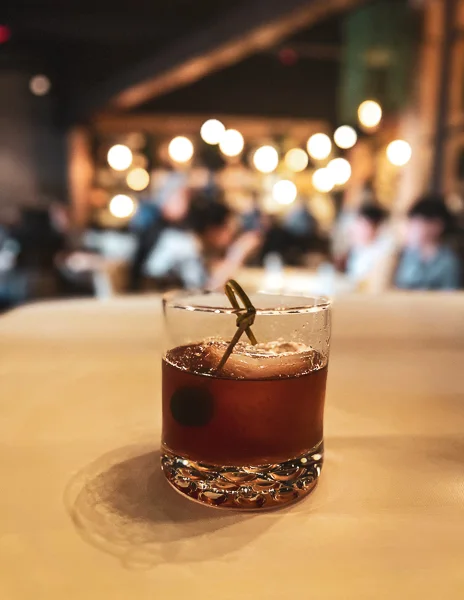 The Arbour is a lovely chic restaurant on Lake Ave serving farm-to-table dishes. Their simple but tasty menu makes it easy to choose from.
This Pasadena restaurant is a great spot for date night with its charming and intimate setting. And, the food is excellent.
We were pleasantly surprised at how amazing the buccatini alla vodka was, a dish we are quite picky about.
Their crafted cocktails, like the cherry old fashioned was on point. They have a beautiful full bar.
One unique appetizer on the menu is the beef chili with a beef fat candle.
Reservations recommended.
Foodie Favorites: The buccatini alla vodka as an entree and then an apple strudel for dessert.
The Arbour | 527 S Lake Ave #120, Pasadena | Google Map It
3. Oseyo Shabu Shabu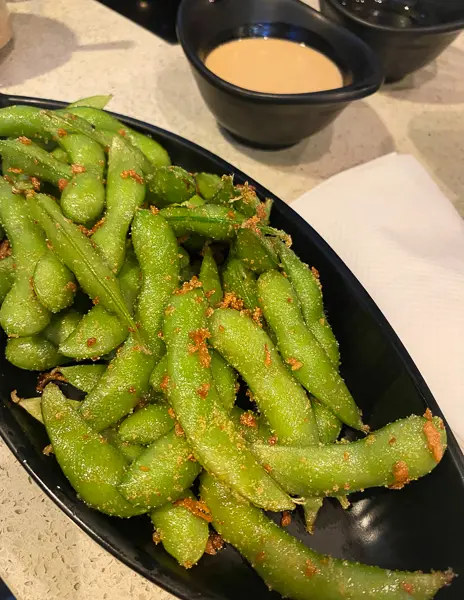 This local Japanese hot pot restaurant is a fave. Especially during the winter when it's cold, gloomy, and rainy. Their savory broth is comforting and hot, you warm up quickly.
What is shabu shabu or hot pot? It's boiling water or a broth served with a side of vegetables, noodles, and thinly sliced meats or fish. You get to cook your meat in vegetables in that broth. The meat is thinly sliced it cooks quickly once you dip it into the boiling soup base. Depending on the cut you order, it will be very tender.
Oseyo serves one of the best miso broths. You can get it spicy as you want or not at all. They have another couple of broths you may choose from. We stick to the miso.
They have different cuts of meats you can choose from ribeye, chicken, and lamb. You can also order seafood. Rice and vegetables are provided, along with some dipping sauces.
Sometimes they'll have a special dinner for two, including drinks and dessert.
Foodie Favorites: Start with the garlic edamame. We order the choice ribeye or vintage prime rib eye as it is so tender.
Oseyo Shabu Shabu | 2879 E Colorado Blvd, Pasadena | Google Map It
4. Dots Cafe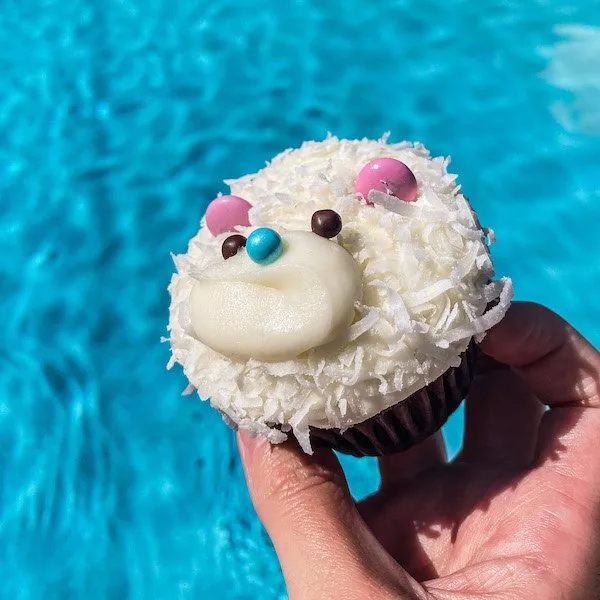 Dots cafe is another neighborhood favorite. This cheery spot is one of those places you step inside, and immediately, your mood brightens. The fun, colorful decor and positive vibes add to their delicious menu.
They have an amazing coffee selection, baked goods, my favorite local cupcakes, and scrumptious food. We order plenty of cupcakes and takeout from here.
Every week, they post new and weekend menus for family meals you can order in advance and pick up for dinner. Perfect for those nights you don't want to cook.
Dots has a second location for their cupcakes, Dot's Cupcakes, in Old Town Pasadena.
Foodie Favorite: Their cupcakes are my kryptonite.
Dots Cafe | 3819 E Colorado Blvd, Pasadena | Google Map It
– Don't Miss: Best Cafes and Coffee Shops in Pasadena –
5. Russell's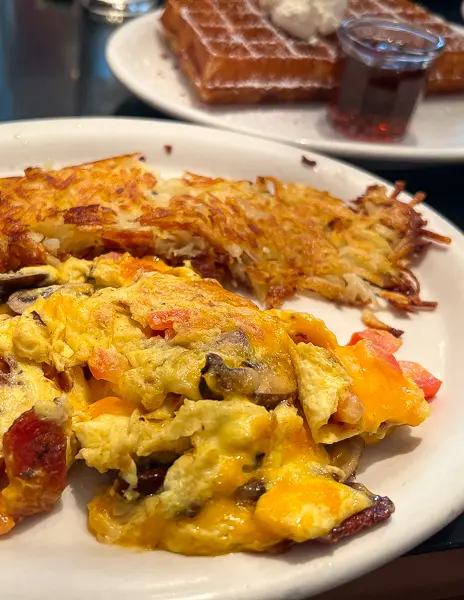 Russell's is a local go-to breakfast and brunch spot. Everything you order at Russell's is delicious. The staff is friendly, and the service is always great.
Recently, we went after months of lockdown, and we were so happy they had outdoor seating that we almost cried. It was our first brunch out in months.
It's usually pretty busy, and the wait can take some time, but it's worth it. If a spot is open at the counter, sit! It's first come, first serve at the counter.
Foodie Favorites: You won't go wrong with ordering omelets, the Croque Madame, Belgium waffles, and pancakes.
Russell's | 30 N Fair Oaks Ave, Pasadena | Google Map It
-Don't Miss: Fantastic Spots for Breakfast and Brunch in Pasadena–
6. Pie 'n Burger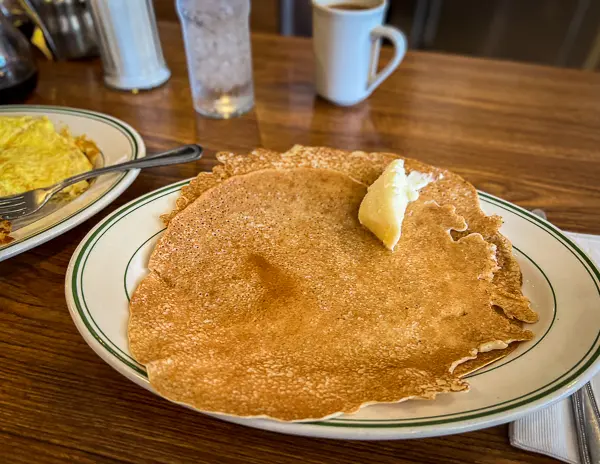 Where can you get the best hamburger in Pasadena, CA?
Everyone always says, if you visit California, make sure to eat In-N-Out. Sure. I agree. I sometimes love a good drive-thru burger, and In-N-Out is the best fast food burger. However, if you want an old-school classic and delicious burger, you must check out Pie 'n Burger.
This Pasadena burger spot is a neighborhood favorite. It's been in the same location since 1963. And it is a regular classic burger joint with a menu board on the wall.
Not only do they serve burgers, but they also have the most fabulous pies, shakes, and cakes around.
We are here at least once a month. If we don't make it for burgers, we'll pick up a couple of pie slices to take home.
Every Thanksgiving, we order apple pie in advance. Expect to find lines around the corner for pick-ups for the holidays.
If anything, stop by for a slice of pie.
Foodie Favorites: Our go-to order is a cheeseburger with grilled onions and well-done fries with a side ranch. The boysenberry pie with whip cream, although all their pies are good. For breakfast, their thin pancakes!
What do you need to know? It's cash only.
Pie 'n Burger | 913 E California Blvd, Pasadena | Google Map It
Don't Miss: 11 Spots for Mouthwatering Burgers in Pasadena
7. Roma Italian Market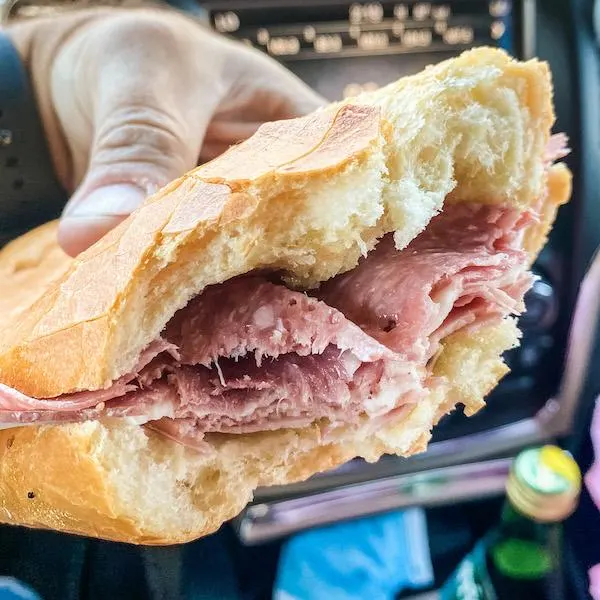 Roma Italian market serves one of the best Italian sandwiches in Pasadena. This 70+ year old market is a Pasadena landmark.
This market, the owner, and the sandwich have quite a history and story.
As told by this LA Times article, it all started when he was asked to make a sandwich that wasn't on the menu. After begrudgingly making this sandwich for the customer the next day, he had new customers asking for this sandwich.
Now he sells 600+ of this one sandwich per day.
This is one of our favorite spots to grab a quick bite, and it is always the sandwich. It is delicious and reminds us of the quick sandwiches we'd pick up on the run in Italy.
The bread is reminiscent of the Italian bread we'd pick up at an NYC Italian bakery. The crust is crispy and flaky on the outside and perfectly soft and chewy on the inside. The mix of tender and thinly sliced Italian cold cuts tender – my favorite way to have cold cuts.
We love supporting this local market and the 80+-year-old owner that is there every time we go. He has freshly baked bread, great frozen ravioli, international treats, cookies, and fruit and vegetables. I always seem to leave with a pack of cookies.
Expect a line at the deli. It goes fast, and it is worth it.
Foodie Favorites: The sandwich. They are pre-made and ready to go. Made fresh throughout the day.
Roma Italian Market | 918 N Lake Ave, Pasadena | Google Map It
8. Entre Nous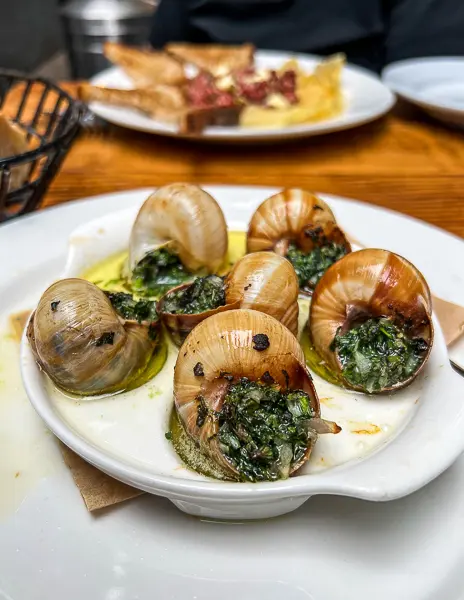 It took just one dinner at Entre Nous for it to land on my list of favorite places to eat in Pasadena, and it continues to be at the top of our list.
The restaurant had us the moment we entered, from the French host and waiter to the charming and delightful atmosphere. The French movie posters on the walls were a nice added touch.
Located on West Green Street, this French Bistro could easily be missed if you don't explore past Colorado Blvd.
The French food here is excellent. From the brie en croûte, escargot, the mussels, ribeye steak and desserts, we love it all. There is nothing we don't love here, and it feels like we are back in France, even if just for a little while.
Foodie Favorites: It's so hard to choose! The escargot is a top appetizer if you want to be adventurous. If you love melty delicious cheese, the brie en croûte was fantastic. The mussels are excellent. If you're a meat-eater, the ribeye with the pomme frites or the filet mignon are also great choices we enjoyed them immensely.
Entre Nous | 119 W Green St, Pasadena | Google Map It
9. Tomato Pie Pizza Joint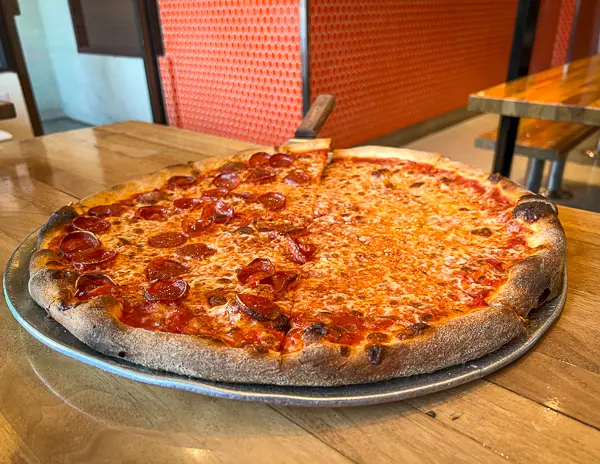 Tomato Pie Pizza Joint in South Pasadena has the best NY-style pizza around. We say this as New Yorkers living in LA.
They prepare hand-tossed thin-crust pizza that is cooked directly in their brick oven. No screen! Which makes the thin crust slightly crisp, and you taste char from the oven. And we always order it well done.
Everything about their pizza, from their sauce, cheese, and crust, makes it a superb pie. You won't be disappointed.
Plenty of this seating inside and outside this restaurant. And their outside restaurant has a great colorful mural.
Foodie Favorite: Large authentic New York-style pizza, well done, and garlic knots.
Tomato Pie Pizza Joint | 1130 Mission St, South Pasadena | Google Map It
–Don't Miss: Best Pizza in Pasadena, California–
10. Magnolia House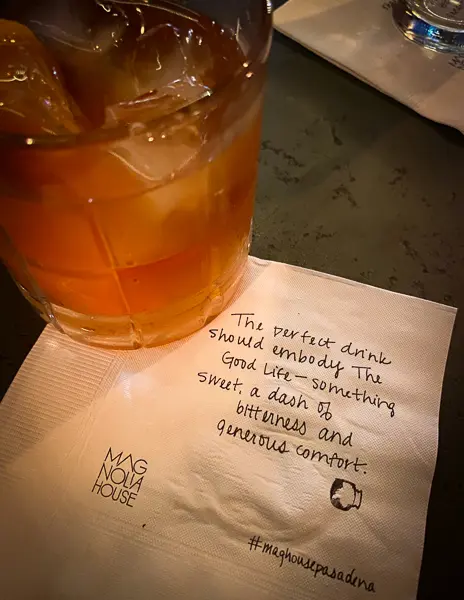 Magnolia House is an open-air and cozy craftsman turned into a cocktail bar on Lake Ave. Not only does this establishment have fabulous drinks, but its menu of small plates is more than that.
For the longest time, we thought it was simply a bar. I enjoy a well-prepared Old Fashioned cocktail, but I need food.
One day, I saw them advertise their Tuesday special, Old Fashioned, and a burger for $20, and out of curiosity decided to check their menu. Lo and behold, they serve weekend brunch and weekly dinners.
We now frequently eat at Magnolia House, which has quickly become one of our favorites. Even though hubby doesn't drink, he loves the food here and doesn't mind the trendy, relaxed cocktail hour vibes it has. We love it.
Foodie Favorites: The fried chicken sandwich and the burgers are seriously good.
Magnolia House | 492 S Lake Ave, Pasadena | Google Map It
11. New York Chicken & Gyro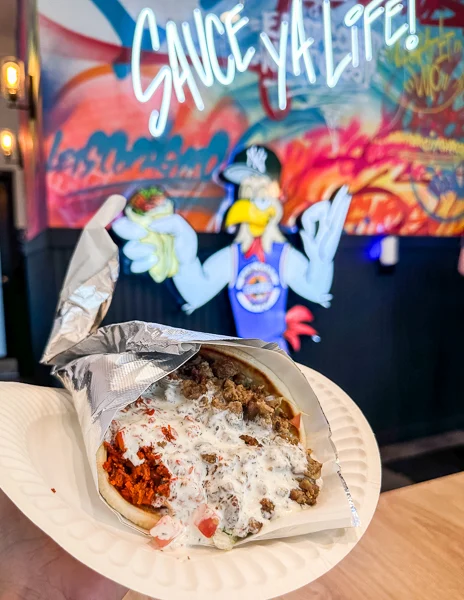 New York Chicken & Gyro is one of Pasadena's newest additions on Green Street, serving up some delicious gyros that left us pleasantly surprised and wanting more.
Being originally from the East Coast, we were initially wary it would taste nothing close to gyros in New York, but they hit it out of the park. The meats are tender and flavorful. They aren't shy about the quantity of meat, so you get what you pay for.
You can expect them to sauce it up with their tzatziki, made from sour cream and not Greek yogurt. A twist we weren't sure about, but you don't know until you taste it. It works! We asked for extra tzatziki even though there was enough on the gyros.
You also can't forget their in-house hot sauce that adds another level of flavor.
Foodie Favorites: The combination of chicken and lamb gyro was our favorite. At every bite, you had the tenderness and delicious fattiness from the lamb mixed with the chicken that is so well seasoned and full of flavor that I would eat it on its own.
Get a side of falafels. They are tasty and have a nice crispiness on the outside.
This is one of those delicious places to eat in Pasadena that we will visit frequently.
NY Chicken & Gyro | 961 E Green St, Pasadena | Google Map It
12. Ramen Tatsunoya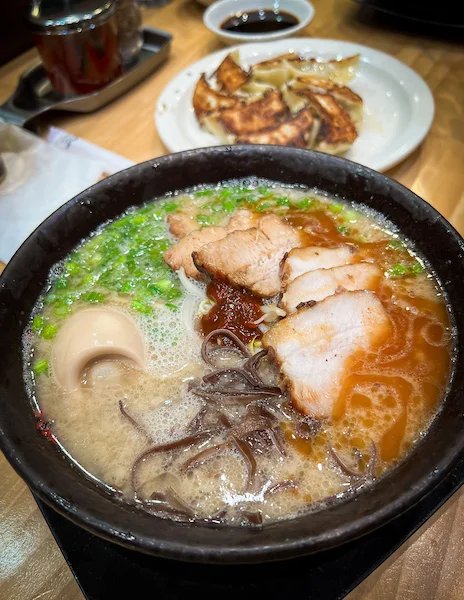 Ramen Tatsunoya is the best ramen in Old Pasadena. Once you have their rich and delicious broth, you'll understand why there is almost always a line, even on a hot summer day.
It's a bowl of comfort. The broth is luscious; the moment it hits your stomach, it gives you all the feelings. The chashu is so tender that it melts in your mouth.
We love the simplicity of the menu. You have three broth choices, a choice of toppings, and additional side dishes. If you love spicy, kick it up a notch with some of their chili sauce.
An added touch: We appreciated the basket they gave me to hold my purse.
Food Favorites: The Koku (rich broth). We'll add extra chashu and a whole egg. Get the dumplings, they are an explosion of flavor.
Ramen Tatsunoya | 16 N Fair Oaks Ave, Pasadena | Google Map It
– Don't Miss: Delicious Spots for Asian Food in Pasadena, CA –
13. Union Restaurant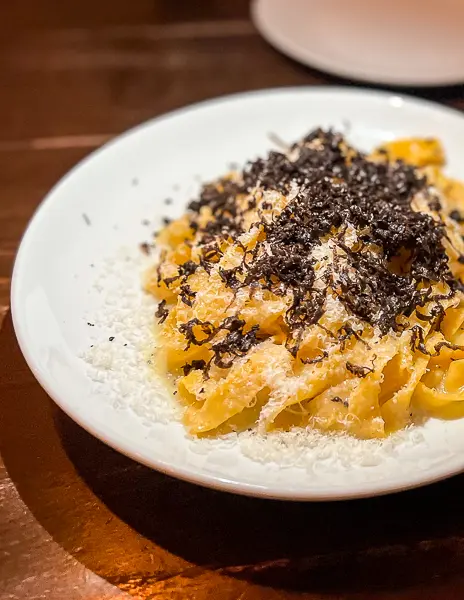 Union is quite possibly one of the best Italian restaurants in Pasadena. Their pasta is made from scratch, and just one bite transports me back to Italy. Italy is one of my favorite countries, especially Northern Italy. I crave the food from there all the time.
They have a fabulous seasonal menu of homemade pasta, appetizers, and main dishes to feed your soul.
Their menu changes as they use high-quality and local ingredients in season. It is as close to authentic Italian cuisine as your tastebuds will experience in Pasadena.
We mostly come here for special occasions. It is a little pricey once you add up all the courses and the wine. However, we always leave impressed with our bellies full, reminiscing about our many dinners in Florence, Italy. I always look forward to the next time we can dine here.
FYI: The menu on their website may not be fully updated.
Foodie Favorites: The menu changes every season. You can never go wrong with any of their pasta dishes. Try the Torchetti pasta; we ordered seconds of the Torchetti. For dessert, the Olive Oil Cake tastes like home.
Reservations recommended.
Union | 37 Union St, Pasadena | Google Map It
14. Janejira Thai Restaurant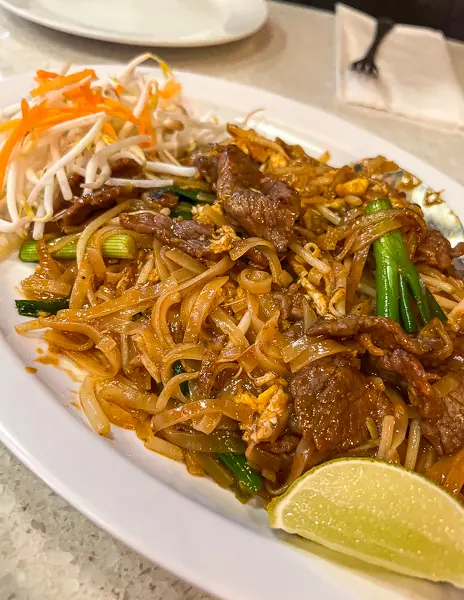 Janeijira Thai Restaurant on Colorado Blvd has become one of our favorite Thai restaurants in Pasadena.
The menu here is not as big as other Thai restaurants we've been to in the area, but that is only a plus in our book. It means they primarily focus on serving you the best dishes you are familiar with, Pad Thai, curries, and stir-fries.
The food here is delicious, the portions are shareable, and the prices remain fair. The staff is friendly, and the service is always excellent.
The restaurant itself is clean, casual, and modern. We love their flowered wall.
Foodie Favorites: The garlic short ribs, pad Thai, and Eggplant stir fry.
Janejira Thai | 754 E Colorado Blvd, Pasadena | Google Map It
15. Gus's BBQ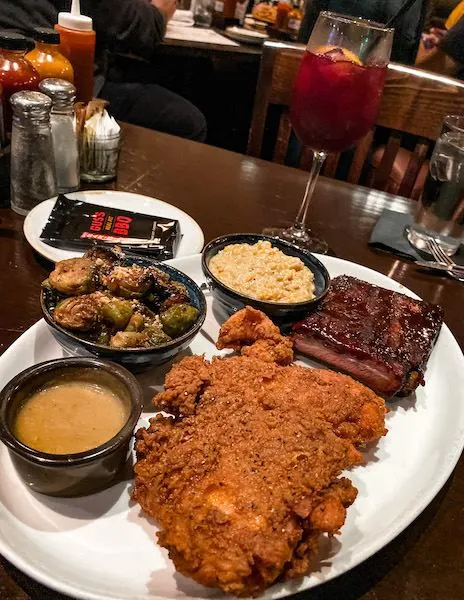 Located in South Pasadena, Gus's BBQ has been our favorite for years. We frequent Gus's and like to take our friends and family here for dinner.
Gus's has the best fried chicken in Pasadena. Their BBQ pork nachos come in second as one of the best next-best things you can order there. The deviled eggs and cornbread appetizers are fantastic. So is their house salad, as we love the toasty, buttery cornbread croutons it comes with. Their brisket is tender and delicious. If you order ribs, order the St. Louis spare ribs.
Oh, feeling like brunch? This is another breakfast and brunch spot. Order the cinnamon bun skillet for the table. The fried chicken and waffles are only available on the weekends.
My favorite is their eggs benedict, but instead of the English muffin, I'll swap it out for their homemade biscuit.
Don't miss their cocktails. The sangria goes down smoothly. A little too smooth, if you know what I mean.
Do you love malt shakes? They serve them here, and are made with local favorite Fosselman's ice cream.
Foodie Favorites: Too many to choose from. If it's your first time, order the cornbread skillet, fried chicken, or BBQ Pork nachos.
Gus's BBQ | 808 Fair Oaks Ave, South Pasadena | Google Map It
16. Twoheys Restaurant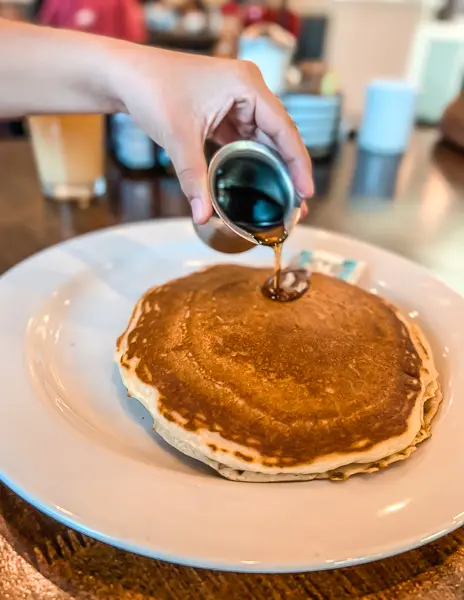 Ever wonder where you can have the best sundae ever? Now you don't have to anymore. Twoheys has the best sundae around. They have a soda fountain to make these special sundaes and desserts.
I say this legitimately as I never was one to be excited about ordering ice cream at a restaurant until I tried a Twohey's sundae.
Twohey's is a diner that's been around since 1943. They were originally in the neighboring city of Alhambra but moved to a new location in South Pasadena this past year.
Oh boy, we are happy. We used to go to Alhambra, and now they are much closer. It's sort of dangerous.
The new location has a fresh new look and patio area. It's modern, light, and airy. We love what they did with the new spot. Besides the spankin' new decor, the best part is that the food is the same. Everything is still as delicious as I remember it.
They serve breakfast, lunch, and dinner. You can't go wrong at any time of day.
Order the Old Fashion Pancakes over the buttermilk pancakes if you feel like pancakes. You will not regret it.
Foodie Favorites: If you're there for breakfast, the old fashion pancakes are so good. For dessert, their famous sundae. They have a full bar, and their Old Fashioned cocktail is spot-on. Check out Fried Chicken Mondays and all-you-can-eat ribs on Friday.
Twoheys Restaurant | 424 Fair Oaks Ave, South Pasadena | Google Map It
Where to find some of the best ice cream spots in Pasadena? Here are the top spots.
17. Foothill Restaurant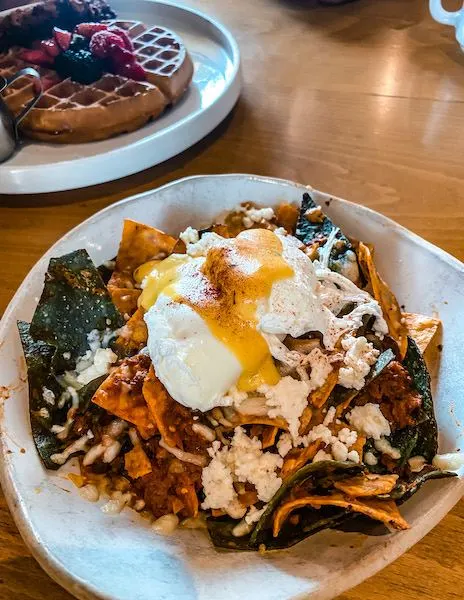 Foothill restaurant is located on Foothill Blvd, and it is a fantastic spot to enjoy beautifully crafted cocktails, a beautiful charcuterie board, happy hour, or dinner. Also, their weekend boozy brunch is not to be missed.
The restaurant has inside seating and patio seating.
They have converted their parking lot into a beautiful patio. A patio that does not make you feel like you're sitting in a parking lot. Beautiful lighting, fake grass, heated lamps for the wintertime, and the San Gabriel mountains in the background add to the charm.
On the weekends, they have a fantastic Boozy Brunch. Their buttermilk pancakes are delicious. Try their spicy chilaquiles with poached eggs and hollandaise sauce if you want a little spice.
Since it is a sister restaurant of Twohey's, you can also get their famous sundae here for dessert.
Foodie Favorites: Portabello fries, the charcuterie board, and the prime rib dip sandwich. Don't forget to get one of their fabulous cocktails.
Foothill Restaurant | 2835 E Foothill Blvd, Pasadena | Google Map It
18. La Grande Orange Cafe
Sitting right at the Gold Line, what once was Del Mar Station is now La Grande Orange Cafe and Luggage Room Pizzeria. The inside of the restaurant is beautifully designed with art deco charm and comfortable booths. If you like, you can also sit outside on their charming patio.
So many great memories at La Grande Orange Cafe. It's one of our favorite spots to bring family and friends to. Breakfast, brunch, or dinner, everyone will enjoy it. Highly recommend ordering a pitcher of white sangria for the table, no matter the time of day.
Their food is all made from scratch, including their famous English muffins. The staff is so nice. The manager once overhead my pregnant (at the time) sister-in-law "oohed and ahh'ed" over the English muffins on the way out, and he gave her a pack for free.
Foodie Favorites: Everything on the menu is delicious! A few tips: don't miss the deviled eggs and their taco plates. Their soft tacos are made in-house, and they are divine. If you decide on a burger, ask the waiter to swap the traditional bun for an English muffin.
La Grand Orange Cafe | 260 S Raymond Ave, Pasadena | Google Map It
19. Agnes Restaurant and Cheesery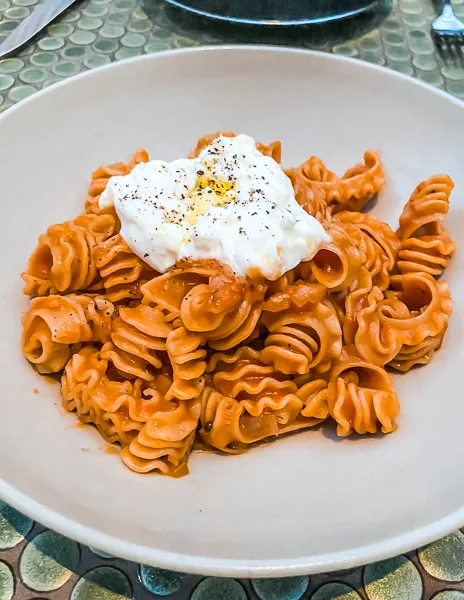 On Green Street, you'll also find Agnes Restaurant and Cheesery, one of Old Pasadena's newest restaurant locations and cheesery. Without a doubt, you must add it to your list of delicious places to eat in Pasadena.
When you're at a cheesery, you start with a cheeseboard. They are great to share and to enjoy with one of their many wines and cocktails. With every charcuterie, you'll get a small list of cheeses served so you know what it is, which is a nice touch if you'd like to buy something from their cheesery.
If you're a pasta lover, Agnes plates of pasta are homemade in-house in a pasta room in the back, which turns into a dining area at night.
The homemade radiator pasta with red sauce is almost always available on their menu, and it doesn't disappoint. It was the first pasta plate we dined on during our first visit.
Most recently, we had spaghetti and clams with fava beans, which was outstanding. We also had gnocchi, their potato dumpling dish, a twist on a loaded baked potato – so rich but comforting.
Every bite here is delectable, and your stomach will sing your praises. Ours sure did.
Tip: Make dinner reservations to sit on their cozy and romantic patio. However, the restaurant is beautiful inside and out.
Foodie Favorites: Try their infamous s'more cocoa taco for dessert.
Agnes | 40 W Green St, Pasadena | Google Map It
20. La Caravana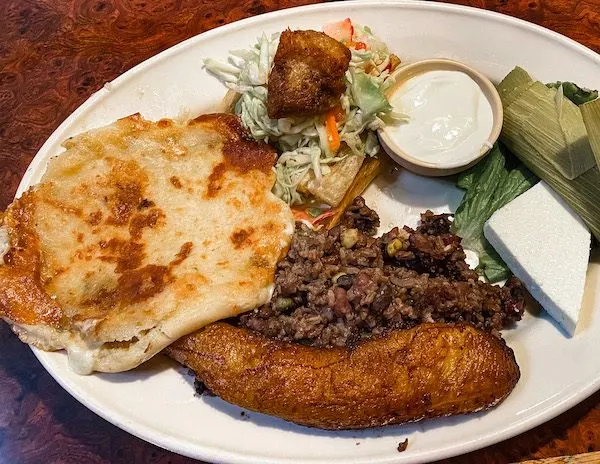 Do you love Salvadorian food? La Caravana on North Lake Avenue is a family-owned restaurant serving Pasadena's best pupusas and Salvadorian cuisine.
Anytime I eat here, it's like a treat for my Hispanic heart and tummy.
Their pupusas are always made to utter perfection, savory, and with the right amount of stuffing. Get them with pork, cheese, jalapeno cheese, and other stuffings. They are handmade to order. The curtido (slaw) served with them has a nice hint of spice.
Foodie Favorites: The Plato Tipico Loco is my favorite dish on the menu because it has a little of everything. It's also a great introduction to the delicious food they serve. You can always order additional pupusas if you don't think one is enough.
La Caravana | 1306 N Lake Ave, Pasadena | Google Map It
21. Rodney's Ribs
Add food trucks to places to eat in Pasadena, specifically Rodney's Ribs, for some of Pasadena's best bbq pork ribs. Add one of their delicious sides, like the potato salad and baked beans, and you have a delicious picnic waiting to happen.
The ribs here are tender and juicy; you can taste the smokiness. The added bbq sauce kicks it up a notch.
Try one of their sides. I'm picky about potato salad, but it was so good that I ate it all.
Rodney's Ribs is open from 11 am to 8 pm on Wednesday to Sunday.
Food Favorites: The Ribs!
Rodney's Ribs | 902 N Lake Ave, Pasadena (CVS Parking Lot) | Google Map It
22. Dan Modern Chinese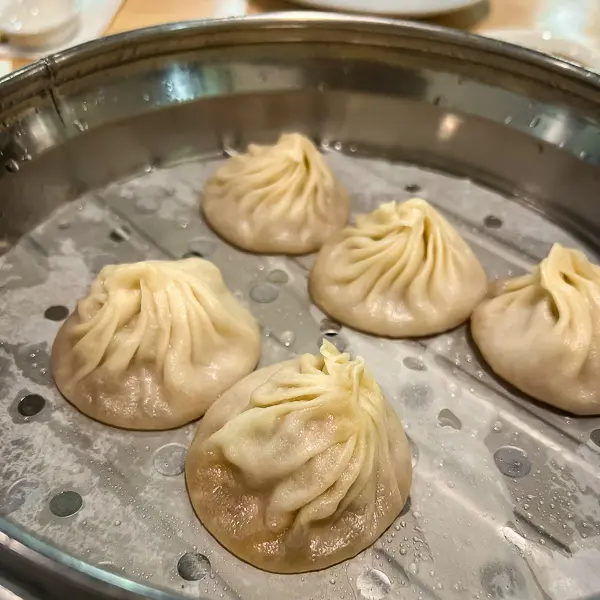 Ever have a craving for soup dumplings? We found Dan Modern Chinese during a serious craving. Din Tai Fung was just a little too far for delivery. Dan Modern Chinese came up in our Door Dash with excellent ratings, and we just had to try it.
How are their soup dumplings? It's an explosion of savory comfort in your mouth. Since then, we've been to Dan Modern Chinese in The Commons on Lake Ave to enjoy their dumplings and other savory dishes like the short rib dan mein noodles.
Foodie Favorites: Start with some scallion pancakes. Xiao long bao's (soup dumplings) are a must. The short rib dan mein (noodles).
Dan Modern Chinese | 146 S Lake Ave #105, Pasadena | Google Map It
23. El Jarocho Tacos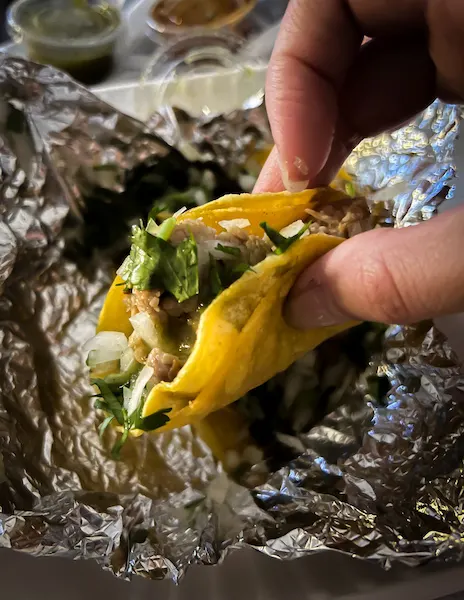 Craving tacos?
El Jarocho Tacos is a family-run taco stand set up every night on Historic Route 66, Colorado Blvd, across from the Guitar Center. The taco stand is manned by a husband and wife team. They are preparing delicious tacos, quesadillas, tortas, and Aguas Frescas.
We can't get enough of their street tacos and other specialties like the vampiros and chorizados. They are prepared upon ordering. Sometimes there is a line, but it is worth the wait.
You'll eat fantastic authentic Mexican food from locals without paying through the nose.
This is a taco stand. No seating is available, but you are welcome to eat in your car or take it home.
Foodie Favorites: Carne asada tacos and the vampiros with everything on it.
El Jarocho | 2435 E Colorado Blvd, Pasadena | Google Map It
24. Malbec
If you're looking for a delicious Argentinian restaurant in Pasadena, that is Malbec.
This restaurant serves Argentinian classics like grilled steaks, chimichurri, empanadas, argentenian provolone and chorizos. All wonderfully prepared that your tastebuds will thank you for it.
We first went to Malbec for Christmas one year and loved the vibe of the staff and patrons celebrating the holiday. We've been back several times for the empanadas and skirt steak.
Malbec also has a great selection of South American wines to choose from.
Food Favorites: Empanadas and provoleta. Skirt steak with chimichurri. For dessert, Argentinean custard bread pudding.
Malbec | 1001 E Green St, Pasadena | Google Map It | Menu
25. Los Anayas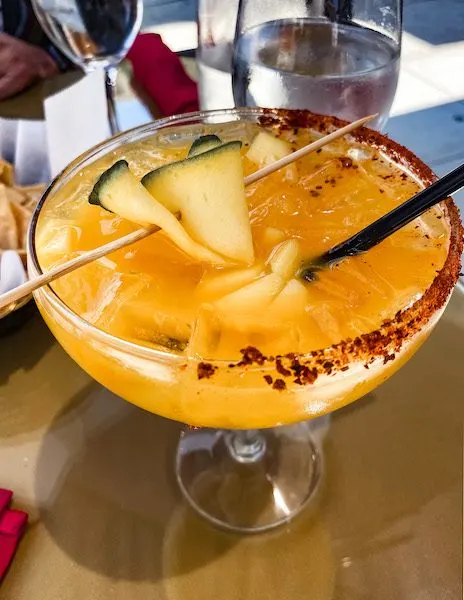 Anaya's is a Mexican restaurant in the Playhouse District with beautiful indoor and lovely outdoor dining. The interior has beautiful murals that will quickly catch your eye.
Their margaritas are some of the best in town!
If you plan on going on a weekend night, definitely make reservations.
Foodie Favorites: Love the mango margarita.
Anaya's Restaurant | 630 E Colorado Blvd, Pasadena | Google Map It
26. Howlin' Rays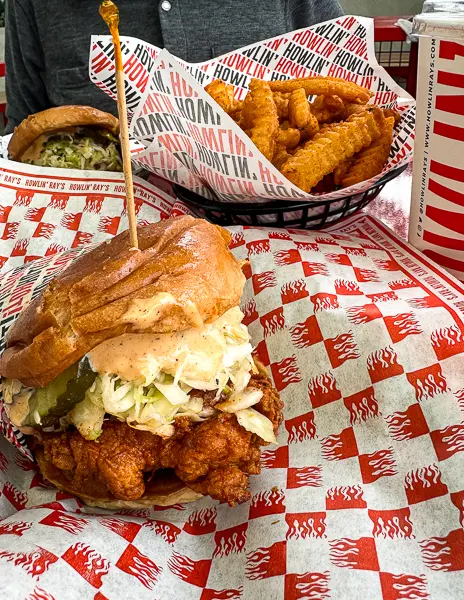 When we first heard of Howlin' Rays coming to Pasadena, we wondered if they'd live up to the hype. Would their Nashville Hot fried chicken sandwiches be as good as everyone says they are?
YES.
Howlin' Rays is also Somebody Feed Phil's, Phil Rosenthal's, favorite fried chicken sandwich.
In Phil, we trust. Why did we question it in the first place?
The Sando at Howlin' Rays in Pasadena lived up to all the great things we've heard. It's crispy, but juicy. Tender. It's packed full of flavor, and you choose your spice level.
I went with the mild, but you can get it without heat. And guess what? The chicken is still outstanding, even if it's not spicy. Hubby was in his full glory eating one of his favorite foods, and he could have it without it being spicy.
But let's talk about the shake fries… they are off the hook! The seasoning on them alone is addicting, but what's even more addicting is dipping them into their special sauce. You must get some comeback sauce, for sure!
You can get a whole bird at Howlin' Rays if you're not in the mood for a sandwich. Don't forget the sides. We hear the macaroni salad is delish.
Fun Fact: They found the most remarkable vintage dairy sign under the awning when renovating Howlin' Rays Arroyo Parkway spot. Due to its historical significance to Pasadena, the sign was kept, but you can see the HR of the sign lit up.
Howlin' Rays | 800 S Arroyo Pkwy, Pasadena | Google Map It
27. Top Restaurant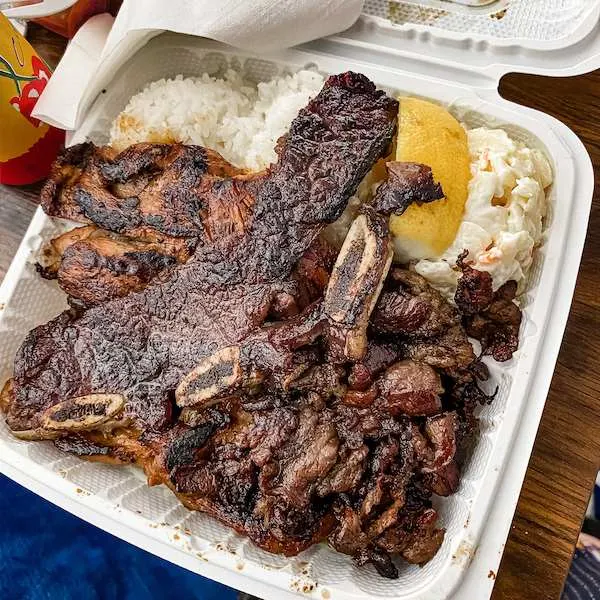 Top restaurant (not to be confused with Tops burgers) is located on Colorado Blvd in an unassuming shopping strip. We found this spot out of curiosity and wondered why it was always so packed. They serve some of Pasadena's best Hawaiian and Indonesian food.
You'll find Hawaiian bbq short ribs, spam musubi, oxtail soup, authentic loco moco, chicken katsu, Indonesian fried rice, and much more. Honestly, it's all amazing. Most meat plates are served with white rice and their yummy mac salad.
As of today, it is still take-out only. It is probably the best way to try Top's as it's small and a no-frills place.
You won't regret ordering from here. The portions are generous and delicious.
Food Favorites: The short ribs and chicken katsu are our favorites.
Top Restaurant | 1842 E Colorado Blvd, Pasadena | Google Map It
28. Marston's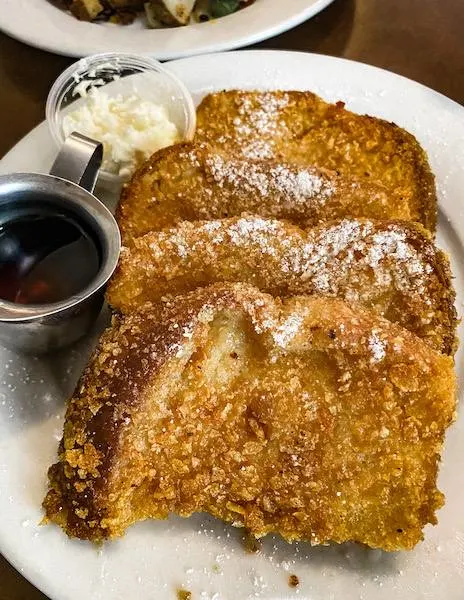 When we crave French toast, we think of Marston's and their Fantastic French Toast – that's the name on the menu.
What makes it fantastic? The fact that it's dipped in a vanilla batter and then rolled in cornflakes. It is delicious.
Foodie Favorites: Order Fantastic French Toast and share with your significant other or the table. You can't go wrong with any of their egg dishes.
Marston's | 151 E Walnut St, Pasadena | Google Map It
Other places to eat in Pasadena that should be on your radar:
There are many fabulous dining establishments in Pasadena outside of this list. New restaurants and foodie spots are opening up weekly. We hope to be able to try them and update this list as frequently as we can.
Have you been to any of these delicious places to eat in Pasadena? What's your favorite foodie spot in Pasadena?
Share the tips & love on Pinterest: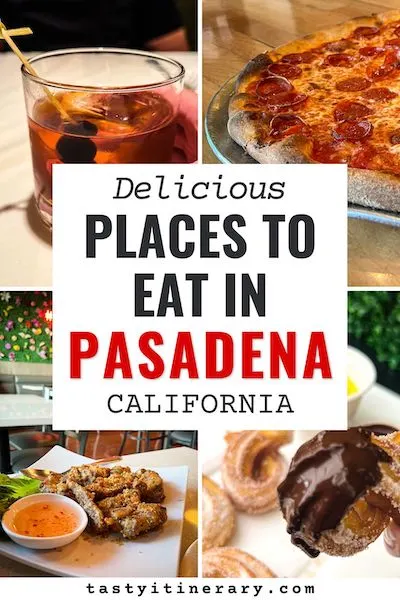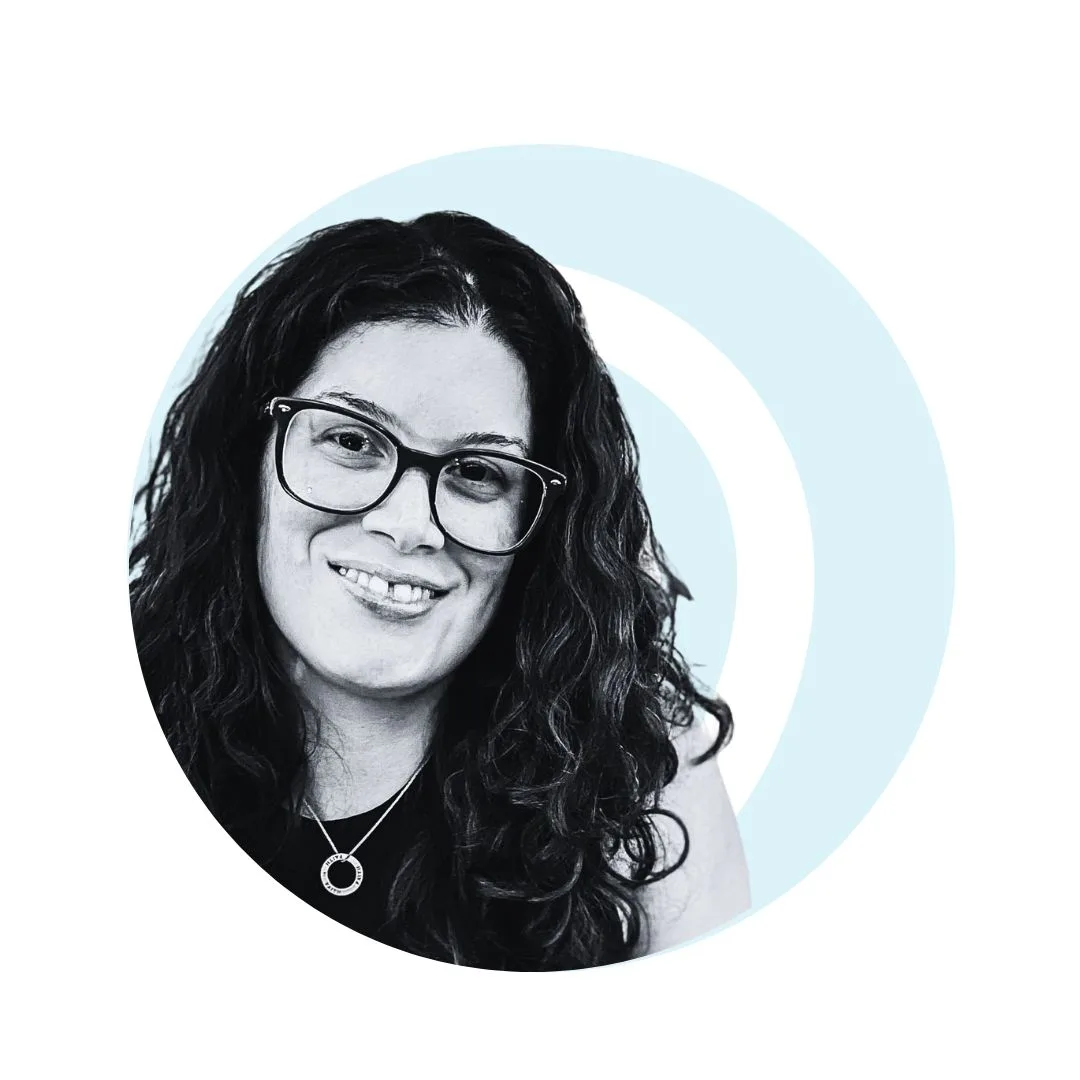 Meet Kathy Ava – a food, travel, and cruise writer based in Los Angeles/Pasadena. With over 20 years of experience planning trips and logistics at her full-time job and for herself, she's become a pro at crafting unforgettable travel itineraries. She's always looking for delicious, fun cruise itineraries and travel destinations and is slightly obsessed with Italy. Her passion and curiosity for travel started in childhood on her yearly and sometimes bi-yearly trips to PR. She firmly believes that life is short and we must make the most of it – so let's explore the world and make some incredible memories.