Looking for the best parks in Pasadena, CA? Did you know we also have several beautiful gardens in Pasadena?
Pasadena is full of beautiful parks and gardens ready to be explored. Not only in the Springtime but all year round.
Don't be surprised if there is one or two on this list that you had never heard of before. As I set out to explore locally, Pasadena continues to surprise me. I'm constantly finding a new location to explore. Including outdoor ones that allow us to stretch our legs, get some fresh air, and enjoy mother nature.
There are plenty of parks in Pasadena. If you pull up Google Maps you'll find many that I have not listed. However, I will only post spots that are safe, clean, and fun for you and your family to enjoy. Perhaps they may have historical meaning to Pasadena.
If there are any parks in Pasadena you love to visit, we would love to hear them in the comments. As we are always looking for a new park in Pasadena to explore.
The gardens in Pasadena and nearby are just magical and worth setting out to visit at least once. If you haven't made it to the Huntington Library, what are you waiting for?
Especially if you're a Pasadena local, make it a goal to experience all the gardens in Pasadena. You may surprise yourself with a yearly membership to one or two of them.
Disclosure: This post may contain affiliate links. If you decide to make a purchase from one of those links, we may get a commission at no extra cost to you. We appreciate your support.
Visit The Huntington Library and see the new expansion of the Chinese Garden. Start looking into the fall and holiday events at Descanso Gardens. Get a close-up view of the wonderful architectural beauty that is the Colorado Street Bridge from Desiderio Neighborhood Park. Take your dogs to run around Vina Vieja. Stop by Wrigley Garden and smell the roses.
There are so many things to do in Pasadena and taking time to enjoy the gardens and parks in Pasadena is one of them. The fresh air and the beauty of mother nature are amazing.
Parks in Pasadena
1. Brookside Park
Brookside Park is a family favorite in Pasadena. Including my nieces and sister-in-law, who loved to visit this park every chance they got when they lived nearby. It is located across from the Kidspace Children's Museum and South of the Rose Bowl Stadium.
This park is one of the largest parks in Pasadena with a children's playground, picnic tables, softball fields, tennis courts, and more. A stage that has that midsummer night's feel to it. An aquatic center. And even outdoor gym equipment.
What's to love about Brookside Park? It's a beautiful large, well-kept park with lots of green space, paths, and shade. It has ample parking. There are two separate playgrounds for children.
Park is open 7 days a week from 6:00 am – 10:00 pm.
2. Desiderio Neighborhood Park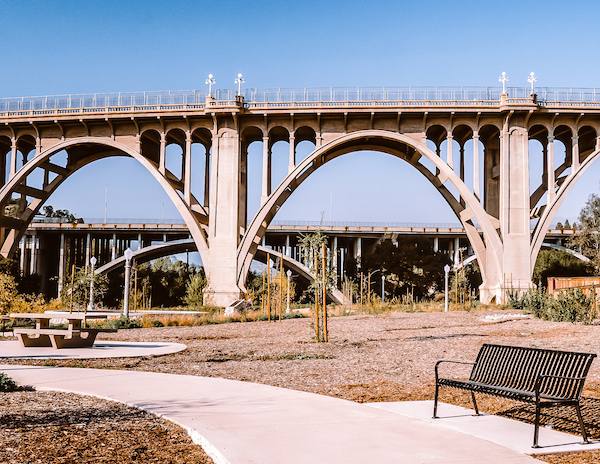 On the other side of Brookside and over the 134 is the Desiderio Neighborhood Park. From all the parks in Pasadena, I consider this one a gem.
It's beside the Colorado Street Bridge. It has a playground for children, a few picnic tables and, and pedestrian paths so you can enjoy the view of the historic bridge.
What's to love about Desiderio Neighborhood Park? My favorite part is the wonderful view of the Colorado Street Bridge.
TOP THINGS TO DO IN LOS ANGELES, CA
Visiting Los Angeles, California? Planning to explore and be a tourist in LA. Walk amongst the stars on Hollywood Blvd. See the spectacular views of Los Angeles from the Griffith Observatory. Take a short ride on Angel's flight. Here are the top attractions in the city of Angels.
3. Victory park
Right next to Pasadena High School is Victory Park. This large park has great walking paths, picnic tables, two playgrounds, and restrooms nearby. Plenty of room for kiddos to run around and play.
The best time of year to visit is the Spring when the Cherry Blossoms are in bloom. The farmer's market also takes place on Saturdays. Plan a quick stroll to get your step sin before hitting the market.
Park is open 7 days a week from 6:00 am – 10:00 pm.
4. Vina Vieja Park
Vina Vieja Park is my dogs' favorite park because this is where they run off the leash with other dogs. What's nice about Vina Vieja Park is that there is a side with a playground for human children and there is a side for the furbabies. Lots of space for them to run around and play.
The only problem is there is basically no shade here, so on a hot day, this can be problematic. Picnic areas outside of the dog parks and playgrounds are available as well.
Park is open 7 days a week from 6:00 am – 10:00 pm. The dog park side is closed on Tuesdays.
5. Memorial Park
Memorial Park is located in Old Pasadena by the train station. What makes this park special are the seasonal events that take place at the bandshell. Like Free Summer Concerts at the Park for the community.
The park also is historical. It was once known as Library Park. Pasadena's first library used to be located at Memorial Park. The library was damaged by an earthquake in 1933. You can still find the archway entrance with the writing Public Library letched into the remains at the Northwest corner of the park.
This park also has a playground and picnic area.
Park is open 7 days a week from 6:00 am – 10:00 pm.
6. San Rafael Park
This small neighborhood park is on the corner of Colorado and Melrose is not as big as other parks in Pasadena. San Rafael Park is a great family park with a playground with picnic tables and plenty of grass to kick a ball around. It is fenced in, which is a plus.
Park is open 7 days a week from 6:00 am – 10:00 pm.
7. Lower Arroyo Park
If you're looking for a short escape, Lower Arroyo Park is a great spot to walk, enjoy nature and clear your mind. There are plenty of outdoor recreational activities available, including an easy trail that leads you under Colorado Street Bridge. There is a pond here that is contained within a concrete channel.
This recreational park is over 70 acres of natural habitat.
Park is open 7 days a week from 6:00 am – 7:00 pm (dawn to dusk). Parking is free.
Gardens in Pasadena and Nearby
8. the Huntington library Botanical Gardens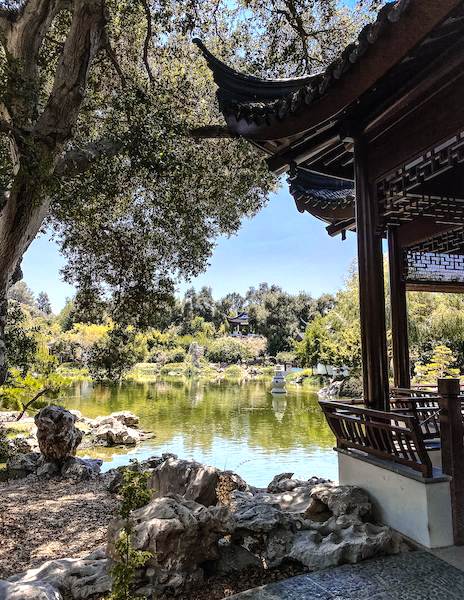 If you could only choose to visit one place on this entire list of gardens in Pasadena (San Marino adjacent), I highly recommend exploring the botanical gardens at The Huntington Library.
You will spend the day in awe as you discover the 14 gardens spread out through 120 acres. Plenty of shaded areas with benches to sit and enjoy. Don't miss the Chinese Gardens and Japanese Garden. If you're planning to make a yearly trip to The Huntington Library, I suggest going when the Cherry Blossoms are in bloom.
What's to love at the Hungtington Library? The fresh air. The wonderful aroma of flowers, trees, and herbs comingling. The beautiful scenery will make you feel like you're somewhere magical. Love it so much I upgraded to a yearly membership.
Closed on Tuesdays and certain holidays.
The cost of admission is $25 pp on weekdays or $29 pp on weekends.
Advanced reservations required.
Free days available on the 1st Thursday of every month. You must reserve your tickes in advance. More info here.
Parking is free.
Locals – Apply your tickets towards a membership.
THINGS TO DO IN PASADENA, CA
Check out the top things to do and see in the City of Roses – from a local. Go shopping in Old Town Pasadena, explore our Botanical gardens, visit a museum, and more.
9. Norton Simon Museum – Sculpture Garden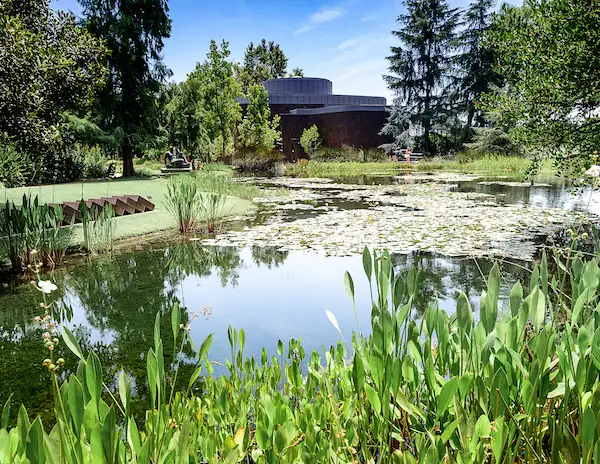 You probably didn't know this (or maybe you do), but the Norton Simon Museum has a beautiful sculpture garden that is worth the visit. While the museum is great, a lovely visit around the lily pond in the sculpture garden will delight you.
What's to love at the Sculpture Garden? The combination of art and nature. It's also peaceful.
Closed on Tuesdays and Wednesdays.
The cost of admission is $15 pp.
Advanced reservations required for non-members.
Parking is free.
– Don't Miss: 8 Must-Visit Museums in Pasadena –
10. Arlington Garden in Pasadena
One of the best parts of exploring where you live is finding gems like the Arlington Garden. This small and beautiful garden of 3 acres in Pasadena is the perfect little escape to enjoy a small snack.
You can take a walk around this lovely garden, enjoy all the diverse plants and desert scaping of the Mediterranean and California trees and plants.
What's to love about Arlington Garden? The garden is pretty with lots of shade to relax. The wishing tree is a lovely touch.
11. Wrigley Garden
Not many know this, but you can visit the arbor and rose garden at the Wrigley Mansion, the Pasadena Tournament of Roses House. It's a lovely and easy stroll. One that can easily be done and enjoyed at any time.
Fun fact: This mansion was once owned by the Wrigley Family – yeah Wrigley chewing gum.
The grounds are open to the public for free.
12. Storrier Stearns Japanese Garden
The Storrier Stearns Japanese Garden is another gem in Pasadena. It's one of those calm and peaceful gardens in Pasadena that is tucked away from everything.
The idyllic 3-acre estate is magical with enclosed ponds, a teahouse, and a beautiful Japanese landscape. You don't want to miss this one.
What's to love about Storrier Stearns Japanese Garden? Tranquility.
Registration / reservations is recommended to visit.
Open Friday and Saturday evenings. Sundays during the day.
Cost is $12 pp.
As directed on their website, park in a single line beside the property line. Street parking also available. Parking can be limited.
Places to Eat in Pasadena, CA
One of the best parts of Pasadena is all the delicious spots to eat. From restaurants to take-out, check out some of our favorite places to eat.
13. Japanese Garden at the Langham
If you're staying or dining at The Langham Hotel, do not miss the opportunity of strolling their beautiful grounds and the Japanese Garden.
The landscaping surrounding this hotel is gorgeous and quite like no other hotel in the area. The garden is mostly used for events, such as weddings, but guests are welcome to explore then.
It is worth noting this is one of the beautiful gardens in Pasadena. This is a great staycation spot for locals and out-of-towners to enjoy a resort-style stay in Pasadena.
– Where to Stay in Pasadena? Here are the Best Pasadena Hotels –
14. Descanso Gardens
Located next door in La Cañada Flintridge, Descano Gardens is one of my favorite botanical gardens to visit near Pasadena. Their special events like Carved and Enchanted keep bringing us back to this beautiful 150-acre garden.
There is plenty of room and walking paths with shade through their forested areas. You can spend a whole afternoon here on your own or with the family.
What's to love about Descano Gardens? The cost is more than fair to enjoy the beauty this garden has to offer.
Advanced tickets are required for non-members.
Open 7 Days a week. Closed on Christmas.
Cost is $15 pp.
On the first day of each month, FREE tickets are available for advanced reservations for one Tuesday of each month: more info here.
Free parking in their lot.
15. LOS ANGELES COUNTY ARBORETUM
One hundred and twenty-seven acres, this LA County Arboretum and botanical gardens is located not far in Arcadia. It's one of my nieces' favorite places to visit – they were proud members. You can spend the entire day here exploring.
The Meyberg Waterfall is one of the most popular attractions… as well as the peacocks. Stroll through 11 gardens and explore 4 of their historic structures.
Cost is $15 pp.
Advanced reservations required.
Open 7 days a week. Closed on Christmas.
After being in lockdown for so long, it is so nice to be able to safely enjoy the gardens in Pasadena. Make sure to go outside, get some fresh air, and visit some of the wonderful gardens and parks Pasadena has to offer.
Do you plan to visit one of the parks and gardens in Pasadena soon? Which one is your favorite? Why do you love it?
Don't forget to share the love on Pinterest: